This easy Keto Avocado Bacon Dip is an easy game day snack! Creamy Avocado, sour cream, spices and crisp bacon make for the perfect appetizer!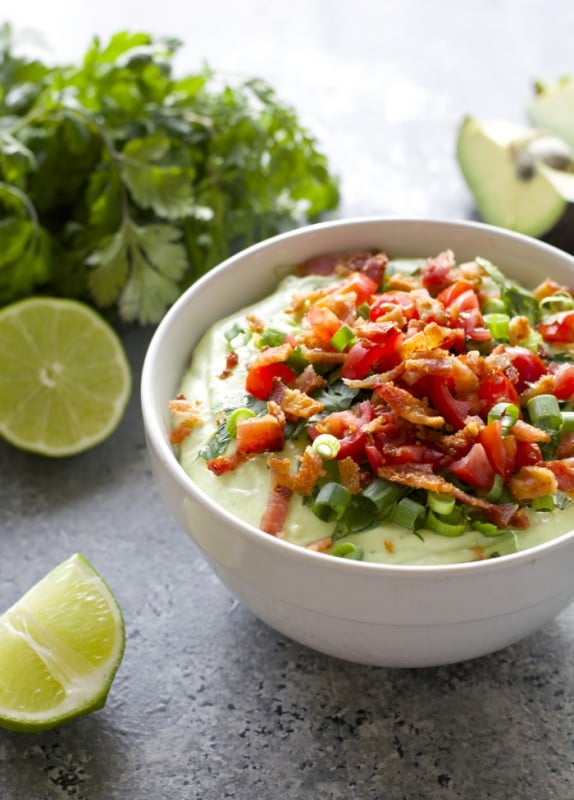 Earlier this week, I was hungry, but I wasn't interested in actual FOOD. You know what I mean? When you just want something to hit all the spots at once? For some reason, there are days when I just can't eat a full meal- snacks only!
Mr. Maebell always calls these my "grazing days" and he's absolutely right! Also, catch the cute farm boy reference. Who doesn't love those?
My to-go for this scenario is either a quick quesadilla- like this Easy Pizza Quesadilla. I've also been known to indulge in Marinated Mozzarella Balls followed up by Keto Pumpkin Chocolate Chip Cheesecake Bars and called that a meal. Usually with my husband very slightly judging me in the living room!
But the last time this urge hit me, I realized-is there anything better than a good, creamy dip? When you're REALLY craving something satisfying? I don't think so. This Avocado Bacon Dip has everything a delicious dip needs- all you need are chips!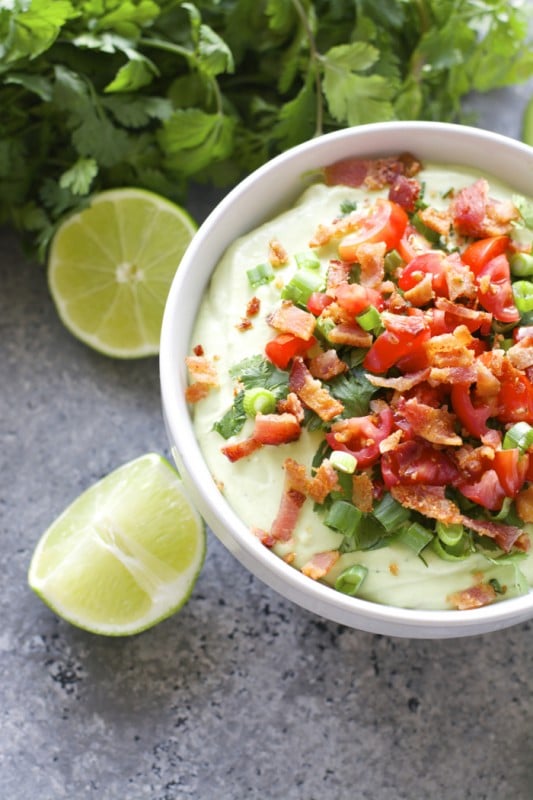 Ingredients for Avocado Bacon Dip
As always, here is a quick overview of the ingredients you will need to make this Avocado Bacon Dip. For the complete recipe, just keep scrolling.
Bacon- I prefer my bacon extra crispy, but cook it to whatever your preference is!
Avocados- be sure your avocados are fresh
Sour cream- I used reduced fat
Spices- Cumin, Onion Powder, Garlic Powder and Garlic Salt
Lime juice
If you want to add some garnish, I love chopped tomatoes and green onions on top of this Avocado Bacon Dip! Cilantro and extra lime slices are also a great addition.
Tips for Finding a Ripe Avocado for Bacon Dip
We've all been there. We come home from the store all excited to use up our delicious Avocados, to find that we either were overly eager and grabbed some fruits that aren't yet ripe, or we've got thirty seconds to use these Avocados before they go bad. I have learned these tips through trial and error, unfortunately. Please, learn from my mistakes!
First things first- the texture. If your Avocado gives a little bit when you push into it, it's perfect. If it gives a lot, it's too ripe. If it doesn't give at all, let it sit. That Avocado is not ready for it's big debut yet.
Second, the color. A green Avocado is not yet ready for this world! A very dark Avocado is also more than likely past it's prime. You want an Avocado that is right in that sweet spot- dark green, while not yet brown.
Third- timing. This is really up to you. All of us have bought things at the store, planning on using them that evening, and fallen asleep on the couch-too lazy to cook something. No shame! But if you buy a ripe Avocado, be sure to use it within two days. If your Avocados that you plan on using for this Avocado Bacon Dip are a little brown, that's fine! You'll blend them anyway, so no one will be the wiser.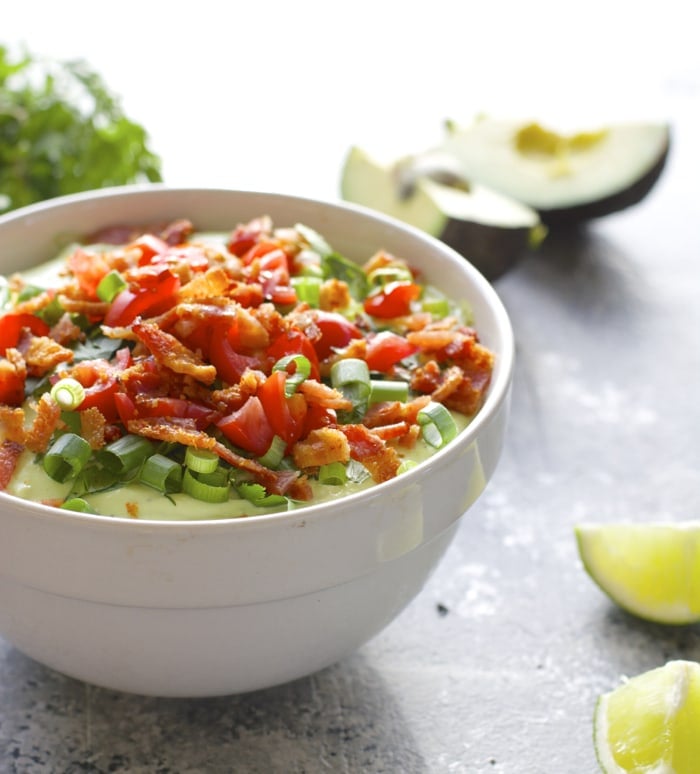 How to make Avocado Dip
This recipe is so easy I am not even sure it constitutes being an actual "recipe." It all starts with bacon (as all good things should). Just fry up some nice thick bacon until it is perfectly crisp. Give your bacon a nice rough chop and set it aside.
Next, break out your blender. Toss in some Avocados. Like I mentioned earlier, it is okay if they have browned a little bit – nobody will know- and add a container of sour cream, some cumin, onion powder, garlic powder, garlic salt and some lime juice, for good measure.
Blend the mixture for just a few seconds. You just want to get it nice and creamy with no chunks, or at least no big chunks. Add in your chopped bacon and give it all a stir.
Scrape your Avocado Bacon Dip into a big bowl and top it with all your favorite Mexican toppings. I garnished with cilantro, tomatoes, extra bacon (of course) and a few lime wedges. This is perfect with tortilla chips, or smeared on tacos or enchiladas. It is especially good spooned over a nice big Summer salad.
If you are on a low carb or keto diet, I love to smear this on slices smokey turkey and provolone and roll them into "sandwiches." The ultimate keto hack!
How to Store Avocado Bacon Dip
Storing Avocado anything can be tricky, but I've got the perfect way to keep this Avocado Bacon Dip good in the fridge for up to three days. This method is a little different from the usual "Put it in a container and forget it" approach, but it works!
First, put the dip into a container with a very tight-fitting lid. The less air you let into the container, the better. Try to smush the mixture down to get out any lingering air bubbles.
Next, add in a little layer of lukewarm water over the dip. I know, I know. It's weird. But the Avocados are the boss here, not me! I can't give you an approximate amount, because it really depends on how much Avocado Bacon Dip you are storing.
You'll need about half an inch of water over your Avocado Bacon Dip. Cover and store for up to three days. When you are ready to enjoy your Avocado Bacon Dip again, just pour out the water and give everything a good stir.
You Might Also Like: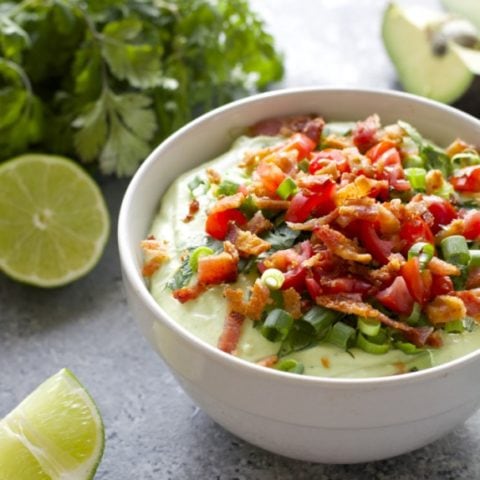 Avocado Bacon Dip
This easy Keto Avocado Bacon Dip is an easy game day snack! Creamy Avocado, sour cream, spices and crisp bacon make for the perfect appetizer!
Ingredients
6 slices of bacon cooked until crisp and roughly chopped
1 (16 ounce) container sour cream
1/4 teaspoon onion powder
1/2 teaspoon cumin
1/4 teaspoon garlic powder
3 ripe avocados, peeled and pitted
1/4 teaspoon garlic salt
Juice from 1/2 a lime (add additional lime juice if desired)
Instructions
Combine the avocados, sour cream, spices and lime juice in a blender or food processor and blend until smooth.
Stir in most of the bacon, reserving a small amount to garnish with.
Garnish dip with remaining bacon, cilantro, tomatoes and green onions if desired.
Nutrition Information:
Yield:

9
Serving Size:

About 1/2 cup
Amount Per Serving:
Calories:

213
Total Fat:

19.4g
Cholesterol:

12.8mg
Sodium:

164.5mg
Carbohydrates:

8.3g
Net Carbohydrates:

7.6g
Fiber:

5.3g
Sugar:

0.7g
Protein:

4.1g