These Easy Grilled Chicken and Zucchini Skewers are keto, low carb and gluten free! These summer kabobs are perfect on their own or on top of a big Greek salad!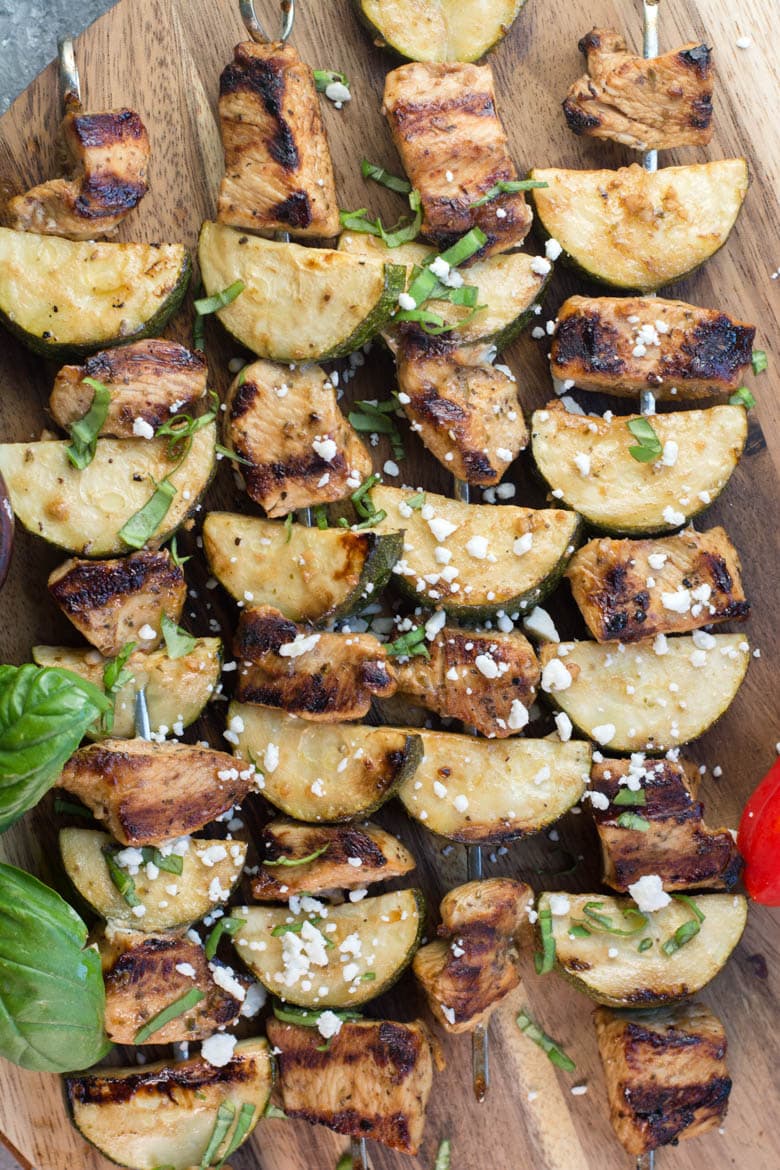 Some of the very best meals are the ones focused on simple flavors. These easy Grilled Chicken and Zucchini skewers are marinated in a simple balsamic vinegar and topped with fresh basil and feta. Not only are these ingredients you may already have on hand, but they are filled with summer essentials that may just be in your garden.
During the summer I am always looking for new ways to use zucchini and basil because they are some of my most plentiful plants. In this dish these summer staples become the star of the show!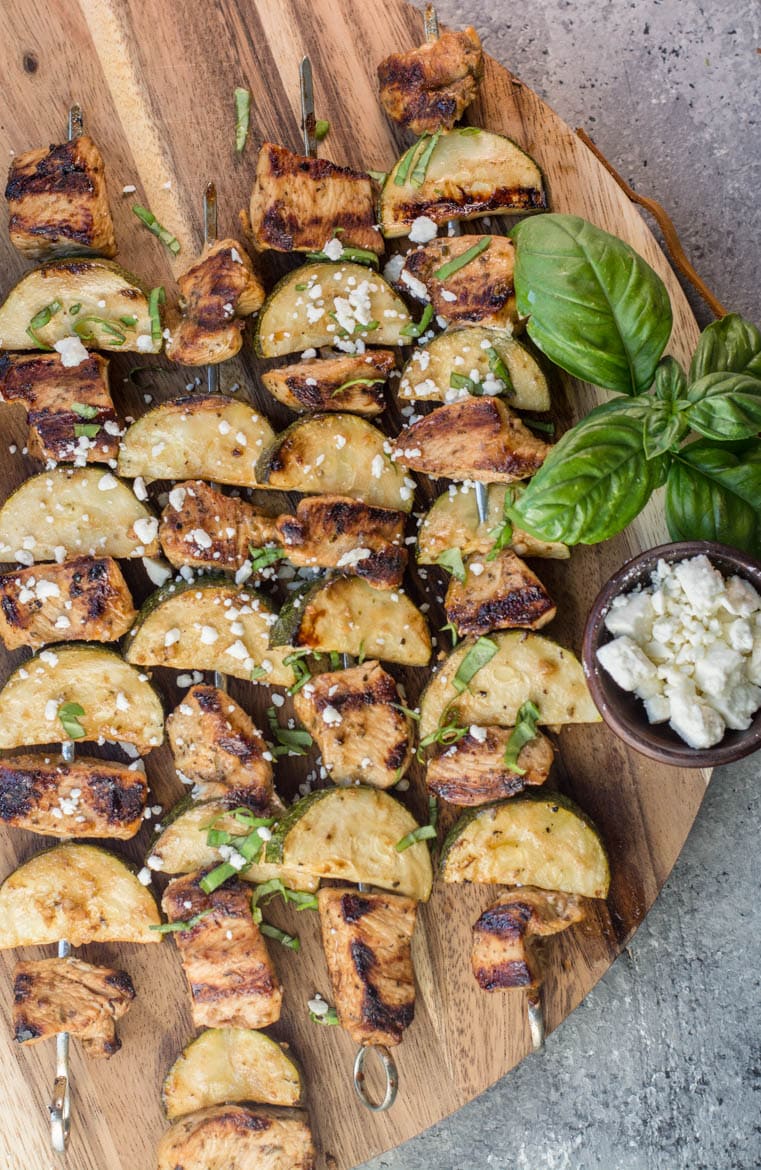 These skewers are also perfect for a keto diet. If you are new to keto or haven't looked into it much you may have a bit of a misconception about the diet. The idea of a low carb, high fat diet seems crazy. If you believe what you see on Instagram you can eat bacon for every meal and loose weight.
Most people approach keto by removing processed, high carb foods from their diet and replace them with real foods like meat, cheese, low carb fruits and vegetables. These Grilled Chicken and Zucchini Skewers work perfectly because they are naturally low in carbs with no substitutions and the feta adds a nice touch of fat.
I love to pair these with a Greek salad, or marinated olives and feta. These skewers come in at just over 4 net carbs per TWO skewers!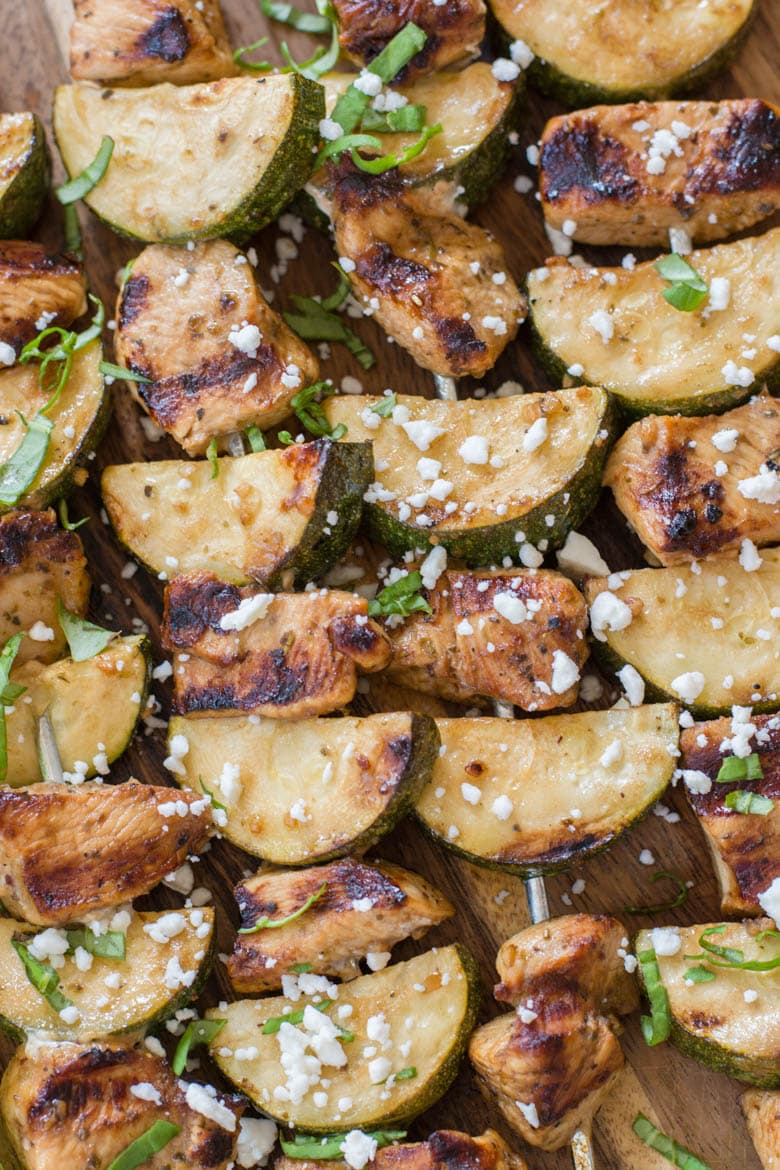 Grilled Chicken and Zucchini Skewer Ingredients:
Here's an overview of the ingredients you'll need. Scroll down to the recipe card for more information!
Chicken Breast
Zucchini
Marinade:

Balsamic vinegar
Olive oil
Garlic
Sugar
Dijon mustard
Italian seasoning
Garlic powder
Onion powder
Salt
How long should I marinate chicken and zucchini?
Marinating works to infuse more flavor into the meat and veggies while also making sure your food doesn't dry out on the grill. However, you still have to be careful about the length of time you marinate.
Too little time–No flavor. Too much time–The texture of the meat and vegetables can become mushy.
For boneless, skinless chicken breast, it's recommended to only marinate for 30 minutes to six hours. For zucchini, 30 minutes to 3 hours is fine.
Can I meal prep these Chicken and Zucchini Skewers?
Yes, meal-prepping is a great idea to make your life easier! You can marinate and grill these skewers on your prep day, then portion out your lunches and dinners. You can cut the grill time by 1-2 minutes to prevent your leftovers from drying out when you are reheating them.
Simply store your cooked skewers in an air-tight container in the fridge up to four days. When ready to eat, microwave in 45-second intervals until warm throughout. Alternatively, you could broil the leftovers 1-2 minutes until sizzling and heated.
More Low-Carb Grilling Recipes:
More Easy Chicken Recipes: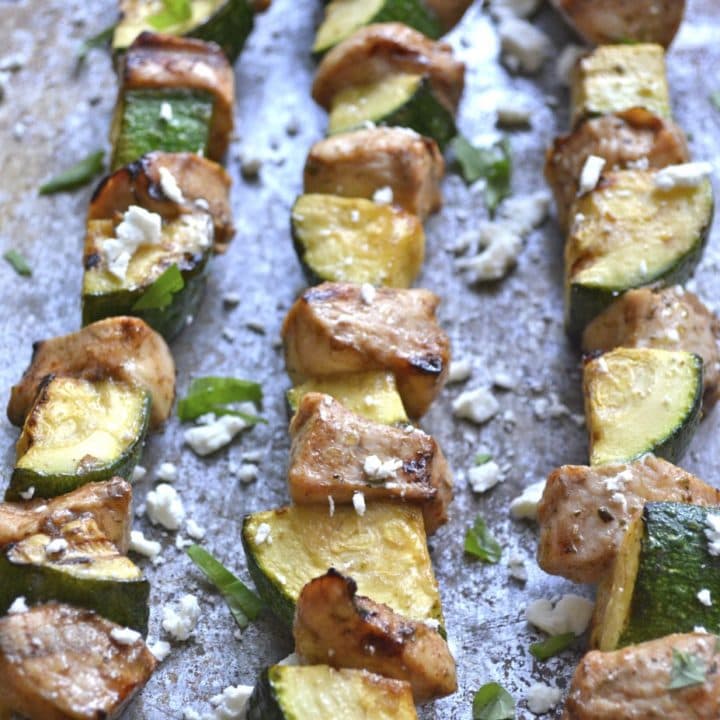 Balsamic Vinegar Grilled Chicken and Zucchini Skewers
These Easy Grilled Chicken and Zucchini Skewers are keto, low-carb and gluten-free! These summer kabobs are perfect on their own or on top of a big Greek salad!
Ingredients
1/4 cup balsamic vinegar
1/4 cup olive oil
2 teaspoon minced garlic
2 teaspoons sugar
1 teaspoon dijon mustard
1 teaspoon Italian seasoning
1/4 teaspoon garlic powder
1/4 teaspoon onion powder
1/4 teaspoon salt
1 pound chicken breast, cut into small chunks
2 medium sized zucchini, cut into small chunks
Instructions
In a measuring cup or bowl mix the first nine ingredients (balsamic vinegar-salt). Then make sure your marinade is well combined.
Place your cut up chicken breast into a plastic bag and pour in half of the marinade.
Place the zucchini pieces into a plastic bag and pour in the second half of the marinade.
Let your meat and veggies marinate for at least 30 minutes.
Heat your grill to 400 degrees.
Assemble your skewers*, alternating chicken and zucchini.
Grill for 5-6 minutes on each side.
Garnish with freshly chopped basil and crumbled feta cheese.
Notes
*If you are using wooden skewers, soak them in water for at least 20 minutes before assembling your kabobs.
Nutrition Information:
Yield:

4
Serving Size:

2 Skewers
Amount Per Serving:
Calories:

440
Total Fat:

22.2g
Cholesterol:

173.8mg
Sodium:

338mg
Carbohydrates:

4.5g
Net Carbohydrates:

4.2g
Fiber:

0.3g
Sugar:

2.8g
Protein:

53.1g