These Grilled Salmon Kabobs with Greek Marinade are loaded with lemon and garlic flavor!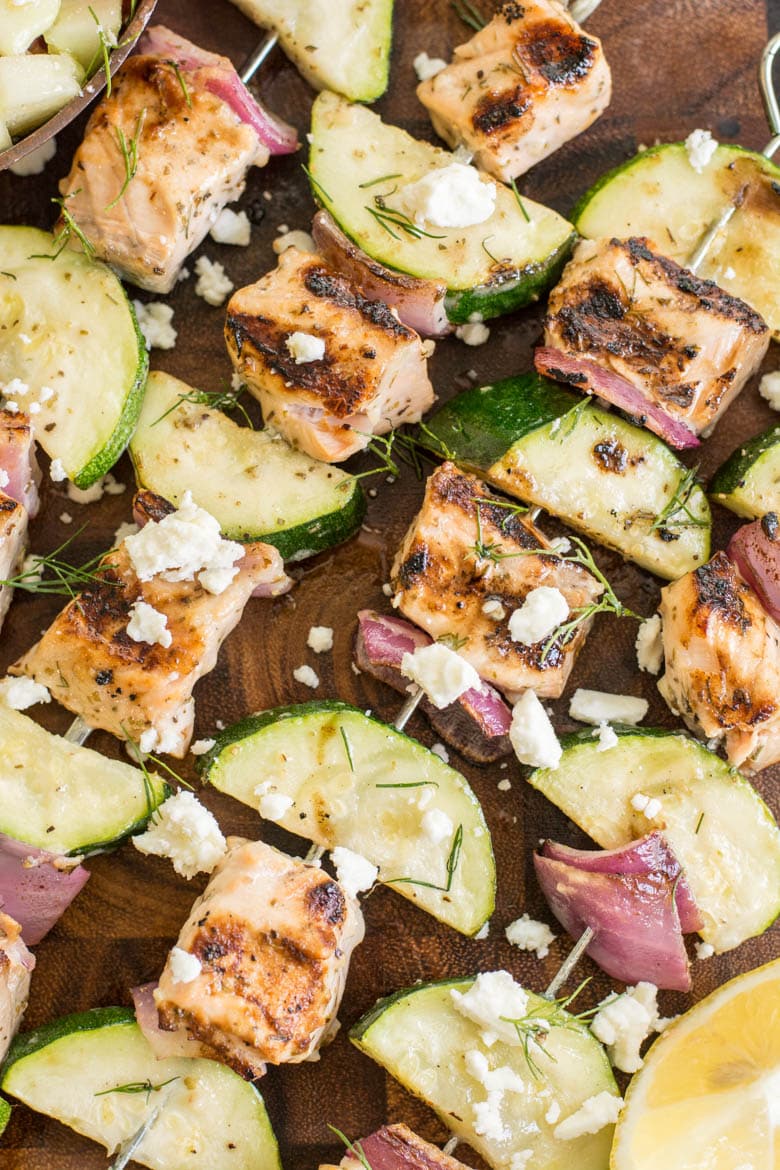 We have had Grilled Salmon Kabobs on repeat all summer long. I have always loved salmon, but I think it is extra delicious when sliced into chunks and grilled. The outside becomes perfectly crisp, while the inside stays tender and flakey. It is summer dining at its absolute best. Today, I'm sharing Grilled Salmon Kabobs with Greek Marinade. This Greek Marinade is packed with greek yogurt, lemon, garlic, and dill. It is a flavor-packed marinade that is good on any meat but especially delicious on seafood.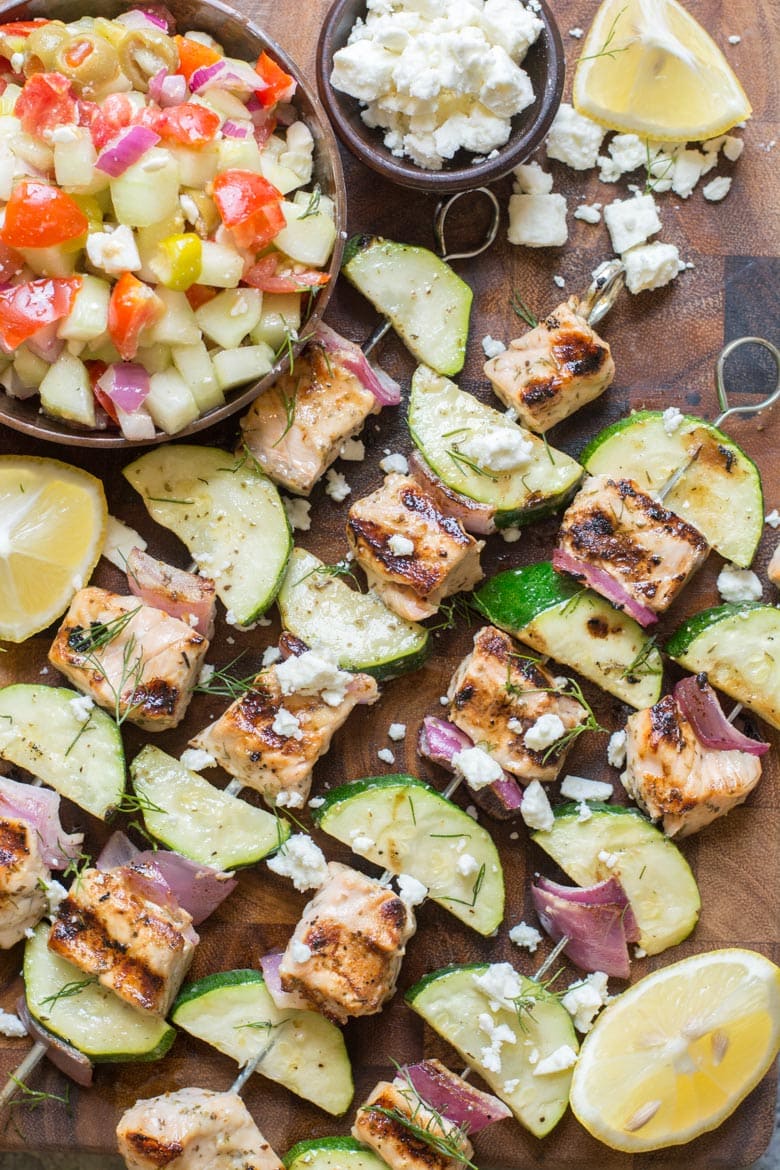 How do you make salmon kabobs?
Our kabobs are all about featuring fresh flavors. The main ingredients are salmon, red onion and zucchini. This creates a delicious, better-for-you​ meal on its own, but we take it to an entirely new level with this Greek Marinade. For the marinade, we swap out mayonnaise for greek yogurt to create a lighter, yet still tangy sauce. Instead of using brown sugar, I use erythritol, which is a sugar substitute with no funny taste, and it doesn't spike your blood sugar or effect your net carbs like regular sugar.
Once our marinade is made, allow the salmon chunks to marinade for up to 30 minutes to really soak up that delicious flavor. Just make sure not to marinate longer than 30 minutes, as seafood is a delicate protein.
Meanwhile, I add just a tiny bit of corn oil and spices to the vegetables so they have plenty of flavor and do not stick to the grill while cooking. Then simply thread the salmon, onion and zucchini onto skewers and grill on high for 4 minutes on each side. This is an easy, heart healthy meal that your entire family is sure to love!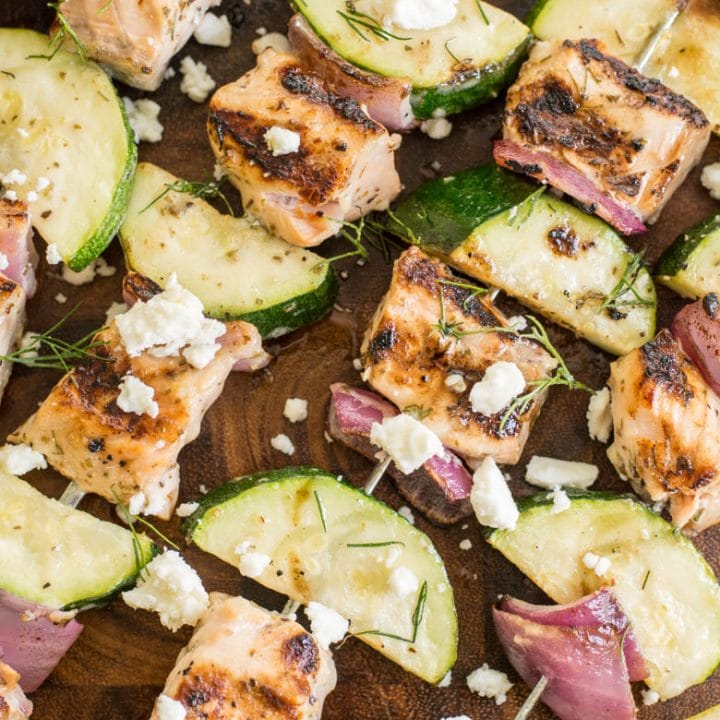 Grilled Salmon Kabobs with Greek Marinade
These Grilled Salmon Kabobs with Greek Marinade are loaded with lemon and garlic flavor!
Ingredients
2 salmon fillets
1 large zucchini, sliced
1/2 red onion, sliced
For the Marinade:
1/4 cup Oil
1/4 cup Greek Yogurt
2 tablespoons minced garlic
1 tablespoons brown sugar Monkfruit sweetener
1/2 lemon, juiced
1 tablespoon fresh dill
1 tablespoon Oregano
1 teaspoon salt
1 teaspoon pepper
Toss the veggies in:
1 tablespoon Oil
1 tablespoon fresh dill
1/4 teaspoon salt
1/4 teaspoon pepper
Instructions
Preheat a grill to high heat (400 degrees)
Slice the salmon, zucchini and red onion into cubes wide enough that they will securely hold on the skewer. Set aside.
In a medium size mixing bowl combine all of the marinade ingredients and whisk until combined.
Add the salmon to the marinade and chill for 30 minutes.
Toss the zucchini and red onion in the corn oil, dill, salt and pepper.
If using wooden skewers soak in water for 10 minutes. If using metal skewers lightly spray with cooking oil so the ingredients do not stick.
Remove the salmon from marinade and thread the salmon, zucchini and red onion on the skewers.
Grill 4 minutes on each side.
When flipping or removing the skewers use tongs to grab the skewer itself or a slice of zucchini. If you try to move the skewers by grabbing the salmon it will flake off.
Enjoy with extra lemon, dill and feta if desired!
Nutrition Information:
Yield:

2
Serving Size:

2 Kabobs
Amount Per Serving:
Calories:

382
Total Fat:

12.4g
Cholesterol:

167mg
Sodium:

206mg
Carbohydrates:

2.1g
Net Carbohydrates:

1.7g
Fiber:

0.4g
Sugar:

0.8g
Protein:

65.9g
Other Easy Keto Recipes
If you are new to Keto try my favorite Sausage Egg and Cheese Bites, they contain less than one net carb per bite and they are perfect for meal prep! One of my favorite easy low carb dinners is this One Pan Cabbage Casserole. It is so easy, cheesy and delicious and it has less than 9 net carbs per serving. Some other favorites, Keto Chocolate Cookies, Pimento Cheese and Bacon Stuffed Peppers and Sausage and Cream Cheese Pinwheels!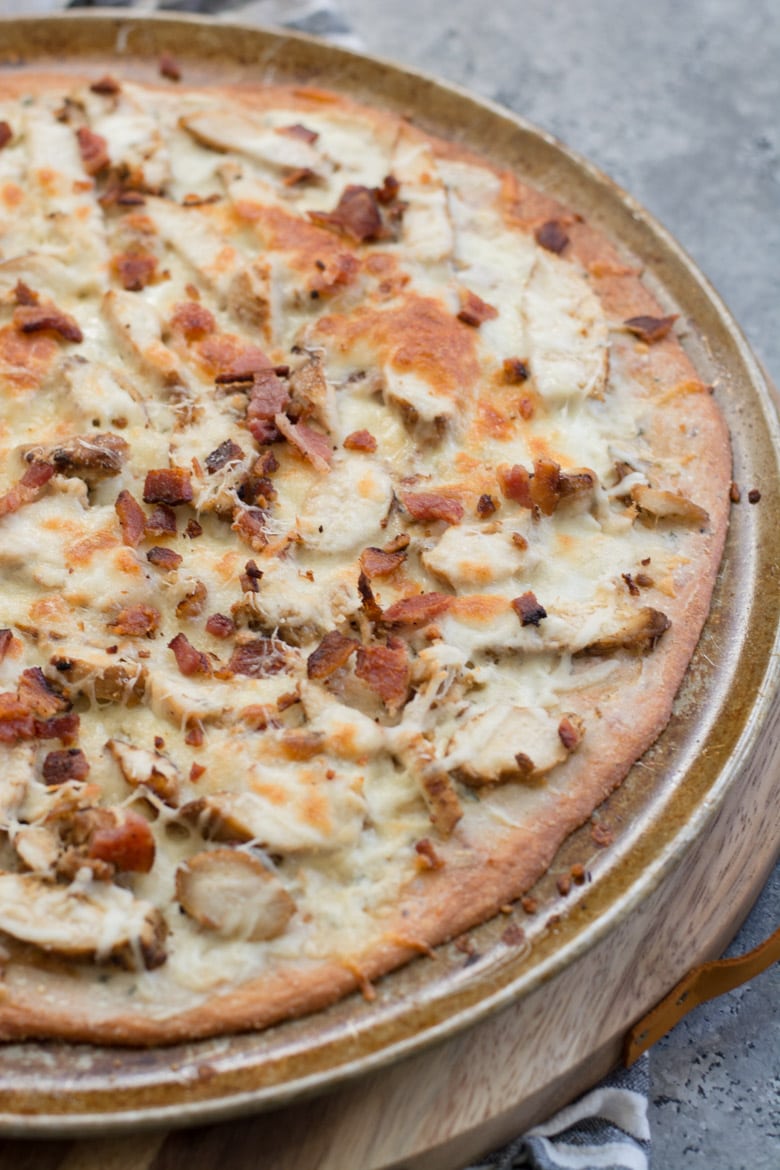 Keto Chicken Bacon Ranch Pizza