BBQ Chicken Puffs! Packed with shredded chicken, smoked Gouda and tangy BBQ sauce! 
Today's post is sponsored by cuttingboard.com, thank you for supporting brands that support Maebells!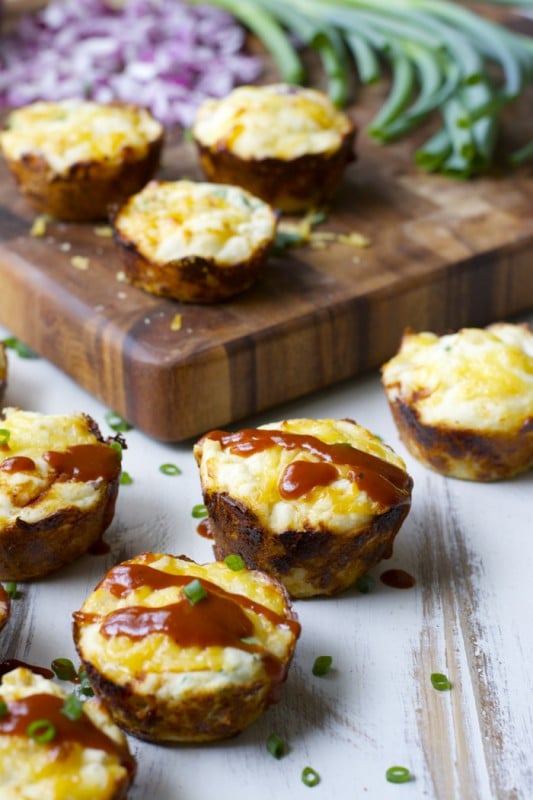 Okay ask me how many different variations of this puff recipe I have. Come on, ask!
Like a gabillion.
I can't help it! Any flavor combo I think of I am like "hey, let's stick it in a puff!" Buffalo chicken? Yep! Pizza? Absolutely! Country ham? Why not?! Need some veggies? I've got you covered!
I just love putting familiar flavor combos into these tiny little super cute mini forms!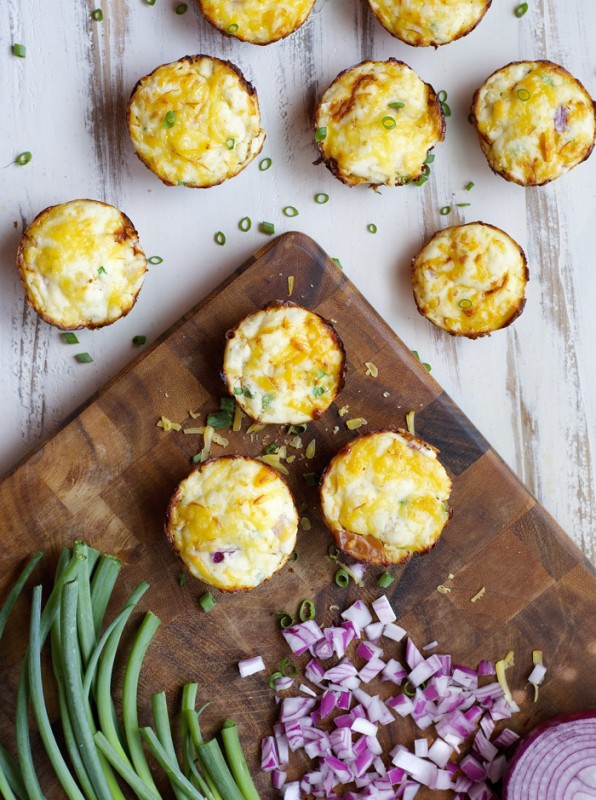 The day I made these little delights I was actually doing a little "therapy cooking." Sometimes when I am home by myself I like be in my quiet kitchen and take my time creating something. I find the chopping, measuring and mixing to be calming. (My Mother is shaking her head wondering who's child I really am) So I grabbed some veggies and my favorite Ironwood Acadia cutting board and got to work!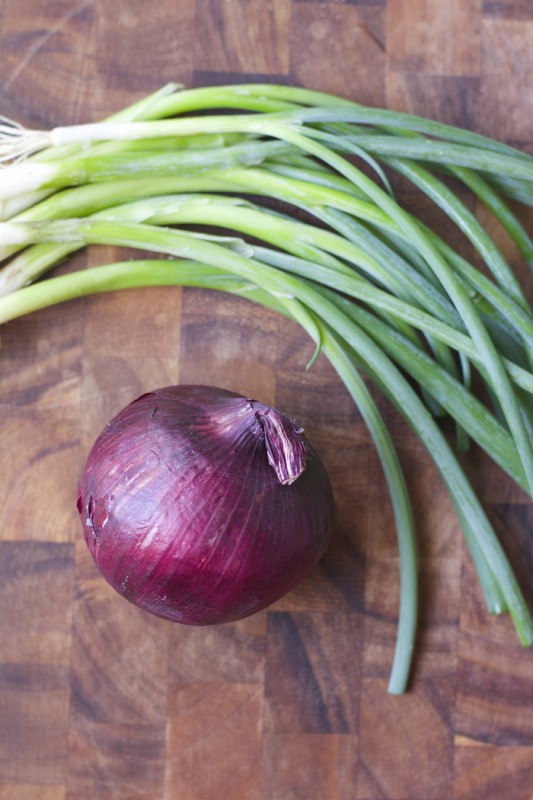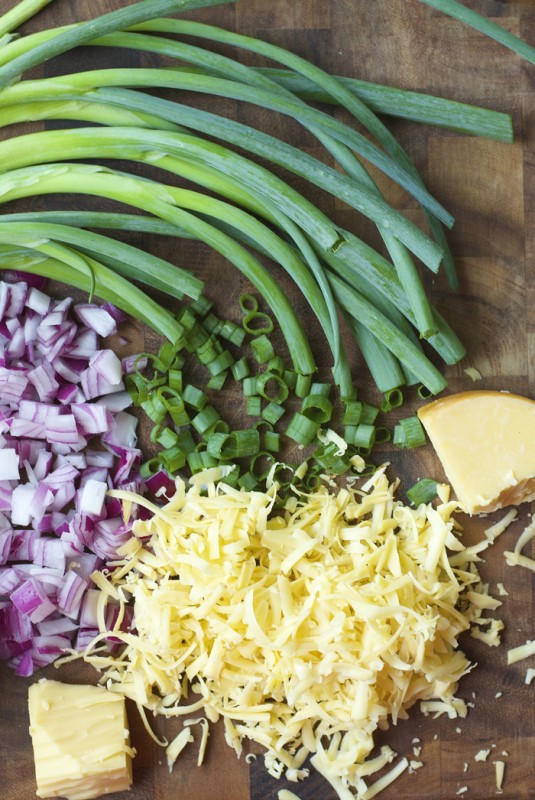 These little puffs pack all the flavor of a good BBQ Chicken Pizza. They have shredded chicken, fresh red onion, green onions, a good tangy BBQ sauce and of course Smoked Gouda.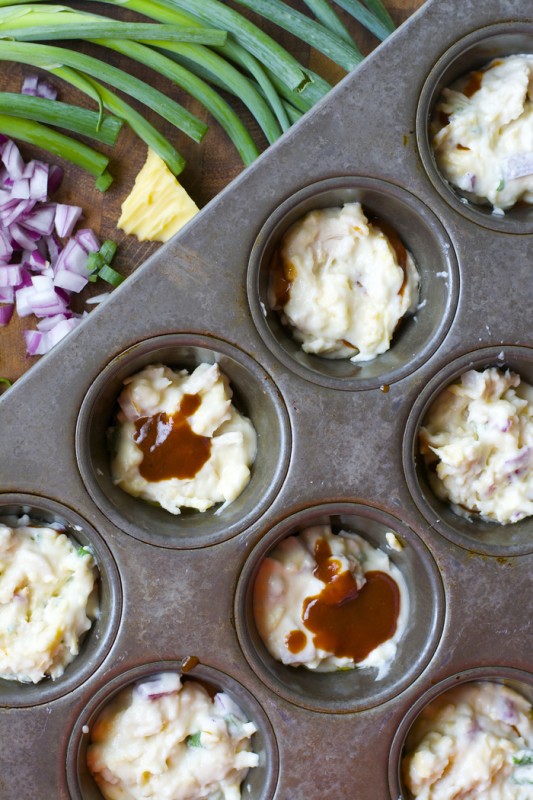 They are a nice easy alternative to making a big pizza. And they are the perfect option for quick grab and go lunches. Personally, I love making a batch on Sundays and popping a few in my lunch with a nice big salad. It is easy and filling!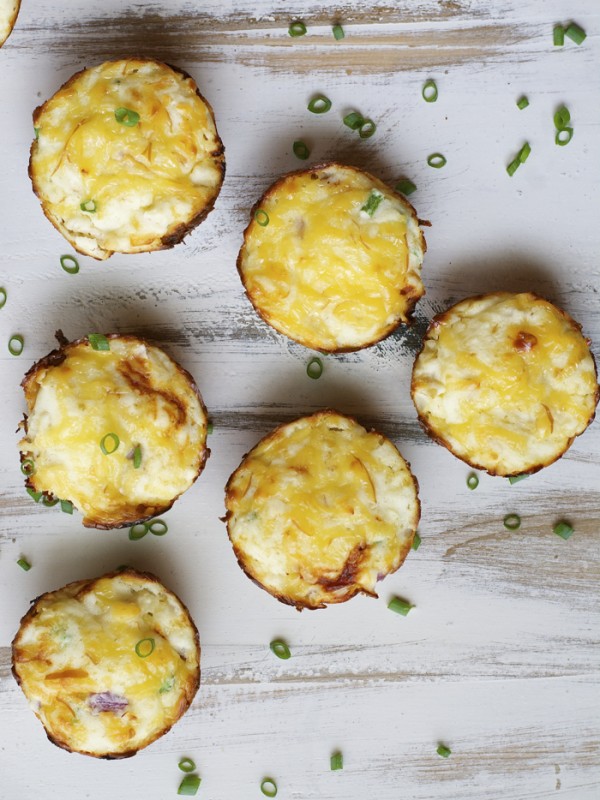 Ingredients
3/4 cup gluten free Bisquick
1 teaspoon baking powder
1/2 teaspoon salt
1 cup shredded chicken
1 cup shredded smoked Gouda (3/4 for batter, 1/4 for sprinkling on top)
1/8 cup chopped red onion
1 egg, beaten
3/4 cup milk
3-4 tablespoons BBQ sauce
2 tablespoons green onions, chopped
Instructions
Preheat oven to 375
Spray a muffin tin with cooking spray and set aside.
Combine the flour, baking powder, salt, chicken, 3/4 cup Gouda, red onion, beaten egg and milk in a medium size mixing bowl.
Place a spoonful of the mixture into the bottom of each muffin tin, just enough to cover the bottom.
Drizzle a little BBQ sauce into each muffin tin, I drizzled about a teaspoon per muffin, but you can use as much or as little as you wish.
Spoon remaining batter into each muffin tin.
Top with the remaining Gouda.
Bake 17-20 minutes or until golden brown.
7.8.1.2
242
https://www.maebells.com/bbq-chicken-puffs/
How would you love to win one of these beautiful cutting boards? One of the most used items by home cooks everywhere happens to be their cutting board. I don't know about you but I need more than one!
Cutting boards are used for everything from chopping & dicing ingredients, while preparing a dish, to allowing meat to rest and then be sliced and served…to gorgeous vehicles to set out your party food on.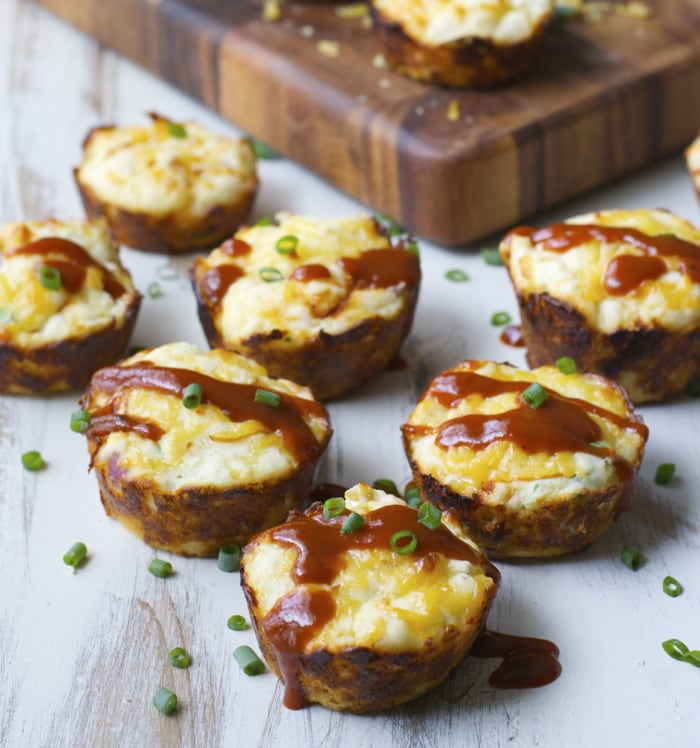 CuttingBoard.com is a boutique retailer of cutting boards and butcher blocks. They also happen to carry  one of the widest selections of John Boos boards and take care to house their boards in a climate and humidity controlled warehouse.
What makes Cuttingboard.com different from other physical and online stores is that all of their beautiful products are 100% environmentally friendly and have been harvested from renewable resources. As a genuine small business, Cuttingboard.com takes pride in ensuring that their customers are always happy when shopping with them.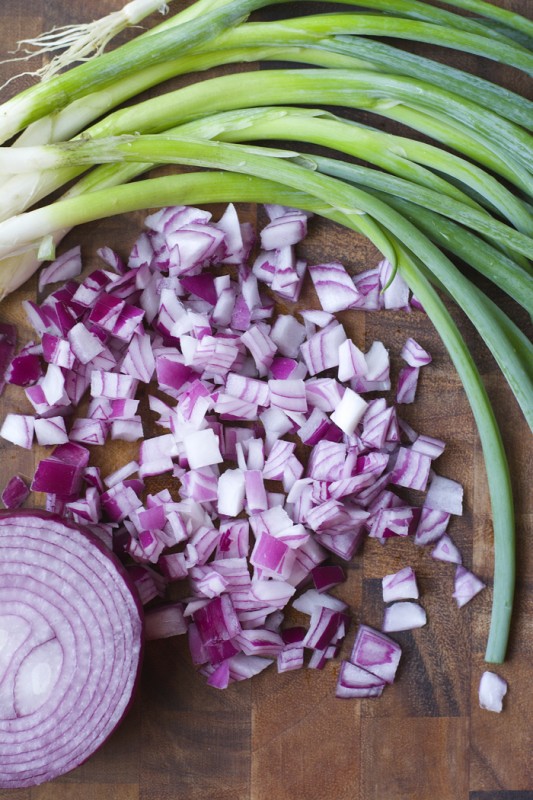 From the way they lovingly oil and paper wrap your new board, you can tell that  they consider each one to be a work of art.
I was lucky enough work with the Ironwood Acadia cutting board for these delicious BBQ Chicken Puffs and the time they put into these boards is clear!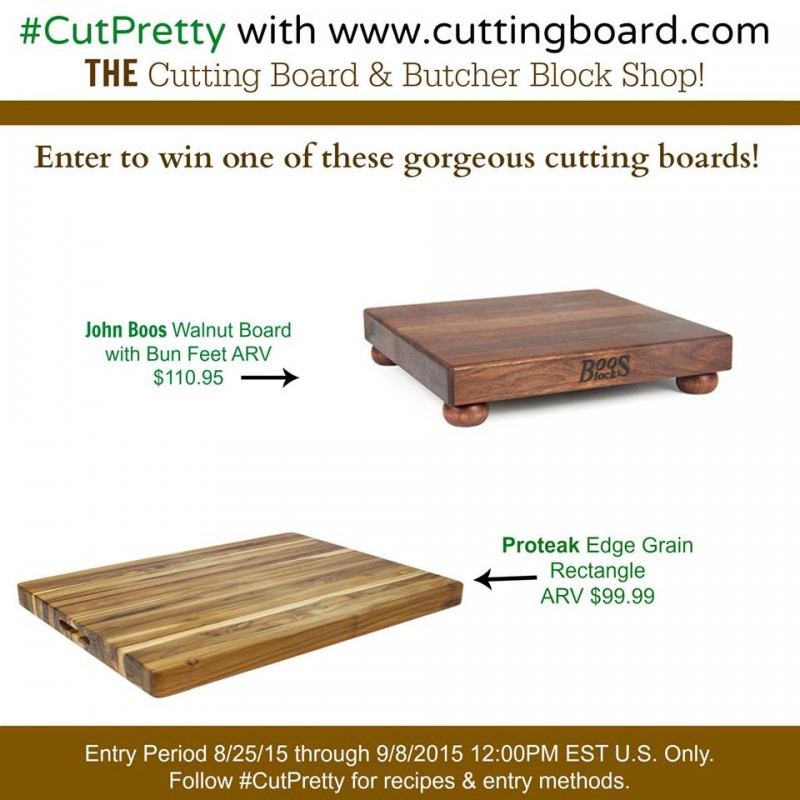 I am excited to share that we are giving away a couple of their boards to 2 lucky winners!  One will win a gorgeous Proteak 107 Edge Grain Rectangle 24 x 18 x 1.5 valued at $99.99 and 1 will win this beautiful John Boos Walnut Board with bun feet 12 x8 x 1.5 valued at $110.95. See the Rafflecopter below to enter.