Fresh watermelon juice is the star of this Watermelon Limeade! Combine just two ingredients for the most refreshing summer treat ever!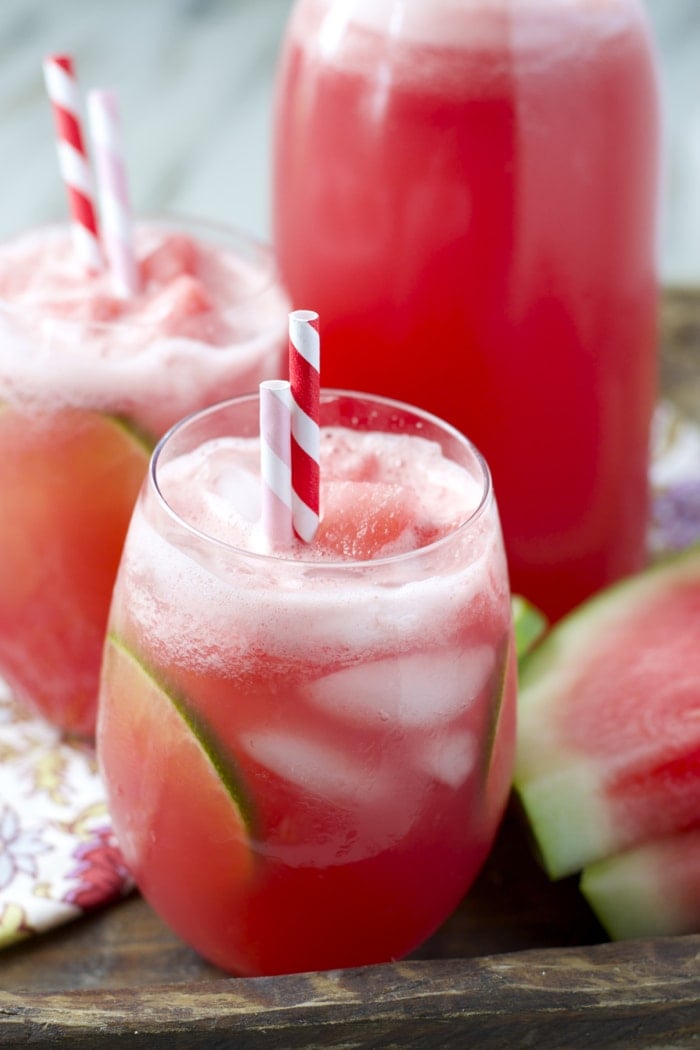 Do you have big plans for the weekend? Maybe your spending the holiday on the beach or at the lake? Personally, I have a full weekend of pool time planned. I haven't stepped foot in a pool all Summer and that desperately needs to change.
Whatever you are doing this weekend there needs to be food, and lots of it! Maybe burgers, BBQ or smoked drumsticks? Or a big sweet corn salad? Oh and don't forget the drinks! Ice cold drinks are super essential for all your 4th of July festivities!
So in honor of pool days and Summer holidays I have whipped up the easiest most delicious Summer drink ever, Watermelon Limeade! This drink just has two ingredients fresh watermelon juice and a can of frozen limeade concentrate. Just toss them in the blender and you will get a super refreshing combination of sweet and tart, absolutely perfect for lazy pool days!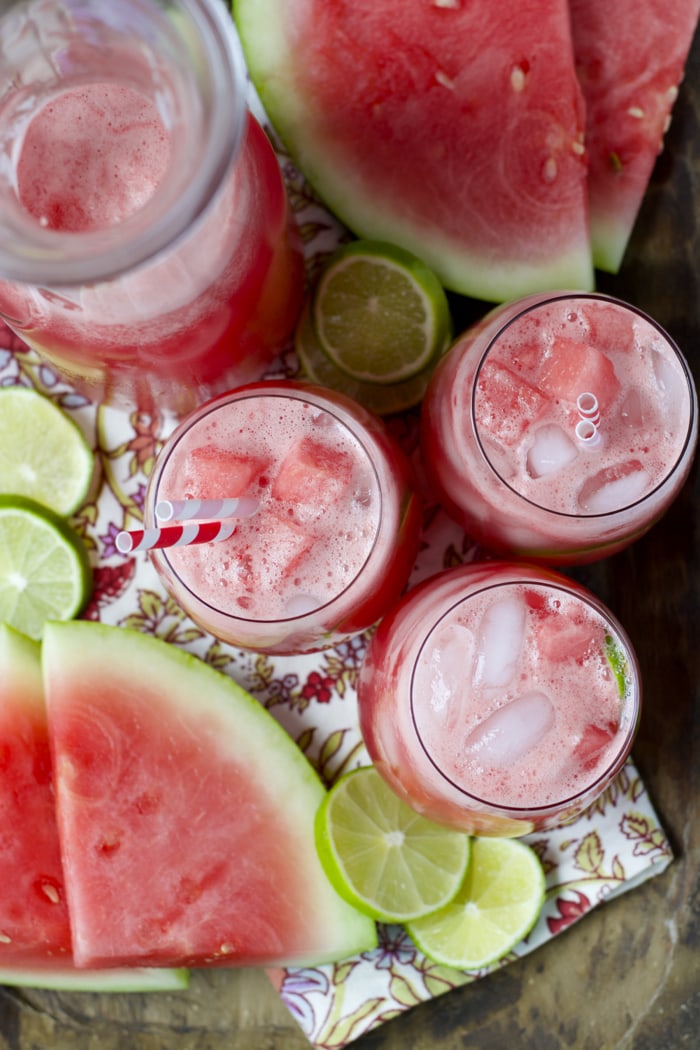 Watermelon Limeade Ingredients:
This couldn't be easier–There's only two ingredients! There are possible substitutions and additions, but you really only need…
Seedless watermelon (or fresh watermelon juice)
Frozen limeade concentrate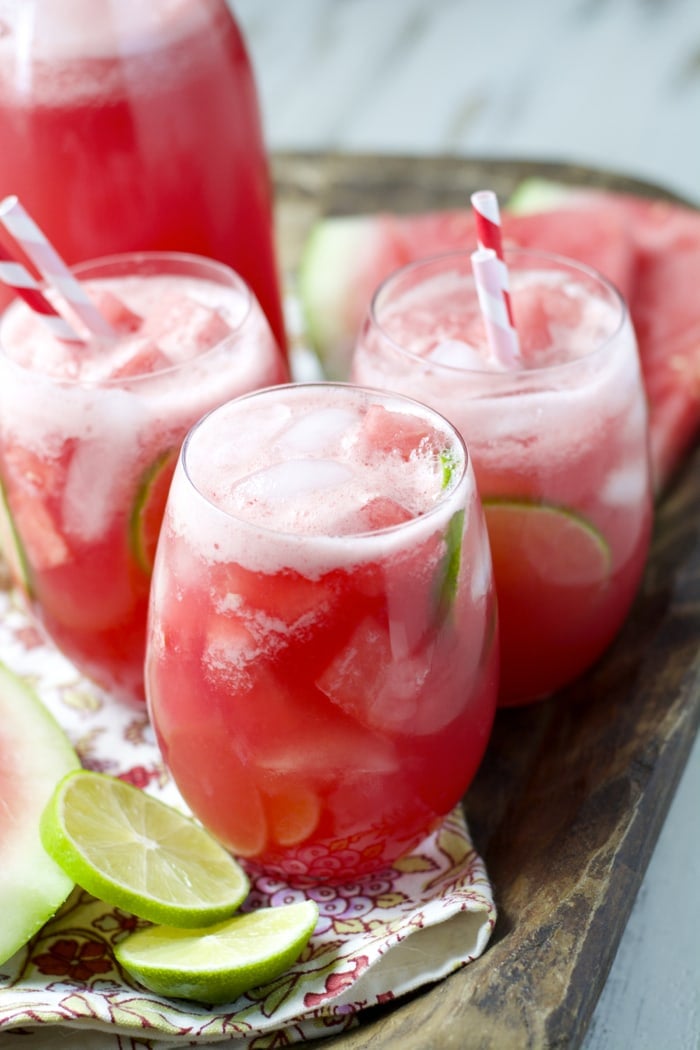 How do I make Watermelon Limeade?
To make this drink, you'll want fresh watermelon juice. I cut a medium size seedless watermelon into quarters and used about 3/4 of the watermelon to make the fresh watermelon juice. You can measure it out if you would like–For me, 10 cups of watermelon chunks made 5 cups of super fresh and perfectly sweet watermelon juice.
Place your watermelon chunks in a blender and blend until smooth. This should only take a few seconds. Then pour the juice through a strainer and voila! You have watermelon juice! You will probably need to do this in two or three batches, depending on the size of your blender.
Once you have your fresh, strained watermelon juice, add this back into your blender with the frozen limeade concentrate. Give it a good whirl until it is well mixed, then serve over ice, watermelon chunks, and lime slices!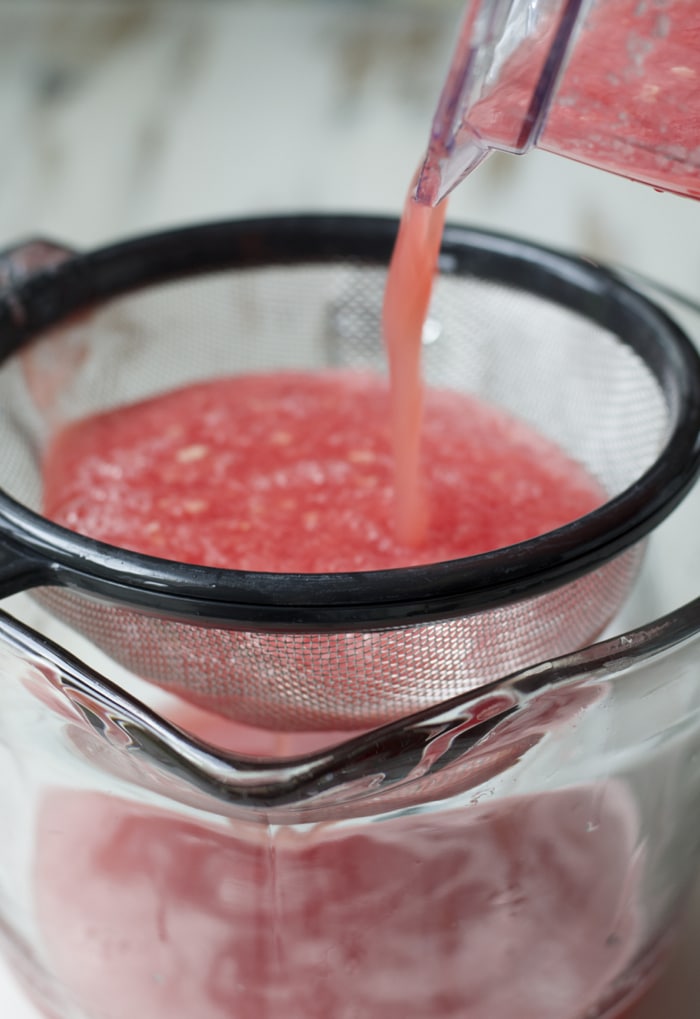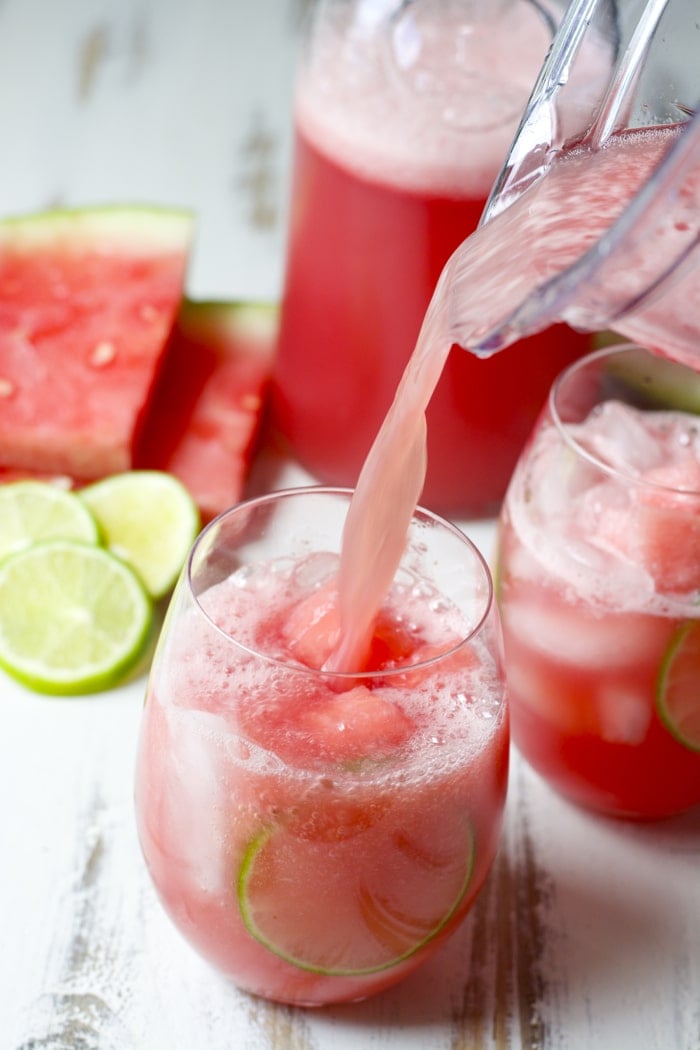 Tips & Tricks for the BEST Watermelon Limeade:
This recipe is so flexible! While there's very little you could do to mess up this watermelon + lime combination, there are a few ways to ensure you've got the tastiest drink on the block.
Opt for the seedless watermelon. Yes, we are straining out the pulp anyway so a few seeds wouldn't ruin the drink, but those big seeds in normal watermelons will take a toll on your blender! You simply will not end up with a silky smooth drink unless you use the seedless watermelon.
Use the largest blender you have. It takes about 10 cups of watermelon cubes to make 5 cups of juice, so you may have to work in batches if you don't have a big blender. That's okay–It will just take a little bit longer!
This recipe is substitution-friendly! Not a fan of limeade? Use the frozen lemonade concentrate instead! You can substitute the watermelon juice with a different fruit juice, but you will need to consider the sweetness/tartness of your juice of choice. For example, 5 cups of cranberry juice would be extremely tart whereas 5 cups of strawberry juice would be super sweet. You may want to experiment and add juice in slower amounts until it tastes right for you.
If you want this to have a slushy consistency, you can easily do this by preparing ahead. After making the watermelon juice, pour it into ice molds and freeze. When ready to serve, blend the frozen watermelon juice cubes with the limeade concentrate (it may help if the limeade is a bit thawed).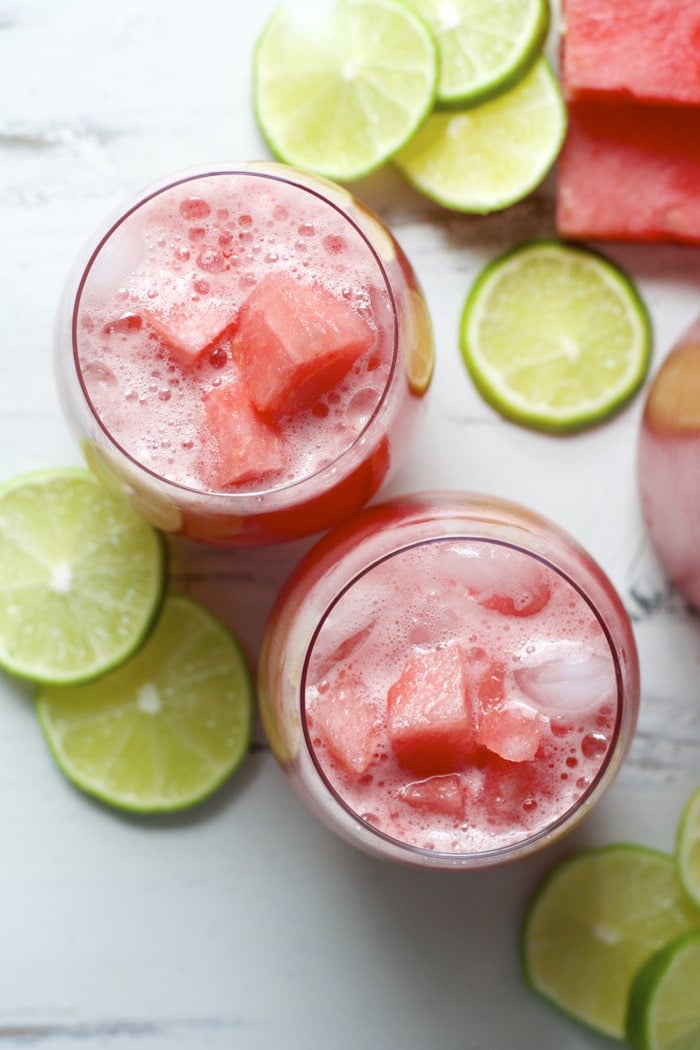 Can I add alcohol to Watermelon Limeade?
This drink is delicious the way it is, but it's ALSO delicious with the addition of some good booze! If you want to make this an adults-only beverage, simply add 1/2-2/3 cup tequila. It tastes a lot like a watermelon margarita!
For a drink similar to a watermelon daiquiri, add 1/2-2/3 cup light rum instead of tequila. You could even add a splash or two of Triple Sec for a bit of citrus kick!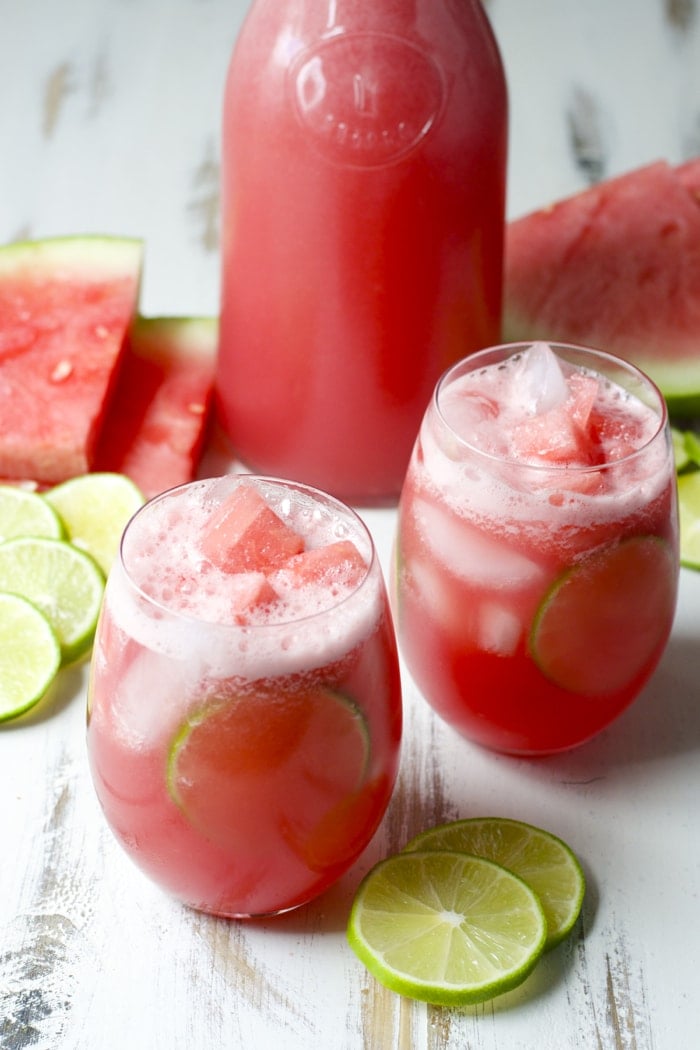 More Summer Drinks:
The best way to enjoy the sun is with a nice, cold drink in your hand!
If you're looking for some beautiful alcoholic drinks for the pool, engagement parties, or bridal showers, try these: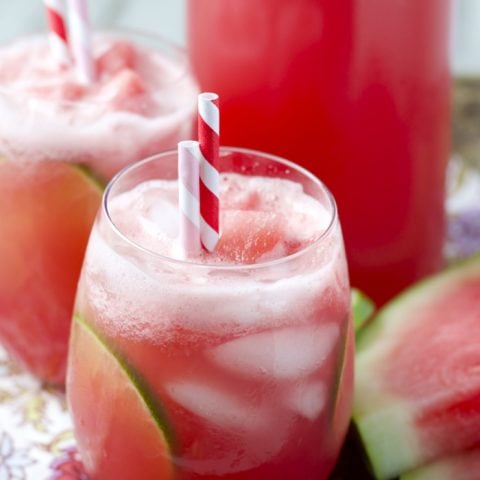 Watermelon Limeade
Fresh watermelon juice is the star of this Watermelon Limeade! Combine just two ingredients for the most refreshing summer treat ever!
Ingredients
5 cups watermelon juice (10 cups seedless watermelon chunks blended)
1 can frozen limeade
Instructions
Place the seedless watermelon chunks in the blender and blend until smooth. (You may need to do this in multiple batches depending on the size of your blender.)
Pour watermelon juice through a mesh strainer and discard the pulp.
Measure out 5 cups of strained watermelon juice and add it to the blender with the frozen limeade. After it's blended well, serve ice cold with additional watermelon chunks.
Notes
Seedless watermelons really are necessary unless you feel like picking out every seed before blending!
The bigger the blender, the faster this process goes!
Feel free to use the can of frozen lemonade instead of limeade if that's more your style!
If you want to make this more like a slushy, freeze the watermelon juice into ice cubes, then blend with the limeade.
If you want to make this an adult beverage, add 1/2-2/3 cup tequila!
Nutrition Information:
Yield:

6
Serving Size:

1 cup
Amount Per Serving:
Calories:

186
Total Fat:

0g
Cholesterol:

0mg
Sodium:

5.9mg
Carbohydrates:

50.4g
Fiber:

0g
Sugar:

46.4g
Protein:

0g