This refreshing Strawberry Lemonade is packed with fresh strawberries, lemon slices and mint and it is SO easy to make! It is the perfect way to beat the heat!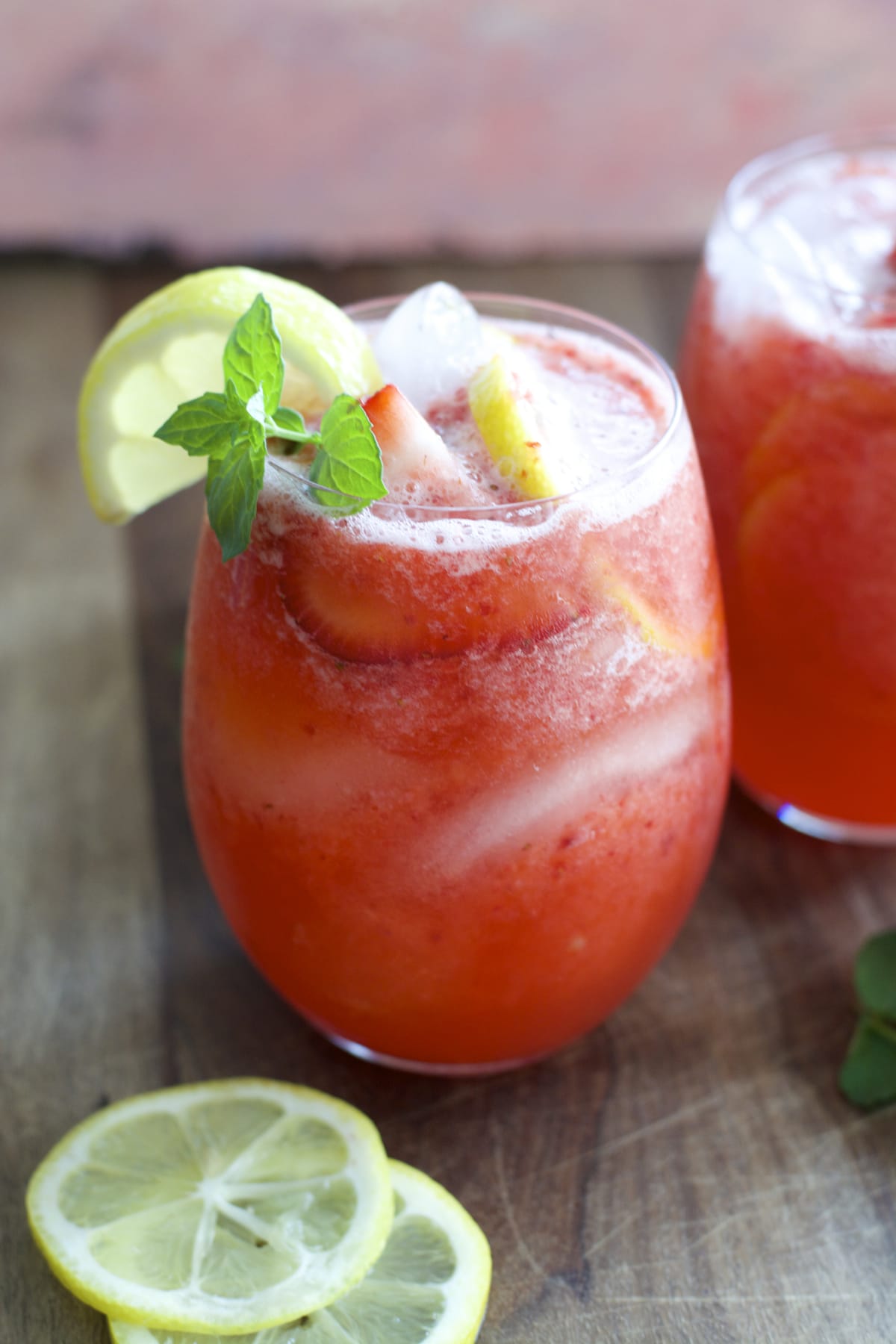 If you have been reading long you probably know that Maebells is only part of my job. I also run an online store called Gin Creek Kitchen, where we sell Southern-inspired home and kitchen decor. Basically, I am your go-to girl if you need to learn how to cook grits or want to buy cotton or cow decor. 🙂
Well my store started as a little bit of a side project, it was just this thought that I couldn't get out of my head, but now it takes up the majority of my time. I spend most of my days packing and shipping products, which I normally love. Except it is summer and a gazillion degrees outside and hauling boxes bigger than me just isn't really an easy thing to do. So I've had to find ways to keep cool!
This strawberry lemonade is become my go to! I have kept a pitcher in the fridge for about two weeks now and since I love it so much I figured you might too!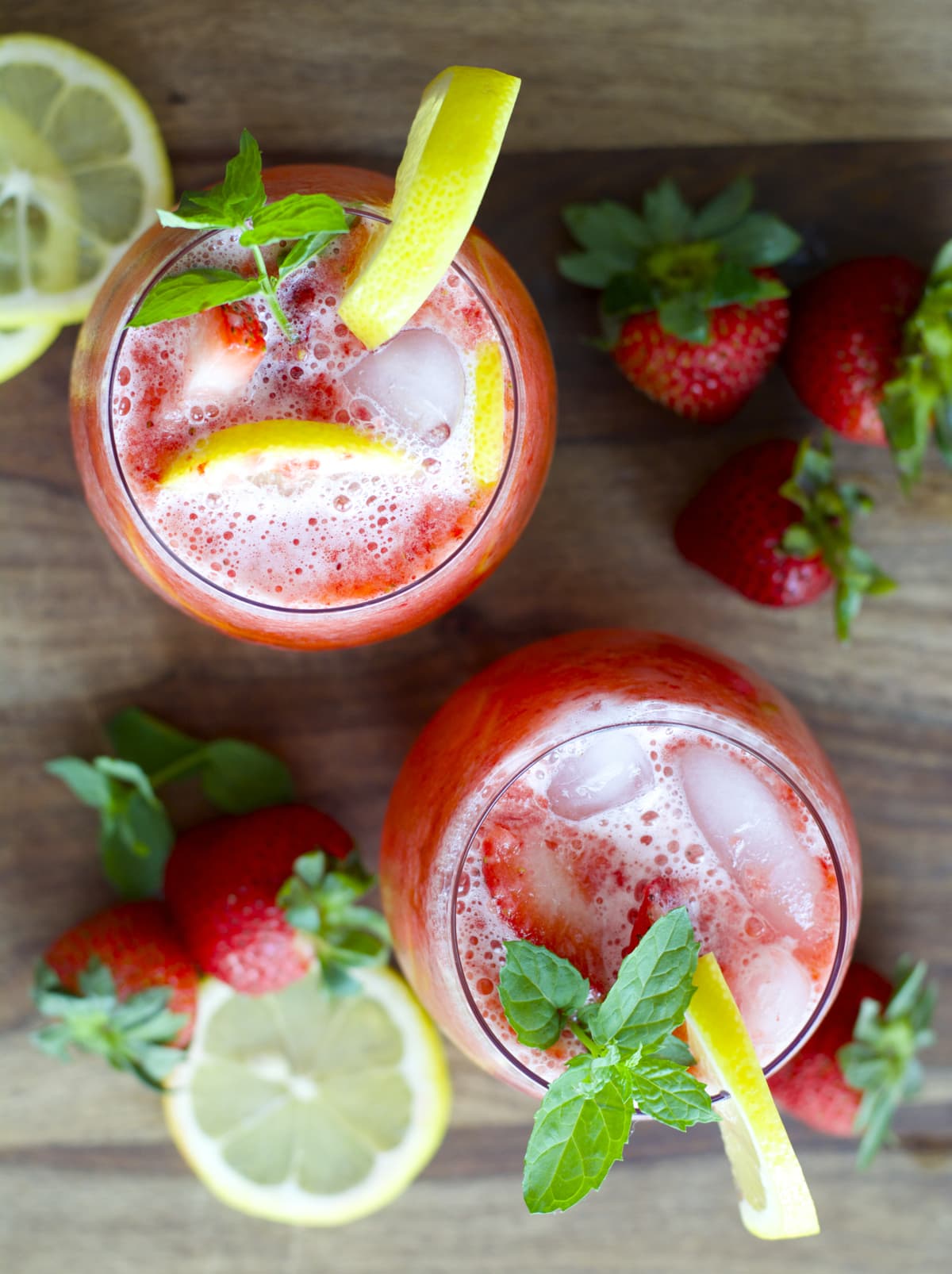 What Ingredients Are Needed for Strawberry Lemonade?
This homemade strawberry lemonade has only four ingredients and is ready in under a minute. Seriously, it is so easy!
Fresh strawberries
Lemon
Fresh mint leaves
Ginger Ale
How to Make Strawberry Lemonade
Fill a big pitcher with tons of ice, lemon and strawberry slices, and then add just enough Ginger Ale to give it a nice fizzy taste. Voila! You have a very impressive drink on your hands!
I add fresh mint leaves to mine because I love the flavor it adds. This is a great drink for showers or parties, or a nice cool drink by the pool!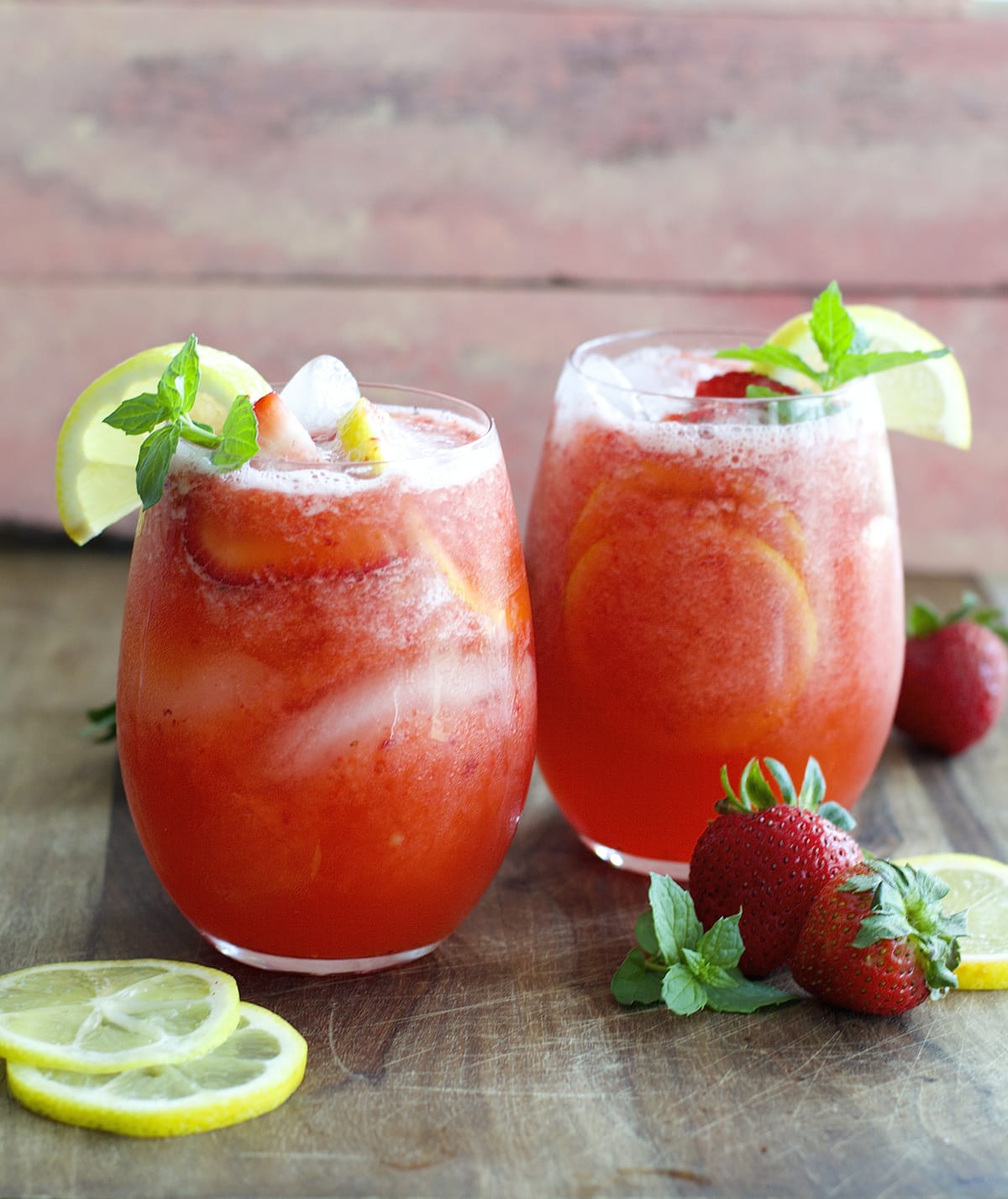 How to Make Frozen Strawberry Lemonade
You can also make this as a blended strawberry lemonade recipe! To do so, you'll need:
One can of frozen lemonade
Frozen strawberries
Water
To make frozen strawberry lemonade, simply add the ingredients listed above to a blender and blend until smooth.
Can I Prep Strawberry Lemonade in Advance?
Because this strawberry lemonade drink calls for Ginger Ale, I don't recommend prepping it too far in advance otherwise the soda will lose its carbonation by the time you're ready to drink it.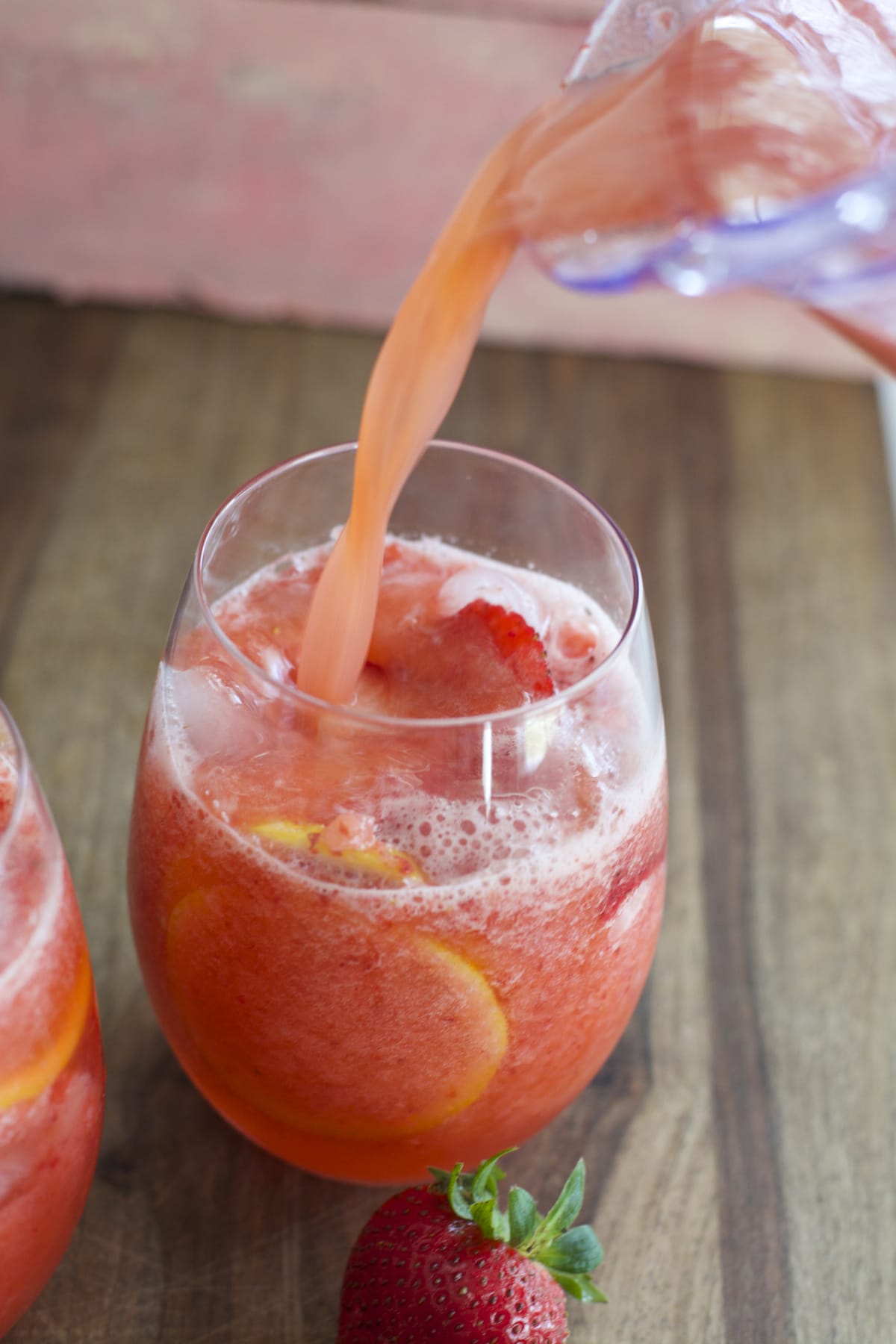 Tips for the Best Strawberry Lemonade
For an extra boost of strawberry flavor, use a mixture of ice cubes and frozen strawberries to keep your strawberry lemonade cold.
If making this as a frozen lemonade, a blender is must. Do not try making this in a food processor as the motor isn't powerful enough.
I've only made this recipe as written, but I bet you could tweak this drink to include other fresh berries as well.
More Summer Drink Recipes: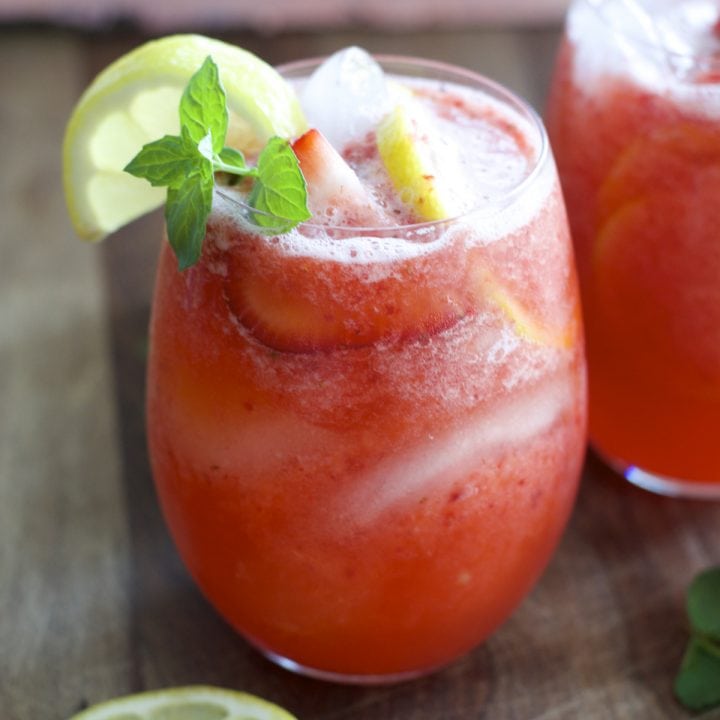 Strawberry Lemonade
This refreshing Strawberry Lemonade is packed with fresh strawberries, lemon slices and mint and it is SO easy to make! It is the perfect way to beat the heat!
Ingredients
For Frozen Strawberry Lemonade:
1 (12 ounce) can frozen lemonade mix
2 cups frozen strawberries (with no sugar added, just plain frozen strawberries)
4 cups of water
For Classic Strawberry Lemonade:
2 cups thinly sliced strawberries
1 lemon, thinly sliced
1 small handful of mint leaves (optional)
1-2 cups of Ginger-Ale (depending on how much fizz you like in your drink)
Instructions
For Frozen Strawberry Lemonade:
Place your lemonade mix, strawberries and water and blend until smooth.
For Classic Strawberry Lemonade:
Fill a large pitcher with ice, strawberries, lemon slices and mint leaves. Pour in the strawberry lemonade and add Ginger-Ale.
Recommended Products
As an Amazon Associate and member of other affiliate programs, I earn from qualifying purchases.
Nutrition Information:
Yield:

6
Serving Size:

8 ounces
Amount Per Serving:
Calories:

82
Total Fat:

0g
Saturated Fat:

0g
Trans Fat:

0g
Unsaturated Fat:

0g
Cholesterol:

0mg
Sodium:

15mg
Carbohydrates:

21g
Fiber:

3g
Sugar:

15g
Protein:

1g
To avoid any confusion I remove erythritol from the final carb count and net carb count, as it is not known to affect blood glucose levels. To calculate Keto recipes listed on this site carbs - fiber = net carbs. I use Nutrifox as my nutrition calculator. This nutrition information is an estimate based on the information provided by Nutrifox and the specific ingredients I used.