This simple six ingredient dish is perfect for Summer entertaining! Your guests will love these sweet and spicy Chipotle Chicken Stuffed Peppers!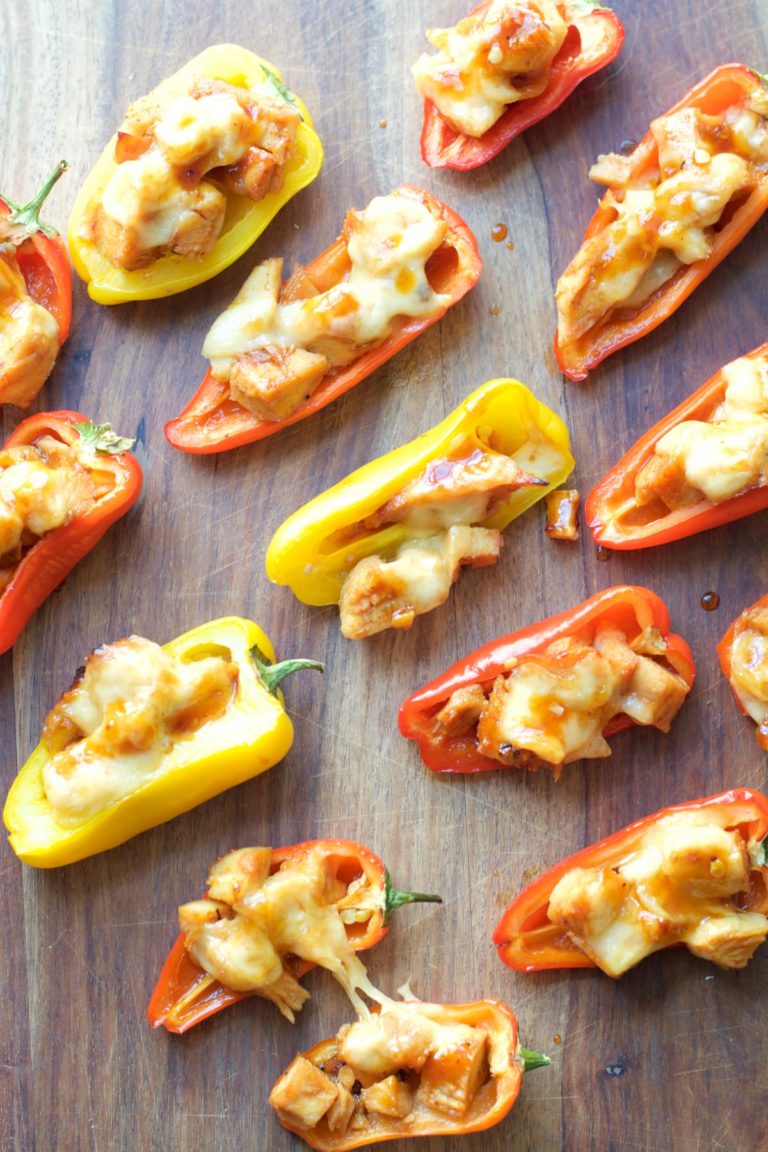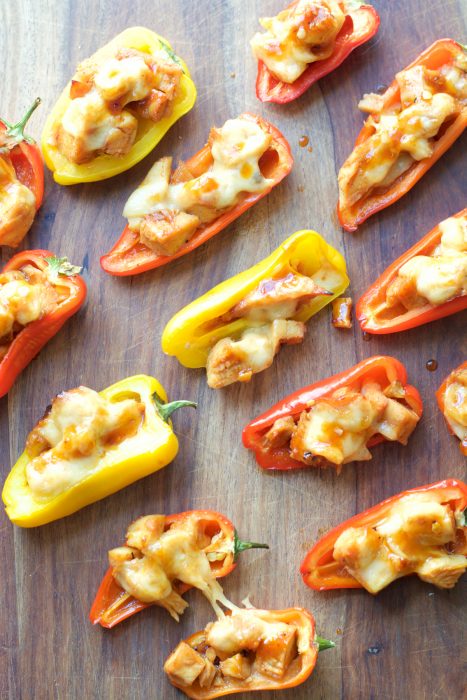 Hellllooo Summer! We are currently expecting a heat index of 106 degrees this weekend. If that doesn't signal Summer, I just don't know what does!
I'm not complaining- the days are longer, the grill is getting a workout and I have a garden full of produce!(and weeds…but I'm working on that). Another wonderful part of Summer is the get togethers. This is prime time for picnics, reunions, and Summer celebrations!
The tricky thing about Summer entertaining is finding dishes that are easy enough you don't spend a whole day cooking! You know the way the oven can really heat up the whole house? I avoid that in the summer as much as possible- these No Bake Almond Butter Cookies and Keto Caramel Frappucino always help to cool me down!
These sweet and spicy Chipotle Chicken Stuffed Peppers are perfect for this time of year. A little spicy, a little crunchy and a lot of flavor! Just six easy ingredients gives you everything you need to create an irresistible dish your guests will love!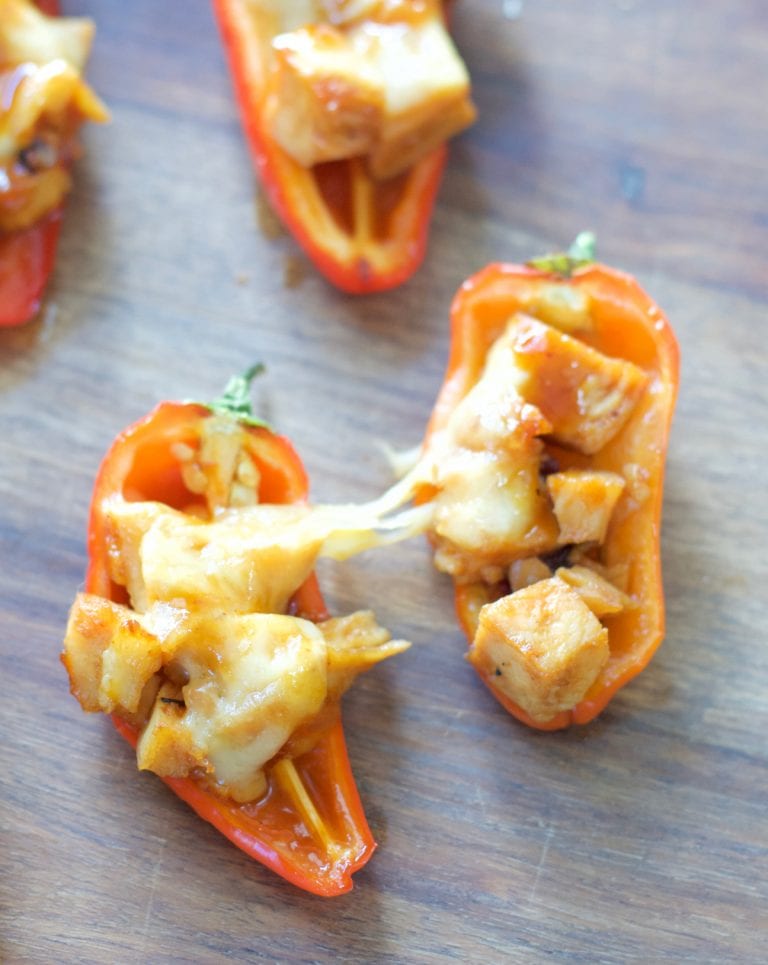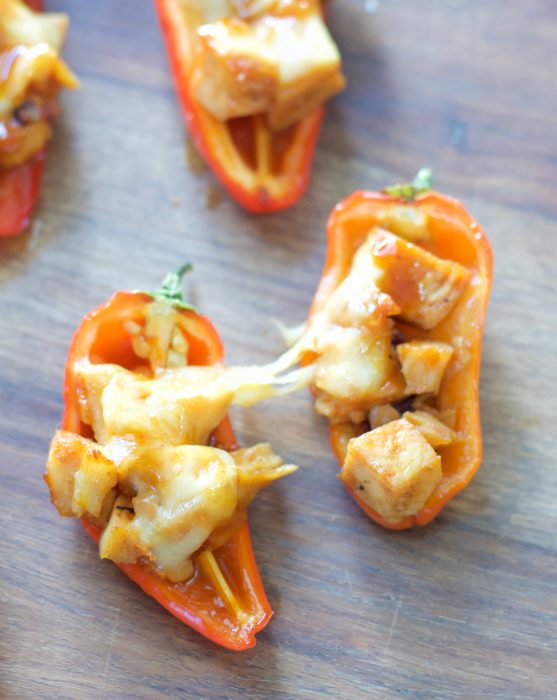 Ingredients for Chicken Stuffed Peppers
As always, this is a quick overview of the ingredients you will need for this recipe. For the complete list of ingredients and instructions just keep scrolling.
Chicken: any cooked, chopped chicken will do. You can use leftovers, rotisserie or slow cooker chicken.
Chipotle Adobe Sauce: this is what is found in a can of chipotle peppers.
Honey: maple syrup works in a pinch.
BBQ Sauce: your favorite variety.
Sweet Peppers: small sweet peppers are best in this recipe.
Gouda Cheese: shredded Gouda pairs perfectly with the sweet and spicy sauce.
How do you make Cheesy Chicken Stuffed Peppers?
To create our sauce, we combine a tablespoon of Adobe sauce, which is the sauce that comes in a can of chipotle peppers with honey and a bit of BBQ sauce.
Stir your sauce really well so the honey becomes smooth and give it a taste. Is it too spicy? Not spicy enough? You may want to add a little more Adobe sauce or honey depending on your preferences.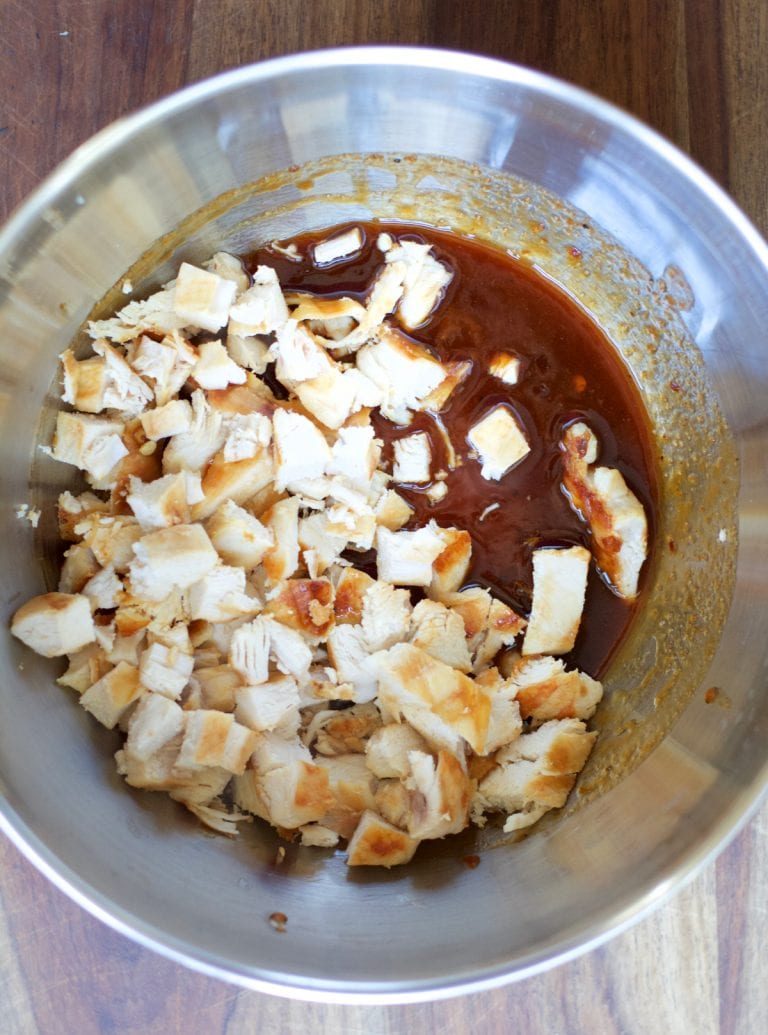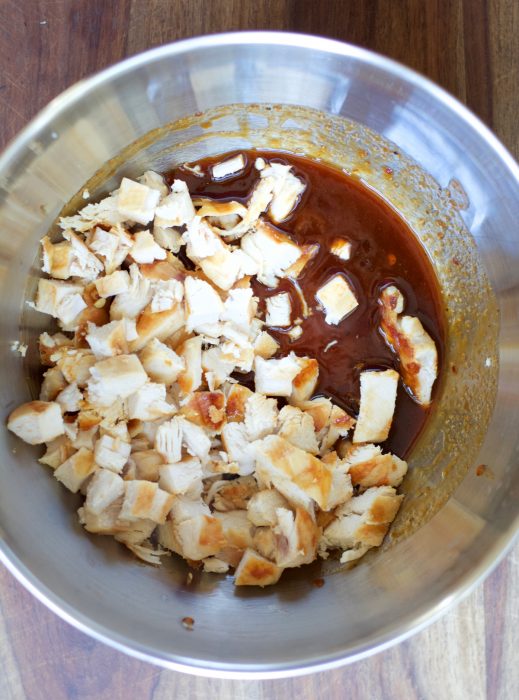 Next, add in the cooked, chopped chicken. Stir until it completely coated.
Then just stuff your sliced sweet peppers with the sweet and spicy chicken and top with shredded gouda cheese!
You can bake or grill these sweet peppers and serve them while they are hot and bubbly! I promise you won't have any left overs!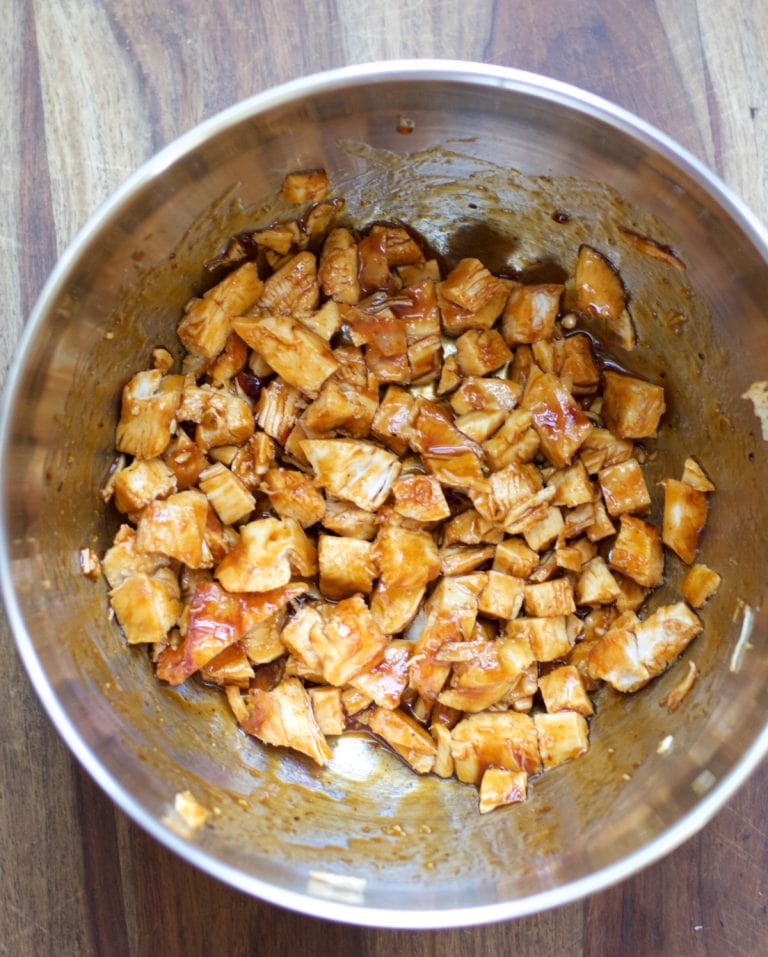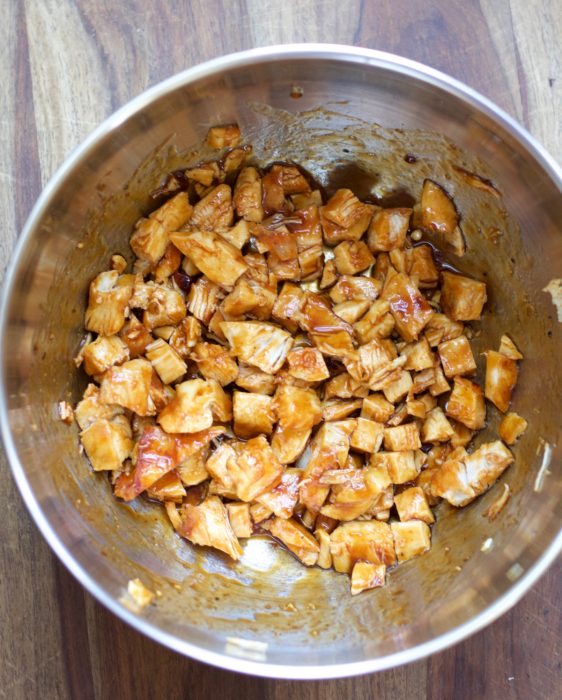 What to serve with Chicken Stuffed Peppers?
These peppers make a great addition to any table, but everyone loves a spread! I serve these as an appetizer, but they are also perfect for a picnic or barbecue. So let's hit a few possibilities here: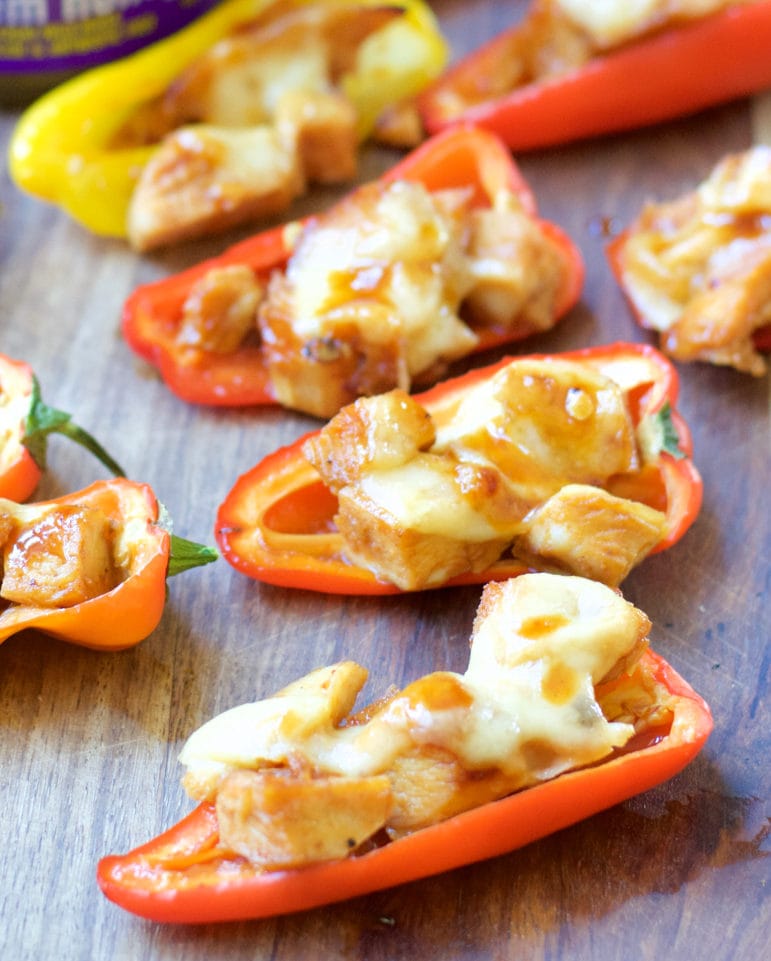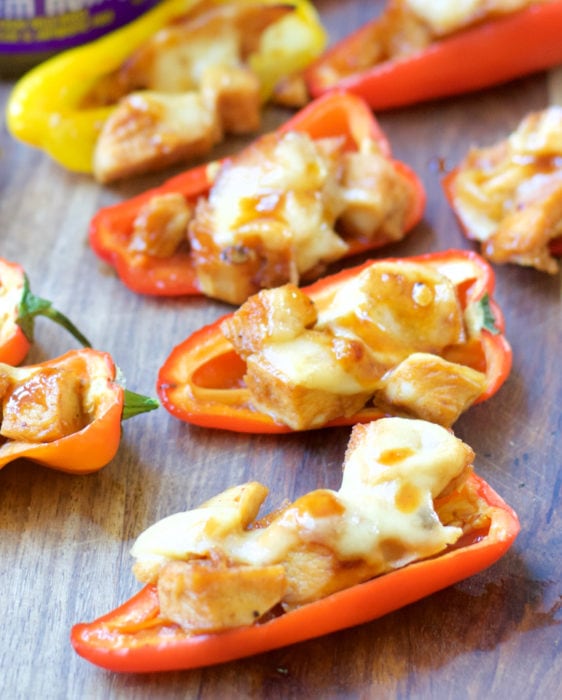 Storage and Reheating of Cheesy Stuffed Peppers
To store these yummy peppers, simply place in an airtight container (glass or plastic, whichever works fine) and place in the fridge. These peppers will stay fresh for up to five days in the fridge. I would not layer the peppers- place them in a single layer.
To reheat, I personally recommend either reheating in the oven or an air fryer. In my personal opinion, the microwave can make the pepper skins a little too rubbery. You want these peppers to come out crispy!
If reheating in the oven, place the peppers in a single layer on baking sheet. Either spray the sheet with nonstick spray, or use parchment paper. Warm your oven to 350 degrees and place your peppers in.
I would warm for five minutes and check to see if they are warm enough for you. If they aren't to your desired temperature, place them in for five more minutes.
To warm in an air fryer, place the peppers in a single layer in the base of the air fryer. Set the heat to 330 and the timer to four minutes. Check after four minutes, and again, if they aren't warm enough for you, pop them back in for an additional four minutes.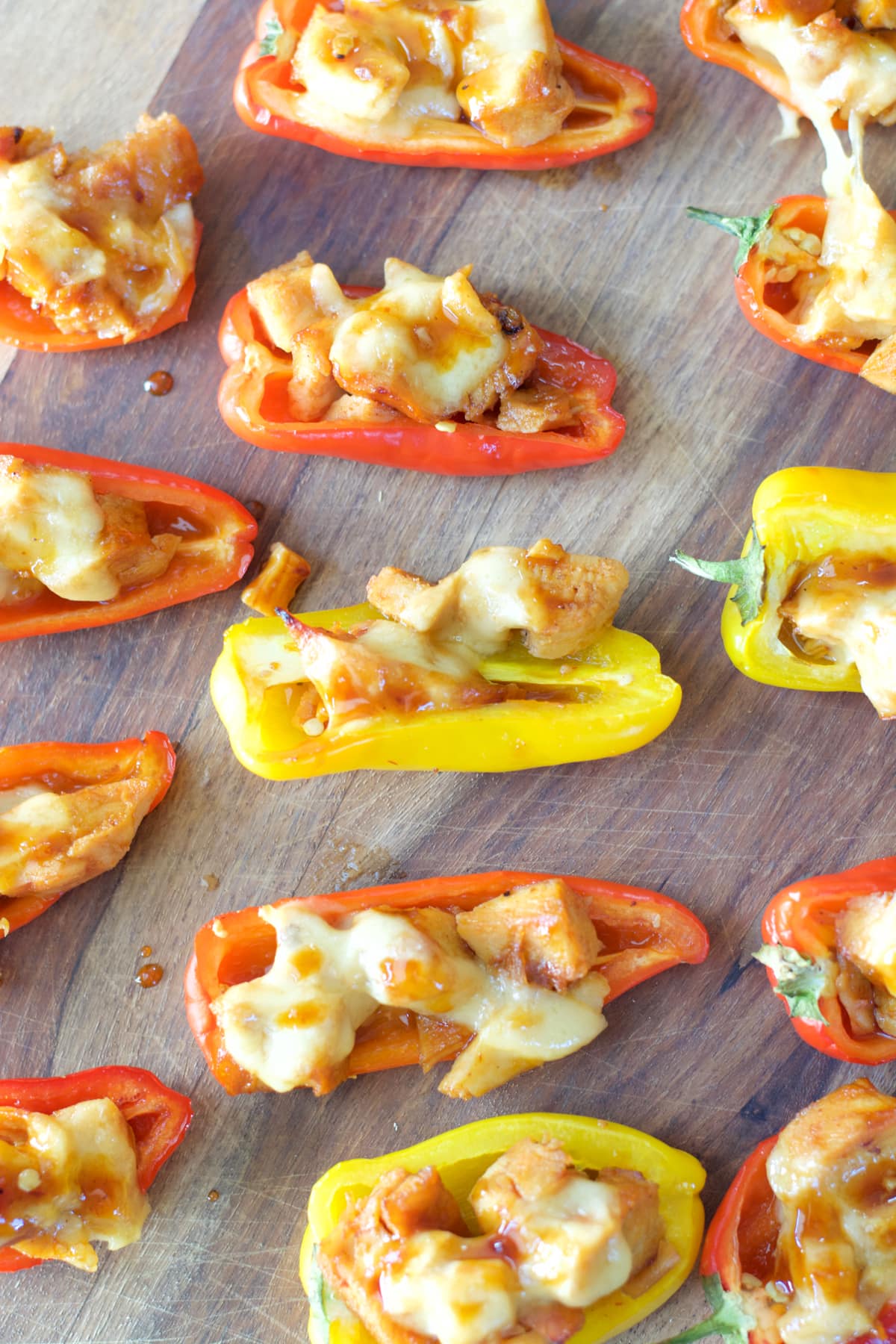 Other Summer Recipes You May Enjoy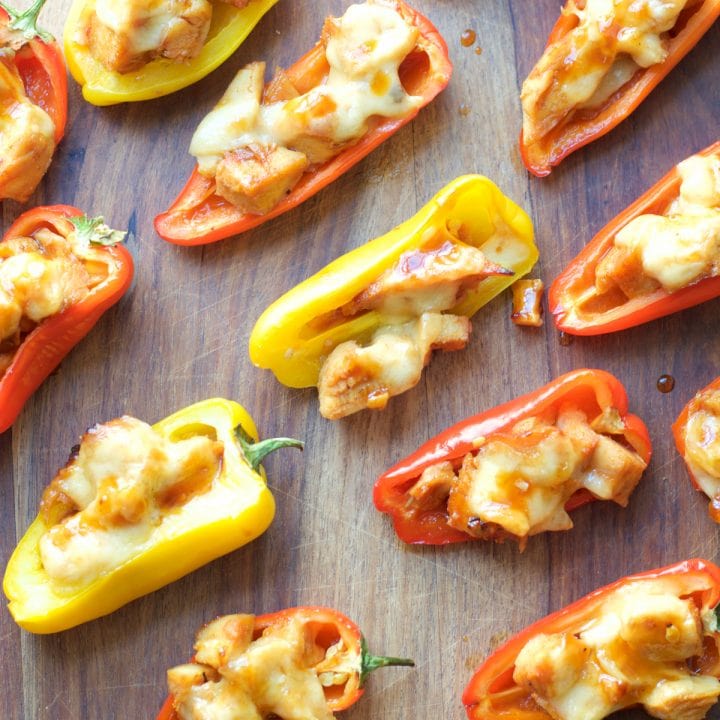 Chipotle Chicken Stuffed Peppers
This simple six ingredient dish is perfect for Summer entertaining! Your guests will love these sweet and spicy Chipotle Chicken Stuffed Peppers!
Ingredients
1 pound sweet peppers, sliced
3 cups cooked chicken, shredded or diced
2 tablespoons honey
1 tablespoon Adobe sauce (look for canned chipotles)
1 tablespoon BBQ sauce
3/4 cup shredded Gouda cheese
Instructions
Preheat oven to 350 degrees.
Spray a large cookie sheet with cooking spray.
Place sliced sweet peppers in a single layer on your cookie sheet.
In a medium size mixing bowl, combine the Heavenly Organics 100% Organic Raw Neem Honey, Adobe sauce and BBQ sauce.
Stir in chicken until completely coated.
Place a spoonful of the chicken mixture in each pepper.
Top with shredded Gouda cheese.
Bake for 15 minutes until cheese is bubbly.
Garnish with additional sauce, if desired.
**To grill, heat a grill to medium heat and line the peppers on a grill safe dish or disposable aluminum baking sheet. Follow the directions as written.
Nutrition Information:
Yield:

4
Serving Size:

1
Amount Per Serving:
Calories:

312
Total Fat:

14.1g
Cholesterol:

110.6mg
Sodium:

423.6mg
Carbohydrates:

14.2g
Net Carbohydrates:

13.3g
Fiber:

0.9g
Sugar:

13.1g
Protein:

30.2g