Learn how to make Blackened Chicken that's perfect for salads, wraps, pasta and more. Pair with a low-carb side for the perfect keto meal!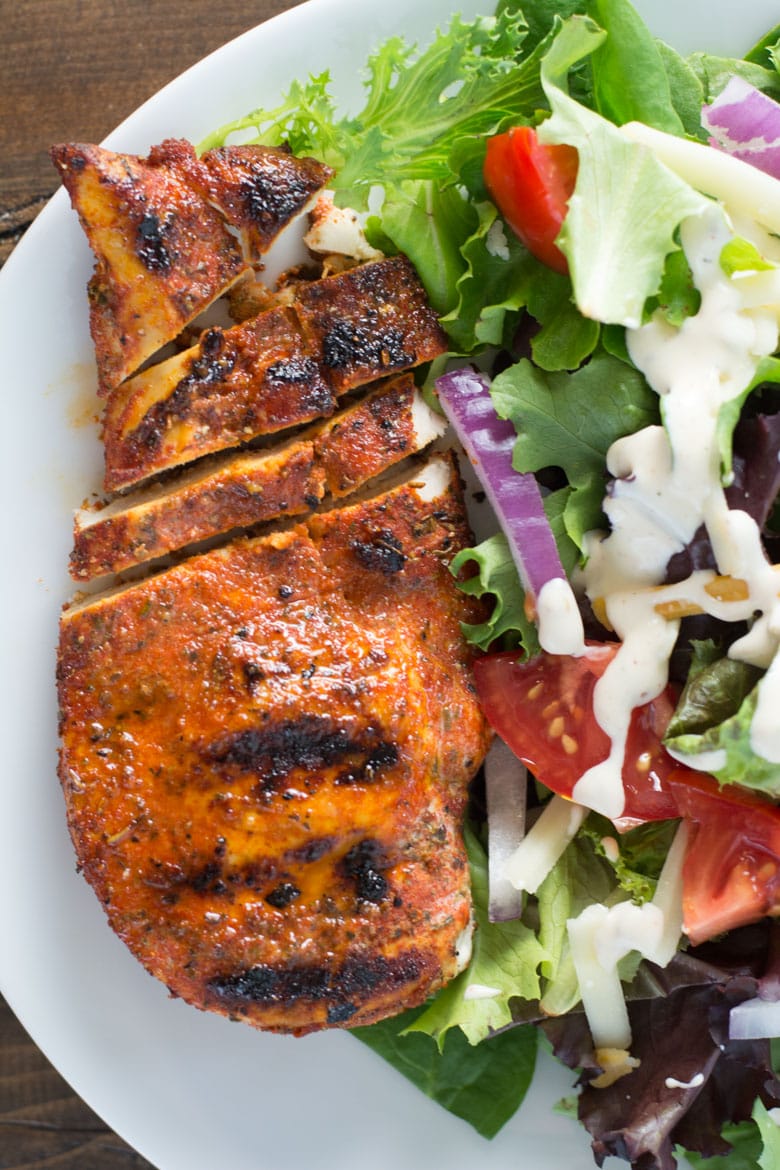 What Is Blackened Chicken?
Lately I have been struggling with my low-carb keto diet a little. We are in the hazy, hot, humid days of summer and I am missing my favorite summer foods, like a nice cold piece of watermelon or homemade ice cream. There are of course some great low-carb recipes like this Keto Fruit Pizza that help with those cravings, but I feel like there also has to be a mental shift to be able to be satisfied on keto.
You have to allow yourself to enjoy simple no fuss dishes like this Easy Blackened Chicken. This simple smokey, cajun-flavored grilled chicken is perfect paired with a salad or other low carb side like green beans or garlic butter broccoli.
Blackened chicken is all about the rub. This recipe features a homemade blackened seasoning packed with paprika, onion powder, garlic powder, cayenne pepper and other spices. This is a spice mix that originated in New Orleans and can be used on any type of protein and is also great on vegetables.
What Ingredients Are Needed for Blackened Chicken?
This blackened chicken breast recipe comes together quickly with minimal ingredients. Here's what you'll need to make blackened cajun chicken:
Chicken breasts
Butter
Garlic
Paprika
Italian seasoning
Red pepper
Onion powder
Garlic powder
Garlic salt
Black pepper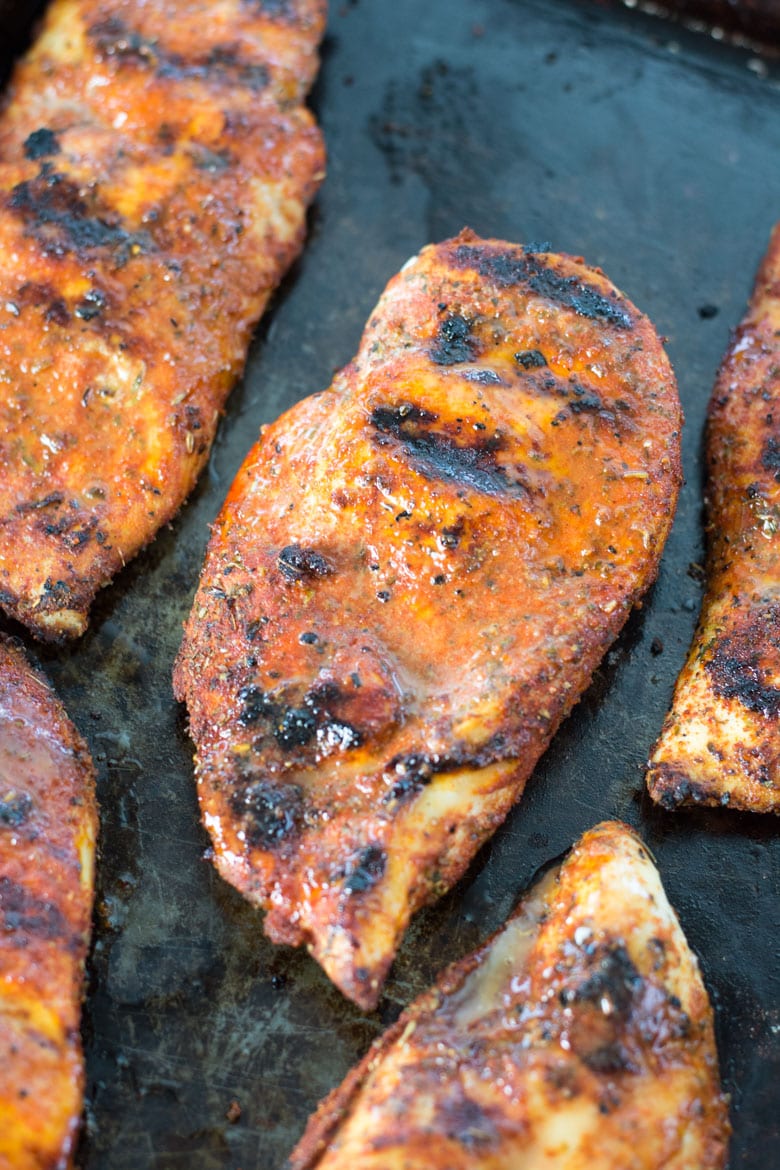 How to Make Blackened Chicken
I've given detailed instructions in the recipe card below on how to make blackened chicken, but here's an overview of the steps:
Whisk together the blackened chicken seasoning.
After you make the seasoning, simply rub it onto the meat until it is completely coated.
You can either make grilled blackened chicken or pan seared blackened chicken.
Finish by brushing with garlic butter.
What to Serve with Blackened Chicken
This Easy Blackened Chicken is such a versatile dinner option. You can easily grill some on Sunday for a quick meal prep option to go on salads, wraps, or sandwiches. If serving for dinner these are some of my favorite side dish options: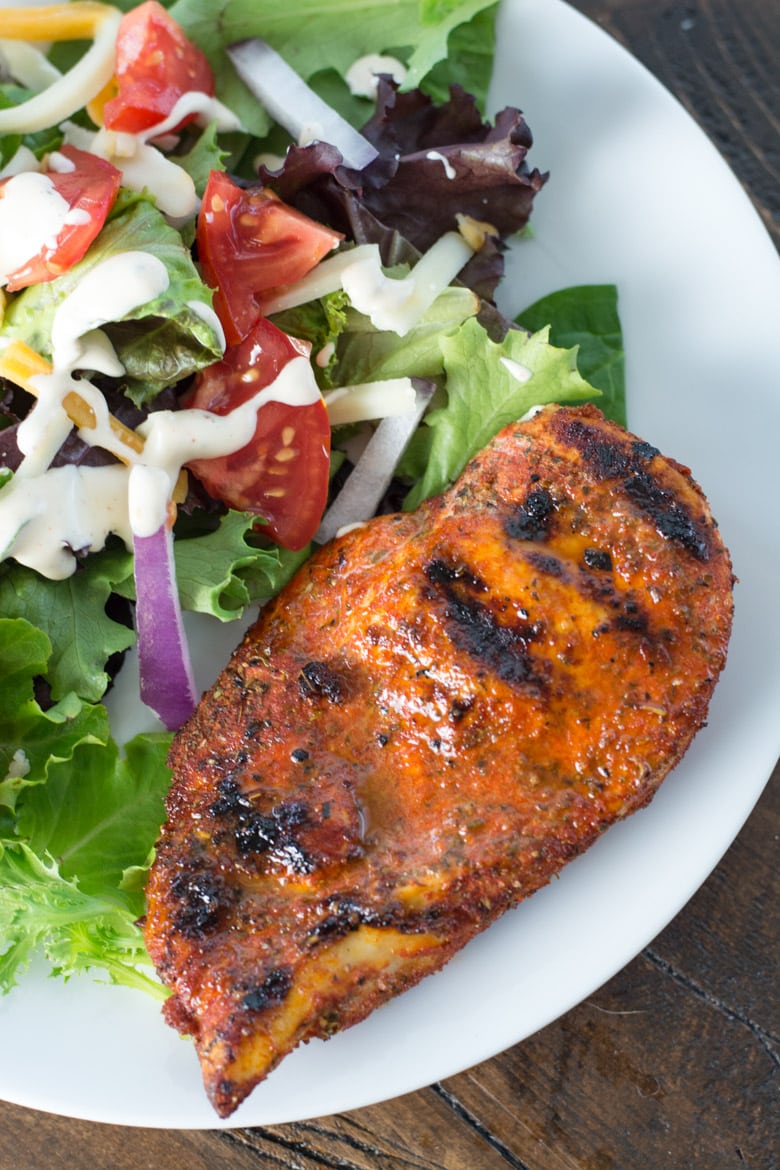 Tips for Making Blackened Cajun Chicken
If you want to add this spice mix as a pantry staple, you can store the mix in an air tight container and use it anytime.
The blackened seasoning recipe below will liberally cover 1 pound of meat or vegetables, or more if you want to go lighter on the seasoning.
Note that the exact cook time will vary depending on the thickness of your chicken breasts. If you're in a hurry, pound the chicken breasts to an even thickness so they cook quicker.
More Keto Dinner Recipes: