Healthier high protein pancakes studded with chocolate chips and naturally sweetened with bananas!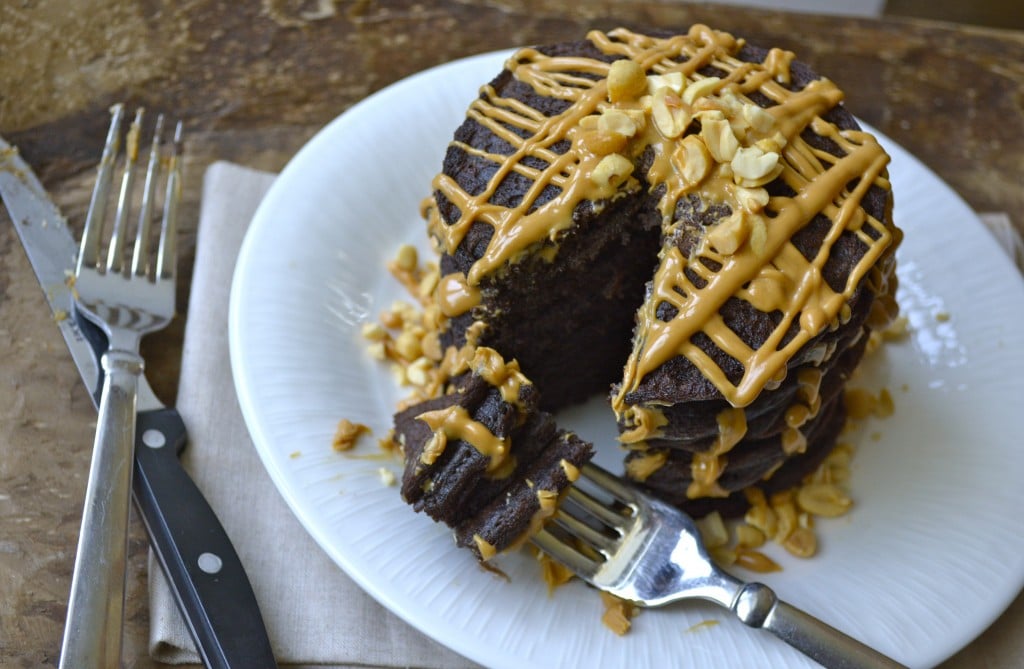 Today we are talking pancakes. Not just any pancakes. Big, beautiful Double Chocolate Protein Pancakes! That's right. This glorious stack of pancakes you see isn't full of sugar and fried up in loads of butter. These pancakes are full of bananas, protein powder, and dark chocolate cocoa powder, and are cooked in coconut oil.
This has everything indulgent you would ever want from a big stack of pancakes, but instead starting your day on a load of empty calories this gives you real sustenance to get through your day!
Look at these beauties! They kind of look like brownies in pancake form because of the light fluffy texture, but with crisp edges. This is where the coconut oil comes into play. If you cook these in regular oil or butter, you won't get quite the same effect.
One of the best things about these protein powder pancakes is that they store really well. I made a batch on a Sunday and stored them in the fridge for a quick, healthy breakfast! Doesn't get much easier than that!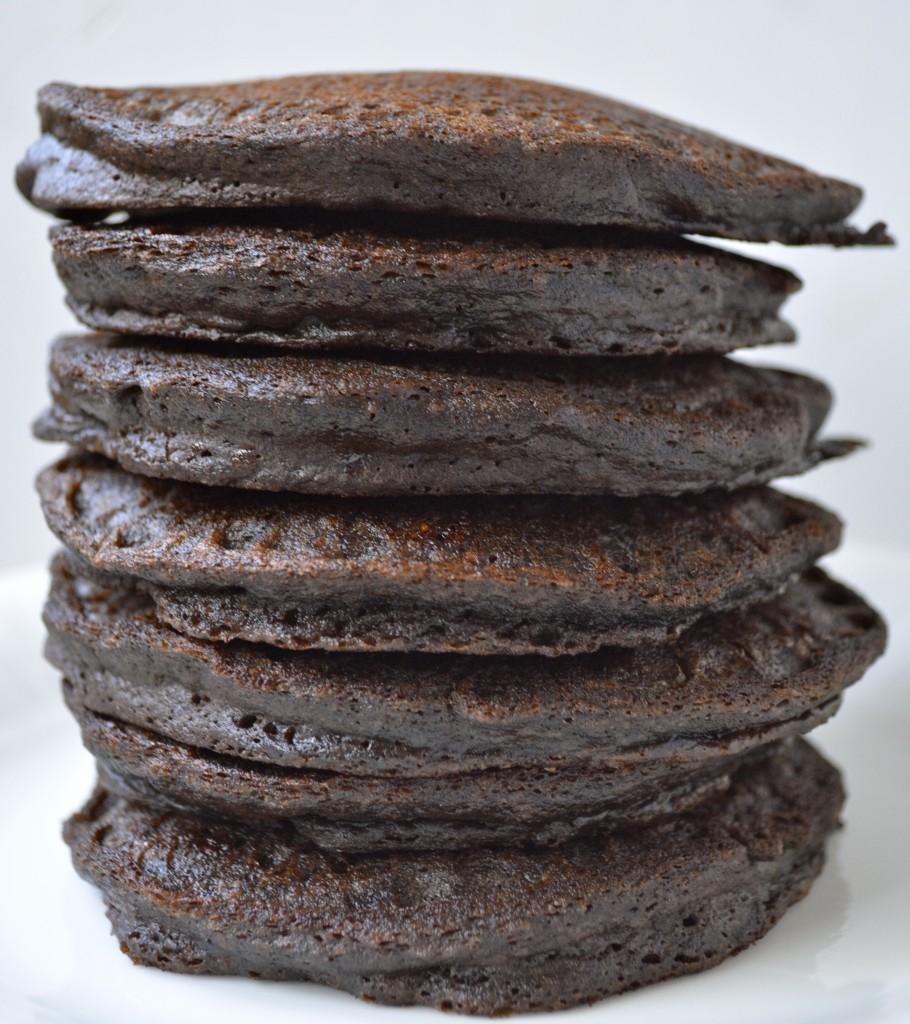 What Ingredients Are Needed for Protein Pancakes?
These healthy protein pancakes use many of the same ingredients that regular pancakes do, so I'm sure you already have many of them in your pantry!
Flour
Bananas
Egg
Baking soda
Salt
Protein powder
Cocoa powder
Buttermilk
Chocolate chips
How to Make High Protein Pancakes
These are such easy protein pancakes to make. Here are the basic steps for making chocolate protein pancakes:
Add all the ingredients except the chocolate chips into a blender. Blend until smooth.
Gently stir in the chocolate chips by hand.
Grease a skillet or griddle with coconut oil, then use a 1/4 cup measuring cup to transfer the batter to your skillet.
Cook until bubbles form, then flip.
Serve as is, or drizzle with maple syrup, peanut butter, almond butter, etc.

What Type of Protein Powder Should I Use?
I used Vitasport Prozein Synthesis protein powder in chocolate. However, any kind will do.
Can I Freeze Protein Pancakes?
Yes! These protein powder pancakes freeze very well. Lay flat on a baking tray, then freeze until hardened. Once firm enough to stack, seal inside a freezer bag. To thaw, warm in the microwave or toaster.
Tips for Making Protein Powder Pancakes
You can use another protein powder flavor, if desired. Just pick a flavor that will pair well with the chocolate chips and cocoa powder.
I added semi-sweet chocolate chips to these healthy protein pancakes, but you can omit them. Or, substitute with peanut butter chips, butterscotch chips, etc.
If your peanut butter is too firm to drizzle over the pancakes, I recommend adding a few spoonfuls to a dish and microwaving it for 10-second intervals until warm enough to drizzle.
More Healthy Breakfast Recipes: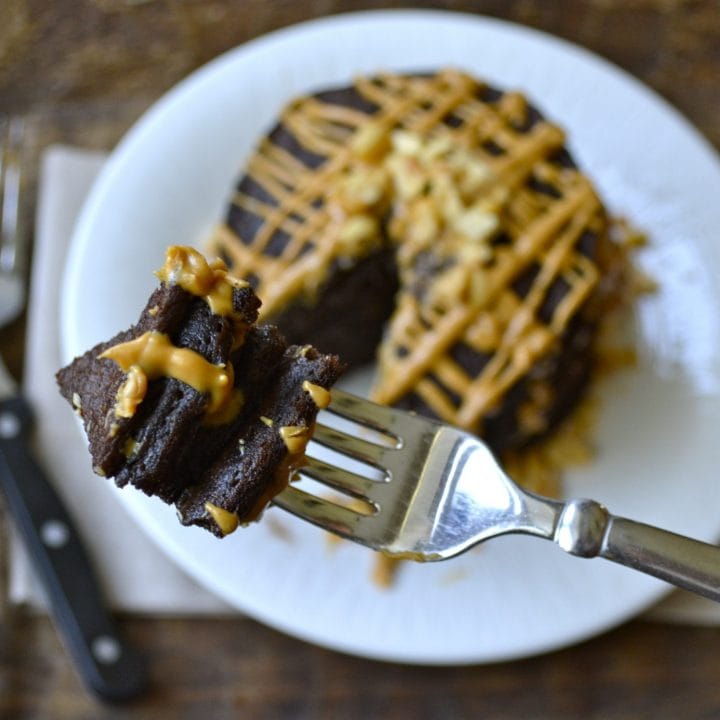 Double Chocolate Protein Pancakes
Healthier high protein pancakes studded with chocolate chips and naturally sweetened with bananas!
Ingredients
1 cup flour (I used GF Bisquick)
2 ripe bananas
1 egg
1 teaspoon baking soda
1/4 teaspoon salt
1/3 cup protein powder*
3 tablespoons cocoa powder (I used dark chocolate)
1 cup buttermilk
1/4 cup chocolate chips
coconut oil, for cooking
Instructions
Place all ingredients except chocolate chips in a blender and blend for 20 seconds or until smooth. Make sure you scrape down the edges of the blender to be sure everything is blended.
Lightly stir the chocolate chips into the batter.
Heat a large skillet or griddle to medium heat, add about a teaspoon of coconut oil to the skillet use a 1/4 cup measuring cup or ice cream scoop to the batter into your skillet.
Wait 2-3 minutes or until you see little bubbles forming on your batter, flip pancake until other side is golden brown.
Before you add a new batch to the skillet, add oil again.
Enjoy with warm peanut butter drizzled over the top, or syrup.
Notes
*I used Vitasport Prozein Synthesis protein powder in chocolate. However, any kind will do.
Nutrition Information:
Yield:

12
Serving Size:

1
Amount Per Serving:
Calories:

112
Total Fat:

3g
Saturated Fat:

2g
Trans Fat:

0g
Unsaturated Fat:

1g
Cholesterol:

17mg
Sodium:

199mg
Carbohydrates:

17g
Fiber:

1g
Sugar:

5g
Protein:

5g
To avoid any confusion I remove erythritol from the final carb count and net carb count, as it is not known to affect blood glucose levels. To calculate Keto recipes listed on this site carbs - fiber = net carbs. I use Nutrifox as my nutrition calculator. This nutrition information is an estimate based on the information provided by Nutrifox and the specific ingredients I used.