Healthier high protein pancakes studded with chocolate chips and naturally sweetened with bananas!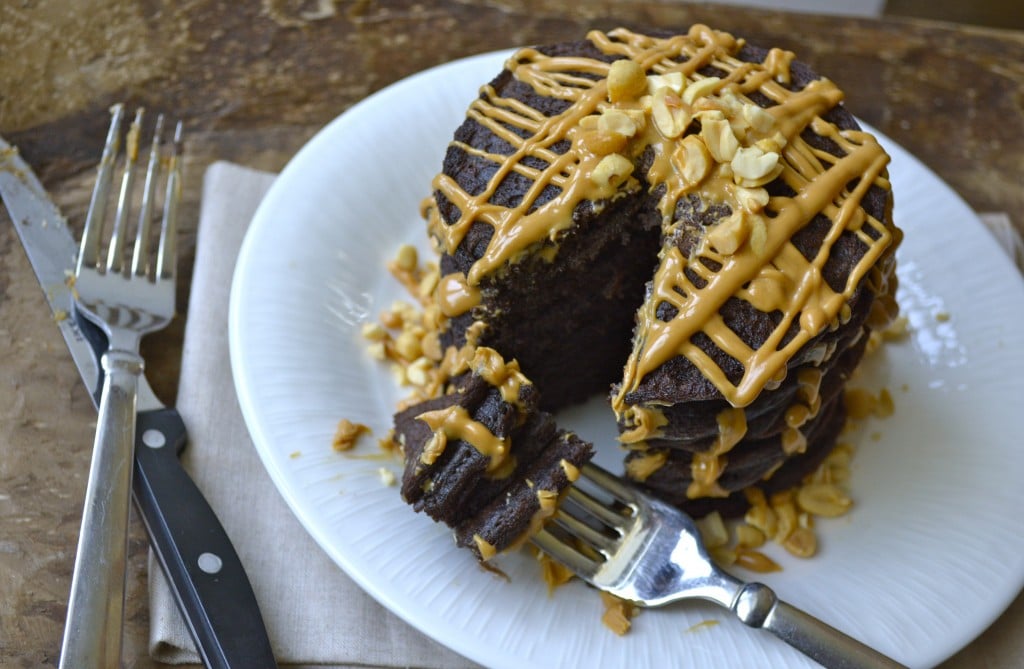 Double Chocolate Protein Pancakes
Today we are talking pancakes. Not just any pancakes. Big, beautiful Double Chocolate Protein Pancakes! That's right. This glorious stack of pancakes you see isn't full of sugar and fried up in loads of butter. These pancakes are full of bananas, protein powder, and dark chocolate cocoa powder, and are cooked in coconut oil.
I am obsessed with pancakes. Mr. Maebell asks me to make these Loaded Chocolate Chip Pancakes at least once a week, and I'm always very happy to oblige! When I'm really looking for something indulgent, I whip up a batch of these Sweet Potato Bacon Pancakes. But today, we're going healthy with these Chocolate Protein Pancakes!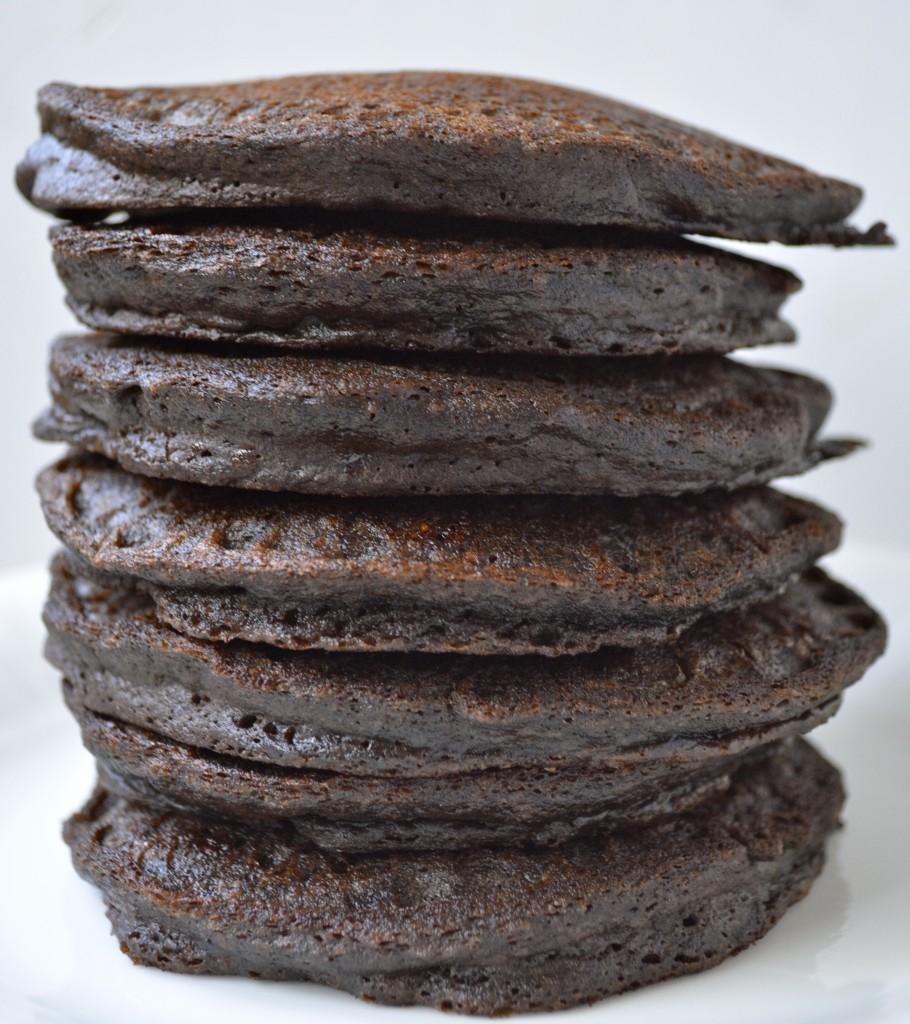 Ingredients for Chocolate Protein Powder Pancakes
These healthy protein pancakes use many of the same ingredients that regular pancakes do, so I'm sure you already have many of them in your pantry! As always, here is a quick overview of the ingredients used for our Chocolate Protein Pancakes. For the complete recipe, scroll to the bottom of the page.
How to make Pancakes with Protein Powder
These are such easy protein pancakes to make. First, add all the ingredients, except the chocolate chips, into a blender. Blend until smooth. Next, gently stir in the chocolate chips by hand. Grease a skillet or griddle with coconut oil, then use a 1/4 cup measuring cup to transfer the batter to your skillet. Finally, cook until bubbles form, then flip. Serve as is, or drizzle with maple syrup, peanut butter, almond butter, etc.

Can I double this Chocolate Protein Pancake recipe?
Absolutely! This recipe can easily be doubled to make a large batch of pancakes for the whole family!
Can I Freeze Double Chocolate Protein Pancakes?
Yes! These protein powder pancakes freeze very well. Lay flat on a baking tray, then freeze until hardened. Once firm enough to stack, seal inside a freezer bag. To thaw, warm in the microwave or toaster. These chocolate protein pancakes are perfect for meal prep!
Tips for Making Chocolate Protein Powder Pancakes
You can use another protein powder flavor, if desired. Just pick a flavor that will pair well with the chocolate chips and cocoa powder.
I added semi-sweet chocolate chips to these healthy protein pancakes, but you can omit them. Or, substitute with peanut butter chips, butterscotch chips, etc.
If your peanut butter is too firm to drizzle over the pancakes, I recommend adding a few spoonfuls to a dish and microwaving it for 10-second intervals until warm enough to drizzle.
More Healthy Breakfast Recipes: