Sweet and creamy Peanut Butter Fudge sauce is paired with Vanilla Bean ice cream for these fizzy Dr. Pepper Floats! Perfect Summer treat!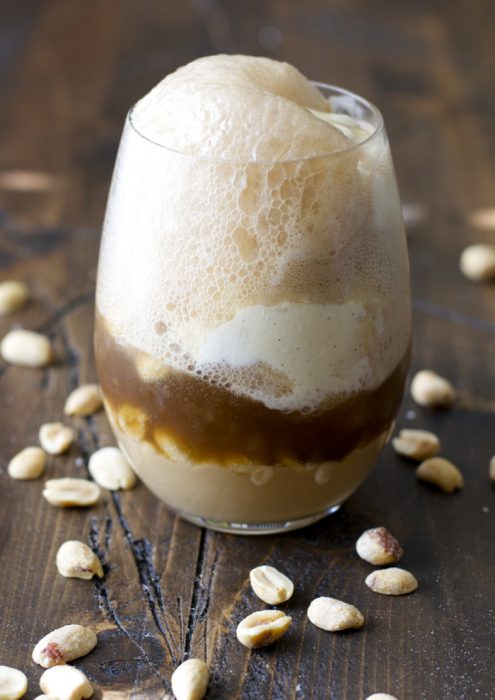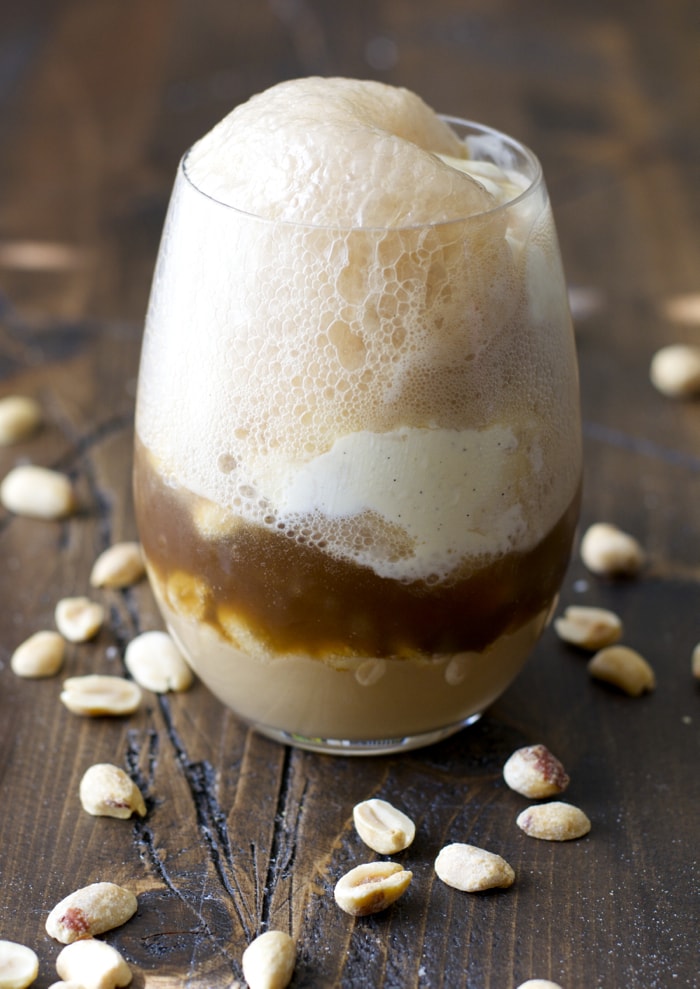 Growing up my parents were super frugal. I have lots of memories of Mom and Dad explaining money to us as kids. For example, when Mom would go pay the electricity bill she would say how much it was and explain why we had to pay it.
She would explain all the things that went along with it, like when you leave the refrigerator door open too long it uses more electricity so the bill is higher, and so on. When I complained about buying the generic taco shells instead of the ones with the pretty box she would explain why it was important to look at the numbers not just the packaging.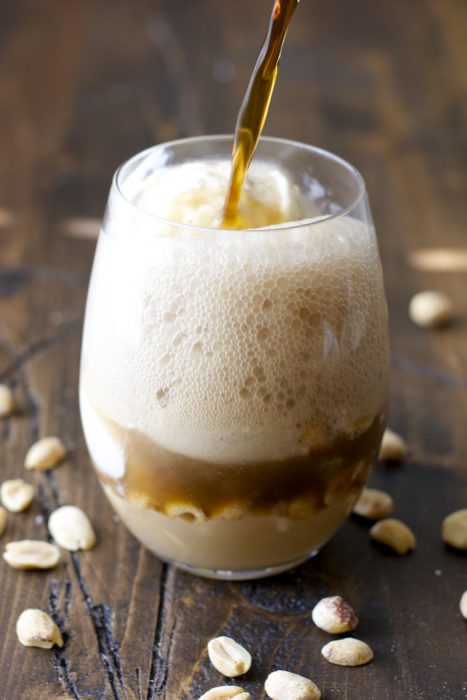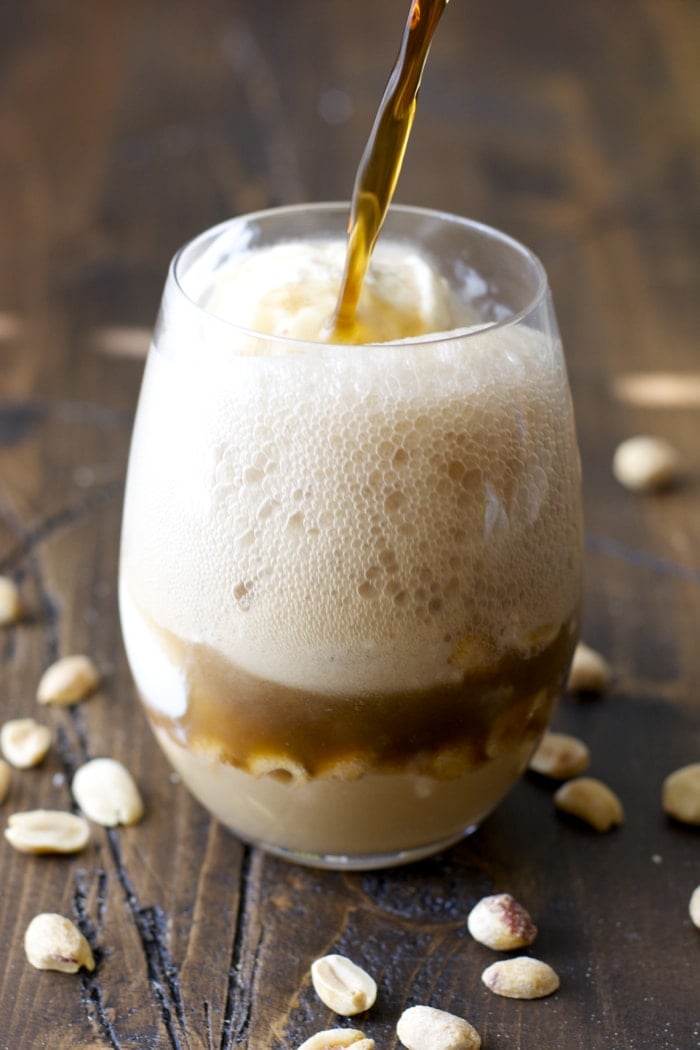 My Dad would explain things about stocks when he was watching the news, so even though we didn't totally get it, we began to understand the value of money. One thing my parents never ever did was buy things at convenience stores. It was foreign that people would run in and get a candy bar and a drink when they got gas.
But there were two exceptions- Dr. Pepper and peanuts. On long road trips, Dad would get one cold Dr. Pepper and a small bag of .99 cent peanuts. What an indulgence!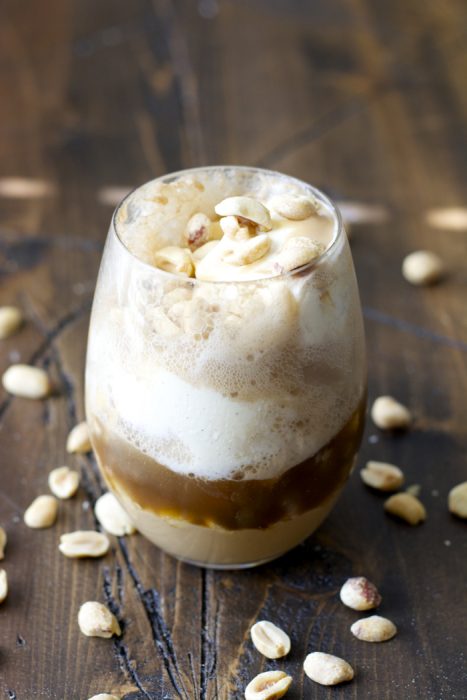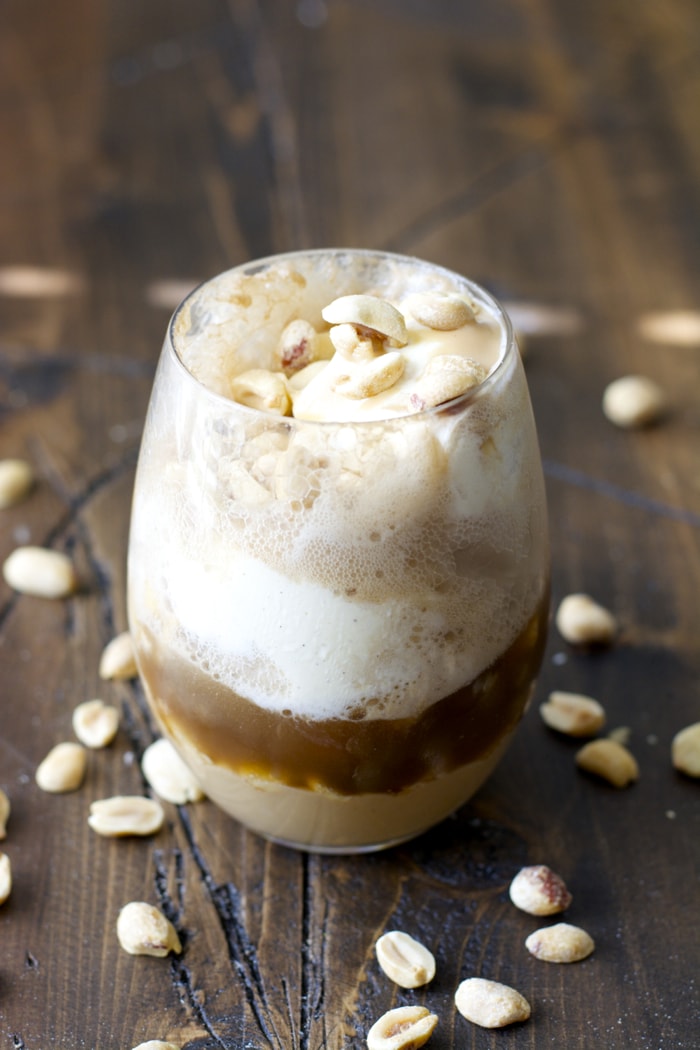 He would pour a few peanuts in his Dr. Pepper and then take a swig. He never ever did this at home, but on road trips it was his fuel to get the car load of kids to where ever we were going. I am sure there were other indulgences, but that is the only one I can remember.
f you asked my three siblings what food is uniquely "Dad" they would tell you the same thing. Today is Dad's birthday and we are celebrating with Dr. Pepper Floats with Peanut Butter Fudge Sauce. I'm not there, because I live many miles away, but I can celebrate the only way I know how- with his favorite combination!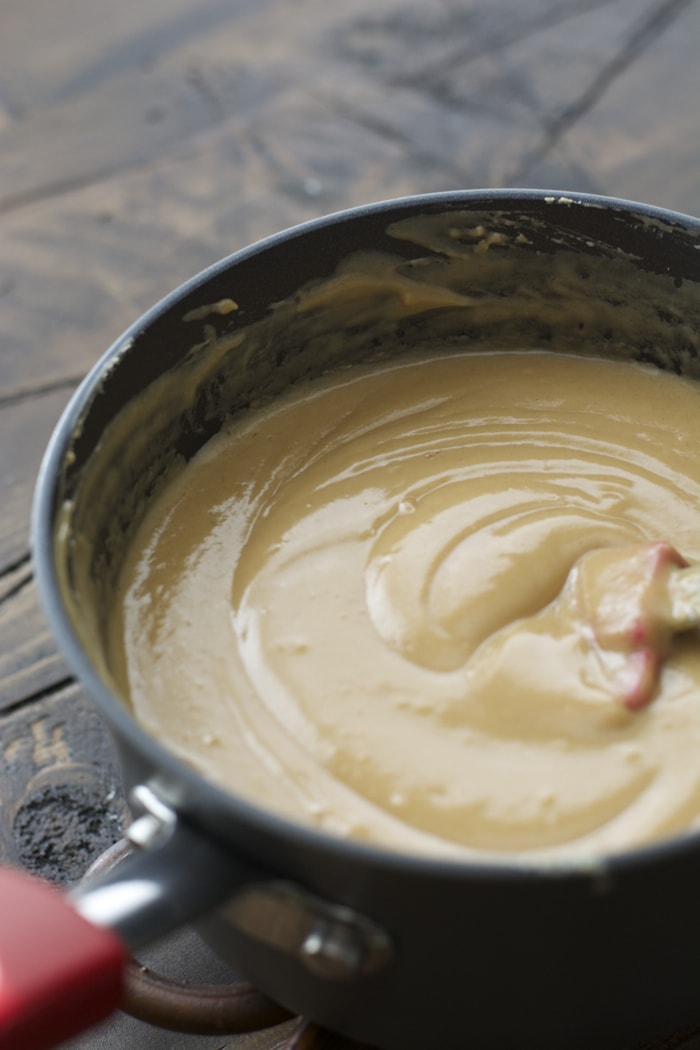 Ingredients for Dr. Pepper Floats
As always, here is a quick overview of the ingredients you will need to make Dr. Pepper Floats. For the complete recipe, just keep scrolling.
Peanut butter- creamy. I do not recommend using a different type of peanut butter in this recipe
Corn syrup- I used light, but if you only have dark that should be fine
Half and half- If you only have heavy cream, that should work fine
Brown sugar- I used light
I like to add peanuts, 2-3 scoops of vanilla ice cream and of course Dr. Pepper to mine! But honestly, you could change this recipe in so many ways and it would still be beautifully indulgent.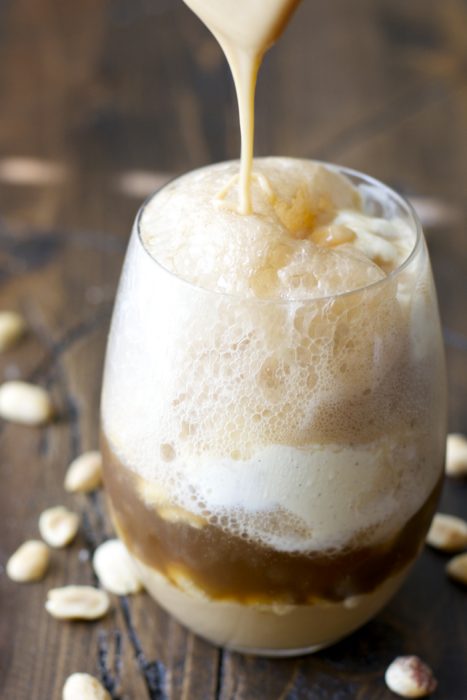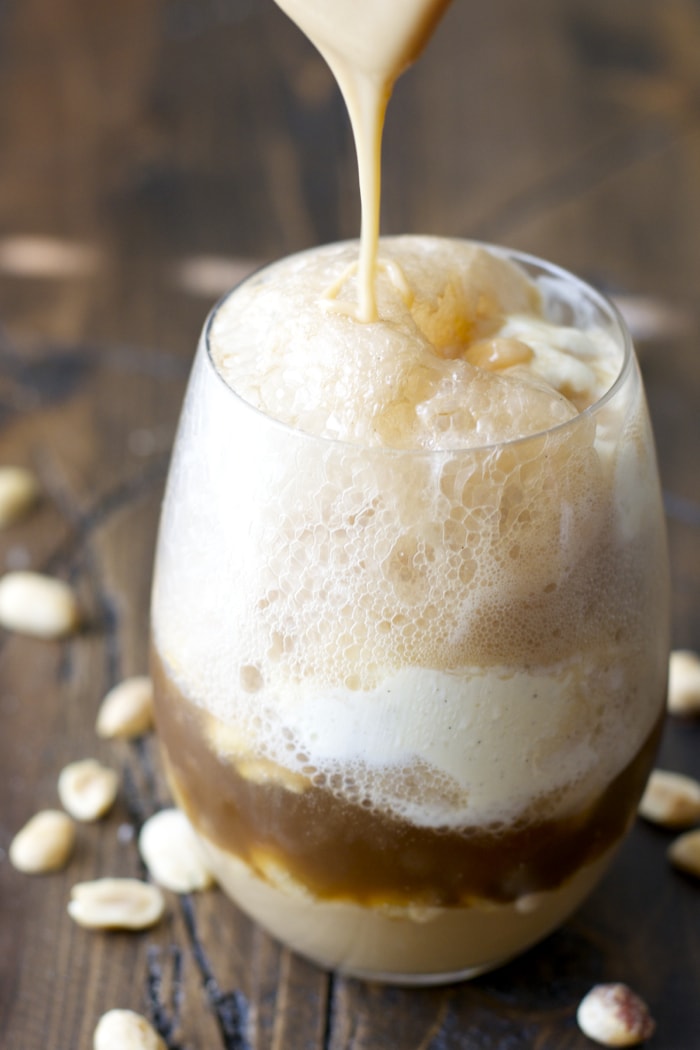 Substitutions and Suggestions for Dr. Pepper Floats
Seriously, you can't go wrong with this recipe. Basically, if you like it, add it in.
Here's where my mind goes:
Instead of peanuts, you could add M&Ms, Reese's Pieces, Malt Balls, Chocolate Chips, Hershey's Drops or York Drops. The options of sweets are endless here.
If you're going a minty route (this is a road I have traveled down a time or two), add mint ice cream to your float instead of vanilla. If you're sticking with the Peanut Butter road (also a favorite road of mine), try Coffee ice cream for an amazing flavor. I also think a Cookies and Cream or Toffee ice cream would be soo good in this Dr Pepper Floats
Obviously, you could change the soda. Now, I feel the need to add a disclaimer here as a Southerner. All flavors and types of soda are called "Coke". Every. Single. One. So, you could change your coke from Dr. Pepper to an ACTUAL Coca-Cola. Of course, you could make it a Root Beer or a Cream Soda.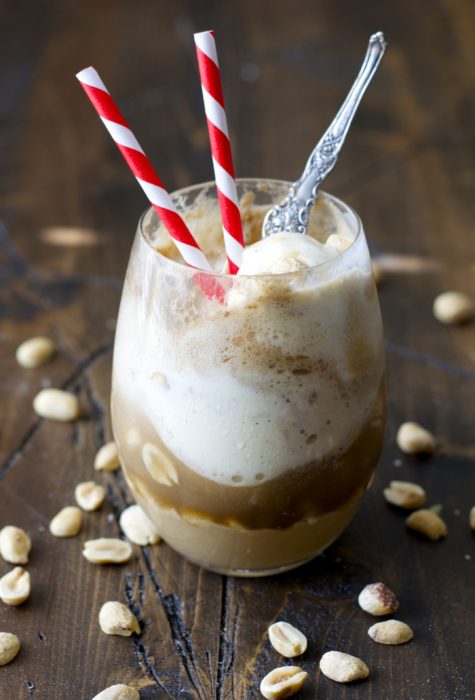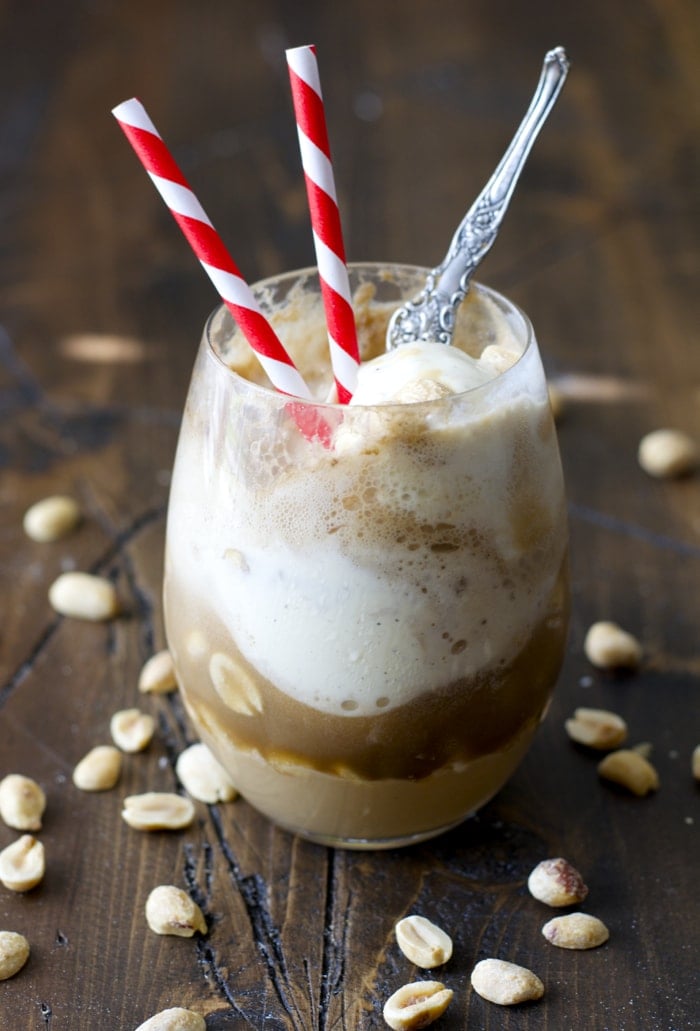 How do you make Dr. Pepper Floats?
First, combine your peanut butter, corn syrup, half and half and light brown sugar in a saucepan. Heat over medium heat, stirring occasionally. Once the mixture is smooth, increase the heat to bring the mixture to a simmer.
Simmer for two minutes and remove from heat. After this step, if you want a smoother texture, feel free to add more half and half. Add your delicious fudge to a glass with some peanuts at the bottom.
Add your vanilla ice cream and pour in your Dr. Pepper until your glass is full. Add any additional fudge you desire! If you have any other toppings you want, add them in here as well.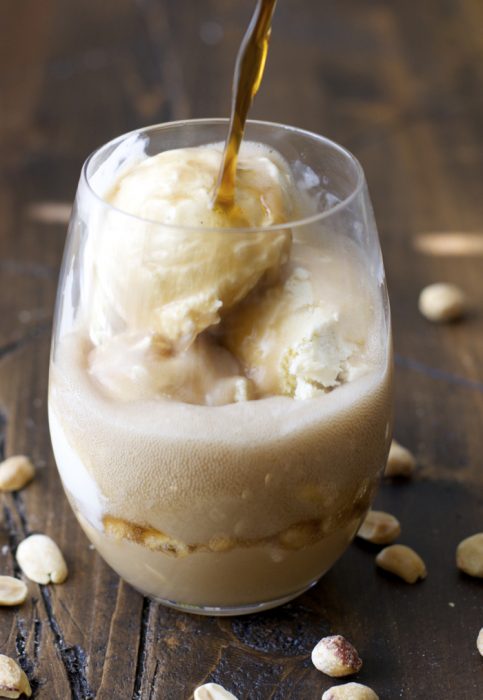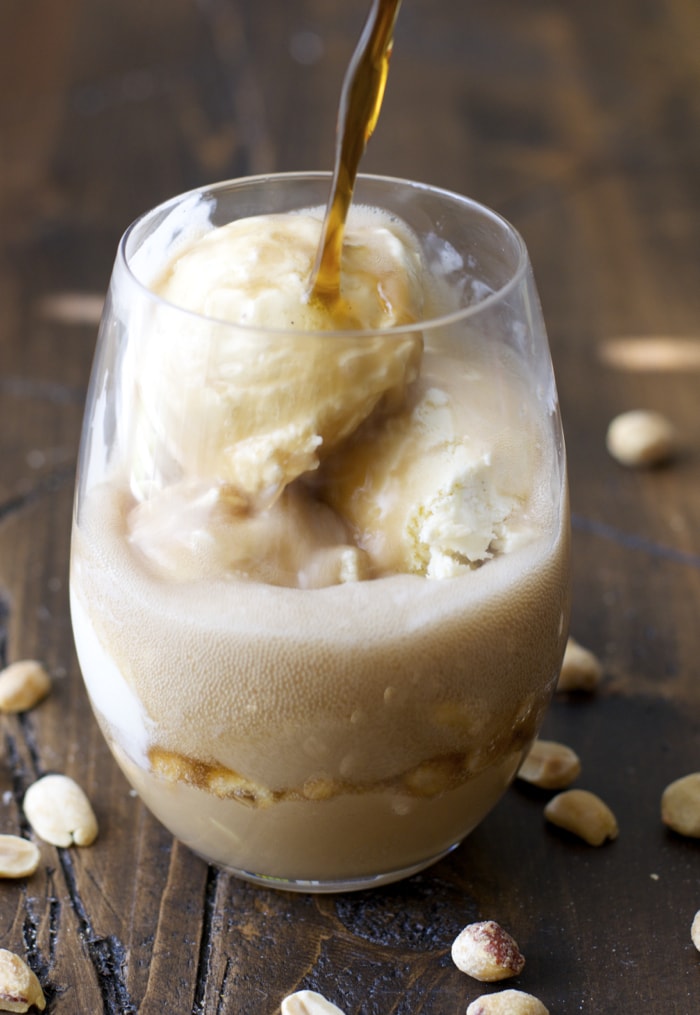 More Summer Desserts: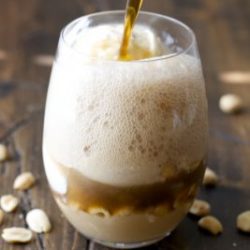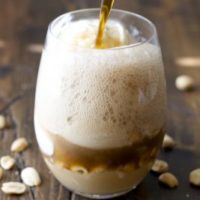 Dr Pepper Floats
Sweet and creamy Peanut Butter Fudge sauce is paired with Vanilla Bean ice cream and fizzy Dr. Pepper for the ultimate Summer float!
Ingredients
1 cup creamy peanut butter
1/3 cup light corn syrup
1 cup fat free half and half
1/4 cup light brown sugar
Instructions
Combine all ingredients in a small sauce pan and heat over medium low heat, stirring occasionally. When mixture has melted and is smooth slowly increase the heat until mixture begins to simmer. Let simmer 2 minutes and remove from heat.
Add additional half and half if you wish to make it smoother.
To assemble the floats put 1-2 tablespoons of warm peanut butter fudge in the bottom of a glass with 1 tablespoon peanuts. Top with 2-3 scoops vanilla bean ice cream and pour Dr. Pepper over the ice cream until the glass is full. Garnish with additional peanut butter fudge if desired.
Nutrition Information:
Yield:

4
Serving Size:

1
Amount Per Serving:
Calories:

553
Total Fat:

34g
Cholesterol:

2.9mg
Sodium:

354.2mg
Carbohydrates:

54.9g
Net Carbohydrates:

10.1g
Fiber:

3.2g
Sugar:

44.8g
Protein:

15.8g