These Easy Keto Bagels make the best low carb breakfast sandwiches! At about 3 net carbs this is a gluten free, keto-friendly bagel recipe you will love!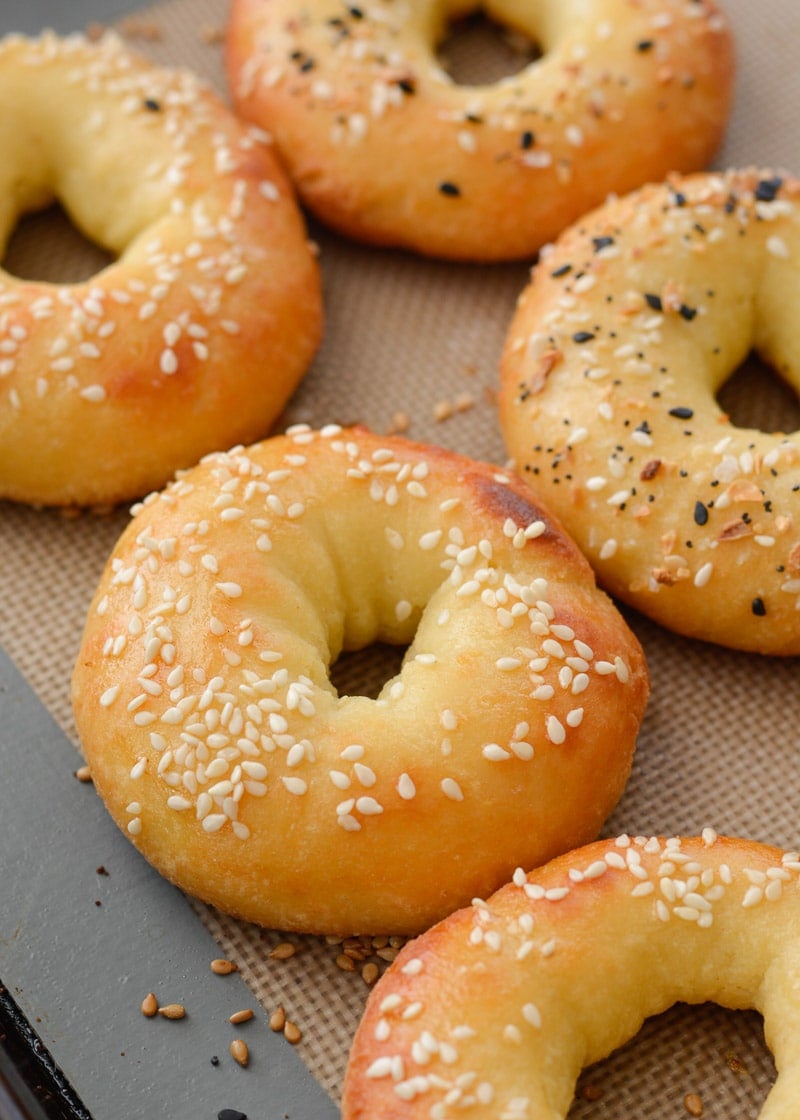 If you just started a keto or low carb lifestyle as a new years resolution, how is it going? Are you missing your favorite foods, or adjusting pretty well? I know how hard it can be to form new habits and find "new favorites", but you can do this!
These Easy Keto Bagels took me many tries to get just right. I didn't want to share a low carb bread in bagel form that didn't really meet the criteria a bagel has! It needs to have that nice, chewy texture, crisp, golden brown exterior while the inside is soft, but perfect when toasted.
I didn't want a bagel that took on a soggy texture, or broke apart easily. This bagel meets all of my expectations. These are wonderful on their own, or with cream cheese or butter. These bagels make perfect breakfast sandwiches, or pizza bagels. The possibilities are totally endless!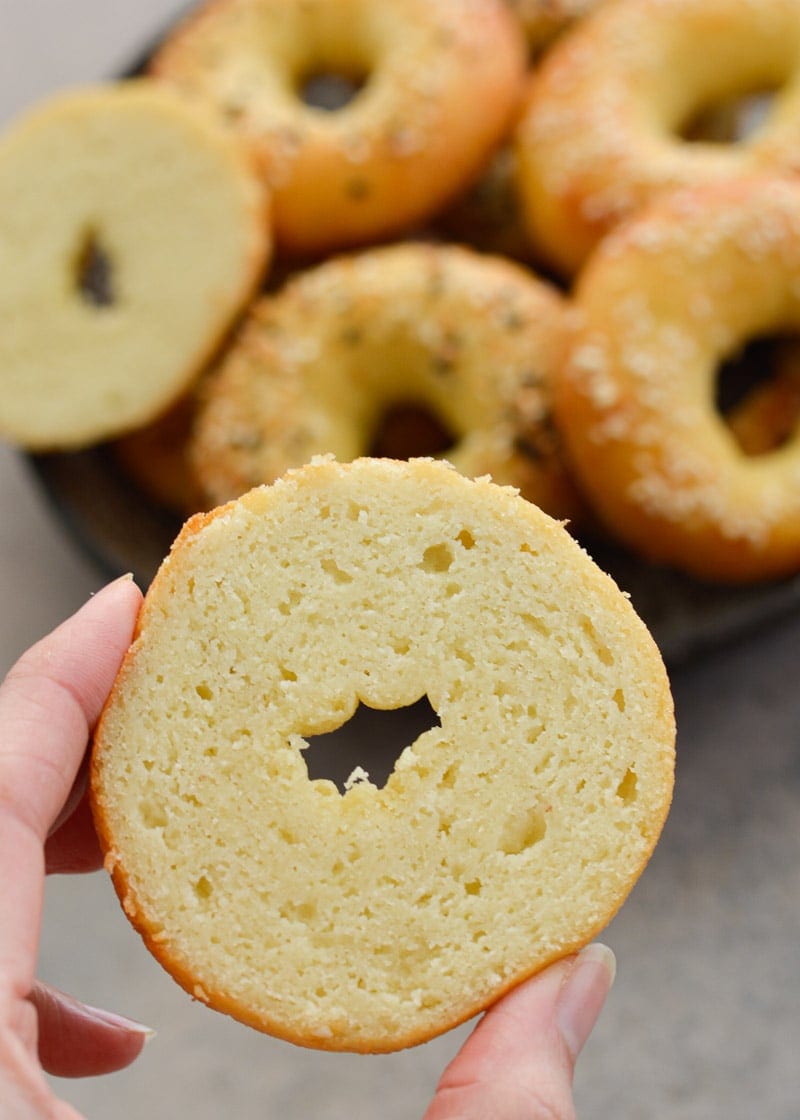 Ingredients for Keto Bagels
While most of my recipes are pretty flexible and I try to add in notes regarding substitutions, this isn't a recipe I recommend making substitutions. This recipe uses both almond and coconut flour, and the mixture truly did provide the best texture and lift. To make Easy Keto Bagels you will need:
Mozzarella cheese
Cream Cheese
Baking Powder
Whole Egg
Egg Whites
Toppings: Everything seasoning, sesame seeds, sea salt, poppy seeds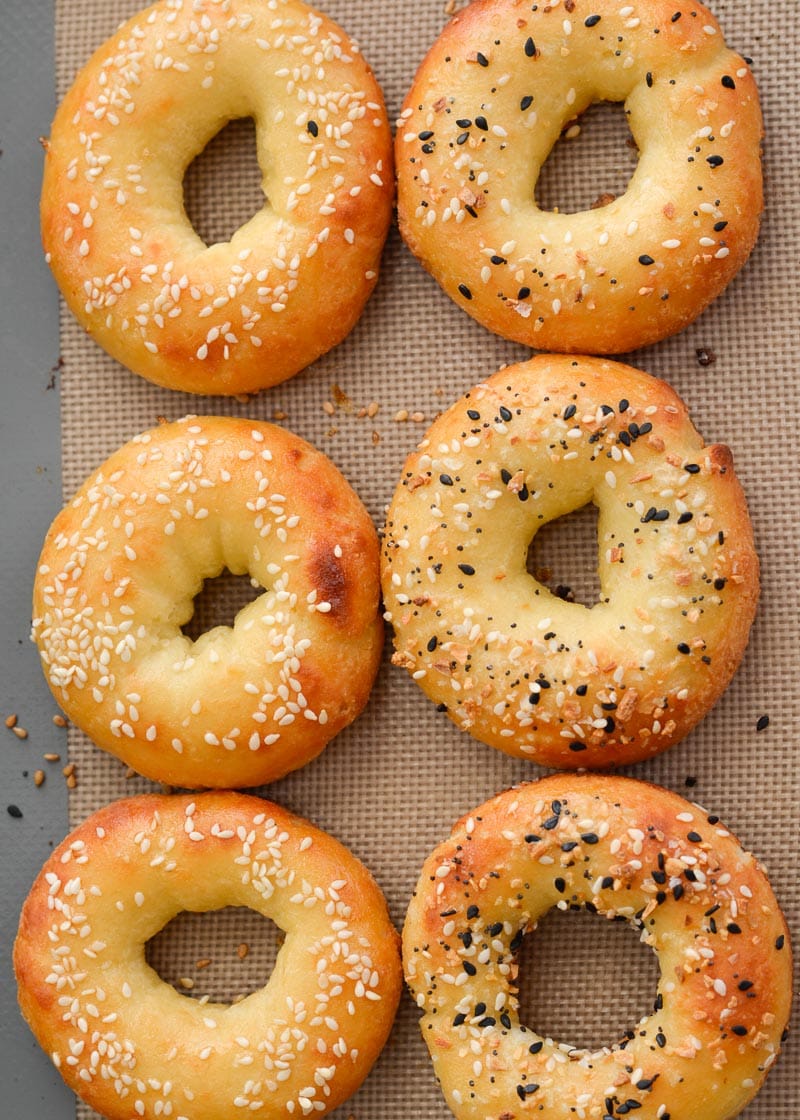 How do you make Low Carb Bagels?
For this recipe to come together smoothly you must measure out and prep your ingredients first. Begin by adding the almond flour, coconut flour and baking powder to a bowl and mixing well. Next, beat an egg white until it triples in volume (see photo) this is important because it gives the bagels good rise.
These bagels are made of a "fat head dough" base. This means shredded mozzarella cheese and cream cheese are heated until completely melted. After stirring the melted cheese until smooth, the dry ingredients are mixed in.
Next, add in the egg and beaten egg white. Stir the dough well, then work it with your hands so a soft dough forms. Lastly, form a disk and cut the dough into 8 sections and form 8 bagels. Brush each one with the last egg white and top with the seasoning of your choice.






What toppings do you add to bagels?
To get that beautiful golden brown color, brush the egg white on the bagel before baking and sprinkle with whatever toppings you would like. Some common toppings include Everything seasoning, sesame seeds, sea salt or poppy seeds. You can also dust with a cinnamon sugar mixture using brown sugar monkfruit or Swerve.
How do you make Keto Breakfast Sandwiches?
To make bagel breakfast sandwiches slice the bagels and toast. Layer cooked egg, bacon, sausage or ham on the bagel. You can add fresh spinach, avocado or tomato if you wish. You can easily prepare a few of these ahead of time and simply warm them in the morning in 30 second increments until heated through.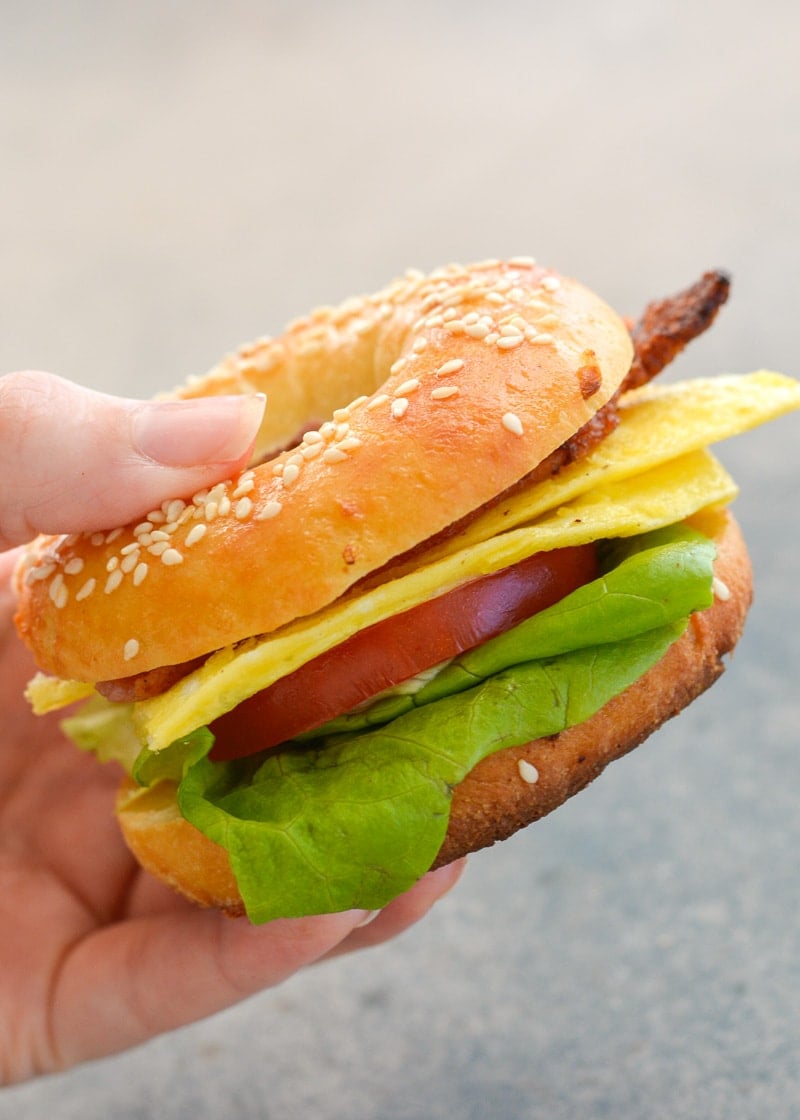 Tips for the Best Low Carb Bagels
Measure out and prepare everything before you begin. This is crucial because the dough base is melted cheese. If the cheese cools too much you will have a very hard time combining a smooth dough.
Do not skip beating the egg white. There is a photo of my beaten egg white that shows you what this should look like if you are unsure. This helps to provide lift and give the bagels the correct texture.
You can use a donut pan if you wish, or simply shape the bagels either option works. I have done this both ways and did not notice one was better than the other.
Liberally brush the bagel with egg white to get that perfect golden brown color and slightly crisp texture.
Other Keto Breakfast Recipes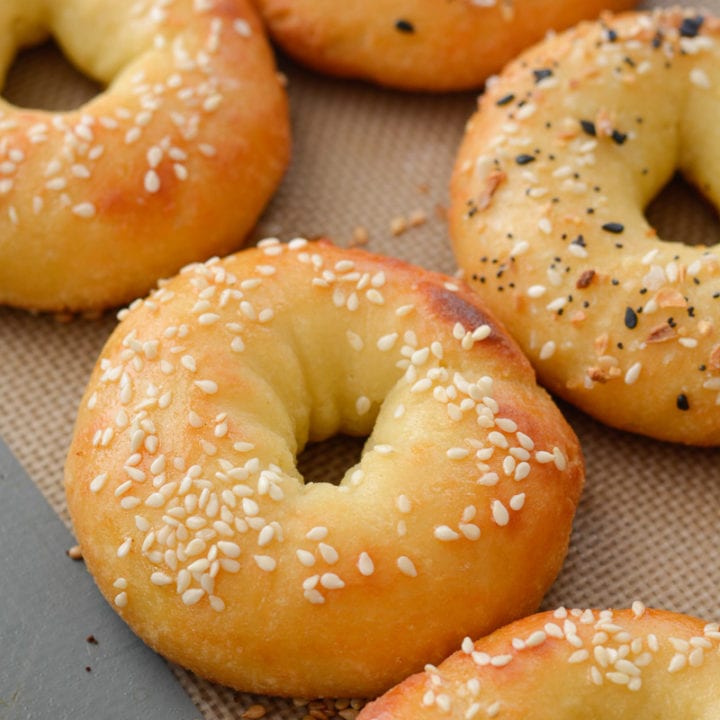 Easy Keto Bagels
These Easy Keto Bagels make the best low carb breakfast sandwiches! At about 3 net carbs this is a gluten free, keto-friendly bagel recipe you will love!
Ingredients
2 cups shredded mozzarella cheese
2 ounces cream cheese
1 1/2 cups almond flour
1 tablespoon coconut flour
2 teaspoons baking powder
1 large egg
1 large egg white, beaten until it triples in volume
For the Topping
1 large egg white
1 1/2 tablespoon topping of your choice (Everything seasoning, sesame seeds, poppy seeds)
OR a sprinkle of sea salt on top
Instructions
Before you begin measure and prepare everything ahead of time, you must work the dough while the cheese is hot, so it is time sensitive.
Preheat the oven to 400 degrees F.
Melt the shredded mozzarella and cream cheese in a micorwave safe bowl in 30 second increments until completely melted. Stir until smooth.
In a second bowl combine the almond flour, cocont flour and baking powder, stirring well.
Combine the melted cheese with the flour mixture. Stir the dough and work the flour into the cheese as well as you can.
Next, add the whole egg and the beaten egg, stir the mixture until a soft dough forms. Then, using your hands knead the dough until you are satisfied that the egg, flour and cheese is all worked in the dough together. Make sure there are no streaks of eggs, you want it to be completely combined.
Form the dough into a disk and cut into 8 equal sections. Form each section into a bagel.
Place the bagels in a greased donut pan or on a silicone lined baking pan (or greased baking sheet)
Brush the bagel with the egg white and sprinkle the seasoning of choice on top.
Bake 18-22 minutes until golden brown.
Notes
See tips and tricks in the post above for the best bagels.
Recommended Products
As an Amazon Associate and member of other affiliate programs, I earn from qualifying purchases.
Nutrition Information:
Yield:

8
Serving Size:

1 Bagel
Amount Per Serving:
Calories:

205
Total Fat:

13.7g
Cholesterol:

35.9mg
Sodium:

335mg
Carbohydrates:

5.8g
Net Carbohydrates:

3.4g
Fiber:

2.4g
Sugar:

0.7g
Protein:

15.8g