Week 22 of my Easy Keto Meal Plan features 5 keto dinners as well as an easy meal prep recipe for a breakfast or snack! Net carb counts, serving amounts, and printable shopping list are included.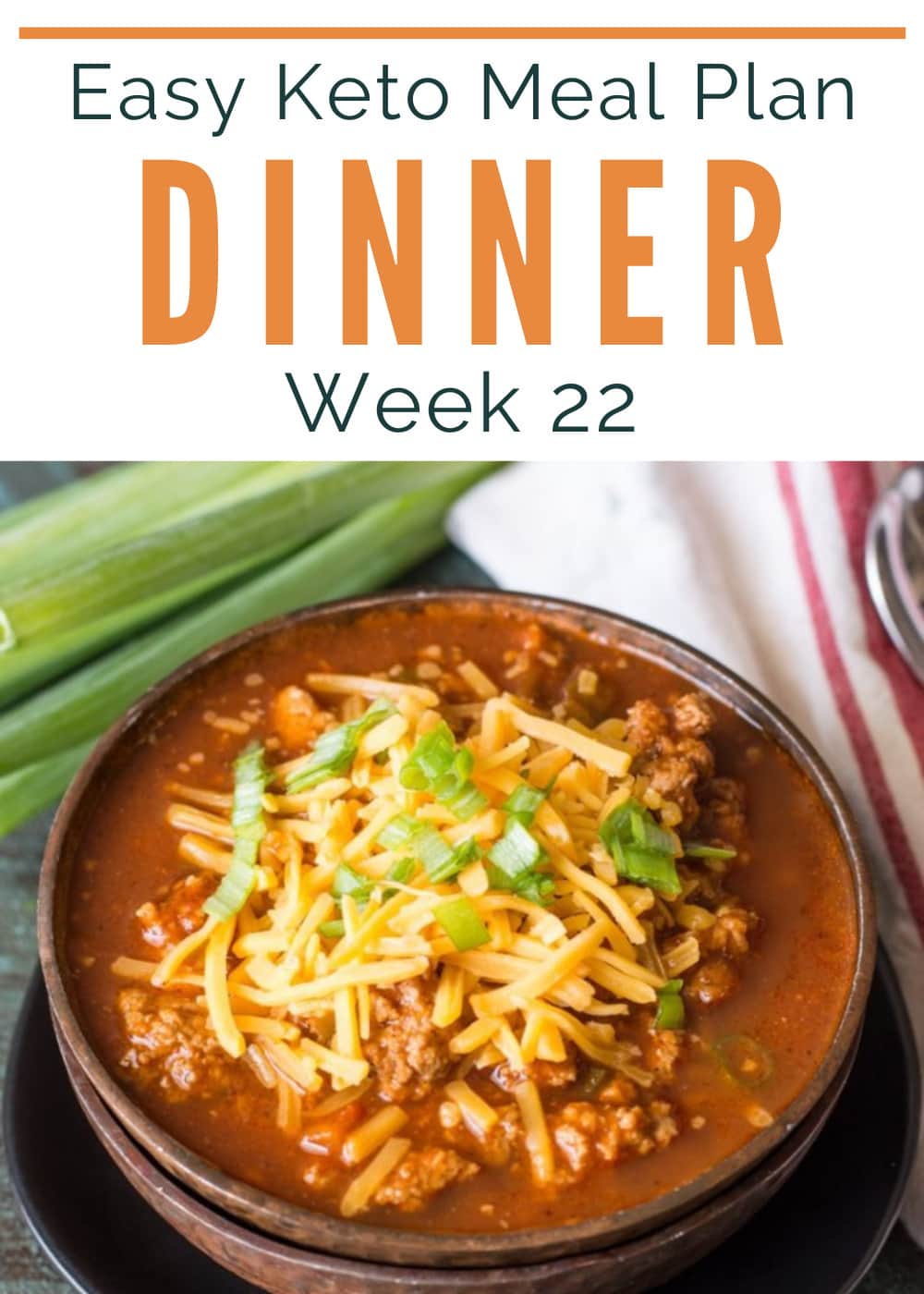 Each week I'm trying to help take the stress out of a keto diet by giving you FIVE low-carb dinners plus a bonus meal prep recipe that helps keep you on track! This week the bonus recipe is a new favorite–Bacon Cheddar Chaffles! These are fantastic for breakfast, lunch, snack, or even a side at dinner. I love using them as a bread substitute in a sandwich, too!
When you click through to each individual recipe, it'll take you to the full, detailed, step-by-step instructions. This includes a printable recipe card that includes nutrition information, too (right at the bottom of the card). To figure out the net carb count, I subtract the amount of fiber from the amount of total carbs.
At the bottom of this post, you'll find a printable meal plan (with space to fill in your own needs & weekend plans) as well as an organized grocery list to help make things even easier. I included meal prep tips for each meal so you can easily organize a "prep day" to make your week easier or find time during the week to make sure your evenings run smoothly!
If you're having trouble printing this or the printable recipe cards, make sure you have your ad blocker disabled. If you're interested in voting for one of next week's dishes, check out our IG stories or Facebook on Mondays!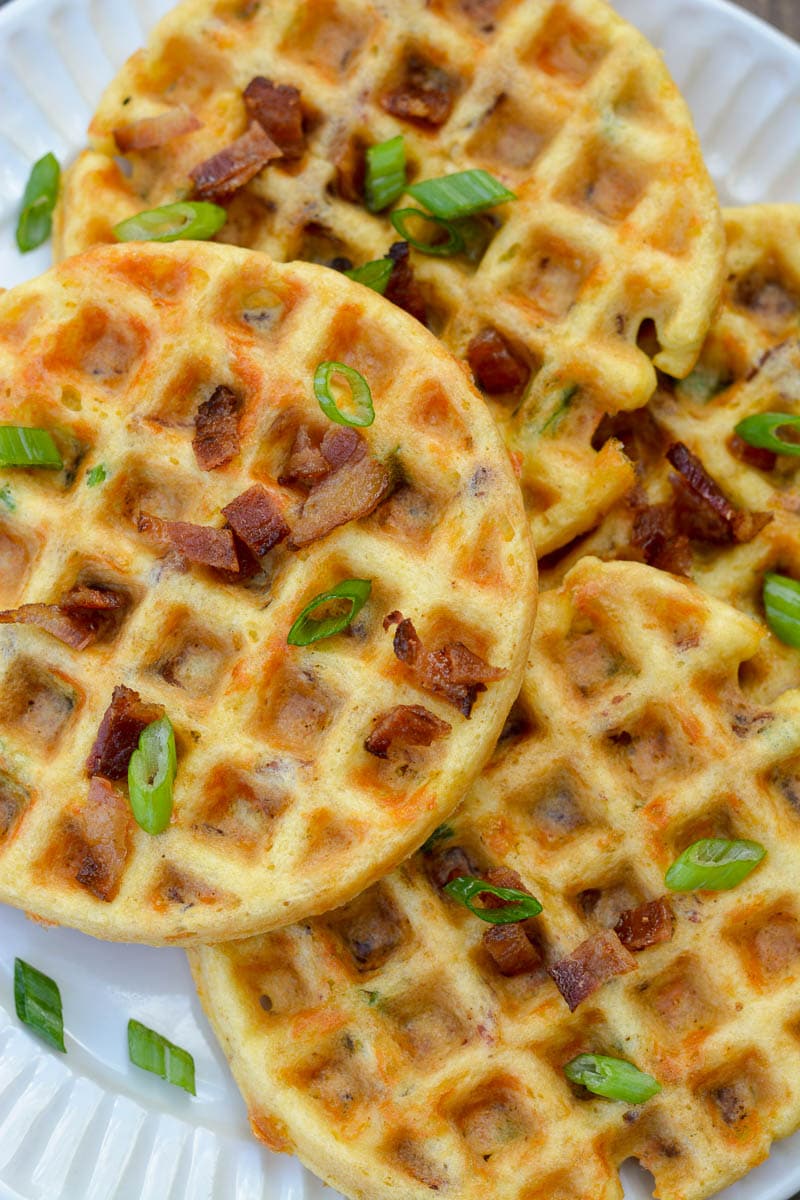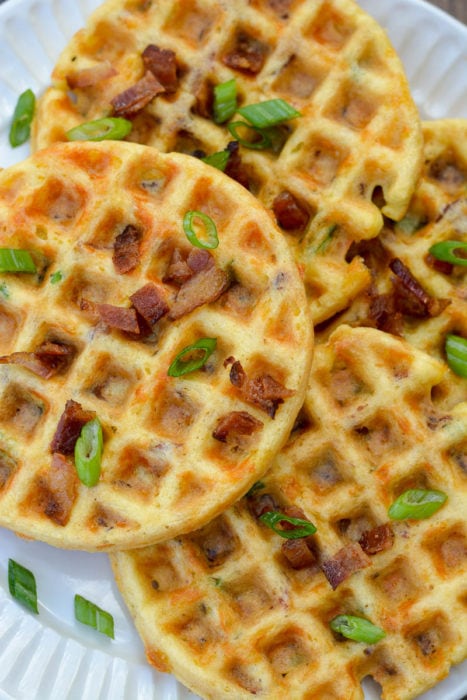 These Bacon Cheddar Chaffles (2.2 net carbs) are my new favorite meal prep recipe! They are fantastic by themselves or topped with an egg for breakfast. They are also a delicious savory snack and are AMAZING topped with some Keto Chili (perhaps that's the perfect leftover lunch for Wednesday)! This recipe makes 5, but our shopping list will allow you to double that without buying extras.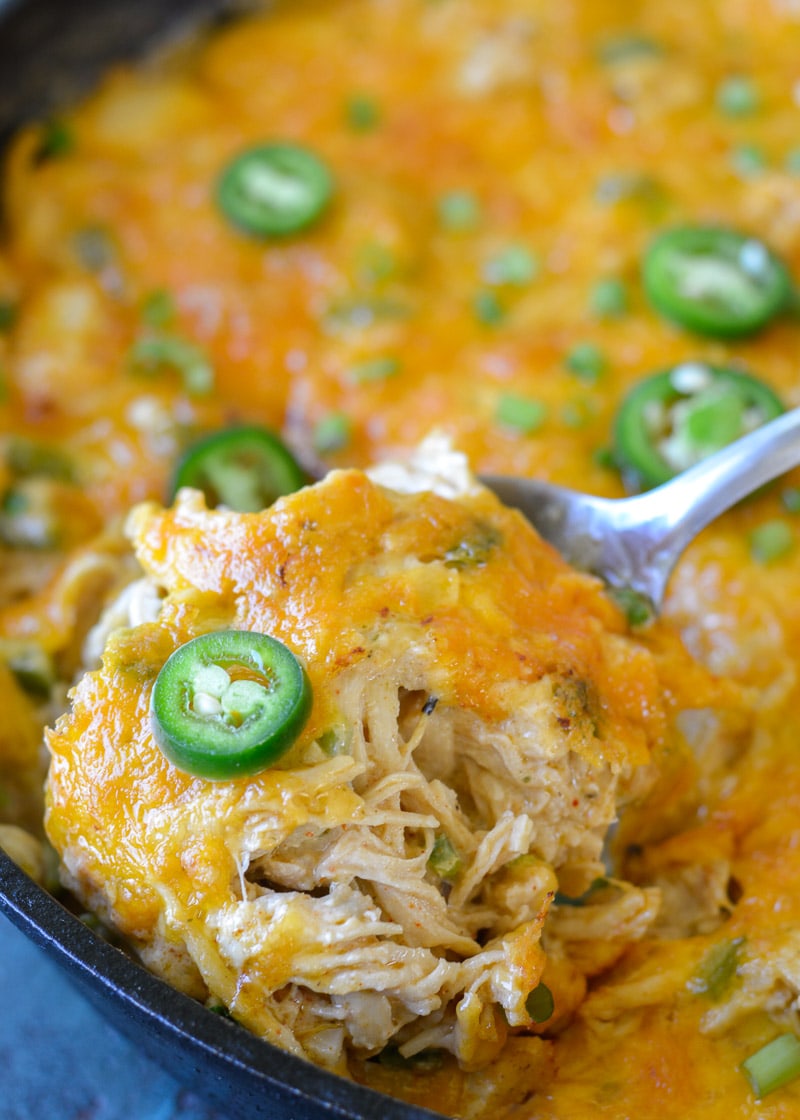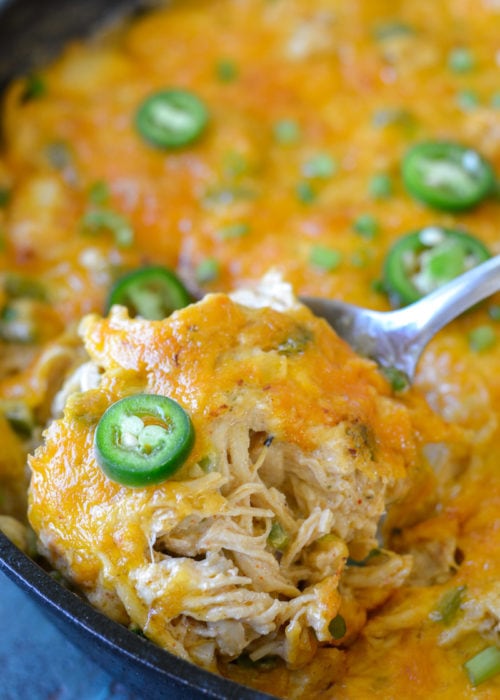 One-pan recipes were made for Mondays, right? This Jalapeno Popper Chicken Skillet comes together super quickly and is super easy to meal prep. Only 2.9 net carbs for each serving and deliciously creamy, making it a perfect comfort food to start your week.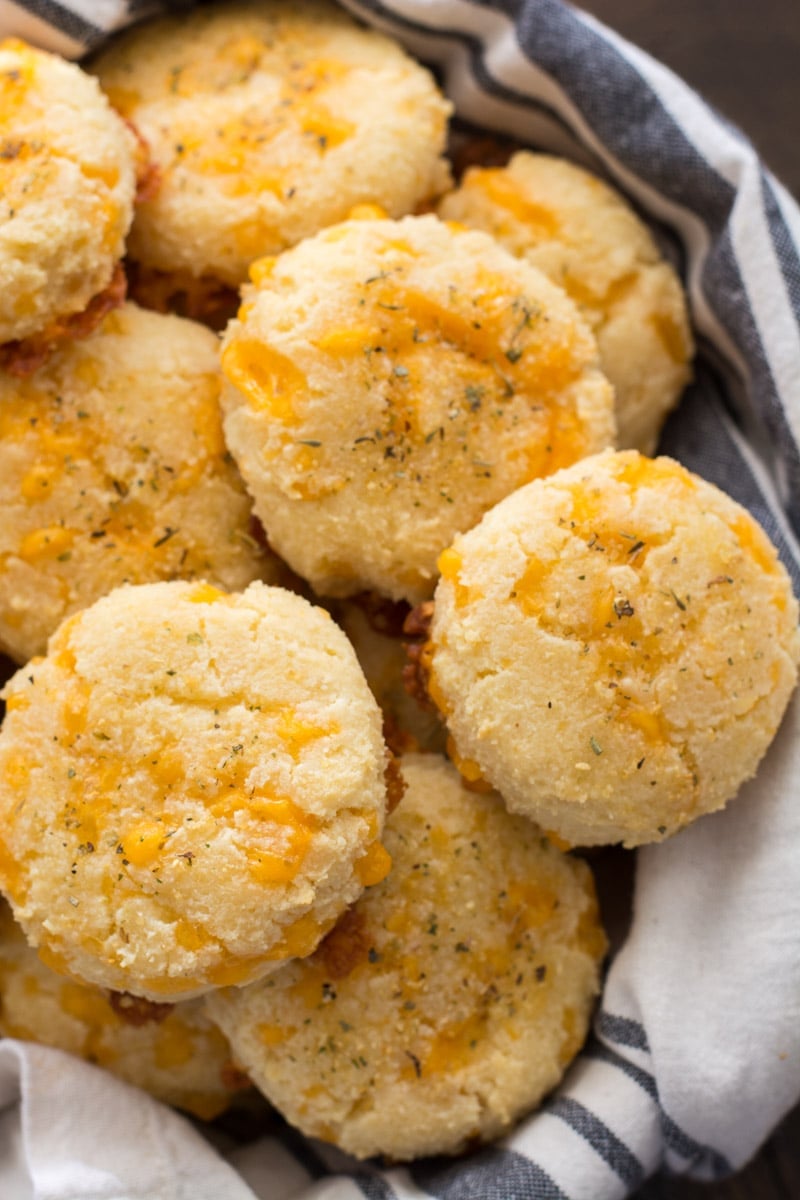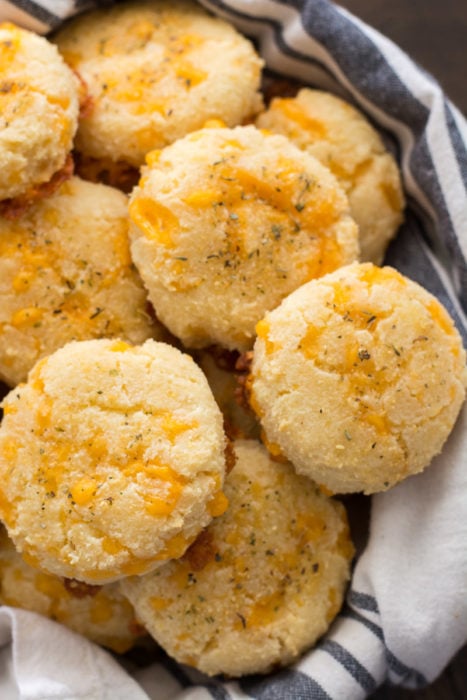 These Cheddar Garlic Keto Biscuits are a fan favorite, and it's no wonder why! Only 2 net carbs each, and the recipe makes 22 of them! These Red Lobster copycats go with everything, so feel free to make a double batch (just pick up 1 extra package of cream cheese if doubling)–They freeze beautifully, too!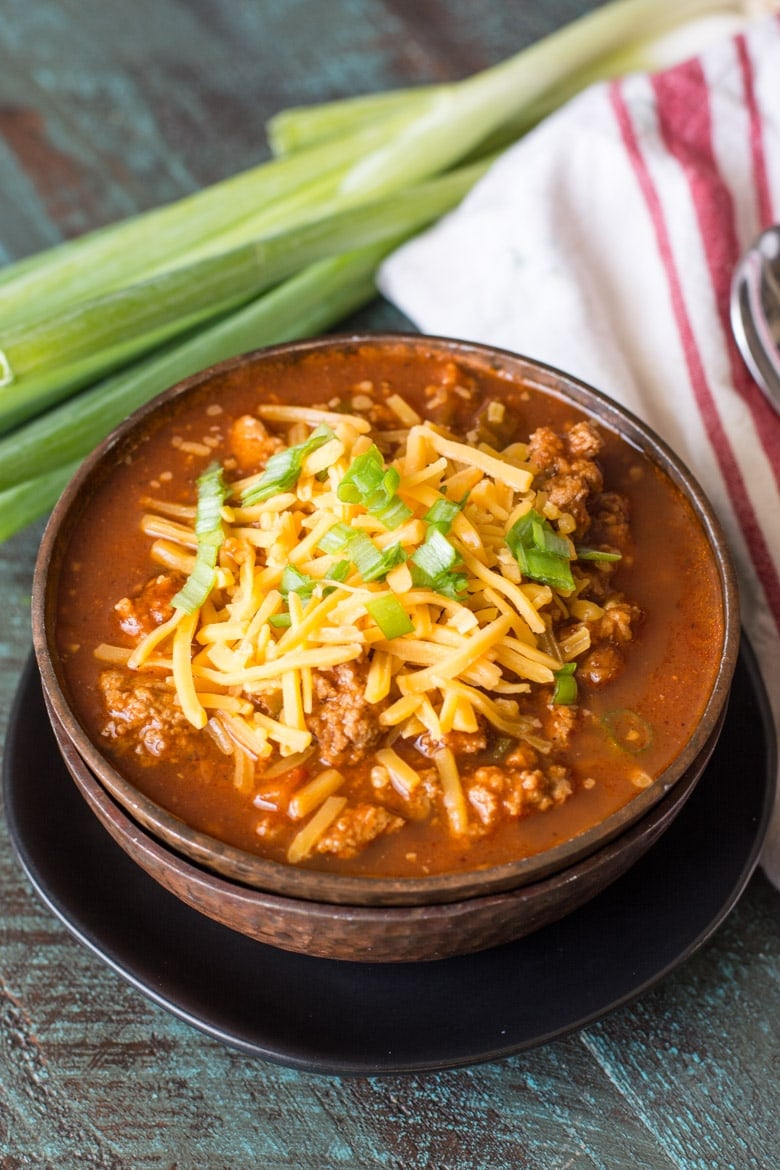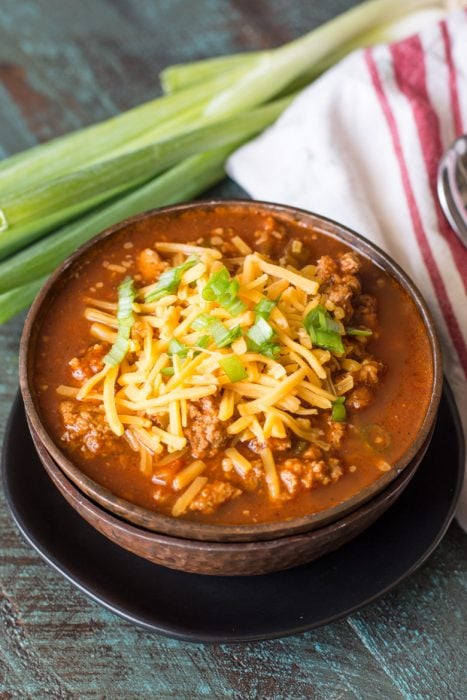 Whether you're feeling those fall temperatures yet or not, this Easy Keto Chili will fill the house with those autumn vibes! There are only 8.5 net carbs per generous bowl, and this makes for excellent leftovers! You can make this on the stove or in a slow cooker. For Instant Pot directions, click here.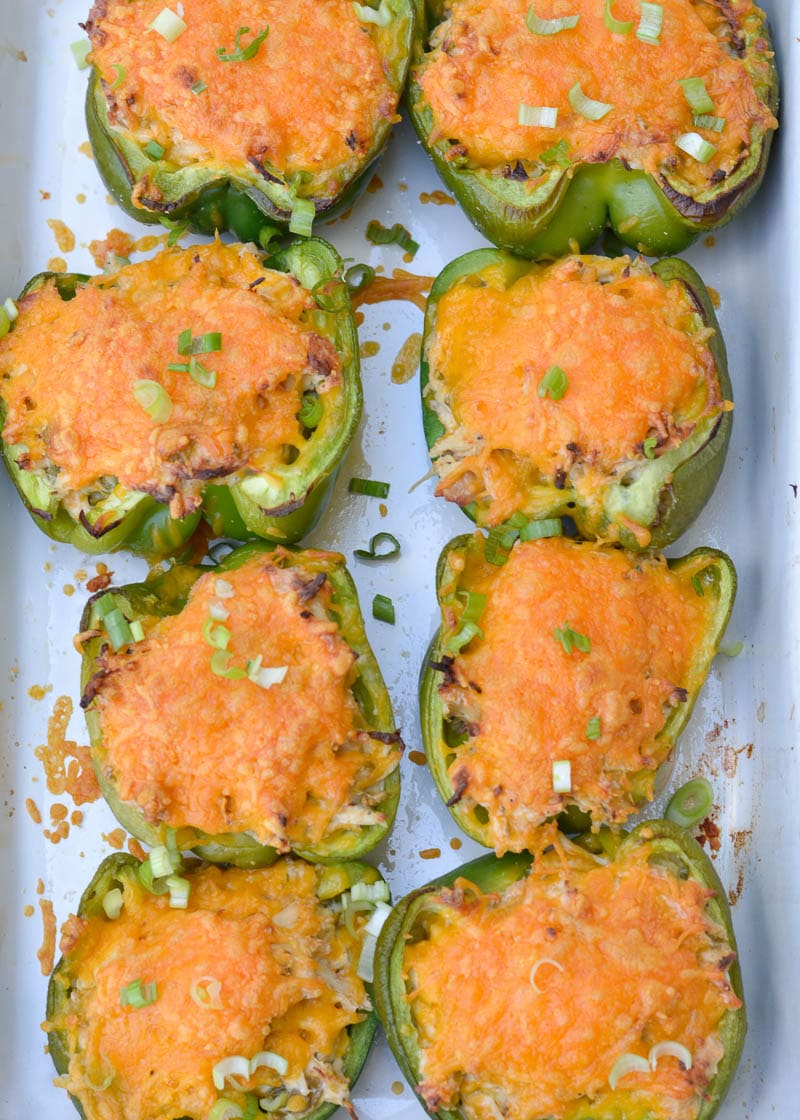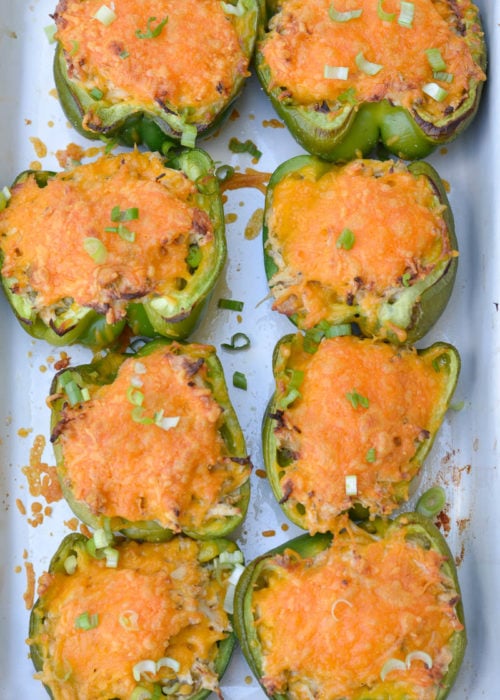 I love how easy these Green Chile Chicken Stuffed Peppers are! Ready in 30 minutes, easy to meal prep, and delicious when reheated–It's the perfect dish to get you through the week! Just under 5 net carbs per serving.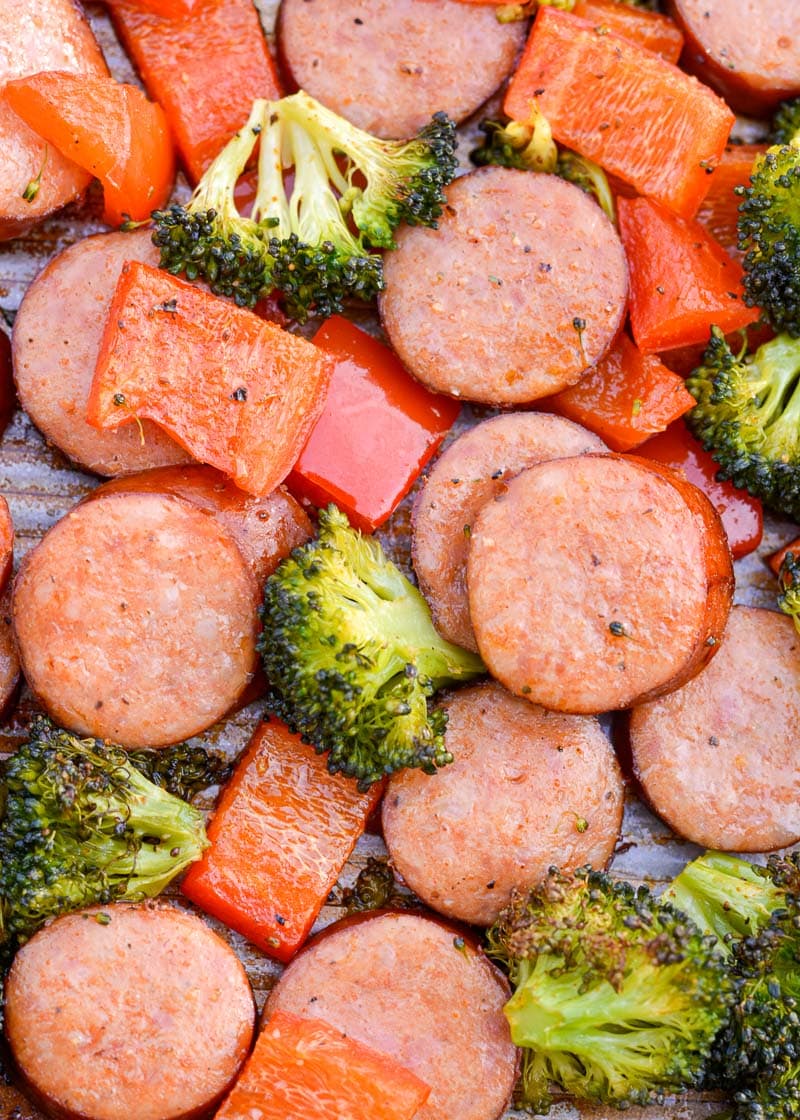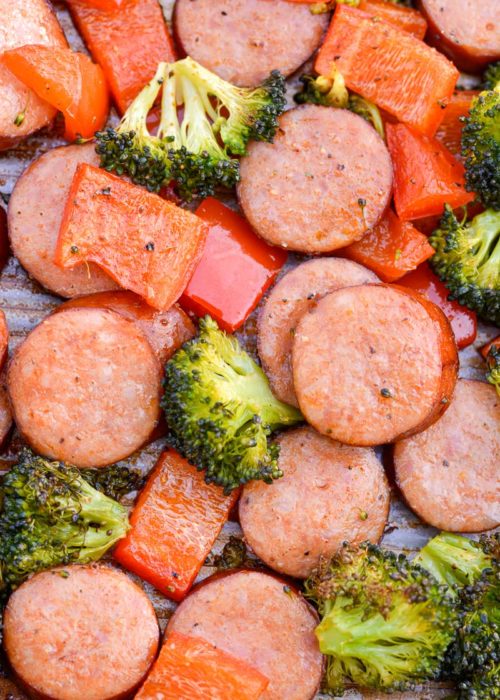 This week's winner, the easy Sausage Veggie Sheet Pan Dinner! Easy to meal prep, one pan needed, ready in 30 minutes, and only 6.2 net carbs per serving. Leftovers are wonderful reheated (sometimes I even throw them in my scrambled eggs for a super protein-packed breakfast!), too!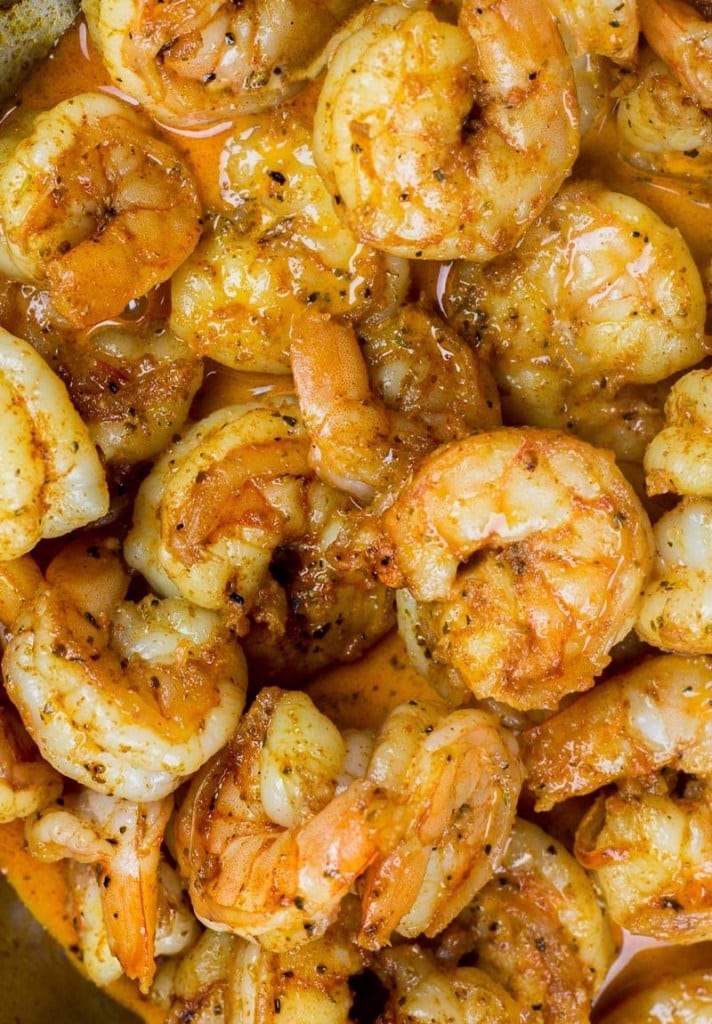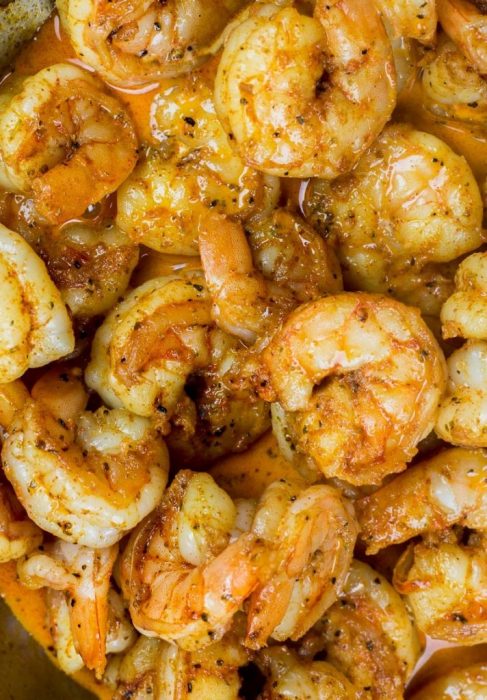 This Cajun Shrimp dinner is full of flavor and ready in 20 minutes! It's also super low carb–Only 1.3 net carbs per 1/4 pound + sauce! I hope you have some leftover Cheddar Garlic Biscuits because they are PERFECT with this meal (and you can afford the extra carbs!)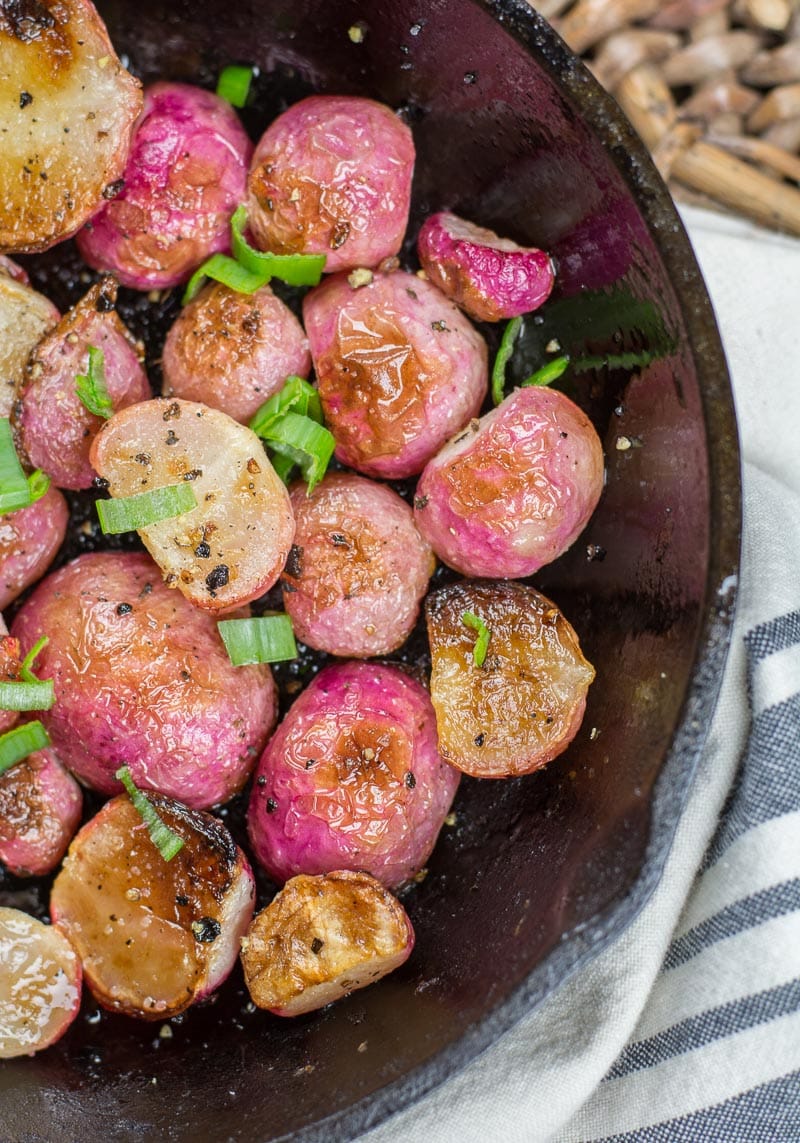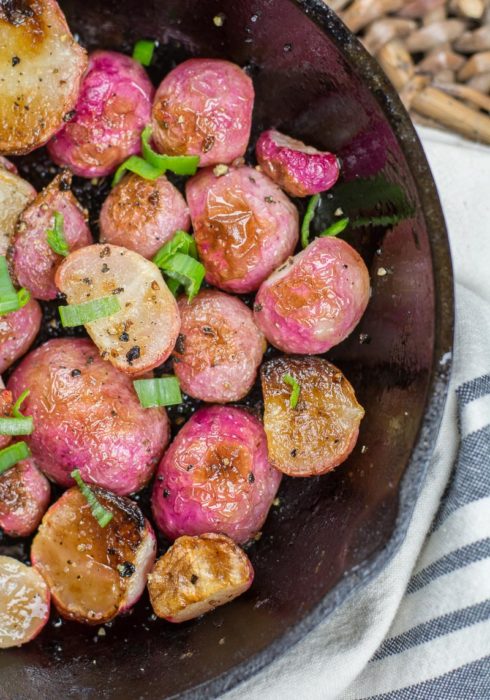 I know radishes are the most commonly-eaten vegetable in a lot of areas, but these Roasted Radishes may change that! The light peppery flavor is fantastic paired with the Cajun-spiced shrimp, and a serving is under 2 net carbs. This recipe only makes two servings, so make sure to add more radishes to the list if you're serving a crowd!
Keto Meal Prep Tips:
Chaffles
These can be made ahead of time and stored in the fridge or freezer. Reheat in a toaster, the oven, or right back in the waffle iron. I would make extra if I were you because they are fantastic with everything AND alone!
Chicken Skillet
This dish can be made entirely ahead of time, stored in the fridge, then reheated in the skillet or oven when you're ready to serve! I honestly think it's even better after it sits overnight because it gives time for that tasty jalapeno flavor to really take hold throughout the whole dish.
One time saving step that will make both Monday AND Wednesday easier: Cook and shred your chicken on your prep day, then store in an air-tight container in the fridge. You could buy two rotisserie chickens and shred them, but I hate dealing with all the bones and skin. Instead, I buy boneless, skinless chicken and prep it in the slow cooker. I do add some spices just to make it extra flavorful, but you'll love how hands-off and easy this is!
Cheddar Garlic Biscuits
I know I always make Monday a super easy, one-recipe day, but these biscuits are just too good to wait. They go super well with EVERY meal this week, so I recommend cooking them on your prep day, then having them available every day! If you want to make a double batch (highly recommend), just pick up an extra package of cream cheese.
These can be frozen easily–Just cook, place in a single layer on a baking sheet in the freezer for 2 hours, then toss them all in a freezer bag. To reheat, simply microwave for 30-45 seconds! Sometimes I put mine in the toaster oven to get a little crisp on top, too.
Easy Keto Chili
Like most chili, this one is perfect for meal prepping! You can make this up to 4 days ahead of time and store it in the fridge. It also freezes well and keeps for months! We love this by itself, on top of those Bacon Cheddar Chaffles, or on Keto Chili Dogs for lunch!
If you don't want to make the entire thing ahead of time, you could at least brown your meat on your prep day, saving you about 5 minutes. To reheat chili, microwave individual bowls or warm a big batch in a pot on the stove.
Stuffed Peppers
This dish can be made up to 3 days in advance, then reheated by placing in the oven at 350 degrees F (cover with aluminum foil if you're worried the cheese will get too browned). You can also reheat in the microwave, but you'll lose some of those crispy pepper edges that I love!
If you don't want to make it entirely ahead of time, you could just prepare the filling on your prep day. When you're ready to serve, cut and scoop out your peppers, spoon in your filling, and bake as directed! This would save you 5-10 minutes.
Sausage Sheet Pan
This keto sheet pan dinner can be made up to 3 days in advance, then rewarmed under the broiler for a few minutes. This way you still get those great crispy bits without having to cook the entire dish after a long day! You could also simply prep this recipe by cutting your ingredients and tossing them in the seasoning and oil up to 1 day ahead of time, then pouring on the baking sheet and cooking when you're ready to serve. This saves about 5-10 minutes.
Shrimp & Radishes
This dish is best served fresh because we don't want to overcook the shrimp! If you want to save yourself the time of measuring ingredients, you could prepare your Cajun seasoning mix on your prep day–Then when you're ready to cook, you can just throw your shrimp in the skillet, dump the ingredients, and stir in the cream after a few minutes! Dinner will be ready in 20!
These roasted radishes are also best fresh because they form perfectly roasted, crispy exteriors with soft, fluffy interiors (like little red potatoes). You can, however, cut them ahead of time–On your prep day, clean and slice your radishes, then store them in a bowl of water (covering the veggies) in the fridge. They will keep for about a week this way!
*If you are having trouble downloading, make sure your ad blocker is turned off!