This Keto Chili Pie has all of the crunchy, savory warmth of a Frito Chili Pie without all the carbs! Enjoy a generous serving for under 4 net carbs!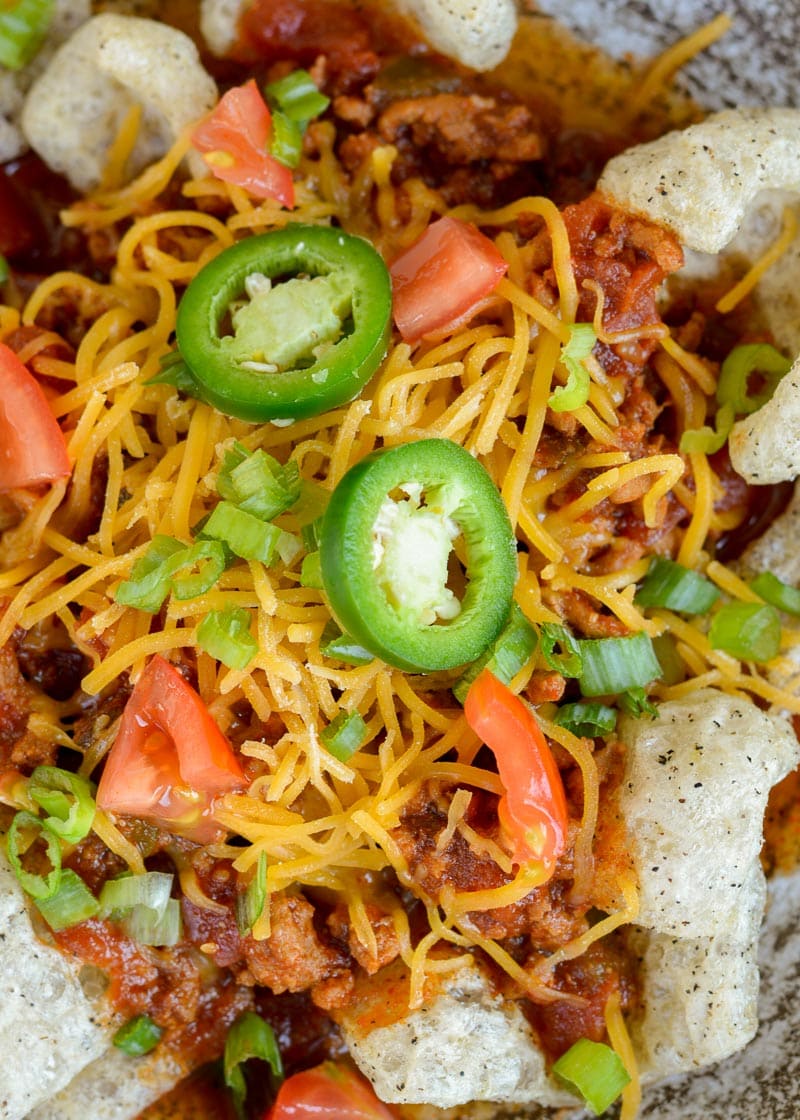 Okay, I know that calling this recipe is a stretch–It's more of an idea than anything. However, it's a brilliant idea I just had to share! Now that the air is getting cooler and football is back on, it's time to bring out the great fall favorites!
One of my sister's favorite fall meals is a Frito chili pie. A bowl of chili is okay, but put that chili on top of crunchy chips and top it with a load of cheese, and then you're speaking her language. At our old high school football games, they used to sell these, and you'd eat them right out of the chip bag!
Now, those chili pies were definitely NOT low-carb… But we can make them keto-friendly with a couple simple swaps!
Keto Chili Pie Ingredients:
Pork Rinds: plain, salted, or flavored work.
Low-carb chili: I used my favorite Easy Keto Chili
Shredded cheese: I use cheddar, but you could add pepper jack for a spicy kick or your favorite cheese.
Optional ingredients: Sour cream and Green onions
How do you make a Keto Chili Pie?
This is ridiculously easy. Pour your pork rinds into a bowl, top them with chili, cheese, sour cream, and green onions. Alternatively, you could use the individual bags of pork rinds and serve these right in the bag as "walking chili pies" at a bonfire or party!




Is Chili Keto?
Most chili includes beans, and that automatically means they aren't low in carbs. However, you can make chili keto-friendly! This is the absolute BEST Keto Chili ever! Chili can also be meal prepped and frozen, so you can make a big batch and freeze so that you have it whenever you like.
Keto Chili Recipe
You can find my favorite low-carb chili recipe here! You can use ground beef or turkey, whichever you prefer. I throw in bell peppers and jalapenos, but it's not very spicy. If you prefer a spicy chili, you can increase the chili powder included! You can make this on the stove or in a slow cooker. If you prefer to use the Instant Pot, try this recipe here!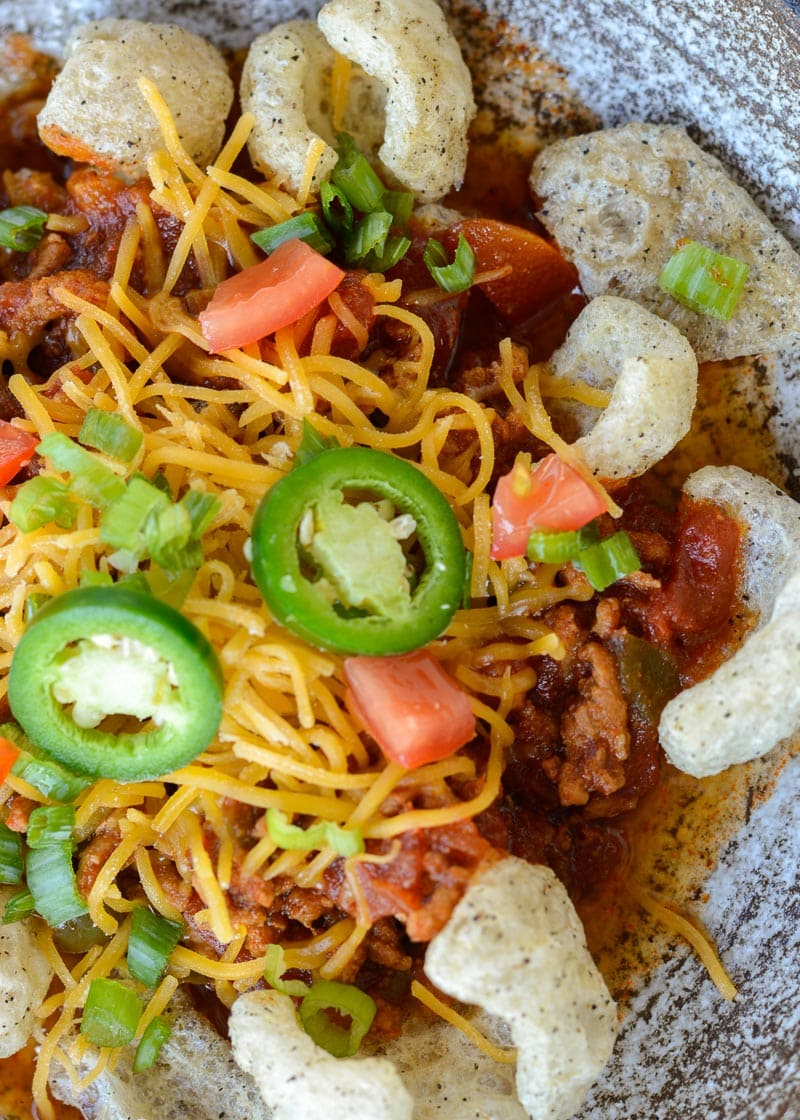 More Fall Keto Recipes:
Love this pumpkin spice season? Here's a great roundup of easy keto pumpkin recipes!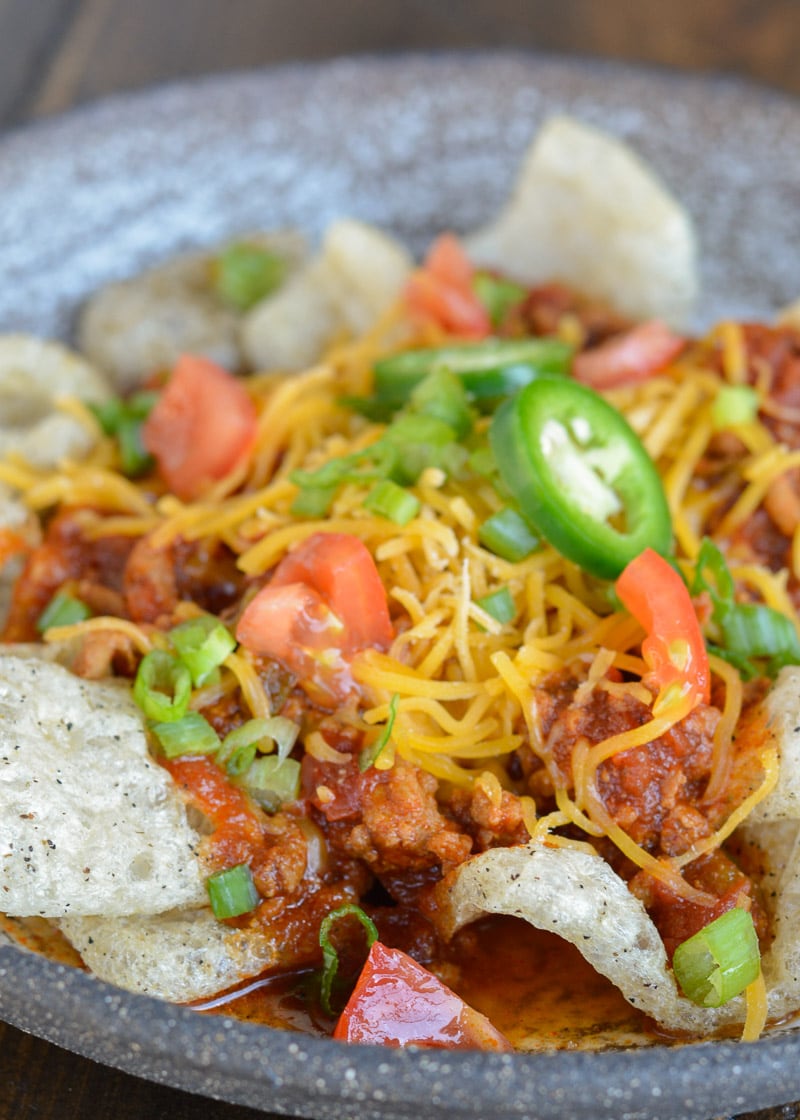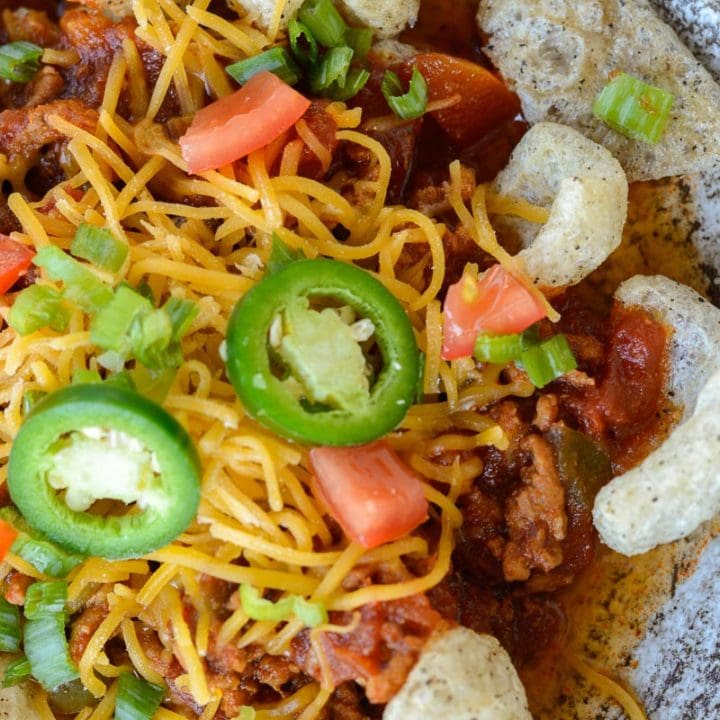 Keto Chili Pie
This Keto Chili Pie has all of the crunchy, savory warmth of a Frito Chili Pie without all the carbs!
Ingredients
1 1/2 cups pork rinds
1/2 cup keto chili (recipe linked below and in post)
1/4 cup shredded cheese
Instructions
Place the pork rinds in a single layer, top with warm chili, shredded cheese and any other fixings.
Chow down! Pork rinds loose their crunch quickly.
Nutrition Information:
Yield:

1
Serving Size:

recipes serves 1
Amount Per Serving:
Calories:

388
Total Fat:

25.4g
Cholesterol:

85mg
Sodium:

919mg
Carbohydrates:

4.7g
Net Carbohydrates:

3.8g
Fiber:

0.9g
Sugar:

2.7g
Protein:

33g