. What can you use instead of eggs in a recipe? Here are recommendations for different Egg Substitutes that will work for your recipe!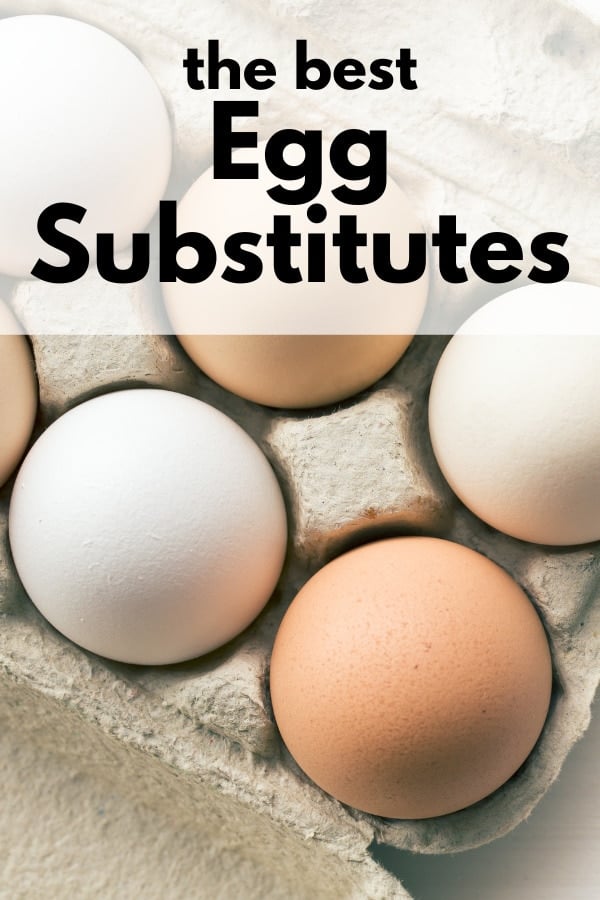 Egg Substitutes
Eggs are a common ingredient in many different types of recipes, but there are many different reasons you might need to leave them out! Whether you have an egg allergy, do not eat animal products, or are simply out of them at the moment, there are many different options you can choose. The key is to figure out what the egg provides to the recipe (binder, lift, moisture, volume etc.) and which ingredients could provide the same effect.
Each large egg is approximately 1/4 cup in volume, so you can generally approximate you'll need to replace that much volume, no matter the replacement you choose. This isn't always the case, but it's a helpful general starting point!
Why are eggs used in recipes?
Binder

Eggs are often used to hold all the other ingredients together, binding them so that the flavor and texture is fairly uniform. Without eggs, some recipes will become crumbly and struggle to form a cohesive form. Substitutes like mashed bananas, gelatin, or soy lecithin can work as the binding agent instead.

Leavening / Lift

When you whisk up eggs, you're allowing the egg to trap little air bubbles that will "lift" the recipe, and this can help make foods airy, light, or fluffy. Leaving out the eggs may mean your recipe turns out dense and flat, but you can cleverly create your own air bubbles with substitutes like carbonated water or a combination of vinegar and baking soda.

Moisture

Liquid in the egg is soaked up by other ingredients (like flour), and the moisture is then distributed throughout the recipe. Leaving out eggs may mean your recipe turns out dry. Some substitutions (like applesauce, yogurt, etc.) can help provide the moisture instead.

Volume / Flavor / Texture

Sometimes the egg IS the point! Egg muffins, quiche, and omelets all have the egg flavor and texture as the key component. In this case, leaving out the egg can fundamentally change the recipe! However, different types of tofu and store-bought alternatives make this substitution possible as well!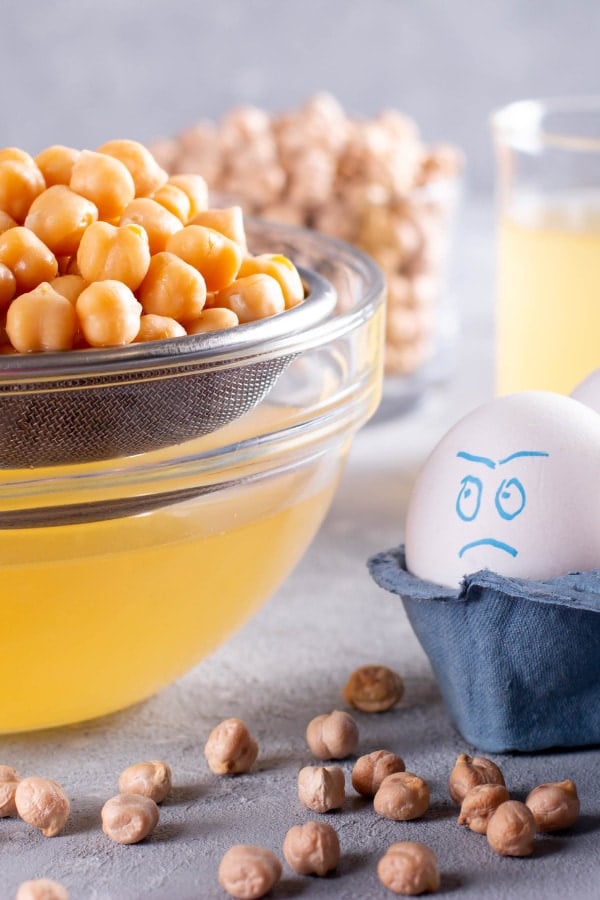 The BEST Egg Substitutes
There's really no "all-time best" substitute because the eggs in your recipe may have a purpose very different from the eggs in my recipe! Here are 11 of the best egg substitutes, their purposes and benefits, and when you might want to use them.
Applesauce – moisture
Unsweetened applesauce provides a ton of moisture and is fantastic in baked goods like cakes, brownies, and cupcakes. It's a good, neutral substitution that won't change the flavor of your recipe much. 1/4 cup of applesauce will replace 1 large egg. It can sometimes weigh down the recipe because it has no leavening abilities… However, you can simply stir a pinch of baking powder into the applesauce before adding to help add some lift.
Try unsweetened, unflavored applesauce in this Gluten Free Mango Bread or Caramel Smothered Apple Cinnamon Cupcakes!
Aquafaba – binder, leavening
Aquafaba is the liquid leftover when you drain a can of chickpeas. It works wonderfully as a leavening agent as it foams up and can form stiff peaks just like egg whites (even works in meringues, marshmallows, or for nougat). It doesn't provide much in terms of moisture, however, so you may need to increase or add other liquid to the recipe to prevent your recipe from being dry. 3 tablespoons of aquafaba will replace 1 large egg.
Try using aquafaba in place of the eggs in these Keto Key Lime Bars!
Buttermilk or Yogurt – binder, moisture
Using buttermilk or a plain yogurt in place of an egg is a surefire way to have a super moist recipe! This works well for muffins, cakes, cupcakes, and brownies, but it can be too heavy and not binding enough for cookies. 1/4 cup of buttermilk or yogurt will replace 1 large egg.
Try using buttermilk or yogurt for these dense, amazing, fudgy, gluten-free, keto Turtle Brownies!
Carbonated Water – leavening, moisture
Bubbly carbonated water is a great substitute to make sure your recipe turns out light and airy! Great for muffins, cakes, and quick breads. Sodas will add sugar and other ingredients as well, but they do work to provide the same lift and moisture. This doesn't help bind ingredients in the recipe, though, so your recipe may be a bit crumbly if you're not using any binding ingredient. 1/4 cup of carbonated water will replace 1 large egg.
Carbonated Water would be a great egg substitute in this Gluten-Free Funfetti Strawberry Poke Cake!
Commercial substitutes – binder, moisture, volume
There are many different plant-based products created to replace eggs in pretty much any type of recipe you can imagine, but some are only meant to be used as a binder while some can act as stand-alone eggs as well. Just be careful to read the package and details to pick up the right product for you! These are fantastic if you are substituting due to an egg allergy or vegan diet, but they may not work for a keto, paleo, or whole30 diet. Follow the instructions available on these products for measurements as each product is different.
Try commercial egg substitutes in these Zucchini Fritters or Keto Chocolate Chip Cookies!
Ground Flax or Chia seed – binder
When you give ground flax time (10-15 minutes) to soak in water, it becomes a stretchy, almost elastic-like binder and thickener. This is great in cookies and brownies, dense baked goods that can handle a thick mixture. Flax may add a stronger grassy flavor while chia seeds has a milder, nutty taste. However, neither of these have the ability to provide any lift to your recipe, so you may consider adding or increasing baking powder to help. If your mixture becomes too thick, you may also need to add a bit of liquid as well. 1 tablespoon of ground flax + 2-3 tablespoons of water will replace 1 large egg.
Try adding soaked ground flax or chia seeds (blended) in these Keto Chocolate Chip Cookies!
Mashed Bananas – binder, moisture
Mashed bananas are ideal in recipes that have some "weight" to them… Dense muffins, fudgy brownies, coffee cakes, etc. The flavor is quite strong and will alter your recipe, but it will also lead to a beautiful browning on the tops of baked goods! You may want to reduce the amount of sugar used in your recipe if substituting with banana due to the high sugar content, as well. 1/4 cup of mashed banana will replace 1 large egg.
Try mashed bananas in place of eggs in this Sugar-Free Chocolate Zucchini Bread!
Nut Butters – binder, moisture
Nut butters contain a pretty high amount of moisture, and they have the ability to bind other ingredients in a recipe together. There is little to no leavening ability, so you will likely need to increase or add baking soda to give your recipe some lift. This is fantastic in cookies or brownies, but it's a bit too heavy to work for most cakes. It will definitely add a nutty taste, and the creamier options are going to mix and bind best. 3 tablespoons of nut butter will replace 1 large egg.
Try adding peanut butter to these Chocolate Chip Protein Pancakes instead of the eggs!
Starches (Arrowroot powder, cornstarch, potato starch, tapioca starch)
Starches like arrowroot powder are mixed together with water to form a thickening and binding agent that also works decently at lifting baked goods. It doesn't add a ton of moisture, however, so you may want to increase other liquids a touch to make sure your recipe doesn't end up dry. A slurry made from 2 tablespoons of arrowroot powder (or potato starch, tapioca starch, cornstarch) + 3 tablespoons of water will replace 1 large egg.
Try starches in place of eggs in this Low Carb Chocolate Chip Pumpkin Bread!
Tofu – binder, moisture, volume
Silken tofu can work as a great option for recipes that are heavily reliant on beaten eggs like this Sausage Spinach Quiche or my Denver Omelet Egg Muffins. Regular tofu is a bit firmer and can cook up like scrambled eggs for this Breakfast Chaffle Bowl or Breakfast Quesadilla. Tofu doesn't get fluffy like real eggs, but you can add a pinch or two of baking powder to help add some lift to your dish. You can add some seasonings to make it taste more like eggs if you prefer that! 1/4 cup of tofu will replace 1 large egg.
Water + Oil + Baking Powder – leavening, moisture
Using a combination of water, oil, and baking powder creates a lifting effect as well as moisture. It keeps the very basic structure of most goods (like muffins, cakes, breads, brownies, etc.). Vegetable oil is likely the most neutral tasting oil you can use, but stronger tasting oils like olive, coconut, or avocado oils would work just as well. 2 tablespoons of water + 1 teaspoon oil + 2 teaspoon baking powder will replace 1 large egg.
Try using the water, oil, baking powder combination for the BEST Coconut Flour Muffins!
Recipes Without Eggs