Garlic Butter Chicken and Mushrooms is a satisfying dinner that is loaded with flavor! Each serving of this keto chicken recipe has about 4 net carbs.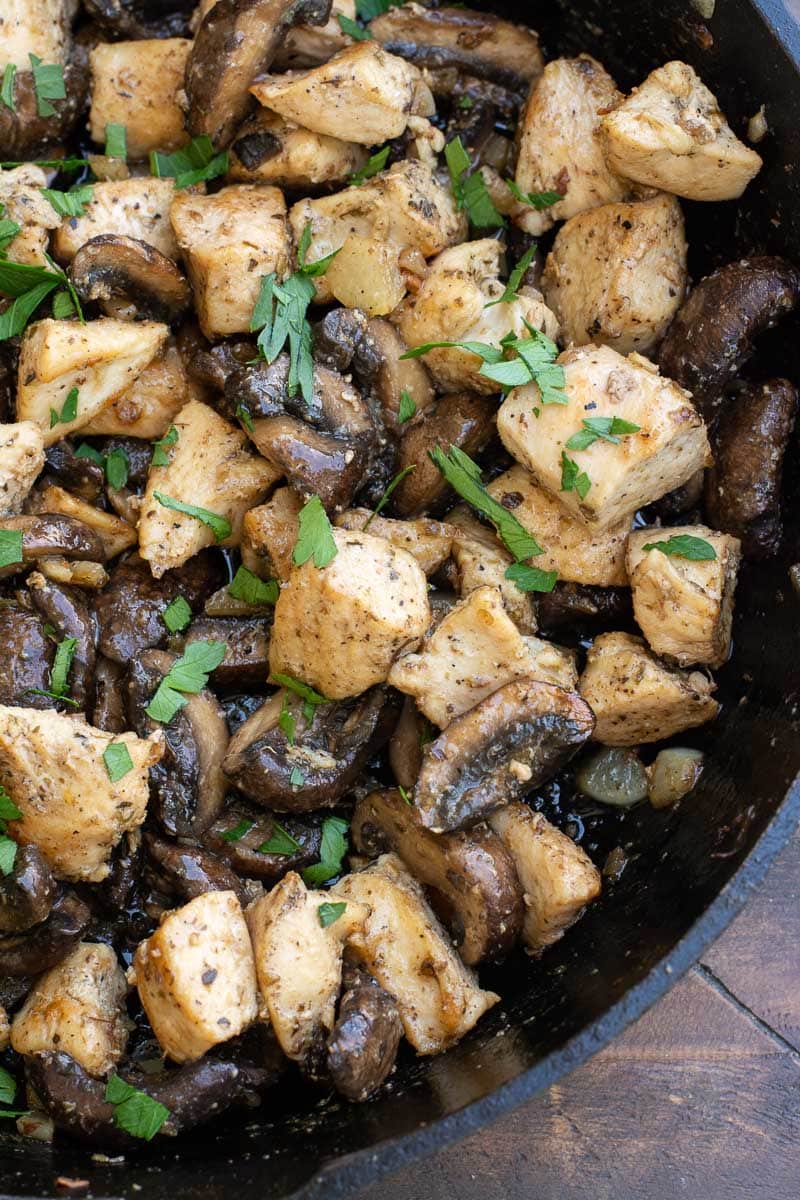 Garlic Butter Chicken
This delicious Garlic Butter Chicken skillet is full of tender mushrooms, juicy chicken, and a luscious buttery sauce! If your chicken, mushrooms, and garlic are prepped ahead of time, you can get dinner on the table in just about 20 minutes. This is a healthy, super filling one pan meal that you'll want in your regular rotation.
This recipe uses simple, easy ingredients, no special substitutions or fancy ingredients. I used white wine to deglaze the pan and start the sauce, but you could use chicken or vegetable broth if you have that on hand instead. Garnishing the dish with parmesan and fresh herbs would be a lovely touch, but this meal is really a simple, impressive hit on its own!
This gluten-free, grain-free, low-carb, keto-friendly dish is also super meal prep friendly. You can chop up the chicken, slice the mushrooms, and mince the garlic up to 3 days ahead of time and store the ingredients separately in the fridge, then quickly whip up the recipe on a busy weeknight.
If you love freezer meals, this is a great one to switch up from all the casseroles, soups, and slow cooker meals. You can cook this on your prep day and freeze for a great meal that your family, neighbors, or friends can reheat easily and enjoy without much effort or time — Perfect for new parents or sick loved ones!
Chicken Mushroom Skillet Ingredients
Here's a quick overview of what you'll need. For exact measurements and specific instructions, keep scrolling down to the printable recipe card.
Boneless, skinless chicken breast – This would work with tenders or boneless thighs as well.
Portobello mushrooms – You can use other mushrooms, but I prefer the flavor of portobellos.
Olive oil and seasonings – I used Italian seasoning, salt, and pepper.
White wine, butter, and minced garlic – Chicken or vegetable broth can be used in place of wine if necessary.
How to make Garlic Butter Chicken with Mushrooms
This is a simple recipe cooked entirely in one pan. I like the sear from a cast iron pan, but you can use a non-stick pan if you prefer.
Toss to coat the chicken in spices and sear in olive oil, cooking just until golden on all sides. Remove from the skillet and set aside while you deglaze the pan with wine (or broth), scraping to get all the bits from the bottom of the pan. Add the mushrooms and cook until mushrooms are tender and wine has evaporated.
Remove mushrooms, placing them with the chicken. Add the butter and garlic to the pan, then sauté until fragrant. Add back in the chicken and mushrooms, tossing to coat every piece with the delicious garlic butter sauce. Top with parmesan if desired and serve immediately.
How to store and reheat Keto Chicken Mushroom Skillet
Allow the chicken dish to cool completely, then transfer to an airtight container. This will keep fresh in the fridge up to four days. The quickest way to reheat is to microwave in 30 second blasts, stirring between intervals. If you like to keep the crispy sear on the chicken, add back into a hot pan instead, stirring occasionally until warmed throughout.
If you're serving this at a potluck and need to keep it warm, you can allow it to warm up on low in a slow cooker (just make sure to stir frequently to prevent any burning). You may choose to add another pat of butter to prevent the leftovers from becoming dry.
Can you freeze Garlic Butter Chicken?
Yes, this keto chicken dinner is a great freezer meal! Simply cook, cool completely, then store in an airtight container — I prefer to pour into a freezer bag, suck all the air out, then freeze flat. Once completely frozen, it easily stores standing straight up on the shelf.
To reheat after freezing, first allow it to thaw in the fridge overnight. Warm a pan on medium high, pour the recipe into the pan, and allow it to re-sear and heat up, stirring occasionally.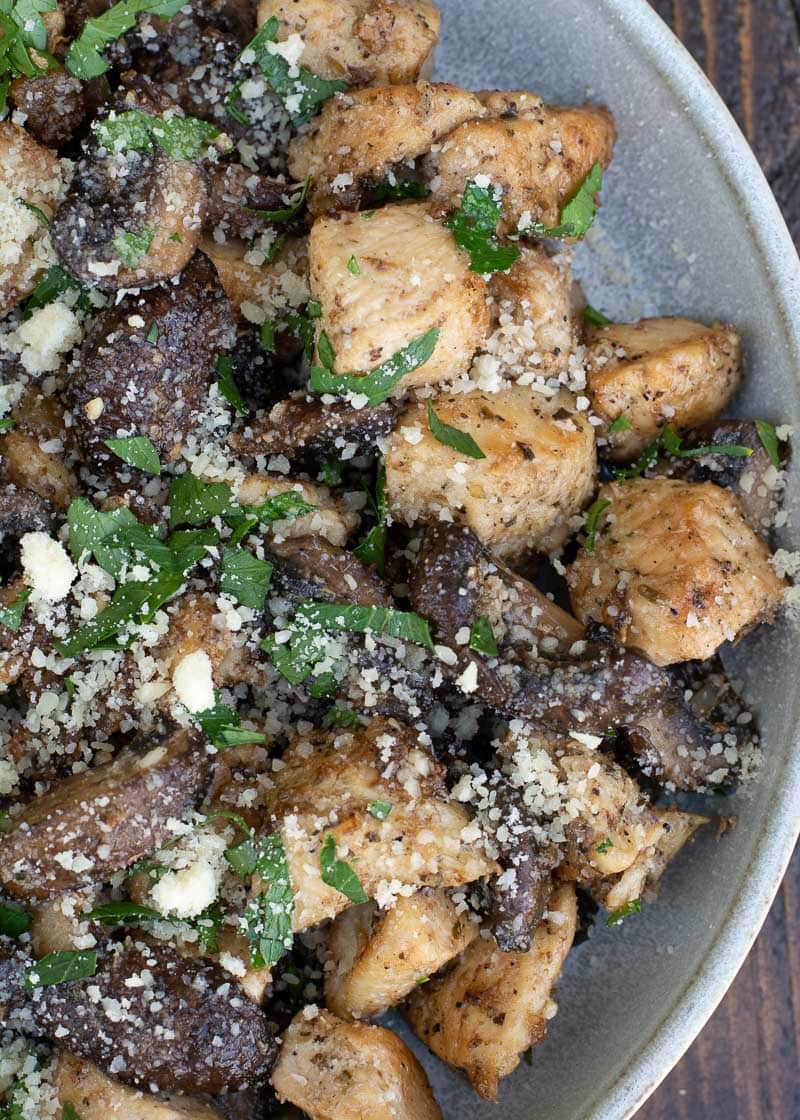 What to Serve with Garlic Butter Chicken and Mushrooms
This dish is very flexible and would be perfect with SO many side dishes! Cook this up, then serve atop some spaghetti squash with some Cheddar Garlic Keto Biscuits for a super filling low-carb "pasta" dish. You could also spoon a portion over Mashed Potatoes or Cheesy Grits for a big helping of comfort food (Mashed Cauliflower or Keto Grits work great to stay low carb, too!).
For a fun keto dinner, consider serving a Rosemary Gin Fizz with this Keto Ravioli for an appetizer. Follow it up with this easy Garlic Butter Chicken and Mushrooms with a side of Cacio e Pepe Zoodles. End with a piece of No Bake Cheesecake for an entire 3 course meal for under 12 net carbs!
More One Pan Keto Meals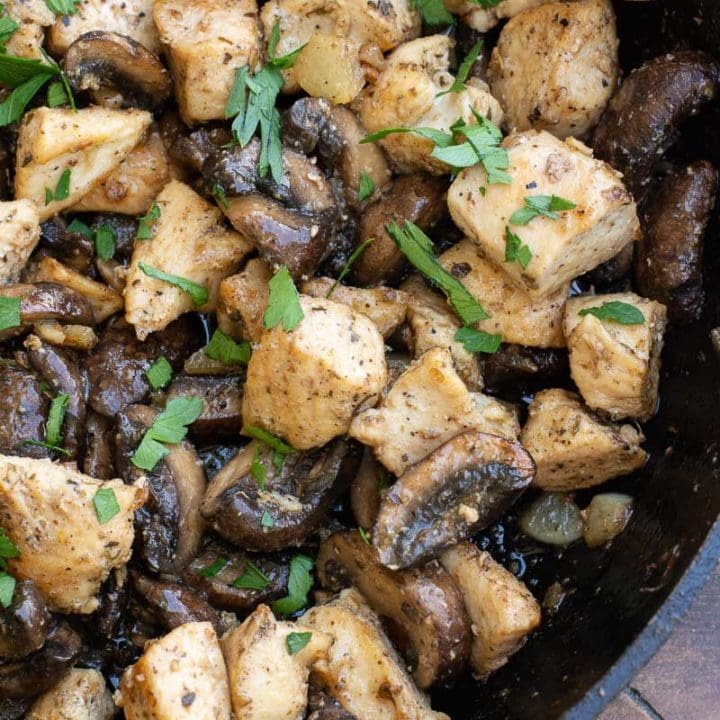 Garlic Butter Chicken and Mushrooms
Garlic Butter Chicken and Mushrooms is a satisfying dinner that is loaded with flavor! Each serving of this keto chicken recipe has about 4 net carbs.
Ingredients
2 tablespoon olive oil, divided
1 pound chicken breast, cut into bite size pieces
2 teaspoons Italian seasoning
1/2 teaspoon each salt and pepper
1/4 cup dry white wine
16 ounces portobello mushrooms, sliced
2 tablespoons butter
2 tablespoons minced garlic
Instructions
Heat a large skillet to medium heat. Add 1 tablespoon olive oil, the chicken and spices. Toss to coat and cook the chicken about 3 minutes on each side until golden. When the chicken has browned, remove the chicken from the skillet and set aside.
Add the white wine to the skillet and scrape the bottom of the pan to deglaze the pan. Add the mushrooms and cook, turning occasionally about 5 minutes until tender and the wine has evaporated. Remove the mushrooms from the pan and add to the chicken.
Add the butter and garlic to the skillet and and sauté until fragrant. Add the chicken and mushrooms back to the skillet and toss to coat. Garnish with parmesan if desired.
Recommended Products
As an Amazon Associate and member of other affiliate programs, I earn from qualifying purchases.
Nutrition Information:
Yield:

4
Serving Size:

1/4 of recipe
Amount Per Serving:
Calories:

429
Total Fat:

19.2g
Cholesterol:

180mg
Sodium:

409mg
Carbohydrates:

6.7g
Net Carbohydrates:

4.8g
Fiber:

1.9g
Sugar:

2.9g
Protein:

53g