These Pumpkin Cheesecake Brownies are gooey, chocolatey and filled with fall flavor! This keto dessert is less than 3 net carbs and will become one of your favorite recipes!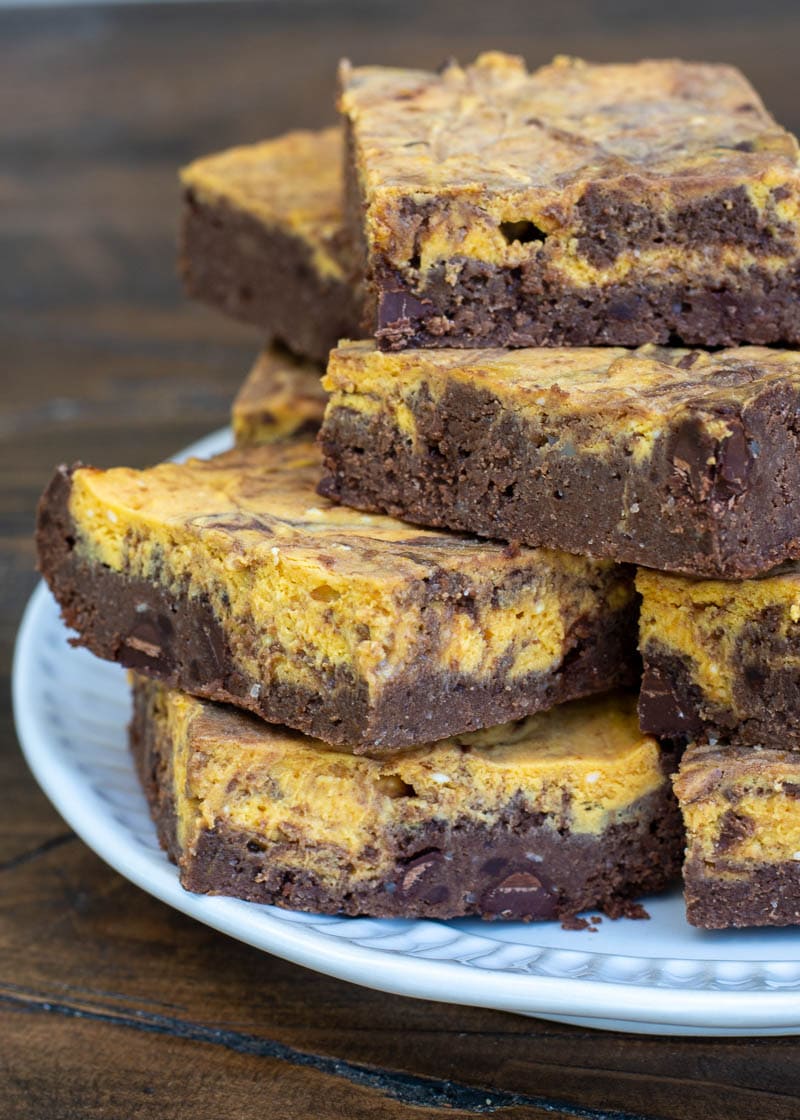 Pumpkin Cheesecake Brownies
Keto Pumpkin Recipes are one of my favorites for the fall, which will hopefully be upon us soon! To try to encourage the seasons to change, I decided to make these delicious Pumpkin Cheesecake Brownies. I couldn't believe how delicious these keto brownies were! This low carb dessert is indulgently rich with the creamy cheesecake filling combined with the fudgy brownie, all perfectly complimented by the sweet pumpkin! This delicious keto dessert is less than 3 net carbs per serving and your entire family will be begging you to make them again! For more fun fall recipes, check out this list of 20+ Easy Fall Desserts!
Keto Brownie Ingredients
As always, this is a quick overview of the ingredients you will need for this recipe. To get the complete recipe just keep scrolling. To make these pumpkin brownies you will need:
Almond flour, Keto-friendly sweetener, cocoa powder, salt
Butter, eggs, sugar free chocolate chips
Cream cheese, pumpkin, vanilla extract
Can I make substitutions?
I've only made this recipe as written, so I am not able to personally recommend any substitutions for this recipe. However, here are some tips if you do plan to try to substitute ingredients:
Egg: The egg works mostly as a binder and leavening in this recipe, so my guess is that a ground flax/chia + water mixture might be your best bet for an egg substitute. Check this post for help choosing the best egg substitute.
Butter: The butter in this recipe is melted, so many butter substitutes could work here! If I were substituting, I'd probably try subbing oil first as I love a dense brownie, and it'd keep the brownies keto. For more about the best butter substitutes, check out this post!
Flour: I would not recommend substituting any other flour in this recipe. For everything you need to know about almond flour (including how to make it), check out this post. Here's a great post with everything you need to know about coconut flour, including why it would not be a great choice for this recipe.
Sugar: I rarely use any sweetener besides Swerve or monk fruit, but I know many people enjoy using allulose. If I were trying to use that, I would use 1 cup of allulose in the brownies (instead of 3/4 cup monk fruit) and 4 tablespoons of allulose in the cheesecake (instead of 3 tablespoons monk fruit). Again, I have not tried this and do not know how it would actually affect the recipe in practice.
Pumpkin: I cannot think of any keto ingredient that could reasonably replace the pumpkin in this recipe. If you'd like to make it without pumpkin, here's a recipe for Fudgy Keto Brownies with a Cheesecake Swirl!
Can I make Cheesecake Brownies ahead of time?
Yes, these are the perfect meal prep or freezer dessert! They are so moist and fudgy, you don't have to worry about them quickly tasting stale or drying out. Make them when you have the time and store them in an airtight container on the counter (3-4 days), the fridge (up to 1 week) or in the freezer (up to 3 months).
How to store Keto Cheesecake Brownies
Always allow brownies to cool completely before storing in an airtight container. If storing stacked on top of one another in layers, make sure to keep a piece of wax or parchment paper between them so they don't stick together. They can stay fresh on the counter for 3-4 days, a week in the fridge, or 3 months in the freezer.
Can you freeze brownies?
Yes, brownies freeze beautifully and thaw perfectly for a great make-ahead dessert. They will keep up to 3 months in the fridge, but the longer they are frozen, the more their texture and flavor will change. Here are some tips to make sure your brownies stay just as delicious as they were when you first baked them:
Allow the brownies to cool completely before putting them into a container. Any residual heat will cause condensation which can cause freezer burn.
If storing longer than a month or you want to easily pull out one at a time for packing in lunchboxes, double wrap each brownie in plastic wrap or beeswax wraps before storing in an airtight container. This further prevents moisture from causing freezer burn and makes it SO easy to have a grab-and-go snack.
If using a freezer bag, use a straw to suck out any remaining air before freezing. This goes a long way to preserving the best texture and flavor in your brownies!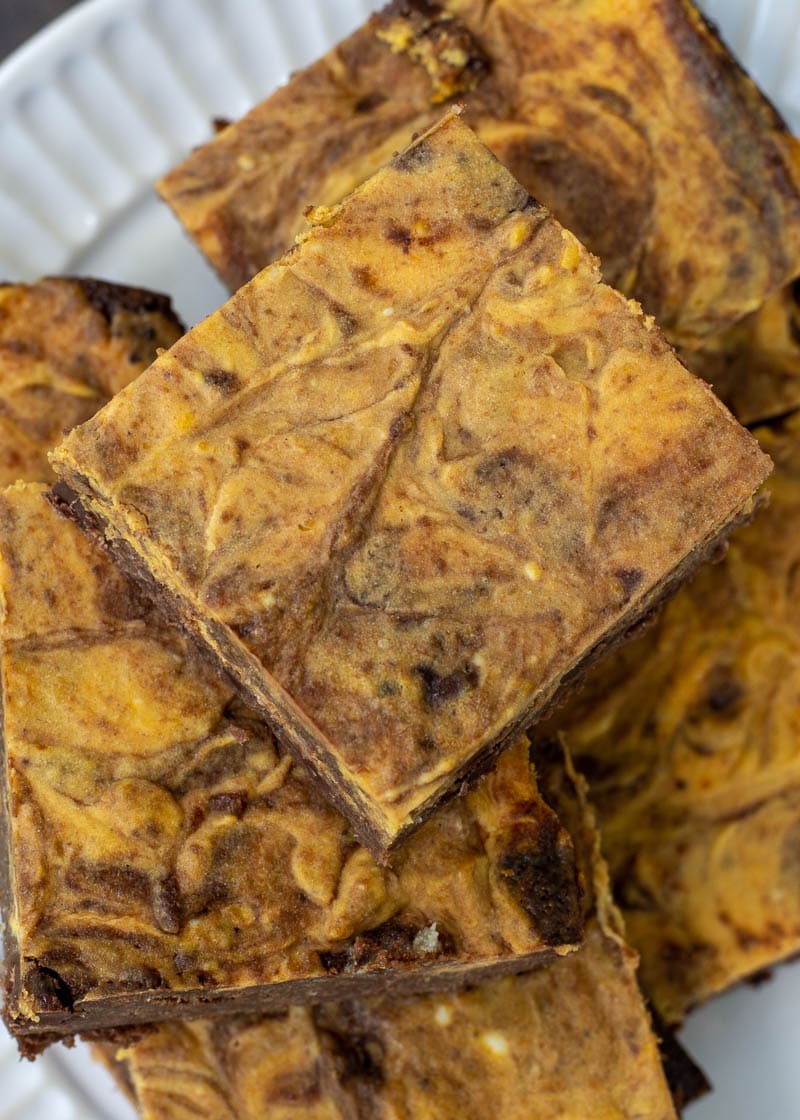 How to reheat brownies
I love these brownies cold, room temperature, or warm. If you prefer your brownie feel like it came right out of the pan, here are the best ways to reheat a brownie without drying it out:
Microwave – Best for nearly-stale brownies, quickest; Place brownie on plate, cover with damp paper towel, microwave in 10-second intervals 2-3 times per brownie. Longer intervals result in the middle overcooking and cheesecake melting.
Oven – Nearly identical texture to freshly baked brownies, slowest; Reheat brownie in an oven or toaster oven (preheated to 350 degrees F). Heat 3-5 minutes for a single brownie, 10-15 minutes for an entire batch (place aluminum foil on top for the entire time except the final 5 minutes if reheating the whole batch).
You can also use an air fryer (350 degrees F for about 1 minute), but it's easy to overcook and also easy to make a mess. Just be cautious if using the air fryer.
What to serve with Pumpkin Cheesecake Brownies
This delicious gluten-free brownie is the PERFECT sugar-free dessert to enjoy with a good coffee! For those who live for fall flavors, you'll love adding this Pumpkin Spice Latte. A Keto Caramel Frappuccino (or this mocha caramel version if you LOVE chocolate!) will make you feel like you're in an expensive coffee shop, but an Iced Mocha or simple Keto Coffee Frappuccino might be more your style. For a quick out-the-door breakfast of champions, wrap up the brownie in a paper towel and wash it down on the go with a Cold Brew Coffee!
If you're not a fan of coffee, I highly recommend enjoying this with a Vanilla Cream Soda or Vanilla Bean Frappuccino. For peak fall vibes, eat this brownie while sipping on an Iced Vanilla Chai! For a nice chilly night, serve with Keto Hot Cocoa (with or without its espresso whipped cream).
More Keto Brownies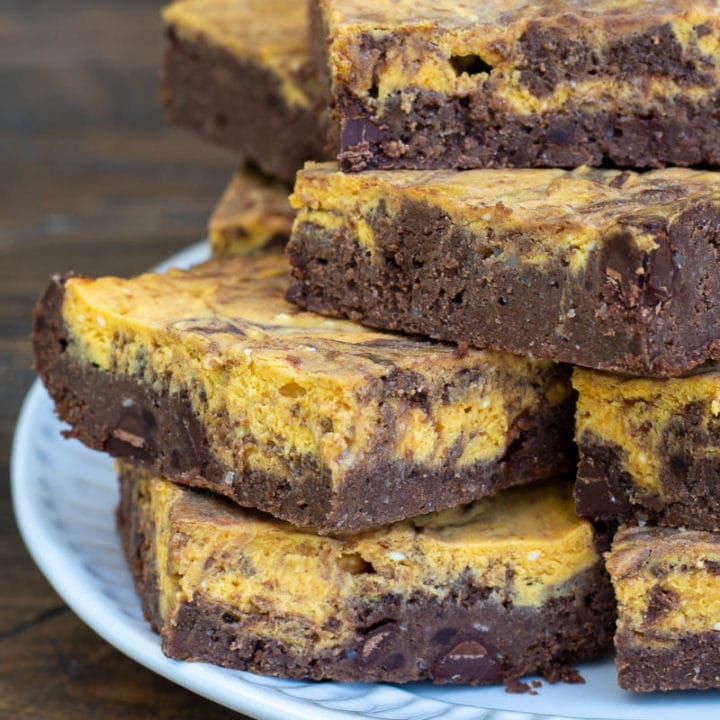 Pumpkin Cheesecake Brownies
These Pumpkin Cheesecake Brownies are gooey, chocolatey and filled with fall flavor! This keto dessert is less than 3 net carbs and will become one of your favorite recipes!
Ingredients
For the Brownies
8 tablespoons butter, melted
3/4 cup granulated Monkfruit sweetener
1/3 cup unsweetened cocoa powder
2 eggs, beaten
1/2 teaspoon salt
3/4 cup almond flour
1/2 cup Lily's sugar free chocolate chips
Pumpkin Cheesecake
4 ounces softened cream cheese
1/4 cup pumpkin
3 tablespoon Monkfruit sweetener (confectioners is best here instead of granulated, but granulated will work if it is all you have)
2 tablespoons heavy cream
2 teaspoons vanilla extract
Instructions
Preheat oven to 350 degrees F. Line an 8x8-inch baking pan with parchment paper and set aside.
In a mixing bowl, combine the melted butter, sugar substitute, and cocoa powder until completely combined. Mix in the eggs, stir well.
Add the almond flour and salt, stir well. Fold in chocolate chips. (Mixture will be thick.)
Spread the brownie mixture to all four corners of your baking pan, set aside.
Combine the cream cheese, pumpkin, sweetener, heavy cream and vanilla extract until smooth.
Spoon the cheesecake mixture in lumps onto the brownie batter, and swirl. Both the brownie and the cheesecake layer are quite thick, they will probably not create beautiful "swirls" but the thickness does create really great layers of sweet cheesecake and fudgy brownie.
Bake for 25-30 minutes or until brownies are set'
Allow to cool and slice, store in the refrigerator.
Recommended Products
As an Amazon Associate and member of other affiliate programs, I earn from qualifying purchases.
Nutrition Information:
Yield:

12
Serving Size:

1 slice
Amount Per Serving:
Calories:

166
Total Fat:

13.8g
Cholesterol:

62.3mg
Sodium:

140mg
Carbohydrates:

3.8g
Net Carbohydrates:

2.7g
Fiber:

1.1g
Sugar:

2g
Protein:

3.2g