Are you looking for a crispy, salty snack? These easy Air Fryer Green Bean Fries are the perfect low-carb side dish or appetizer! Under 6 net carbs per serving!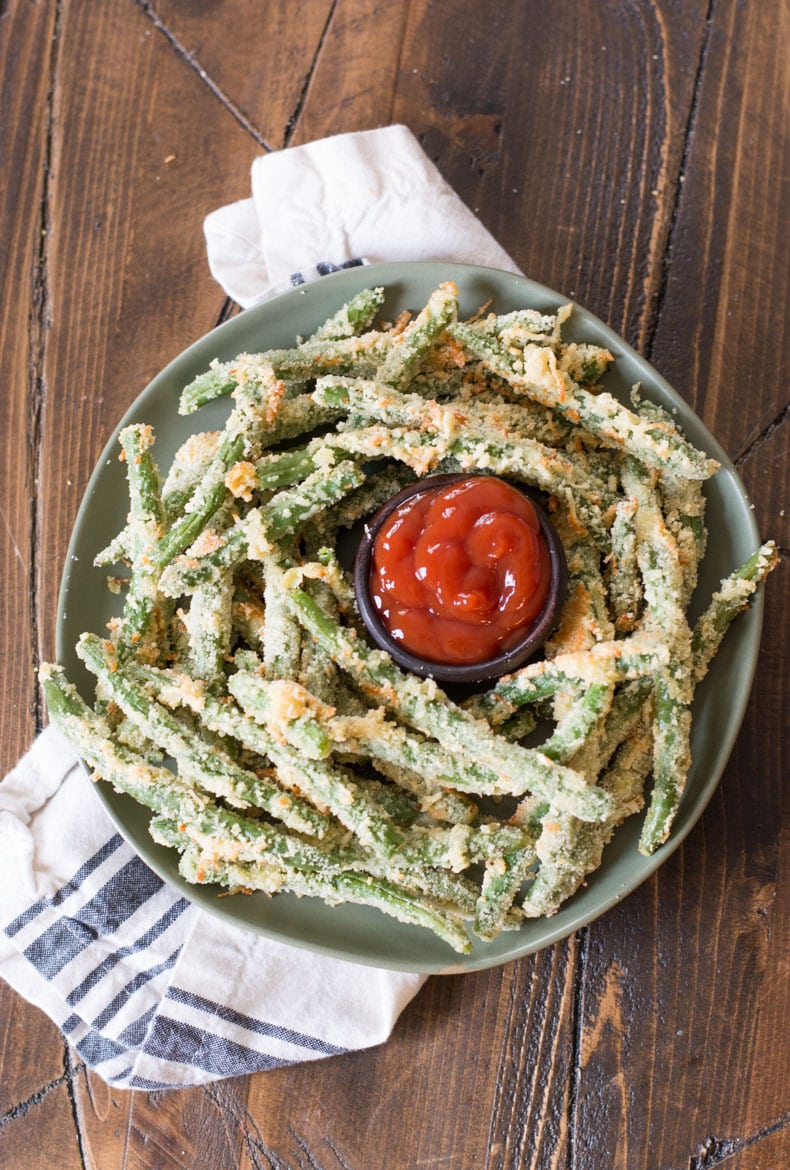 Green Bean fries are a lighter alternative to french fries and are similar to zucchini fries. The first time I tried green bean fries I was in college having dinner with some friends and one of the girls ordered a huge basket of green bean fries as an appetizer. They were delicious!
I loved how crispy they were on the outside, but how tender and full of flavor they were on the inside. It really reminded me of these Air Fryer Carrots, which I'm obsessed with! I think the flavor is similar to roasted green beans, but better because of that crispy parmesan coating! I love serving them with these Perfect Blackened Pork Chops.
Ingredients for Green Bean Fries
These green bean french fries come together with minimal ingredients. Here's what you'll need for this recipe:
Fresh green beans
Egg
Low-carb ranch dressing
Almond flour
Spices (garlic salt, garlic powder, black pepper)
Parmesan cheese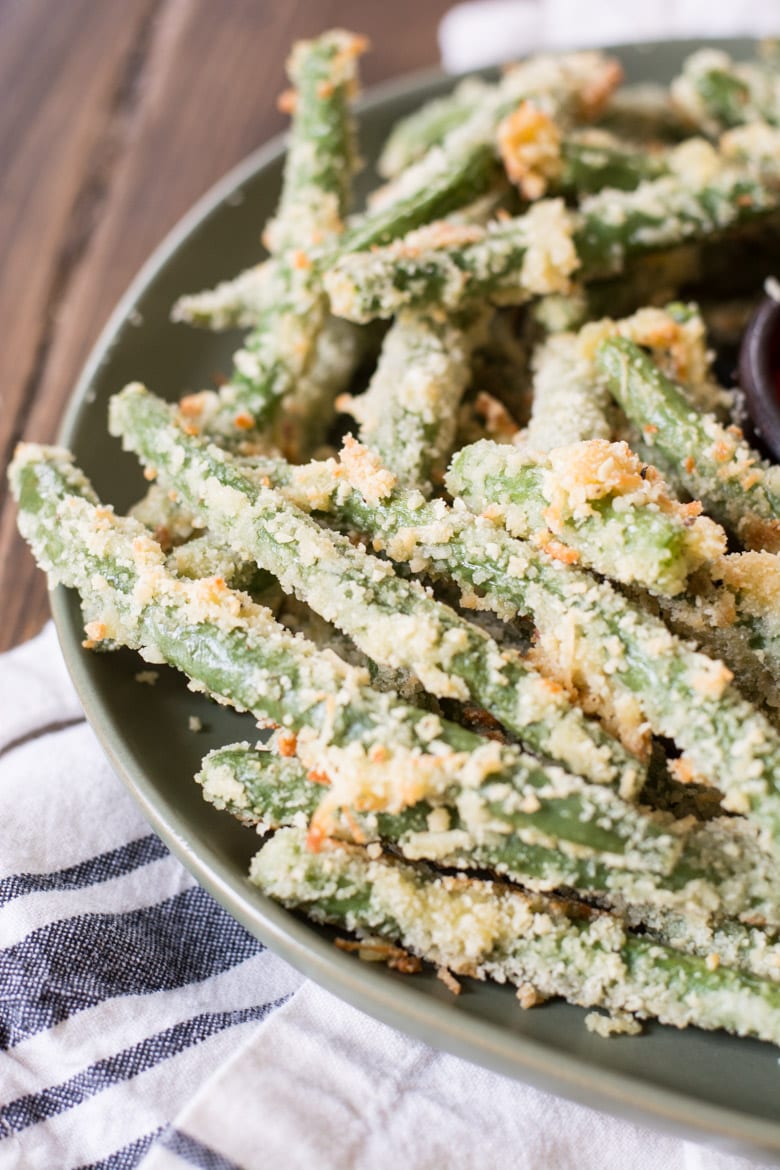 How to Make Green Bean Fries (2 Ways!)
As I mentioned, these fries are covered in a delicious parmesan crust. The first step is to assemble the fries. Washed green beans are dipped in a beaten egg and ranch mixture, then dredged in a mixture of almond flour, parmesan and spices. This is the same method used for these Keto Zucchini Fries, and there is also a helpful video you can watch.
Once the green bean fries have been coated it is time to cook! There are two options. An oven method and an air fryer method. There are advantages to both options.
Air fryer: The fries come out crispier and cook faster but you have to cook in batches.
Oven: You can cook an entire batch at a time (or even more) the fries do not come out quite as crispy.
How to Make Air Fryer Green Beans
The advantage to the air fryer is they cook super fast and it does not heat the house up like turning the oven on. I do find that the fries get a bit crispier in the air fryer as well.
Preheat your machine according to the directions at 390 degrees F.
When hot, add in as many green beans as you comfortably can without over crowding.
Spray with cooking spray to help crisp.
Cook 5 minutes, shaking the basket half way through cooking to move them around.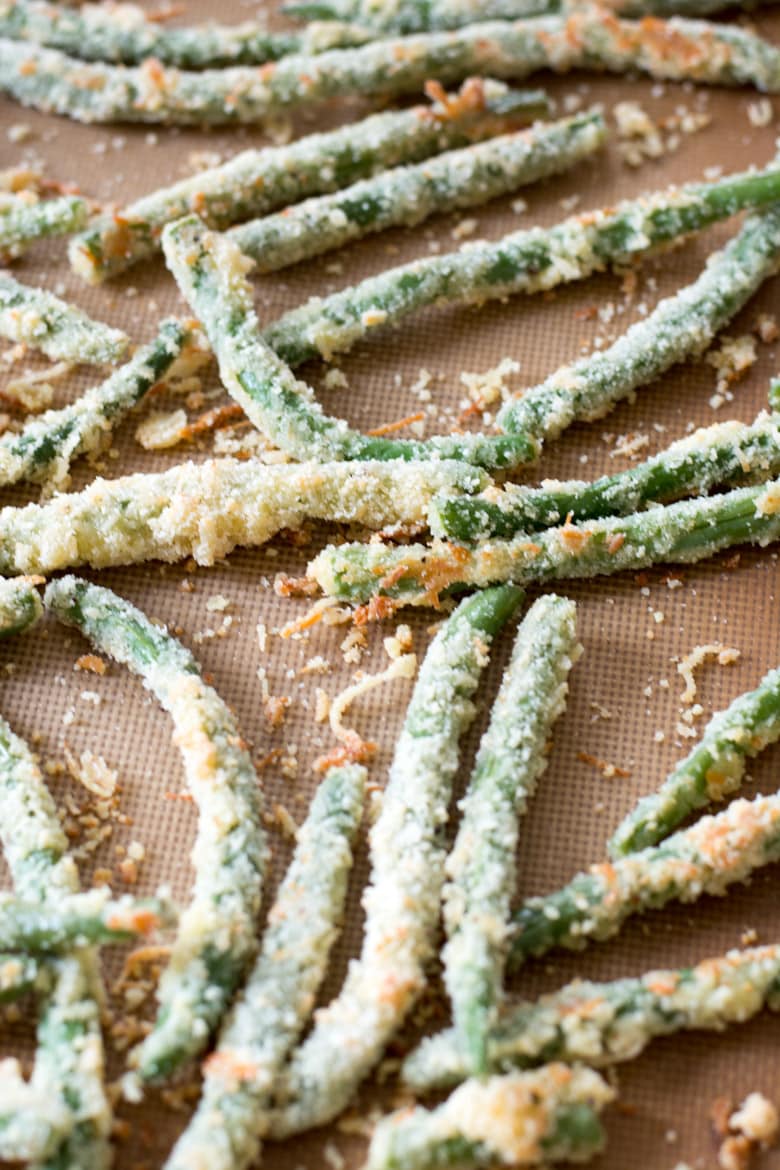 How to Make Baked Green Bean Fries
You can cook far more green bean fries at a time in the oven. Once you pop them in the oven they require no extra work. You can shake the pan or turn them if you wish, but I don't really find it is necessary to achieve a good crispy crust.
Preheat oven to 400 degrees F.
Place breaded green bean fries on a large pan.
Lightly spray the breaded fries with cooking spray to help crisp them.
Bake 10-12 minutes or until the green beans reach your desired tenderness.
How Many Net Carbs Are in Green Bean Fries?
The net carb count for these crispy green bean fries is about 5.6, according to my nutrition calculator. However, that is assuming that all of the almond flour breading is used, which it usually isn't. There is normally a bit of the breading mix left over, so in reality these are probably a bit lower, but I am going to quote the high end of the spectrum.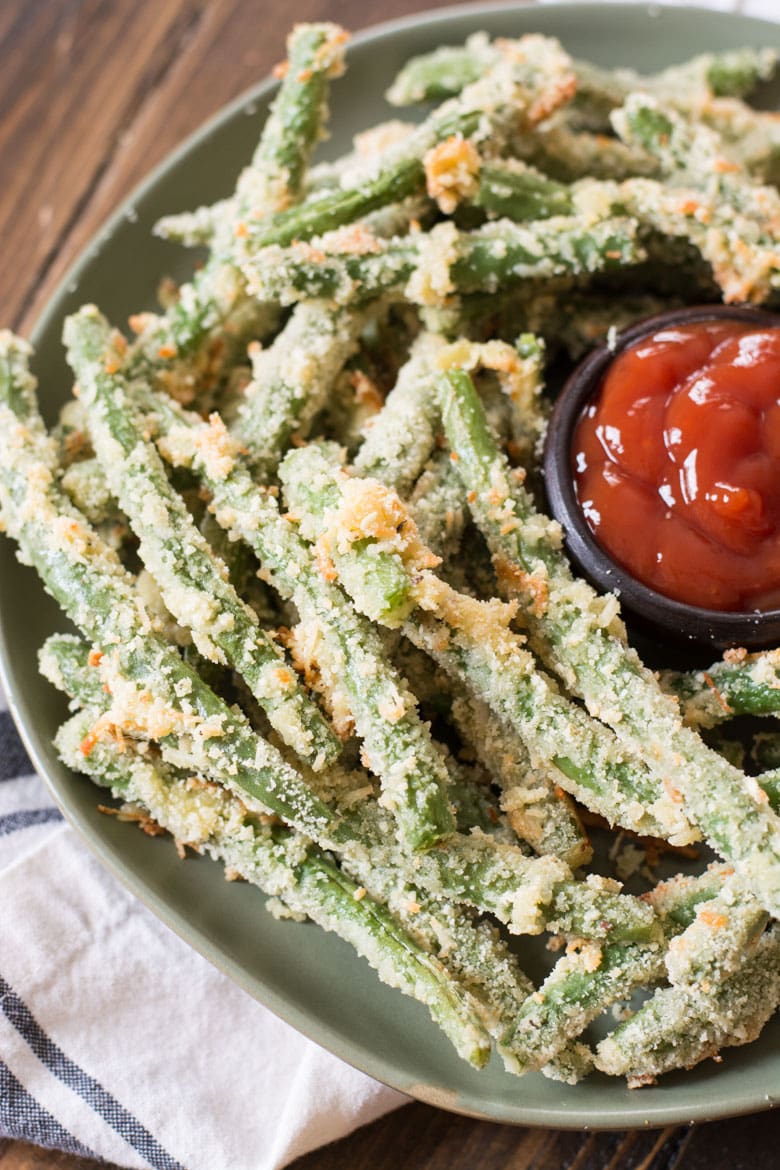 Can I Use Frozen Green Beans?
No, you must use fresh green beans to make this recipe.
Tips for Making Green Bean French Fries
If you are looking for a low-carb entree to serve these fries with, I would try this Blackened Chicken (the rub also works for any other protein) or this Air Fryer Whole Chicken. We have become obsessed with how easy this is!
If making in an air fryer: This recipe is for one pound of green beans and in my 4 quart air fryer I need to split it into 2-3 batches to allow for enough room for them to get crispy. I do turn my oven on warm to keep them warm between batches so this isn't a huge deal, but worth noting.
If making in the oven: You can easily double or triple this recipe if you are making a big batch, like for low-carb game day food.
More Low-Carb Appetizers: