You will want to add these Steak and Eggs to your weekly menu! This keto meal is super low-carb, packed with protein, and contains only 3 real ingredients!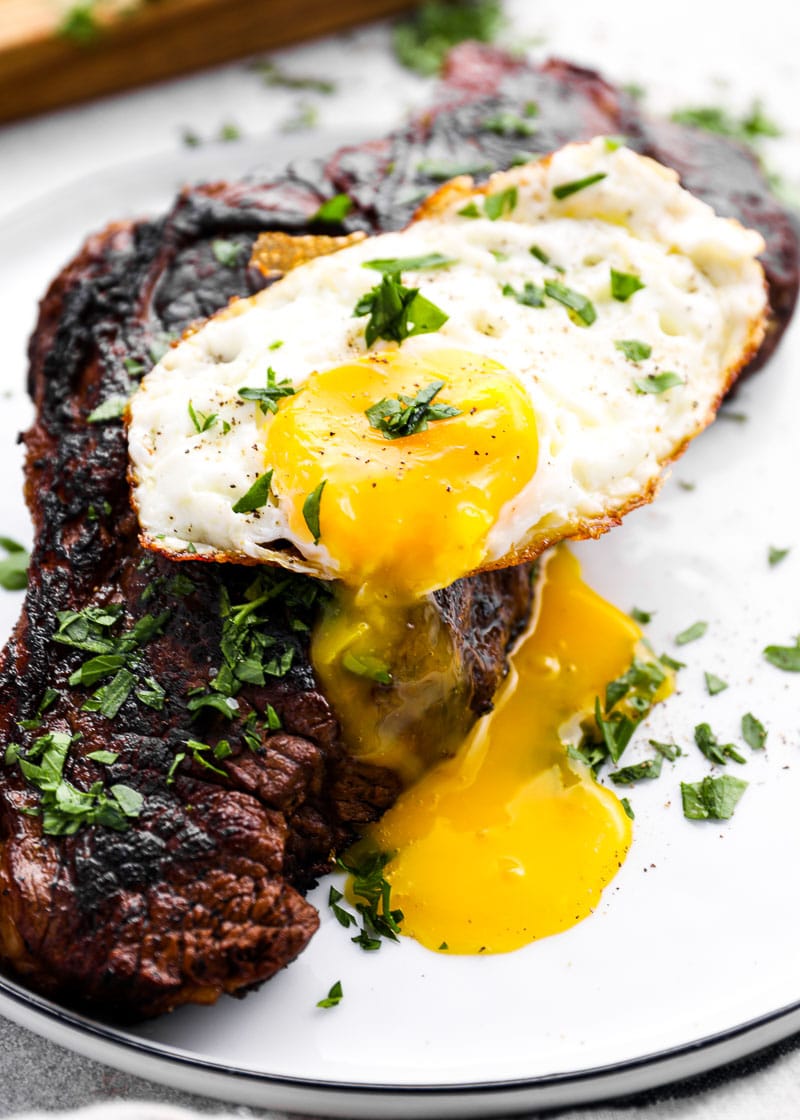 Steak and Eggs Recipe
Today we are serving up a super low-carb, protein packed meal! The very best part is that it has only three ingredients, takes all of 10 minutes to prepare, and is hearty enough to keep even your hungriest eater full.
This probably doesn't even qualify as an actual recipe. It is more of a method, or an idea. Nevertheless, it is good and I wanted to share!
A steak and egg breakfast or dinner isn't just easy, it's a low-carb, high fat meal idea if you are following a keto diet. This is a complete and filling meal that is just about as close to zero carbs as you can get. Additionally, it is really versatile because you can use this base recipe and customize it based on your preferences.
Ingredients for Steak and Eggs
This keto-friendly breakfast has basic components: butter, steak, marinade and eggs. The beautiful thing about this dish is how easy it is to customize. You can use any cut of steak you want such as a sirloin or ribeye. You can also prepare the eggs anyway you wish, I've enjoyed this dish with both fried and scrambled eggs!


How to Make Steak and Eggs
Prep the steak by marinading in your favorite steak marinade.
Heat a heavy-bottomed skillet over medium heat. Place 1/2 tablespoon of butter in the skillet. When melted, add the steak and sear until cooked your desired level.
Remove steak and wipe the skillet clean, add the remaining butter and carefully crack eggs in skillet. Remove from skillet once whites are cooked through and yolks are runny.
Steak Temperature:
The amount of time you cook your steak depends on your preferred cook. Because the temperature will increase by about 5 degrees while resting, remove your beef when it reaches about 5 degrees below your preferred temperature below:
Medium Rare: 135 degrees F or 57 degrees C
Medium: 145 degrees F or 63 degrees C
Medium Well: 150 degrees F or 66 degrees C
Well: 160 degrees F or 71 degrees C
Can I cook Steak and Eggs in the same pan?
Yes and no. I cooked this in the same pan, but I didn't cook them at the same time. I wouldn't recommend cooking them at the same time because both the eggs and the steak benefit from having the entire skillet to themselves! For the best sear and crust on the steak, save the eggs for after cooking the steak. Allow the steak to rest (keeping all the delicious juice in the meat instead of on the plate) while you wipe out the skillet and cook the eggs on their own!


What Kind of Steak Should I Buy?
I prefer making this keto breakfast option with top round steak. However, you can use any kind of steak you'd like. Ribeyes, sirloins, New York strips, flank steak, ranch steaks… These would all make fantastic options for steak and eggs. It's best to rely on a meat thermometer to determine when your steak is ready no matter what type of cut you choose!
Can I Add More Seasonings?
Of course! Feel free to season the breakfast steak as you see fit. You can also marinate the steak for up to 12 hours (I've given detailed instructions on how to do so in the recipe card below).
Tips for Making This Keto Breakfast Recipe
I photographed my pan seared steak with runny eggs, but you can scramble, serve over easy, make as an omelet or cheesy eggs.
This breakfast steak is also great with a few slices of salted avocado.
I highly recommend using a good heavy bottomed skillet, like a seasoned cast iron skillet. I use mine all the time, and it's ideal for cooking the steak and eggs nice and evenly. Bonus points: it is oven safe!
Allow the steak to rest for 5-10 minutes to make sure the juices are evenly distributed throughout the steak. If you start slicing it early, all the juice spills out, and the steak can taste a bit dry.
Storage & Reheating Instructions:
This dish is best served fresh, but leftover steak can be delicious if you're careful with it. To reheat the full, unsliced steak, you can pour reserved marinade over it and warm it covered in the oven (350 degrees F) until it reaches about 120-125 degrees F. To reheat sliced steak (whether sliced before or after refrigerating), you can use the same oven method (won't take as long as a full steak) or microwave in 20-second increments at 50% power until warm. If you like crispy bits, you can toss into a hot skillet.
I don't love to reheat fried eggs because they quickly end up overcooked and rubbery. If you intend to reheat your eggs, it's best to go for scrambled eggs. To reheat scrambled eggs, just microwave in 20-30 second intervals, stirring between blasts.
What to serve with Steak and Eggs
I love steak and eggs on their own, but there are many types of sides that would pair perfectly with this protein-packed meal! To add some nutritious greens, consider adding Instant Pot Collard Greens! For a keto-friendly bread to sop up the runny egg yolk and steak juices, add these Keto Bacon Cheddar Chive Biscuits.
If serving this for a delicious "brinner" recipe, we like to bulk it up with Keto Mashed Cauliflower or Keto Grits. If you're not worried about carbs, these Crispy Homemade Hash Browns, Potato Hash, or these Air Fryer Baby Potatoes! For a restaurant quality dish, add Air Fryer Fries or Crispy Keto Fries, too.
More Keto-Friendly Breakfast Recipes: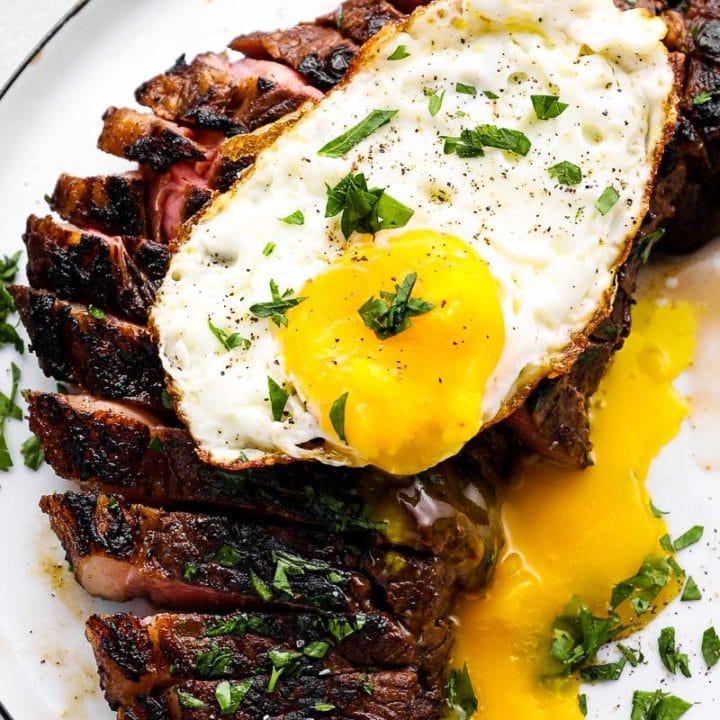 Steak and Eggs (keto + low carb)
Marinating Time (optional):
10 minutes
You will want to add these Steak and Eggs to your weekly menu! This keto meal is super low-carb and packed with protein!
Ingredients
Your preferred cut of steak, such as a sirloin or ribeye
1/4-1/2 cup steak marinade
2 large eggs
2 tablespoons butter, sliced in half
salt and pepper, to taste
Instructions
In a shallow dish or ziplock bag combine the steak with marinade, salt and pepper if desired. Allow to marinate 10 minutes to 1 hour.
In a medium size heavy bottom skillet heat to medium heat.
Place 1/2 the butter in the skillet, when melted add the steak and sear 1-2 minutes on each side or until cooked your desired level.
Remove steak and wipe the skillet clean, add the remaining butter and carefully crack eggs in skillet.
Remove from skillet until whites are cooked through and yolks are runny.
Notes
*Nutritional information calculated based on a 6 oz steak and 2 fried eggs
Nutrition Information:
Yield:

1
Serving Size:

1
Amount Per Serving:
Calories:

584
Total Fat:

33.1g
Cholesterol:

539.2mg
Sodium:

1445.3mg
Carbohydrates:

0.8g
Fiber:

0g
Sugar:

0.4g
Protein:

66.5g
To avoid any confusion I remove erythritol from the final carb count and net carb count, as it is not known to affect blood glucose levels. To calculate Keto recipes listed on this site carbs - fiber = net carbs. I use Nutrifox as my nutrition calculator. This nutrition information is an estimate based on the information provided by Nutrifox and the specific ingredients I used.