Learn how to make deliciously crispy, crunchy Homemade Potato Chips! With a few changes, they even make a great Buffalo Chip copycat if you're missing your favorite Buffalo Wild Wings appetizer!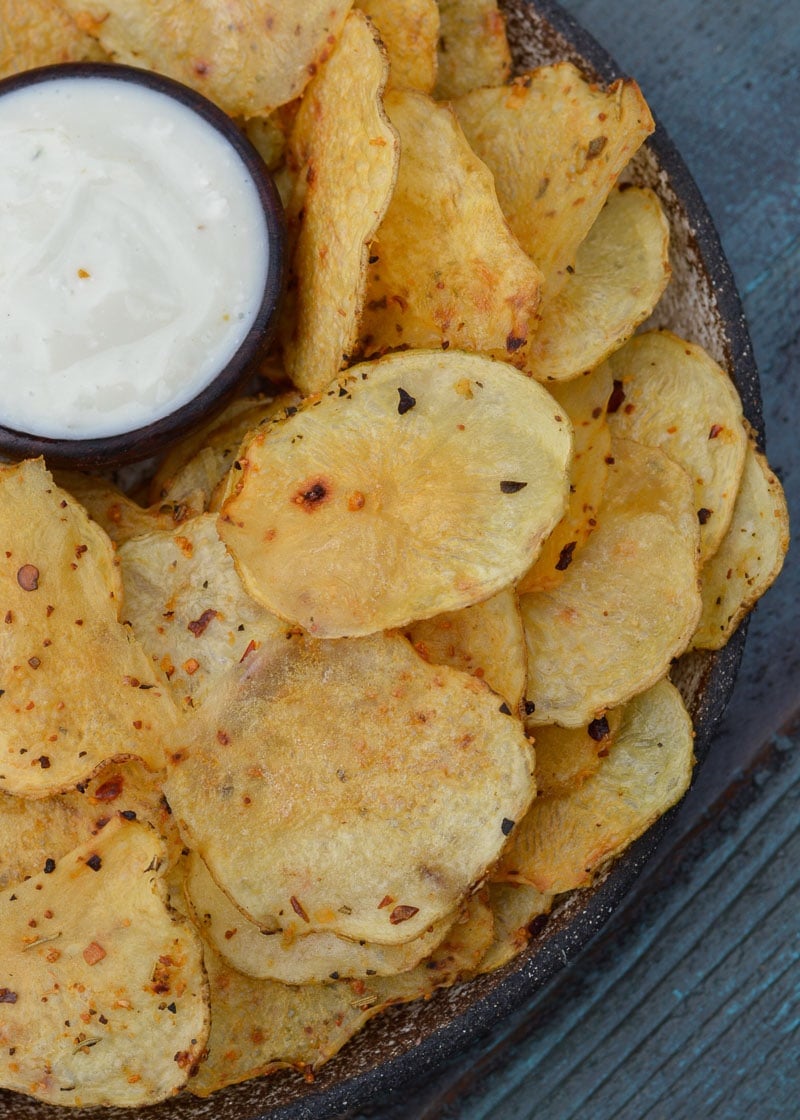 Today I'm sharing one of my families go to snacks, homemade potato chips! If you've ever had fresh potato chips at a restaurant you know how insanely delicious, and totally addictive they are. Now, you can make them right at home!
This recipe can also be altered a bit to make Buffalo Chips, the beloved appetizer from Buffalo Wild Wings that recently was pushed off the menu. If you're missing those, trust me, you aren't alone! By cutting your potatoes a little thicker and using your favorite seasoning blend (and maybe adding shredded cheese if that's your favorite order), you can recreate those delicious BWW Buffalo Chips!
These chips are perfect served with Air Fryer Buffalo Wings or this amazing Jalapeno Popper Burger! If you'd like a sauce (and who wouldn't?), we love this Jalapeno Ranch and this tasty Cheese Sauce!
These easy homemade chips require just three basic ingredients. However, the possibilities are endless because you can make tons of different flavor potato chips just by switching things up. Follow along below as I walk you through how to bake the perfect potato chips at home.
Ingredients for Homemade Potato Chips
Potatoes: Russet potatoes are my favorite variety. You can also use golden or Yukon potatoes as well.
Oil: canola oil, olive oil, or avocado oil all work in this recipe.
Spices: For this recipe I used the spice blend Kick'n Chick'n from McCormick. However, you can use other spices, or just salt.
What ingredients do I need for Buffalo Chips?
If you're looking to make Buffalo Chips, you still need potatoes, oil, and spices (you may prefer a Cajun seasoning blend if that's similar to how you used to order your chips). Add your favorite buffalo sauce to this list and shredded cheddar cheese if you prefer.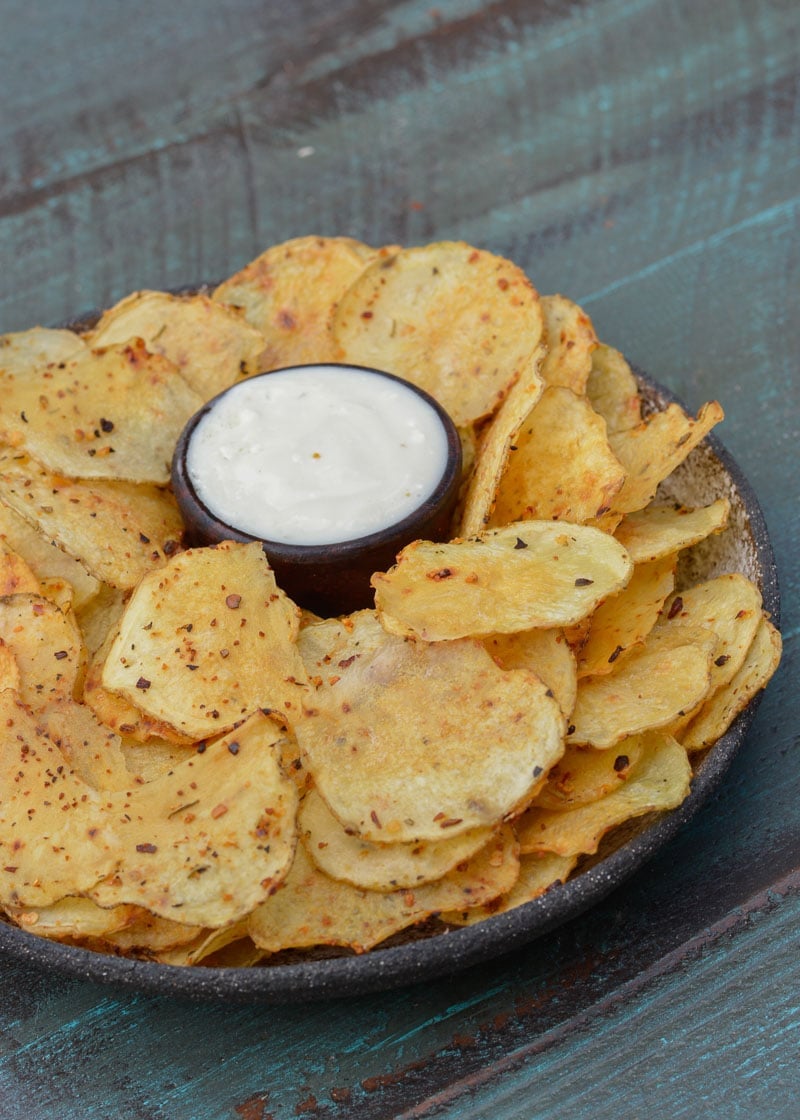 How do you make Baked Homemade Potato Chips
Use a mandolin slicer to slice your freshly washed potatoes super thin. You want slices that are about 1/8 inch. I use this mandolin on setting number 1.
Add all of the slices to a bowl and try to separate them as best you can. Add the oil and use your hands to cover the potato slices evenly with the oil. Next, add the spices and try to evenly distribute them among the slices.
Place the potatoes in a single layer on a silicone lined baking sheet. Roast at 425 degrees F for 10 minutes, remove from the oven and flip, cook an additional 5 minutes if needed. Remove from the oven when lightly browned and allow them to cool completely. They continue to crisp as they cool.
Can you make homemade Buffalo Wild Wings Buffalo Chips?
You definitely can! The method is the exact same, but we add a few things here and there. First, you'll want to cut your potato slices a little thicker if you want them like the BWW dish–About 1/4 inch. Add your sliced potatoes to a bowl, adding oil, spices, and the buffalo sauce. Use your hands to make sure the flavor is well distributed and each potato slice is coated.
Place the potatoes in a single layer on a silicone lined baking sheet, then roast at 425 degrees F for 12 minutes. Remove from oven and flip, then cook an additional 10 minutes if needed. The time needed depends on how crispy you like your chips and how thick your slices are. Remove from the oven when lightly browned and allow them to cool.
If you prefer your chips with cheddar cheese, cover with shredded cheddar AFTER they have cooled and crisped, then place back in the oven for 1-2 minutes until completely melted. Top with a drizzle of buffalo sauce before serving.
Can I make Homemade Potato Chips ahead of time?
These are best fresh, right out of the oven! These will lose some of their crispiness over time, but you can warm them up in the oven to regain a little bit of that crunch. You can store these in an air-tight container up to 3 days. They're still fine to eat after that, but they won't be very crispy. Don't store in the fridge and try to not open the container too often–Moisture will turn these chips soggy.
If you make buffalo chips and added cheese, you can keep these in the fridge for a day. To reheat, put back on a baking sheet in the oven on 400 degrees F until the edges are crispy and cheese is melted. They will not get as crisp as they were, however.
Tips for the best Homemade Potato Chips:
If you prefer the crispiest of the crispiest chips, you can soak your potato slices in water for about 5 minutes, then pat to dry completely. This helps remove some of the starch, allowing your chips to be super crisp.
If you want to prepare these in advance but still serve them fresh, you can slice the potatoes up to 6 hours beforehand and store in water in the fridge. When ready to cook, dry them, add the oil and spices, then cook as directed! This will prevent the potato slices from turning brown and drying out before cooking.
Serve with dipping sauces! Ranch (or this jalapeno ranch), blue cheese, or hot sauce are all fantastic.
More Easy Gluten-Free Appetizers: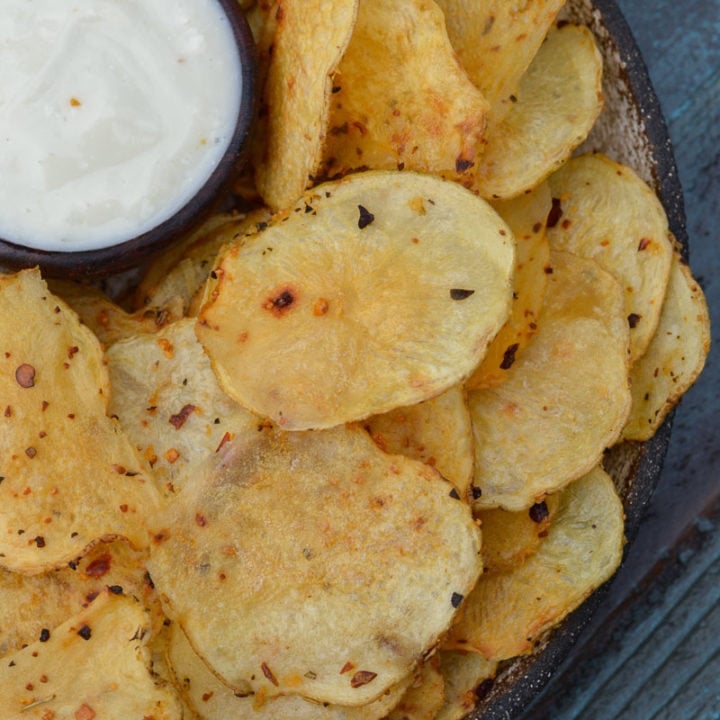 Homemade Potato Chips
Learn how to make deliciously crispy, crunchy Homemade Potato Chips! 
Ingredients
2 Russet Potatoes, thinly sliced (see notes)
1/2 tablespoon canola, avocado or olive oil (more if needed, you need just enough to lightly cover your potato slices)
1/2 tablespoon all purpose seasoning (I used McCormick Kick'n Chicken)
Optional Buffalo Chip Ingredients
1 tablespoon Frank's Buffalo Sauce (or your preferred wing sauce) + more for serving
1/2 cup shredded cheddar cheese
Instructions
Preheat the oven to 425 degrees F.
Slice the clean Russet potatoes with a mandolin slicer to 1/8 inch thick. Add the potatoes slices to a bowl and add the oil.
Work the oil onto the potato slices with your hands, covering each slice and separating them as you work.
Add the spices and make sure they are evenly distributed.
Add the slices to a silicone lined baking sheet and bake 10 minutes. Flip, and cook an additional 5 minutes if needed.
Cool completely before serving, they will continue to crisp as they cool.
Notes
The cooking time can vary based on your altitude, oven, how thickly you slice the potatoes, or the variety of potatoes you use. Watch the potatoes carefully and remove from the oven when golden brown.
For Buffalo Chips, slice potatoes to 1/4 inch thick and cook 12 minutes before flipping. These will need to cook longer because they are thicker. Allow to cool and crisp up before adding cheese, then reheat under the broiler until cheese is melted.
Nutrition below is calculated based on homemade potato chips. Nutrition value of Buffalo Chips: Amount Per Serving: CALORIES: 282TOTAL FAT: 14.6gCHOLESTEROL: 32.7mgSODIUM: 1333mgCARBOHYDRATES: 28.1gFIBER: 2gSUGAR: 1.1gPROTEIN: 10.8g
Recommended Products
As an Amazon Associate and member of other affiliate programs, I earn from qualifying purchases.
Nutrition Information:
Yield:

2
Amount Per Serving:
Calories:

149
Total Fat:

3.6g
Cholesterol:

0mg
Sodium:

907.5mg
Carbohydrates:

27.1g
Fiber:

2g
Sugar:

0.9g
Protein:

3.2g