These Jalapeño Popper Keto Taquitos are loaded with fresh jalapeños and bacon! This is the easiest keto appetizer ever and under three net carbs per serving!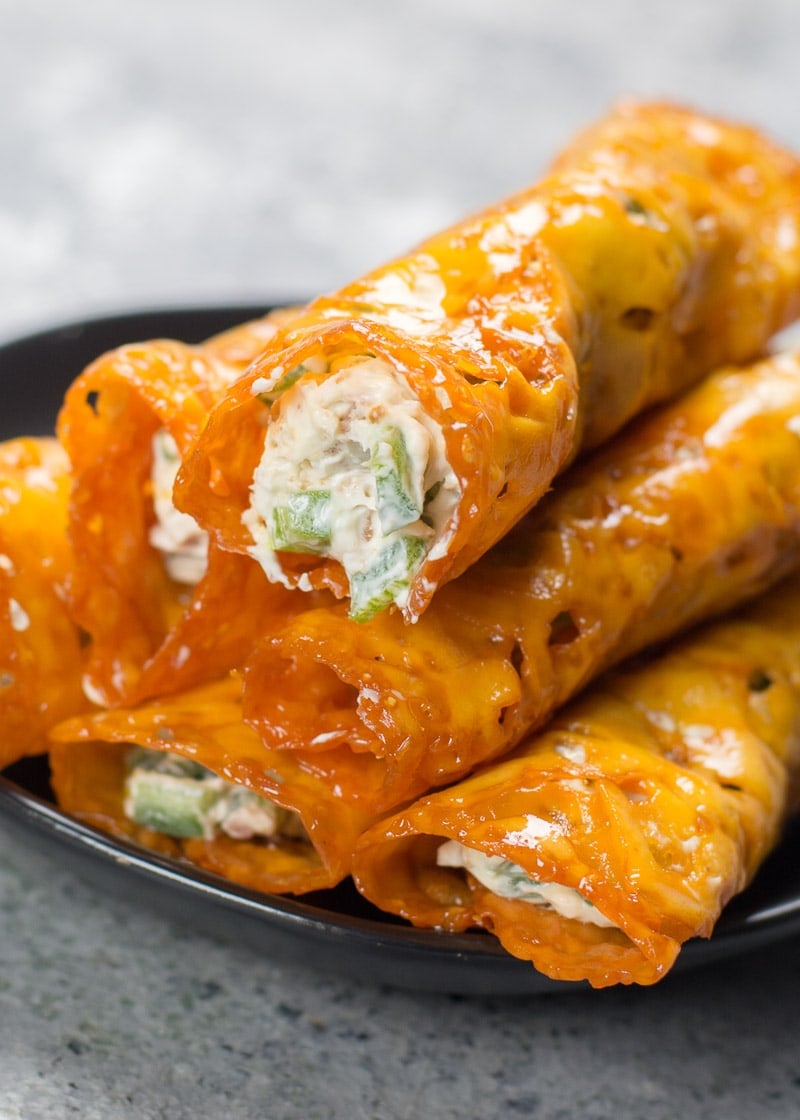 Last week I shared these incredibly simple Keto Buffalo Chicken Taquitos. These three-ingredient wonders were a huge hit! Not only are they super simple and have nearly no carbs, but the flavor possibilities are endless!
Today I am sharing a new — and dare I say? — even better version, these Jalapeño Popper Keto Taquitos are the ultimate low carb appetizer!
Normal taquitos feature a corn or sometimes flour tortilla stuffed with filling, rolled and baked or fried. The magic here is that there is no tortilla of any kind. Simple sliced cheese is baked until the edges brown and it becomes crispy, then it's stuffed with your favorite filling and rolled up!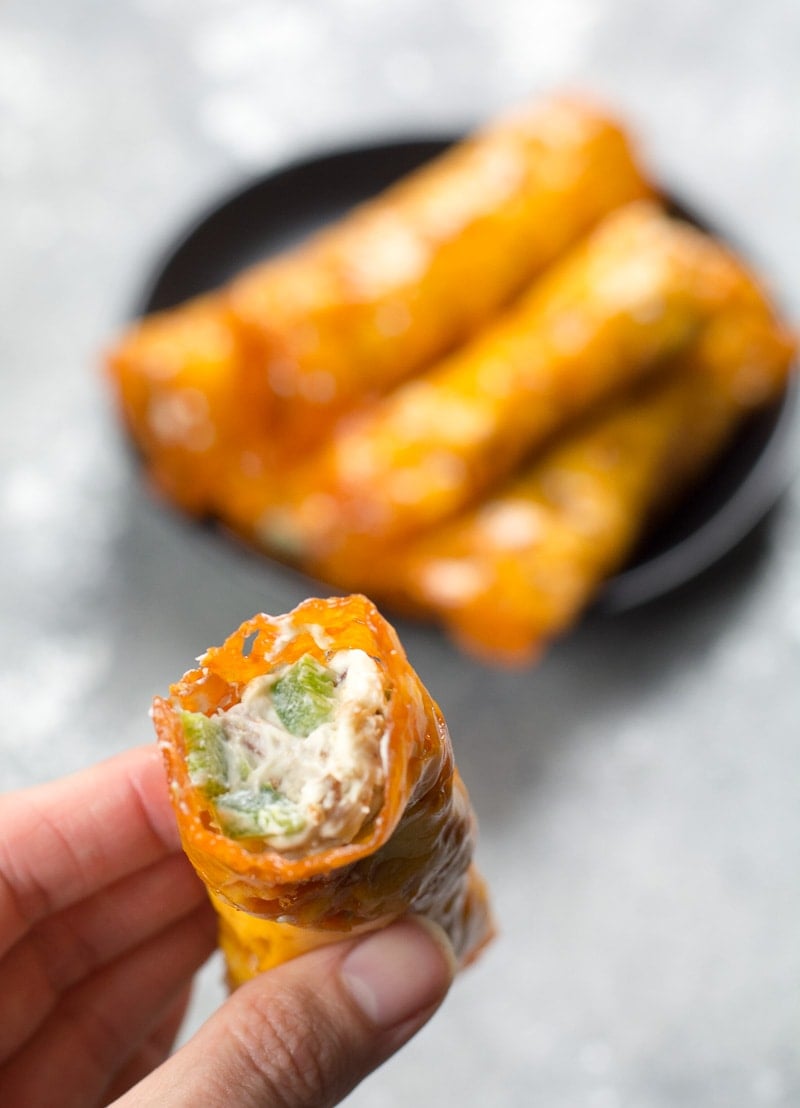 Ingredients in Keto Taquitos
My previous version of keto taquitos featured mozzarella cheese slices, sliced chicken and buffalo sauce. This version is just as simple, containing only four easy ingredients. Here's what you'll need to make these keto baked taquitos:
Cheese Slices
Jalapeño peppers
Cream Cheese
Cooked bacon
What Type of Cheese Should I Use?
This is entirely based on personal preference, but I can give you a little feedback on a few different flavors I have tried. First of all, it all tastes good, it is baked cheese after all! What I take into consideration is the grease and the pliability of it.
The least greasy, most pliable option are definitely mozzarella slices. This provides a perfect little wrap with no little holes and very little grease as it cooks. A close second would be provolone slices, I used them in this recipe to make Keto Chicken Tacos.
Cheddar is the greasiest of all the cheese options in my personal opinion. It also does have tiny holes when it bakes because the grease separates and creates these little bubbles. It is still a perfectly good option, and I used it in this recipe because jalapeño, bacon and cheddar are a perfect pair, but this does help you see the differences.
How to Make Keto Taquitos
Combine the cream cheese, jalapeño, cooked and crumbled bacon, and a pinch of black pepper. Set aside.
Preheat oven to 350 degrees F.
Line a baking sheet with a silicone baking mat.
Place the cheese slices evenly on the mat.
Bake until the outside edges are browned and crisp.
Remove from the oven, allow to cool for a couple minutes.
Place 1-2 tablespoons of the mixture on one side of the cheese slice and tightly roll, seam side down.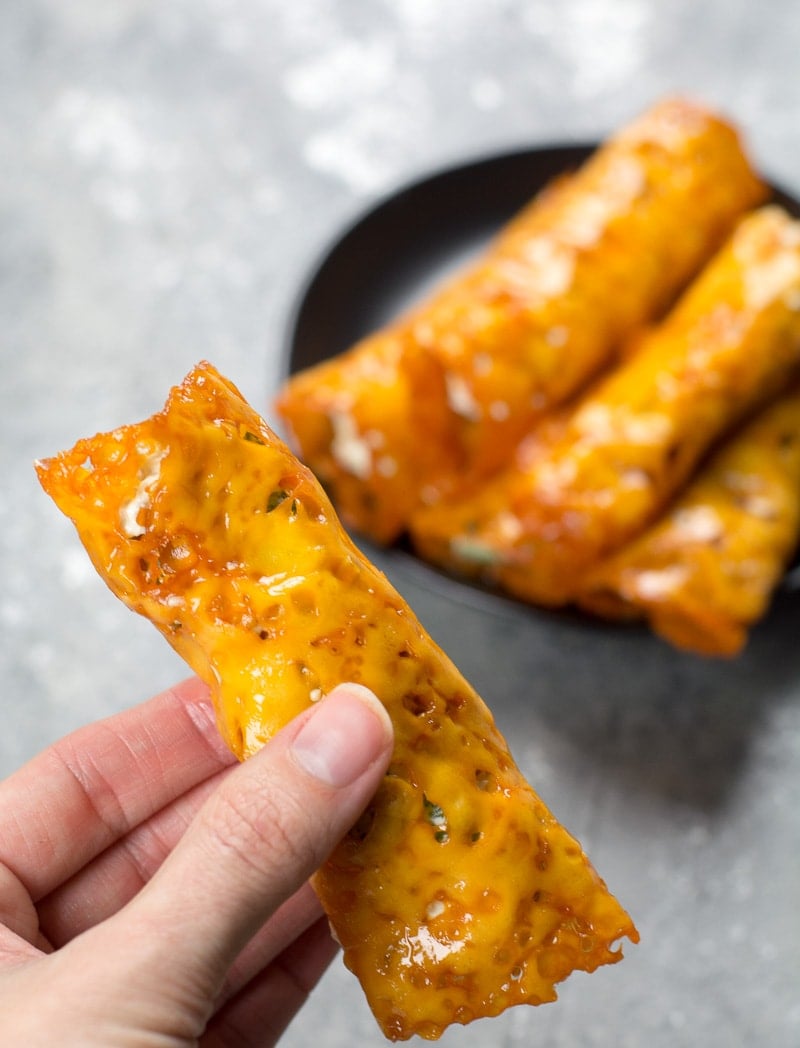 Can I Prep These in Advance?
No, these keto jalapeño popper taquitos are best straight from the oven. They don't reheat well at all, sorry!
Can I Freeze Keto Baked Taquitos?
You can definitely prepare and freeze the filling, but I don't recommend freezing the finished taquito.
Tips for Making Keto Cheese Taquitos
In order to bake the cheese and remove it from your pan easily, you need to use a silicone baking sheet. I use this one from Amazon; it comes in a set of two and I have had them for years. Nothing ever sticks and they make clean up a breeze. They are also the perfect tool to help you roll out Fat Head Dough.
I love making this jalapeño appetizer with bacon, but I bet you could use spicy Italian sausage or another cooked meat of choice.
For the creamiest filling, use brick-style cream cheese rather than the whipped kind that comes in a tub.
More Keto Appetizers:
Other Easy Keto Recipes
If you are new to Keto try my favorite Sausage Egg and Cheese Bites, they contain less than one net carb per bite and they are perfect for meal prep! One of my favorite easy low carb dinners is this One Pan Cabbage Casserole. It is so easy, cheesy and delicious and it has less than 9 net carbs per serving. Some other favorites, Keto Chocolate Cookies, Pimento Cheese and Bacon Stuffed Peppers and Sausage and Cream Cheese Pinwheels!