You will love these Keto Zucchini Fries for a low carb side! These fries are breaded with almond flour, parmesan and spices and baked until perfectly crispy!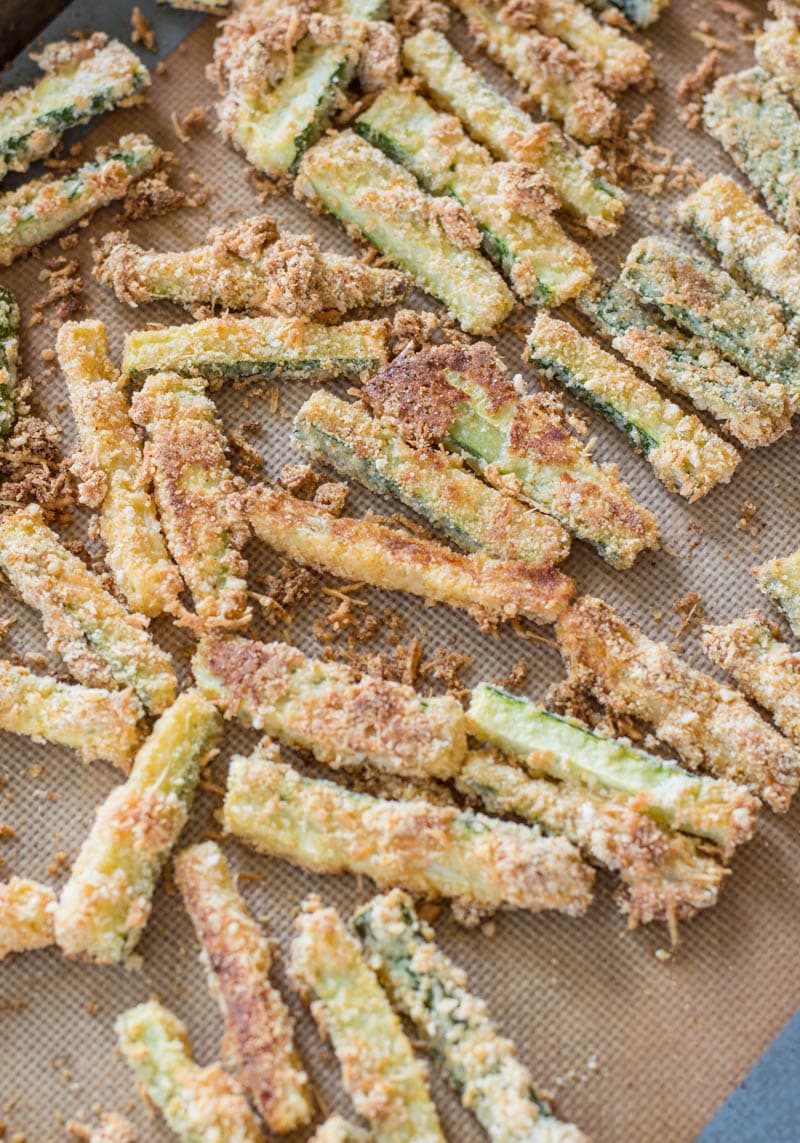 Today I am introducing you to my new summer obsession, Keto Zucchini Fries! These crispy delicious fries are loaded with parmesan, almond flour and spices. It is the perfect side dish for a nice burger (bunless of course) or Blackened Chicken. I will be completely honest with you, getting the hang of low carb side dishes were probably the hardest for me. I love potatoes, pasta and all the good carby traditional sides, so it took a bit of getting used to. However, with low carb alternative like these keto zucchini fries I finally feel like I'm not missing out.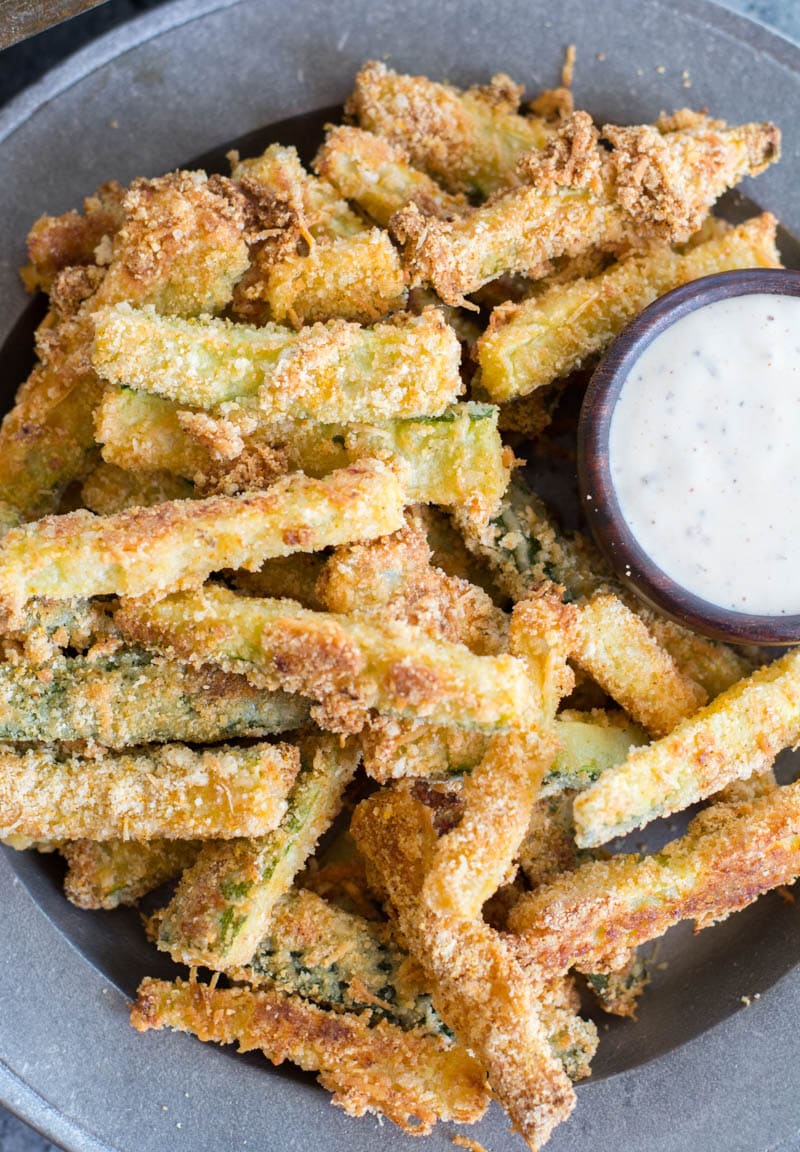 What are zucchini fries?
Zucchini fries are zucchini sliced into fry shapes and lightly breaded then baked. Let me break it down for you. Slice zucchini into fry shapes that are thinner than steak fries but a little thicker than fast food fries. You can watch the video if you aren't sure. Pat the zucchini dry and set aside. Use two shallow bowls to create a breading station. In one bowl beat an egg and a low carb Ranch dressing. The second bowl you will combine the almond flour, spices and parmesan. Dip the zucchini in the egg and make sure it coats all sides, then dip in the breading. Once your fries are breaded lay them in a single layer on a large baking sheet. I highly recommend using these silicone baking mats, they will not stick and it makes clean up a breeze.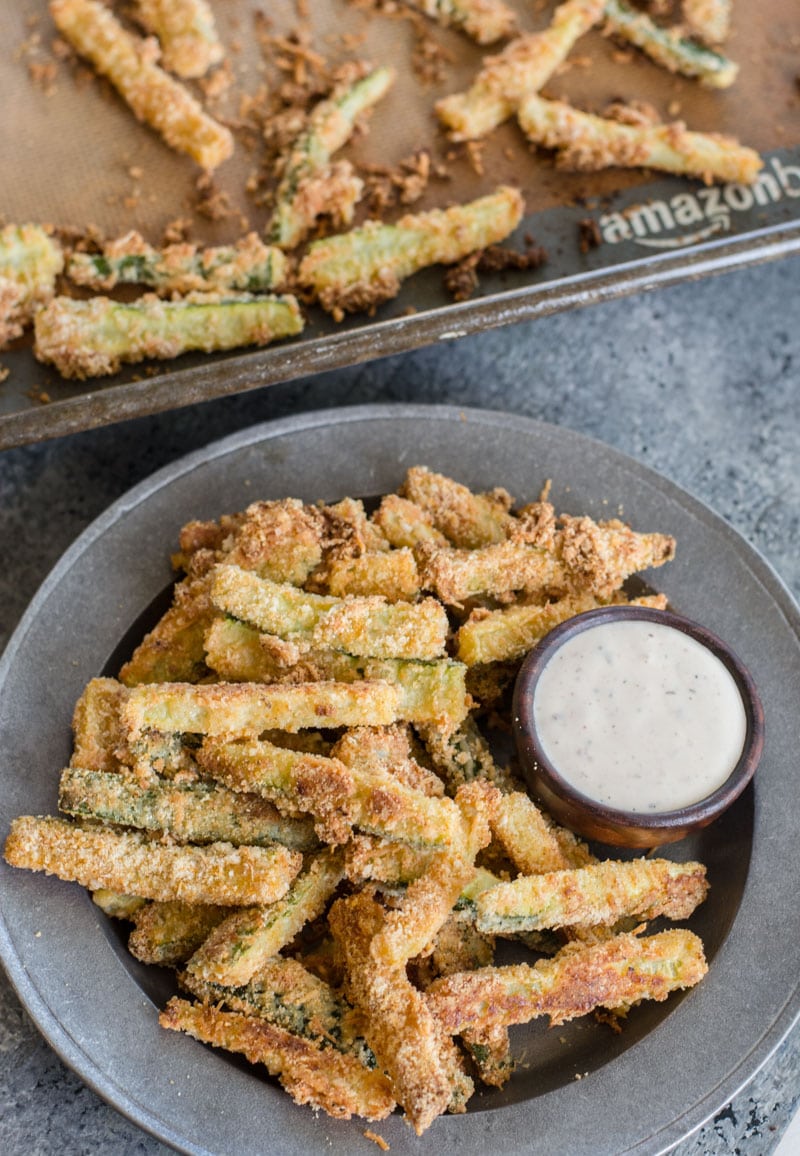 What should I eat with zucchini fries?
These Keto Zucchini Fries are great with everything! Enjoy them with anything you would normally eat fries with. I have had them with burgers on a lettuce bun for a nice low carb dinner. They are especially delicious with my favorite Blackened Chicken. Here are some other ideas:
Ingredients

2 medium zucchini
1 egg
1 tablespoon of low carb ranch dressing, jalapeño ranch dressing or mayonnaise
1 cup almond flour
1/2 teaspoon garlic salt
1/2 teaspoon pepper
1/2 teaspoon garlic powder
1/2 teaspoon paprika
1/2 cup parmesan cheese

Instructions

Prehat oven to 400 degrees
Slice two zucchini into fry shapes (as shown in video)
Pat the zucchini dry
Set up your breading station by setting up two shallow bowls and a baking sheet with a silicone baking sheet or sprayed well with cooking spray.
In the first bowl combine the egg and the ranch dressing, mix until completely combined
In the second bowl combine the almond flour, spices and paremsan, mix well.
Dredge the zucchini in the egg then the almond flour crust and place on the pan.
Lightly spray the breaded zucchini fries with cooking spray to help crisp them.
Bake 15 minutes, turn carefully with a fork and bake for 10 minutes more or until golden brown and crisp.
Dip in ketchup or ranch dressing!

7.8.1.2

1170

https://www.maebells.com/keto-zucchini-fries/

Other Easy Keto Recipes
If you are new to Keto try my favorite Sausage Egg and Cheese Bites, they contain less than one net carb per bite and they are perfect for meal prep! One of my favorite easy low carb dinners is this One Pan Cabbage Casserole. It is so easy, cheesy and delicious and it has less than 9 net carbs per serving. Some other favorites, Keto Chocolate Cookies, Pimento Cheese and Bacon Stuffed Peppers and Sausage and Cream Cheese Pinwheels!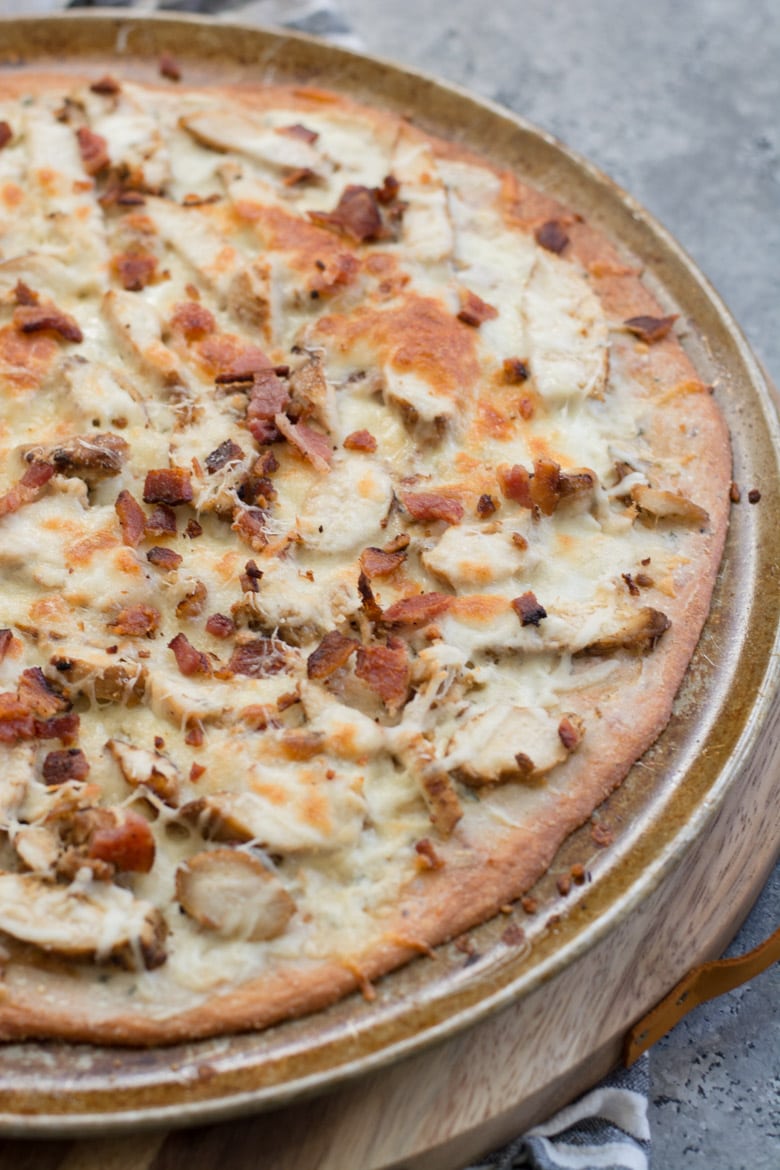 Keto Chicken Bacon Ranch Pizza