This Shaved Brussels Sprouts Salad is the best no-cook, meal prep dish! This healthy, easy salad is perfect for lunch, potlucks, holiday parties, and more!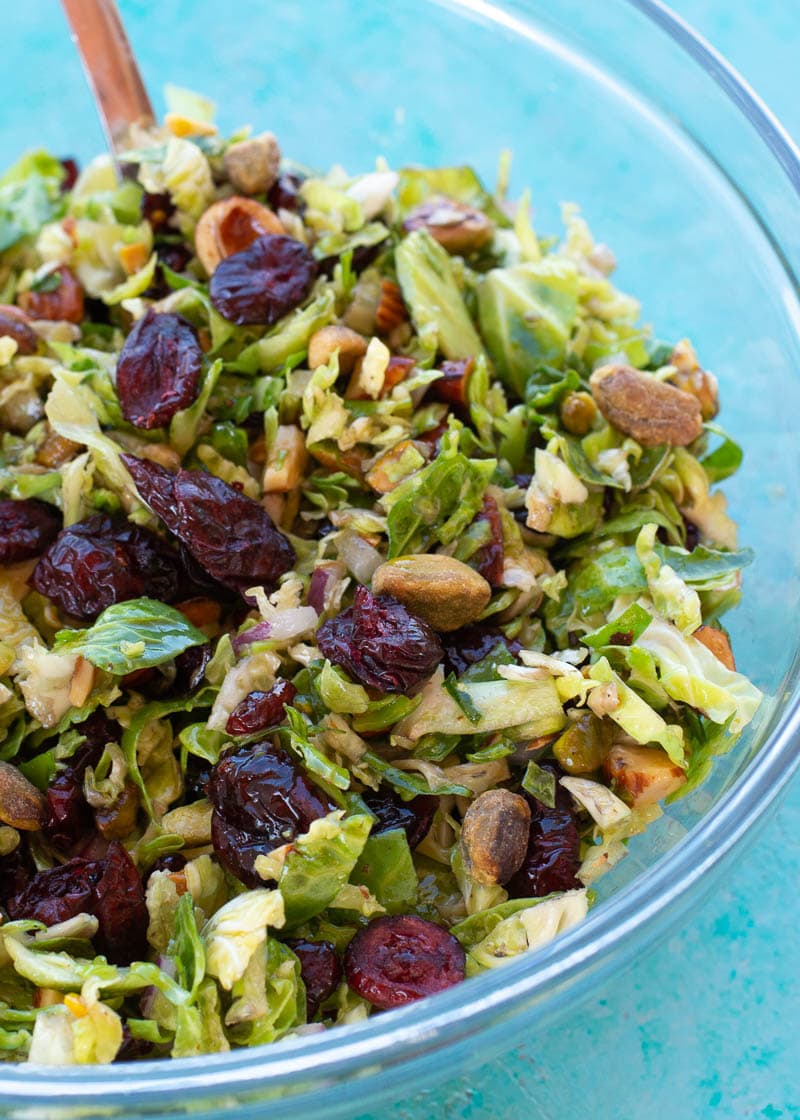 Shaved Brussels Sprouts Salad
This recipe is incredibly easy and appropriate for SO many different situations! It makes a fantastic meal prep lunch with no need to heat up a meal. You'll love it as a party dish because it can be made days in advance, requiring no fuss when you want to focus on your guests and family. It doesn't need to be warmed at a potluck, and it's a healthy option to add to any spread!
Crunchy and salty pistachios and almonds are paired with sweet and tangy cranberries for a great variety of texture and flavor. Even better, this salad includes a light but flavorful vinaigrette drizzled over the top. This dressing balances the salty and sweet perfectly! It can be made with a keto-friendly sweetener for those who are low carb, too.
Brussels Sprouts Salad Ingredients
Shredded brussels sprouts – You can buy them pre-shredded in a bag at many grocery stores. To save money, shred them on your meal prep day (they'll stay fresh up to 5 days).
Pistachios and almonds – Roughly chopped; You could substitute other nuts if you prefer. To make it nut free, you could use bacon bites instead for a good crunch.
Dried cranberries – If you're keto, stick to the unsweetened kind. If you aren't a fan of cranberry, using dried cherries or blueberries should work nicely, too!
Red onion – Finely chopped; Yellow onion can work in a pinch
Light Vinaigrette Recipe
Olive oil – Extra virgin; a high quality olive oil does make a huge difference, but it's also delicious with your average oil from the grocery store.
Honey or sweetener – If you're low carb, use this keto maple syrup.
Dijon mustard – The tangier the better; Yellow mustard will work if it's what you've got.
Minced Garlic – Fresh garlic will give the most flavor, but the pre-minced garlic from the jar works, too.
Salt & pepper to taste
How to make Brussels Sprouts Salad
In a jar or small bowl, combine all vinaigrette ingredients and shake, then set aside. In a large bowl, add all the ingredients for the salad, then drizzle the salad dressing over. Toss, then add salt and pepper to taste.
How to store shaved brussels sprouts salad
Once the dressing is on the salad, the salad will last 2 days in an airtight container in the fridge. If kept separately, the salad can stay fresh 3-4 days. The vinaigrette alone can be stored in a jar or bowl in the fridge up to a week.
This salad should not be frozen.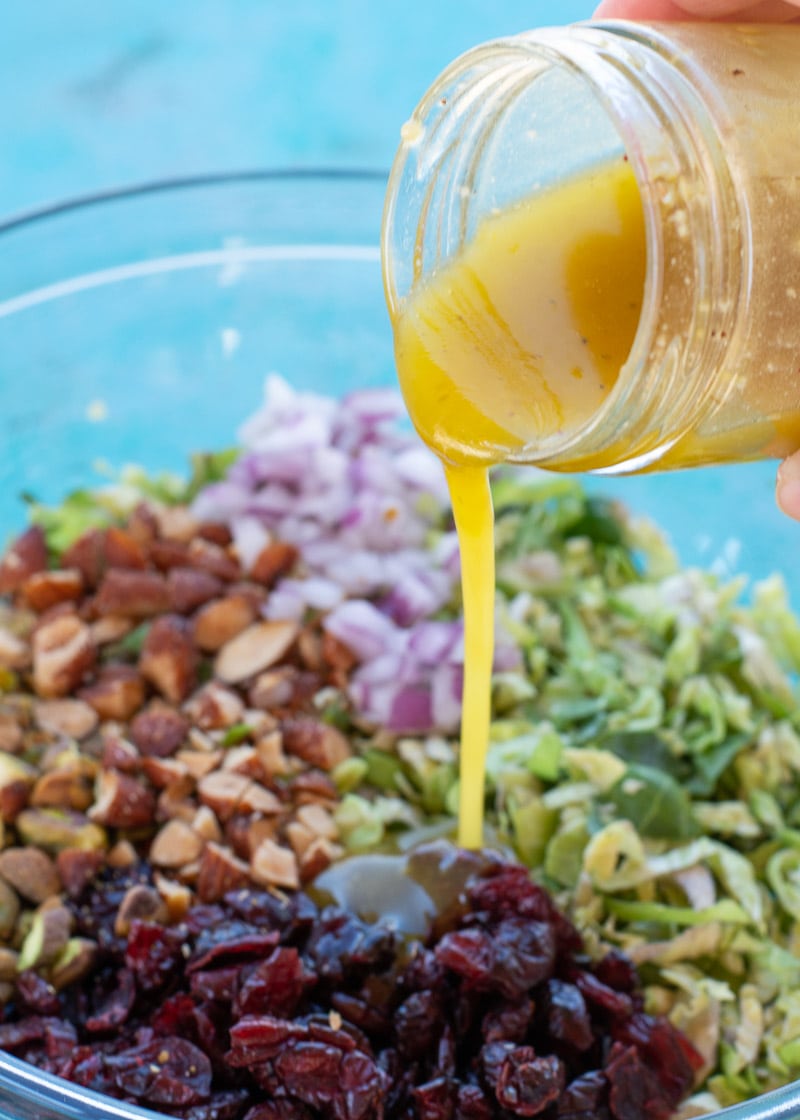 Are brussels sprouts keto?
Yes, brussels sprouts work well on a keto diet! They're low in calories and carbs and pack a TON of Vitamin C. One cup has 38 calories, 8 grams of carbs, and 3.3 grams of fiber. That means a whole cup has just 4.7 net carbs!
With all the amazing flavors and textures in this recipe, it's just 6.3 net carbs for a 3/4-cup serving.
How to Shave or Shred Brussels Sprouts
In most grocery stores, you can buy a bag of pre-shaved brussels sprouts. These are super convenient, but they are more expensive and add more waste. If you have a little time, you can easily shave your brussels sprouts yourself!
You only need a cutting board and a chef's knife, no special tools required! If you feel more comfortable with using a mandolin, you can use that instead.
First, peel off the tough outer layers on each brussels sprouts, then discard the leaves. Cut one sprout in half (vertically, cutting right through the root end). Place the sprout half cut-side down on the cutting board. Thinly slice the brussels sprout (trimming off the root end) and break the pieces up with your hand.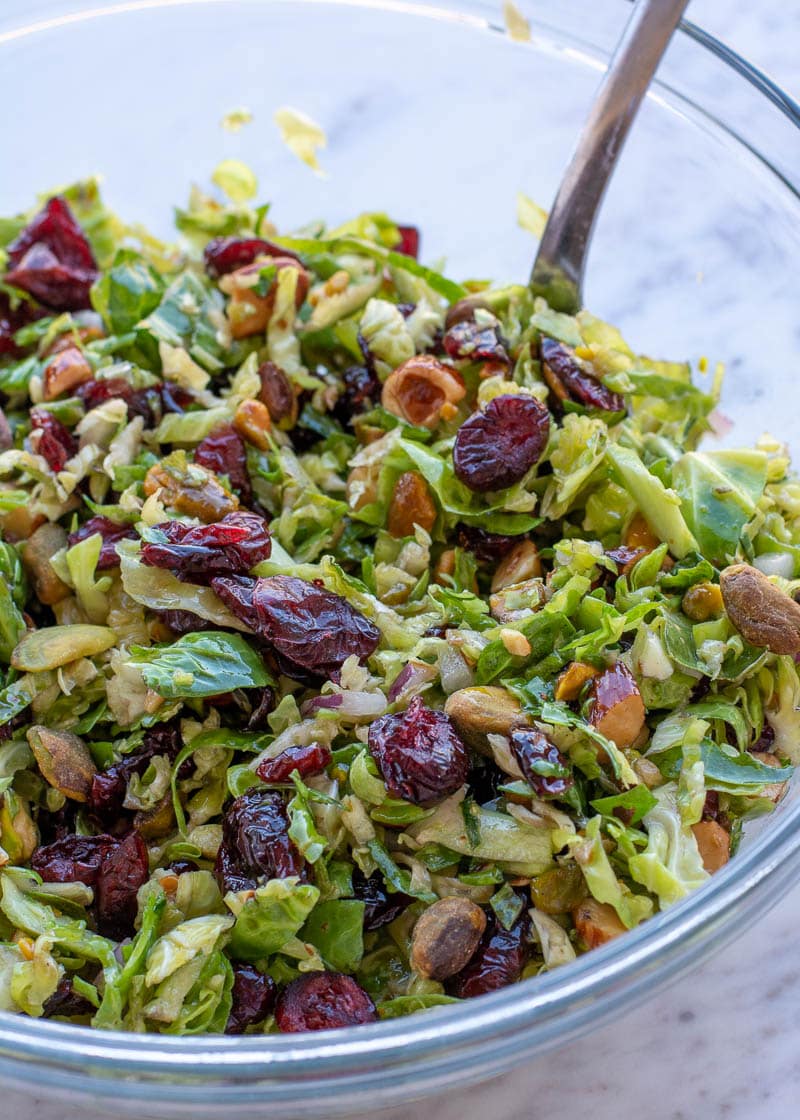 What to serve with Brussels Sprouts Salad
This salad is so versatile, it can be paired with SO many different recipes! It would be a perfect holiday party recipe with a Turkey Breast, Keto Sausage Stuffing, and Rosemary Garlic Dinner Rolls. Or you could serve it with this PERFECT Roast Chicken with Instant Pot Mashed Potatoes.
If you're taking this for lunch, consider adding these Ham and Cheese Pinwheels, Keto Lunch Skewers, or Keto Chicken Salad. These recipes are all super quick, easy, and great for meal prep!
Tips for the BEST Brussels Sprouts Salad
Start with a small amount of dressing first, then add more if you like. Everyone at the table can add to their preference
Make up to 2 days in advance, then store in an airtight container in the fridge.
Try swapping ingredients for different flavors. Almonds and walnuts with dried blueberries would be delicious!
More easy salad recipes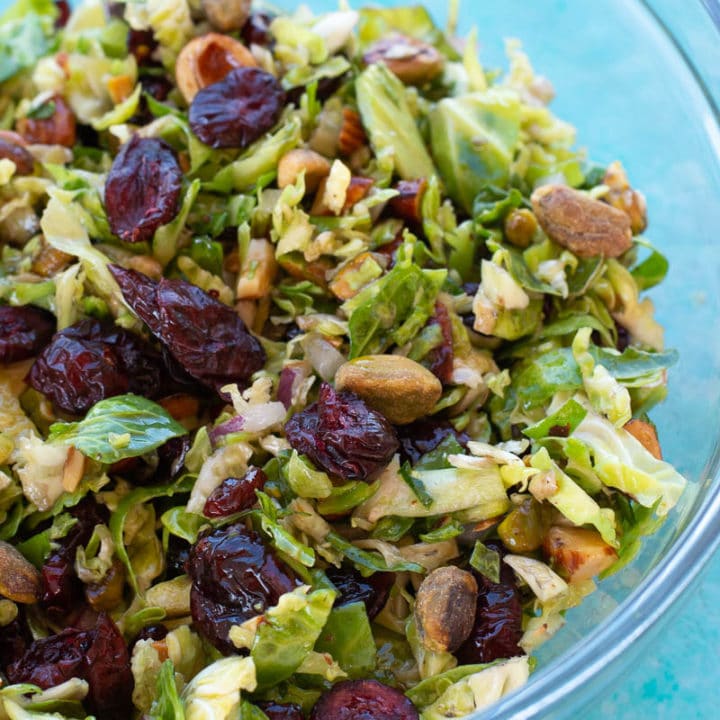 Shaved Brussels Sprouts Salad
This Shaved Brussels Sprouts Salad is the best no-cook, meal prep dish! This healthy, easy salad is perfect for lunch, potlucks, holiday parties, and more!
Ingredients
3 cups shredded brussels sprouts
3/4 cup pistachios, chopped
3/4 cup almonds, chopped
3/4 cranberries (unsweetened if low carb)
2 tablespoons red onion, finely chopped
Vinaigrette
1/4 cup olive oil
1 tablespoon honey or keto-friendly syrup listed below
1 teaspoon dijon mustard
1 teaspoon minced garlic
salt and pepper to taste
Instructions
Combine the dressing ingredients in a small bowl and shake well.
Place all salad ingredients in a bowl and drizzle with dressing to taste. Toss and salt and pepper as needed.
Salad can be eaten immediately or chilled in an air tight container up to 2 days in advance.
Nutrition Information:
Yield:

6
Serving Size:

3/4 cup (nutrition calculated with keto-friendly ingredients)
Amount Per Serving:
Calories:

233
Total Fat:

25g
Sodium:

54mg
Carbohydrates:

10.9g
Net Carbohydrates:

6.3g
Fiber:

4.6g
Sugar:

2.9g