These Slow Cooker Pumpkin Spiced Apples are the ultimate autumn comfort food! Serve these warm spiced apples with vanilla ice cream and toasted pecans for the perfect Fall dessert!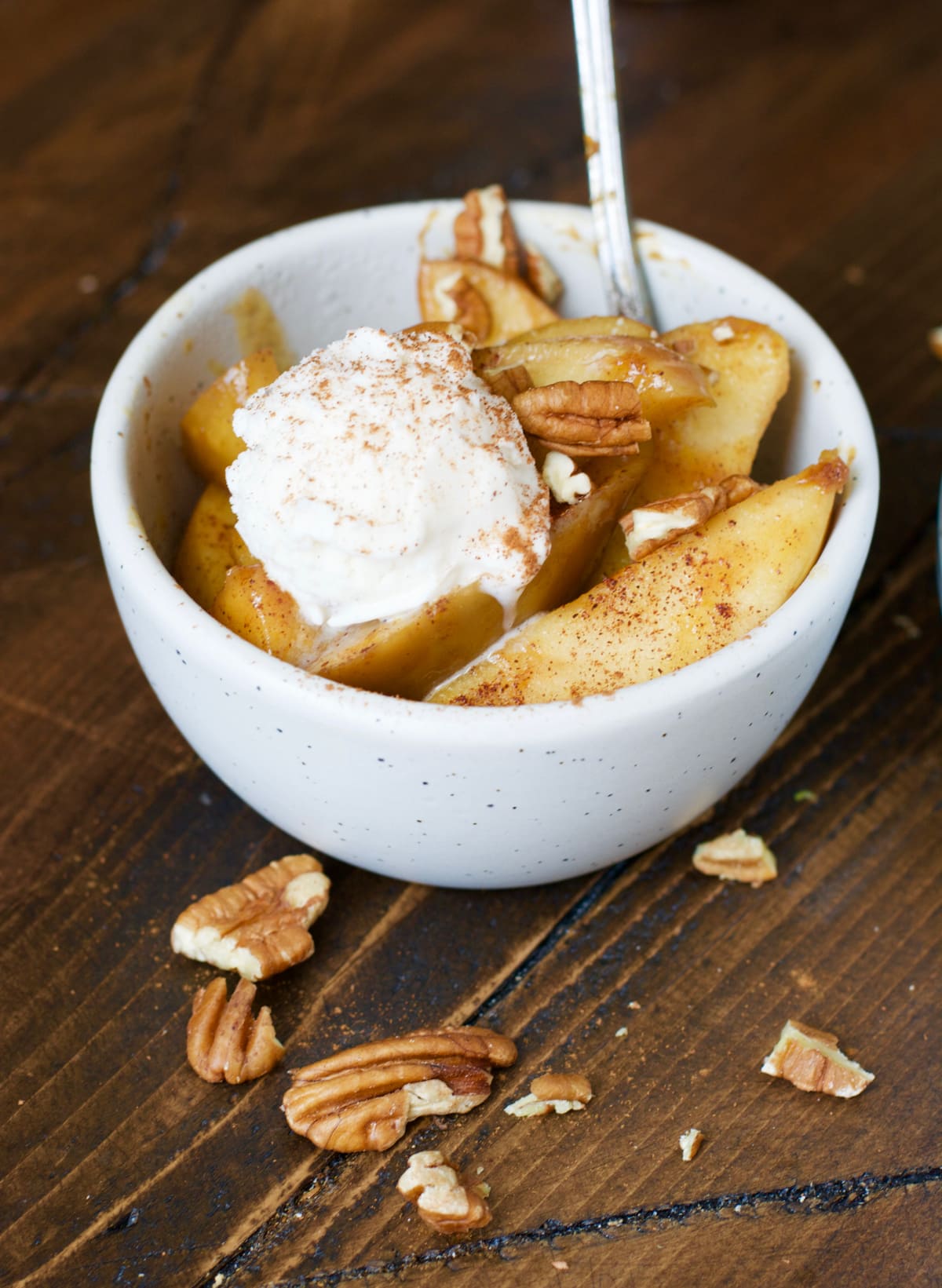 Are you ready for this? Because from here on out I am going to be all slow cooker all the time. It is getting darker and darker every day. I love fall, but I am dreading when it is dark before I even get off work. My internal clock just can't make sense of darkness before 5pm, I feel like it's bed time. I just want to put on pjs and lay around!
Obviously, the world doesn't stop spinning after it gets dark and things need to get done. Dinners must be cooked, clothes must be washed, dogs must be fed, you get the idea. BUT my one saving grace is coming home to a big slow cooker full of whatever. It makes my heart happy to walk in the door and know my to do list is not nearly as long as it could be. Thank Heaven for Crockpots!
These Pumpkin Spiced Apples are the perfect way to end an autumn day. They are sweet with a hint of pumpkin spice and cinnamon. The pumpkin complements the apples perfectly, so no longer do you have to choose between your two fall favorites! For more fall desserts, check out 20+ Easy Fall Desserts!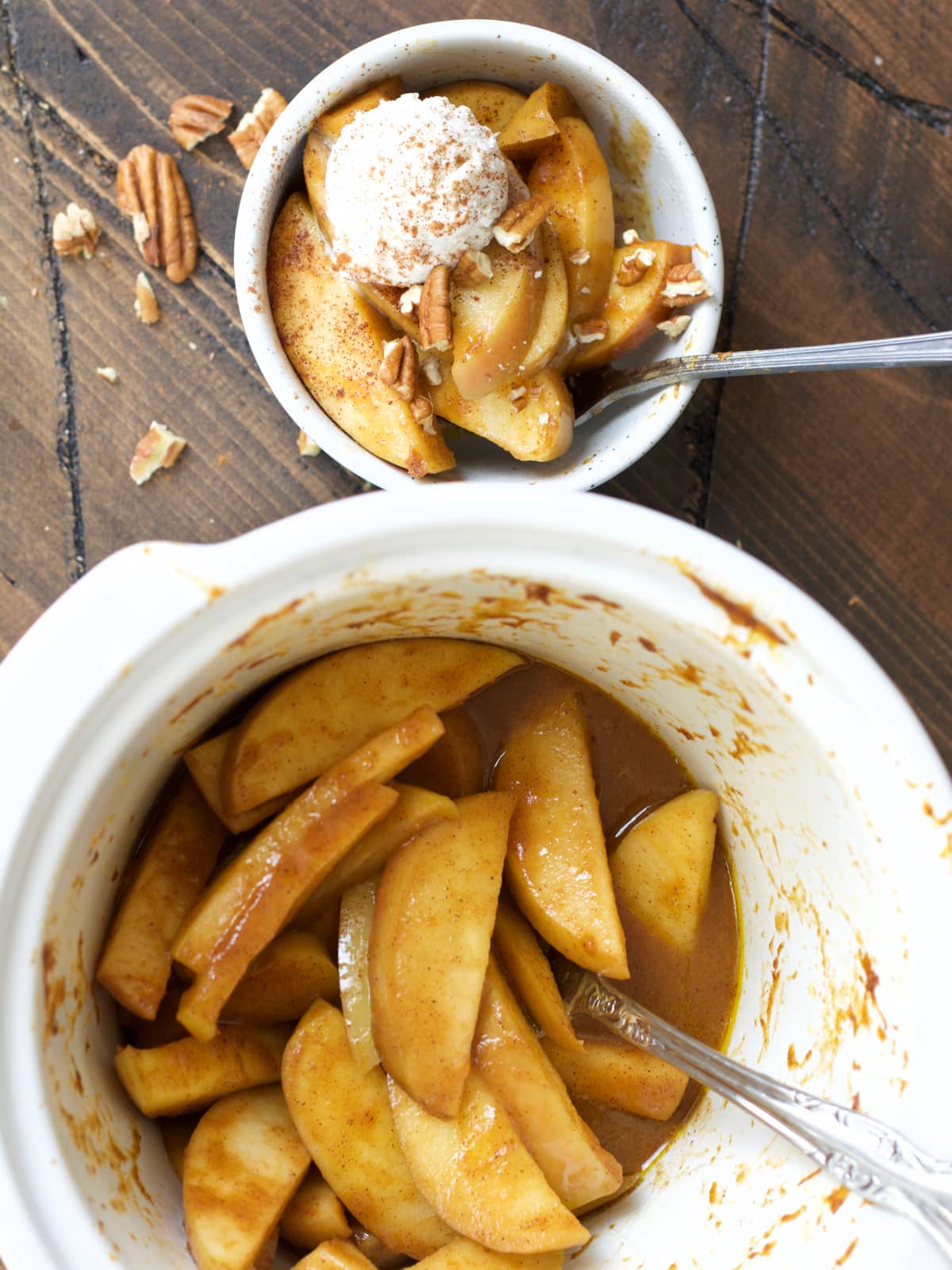 Ingredients in Crockpot Spiced Apples
For the complete, printable recipe just keep scrolling. To make these spiced slow cooker apples, you'll need the following:
Apples, Butter, Brown sugar or brown sugar monkfruit.
Pumpkin puree, Vanilla extract, Pumpkin pie spice, Cinnamon
How to Make Crockpot Apples
In a small mixing bowl, mix together the melted butter, sugar, pumpkin, vanilla, spices and hot water.
Add the sliced apples and toss to coat.
Dump the apple mixture into your Crockpot and cook on low for 4 to 6 hours (I took mine out at 4.5 hours).


What Type of Apples Should I Use?
I used Fuji apples, but any cooking apple will work. Think: Granny Smith, Honeycrisp, Gala, etc.


What should I serve with spiced apples?
I love to serve these spiced apples with ice cream and top them with delicious walnuts and this Keto Caramel Sauce! However, you could put these over the top by serving them a few different ways (breakfast, dinner, or dessert!
Tips for Making Crockpot Apples
When slicing the apples, be sure to not slice them too thin otherwise they'll cook too quickly.
I served these Crockpot baked apples as a dessert and topped them with ice cream, extra pecans, and cinnamon. But this would be fantastic as a side dish to a nice pork roast or maybe these Pecan Crusted Pork Chops.
More Apple Dessert Recipes: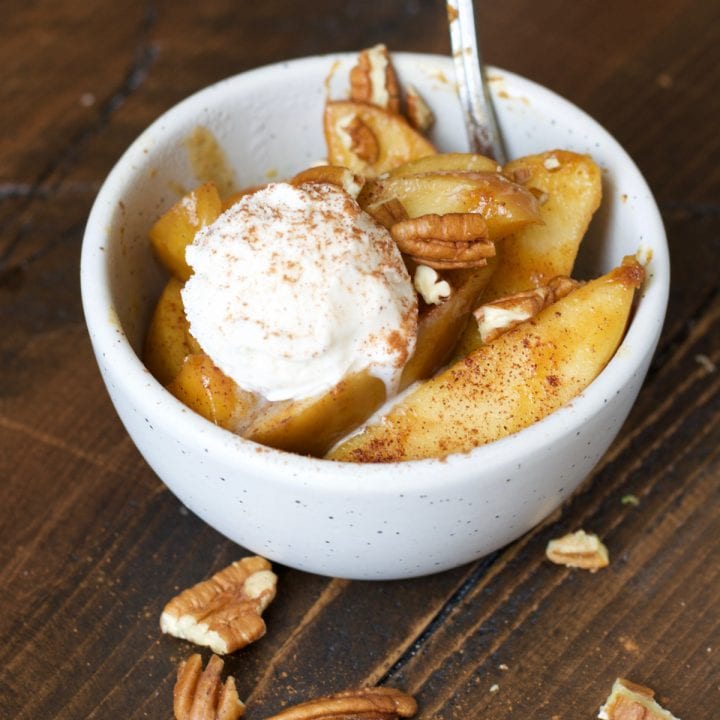 Slow Cooker Pumpkin Spiced Apples
Total Time:
4 hours
10 minutes
These Crockpot Spiced Apples are the ultimate fall comfort food! You'll love these apples packed with pumpkin spice and cinnamon flavor!
Ingredients
3 Fuji apples, sliced and cored*
2 tablespoons butter, melted
2 tablespoons brown sugar
1/4 cup pure pumpkin puree
1 teaspoon vanilla extract
1/2 teaspoon pumpkin pie spice
1/2 teaspoon cinnamon
2-3 tablespoons very hot water
Instructions
Turn a small slow cooker (1.5-2 quart size) to low.
In a small mixing bowl place the melted butter, sugar, pumpkin, vanilla, spices and hot water and mix well.
Add sliced apples and coat with pumpkin mixture.
Dump apples in slow cooker.
Cook on low 4-6 hours depending on how tender you like them. I took mine out at 4.5 hours.
Notes
*Don't cut the apples too thin, or they will cook too quickly.