This creamy Chicken Spinach Soup is the perfect Instant Pot keto comfort food! Under 5 net carbs per bowl, this low carb soup will become a family favorite and keto meal prep staple.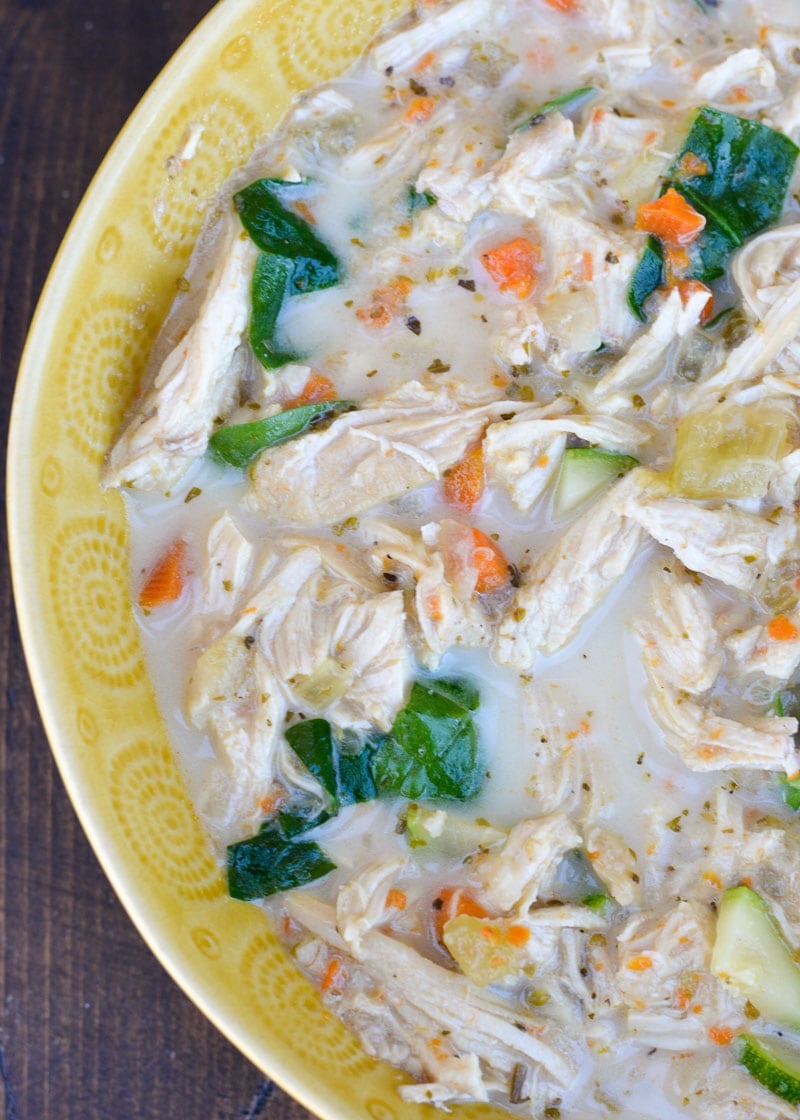 The keto lifestyle can be a bit difficult during soup season! It's easy to fill up on fresh produce in the summer, but cold weather makes me wish for all my old favorites. I've done a lot better now that I've come up with an Easy Keto Chili and this Lobster Bisque. I still wanted a more traditional chicken soup, though… And this Chicken Spinach Soup hit the perfect balance! It's creamy, comforting, packed with healthy vegetables, and still low in carbs.
Ingredients for Chicken Spinach Soup
As always, here is a quick overview of the ingredients used in our Chicken Spinach Soup. For the complete recipe, just scroll to the bottom of the page.
Chicken – I used boneless, skinless chicken breast, but you can use any cut you prefer.
Olive oil – Butter, avocado oil, coconut oil will also work
Chicken broth
Heavy cream
Vegetables – Celery, Onion, Carrot, Garlic, Zucchini, Spinach
Spices- Italian seasoning, garlic powder, onion powder, thyme, salt and pepper
How to make Instant Pot Keto Soup
First, turn your Instant Pot to "sauté" and add the olive oil (or butter), celery, onion, carrot and garlic. Sauté 3-4 minutes or until softened. Turn off the sauté function and add the chicken, spices and broth to the Instant Pot. Secure the lid, then set the timer for 12 minutes.
Note: You could use more than two pounds of chicken if you prefer! If you are halving, doubling, or altering the amount of chicken you are using, simply cook for 6 minutes per pound of meat. For example, doubling this recipe would require 24 minutes of pressure cooking time.
Once the timer has gone off, allow your Instant Pot to naturally release the pressure for ten minutes. Release any pressure that may remain and open your pressure cooker. Remove the chicken and set it to the side. Add the zucchini, heavy cream and spinach to the soup and stir well. Put the lid back on the pressure cooker- the residual heat will cook the vegetables while you are shredding the chicken.
Shred your chicken into bite size pieces and add back to the soup. Stir well and season with any additional salt and pepper you want. I recommend garnishing with parmesan cheese! If you love adding a bit of extra texture and flavor, check out this list of Keto Soup Garnish & Topper Ideas!
What are the best greens for soup?
Spinach is a great option for soups because the flavor is mild, its affordable and easily available. If you are interested in using a darker green, like kale, just be sure to remove the stems before adding to your soup.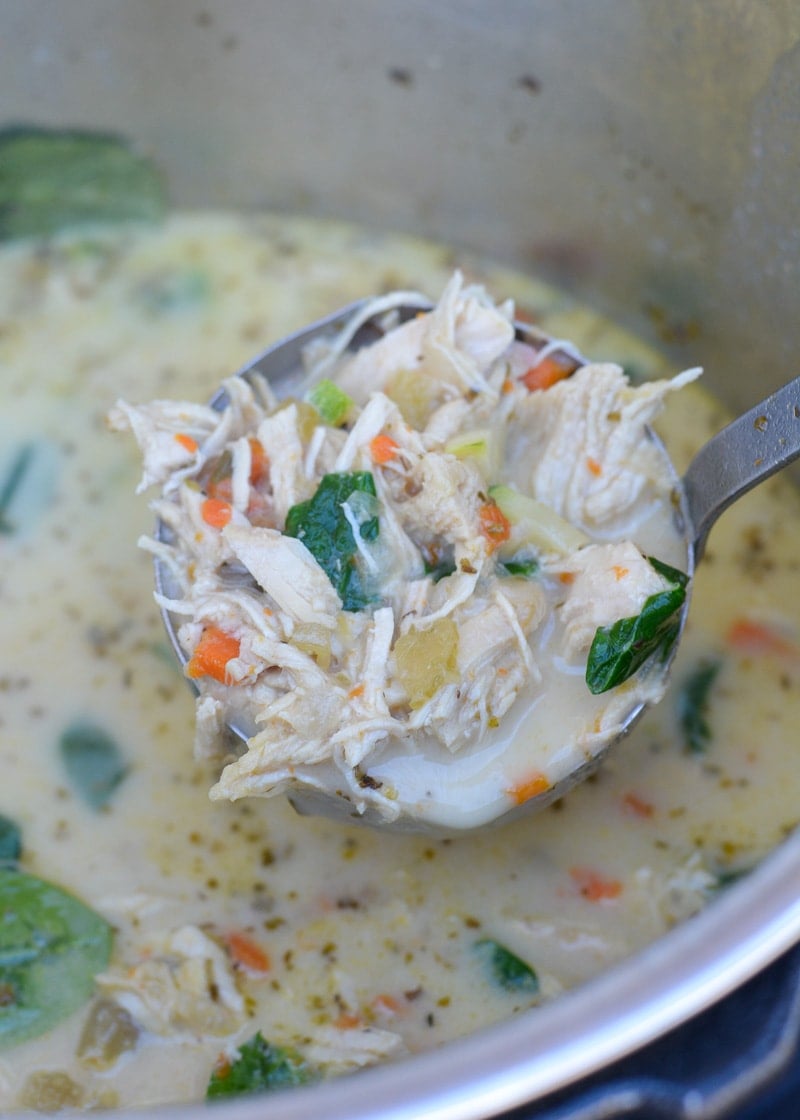 Is soup good for keto meal prep?
Yes! I love using soup for meal prep- it's the perfect keto comfort food! If you are making this soup ahead of time, simply store in a glass or plastic container with an airtight lid and place in the fridge. This soup will stay fresh in the fridge for up to four days. This chicken spinach soup can also easily be frozen. Let your soup cool and pour into a plastic bag. Lay flat in the freezer, where it will be good for up to four months. If storing in a plastic or glass container in the freezer, make sure to leave room for the soup to expand during freezing.
To reheat, simply simmer in a pot on the stove, microwave by the bowl, or dump the entire thing in a slow cooker on low!
What to serve with Chicken Spinach Soup
I personally love some rolls with my soup- these Keto Cheddar Garlic Biscuits are so satisfying. My husband loves these Rosemary Garlic Keto Rolls, which would pair perfectly with this Instant Pot keto soup. We also love to serve a little salad before our soup… This Chopped Italian Salad is a favorite in our house! My go-to side is this Cheesy Cauliflower Casserole– my family eats every bite!
Tips for the best keto soup
Be sure to allow your pressure cooker to build up pressure and then have it release the pressure naturally for at least ten minutes.
Top your soup with something delicious! This list of 25+ Keto Soup Toppers will give you great ideas!
Making this ahead of time gives the flavors time to develop together! Feel free to make this up to 4 days ahead of time. If you prefer your spinach less wilted and are meal prepping, leave it out until you are reheating the soup.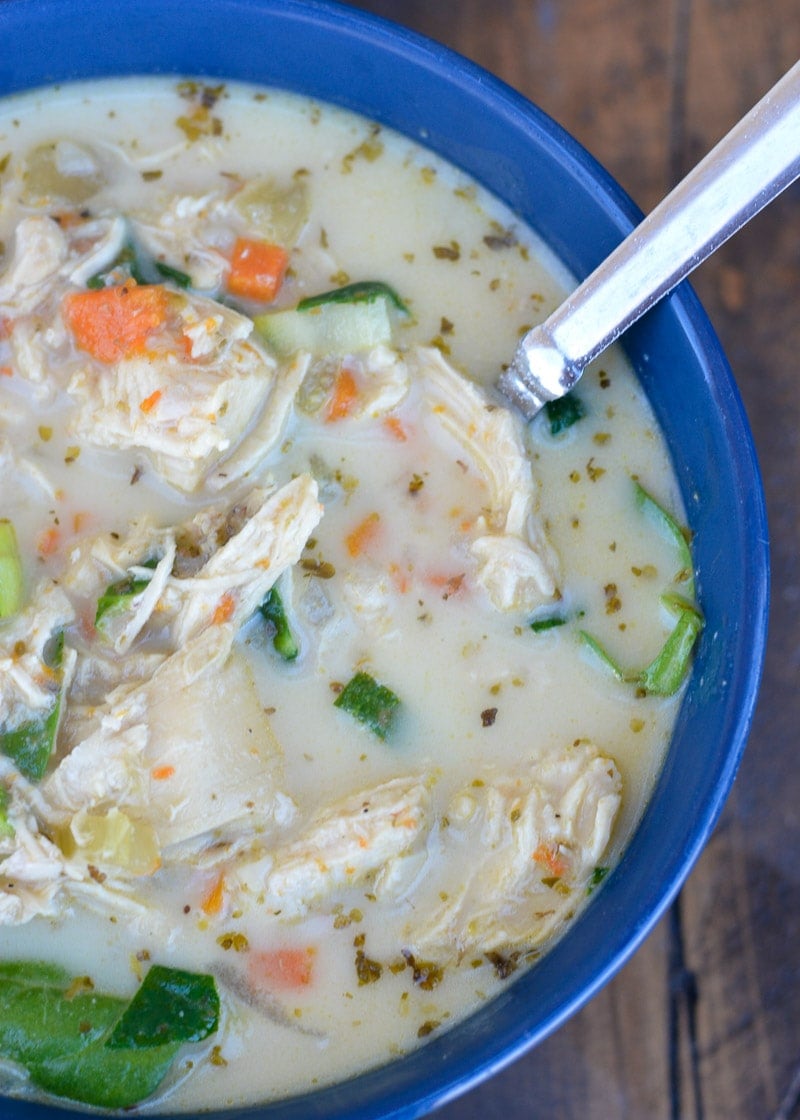 More keto comfort food recipes
This One Pan Pork Chops with Cream Sauce is a personal favorite. This Keto Broccoli Cheddar Soup with Chicken is also such a great way to warm up after a chilly day! Also, is there anything better than a Roast Chicken for dinner? Well, maybe this Pollo con Queso. This Cheesy Cauliflower Casserole is the perfect kid-friendly and comforting side dish, too!
Other Instant Pot keto recipes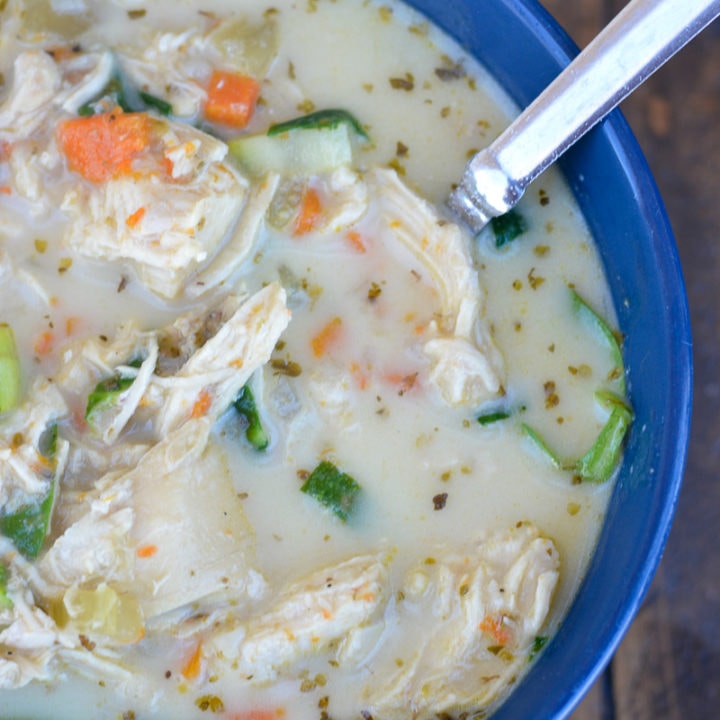 Creamy Chicken Spinach Soup (Instant Pot + keto + low carb)
Additional Time:
20 minutes
This creamy Chicken Spinach Soup is the perfect Instant Pot keto comfort food! Under 5 net carbs per bowl, this low carb soup will become a family favorite and keto meal prep staple.
Ingredients
1 tablespoon olive oil or butter
1 1/2 cups celery, chopped
1 cup onion, chopped
1 cup carrot, chopped
2 tablespoons minced garlic
2 pounds chicken breast
1 1/2 tablespoons Italian seasoning
2 teaspoons garlic powder
2 teaspoons onion powder
1 teaspoon thyme
1 teaspoon salt
1 teaspoon pepper
32 ounces chicken broth
1 cup heavy cream
1 cup zucchini, very thinly sliced
3 cups spinach, roughly chopped
Instructions
Turn the sauté function on the pressure cooker and add the oil or butter, celery, onion, carrot and garlic. Saute 3-4 minutes until softened. Turn the saute function off.
Add the chicken, spices and broth to the Instant Pot. Secure the lid and set the timer for 12 minutes (OR 6 minutes per pound if you use more than the 2 pounds directed).
Once the pressure cooker cycle has finished allow the machine to manually release pressure for at least 10 minutes.
Release any remaining pressure and open the pressure cooker. Remove the chicken and set aside. Add the thinly sliced zucchini, heavy cream and spinach to the soup, stir well. Place the lid back on the Instant Pot (just to keep the heat in, it will cook the veggies while you shread the chicken)
Shred the chicken into bite sized pieces, add back to the Instant Pot and stir well. Season soup with salt and pepper to taste, garnish with parmesan cheese if desired.
Notes
You can use kale in place of spinach. Just remove the tough stems and roughly chop.
Recommended Products
As an Amazon Associate and member of other affiliate programs, I earn from qualifying purchases.
Nutrition Information:
Yield:

8
Serving Size:

1 1/2 cup
Amount Per Serving:
Calories:

230
Total Fat:

10.5g
Cholesterol:

102mg
Sodium:

802mg
Carbohydrates:

5.6g
Net Carbohydrates:

4.2g
Fiber:

1.4g
Sugar:

2.8g
Protein:

27.6g