These Spicy Drumsticks with Mexican Rice are made in ONE pan and ready in under 30 minutes!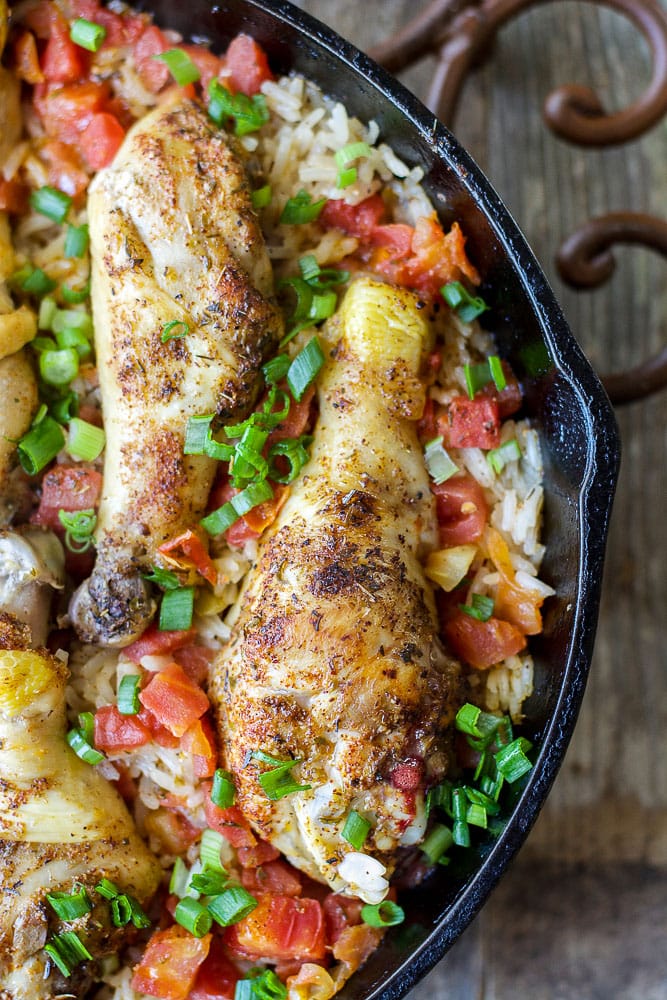 How often does your family have Mexican food? Weekly? Or maybe you are an every other day kind of family? We go through fazes; we will have tacos, nachos, nice big taco salads, or pollo con queso every night for a week then we are over it for a little bit.
Lately, we have been on a Mexican kick. One of the things I love about that cuisine is how easy it is to make a filling, healthy meal. You can always sneak in extra vegetables and top it with healthy toppings like guacamole or pico de galo instead of cheese and sour cream (though I've been known to use those too!)
This is a really easy dish, and it only requires five ingredients. Yes! It's that easy! One of my favorite things about it is that it keeps really well, so sometimes I make this ahead of time and then just reheat whenever we are ready for it.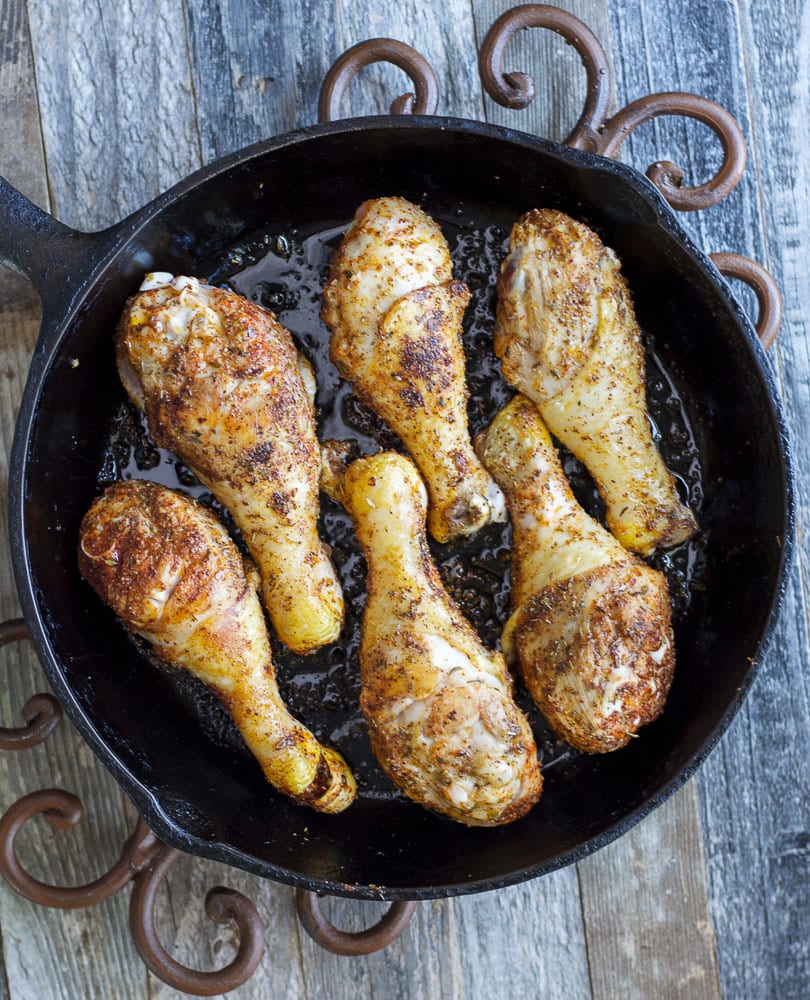 Spicy Drumsticks with Mexican Rice Ingredients:
Chicken Drumsticks
Taco Seasoning (McCormick has a gluten free seasoning)
Ro-Tel (or other canned tomato & green chili combo)
Water
White Rice
Optional: toppings like avocado, cheese, green onions, sour cream, etc.
How to make Spicy Drumsticks with Mexican Rice:
Here is how we make it! Heat a nice big skillet to medium heat and add a little olive oil. Toss drumsticks in your favorite taco seasoning in a plastic bag until they are completely coated, then sear your drumsticks until they have a nice color.
Add water and a can of Ro-Tel to the skillet, then bring to a simmer. Add the rice, cover, reduce to low, and cook until all the water has been absorbed. That is it!
This is such an easy and filling dish, we love it! Top with whatever Mexican fixings you like! This is a great meal prep option because you can split this up into separate containers for easy lunch and dinner portions.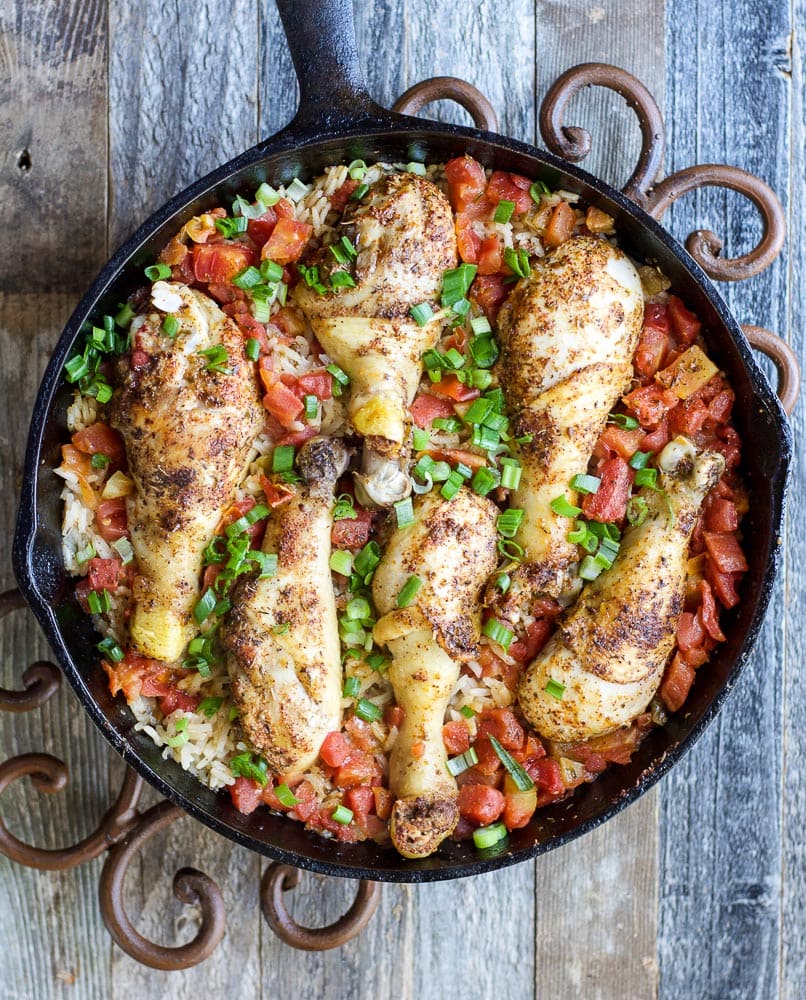 Substitution Suggestions:
While we love this recipe as it is, I know you might also want to switch it up for one reason or another. Here's a few recommendations:
Use homemade seasoning. Here's my recipe for homemade taco seasoning you could use instead!
If you don't want to use drumsticks, that's okay! You could use chicken breast (or other chicken cuts) instead. If your cuts are larger than the average drumstick, though, you'll likely want to cut these up into smaller pieces so they'll be finished cooking when the rice is.
Want to reduce the carbs here? You could pair this with cauliflower rice instead! Instead of cooking the rice, you'd simply cook the drumsticks until they are completely cooked through while you prepare the cauliflower rice separately. You could use this recipe for Cilantro Lime Cauliflower Rice if you'd like!
Try different meats. This recipe would also be delicious with sliced smoked sausage or shrimp (be sure to not overcook these, though!).
Add toppings! Shredded cheddar or crumbled cotija cheese would be delicious! Consider adding sour cream, cilantro, avocado, salsa, green onions, or even crushed tortilla chips!
How should I store and reheat my leftovers?
This is a great meal prepping recipe because it reheats super well! Simply store in an air-tight container in the fridge up to four days. When ready to eat, you can microwave a single serving in 45-second intervals until warmed throughout.
If you have a large portion to reheat, I recommend putting it in an oven-safe container with a lid. Add a tablespoon or so of water to the dish and let cook in the oven at 350 degrees for 10 minutes or until reheated throughout
More Gluten-Free Mexican Recipes:
Who doesn't want more of these great flavors?! Check out some of our other gluten-free recipes similar to Spicy Drumsticks with Mexican Rice.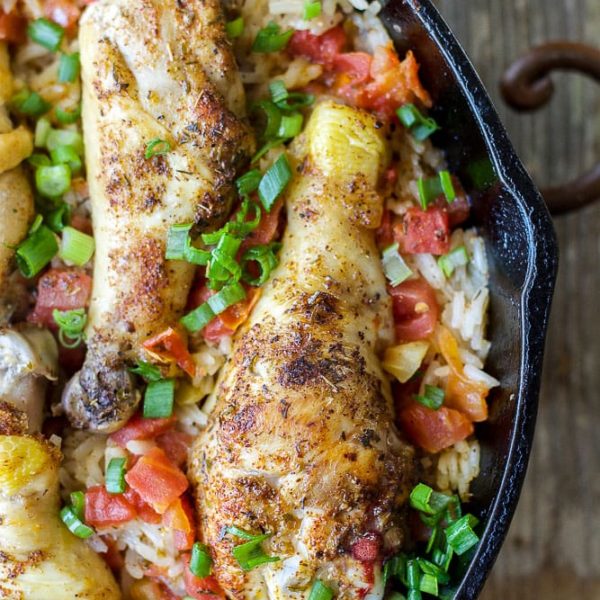 Spicy Drumsticks with Mexican Rice
These Spicy Drumsticks with Mexican Rice are made in ONE pan and ready in under 30 minutes!
Ingredients
1.5 pounds drumsticks
1 (1 ounce) packet taco seasoning (McCormick has a gluten free seasoning)
1 (10 ounce) can Ro-Tel, undrained
1.5 cups water
1 cup white rice
*Extra toppings or add ins: chopped green onions, chopped bell pepper, shredded cheese, salsa, avocado, sour cream.
Instructions
Heat a large skillet to medium heat and spray with cooking oil.
In a large plastic bag toss the drumsticks in HALF the taco seasoning and pan sear until lightly browned (about 30 seconds- 1 minute on each side)
Remove the drumsticks from the pan, then add the can of undrained Ro-Tel, water and remaining taco seasoning and bring to a simmer.
Add rice and stir well. Place drumsticks onto bed of rice, cover pan, and reduce heat to low.
Cook 20 minutes until all water is absorbed.
Top with extras!
Nutrition Information:
Yield:

6
Serving Size:

1 drumstick with 1/6th rice
Amount Per Serving:
Calories:

276
Total Fat:

13g
Cholesterol:

144mg
Sodium:

457mg
Carbohydrates:

28g
Fiber:

0g
Sugar:

0g
Protein:

28g