A simple, all natural Strawberry Milk recipe that uses real fruit! You will never go back to the store-bought stuff again!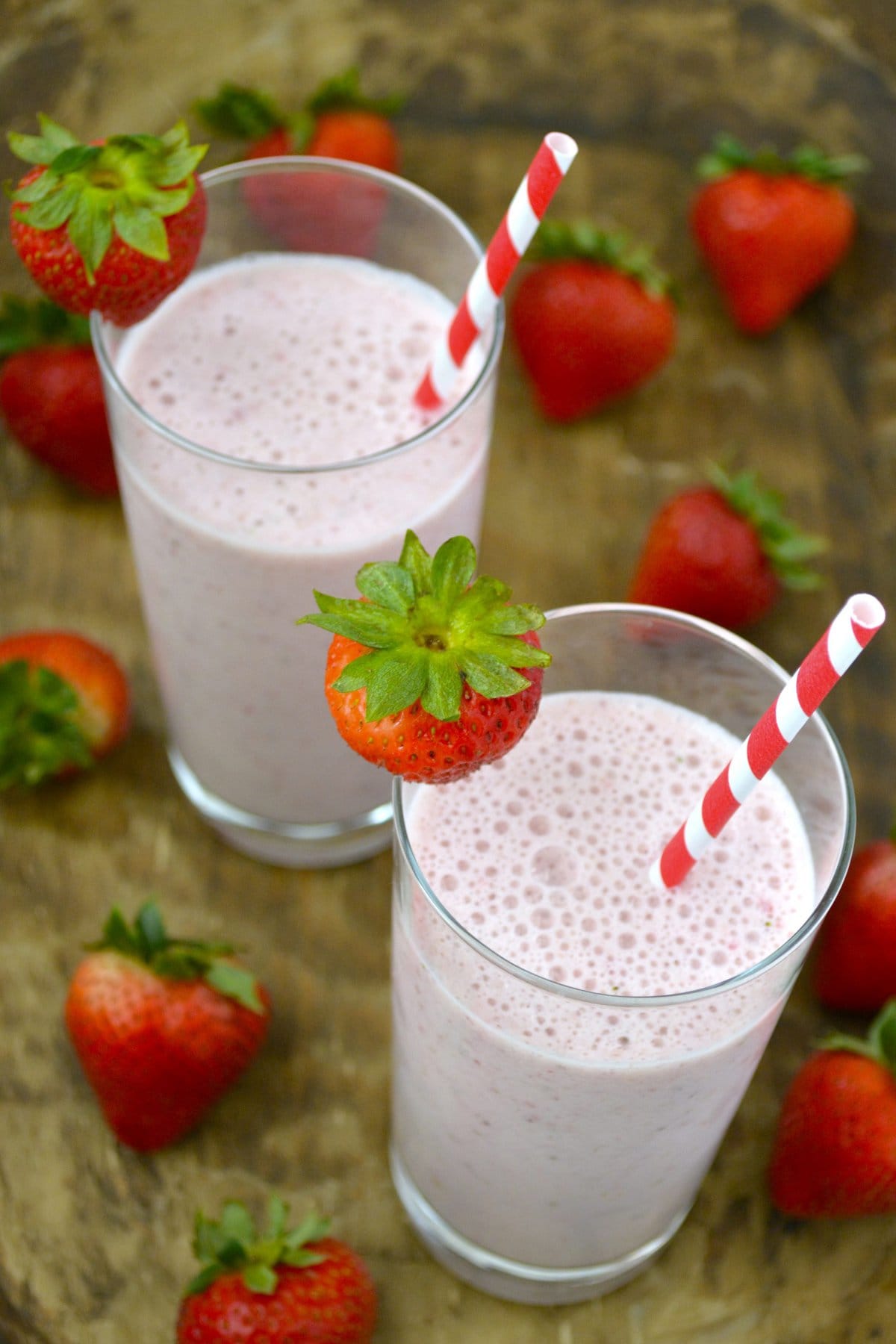 I know what your thinking…"Um..how old are you?" The answer is, probably too old to be drinking strawberry milk. But this fresh strawberry milk is sooo good! Like, crazy wonderful fantastic good!
This whole thing started because I realized one day — as I was staring into the fridge trying to decide what I wanted — I couldn't remember the last time I had a glass of milk. I mean, I cook with it and I pour it over my cereal, I add it to smoothies, but just drink a big glass for the heck of it?
Nope. I have no idea when the last time that was.
And I am not anti-milk or anything like that; we had a dairy farm just down the road from the farm I grew up on so I actually have an appreciation for the stuff. Or at least for the little farmer man next door.
I am getting off topic. Strawberries, milk, honey, vanilla. DO IT! These four simple ingredients make such a wonderfully refreshing drink you will be wondering why the heck the grocery store version has so many chemicals and preservatives.
Ingredients in This Strawberry Milk Recipe
To make the homemade strawberry milk, you'll need four simple ingredients:
Strawberries
Milk
Honey
Vanilla
What Type of Milk Should I Use?
Any kind you'd like! If using a non-dairy milk, I recommend using one with a milder flavor. It should also be unsweetened.
Do I Have to Sweeten the Strawberry Milk?
No, but the kind you buy at the store is quite sweet, which is why I added honey to mine. I'm sure you could achieve similar results with another sweetener or sugar alternative.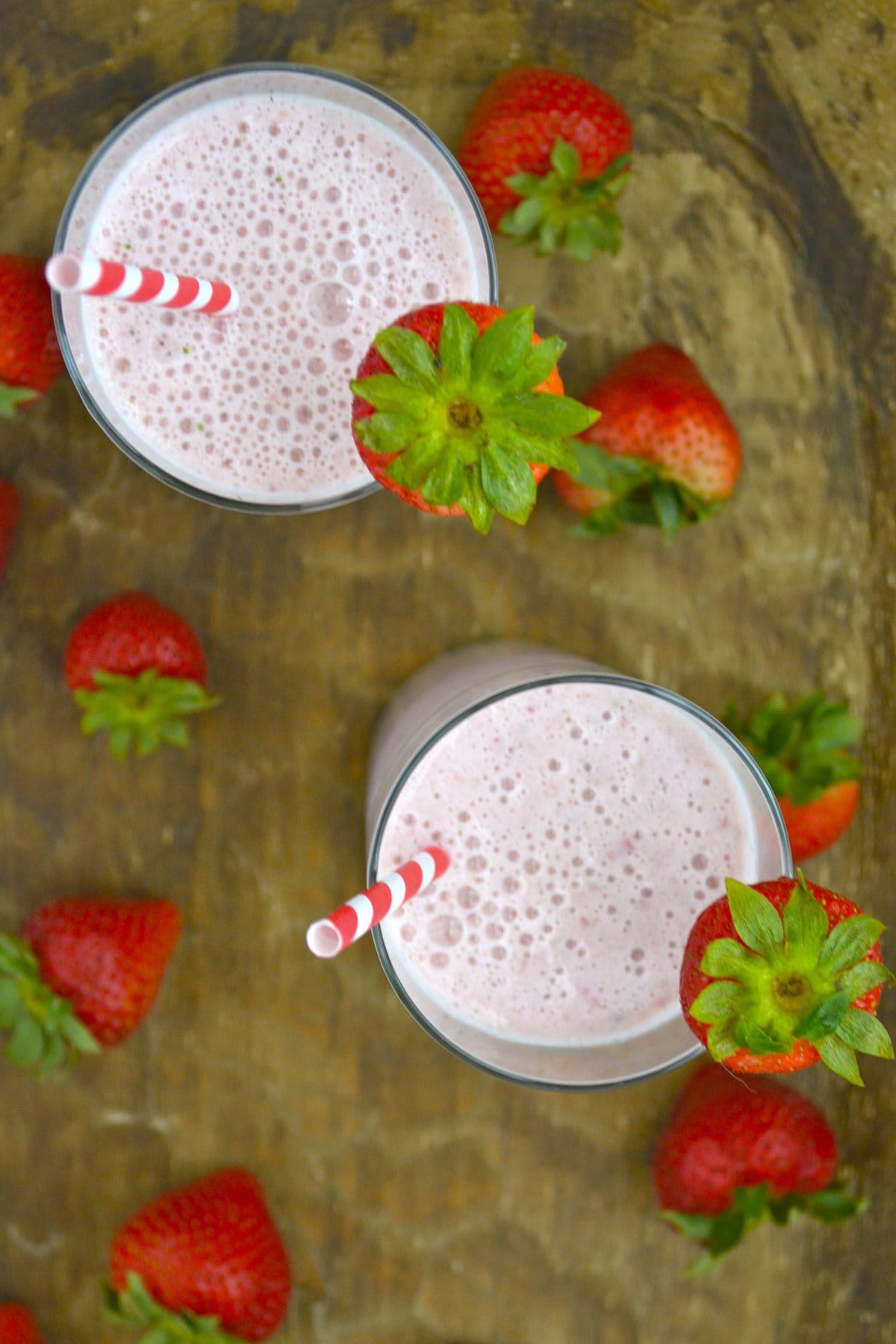 How to Make Strawberry Milk
All you have to do is chuck the ingredients into a blender and blend for about 1 minute. You want the berries to be completely pureed and incorporated into the milk.
How Long Does Strawberry Milk Last?
Because this recipe is made with fresh fruit and milk, it's best enjoyed within 48 hours of making it.
Tips for Making Homemade Strawberry Milk
I used fresh strawberries to make this recipe, but frozen will work as well. You'll need to thaw the berries before making the milk.
If your strawberries are very sweet, you might not need as much honey as the recipe calls for. Add a little at a time, give it a taste, and add more honey as needed.
As a big bonus, this same recipe makes a mean strawberry smoothie if you just use frozen berries instead of fresh. Either way, you absolutely cannot go wrong!
More Summer Drink Recipes: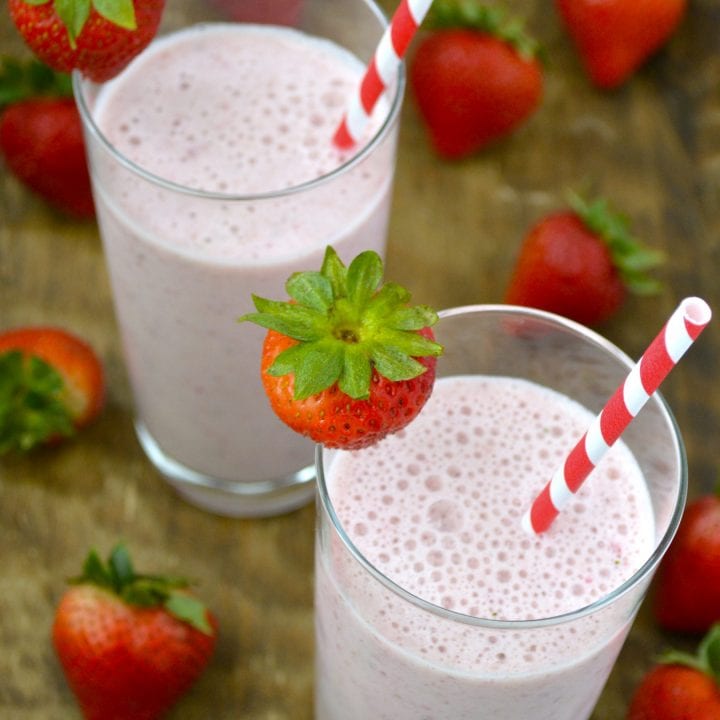 Strawberry Milk
A simple, all natural Strawberry Milk recipe that uses real fruit! You will never go back to the store-bought stuff again!
Ingredients
2 heaping cups of chopped strawberries
2 cups milk
1/4 cup honey
1 teaspoon vanilla extract
Instructions
Place all ingredients in a large blender.
Blend approximately 1 minute until strawberries are completely crushed and incorporated.
Serve ice cold!

Notes
This makes approximately 40 ounces (2 large servings or 4 small servings).
Nutrition Information:
Yield:

2
Serving Size:

1
Amount Per Serving:
Calories:

288
Total Fat:

5g
Saturated Fat:

3g
Trans Fat:

0g
Unsaturated Fat:

2g
Cholesterol:

20mg
Sodium:

130mg
Carbohydrates:

54g
Fiber:

2g
Sugar:

39g
Protein:

9g
To avoid any confusion I remove erythritol from the final carb count and net carb count, as it is not known to affect blood glucose levels. To calculate Keto recipes listed on this site carbs - fiber = net carbs. I use Nutrifox as my nutrition calculator. This nutrition information is an estimate based on the information provided by Nutrifox and the specific ingredients I used.