I am becoming strangely obsessed with these 30 minute, one pan meals. First there was the Pork Chops and Rice, then the Chili Mac, Cilantro Lime Shrimp and Rice, and now this little gem of a pasta dish.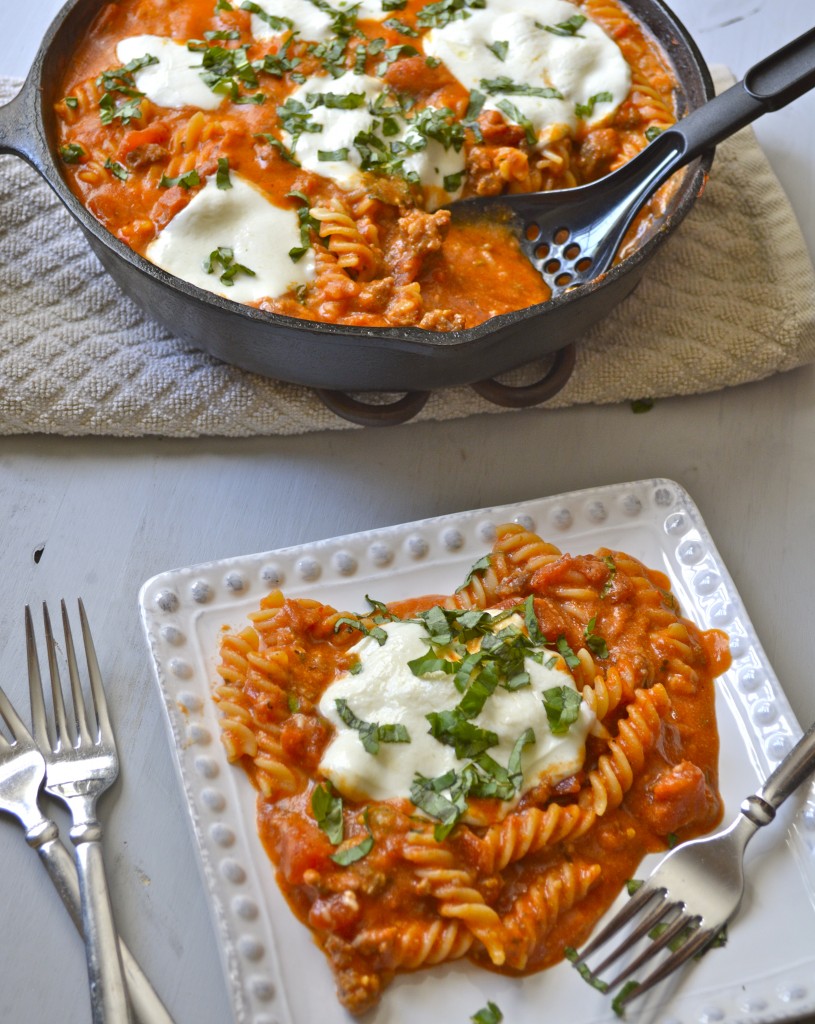 I was actually craving a really good Baked Ziti or Lasagna. You know what I mean, a rich, satisfying marinara sauce, big chunks of fresh mozzarella, perfectly cooked pasta, alongside Italian sausage sprinkled with fresh basil. Yes yes yes, that is all I wanted. Except I wanted that in less than 30 minutes, with only ONE dirty pan to wash, and without turning on my oven!
Challenge accepted!
It all started with this big, old cast iron skillet. I know what you're thinking…does she cook with anything besides that darn skillet. Nope, not if I can help it.
I cooked regular ground Italian sausage until browned, then I drained off the grease. You could use links if you prefer. I just never think of that when I am at the store. Now, I have a whole pound of Italian sausage, but I decided to only use half a pound for a couple reasons. 1. Any opportunity I get to stretch our food into two meals instead of one I definitely take. 2. With the rest of the stuff, three cheeses, marinara sauce, and tomato chunks, and pasta I really didn't think it needed a whole darn pound of meat. So, I froze the rest of it for the next time I make this which will be like, well…probably tomorrow.
That's how good it is!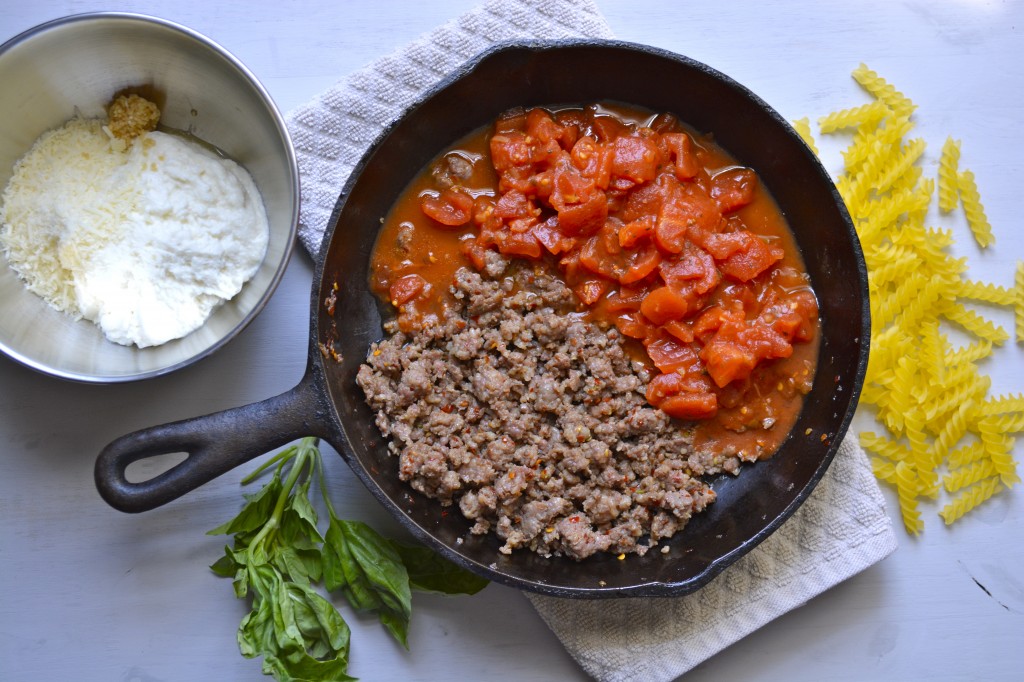 So then I added one jar of my favorite pasta sauce, an undrained can of tomatoes, and some water, and brought it to a simmer. Now that you have a lovely marinara mixture simmering away, just throw in some uncooked pasta. Let the mixture simmer, not boiling, just a gentle simmer for 10 minutes uncovered, stirring occasionally. Keep in mind if the pasta sauce is splattering all over your kitchen you have the heat a smidge too high.
While your pasta is simmering grab a small mixing bowl and mix some ricotta with some parmesan and minced garlic. This is what is going to make your pasta super creamy and tasty.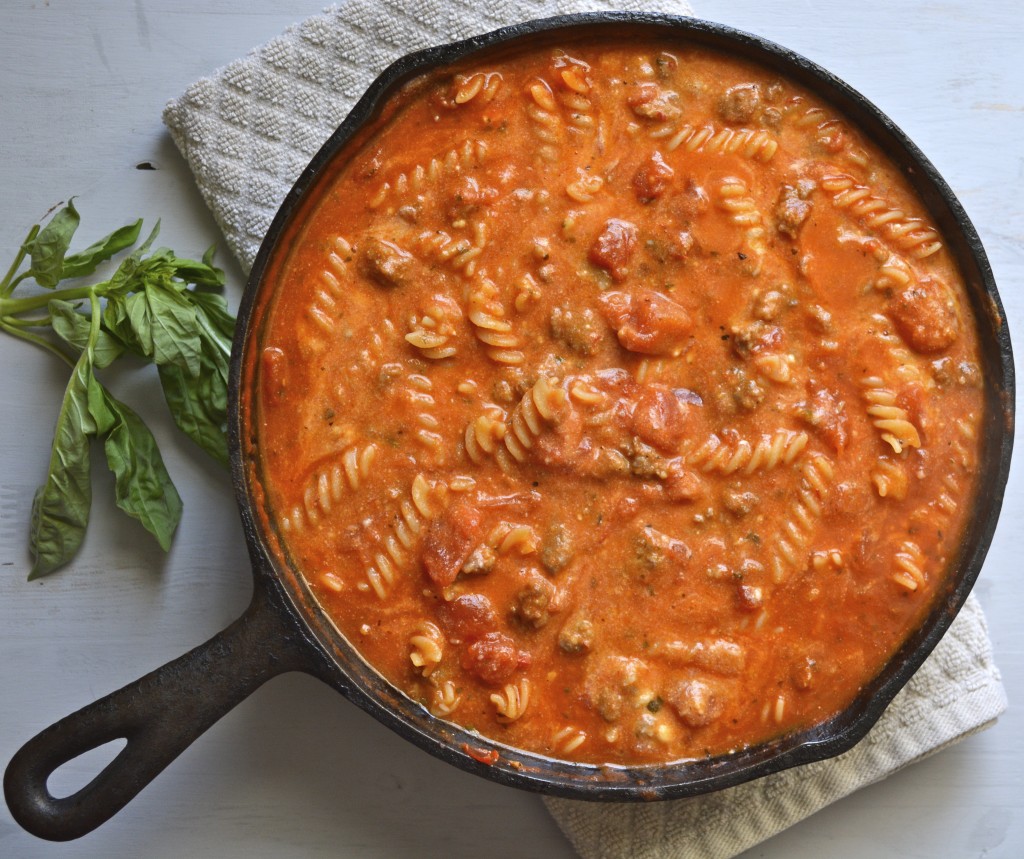 After 10 minutes add in 1/2 cup of water, the ricotta parmesan mixture, give it a little stir. Look at that creaminess! Top with a couple slices of fresh mozzarella. Cover and let cook on low for 10 more minutes.
That is it! Really! You have all the flavor of Baked Ziti without ANY of the work!
Yields 4
Three Cheese Pasta with Italian Sausage
22 minCook Time
22 minTotal Time
Ingredients
1/2 pound ground Italian sausage, cooked and crumbled
1 24 ounce jar of pasta sauce
1 14.5 ounce can of diced tomatoes
1 1/2 cups water
3 cups uncooked pasta*
1 cup ricotta
1/4 cup Parmesan
1/2 cup mozzarella
Basil for garnish
Instructions
In a large skillet or a sauce pan brown Italian sausage, and drain off any grease.
Pour in the jar of pasta sauce, can of tomatoes, 1 cup of water and bring to a simmer. Stir in uncooked pasta and let simmer 10 minutes, stirring occasionally.
In a small bowl combine ricotta and Parmesan, set aside.
After pasta has simmered for ten minutes check to make sure it is tender (not totally cooked, but close) stir in the ricotta and 1/2 cup water.
Top with 1/2 cup of shredded mozzarella or fresh mozzarella slices. Place lid on pan and let simmer for 5 more minutes.
*I used Barilla gluten free pasta. If you use another brand you might need to adjust the cooking time just a bit, just watch closely and use your best judgement.
7.8.1.2
45
https://www.maebells.com/three-cheese-pasta-with-italian-sausage/
Just a Tip: Flavor variations
For Spicy Pasta: Use hot Italian sausage and the Classico spicy pasta sauce
For Sweet Pasta: Use mild or sweet Italian sausage and the Classico sweet basil pasta sauce
For Mild Pasta: Use mild or regular Italian sausage and Classico pasta sauce.