Five ingredient Cherry Brie Bites are the perfect party appetizer and just under 4 net carbs each!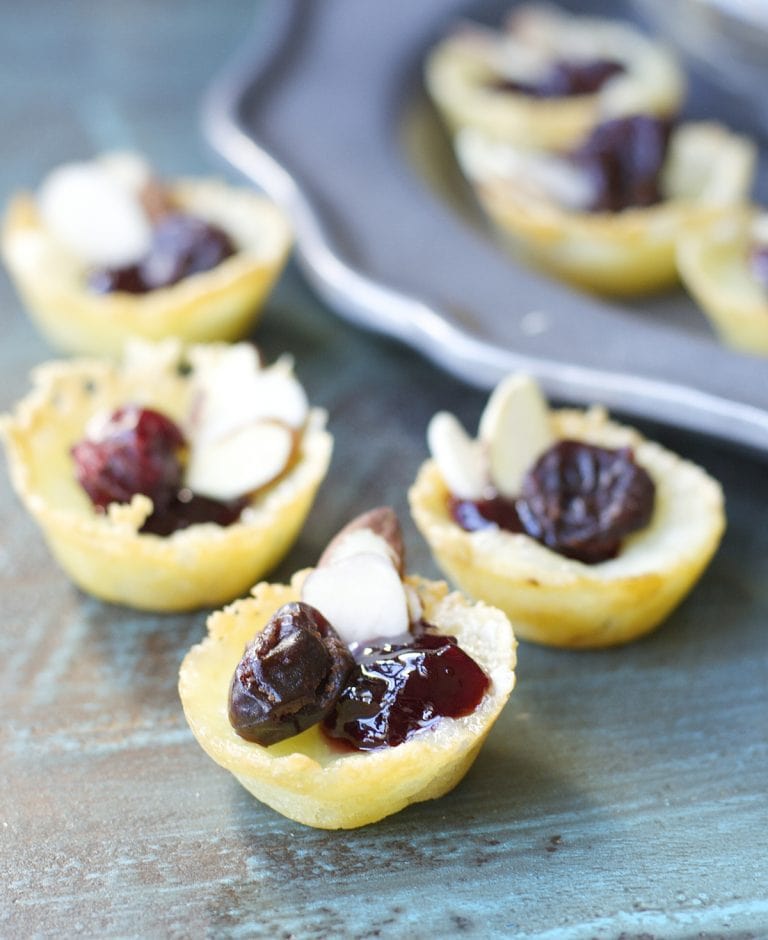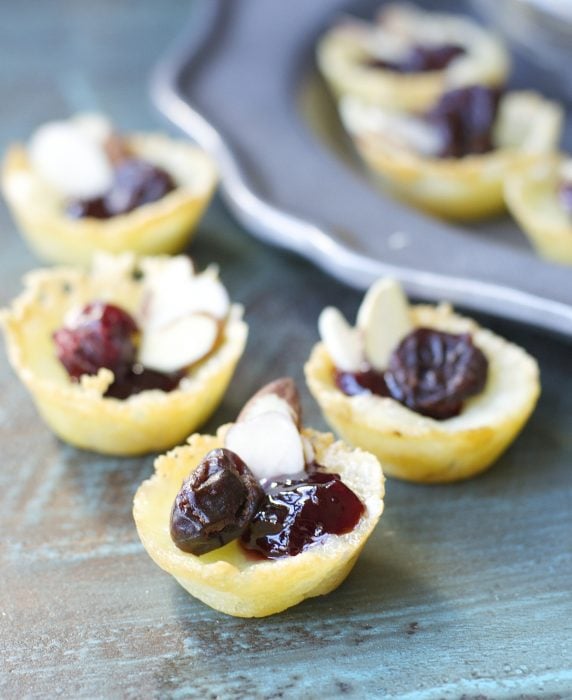 In just over 24 hours I get to see my youngest sister. I haven't seen her since July! Then, I hugged her tight with a big knot in my throat and told her never to be smart, be safe and to remember 75 mph is a perfectly acceptable speed on the interstate.
She was headed from Tennessee to California to spend the semester at a new university. This is the longest I have ever gone without seeing her and I am missing her badly! She always makes me think of sweets- her sweet tooth is legendary. The last time I saw her a made her these Classic Keto Whoopie Pies and she loved them!
So in order to celebrate her return I needed to make some snacks! I just can't think of a better way to celebrate than with food, can you?
Cherry Brie Bites are a five ingredient appetizer that cannot be beat! Crispy, buttery gluten free pie crust is packed with warm gooey brie cheese and topped with sweet cherry preserves, a dried cherry and almonds for crunch. It is a great combination of sweet and savory and can be prepped ahead of time for an effortless appetizer!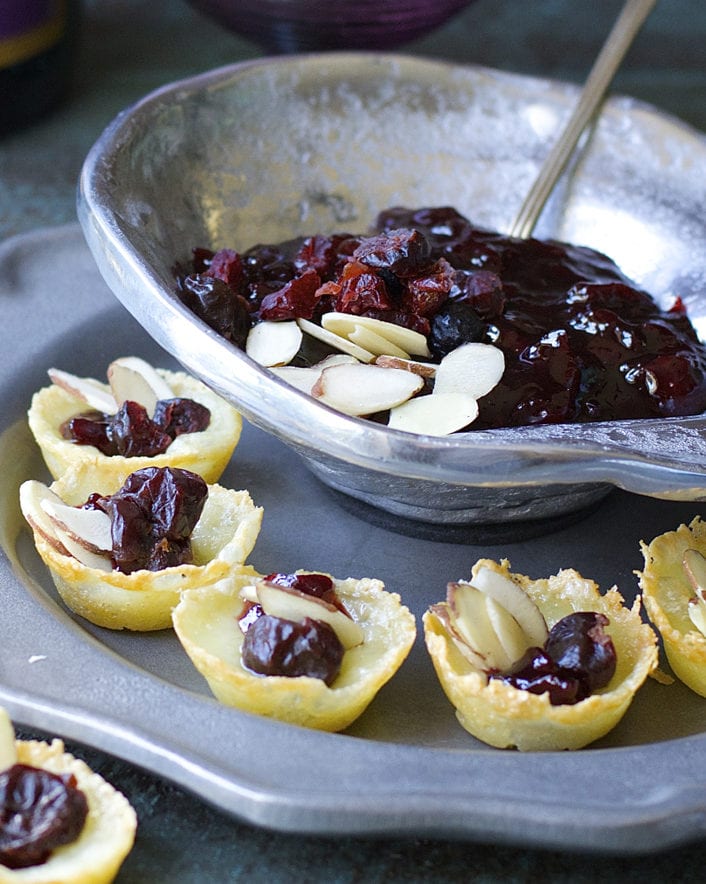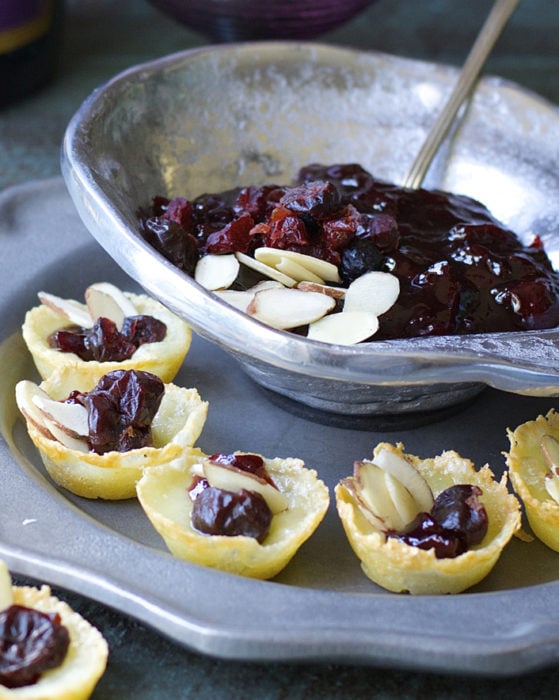 Ingredients for Brie Bites
As always, here is a quick overview of the ingredients used to make our Cherry Brie Bites. For the complete recipe, just keep scrolling.
Fathead Dough (if not low-carb or gluten free, you can use a refrigerated pie crust from the store)
Brie- just remove the rind
Cherry preserves- if you can only find jelly, that will work
Dried cherries (I used unsweetened to reduce carbs)
Almonds- slivered or crushed
How do you make Cherry Bites?
This recipe is so simple and comes together in a flash! First off, preheat your oven to 400 degrees and spray a 24 count mini muffin tin with nonstick spray.
Put a small amount of the fathead dough or pie crust into each tin and work the crust up the sides of the tin to make the cup shape. Place a small chunk of brie into each tin and bake for ten minutes.
After you've baked your bites, allow them to cool in the pan for a few minutes so the pastry will set. Once a few minutes have passed, remove from the tin and place onto a baking sheet to cool completely. After your bites have completely cooled, top with the preserves, dried cherries and slivered almonds!
Can you make Brie Bites in advance?
Of course! I love to serve these Cherry Bites at holiday gatherings, and sometimes cooking for those can get crazy so I love to have as many things prepped and ready to go as possible.
To make these Cherry Brie Bites ahead of time, simply bake as directed and wait to add the toppings until you are ready to serve to your guests!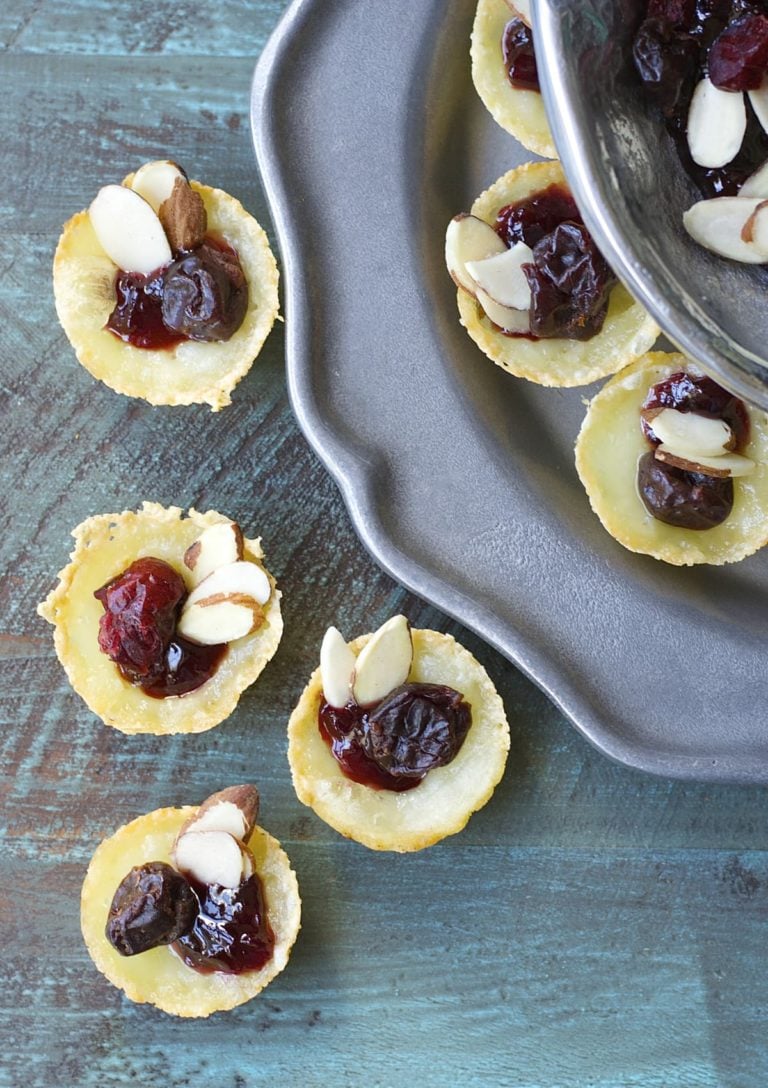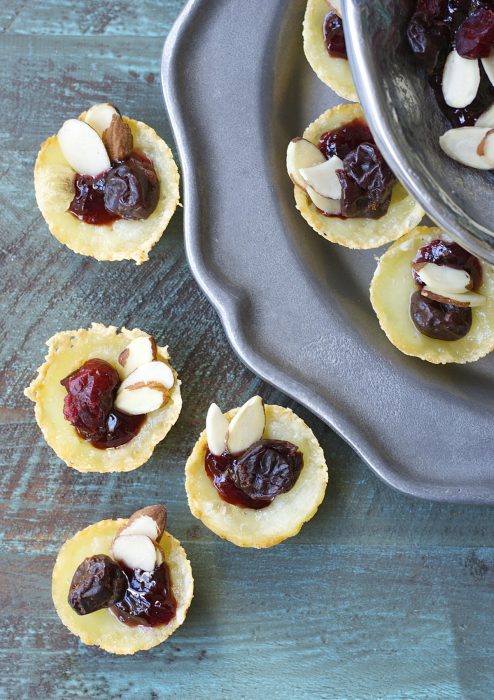 Can I use a different type of jam or fruit?
Yes! You can customize these bites however suits you! Brie pairs so well with so many fruits, you can really use anything here. Strawberry, blueberry, blackberry, peach…all would be great. Just top with a small amount of fresh fruit of choice instead of the dried cherries.
The holidays are a big family gathering time for us and we love to incorporate the kids as often as we can. For a fun idea, you could have your young ones help you with these Brie bites! Encourage everyone to pick their favorite fruit or jam and have them each stuff their own Bite!
Can I make these brie bites keto?
Definitely! For a lot of low-carb diets, these are already low enough in carbs to fit at 3.8 net carbs each. However, you could reduce this even further by leaving out either the dried cherries or the jam/preserves.
If you leave off the dried cherries, your brie and jam bites will come to 2.8 net carbs each. If you leave off the preserves instead, your cherry brie bites will be 1.6 net carbs each.
How to Store and Reheat Cherry Brie Bites
To store these little bites, I would recommend putting them into a single layer in a plastic container with an airtight lid. I don't recommend adding more than one layer to a container, as the weight may cause the Bites to crack. These Brie Bites will stay fresh for up to three days.
More Keto Holiday Recipes
Want more? Here's a great list of 20+ of the BEST Keto Thanksgiving Recipes!
Cherry Brie Bites
Five ingredient Cherry Brie Bites are the perfect party appetizer and just under 4 net carbs each!
Ingredients
1 recipe of Fathead Dough (if not keto, a package of ready to bake gluten free pie crust works, too)
1 (4-6 ounce) round of brie, rind removed
1/4 cup cherry preserves
1/4 cup dried cherries (unsweetened)
1/8 cup slivered or crushed almonds
Instructions
Preheat oven to 400 degrees.
Spray a 24 count mini muffin tin with cooking spray. Press a small amount of the fathead dough (or pie crust) into the bottom of each muffin tin. Be sure to press the crust all the way the sides.
Place a small chunk of brie in each tin.
Bake for 10 minutes.
Let the cheese pies cool for a few minutes, then remove from the pan and let cool completely. Add a small spoonful of jam and top with a dried cherry and a few crushed almonds.
Notes
If you want to reduce carbs even further, you can skip the dried cherries (making the bites 2.8 net carbs each) or skip the preserves (making the bites 1.6 net carbs each).
Nutrition Information:
Yield:

24
Serving Size:

1 brie bite
Amount Per Serving:
Calories:

81
Total Fat:

3.4g
Cholesterol:

10.1mg
Sodium:

117.4mg
Carbohydrates:

4.5g
Net Carbohydrates:

3.8g
Fiber:

0.7g
Sugar:

2.5g
Protein:

5.2g