These easy Keto Pizza Rolls are loaded with Italian sausage and pepperoni! The perfect low-carb, keto appetizer or easy dinner!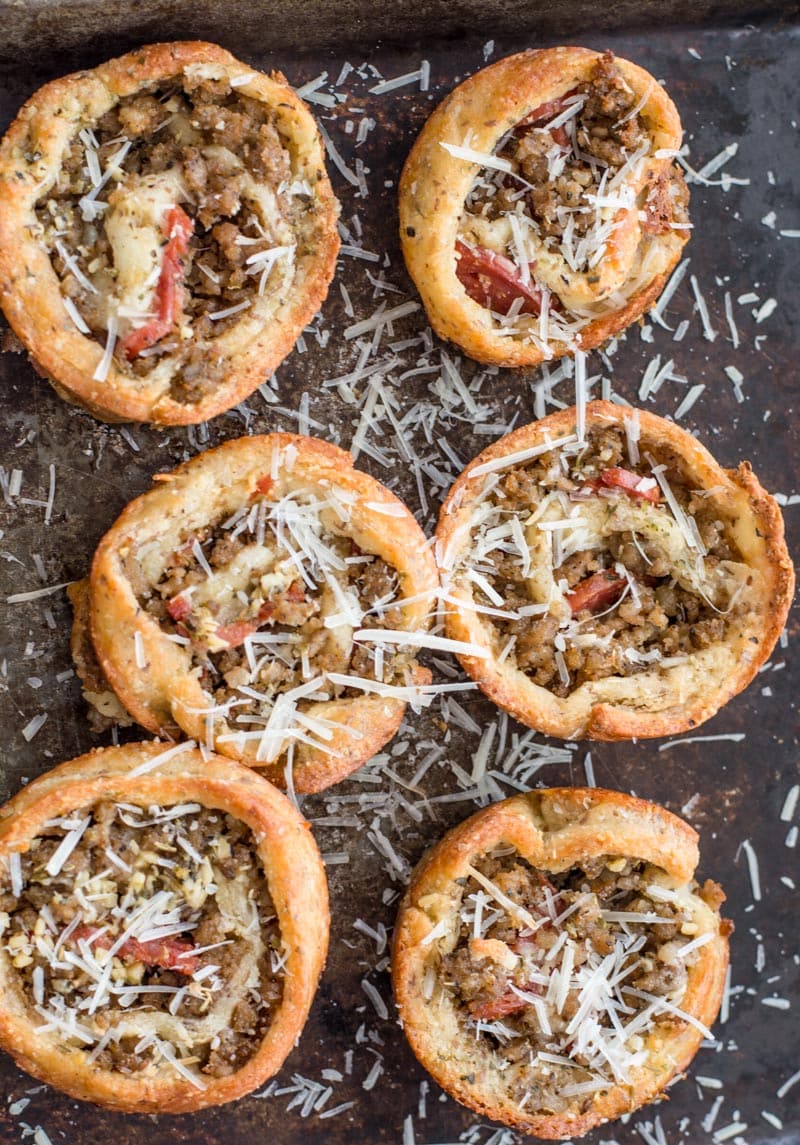 On the weekends, we like to pick one day and have our favorite appetizers for dinner. Usually during the week our meals are pretty traditional, so it is such a nice change up to have a cheesy dip or other party foods for dinner.
Since I have been trying the Keto diet some of our appetizer staples are out, like chips and dip and popcorn. After I made these amazing Keto Cinnamon Rolls I knew I wanted to try a savory roll. Trust me, these delicious Keto Pizza Roll Ups did not disappoint!
Keto Pizza Rolls Ingredients
To make these sausage and pepperoni pizza rolls, you'll need the following basic ingredients:
Shredded mozzarella
Cream cheese
Almond flour
Ground flax meal
Cooked Italian sausage
Pepperoni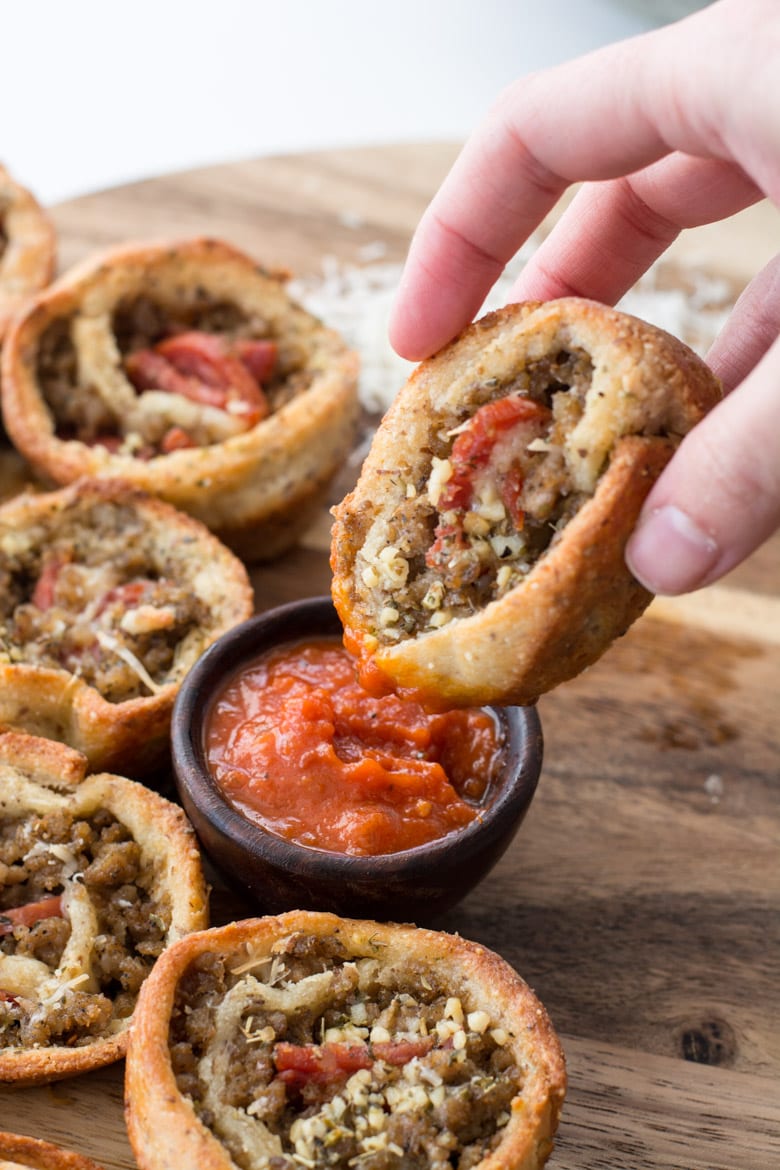 How to Make Keto Pizza Rolls
These homemade pizza rolls are made from a "fathead" dough, which is normally melted mozzarella and cream cheese mixed with almond flour. I actually add a bit of flax meal as well because I think it gives the dough a nicer texture and makes it less sticky to work with.
Once the cheeses are melted, we just add the almond and flax meal and stir well. Once it is well incorporated I like to knead it a bit to really work in all of the flour well. Then it is time to roll. I find it easiest to roll this dough between silicone baking mats, but parchment or wax paper would also work.
Then we just add our filling. I used Italian sausage and pepperoni and a bit of parmesan. Then start from one end and roll it as tightly as you can into a log. Slice your log into the width you prefer. I cut this just shy of the width of two of my fingers ( roughly an inch).
Pop them into the oven and bake until they are nice and golden brown! I like to serve these with a low-carb marinara like Rao's.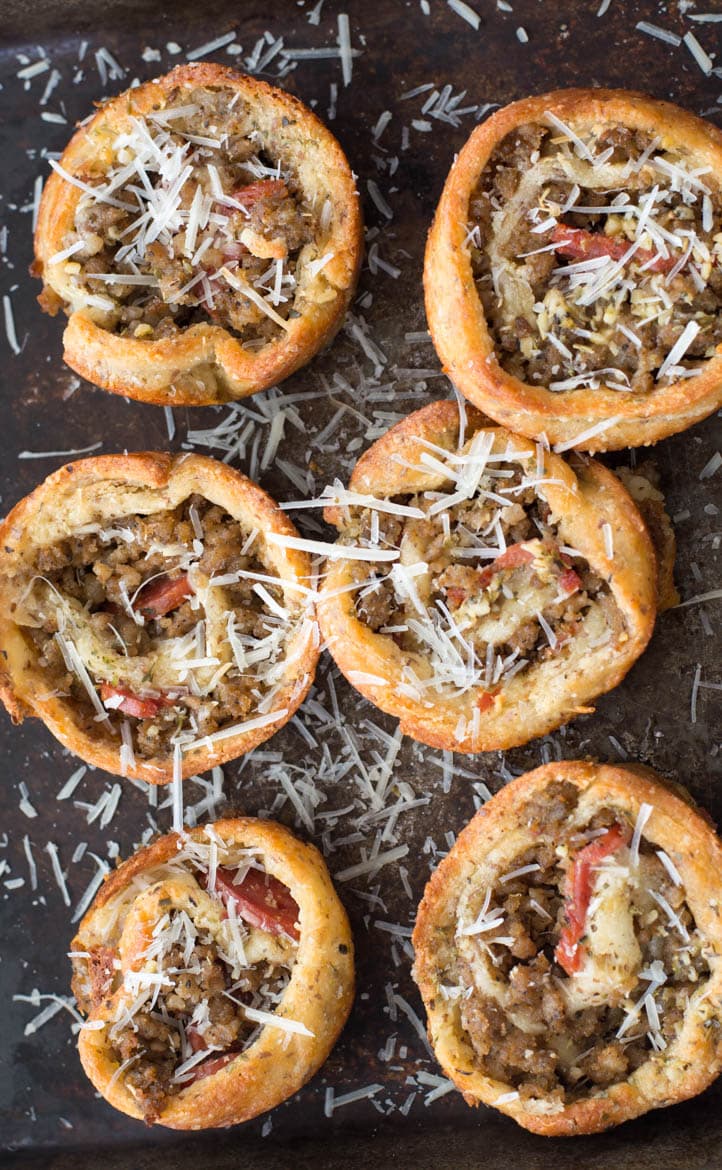 Can I Add Other Fillings?
Yes! You can mix and match the fillings as you see fit. If you want to add veggies, I recommend sautéing them first and patting them dry so that they don't make the pizza dough soggy.
Can I Freeze These?
Absolutely! They can be frozen for up to three months. They can be reheated in the oven from frozen or thawed overnight in the fridge first.
Tips for Making Keto Pizza Roll Ups
I do not like to load these up with cheese since there is cheese in the dough. Just something to keep in mind!
When slicing the rolls, I think thinner is a little better here since there is so much filling. If you cut them too thick, your dough will have a hard time getting cooked all the way through.
Do not make the fathead dough in advance. It's most flexible right after it's been made so that's the best time to roll it out.
More Keto Pizza Recipes: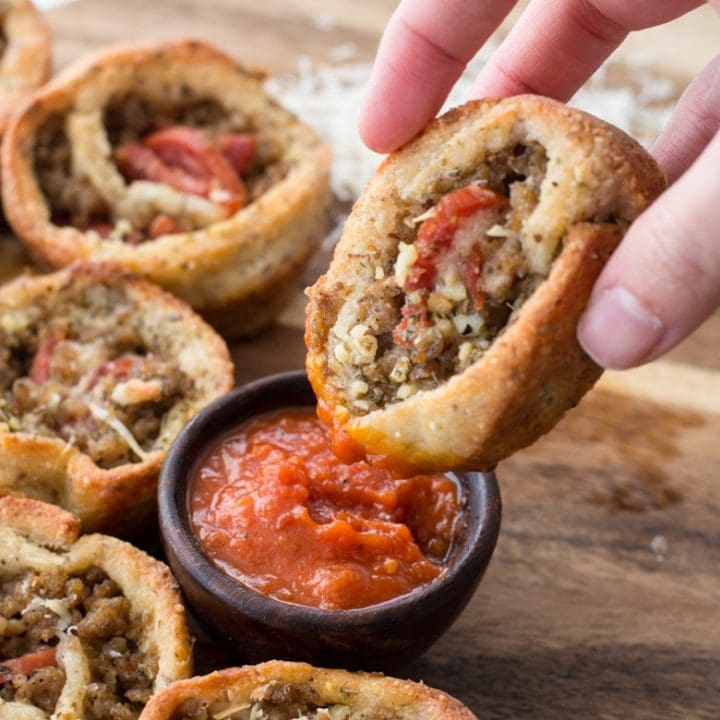 Keto Pizza Rolls
These easy Keto Pizza Rolls are loaded with Italian sausage and pepperoni! The perfect low carb, keto appetizer or easy dinner! 
Ingredients
For the Dough:
2 cups shredded mozzarealla cheese
2 ounces cream cheese
3/4 cup almond flour
2 tablespoons ground flax meal
For the Filling:
1/2 pound cooked Italian Sausage, drained and cooled
1/2 cup pepperoni, sliced or chopped
Instructions
For the dough:

Preheat oven to 400 degrees F.
In a microwave-safe mixing bowl, combine the shredded mozzarella cheese and cream cheese.
Heat in 30-second increments, stirring in between until completely melted.
Add the almond flour and ground flax meal.
Mix the dough well until you have a soft ball
Between two silicone baking mats or parchment paper, roll the dough into a rectangle that's roughly 12x9 inches.

Assemble the rolls:

Spread the cooked Italian sausage and the pepperoni evenly on the dough.
Starting at one end, roll the dough as tightly as you can into a log.
Slice into rolls about the width of two fingers. Be careful not to slice them too thick because it will be difficult for the dough in the center to cook through.
Place the rolls on a greased baking sheet.
Bake 15-18 minutes, or until golden brown.
Notes
Almond flour: I have found that Pillsbury Almond Flour is the lowest in carbs.
If you need to see step by step photos for preparing the dough, this is the same method I used in my keto cinnamon roll recipe.