These Keto Pigs in a Blanket are the perfect low-carb, kid-friendly dinner! Bonus: they're under 4 net carbs each!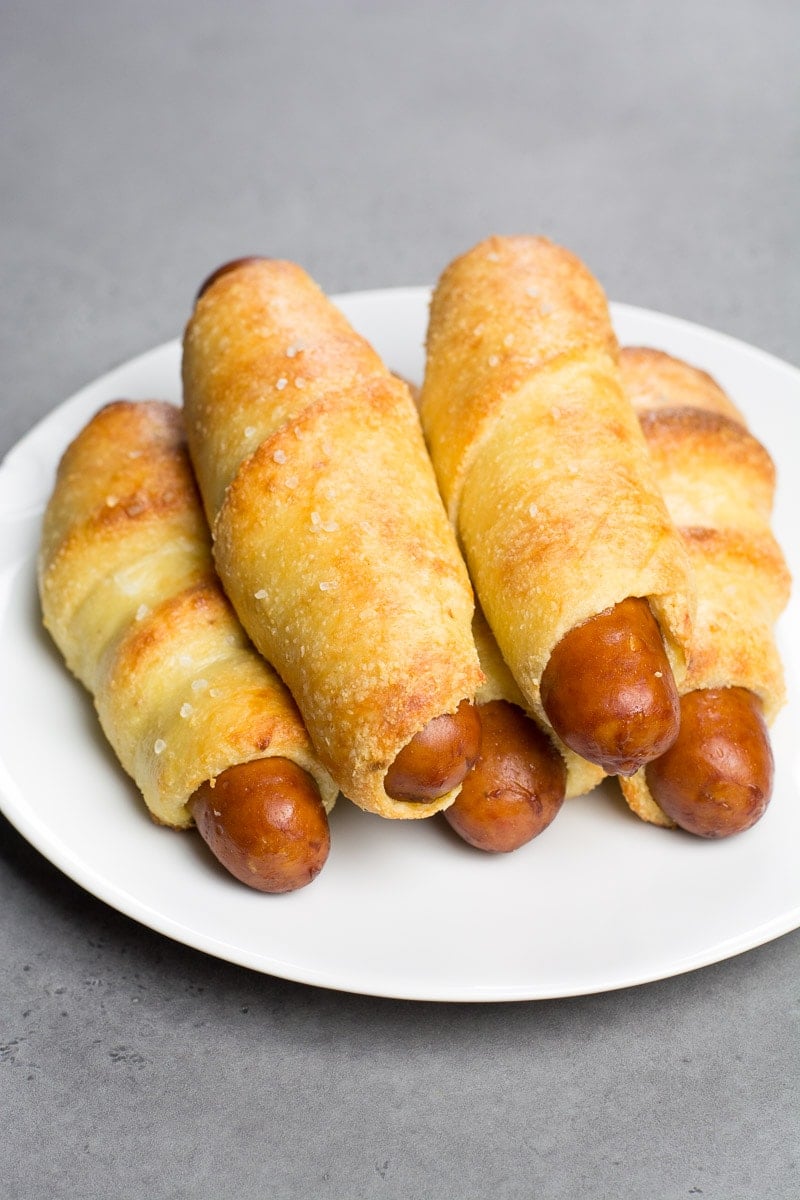 If you guys follow me on Instagram, you might have seen these keto pigs in a blanket a couple times. I have been working on making the PERFECT keto pigs in a blanket recipe because sometimes we just need to eat like a kid, right?
These low-carb pigs in a blanket are easier than you think. I modified my favorite keto fat head dough to create a dough that is awfully similar to crescent roll dough. It is light, fluffy and pairs perfect with your favorite hot dog or smoked sausage links! They also make absolutely amazing Keto Chili Cheese Dogs!
Ingredients in Keto Pigs in a Blanket
This is a 100% homemade pigs in a blanket recipe that uses my go-to keto dough to wrap the hot dogs. Here's what you'll need to make them:
Mozzarella Cheese
Cream Cheese
Baking Powder
Egg White
Hot Dogs or Smoked Sausage Links
Optional: Egg wash and seasonings for the top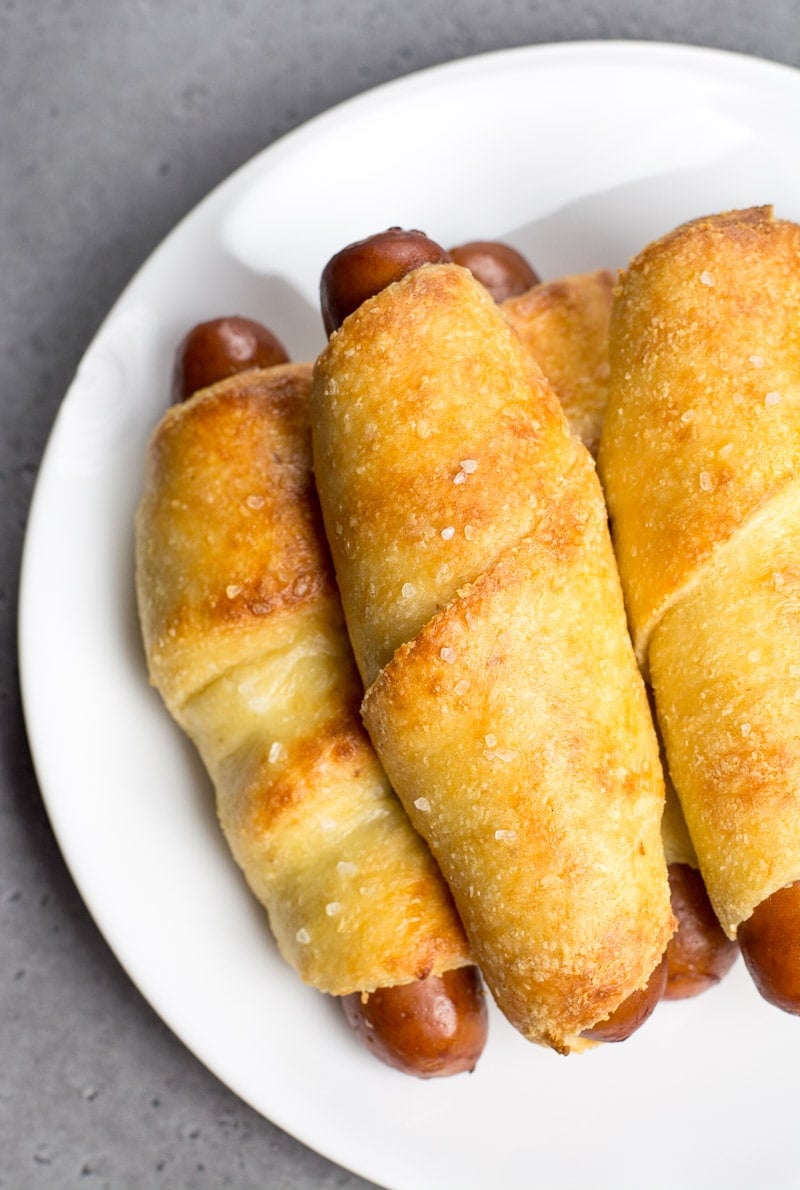 How to Make Keto Pigs in a Blanket
It's so easy to make these naturally gluten-free pigs in a blanket! First, you'll make the keto fathead dough and then you'll assemble the pigs in a blanket.
How to Make Dough for Pigs in a Blanket
In a large microwave-safe bowl, combine the mozzarella cheese and cream cheese.
Heat in 30-second increments until cheese is completely melted. Stir to combine.
In a second smaller bowl, combine the almond flour and baking powder. Mix in the melted cheeses.
When the almond flour and cheese are nearly combined, add in a beaten egg white and stir well
How to Assemble Pigs in a Blanket
Lay the dough on a silicone baking sheet.
Place a second silicone baking sheet on top and spread the dough into a thin rectangle.
Slice the dough into 6 strips.
Wrap the dough around the hot dogs, overlapping slightly.
Lastly, brush with an egg white and sprinkle with salt or Everything But the Bagel Seasoning if you wish.
How Long to Cook Pigs in a Blanket?
These keto and gluten-free pigs in a blanket need to bake at 350F for about 18-20 minutes, or until golden brown.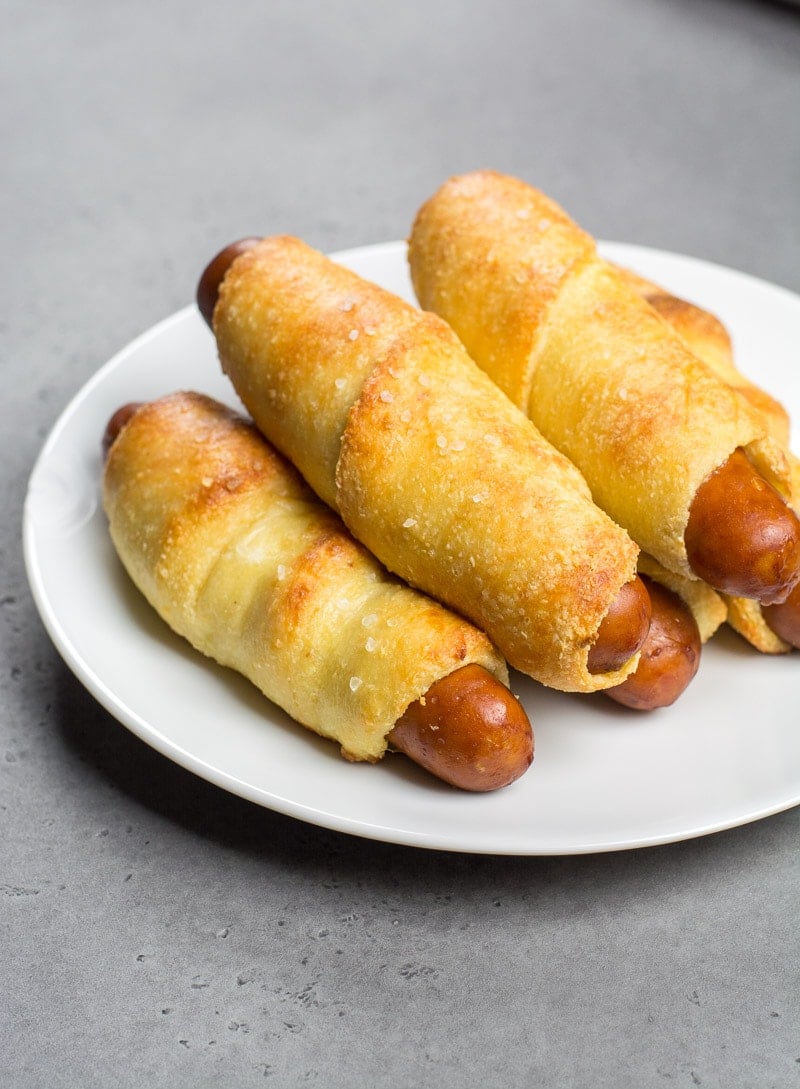 How Many Carbs are in Keto Pigs in a Blanket?
This can vary depending on the variety of meat that you use. For this recipe, I used Johnsonville Smoked Sausage links, which has 2 net carbs per link. That is on the higher end of most of the brands I checked. Generally hot dogs are 2-1 net carbs per link.
The low-carb dough in this recipe has 2.1 net carbs if you divide it into 6 sections to make 6 pigs in a blanket. So my version using Johnsonville Smoked Sausage were about 4 net carbs each. However, if you use a lower carb meat yours may come in closer to 3 net carbs each.
What to Serve with Pigs in a Blanket
I love that this is a 30-minute meal that even picky eaters will love! You can serve with a quick garden salad to keep things nice and easy, but if you want a few options for other side dishes these are some of my favorites!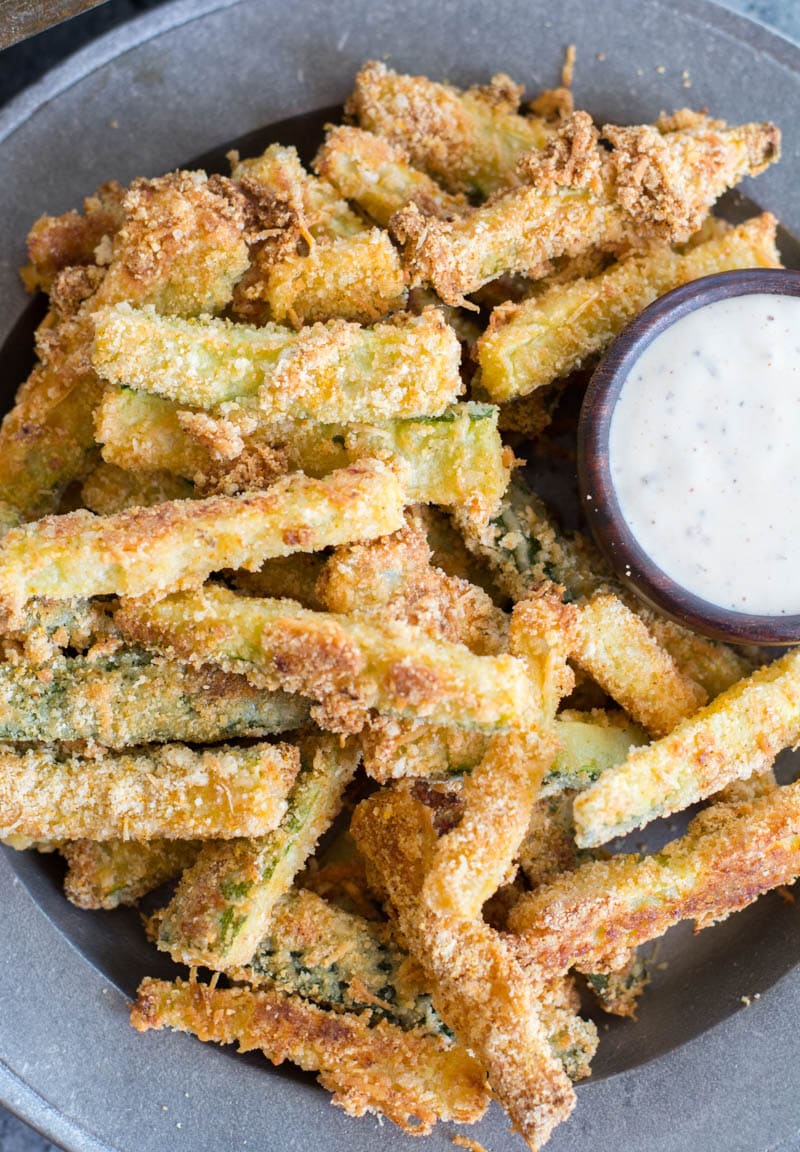 Tips for Making Homemade Pigs in a Blanket
I've only made this recipe as written, so I can't suggest an alternative to the almond flour.
I highly suggest investing in a set of silicone baking mats. They make this recipe much easier and it is also the key to making amazing keto taquitos!
If you don't have a silicone baking mat, use parchment paper or foil to line your baking tray. You should also spray it with a nonstick spray!
More Keto-Friendly Dinner Recipes: