These super crispy, super stuffed Keto Chimichangas are perfect for a low-carb Mexican dinner! Each one is under 7 net carbs, and it's easy to meal prep for a quick weeknight dinner!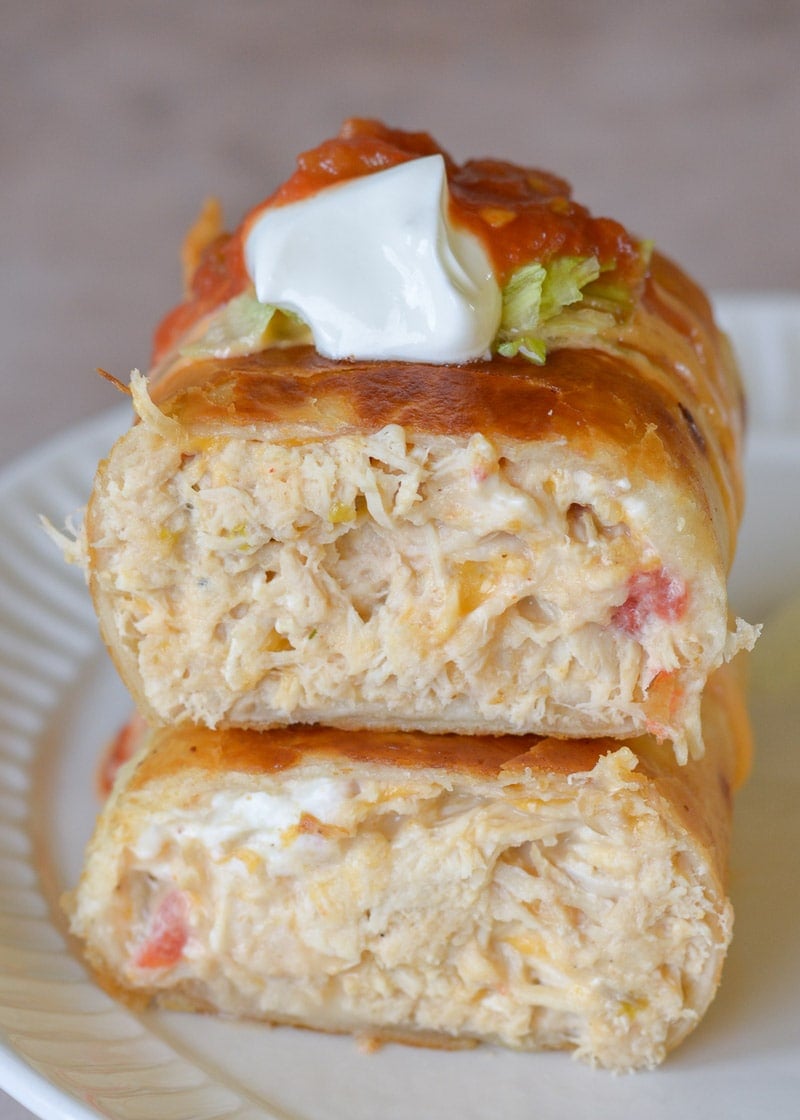 These Keto Chimichangas are just SO good! The filling is super creamy and cheesy while the tortilla crisps up to a perfectly crunchy shell. You can make these in the air fryer, bake them in the oven, or fry them in a pan on the stove, making it super convenient!
Another convenience factor: They are ready super quickly–15 minutes if using the air fryer! If you're cooking for a crowd and need to bake them, no worries… Still ready in 30 minutes. If you like to meal prep, you can make the filling in advance, allowing you to just assemble, cook, and sit down for dinner in 10 minutes on a busy weeknight!
These can be topped with salsa, guacamole, and sour cream if you want all the fixings. Feeling super cheesy? Top them with cheese and let them sit under the broiler a minute for a super over-the-top cheesy goodness! You could even drizzle a bit of this Chuy's Jalapeno Ranch Copycat recipe over it for an extra creamy, spicy kick.
For an appetizer, consider serving this delicious Avocado Bacon Dip with some cut and toasted low-carb tortillas! Or bake some sliced cheese for these Easy Keto Nachos. The perfect side dish with these keto chimichangas: Cilantro Lime Cauliflower Rice!
Keto Chimichanga Ingredients
As always, this is a quick overview. For specific measurements and instructions, keep scrolling to the printable recipe card!
Chicken – Pre-cooked and shredded (This could be leftover rotisserie chicken, or you could use this slow cooker chicken recipe)
Cream cheese – full or reduced fat are fine
Shredded cheese – I used sharp cheddar, but you can use your favorite mix.
Green Chiles – I used mild canned green chilis… Definitely recommend sticking with mild!
Salsa – any kind, you only use a tiny bit
Spices – cumin, garlic salt, garlic powder
Tortilla – I used Mission Carb Balance Tortillas, but you can use your favorite low-carb brand.
Oil – I used avocado oil, but olive oil works well, too. Spray oil makes air frying super easy!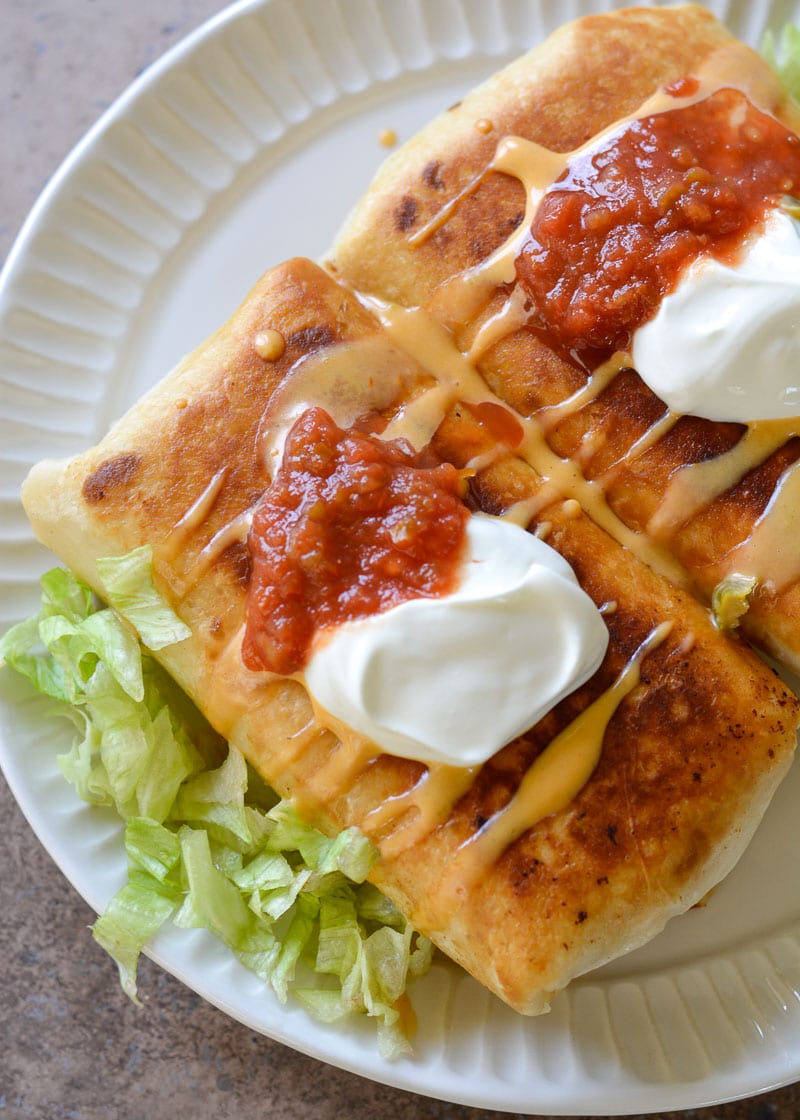 How do you make Keto Chimichangas?
Start by combining the filling ingredients and stirring well. It's easiest to use room temperature cream cheese so you can make sure there are no clumps remaining. Add the filling to the center of a large tortilla, fold the ends toward the filling, then roll the edges in (the same way you would roll a burrito). Place the chimichanga seam side down.
I'm including instructions for making these low carb chimichangas in an air fryer, in the oven, or on the stove! If you're doubling the recipe for a crowd, the baking instructions will probably be easiest. Whichever method you choose, don't skimp out on the oil! That's the key to getting a beautifully crisp exterior for a good crunch.
How to make Air Fryer Chimichangas
Preheat the air fryer for 3 minutes. Brush or spray all sides of the chimichanga with oil and place seam side down in the air fryer. Cook 4 minutes, then flip. If your seam is trying to open, use a toothpick to secure or let it cook an additional minute seam side down. Cook an additional 4-5 minutes until it has browned to your liking.
How to make Baked Chimichangas
On a greased baking sheet, place chimichangas seam-side down. Preheat the oven to 400 degrees F, then brush or spray chimichangas well with avocado oil or olive oil. Bake 20-25 minutes until golden brown.
How to make homemade Fried Chimichangas:
Heat a skillet over medium heat, then add enough oil to cover the bottom of the pan. Place the chimichanga seam side down and cook 2-3 minutes until golden brown. Then turn and cook all sides until golden and crisp.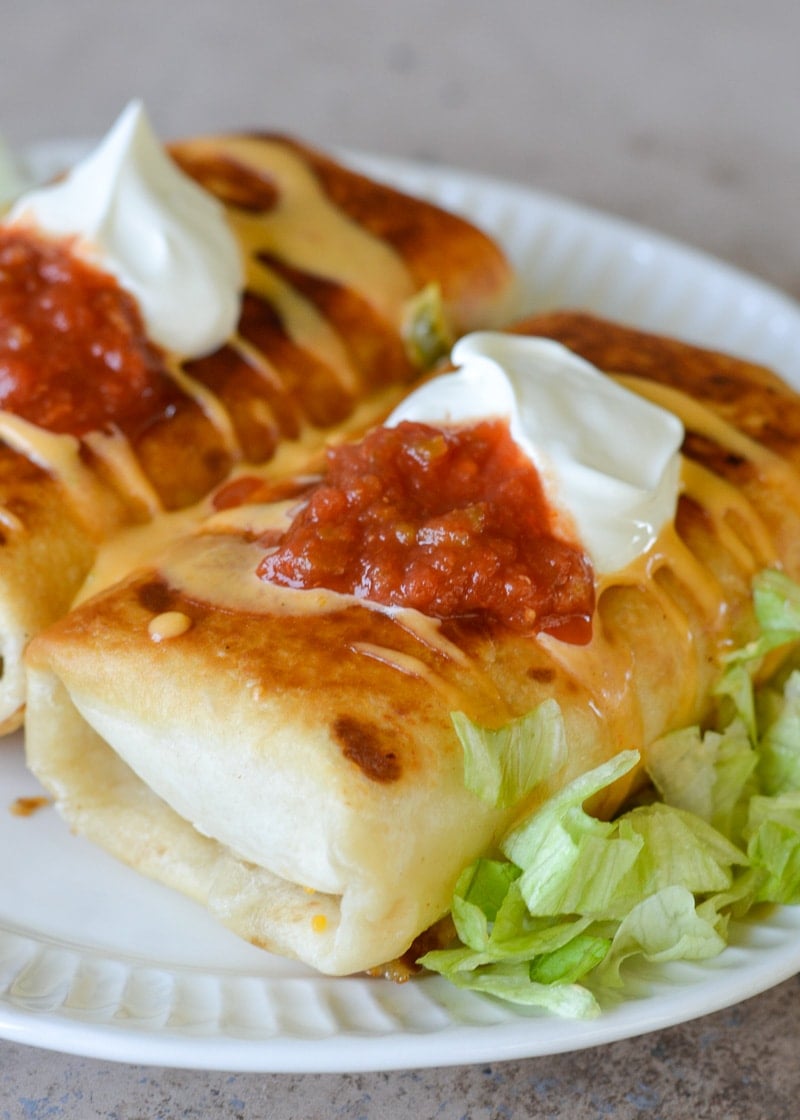 How do you stop chimichangas from falling apart?
As the cheesy filling warms up, this should help the tortilla stay in place–That's why we have them seam-side down. If you are cooking them in the air fryer or in a skillet and it begins to open up as you're flipping, cook seam-side down one minute longer. If this continues to be a problem, simply use a toothpick to keep the tortilla rolled together around the filling!
Is this good for Keto Meal Prep?
Yes and no. While I don't recommend assembling and cooking these ahead of time–You risk the tortillas getting soggy and losing that crisp shell–You could easily make the filling ahead of time! This creamy, cheesy filling can be mixed together and stored in the fridge up to four days. When ready to serve, just scoop onto the tortillas, roll them up, and cook them in the air fryer, oven, or on the stove!
You could easily double the filling and use it as a filling for pinwheels or as a dip with cut and toasted low carb tortillas. It's a great, versatile base for any recipe that needs something creamy, cheesy, and packed full of protein!
More Keto Mexican Recipes: