Are you looking for a butter substitute? Check out this list below for the Best Butter Substitutes for baking, day to day cooking, or anything else in your kitchen!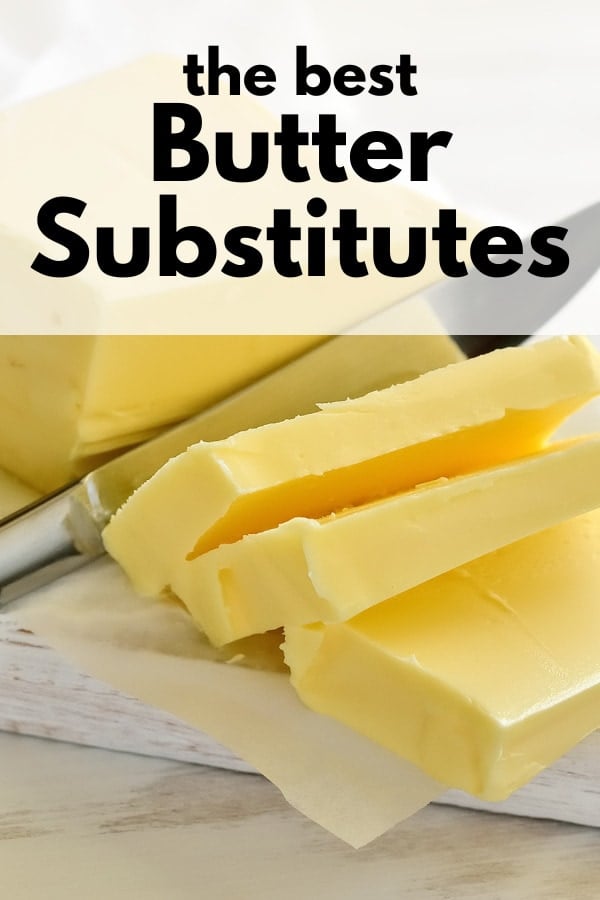 Butter Substitutes
Butter is a staple item in most kitchens, as well as in many of my recipes. It's a common ingredient when cooking, but that doesn't mean you can't make delicious food without it! There may be times when you are cooking for a guest who doesn't consume butter, you may be cutting items out of your diet, or you may just run out.
Of course, if you have the time, you can make your own. But that is a time consuming process. There are several options for a butter replacement, and you likely have some in your pantry already. I've compiled a list of the Best Butter Substitutes for you, so you can take on this new cooking challenge with confidence!
The first way to determine which butter substitute is best is by what kind of dish you're preparing. Butter brings different qualities to food depending on how you're cooking. In some instances, butter could be used for fat. In others, for a boost of flavor. Sometimes butter brings texture to a dish. So determining your needs is important to figuring out which butter replacement is best.
In this list of The Best Butter Substitutes, I'll walk you through what your options are and when you should be using them.
What is butter?
Butter is heavily churned heavy cream that can be either salted or unsalted. Butter is dairy and contains high amounts of fat that makes it a common ingredient in baking.
Why you may need a Butter Replacement
There could be several different reasons why you, or someone you know, is cutting butter out of their diet. Let's go over some common reasons why:
Lactose Intolerance
If you or someone you are preparing food for has problems with lactose intolerance, then butter may be difficult for them to digest. If this is the case, you want to try to remove as many products with lactose in them from your diet.
Milk Allergy
Lots of people cannot tolerate milk in any form in their diet. If you have a very severe milk allergy, you may not be able to tolerate any butter at all. If you allergy is more mild, it may still be beneficial to you to remove butter where possible.
Veganism
If you are a practicing vegan, then you will want to avoid butter, as it is an animal product.
Health Concerns
Butter is high in calories and fat, including saturated fat. If you are looking towards a diet that is more heart-healthy, removing butter is a good place to start.
Substitutes for Butter
Which Butter Substitute is the best for what you are preparing, and how much of it do you need? Read below to find out more.
1. Oil
Since oil is a fat, it can easily be used as a replacement for butter in a recipe. This swap will work well for pan frying or sauteing and can also be used in baking. Keep in mind, your baked goods that are made with oil will be more dense than if they were made with butter.
Ratios of Oil to Butter
Canola Oil- you will need 3/4 of canola oil compared to butter. So if the recipe calls for 1 cup of butter, you will need 3/4 cup of canola oil.
Olive oil- 3/4 substitution, as described with canola oil. So 3/4 cup of olive oil to 1 cup of butter.
Coconut oil- this is a 1:1 ratio, so 1 cup of butter will require 1 cup of coconut oil.

You will need to measure the oil in it's solid form, not melted.

Avocado oil- this oil can be used in a 1:1 ratio, so 2 cups of butter will equal 2 cups of avocado oil.
Try using an oil instead of butter in this recipe for Steak and Eggs!
2. Margarine
Margarine is similar to butter and can be used in a 1:1 ratio. However, margarine does provide less flavor than butter and may not produce as good results as butter does in certain baking techniques. If you are making something that requires layering, such as a pastry, butter will give you the best results.
Try margarine as a butter swap in these Italian Mushrooms!
3. Shortening
Shortening is another good source of fat, and can be used in a 1:1 ratio when substituting for butter. It can be used in many baking projects and is excellent for frying. Shortening doesn't have very much flavor on it's own, so I wouldn't use it for foods that need a buttery flavor, such as a frosting.
Give shortening a try in these Gluten Free Biscuits!
4. Vegan Butters
There are many options for vegan butters on the shelves now, and they can be used in a 1:1 ratio for butter. Vegan butter is a good choice for baked goods, but it doesn't have much flavor, so it is not recommended when butter is used specifically for flavor.
Change out the butter for a vegan butter in this Berry Crisp!
5. Pumpkin Puree
Pumpkin puree is a surprisingly good alternative to butter in baked goods (it can also replace eggs!). It provides fat and moisture, but keep in mind it cannot be used as a replacement for creamed butter. So if your recipe requires you to cream butter and eggs together, pumpkin puree would not be the best choice. Use pumpkin puree in a 3/4 ratio– so, 1 cup of butter will be 3/4 cup pumpkin puree.
Give pumpkin puree a try in these Grain Free Fig Bars!
6. Buttermilk
Buttermilk provides moisture and fat and is a great alternative. You will need half as much buttermilk as butter in a recipe, so if it calls for 1 cup of butter, you will 1/2 cup of buttermilk.
Try buttermilk instead of butter in this Tuscan Chicken!
7. Greek Yogurt
Greek yogurt will cut down the fat amount of your baked goods without sacrificing texture. I recommend using a plain, unflavored variety. Greek yogurt can be substituted in a 1:1 ratio.
Use greek yogurt instead of butter in this Peppermint Pie!
8. Mayonnaise
Mayonnaise is a great way to get a similar creaminess and texture to your cooking without using butter. It is great as a spread or flavor additive, but it can leave behind a tanginess that some don't like in their baked goods. Mayonnaise can be used in a 1:1 ratio to butter.
Try this Air Fryer Grilled Cheese with mayonnaise!
9. Applesauce
Applesauce is a great alternative to butter if you are vegan. It is known to provide moisture, but it doesn't crisp up well, so avoid it in baked goods like cookies. Applesauce can be substituted for butter in a 1:1 ratio.
Use applesauce in these Gluten Free Chocolate Cookies!
10. Bananas
Mashed bananas can provide moisture and sweetness to baked goods such as sweet breads or muffins. They are not recommended for lighter baking, since they will generally not crisp up. You can use mashed bananas in a 1:1 ratio to butter.
Give bananas a try in this Peanut Butter Apple Crisp!
11. Avocado
Mashed avocados are also a great way to make your baked goods vegan while reducing the calories. Avocados provide fat, but they do not add much moisture, so you will need to add extra. Mashed avocados can be used in a 1:1 ratio to butter.
Try avocado in these Almond Butter Brownies!
12. Canned Beans
This one may be the most surprising option as a butter replacement, but pureed canned beans can work! While they may change the color of your baking, black beans or Great Northern beans can work. Mash or puree your beans and use them in a cake or brownie for a vegan swap. Use mashed beans in a 1:1 ratio to butter.
Use canned beans as a substitute in this Cheesy Cheddar Cornbread!
13. Nut Butters
You can use peanut butter, cashew butter or almond butter in your baked goods instead of butter. Keep in mind that this substitution will give a different flavor, but cashew butter is known to have a more mild taste. Nut butters can be used in a 1:1 ratio to butter.
Try a nut butter in these Gingerbread Cupcakes!
Recipes Without Butter: