Slow Cooker Sweet Corn Dip makes for an impressive appetizer without any work! Just toss your ingredients in the slow cooker and come home to a creamy, cheesy dip!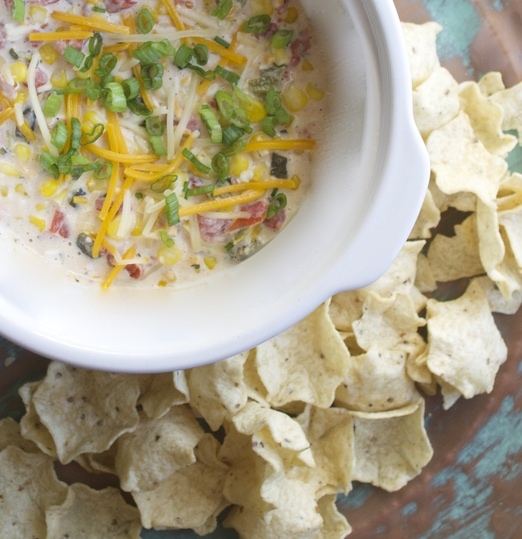 I propose a movement. A grass roots movement of sorts. A movement to declare appetizers a food group of their own.
I think they need a place of prominence on the food pyramid. Cheesy dips, crunchy chips, spicy wings! Yes! Who can live without them!
I was longing for a filling cheesy dip around 8am the other day. Since that was obviously not an appropriate breakfast option I threw some ingredients in the slow cooker and decided my craving would have to wait. Usually when I crave something cheesy, I go for something like The Best Cheesy Cornbread or Cheesy Keto Taco Bites, but today was a dip kind of day!
This dip was out of this world. The combo of sweet corn, roasted poblanos, tomatoes, cheese and ranch is kind of unstoppable. We ate it with chips and had zero leftovers. Then I made it again and added half a pound of cooked ground beef for a more filling option and it was great too. But I think I prefer the pure veggies and cheese in all their glory!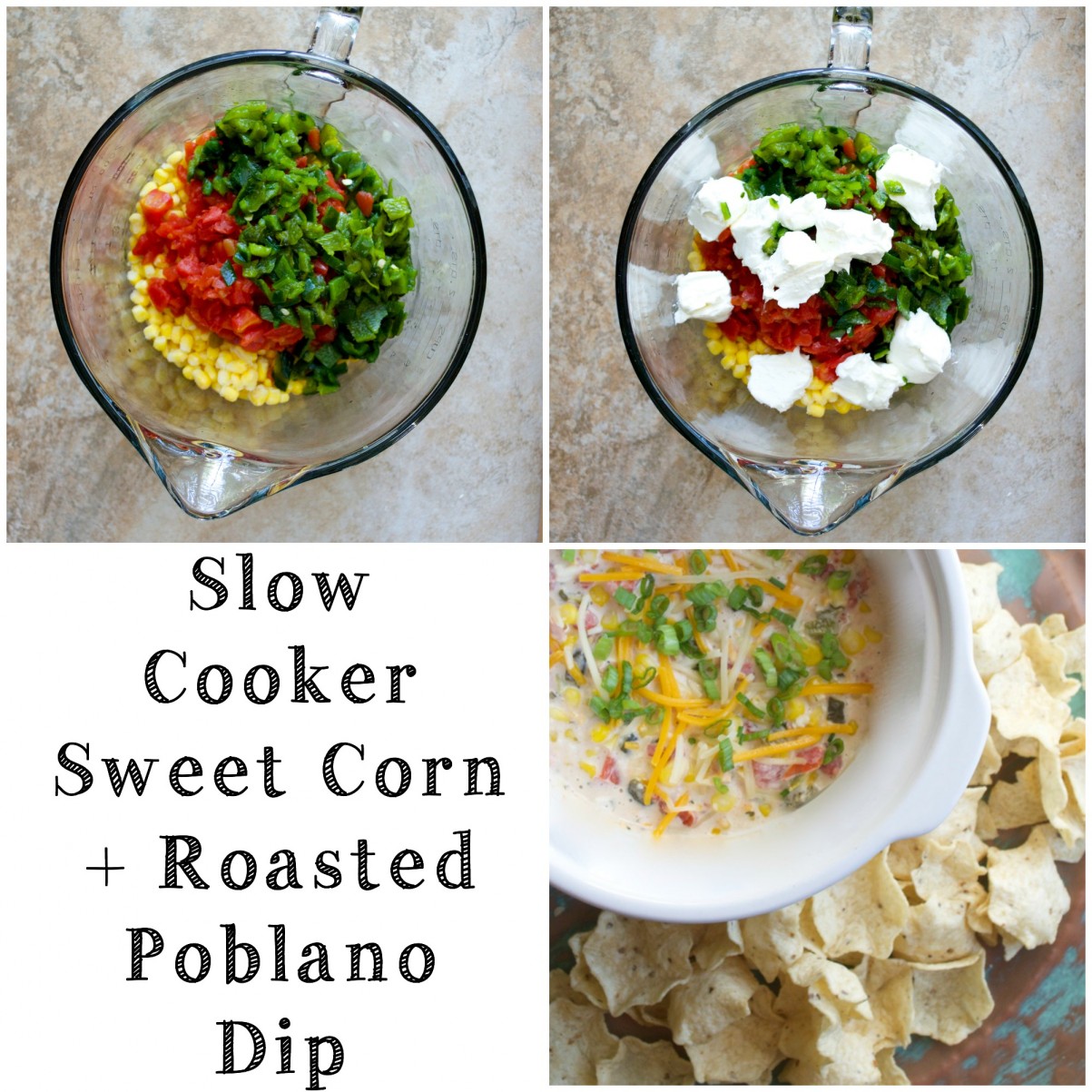 Ingredients for Slow Cooker Sweet Corn Dip
As always, here is a quick overview of the ingredients needed to make Crock Pot Corn Dip. For the complete recipe, just keep scrolling.
Sweet corn- frozen
Poblano peppers- roasted and chopped
Can tomatoes with green chilies- undrained
Cream cheese- I used reduced fat
Dry ranch seasoning
Shredded cheese- you could use a cheddar or Mexican blend here!
How do you make Crock Pot Sweet Corn Dip?
Y'all know I'm a sucker for a Slow Cooker anything- especially a creamy dip. I mean, who isn't? Here is how we made this legendary addition to our rotation!
First, you'll need to cook the peppers. Set your broiler in your oven to a lower heat and put the whole poblano peppers on a baking tray. Roast until the edges are charred and then flip and do the other side. Be sure to watch continuously!
Let your peppers cool and then remove the outer skin- it should just peel right off. Chop your peppers and discard the seeds and stems. Add to a bowl.
Next, add the frozen corn, undrained can of tomatoes, cream cheese, ranch seasoning and shredded cheese to your bowl. Finally, pour everything into your slow cooker and cook on low for six hours or high on three. And there you go!
A delectable dip I promise you'll make more than once! This Slow Cooker Sweet Corn Dip is such an easy one to keep around for get togethers or a fun treat for a weeknight fiesta!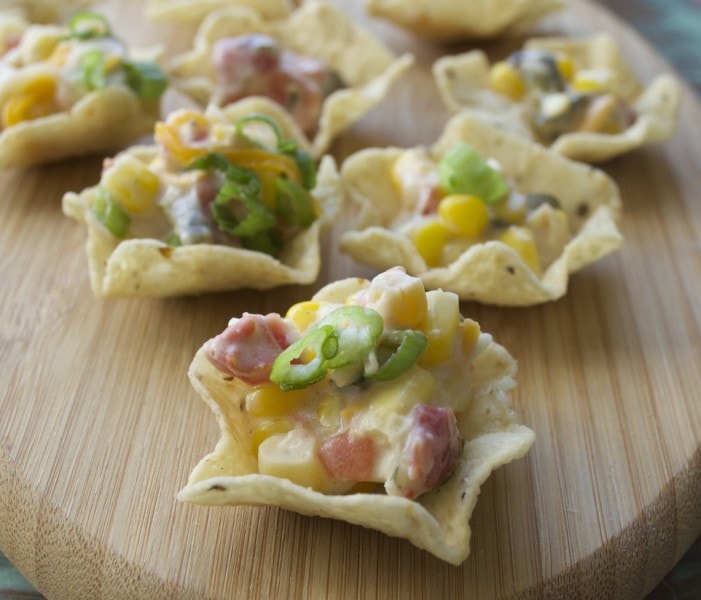 Tips and Tricks for Slow Cooker Corn Dip
There's so many ways to customize this recipe! Here's some ideas that I had:
Add meat! Ground beef, turkey, chicken or sausage would be great in this. Simply brown the meat and add to your slow cooker. Add spicy sausage for a kick!
Toppings- fresh avocado, jalapenos, corn tortillas, or your favorite hot sauce would all add to the depth of flavor of this dip
Different canned items- southwestern corn, fiesta corn or fire roasted canned corn ALL would be great here. You could also choose a type of canned tomatoes and chilies that includes more spice!
Dairy- I wouldn't recommend taking the cream cheese or shredded cheese out, but you know I love the idea of adding more dairy in! Cojita cheese, sour cream, feta, pepper jack or Mexican style blended cheese all sound like a dairy heaven I would love to go to.
Seasonings- Feel free to add whatever sounds great to you in this dip! A taco or fajita seasoning would be delicious, or if you're feeling more spicy, throw in some cajun seasoning. You could also add cumin, paprika, chili powder, garlic powder, onion powder or cayenne powder!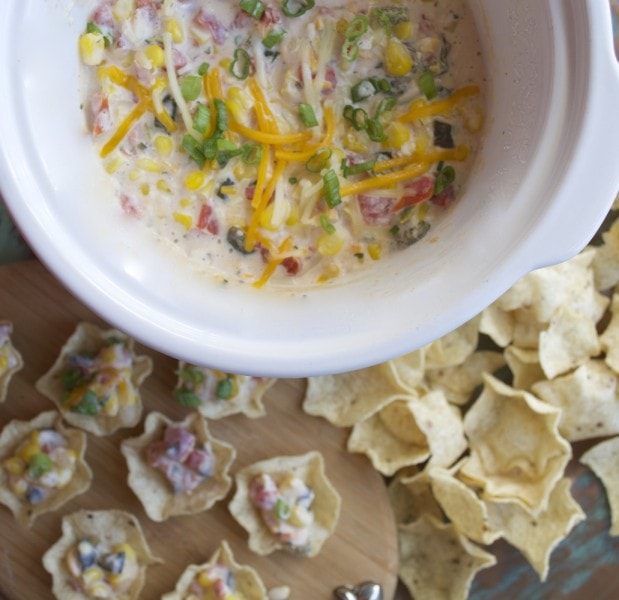 How to Store and Reheat Slow Cooker Corn Dip
As stated above, Mr. Maebell and I did not have the power of will to resist consuming the entirety of this dip. However, if you are stronger than we are, here is how to store it!
I recommend putting all leftovers in a glass or plastic container with a tight-fitting lid. Place container in the fridge. This dip will keep fresh for one week. When you're ready to reheat, simply portion out the dip onto a small plate or bowl and reheat in 30 second increments until your desired temperature is reached.
Other Dip Recipes You May Like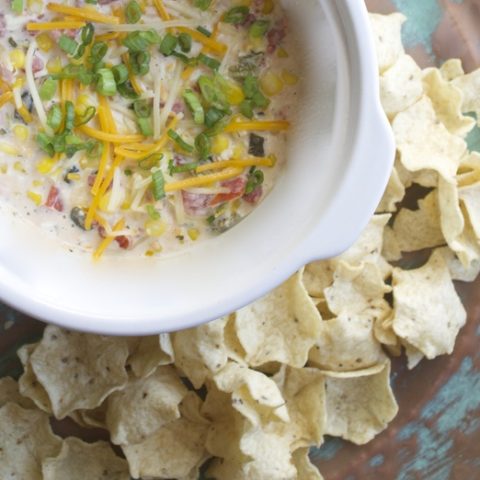 Slow Cooker Sweet Corn Dip
Total Time:
6 hours
15 minutes
Slow Cooker Sweet Corn Dip makes for an impressive appetizer without any work!
Ingredients
1 12 ounce package frozen sweet corn
4 fresh poblano peppers, roasted and chopped
1 can tomatoes with green chilis, undrained
1 8 ounce package reduced fat cream cheese
1 package dry ranch seasoning
1 cup shredded cheese
Instructions
Set your broiler to low and set your pobalnos on a baking sheet.
Place the peppers directly under the broiler and let them roast. Watch closely.
They will begin to look charred and blisters will form. Rotate so both sides are roasted evenly.
Remove peppers from heat and let cool for a few minutes.
Carefully peel the skin away from the peppers- this should come right off.
Chop peppers, discarding stems and seeds.
Combine the frozen corn, chopped peppers, undrained can of tomatoes, cream cheese, ranch and cheese.
Pour dip mixture into a small crock pot and cook on low for 6 hours or on high for 3 hours.
**Optional** You can add 1/2 pound cooked lean ground beef if you wish.
Nutrition Information:
Yield:

6
Serving Size:

1
Amount Per Serving:
Calories:

206
Total Fat:

10.4g
Cholesterol:

30mg
Sodium:

545.6mg
Carbohydrates:

20.3g
Net Carbohydrates:

12g
Fiber:

2.8g
Sugar:

8.3g
Protein:

11g