Almond Flour is an excellent ingredient for gluten free, grain free, keto, and low carb recipes! Learn how it differs from almond meal, how to make it, and check out my favorite almond flour recipes.
What is Almond Flour?
Almond flour is made when you process blanched and peeled almonds. It becomes a fine powder that can produce delicious cookies, doughs, and breads. It can be used as a 1:1 substitute with regular wheat flour, but some recipes may need more egg, xanthan gum, or another binder to make up for the loss of gluten.
Are Almond Flour and Almond Meal the same? Can I use them interchangeably?
No, these are two different things. Almond meal is coarser, thicker, and has a stronger taste of almonds because it is made by processing unpeeled almonds (sometimes blanched, sometimes not). You can tell the difference visually because it has brown specks from the almond skins. Because it contains the skin of almonds, using it results in very heavy, dense baked goods.
Because almond flour does not include almond skins and has been blanched, it can produce light, fluffy baked goods. It's lighter in color and finer, making it ideal for most recipes. If a recipe calls for flour and you instead use almond meal, you risk your food coming out extremely dense, dry, and heavy.
Carbs in Almond Flour
In 1/4 cup of almond flour, there's only 6 grams of carbohydrates and about 3 grams of fiber, meaning just 3 net carbs! Compare this to regular all purpose flour that has 23 grams of carbs and less than 1 gram of fiber.
What's the texture of Almond Flour?
Almonds are ground to a very fine texture for almond flour, similar to an all-purpose flour. There is a chance that baked goods might be more crumbly when made with almond flour. This is because regular flour contains gluten, and this is a binder holding the food together. Without without gluten often call for more eggs, xanthan gum, or other binders to compensate.
If making cookies with almond flour, you'll find that allowing them to cool completely before removing them from the pan is necessary to keep them in one piece. Without the gluten, they require the cooling time to stick together.
How do I make almond flour?
It's incredibly easy to make this gluten-free, low-carb flour at home! All you need is blanched, peeled almonds (these can be whole or slivered, whatever you can most easily find), a food processor or a very high powered blender, and a spatula. Place your almonds into the processor or blender and blend in just 1-second bursts, over and over. Every 10-15 bursts, push the almonds on the side down and stir it up a bit to make sure everything gets processed evenly. The amount of time this takes will depend on the quality of your food processor/blender blades.
Do not just turn on the processor and let it whirl… This can turn your almonds into almond butter instead! For super fine texture, pour your processed flour through a sieve or sifter, then continue processing the larger pieces that remain in the sieve.
How many cups of almond flour can I expect to get out of a bag of almonds?
For every cup of blanched almonds you pour into your processor, you're going to get between 1 and 1 1/4 cup of almond flour. Naturally, finer flour will be more compact in the cup and will have slightly less volume than courser flour. Given that 1 pound of almonds is about 3 cups, you can expect to get roughly 3-3 3/4 cups of flour from a 1 pound bag of almonds.
Is it cheaper to make almond flour or buy it?
This truly depends on your location and product availability near you, but it may be less expensive to make your own than it is to buy it. As gluten-free and keto diets become more popular, I'm finding almond flour is becoming more affordable, though, so you'll want to price check this in your own area.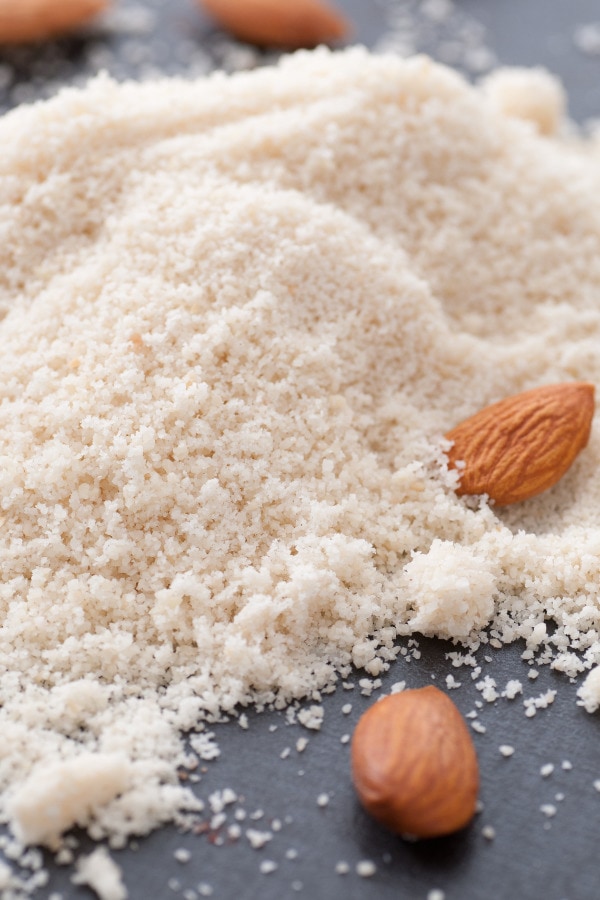 Does Almond Flour Taste Like Almonds?
No, it doesn't really taste like almonds to me–The fact that the nuts are blanched and peeled before processing really mellows out this flavor greatly. Almond meal, on the other hand, does have a heavier nutty taste with the skin included (especially if unblanched).
How to Store Almond Flour
What can I make with almond flour?
There are SO many possibilities with this healthy, gluten-free, low-carb flour! Because they're made with this low-carb flour instead of regular flour, these versions are higher in protein and fiber while also being lower in carbs than their counterparts made with all purpose flour. Here are some of the BEST almond flour recipes!
A Fathead Dough is made using almond flour, mozzarella, cream cheese, baking powder, and flax seed (optional, but it's a great way to add fiber). It makes a great Pizza Crust, Calzones, and even Keto Hot Pockets! You can use this dough in place of crescent roll dough to make Pigs in a Blanket, Bacon Egg & Cheese Rolls, or Sausage Cream Cheese Pinwheels, too. You'll love the Cinnamon Rolls!
For an easy meal prep breakfast, make these delicious Sausage and Biscuits! This recipe makes 12 simple breakfast sandwiches at just 3.9 net carbs each. These are amazing for those busy mornings and are easy to eat on the go! The full recipe with storage instructions are here.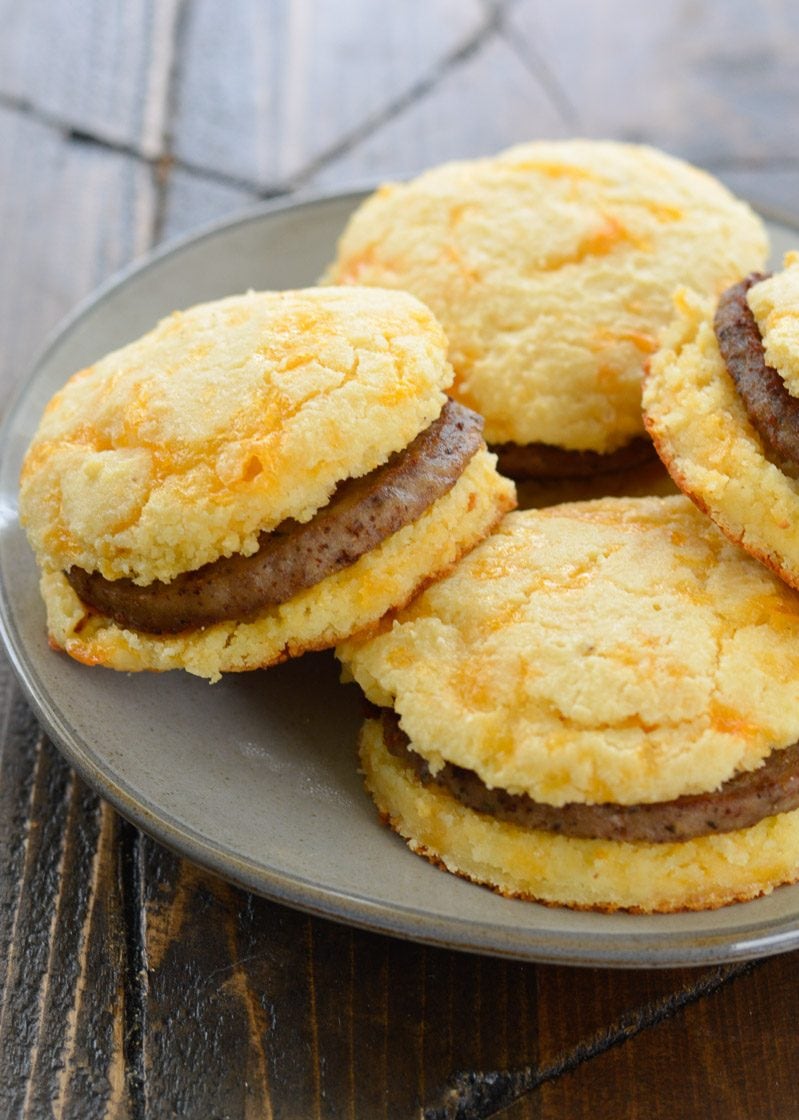 These Keto Bagels are absolutely delicious! Only 3.4 net carbs each, these have a base that is much like the fathead dough mentioned above. You can use these to make amazing Breakfast Sandwiches, Veggie Bagel Sandwiches, or even Pizza Bagels! They're easy to meal prep and freeze for later, too.
These Sausage Balls made with almond flour are gluten-free and keto friendly! Enjoy 5 for just 1 net carb — They're perfect for a meal prep breakfast, potlucks, parties, and easy lunches. This recipe makes 30 sausage balls, so you can portion them out for the week or freeze your leftovers for later! You could switch it up and use Italian Sausage or Chorizo, too.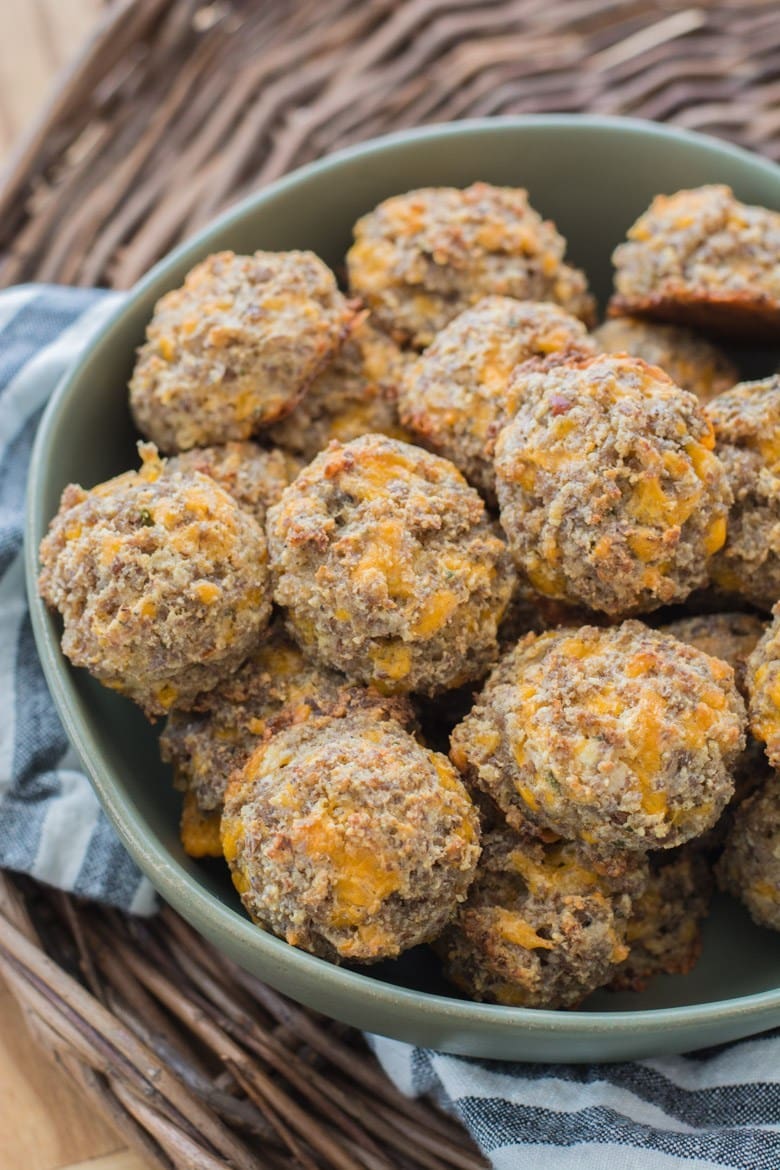 Keto Chaffles
The most basic chaffle is just cheese and egg, but I prefer to add almond flour to my chaffles for a more structured texture and less eggy flavor. You can add blueberries and cream cheese to make them sweet, or you can add savory mix-ins for Bacon Cheddar Chaffles or Ham and Cheese Chaffles.
Use them as a bun substitute for a Keto Bacon Cheeseburger, top them with pulled pork and slaw for BBQ Stacks, or use them as a crust for a Chaffle Pizza! You can even make Chaffle Bowls to fill with an easy egg scramble or a delicious salad topped with chicken. The options are endless!
You can use almond flour as a delicious breading for gluten free and Keto Chicken Nuggets! This recipe combines this gluten-free flour with parmesan and seasonings for a tasty, crispy coating that works great in the oven or air fryer. Under 4 net carbs for 8 of these nuggets make them a great kid-friendly keto idea.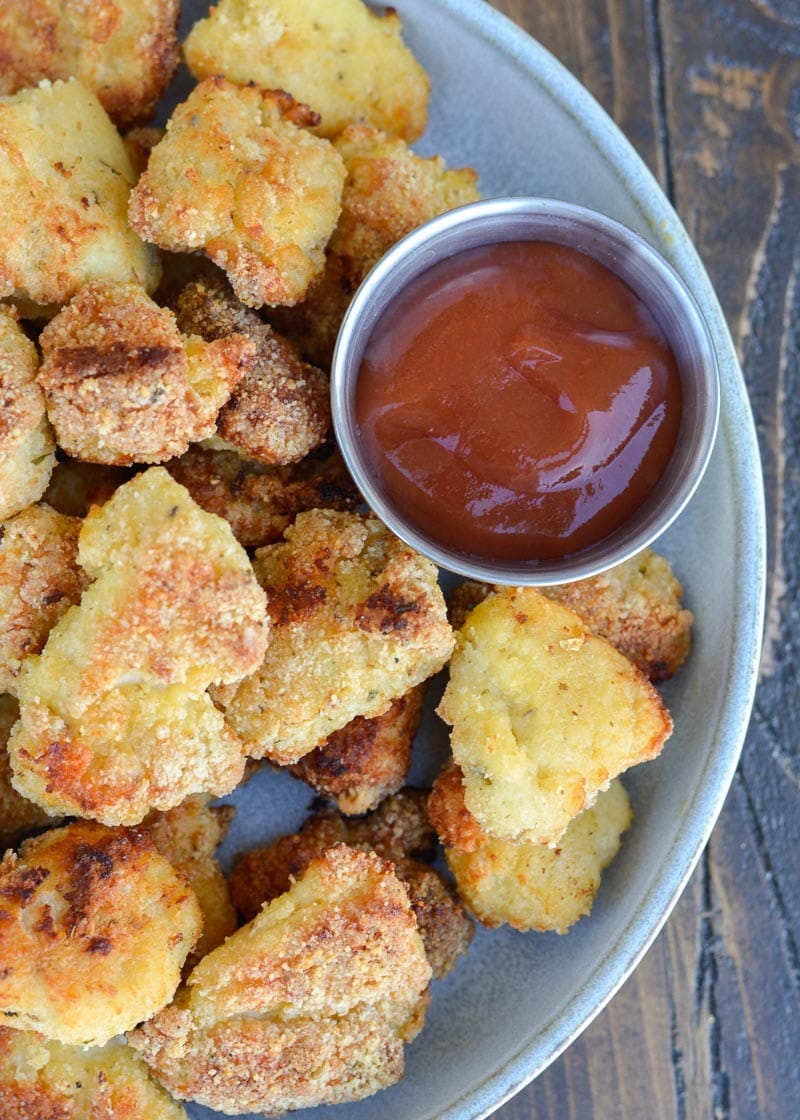 Cookies
Making cookies with almond flour is a great way to make them gluten-free and lower in carbs! This Keto Chocolate Chip Cookie recipe is one of my most popular to date… You would never guess it's sugar free, too! Soft Sugar Cookies, easy Sheet Pan Cookies, Kitchen Sink Cookies stuffed with pretty much every delicious ingredient you can think of… They're all made possible with almond flour! Nearly every cookie on this list uses almond flour.
A crispy, buttery pie crust just can't be beat, and this Pie Crust made using almond flour fits the bill every time. I've used it for an Asparagus and Cheddar Quiche as well as my favorite French Silk Pie, both with beautiful and delicious results. You can't buy a better gluten-free, low carb crust!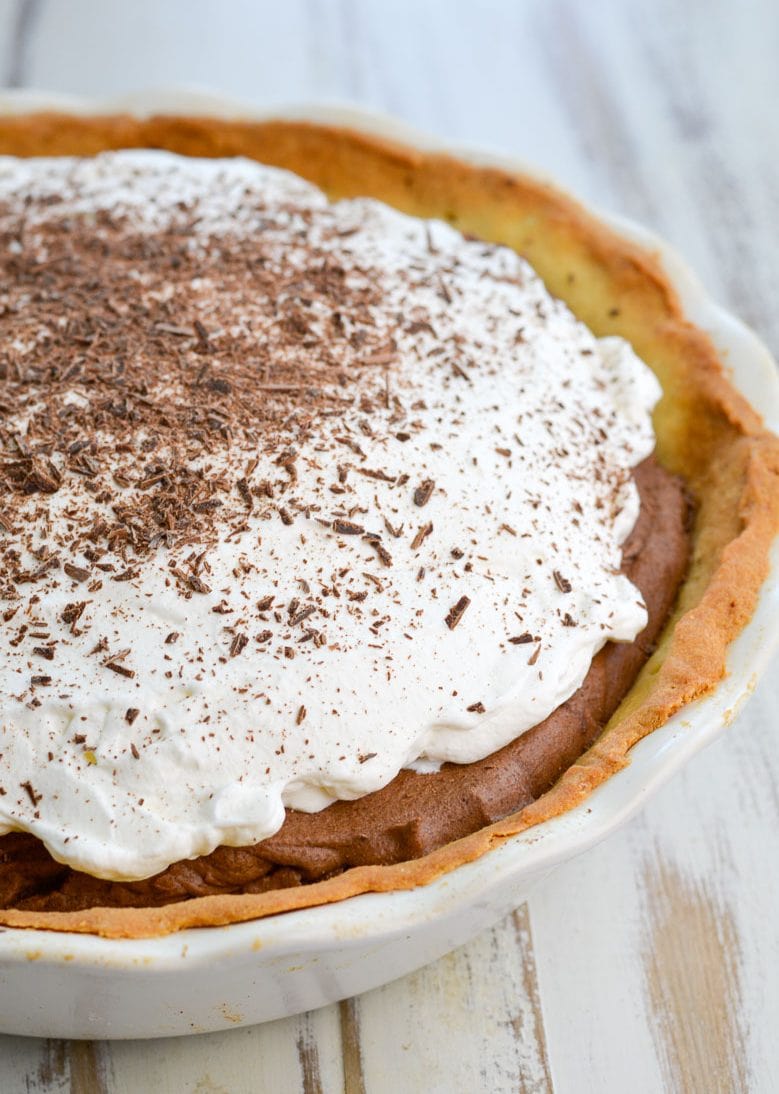 Brownies
Almond flour can make amazingly fudgy Keto Brownies, even if you want them stuffed with peanut butter, caramel, or a cheesecake swirl! These brownies can be cooked in the air fryer, too! Top them with sugar-free ganache, roasted nuts, and keto caramel for these Turtle Brownies for an amazingly satisfying dessert.
More Almond Flour Recipes: