These Oven Baked Taquitos with Turkey, Bacon, and Avocado are perfect for a quick and easy keto lunch! This 4-ingredient keto snack only has about 1 net carb per serving!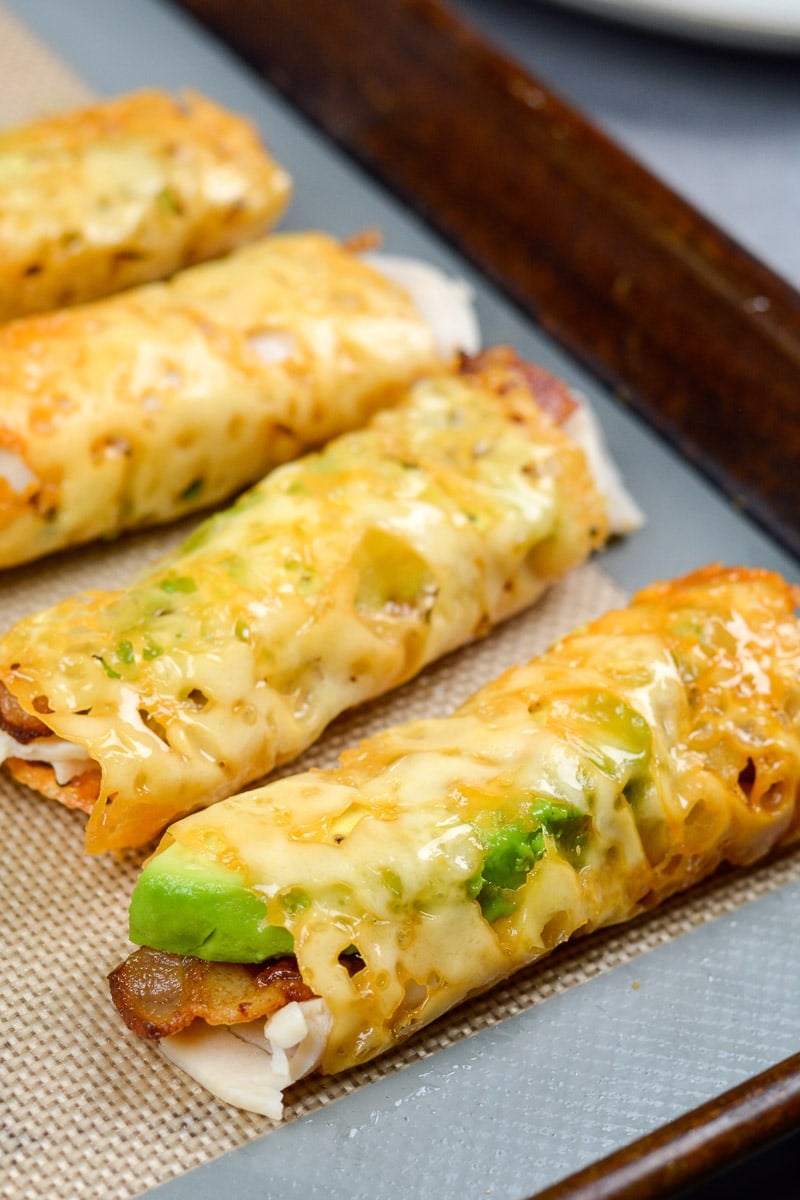 Since creating these easy Keto Buffalo Chicken Taquitos, we have been trying all sorts of new versions. These Jalapeno Popper Taquitos with Bacon were amazing! And this 4-ingredient Keto Ravioli uses the same baking method with amazing results!
I wanted to come up with something using one of my favorite combos, bacon and avocado. These low-carb cheese taquitos are packed with sliced deli turkey, crispy bacon and tender avocado. This is the perfect keto lunch!
Ingredients for Oven Baked Taquitos
To make the cheesy keto taquitos, you'll need:
Cheese slices
Deli turkey
Cooked bacon
Avocado
Ranch dressing, for dipping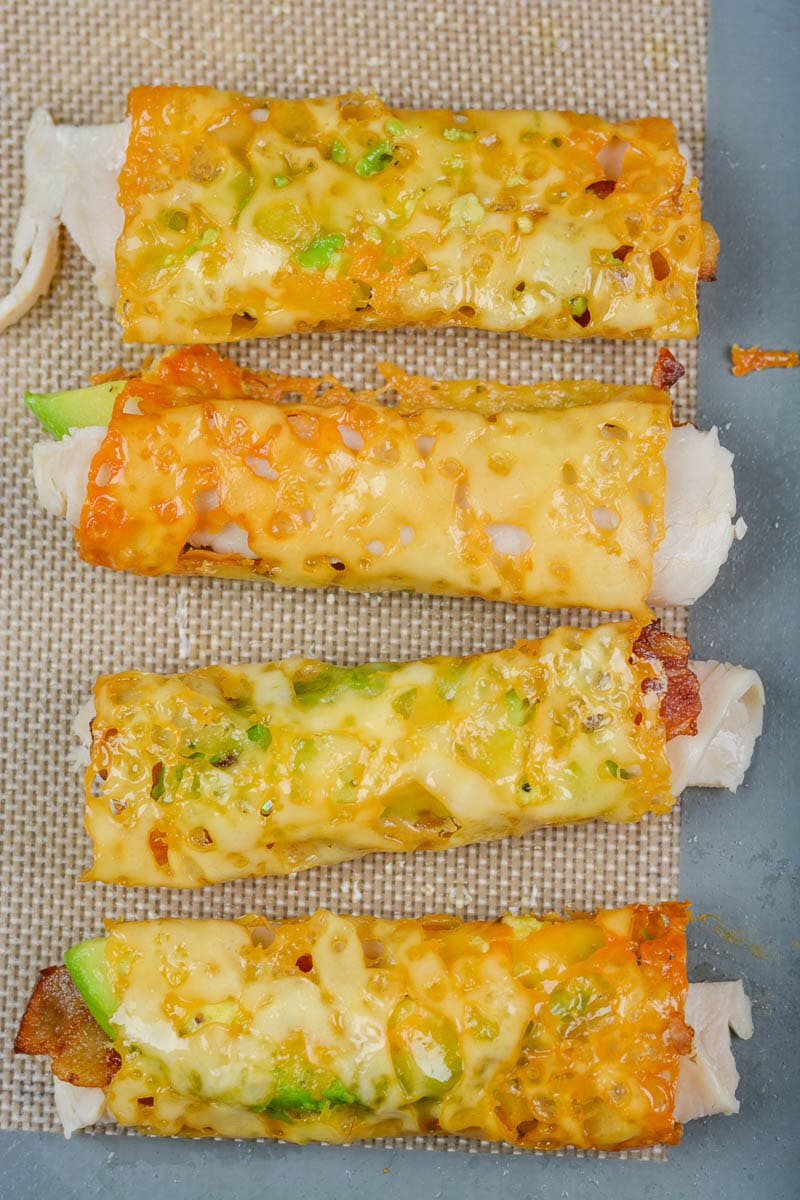 How to Make Keto Taquitos
These oven baked keto cheese taquitos are actually easier to make than classic taquitos, in my opinion!
Preheat your oven to 350 degrees F. Line a large baking sheet with a silicone baking mat.
Place the mozzarella slices on the silicone baking sheet. Bake 5-7 minutes.
When the edges have browned and the cheese is bubbly (watch the video if you need some guidance), remove from the oven.
Allow them to cool about 1 minute, just so they cool enough you can handle, but still very pliable.
Place the deli turkey, cooked bacon and avocado slice on one side and tightly roll them up, seam side down.
Serve with ranch!
Tip: I highly recommend lining your baking tray with a silicone baking sheet to make this recipe successful. This is the mat I use that prevents the cheese from cooking. You will not get the same results by using parchment paper, foil or a plain pan. Invest in a set and you won't regret it!
Can This Recipe Be Made in Advance?
No, I recommend eating the low-carb taquitos as soon as they're assembled. However, you can cook the bacon in advance and store it in the fridge for up to five days.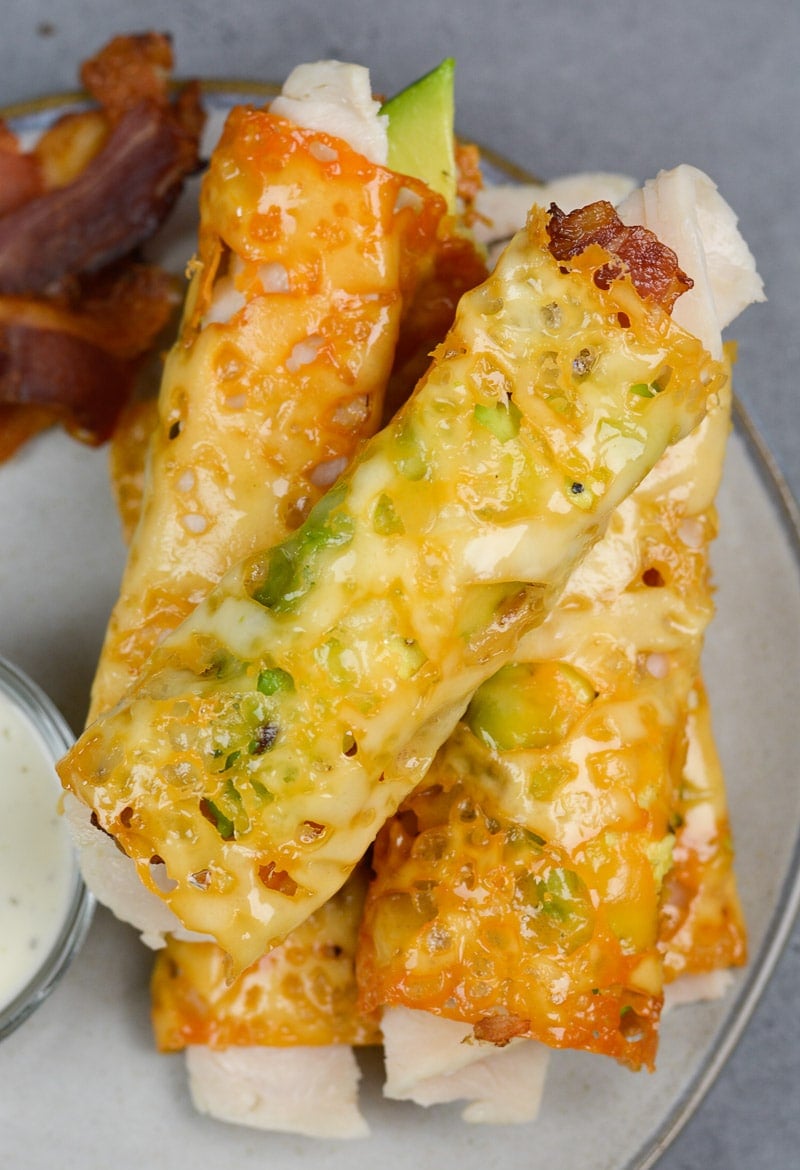 Tips for Making Oven Baked Taquitos
You can use any type of cheese you prefer, this method will work just fine for cheddar, provolone or pepper jack. However, I really like the mozzarella because it is the least greasy when baked like this.
The only thing to note is that the cooking time may vary slightly depending on the cheese you use. For example, the moisture content, thickness of the slices, if your oven is convection or not, and how many times you open it during cooking all can effect the cooking time.
So, my suggested cooking time is 5-7 minutes, but keep an eye on these the first few times you bake them.
More Easy Keto Lunch Recipes: