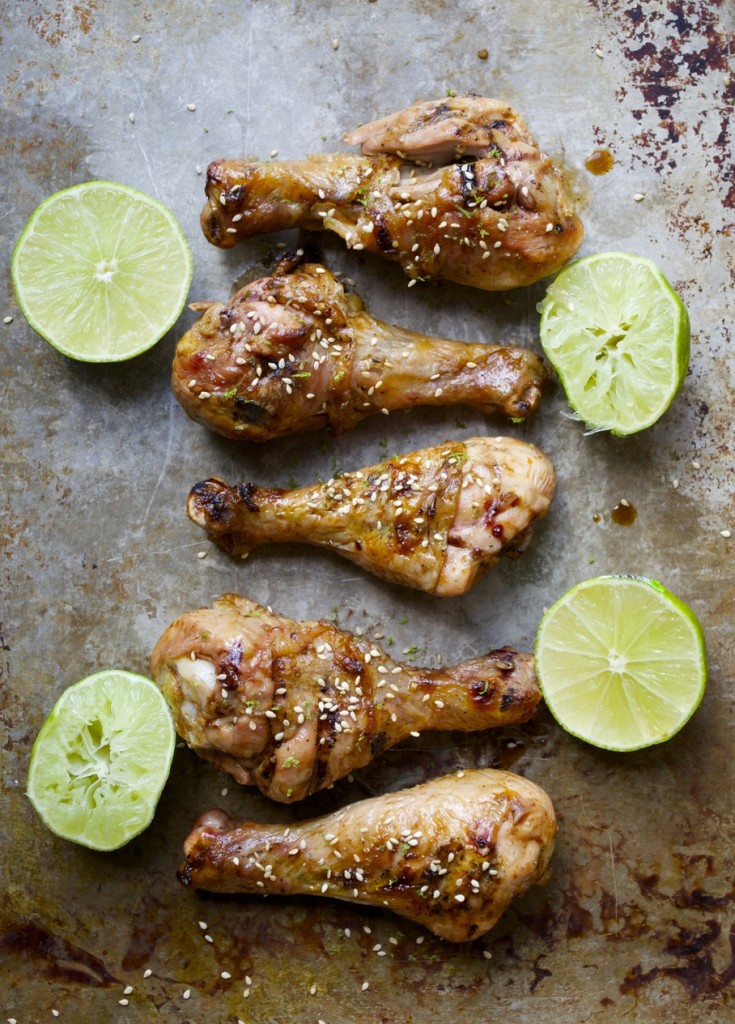 A couple weeks ago I had a bit too much going on, there was no way I was going to get everything done, plus dinner. So, I asked Mr. Maebell if he minded making dinner. This is how it went.
Him: "Oh yeah, I will make dinner, no problem!"
Me: "Really? You don't mind? It doesn't matter what we have. Something easy is fine."
Him: "Oh I've got this babe!"
Wow, I thought. I seriously do not give him enough credit! What a good husband I have!
I headed off to work, heart aflutter, because I was so impresed with how helpful he had just been.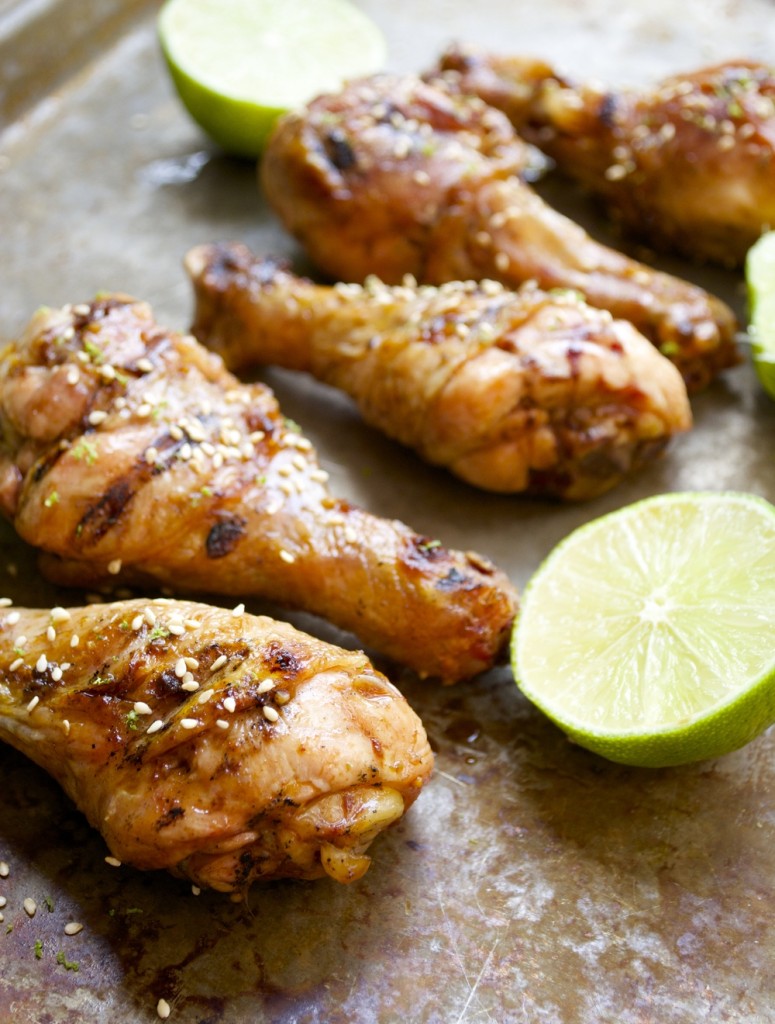 Fast forward 9 hours. I walk in the door.
"I am grillin' pork chops!" he declared with a big grin on his face. "and I am trying something new" he pulled out a ziplock bag full of pork chops in a bright red thick sauce.
"Oh yeah? Did you make up a marinade" I asked.
"Nope, I just put them in sriracha!" he said.
I just stared at him, then stared at the bright red sauce covering $11 worth of pork chops. There was nothing to do but smile. "Great!" I said.
Bless him.
We ate the hottest pork chops of our entire life. We drank the entire pitcher of water in one sitting. Midway through the meal he said "I think maybe next time we should mix the Sriracha with something else."
I just smiled and nodded. Yes, yes, we should.
It is tiny moments like that, that makes me so very happy I'm spending my life with that silly man.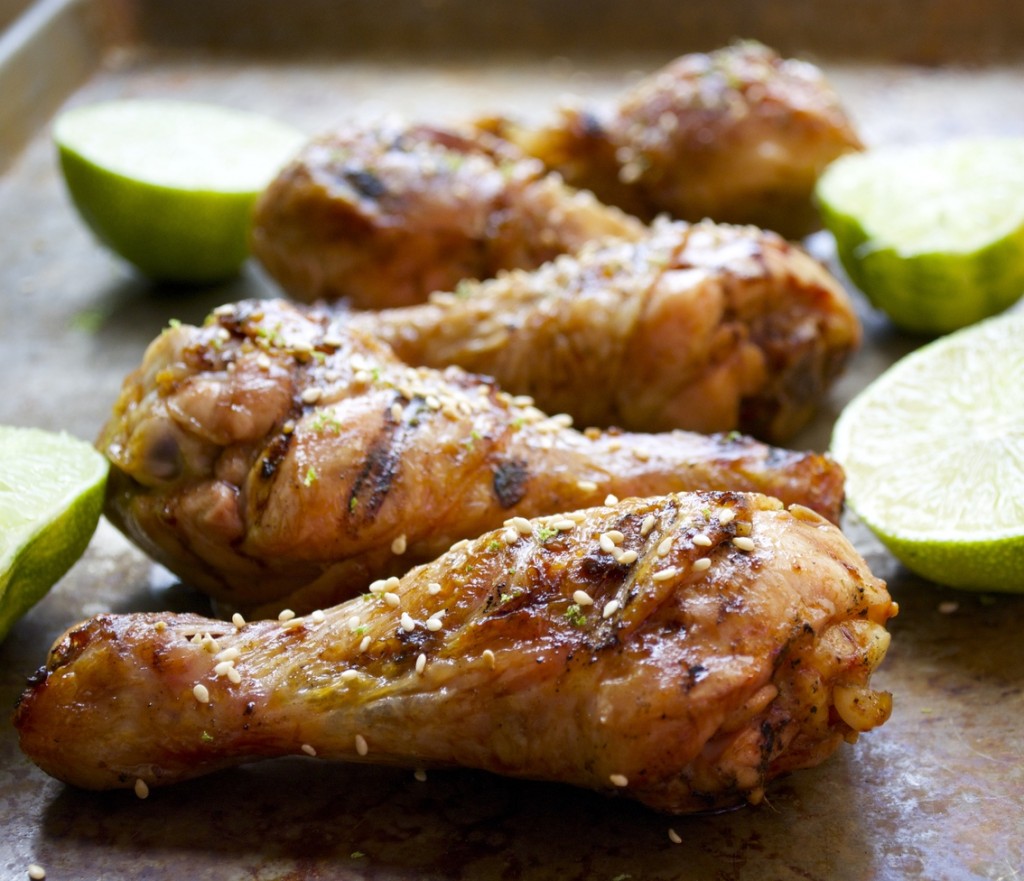 So since we love Sriracha but recently learned it cannot be used as a marinade

I decided to put it to get use in these Sriracha and Honey Lime Smoked Drumsticks. As you can probably tell from Tuesday's Italian Sliders we are on a major game day kick in this house. I am on a mission to come up with awesome appetizers that have all of the game day flair traditional chips, dips, and greasy burgers do, but none of the calories.
Instead of traditional fried wings I opted for smoked drumsticks. This is insanely easy, we just threw them on the grill with absolutely nothing on them! No oil, salt, pepper, or marinade, nada! Just smoked chicken, pure and simple. Then I made a quick and easy sauce with just five ingredients!! When the drumsticks were done, I tossed them in the sauce, and that was it!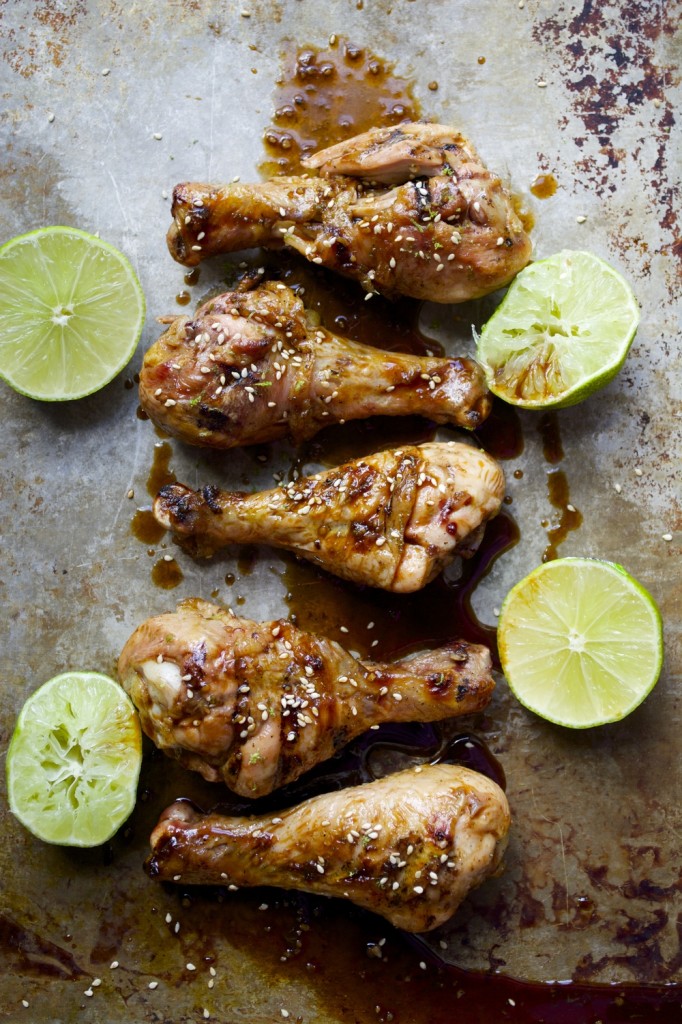 Smoked Drumsticks with Sriracha and Honey Lime Sauce
Prep time:
Cook time:
Total time:
Ingredients
2 pounds drumsticks
1½ tablespoons reduced sodium soy sauce (Lachoy is gluten free)
1 tablespoon honey
1 teaspoon sriracha
½ teaspoon minced garlic
zest of one lime
juice from half a lime
Instructions
Heat a grill to 375
Place the plain drumsticks directly on the grill and let cook for 25 minutes, turning once while cooking.
Meanwhile, add the sauce ingredients in a small sauce pan and let simmer on medium low while the drumsticks are cooking. You do not want to boil, you just want to heat the mixture so the flavors meld and it thickens a tiny bit.
Remove drumsticks from grill and place in a large bowl with a lid, pour the sauce over the drumsticks, place lid on bowl tightly and shake the bowl to evenly coat the drumsticks.
Garnish drumsticks with any additional sauce left in the bowl, sesame seeds, and additional lime zest if desired.