These Chocolate Flourless Protein Muffins are naturally gluten free and perfect for easy meal prep!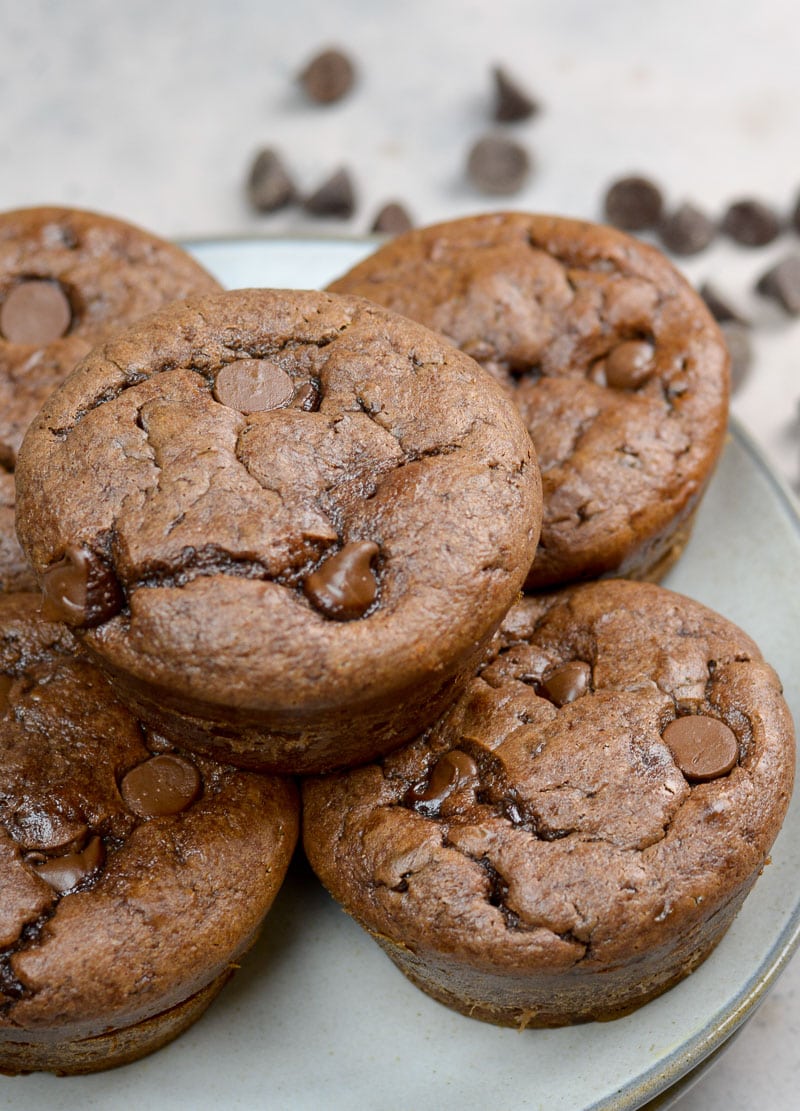 It's no secret gluten free baking can be a little tricky. We've been a gluten free family since 2006 and even I have trouble getting things just right. However, these Chocolate Flourless Protein Muffins are the exception. They make gluten free baking so easy because there are no strange or expensive ingredients, just bananas and a few pantry staples.
What ingredients do you need to make Flourless Protein Muffins?
I use the same base recipe as my super popular Flourless Peanut Butter Muffins. The original recipe just features chocolate chips, whereas this recipe is double chocolate! The ingredients you will need are:
Bananas
Peanut butter
Honey
Protein powder (whatever brand or variety you like, this is the one I use)
Baking powder
Salt
Cocoa powder
Eggs
Chocolate chips
You can make these muffins in a regular metal baking tin, however I find that a silicone pan works really well because the muffins always come out cleanly. You can also use silicone baking liners if you have those handy. I actually use this set, which has both.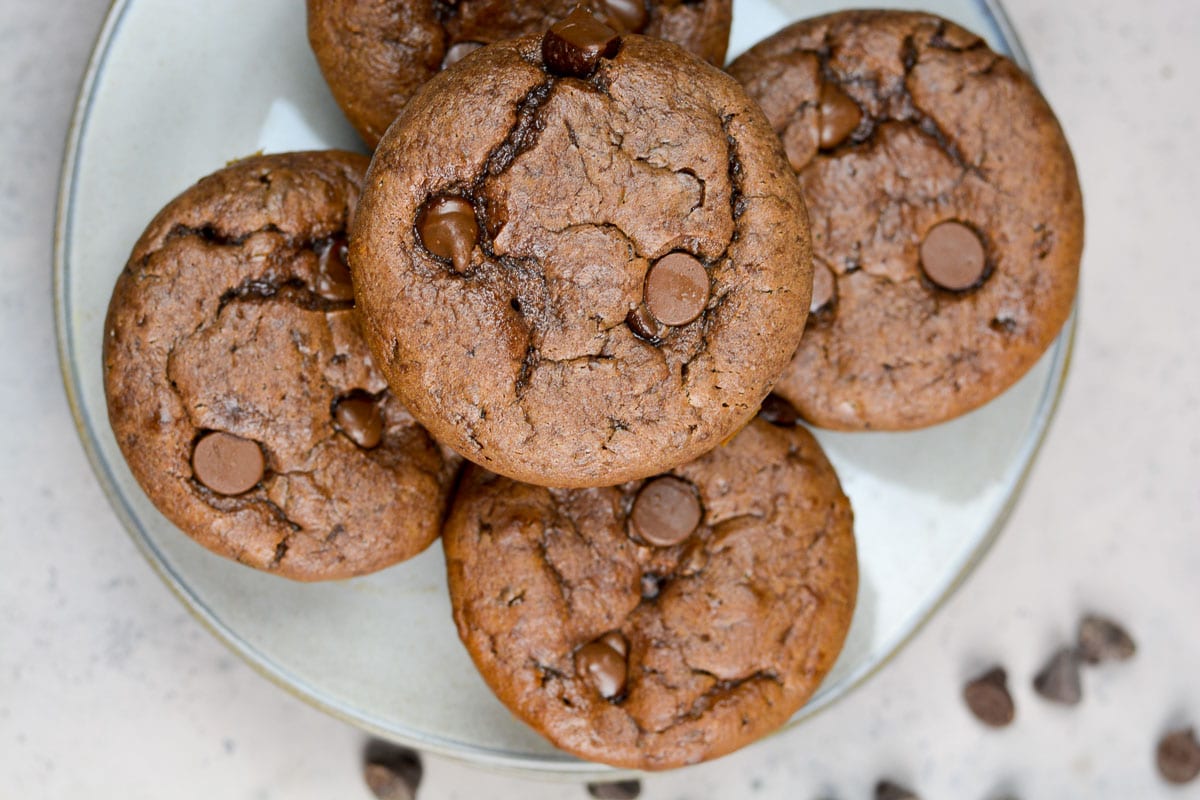 How do you make Flourless Protein Muffins?
Flourless muffins, sometimes called blender muffins, are made quick and easy by using a blender or food processor. You simply add the bananas, peanut butter, honey, protein powder, baking powder, salt, cocoa powder and eggs. Blend until a smooth batter forms.
Add the chocolate chips and pulse just a few times until the chocolate chips are incorporated well. Pour the batter into the prepared muffin tin. Bake at 400 degrees for 12-14 minutes until the muffins are set. For an extra special treat top with sea salt for a sweet and salty treat!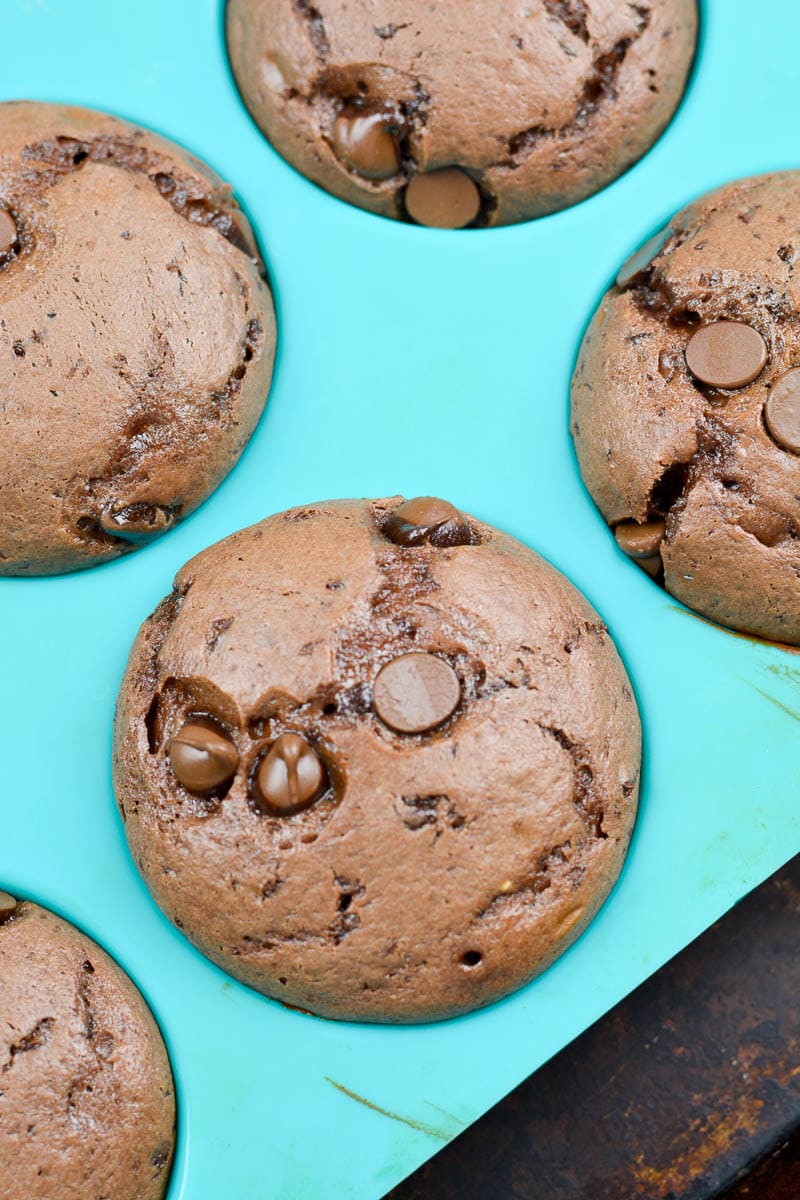 What are some other easy meal prep recipes?
If you are looking for some easy recipes that you can prep ahead of time to make life run more smoothly I have tons of options for you. Some of my favorite easy meal prep breakfast recipes are:
For lunch, I've always loved a good wrap! My favorite is this Grilled Zucchini and Hummus Wrap, but this Buffalo Chicken Lettuce Wrap is also a winner! If you are looking for something a little more substantial this One Pan Bacon Cheeseburger Mac is also gluten free and reheats so well, adults and kiddos will love it!