This Crispy Pizza Tortilla is an easy recipe you will love! It can be made low carb and gluten free for a delicious snack packed full of meat and cheese!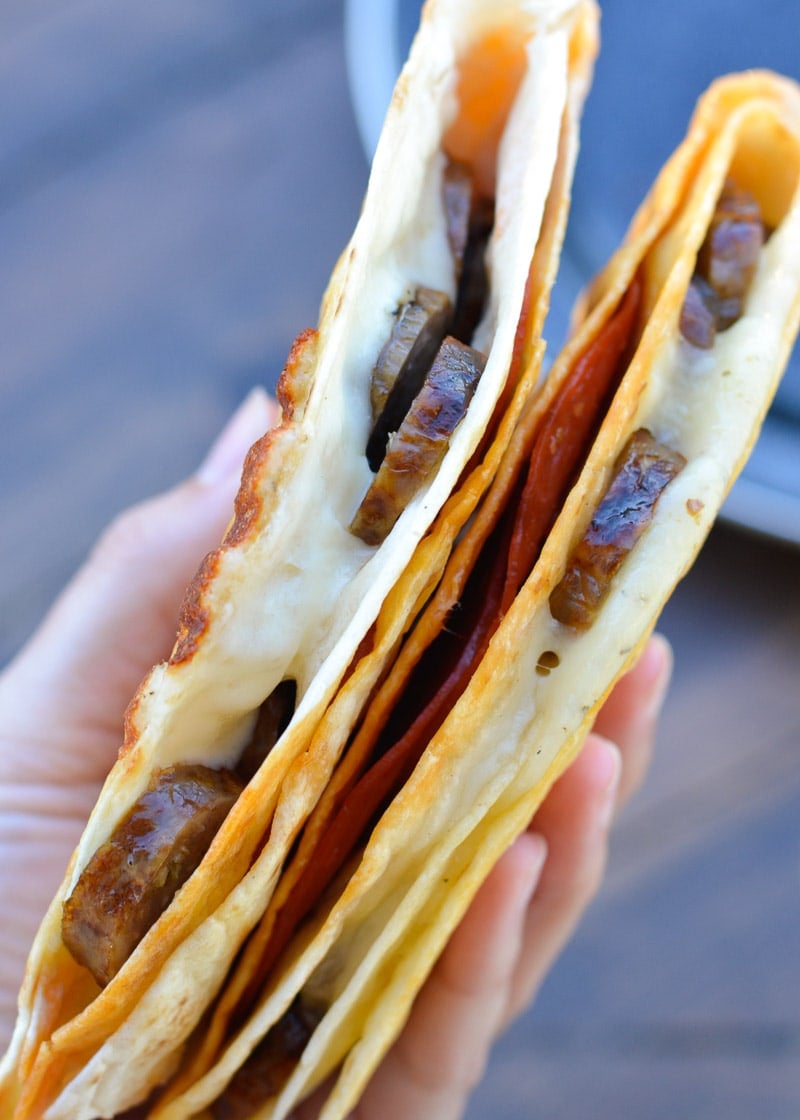 Pizza Tortilla Hack
This easy Crispy Pizza Tortilla is the perfect way to fix that pizza craving! Every bite is full of crunchy tortilla, tender meat, gooey cheese, and amazing pizza flavor. The method started trending on TikTok, and it's a mixture of a wrap and a quesadilla all in one.
This pizza recipe is a great handheld food option, perfect for kids or eating on the go. You can easily customize the ingredients for your preferences, and everyone in the family can put their own twist on it! It's a great meal for sleepovers, movie nights, and those days you just can't get everyone to sit still in front of their plate.
This recipe can be made gluten free or keto simply by choosing the right tortilla for your dietary needs! Get creative and try it with flavored tortillas, too. The options are endless with this delicious little pizza tortilla hack!
Pizza Tortilla Ingredients
As always, here's a quick overview. Keep scrolling down to the printable recipe card for specific measurements and instructions.
Tortilla – You can use a low-carb, gluten free, or even a flavored version if you'd like.
Meat – Italian Sausage (crumbled or sliced) & Pepperoni Slices (large or small)
Cheese – I combined Provolone and Mozzarella, but you could use one or the other. Make sure to stick to cheeses that melt well without too much moisture. Part skim mozzarella works better than fresh mozzarella.
You could doctor this up with some spices if you'd like (Italian seasoning, garlic powder, red pepper flakes, etc.). I don't feel like it needs salt added because the meat and cheese provide enough of that naturally. We love dipping this in some low-carb marinara, too!


How to make a Crispy Pizza Tortilla
To start, you'll want to cut your tortilla halfway, from the bottom to the middle (the radius, if you're mathy). In each corner or quadrant of the tortilla, lay out one ingredient. I like to put the cheeses in opposite corners so it holds the tortilla together better as it melts.
Carefully fold one section over another, repeating until each section is stacked on top of the other. If the ingredients begin to fall out, just stick them back in as best you can. Finally, cook the filled tortilla on both sides in a buttered or greased skillet (or panini press) until golden brown and crispy.
Can I make pizza keto?
Yes, pizza is easy to make keto! To turn this tortilla hack into a low-carb, keto-friendly lunch, just use a low-carb tortilla. I used a Mission Carb Balance Tortilla to make this, and it came to just 6.4 net carbs. When I want a real pizza (like this Chicken Bacon Ranch Pizza), I absolutely LOVE using a fathead dough crust! It tastes like a thin, crispy crust straight from a restaurant.


Can this be made ahead of time?
I prefer eating this fresh because I love that good crunch when it's right off the skillet! However, you can easily make this ahead of time and reheat with good results. I've included reheating instructions below and recommend the air fryer or skillet for the crispiest leftovers.
How to Store and Reheat Pizza Tortillas
If you've made these ahead of time or just have leftovers, they can be stored up to 4 days in the fridge in an airtight container. Be sure to allow it to completely cool ahead of time — If it's still warm, any trapped moisture will make your tortilla soggy. You could wrap it in a paper towel before putting it in your airtight container to avoid this, though.
There are several ways you could reheat this, and your preferred method will depend on the amount of time you have and your preferred level of crispiness.
Microwave – Blast for 30-second intervals until warmed throughout. You'll lose most of the crispy edges using this method, but it does get the fillings nice and hot super quickly without burning the tortilla.
Air Fryer – Reheat at 370 degrees until warmed throughout. This keeps that crispy texture, but you do run the risk of the tortilla getting too brown.
Stovetop – Reheat on medium low until warmed throughout. Again, this keeps the tortilla crispy, but it can get too browned before the fillings are hot.
Oven – Reheat at 350 until warm. Cover with aluminum foil if you're worried it will get too browned.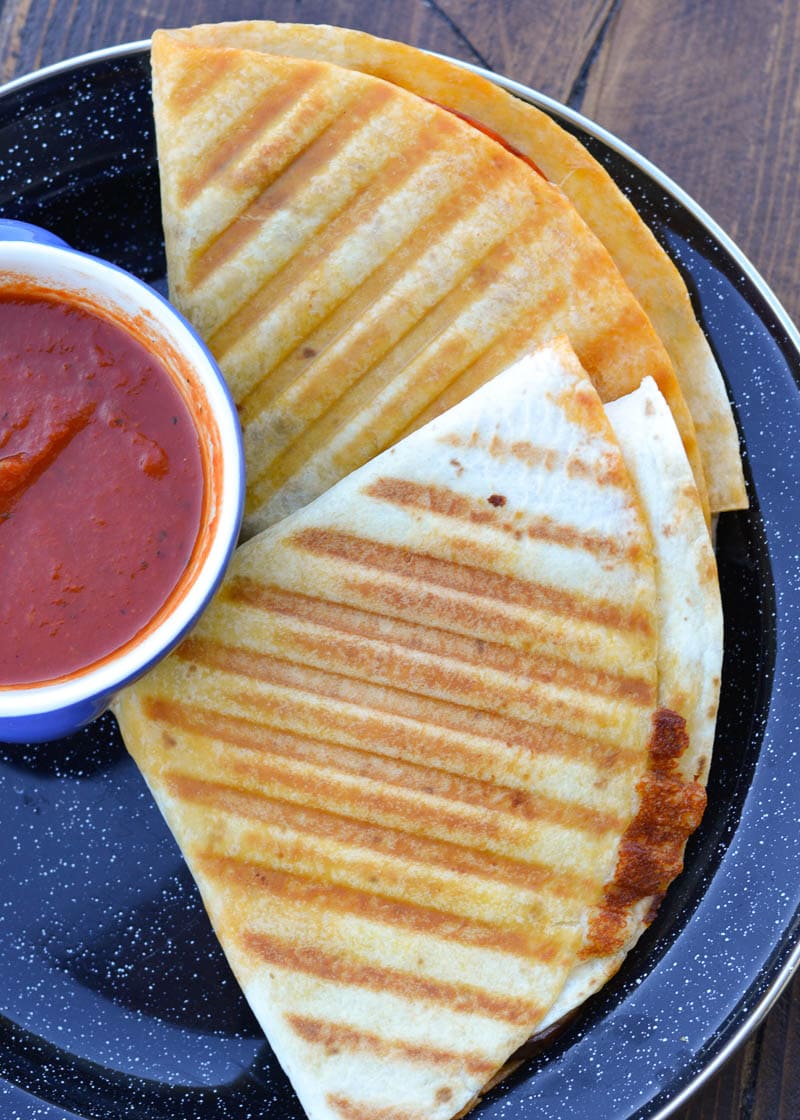 Can you freeze this?
Yes, this can be frozen just like quesadillas (before or after cooking). If freezing after cooking, allow it to cool completely (to avoid freezer burn and a soggy reheated tortilla) before wrapping 2-3 times in plastic wrap or aluminum foil. You could wrap it first in a paper towel to cut down on the moisture as well. Finally, store in a freezer bag and freeze up to 3 months.
Thaw before reheating. I prefer to pat as much moisture off of it before reheating to avoid the tortilla from becoming too soggy. A previously-frozen, reheated pizza tortilla likely won't get as crispy as it would be if it were fresh, but your air fryer can get it pretty close.
What to serve with a Pizza Tortilla?
For a super kid-friendly keto meal, you could pair this pizza tortilla with Bacon Cheddar Cauliflower Tots or Keto Fries! Add some green veggies with Air Fryer Green Beans or Air Fryer Zucchini with Parmesan. To make it a very filling dinner, bulk it up with some Italian Sausage Stuffed Mushrooms or Cheesy Keto Zucchini Breadsticks! Wash it all down with a Sugar Free Lemonade for an amazing low carb meal!


More Keto Pizza
Want more? Check of this list of 15+ Keto Pizza Recipes!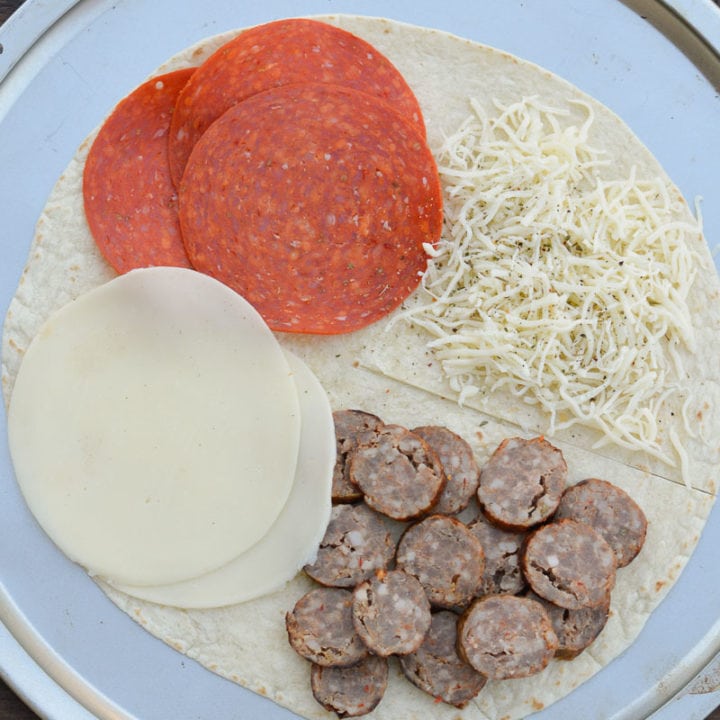 Crispy Pizza Tortilla
This Crispy Pizza Tortilla is an easy recipe you will love! It can be made low carb and gluten free for a delicious snack packed full of of meat and cheese!
Ingredients
1 large tortilla (regular, gluten free or low carb)
2 slices provolone cheese
1/4 cup shredded mozzarella
3 slices deli style pepperoni
1/2 cup sliced, cooked Italian sausage
1/2 teaspoon Italian seasoning (optional)
Optional: Marinara for dipping
Instructions
Lay out a tortilla flat. In the middle of the tortilla along the bottom half, make a cut half way up the tortilla.
Put your ingredients into the four quadrants of the tortilla. For this recipe I put the cooked Italian sausage in one section, provolone, pepperoni slices, and mozzarella in the last.
Start with one section and fold them one over the other.
Place the stacked tortilla in a greased skillet or panini press until golden brown.
Recommended Products
As an Amazon Associate and member of other affiliate programs, I earn from qualifying purchases.
Nutrition Information:
Yield:

1
Serving Size:

1 Pizza Tortilla (numbers calculated with Mission Carb Balance Tortilla)
Amount Per Serving:
Calories:

645
Total Fat:

48g
Cholesterol:

114mg
Sodium:

1800mg
Carbohydrates:

21.9g
Net Carbohydrates:

6.4g
Fiber:

15.5g
Sugar:

0.7g
Protein:

41g