Learn how to make delicious Air Fryer Zucchini with Parmesan! This keto side dish has only four ingredients, is ready in under 10 minutes and has less than 4 net carbs!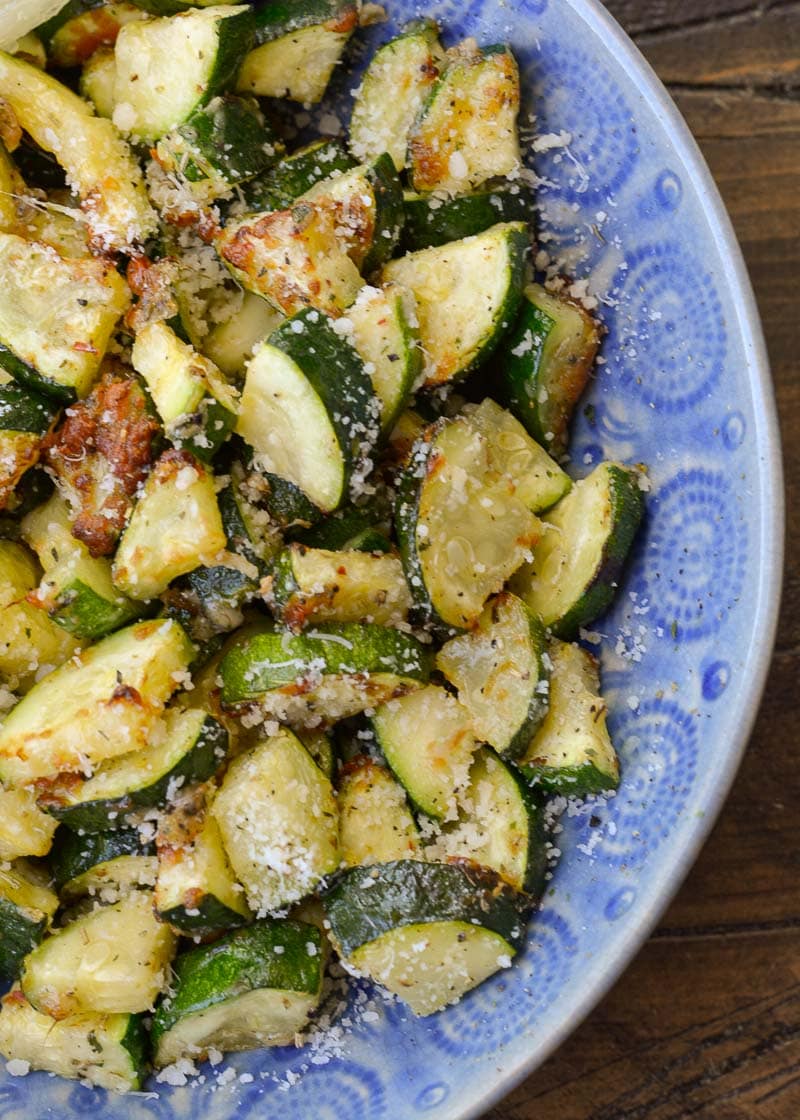 Air Fryer Zucchini
Zucchini season is upon us, which is great for those of us that follow a keto diet! Zucchini is one of my favorite vegetables. It's delicious, nutritious, low in carbs and can be added to nearly everything! I knew I wanted to try roasted zucchini in my Air Fryer and I'm so glad I did!
This easy keto side dish is so, so good! The roasted zucchini has so much flavor already, but when it's paired with a robust olive oil, herby Italian seasoning and earthy parmesan, it becomes irresistible! This roasted zucchini is only 3.4 grams of net carbs and is also gluten free!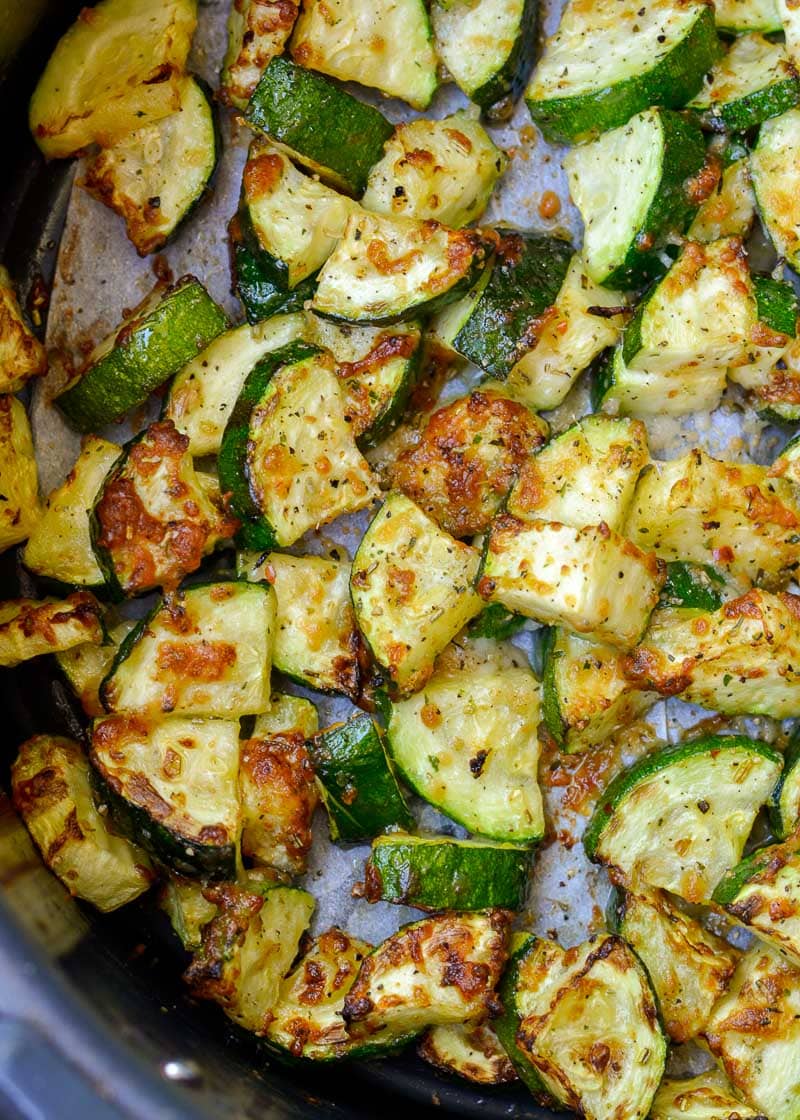 This zucchini in air fryer was incredibly easy, and you only need four ingredients for this entire recipe! You more than likely already have everything you need for this roasted zucchini in your pantry, so you'll save yourself a trip to the store. All the prep you'll need to do is to chop up your zucchini–Seriously, that's it. You'll then combine everything and pop it into the air fryer. It honestly couldn't be more simple. From start to finish, this easy side dish won't take you more than 10 minutes! 
One of the best things about using an air fryer is how quickly it cooks everything- sides are usually the last thing to be prepared for a meal and you want them to be ready fast! This Air Fryer Zucchini is a great way to get a healthy meal on the table, with minimal time and prep, that everyone will love. Another huge plus is how there's barely any clean up (especially if you use a liner!). Even your pickiest eaters won't be able to resist this cheesy veggie!
Ingredients for Roasted Zucchini
As always, here is a quick overview of the ingredients used in our roasted zucchini. For the complete recipe, just scroll to the bottom of the page.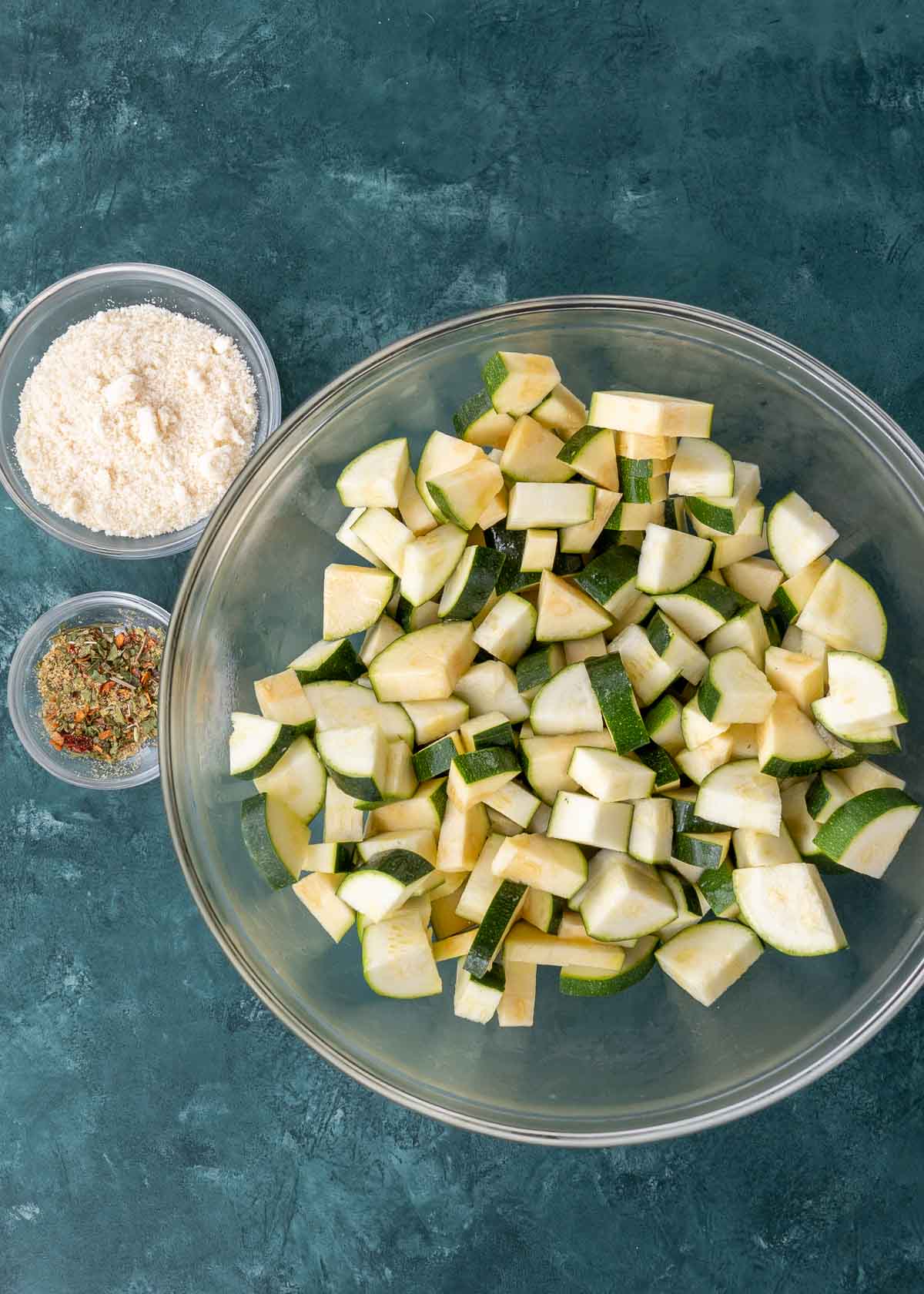 Zucchini– Chopped into small quarters. You could also use yellow summer squash if that's more convenient as they have a similar taste and texture.
Spray olive oil – Any spray oil will work, so use your favorite. I highly recommend getting an oil spray bottle for your kitchen! The air fryer works best when most foods have a very light coating of oil, and spray makes it so fast and easy.
Italian seasoning, Salt, and Pepper – This mixture complements most other flavors, so this side dish can work well with any main entrée you have planned! You could swap it out with your favorite all purpose seasoning if you prefer, maybe add a bit of paprika if you love a little kick.
Grated parmesan – This is the dried version that often comes in a green can in the pantry aisle. You could grate your own fresh if you prefer. I don't recommend using shredded parmesan as it doesn't stick to the zucchini well.
How to Cook Air Fryer Zucchini
This easy side dish comes together with barely any work! Here's a quick step-by-step guide for creating the best crunchy air fryer zucchini.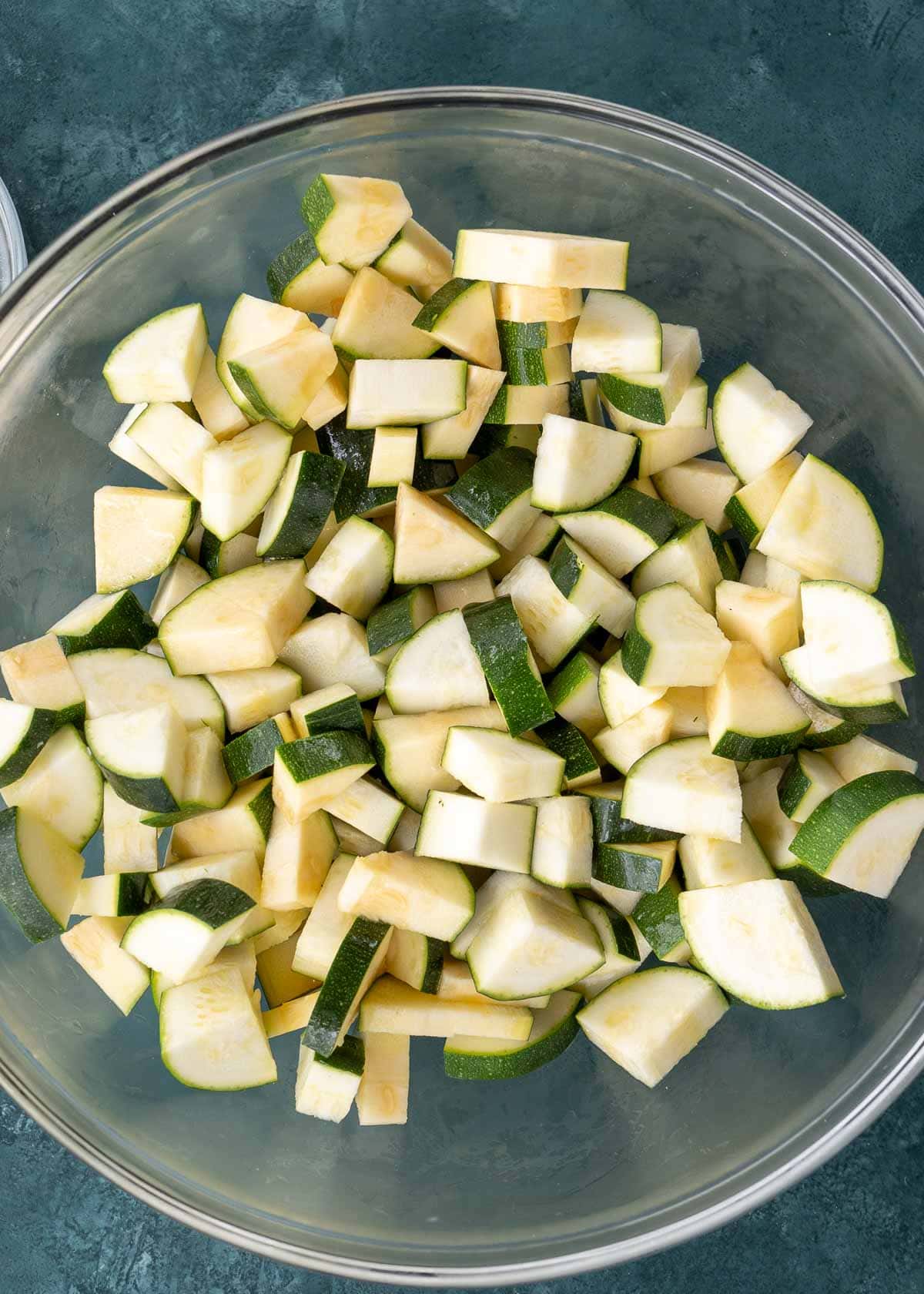 Chop & season
First, chop your zucchini into slices about 1/3rd inch thick, then cut those into quarters like in the photos. Place in a bowl and spray with olive oil, tossing to coat. Add in your seasonings and parmesan, then mix–DO NOT OVERMIX. Once your parmesan is evenly mixed in, stop. If you overmix, the parmesan begins to fall right off.
Air Fry squash
Preheat your air fryer to 390 degrees F for 3 minutes. Even if yours says you don't need to, I still find that I get a more even cook when I give it just a couple of minutes to heat up. If you hate cleaning up, consider adding a liner after preheating (not required, but you'll lose less of the parmesan this way).
Add your zucchini to the basket and cook for 4 minutes. Shake the basket to flip the zucchini and cook another 4-5 minutes or until zucchini is tender and parmesan has started to brown.
What temperature do you cook zucchini in an air fryer?
I prepared this zucchini in air fryer at 390 degrees F.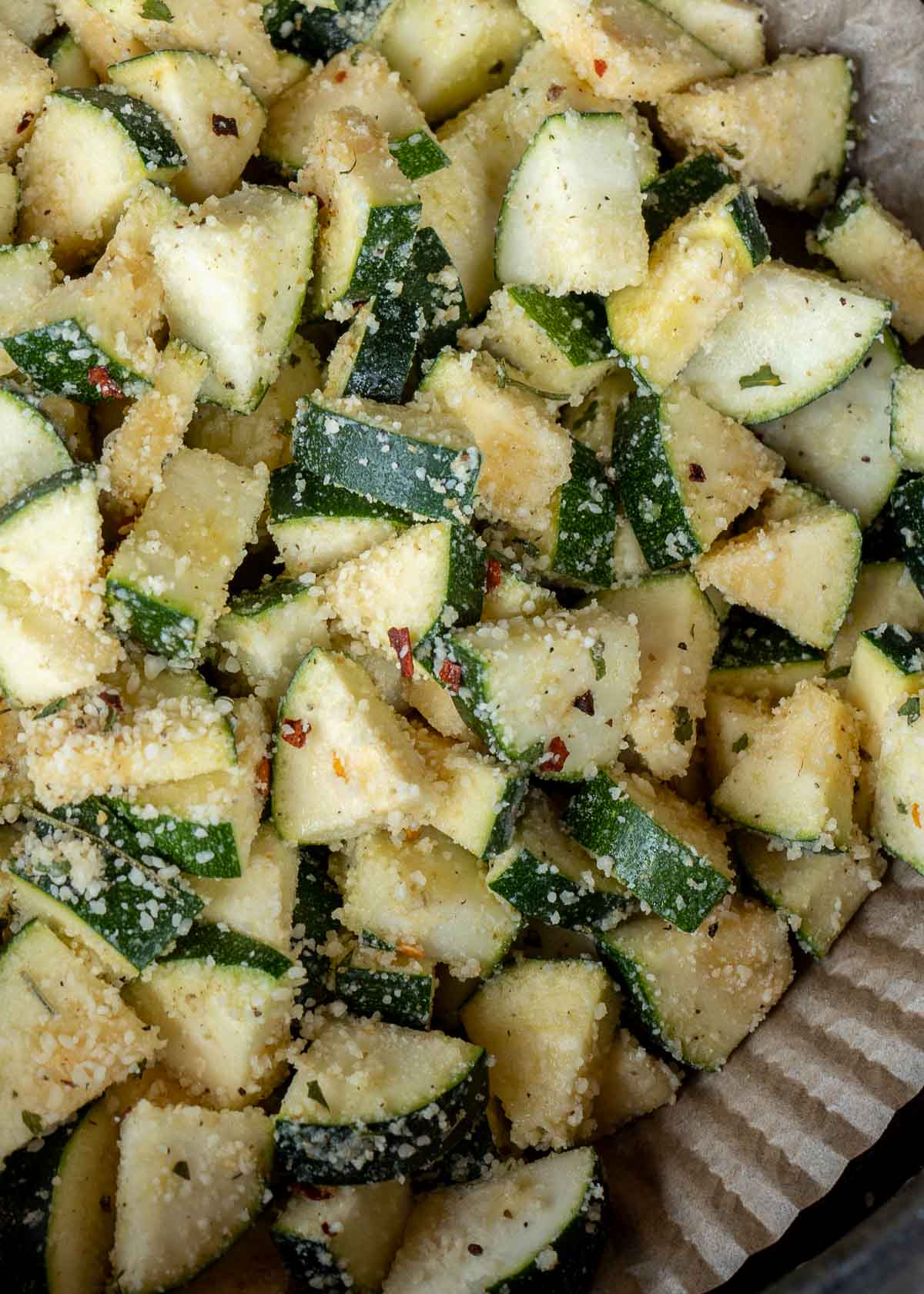 Tips for the Best Air Fryer Zucchini
Don't overmix your parmesan with the zucchini. The parmesan will fall off, causing the zucchini to not get as crispy as we want.
Adjust the cooking time based on your preferences. Pull it out a minute earlier if you like the crunch of less-cooked zucchini, or leave it in a minute longer if you like the flesh really soft.
Make even cuts. Try to cut your zucchini into similar sized pieces, so it all cooks evenly.
Shake the basket. Don't forget to toss your basket halfway through cooking as this exposes more of the zucchini to air. This ensures you get crispy, evenly cooked zucchini in every bite.
Use a liner! This will keep your cheese from falling out of the basket- it also means you'll have no clean up!
Carbs in Zucchini
In one large zucchini, there are only 2.7 grams of net carbs! There are 3.9 grams of carbs and 1.2 grams of grams of dietary fiber, bringing the net carbs to 2.7 grams.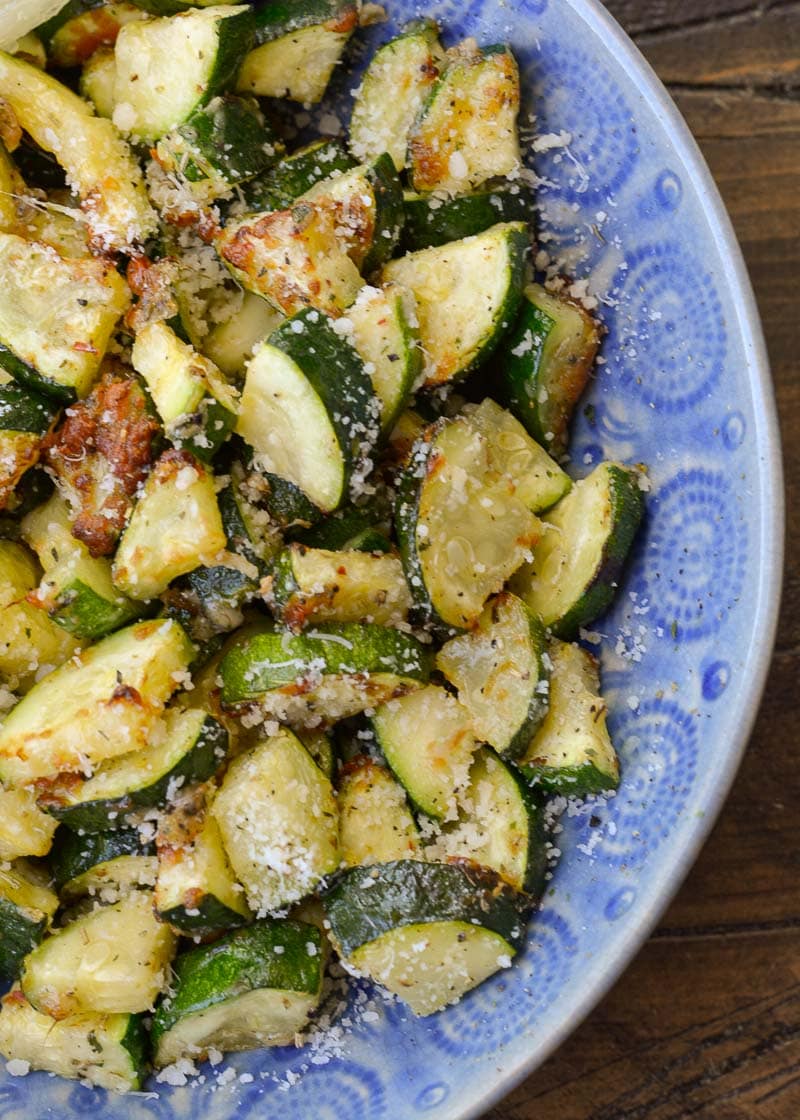 What to Serve with Air Fryer Zucchini
This keto side dish would go well with just about anything you pair it with. Try it with this Asian Salmon or Lemon Garlic Shrimp for a low carb, low calorie dinner! This roasted zucchini would also go well with Marinated Flank Steak or Easy Steak Wraps. Roasted or Grilled Chicken are some classic family dinner choices. If you're going for a vegetarian night, try these Black Bean Sliders!
Other Zucchini Recipes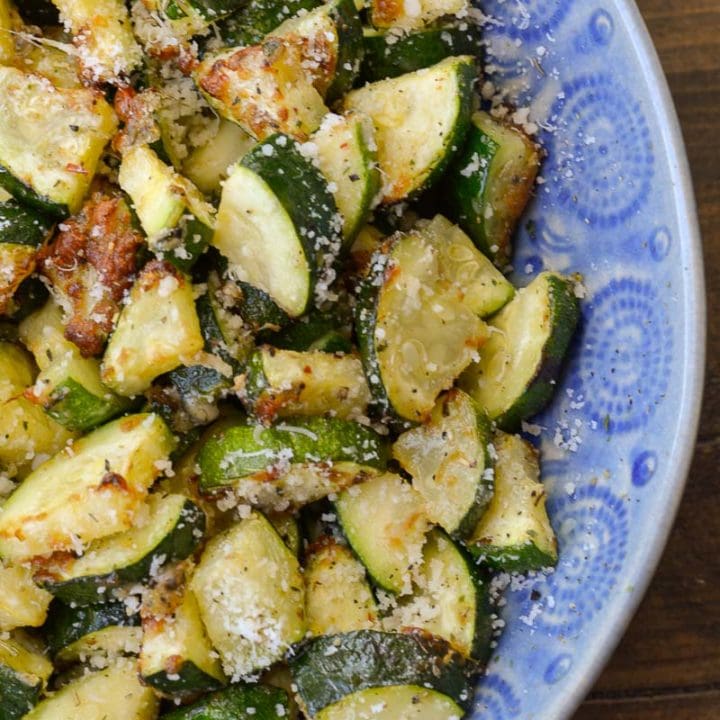 Air Fryer Zucchini with Parmesan
Learn how to make delicious Air Fryer Zucchini with Parmesan! This keto side dish has only four ingredients and is ready in under 10 minutes!
Ingredients
3 medium zucchini (about 4 cups, cubed)
spray olive oil
1 teaspoon Italian seasoning
salt and pepper to taste
3 heaping tablespoons grated parmesan
Instructions
Quarter the zucchini into small cubes as seen in the photos. Spray with olive oil, add seasoning, salt and pepper to taste.
When you are sure the zucchini is coated evenly with oil, toss with the parmesan. Do not overmix and stop when the parmesan is evenly distributed.
Preheat the air fryer for 3 minutes to 390 degrees F. Carefully add a liner and add the zucchini to the air fryer basket in an even layer. Cook 4 minutes, toss and cook an additional 4-5 minutes until the parmesan has begun to brown and the zucchini is tender.
Nutrition Information:
Yield:

4
Serving Size:

1/4 of recipe (about 3/4 cup)
Amount Per Serving:
Calories:

72
Total Fat:

5g
Cholesterol:

2.7mg
Sodium:

75mg
Carbohydrates:

5g
Net Carbohydrates:

3.4g
Fiber:

1.6g
Sugar:

3.7g
Protein:

3.2g