This Mediterranean-inspired Cucumber Salad is crisp, refreshing, and full of bold flavors. It's keto-friendly, low carb, and it takes just a few minutes to put it all together!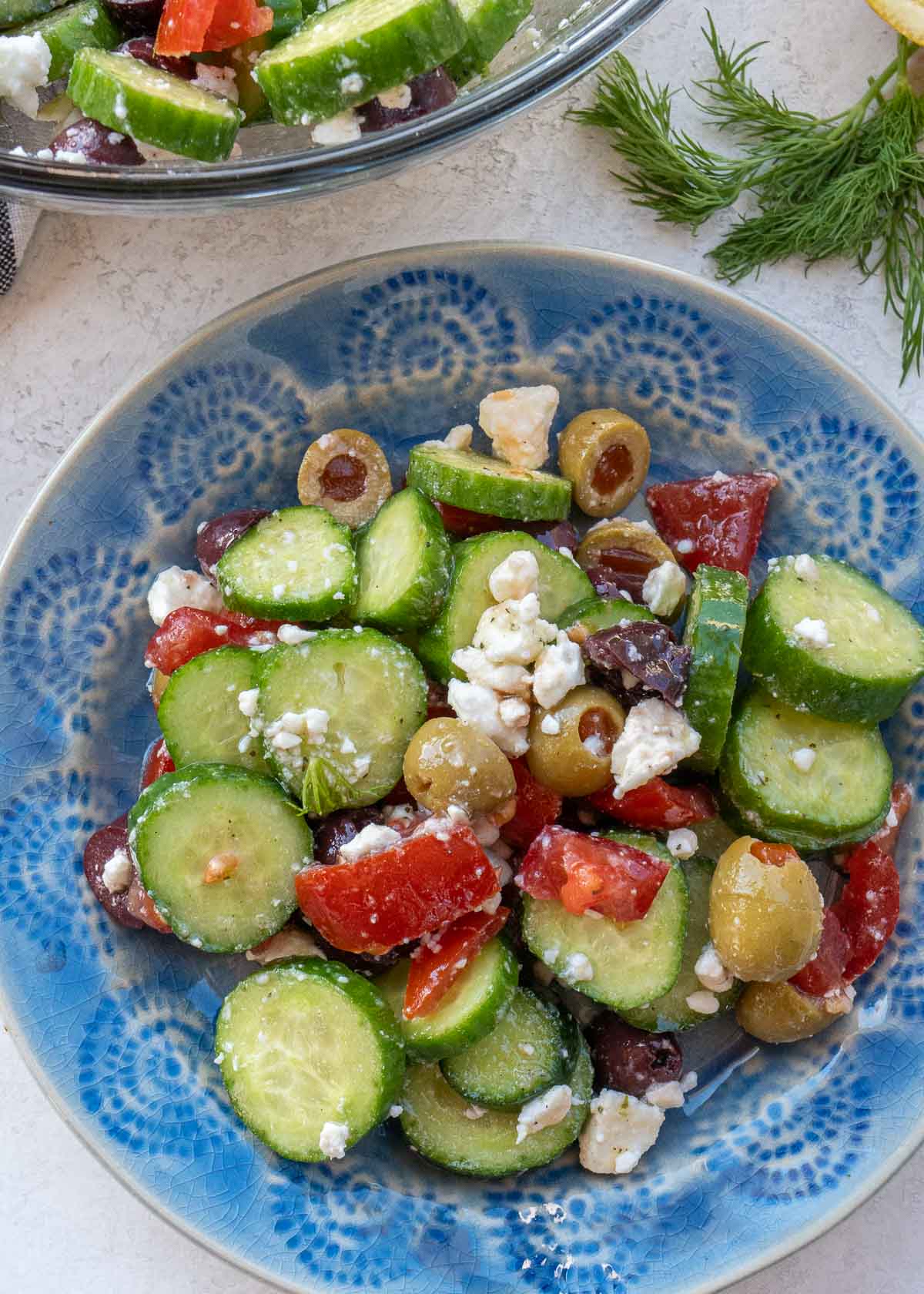 Sometimes you just need an effortless side dish to round out dinner. If you don't even have to turn on the oven, that's even better. This cucumber salad is the perfect accompaniment to any meal and it requires only a handful of ingredients. This dish is healthy, easy, and works perfectly as a side dish, or a vegetarian main dish.
This is truly the best cucumber salad. It's so refreshingly crunchy and flavorful, with crisp cucumbers, fresh tomatoes, bright lemon, salty feta, and briny olives. You get all kinds of textures and flavors in each bite, and there are endless ways to customize the recipe and make it your own.
Why You'll Love This Cucumber Salad
This is the kind of easy salad you'll find yourself making all summer long! Here's what makes it so good:
Keto-friendly and low carb. This simple cucumber salad is naturally low in carbs and perfect for anyone following a keto diet.
Fresh and light. My cucumber salad is bright, crisp, and perfect as a side dish for lighter summer entrees like grilled chicken or fish.
Simple. This salad is so easy to make that after you've whipped it up a few times, you won't even need to look at the recipe anymore!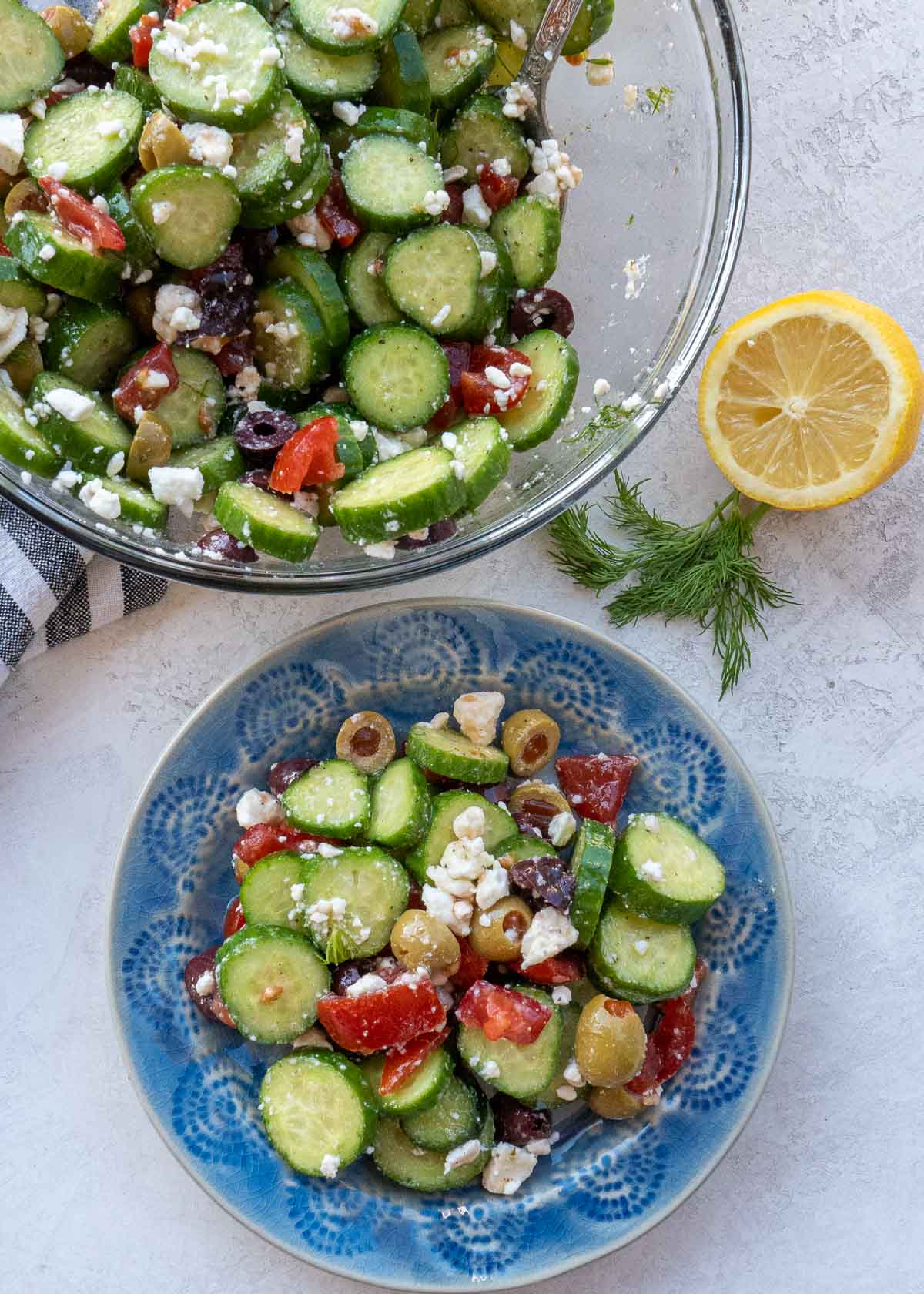 Ingredients for Greek Cucumber Salad
Here are all the ingredients you need to make cucumber salad. Scroll to the recipe card at the bottom of the page to see the exact amounts for each ingredient.
Baby cucumbers: these have a lower water content than regular cucumbers, which means they'll stay crunchier in your salad.
Tomatoes: your favorite variety or a mixture of heirloom, or different-colored tomatoes will work in this salad.
Feta: my favorite ingredient in this dish is the salty, tangy feta. You can use plain feta like I did or a seasoned variety if you prefer.
Olives: green, black, kalamata olives, or a mixture of any of these will work.
Fresh dill:
Olive oil: this is my absolute favorite olive oil, the flavor is unparalleled.
Italian seasoning: adds flavor and depth, use your favorite blend of Italian seasoning.
Lemon juice: Fresh lemon juice is best.
Garlic salt: if you don't have garlic salt on hand you can just use sea salt.
How to Make the Best Cucumber Salad
In addition to the ingredients listed above you will just need a bowl, cutting board and a knife. You're just a few minutes away from a fresh and flavorful side dish! Here's what you'll need to do.
Slice the Vegetables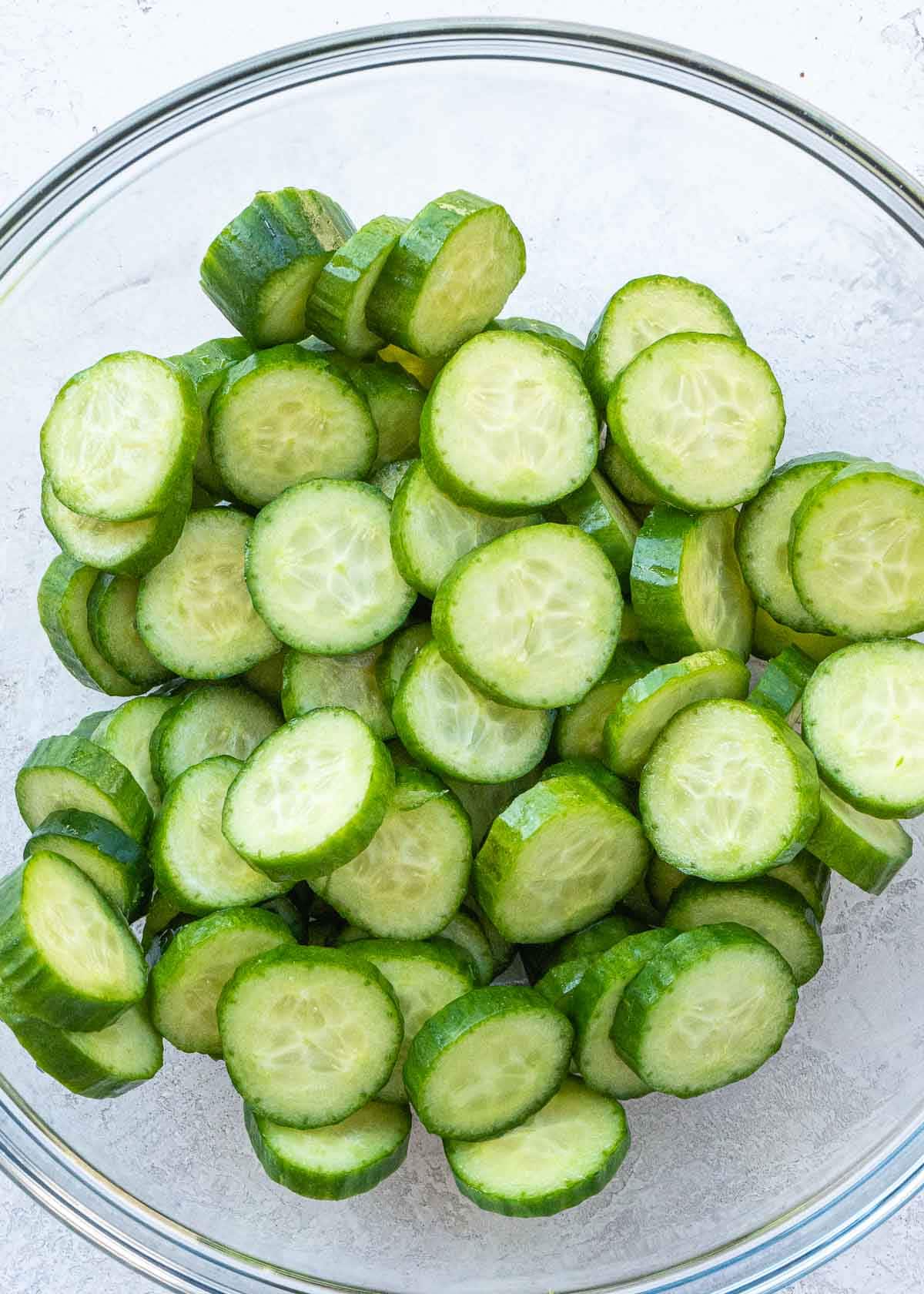 I love using baby cucumbers for this recipe, the size is great for a salad. But you can absolutely use a regular cucumber if you would like. Just remember since they are larger in diameter you may want to slice it in half or into quarters. Regardless, the first step is to chop the salad ingredients including the cucumber, tomatoes, and the olives if you wish.
Make the Dressing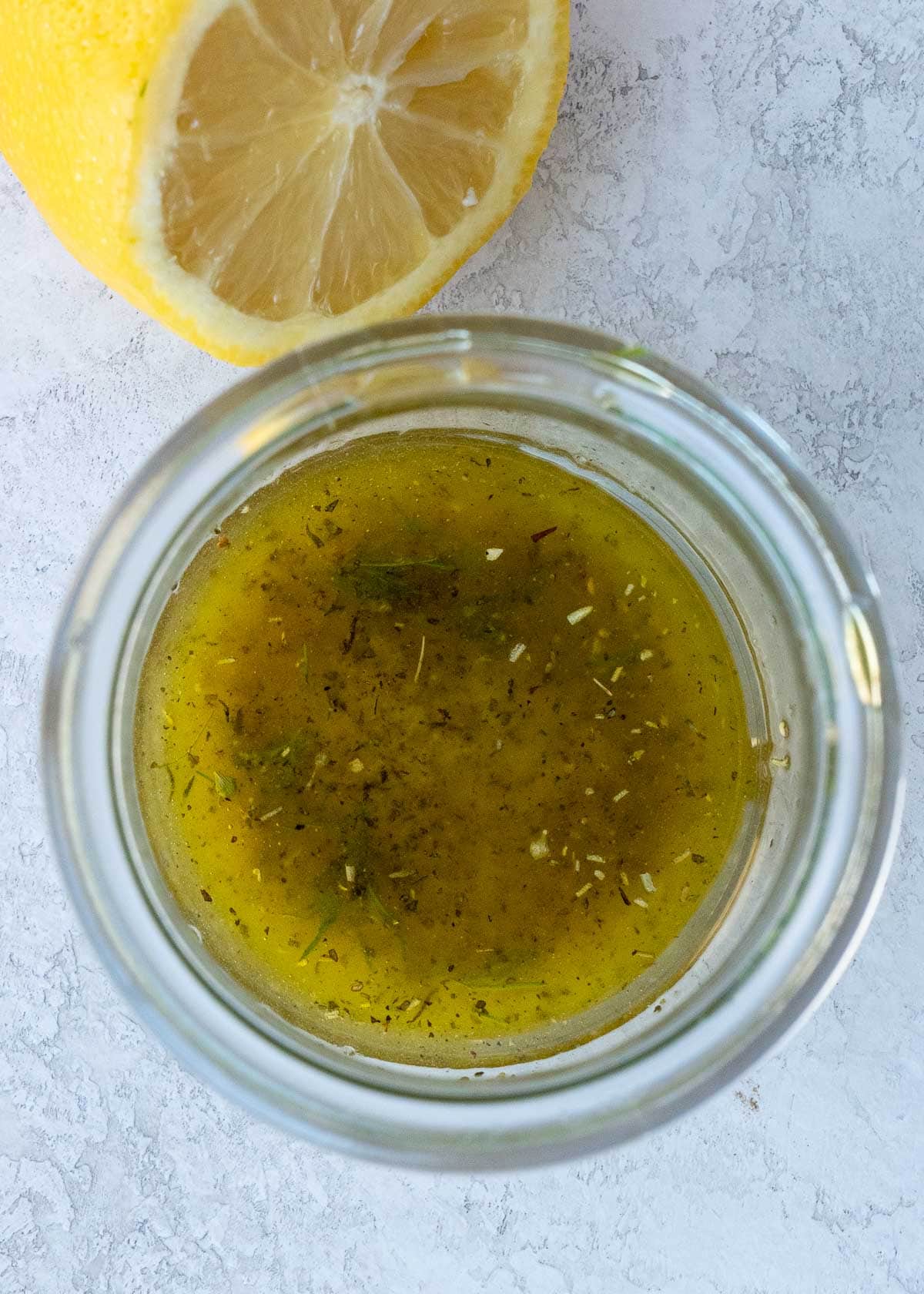 In a small jar, combine the oil, Italian seasoning, lemon juice, and garlic salt. Shake until the dressing emulsifies and set it aside. You can easily make this dressing ahead of time if desired. It is also a great marinade and salad dressing so keep the recipe handy!
Mix the salad Ingredients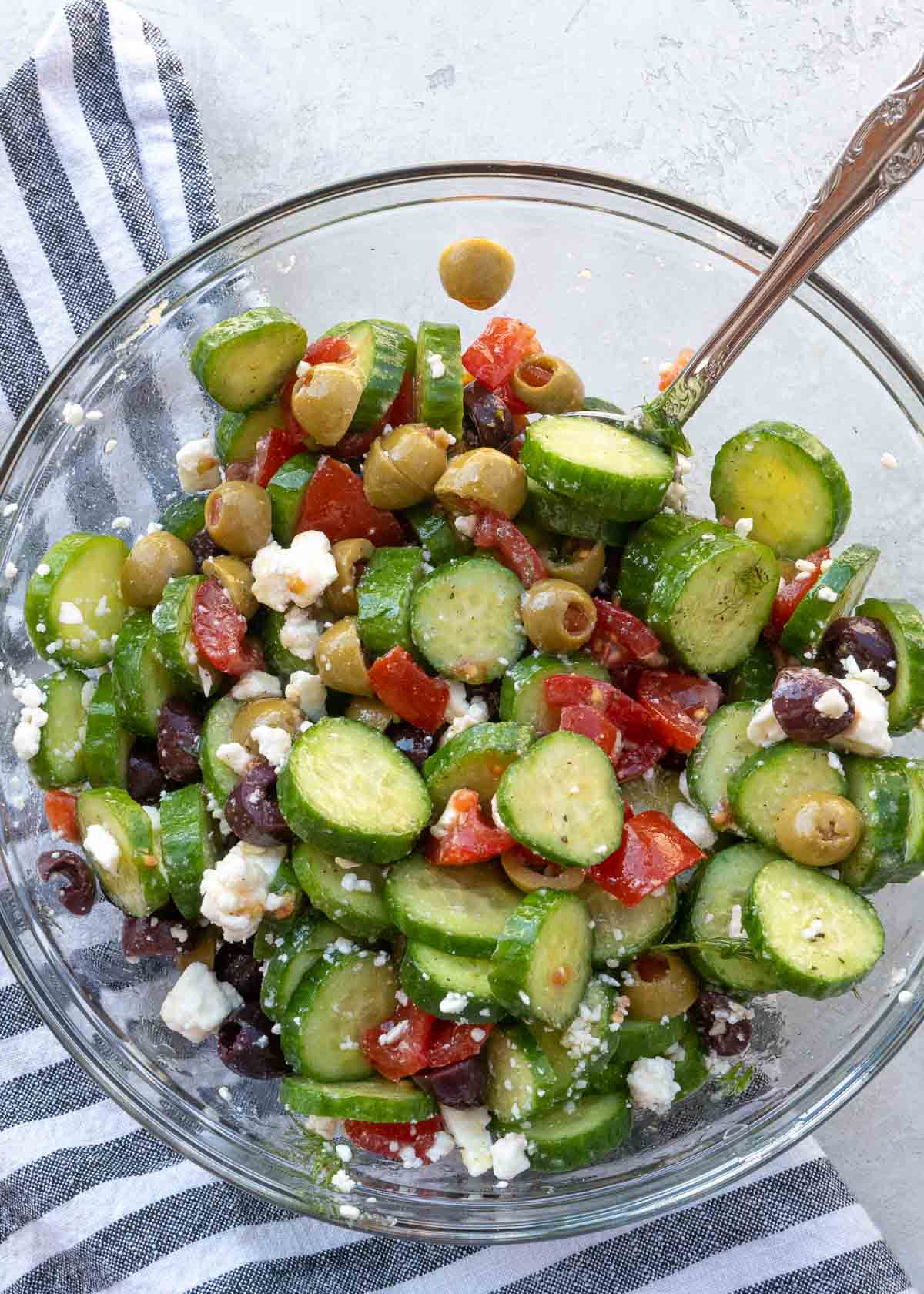 In a large bowl, gently combine the cucumbers, tomatoes, feta, olives, and fresh dill. Add the dressing and toss again.
Serve
Serve the cucumber salad immediately or chill it for 30 minutes before serving. This is the kind of versatile side dish that goes with a wide variety of main dishes. Some of my favorites for pairing with cucumber salad include:
Tips and Variations
Here are some tips and variations to try with this cucumber salad:
Add onion: very thinly sliced red onion will add depth to the recipe.
Add a Protein: make this a complete, well-balanced meal by adding a protein source such as chickpeas, white beans, cooked chicken, or tuna.
Swap the tomatoes with watermelon: Believe it or not, sweet watermelon is amazing with the savory flavors in this salad. Cut the melon into 1-inch pieces and toss it with the other ingredients.
Swap the Cheese: if you prefer a different cheese halloumi or goat's cheese works well.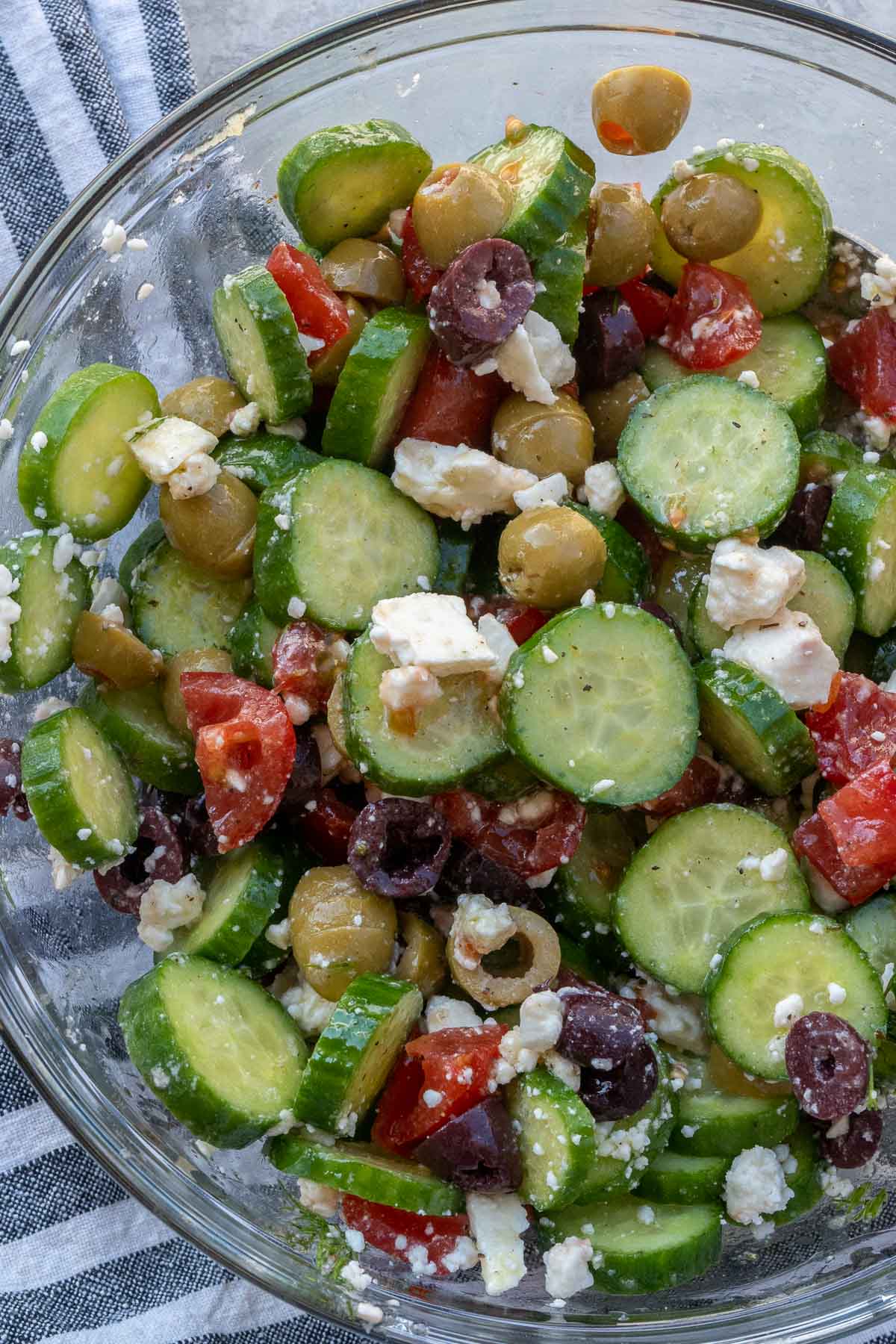 How to Store Leftover Cucumber Salad
Cucumber salad can be stored in an airtight container for up to 2 days. The cucumbers will get softer and more limp the longer you store them, so it's best to enjoy this salad fresh.
Can I Freeze This Recipe?
Unfortunately, cucumber salad doesn't freeze well. Cucumbers have such high water content, they're just not suited for long-term storage in the freezer.
Cucumber Salad FAQ
Which cucumber is best for salad?
Look for small cucumbers, such as Persian or English cucumbers. These are the best type of cucumber to use for salads because they have thinner skin and fewer seeds than larger varieties. 
Can I make this salad ahead of time?
Yes! Cucumber salad can be made up to a day ahead of time, although it won't be quite as crisp. Just be sure to store it in an airtight container in the refrigerator until ready to serve. 
Are cucumbers healthy? 
Cucumbers are a great source of vitamins and minerals and they can also help keep you hydrated and aid in digestion. If you're on a low-carb or keto diet, you'll be glad to know they're naturally low in carbs too!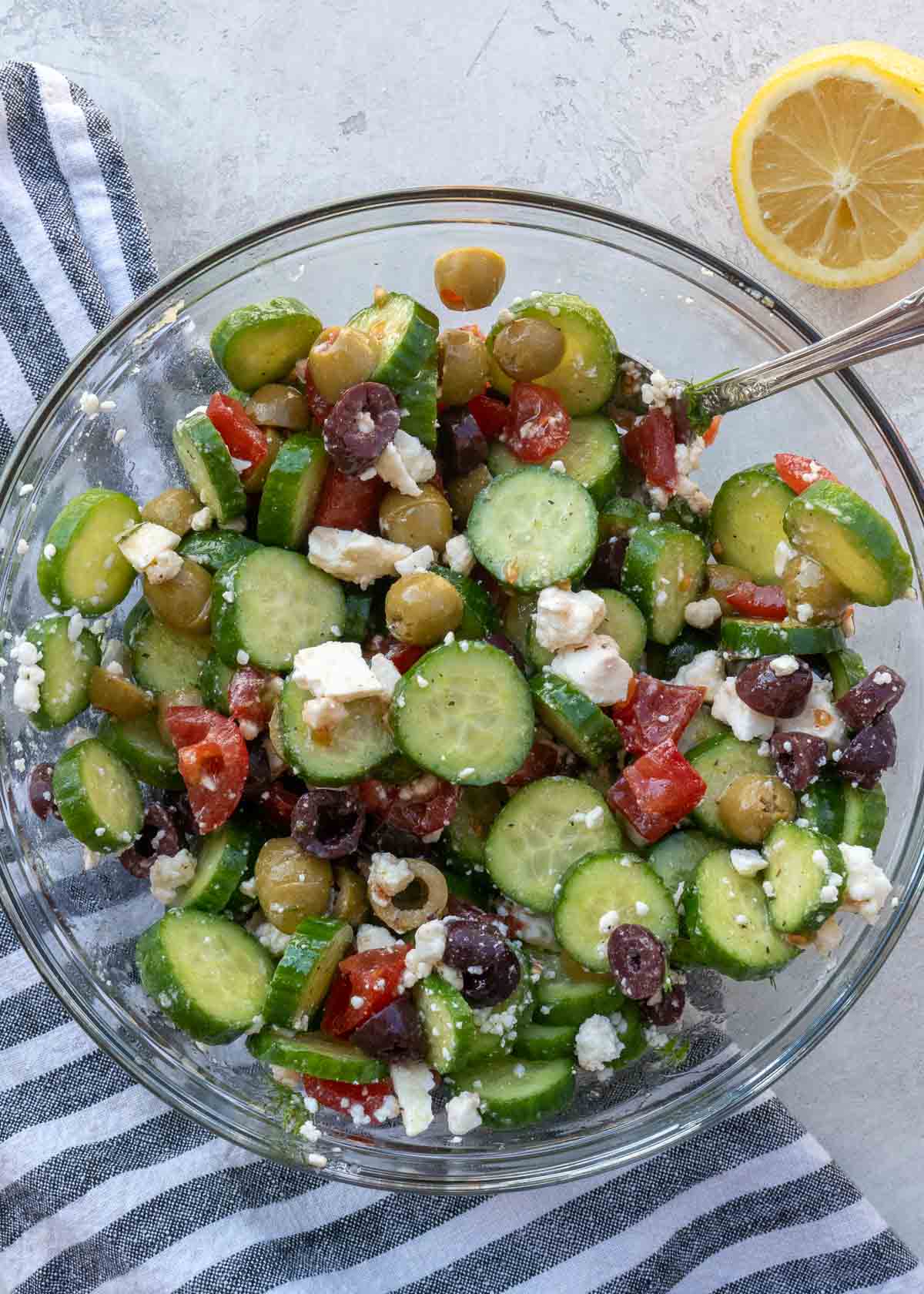 More Simple Salads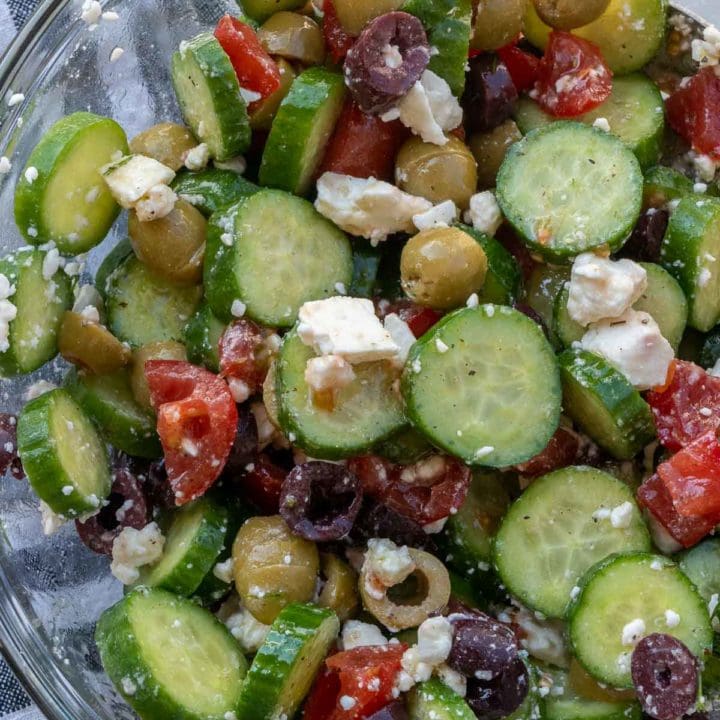 Cucumber Salad
This Mediterranean-inspired cucumber salad is crisp, refreshing, and full of bold flavors. Keto-friendly, low carb, and so easy too!
Ingredients
4 cups sliced Baby Cucumbers

1 cup chopped tomatoes

3/4 cup feta, crumbled

3/4 cup olives (any variety or mixed)
2 tablespoons fresh dill, chopped
For the Dressing
2 tablespoons olive oil

1 teaspoon Italian seasoning
1 teaspoon lemon juice

1/4 teaspoon garlic salt
Instructions
In a small jar combine the oil, Italian seasoning lemon juice and garlic salt. Shake well and set aside.
In a mixing bowl combine the cucumbers, tomatoes, feta, olives and fresh dill. Toss with the dressing.
Serve immediately or chill for 30 minutes, then serve cold.
Recommended Products
As an Amazon Associate and member of other affiliate programs, I earn from qualifying purchases.
Nutrition Information:
Yield:

6
Serving Size:

3/4 cup
Amount Per Serving:
Calories:

108
Total Fat:

8.9g
Cholesterol:

16.7mg
Sodium:

232mg
Carbohydrates:

5g
Net Carbohydrates:

4.1g
Fiber:

0.9g
Sugar:

2.6g
Protein:

3.6g