This Shrimp Stir Fry is a fresh, healthy, and easy weeknight meal. The sauce is sweet and spicy, the shrimp is tender and juicy, and it only takes 20 minutes to make.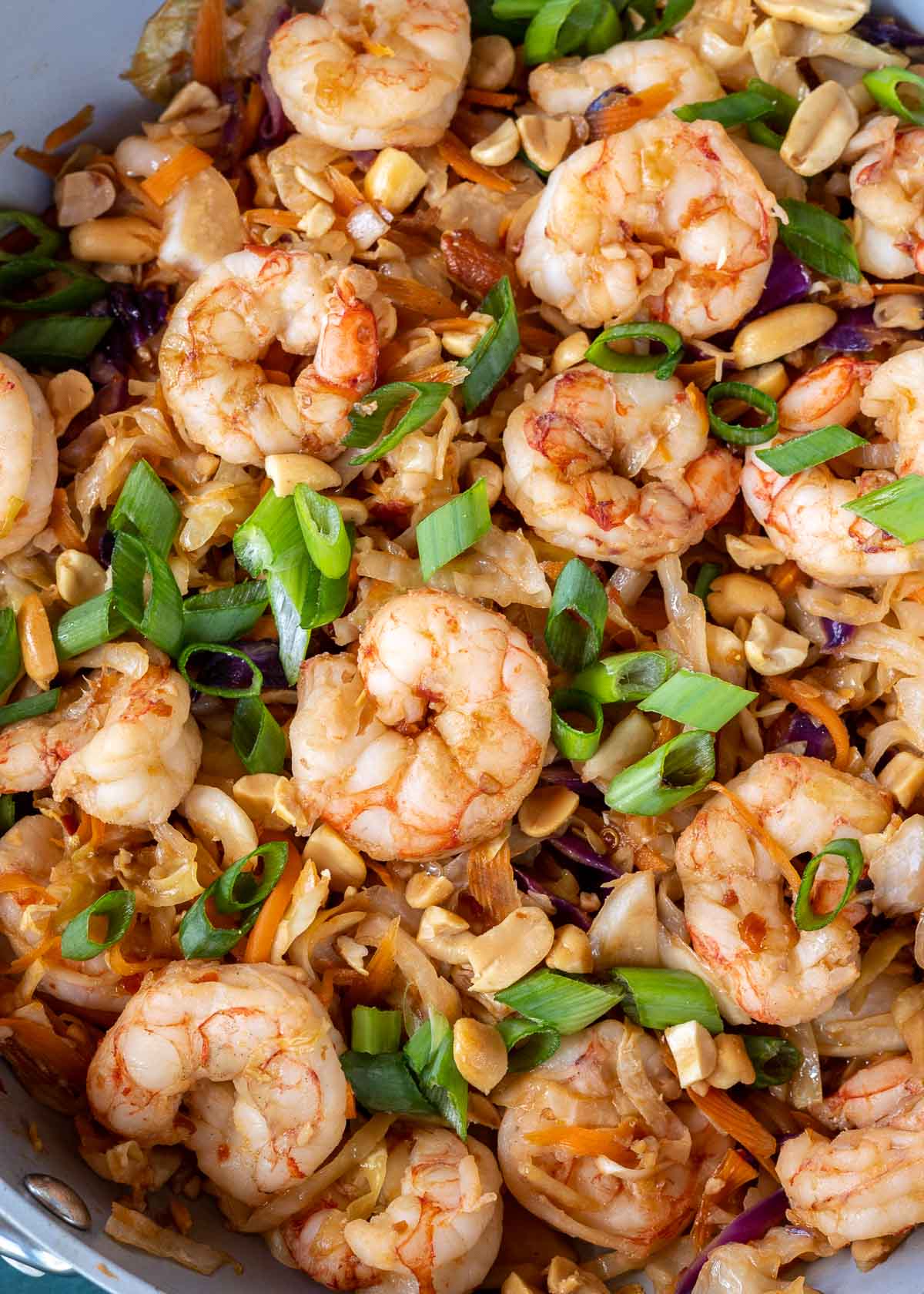 Shrimp is one of my favorite proteins to eat, especially during the week. It's so quick and easy to cook, and I always feel great after eating such a healthy protein. This shrimp stir fry has quickly become a go-to meal for me. It's loaded with not just shrimp, but fresh carrots and cabbage. The sauce is a little bit sweet, a little bit tangy, and has the perfect kick of spice. And did I mention that this recipe only takes 20 minutes to make? What's not to love? 
The star, of course, is the shrimp. They're tender and not at all rubbery, and absorb all of the savory, mouth-watering sauce. The end result is a dinner that you can easily make on any weeknight, that will leave your tastebuds and your body feeling wonderful. That's about all you can ask for out of a meal. 
Why You'll Love This Spicy Shrimp Stir Fry
There's so much to like about this recipe. Here's why you've got to give it a try.
So fast and easy. Sometimes it's fun to spend a long time in the kitchen cooking up something exotic. But most of the time we just want to make something good that doesn't take much time. That's why I love this stir fry. It doesn't require much effort, won't leave a big mess, and only takes 20 minutes to make!
Super healthy. This is one of the healthiest recipes I know. Shrimp is so good for you, and it's loaded with fresh vegetables. The sauce is full of ingredients that are delicious but not unhealthy, and there's only a little bit of oil in the recipe.
Versatile. I'm a huge fan of recipes that you can do a lot of different things with. This shrimp stir fry is one of those recipes. You can serve it on top of a bed of rice as an entire meal, or it can be a side dish. You can make spring rolls or egg rolls using this stir fry as a filling, or pack it inside an Asian wrap. You could even make a sandwich out of this stir-fry!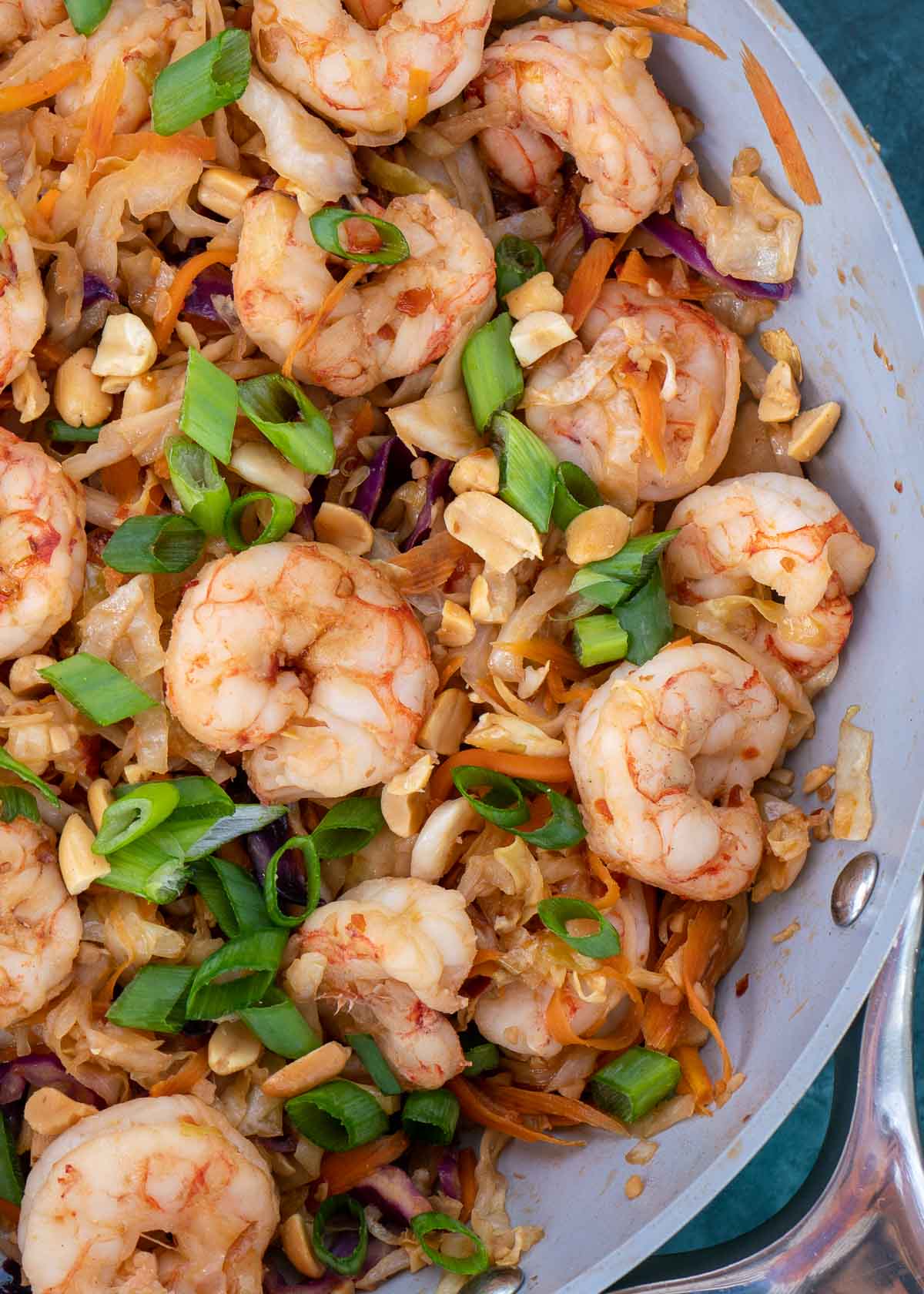 Stir Fry Ingredients
Here are all the ingredients you'll need to make this spicy shrimp recipe. Check out the recipe card at the bottom of the page to see the specific quantities for each ingredient. 
Avocado oil: You can substitute avocado oil with another neutral oil such as olive oil.
Shrimp: I use medium-sized shrimp for this recipe, but any size will do, just remember if they are large the cooking time will be slightly longer. Just be sure to use shrimp that has been peeled, deveined, and with the tail removed.
Vegetables: Cabbage and carrots, you can use freshly cut cabbage and carrots or a bagged slaw mix for a shortcut.
Garlic: freshly minced garlic is best.
Soy sauce: Use tamari if you're gluten-free.
Sweetener: Monkfruit sweetener is great if you're on a keto diet, otherwise you can use sugar or honey.
Rice vinegar: unflavored rice vinegar is best. This ingredient helps balance these sweet and spicy components in the sauce.
Chili garlic sauce: adds a nice little kick.
Sesame oil: this rich, earthy oil adds depth and flavor to the dish.
How to Make Shrimp Stir Fry
In addition to the ingredients listed above you will need a large skillet and spatula. It also comes in handy to mix the sauce in a jar, but a bowl and whisk will also do the trick. Here is how to make this 20-minute Asian stir fry.
Cook the Shrimp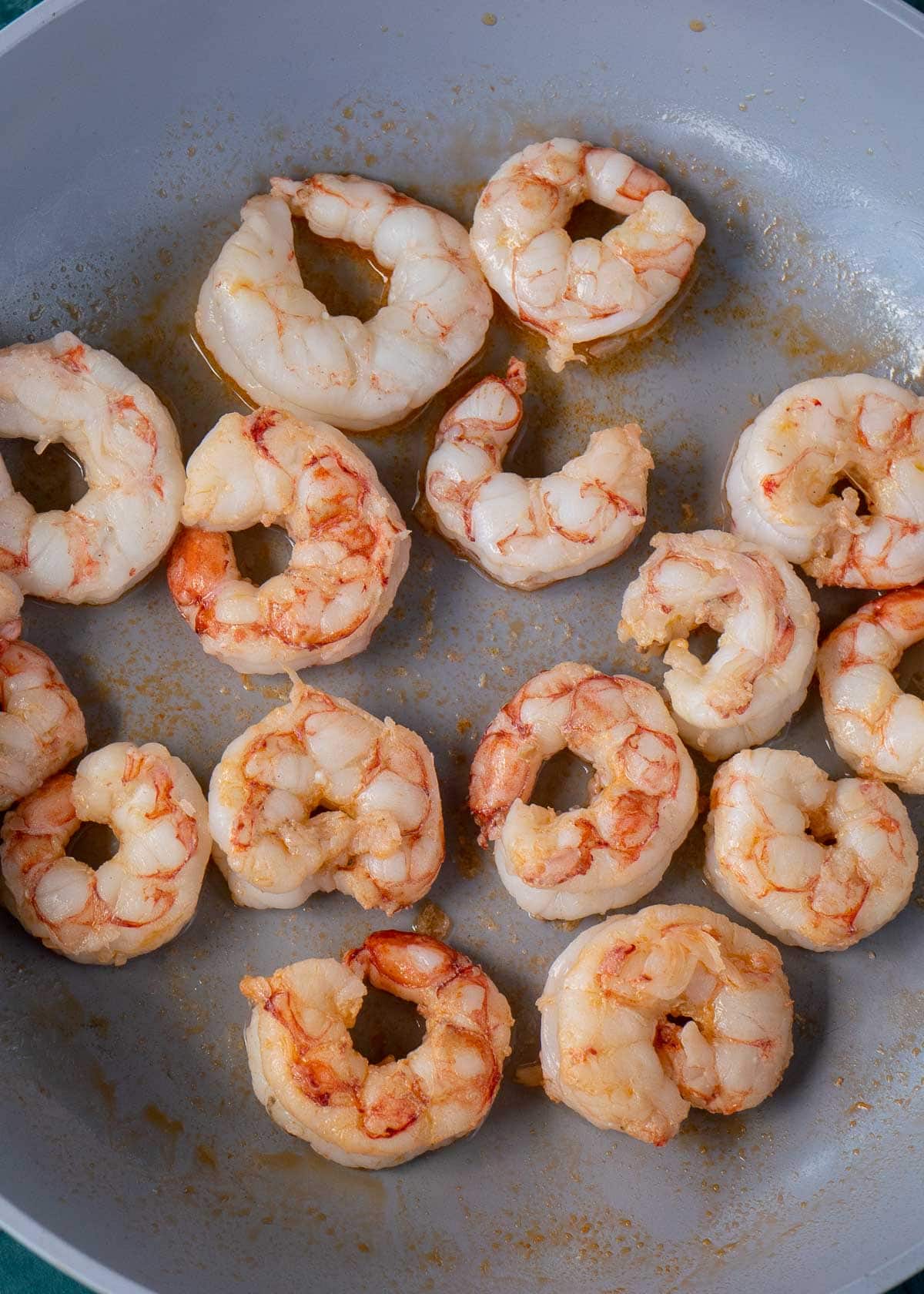 The first step is to cook the shrimp. As you know, shrimp cooks quite quickly. I find this recipe is easiest if you measure out and prep all of the ingredients ahead of time to ensure a smooth process. Heat the oil in a skillet over medium heat. Add the shrimp and cook for 2-3 minutes, flipping halfway through. When the shrimp are pink and cooked all the way through, remove them from the pan and set aside.
Sauté the Veggies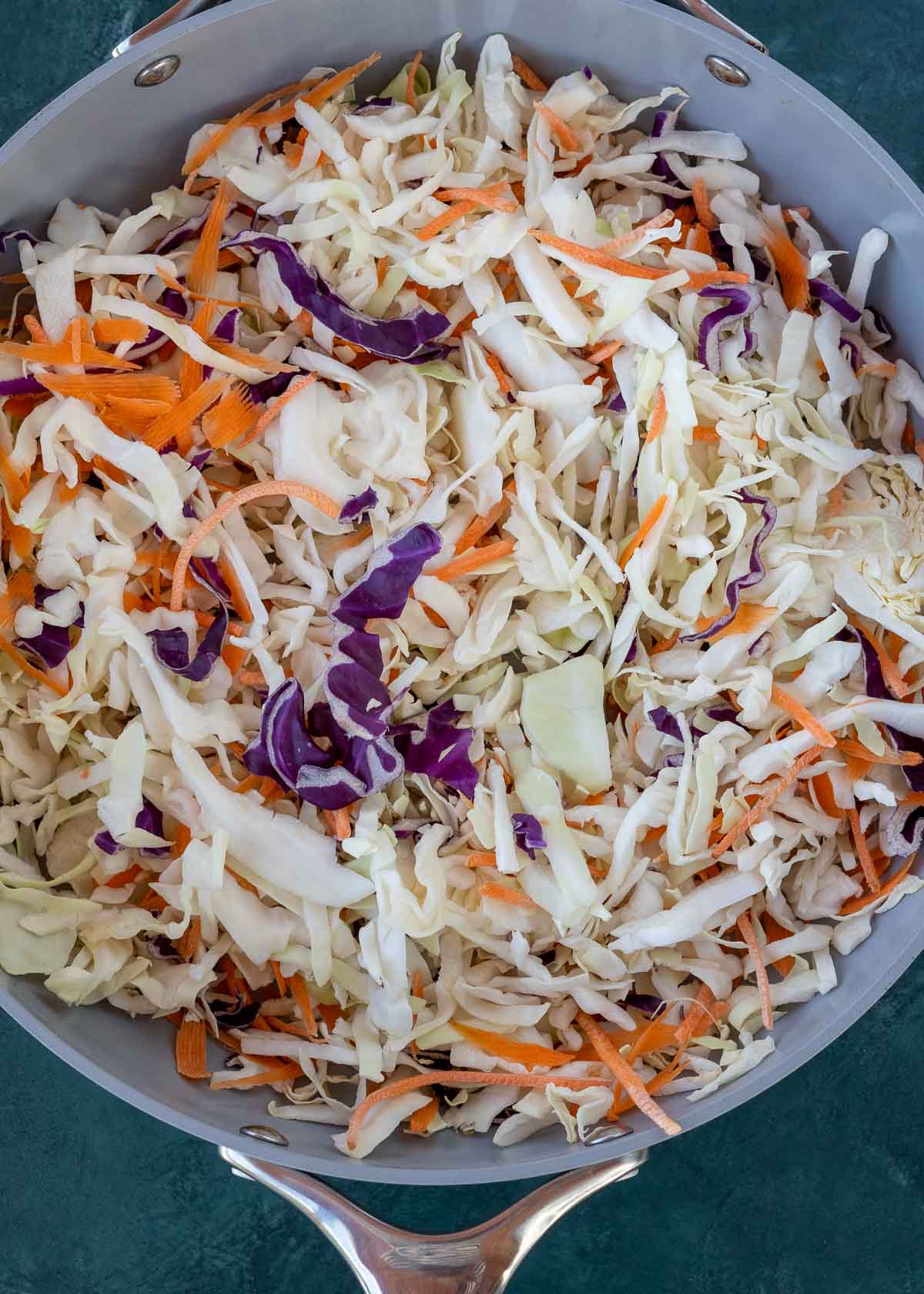 In the same skillet add the carrots and cabbage to the pan and cook, while occasionally stirring for about 5 minutes. You do not have to cook the vegetables all the way through, it will finish cooking in the sauce. Once the cabbage has begun to wilt and soften you can move to the next step.
Make the Sauce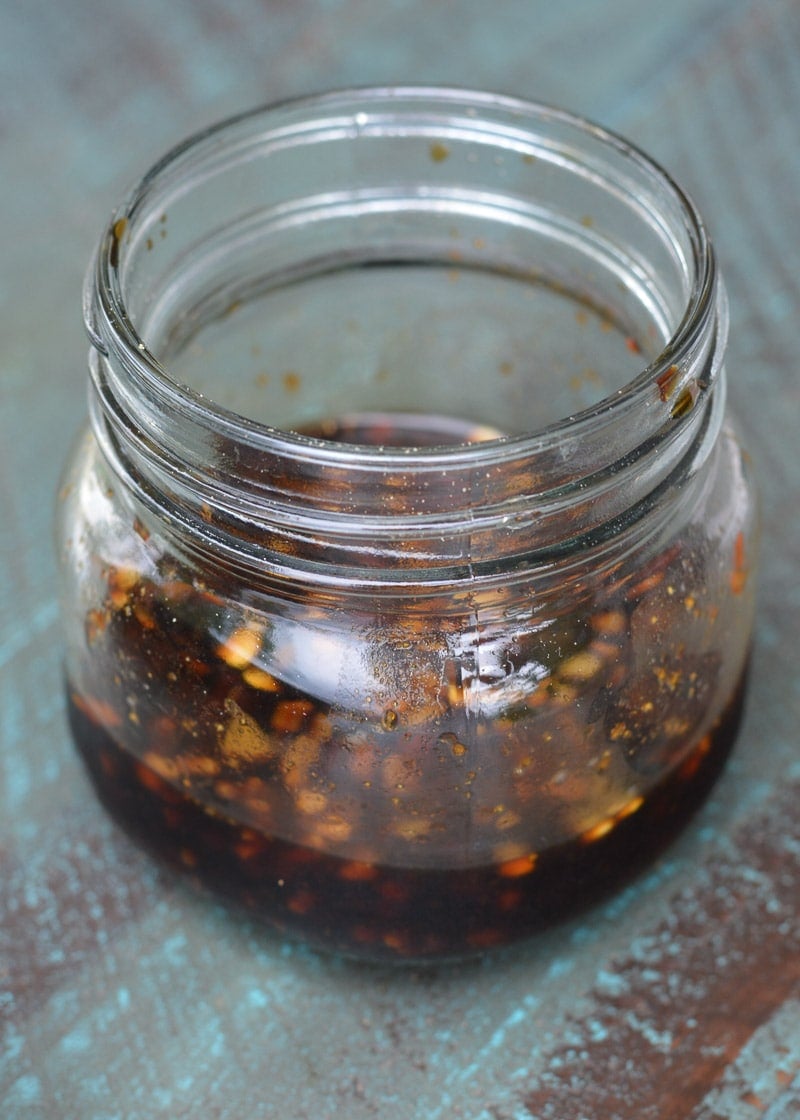 While the veggies sauté, add all of the sauce ingredients to a jar and put the lid on. Shake until the ingredients are mixed together completely.
Add the Stir Fry Sauce
Pour the sauce over the veggies, and toss until all the cabbage and carrots are coated. Sauté the veggies in the sauce until the cabbage is tender. This should take about 5-6 minutes.
Add the Shrimp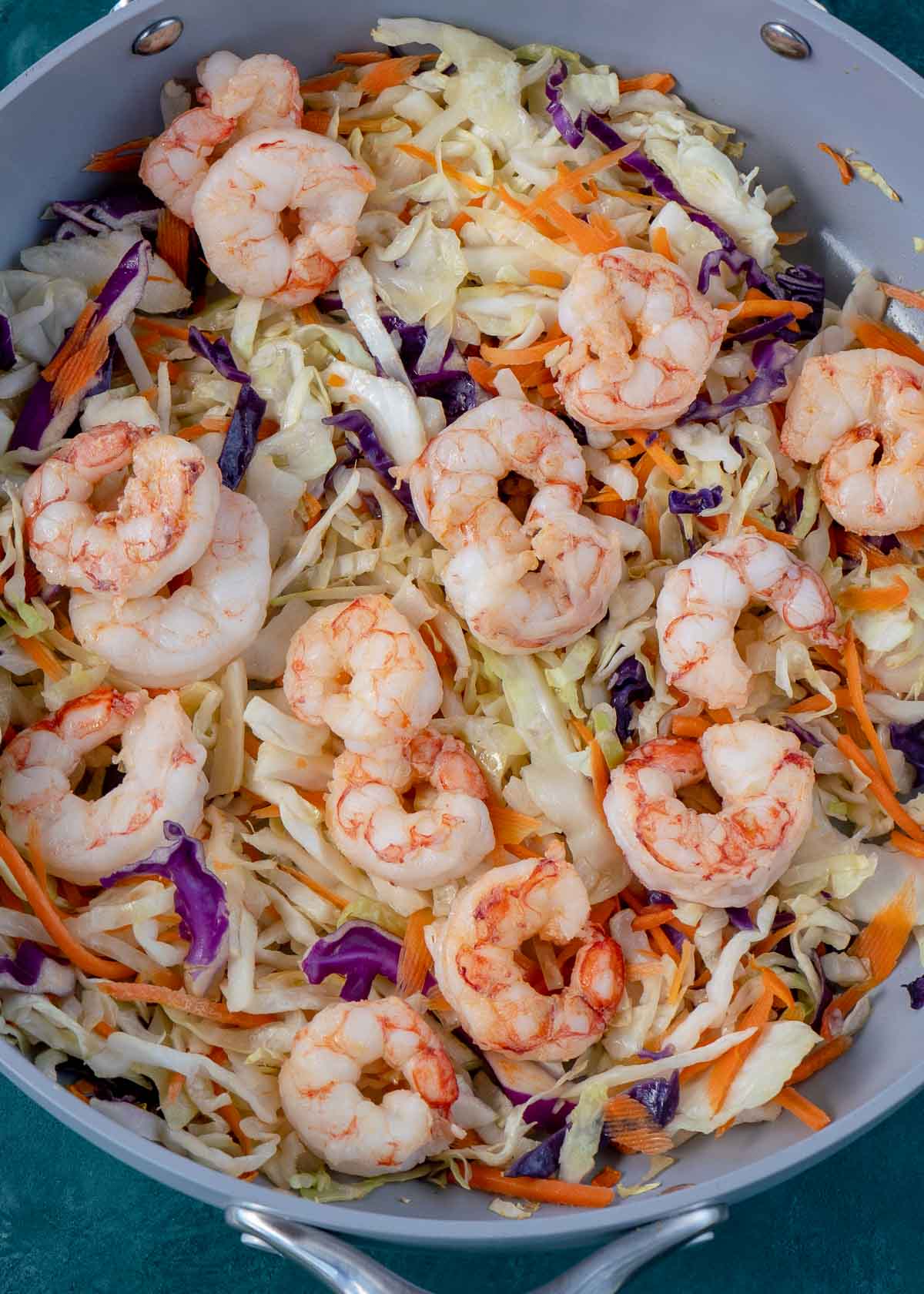 Put the shrimp back in the pan, and toss to combine. Cook until the shrimp is warmed all the way through. This step shouldn't take long, as the shrimp and vegetables have been cooked already, this is simply to heat and combine.
Serve
Garnish the stir fry with your favorite toppings, then serve while hot. Shrimp Stir Fry is excellent on top of a bed of rice or keto rice. Another way to eat this stir fry is by making a large family-style feast with all my favorite Asian dishes. It's a great way to try a lot of different delicious foods. Here are some other Asian meals I'd serve with this recipe.
Tips and Tricks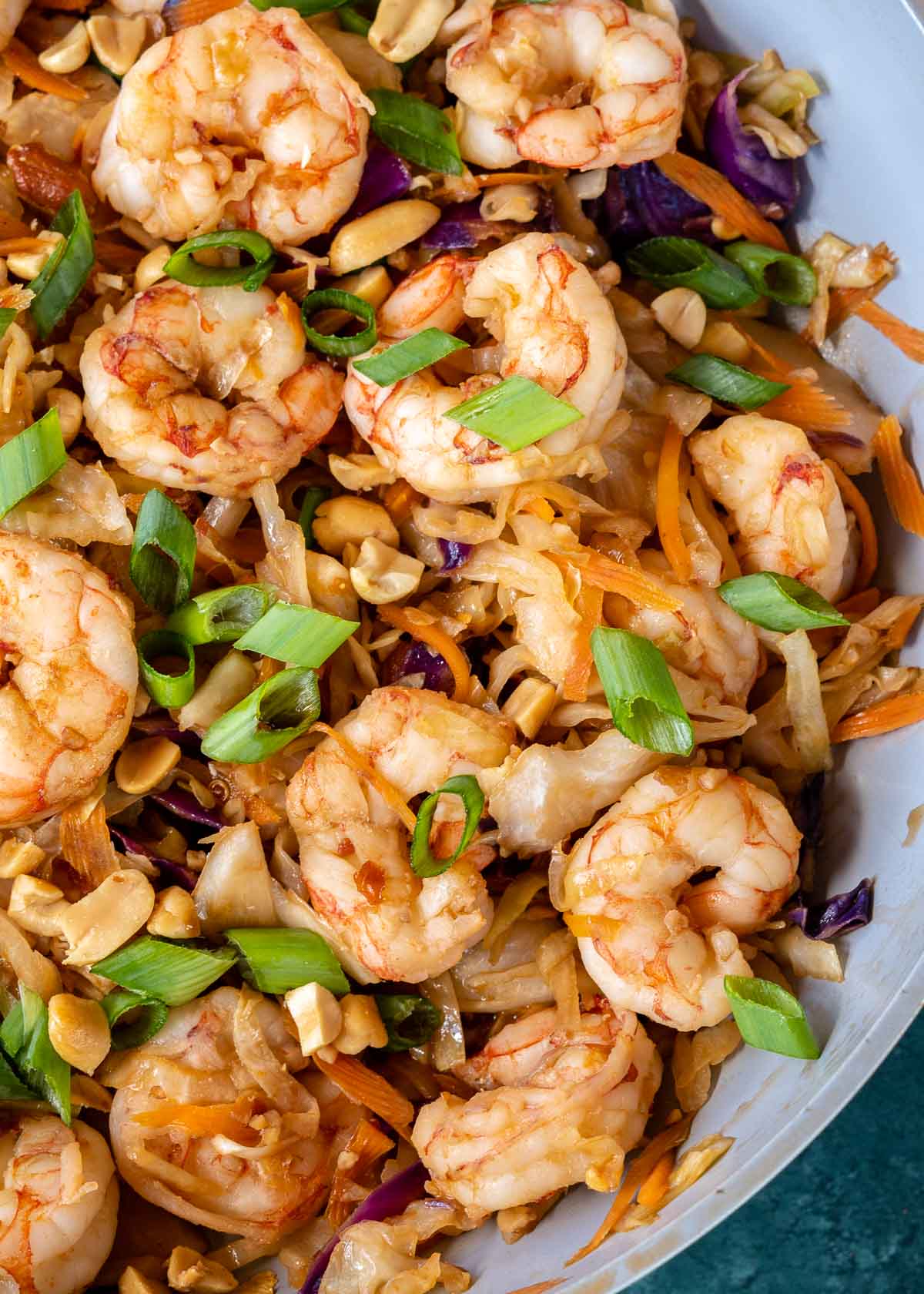 Here are a few tricks and tips that you can use when you make this shrimp stir fry.
Use bagged veggies. You'll always get the best result by using fresh vegetables that you cut yourself. But you can save a lot of time and get a result that's almost as good if you use bagged veggies. Most grocery stores sell a slaw mix that's usually just shredded carrots and cabbage. If you want to save time making this recipe, use one of those mixes.
Prepared shrimp. Similarly, you can save a lot of time by buying shrimp that are already shelled, deveined, and has the tails removed. If you're buying the shrimp directly from your butcher, they'll usually do this for you.
Add veggies and herbs. Feel free to play with this recipe based on what you have in your fridge, or what you like. You can add tons of other veggies and fresh herbs to this dish.
Garnish. I'm a believer that you should always garnish your dishes. It's an easy way to add so much extra flavor. That's especially true with Asian recipes. My favorite toppings for this stir fry are green onions, sesame seeds, peanuts, and crushed red pepper. But you can also add cilantro, Thai basil, chili garlic sauce, spiced vinegar, or whatever your favorite Asian garnish is.
How to Store and Reheat Leftovers
This shrimp recipe will last for 3 days in the fridge, as long as you store it in an airtight container. The best way to reheat it is in a pan over medium heat, stirring constantly, until everything is warm all the way through. This will take about 5 minutes. You can also reheat the stir fry in the microwave in 20-second increments until everything is warm. Be sure not to overcook in the microwave or the shrimp will get very rubbery.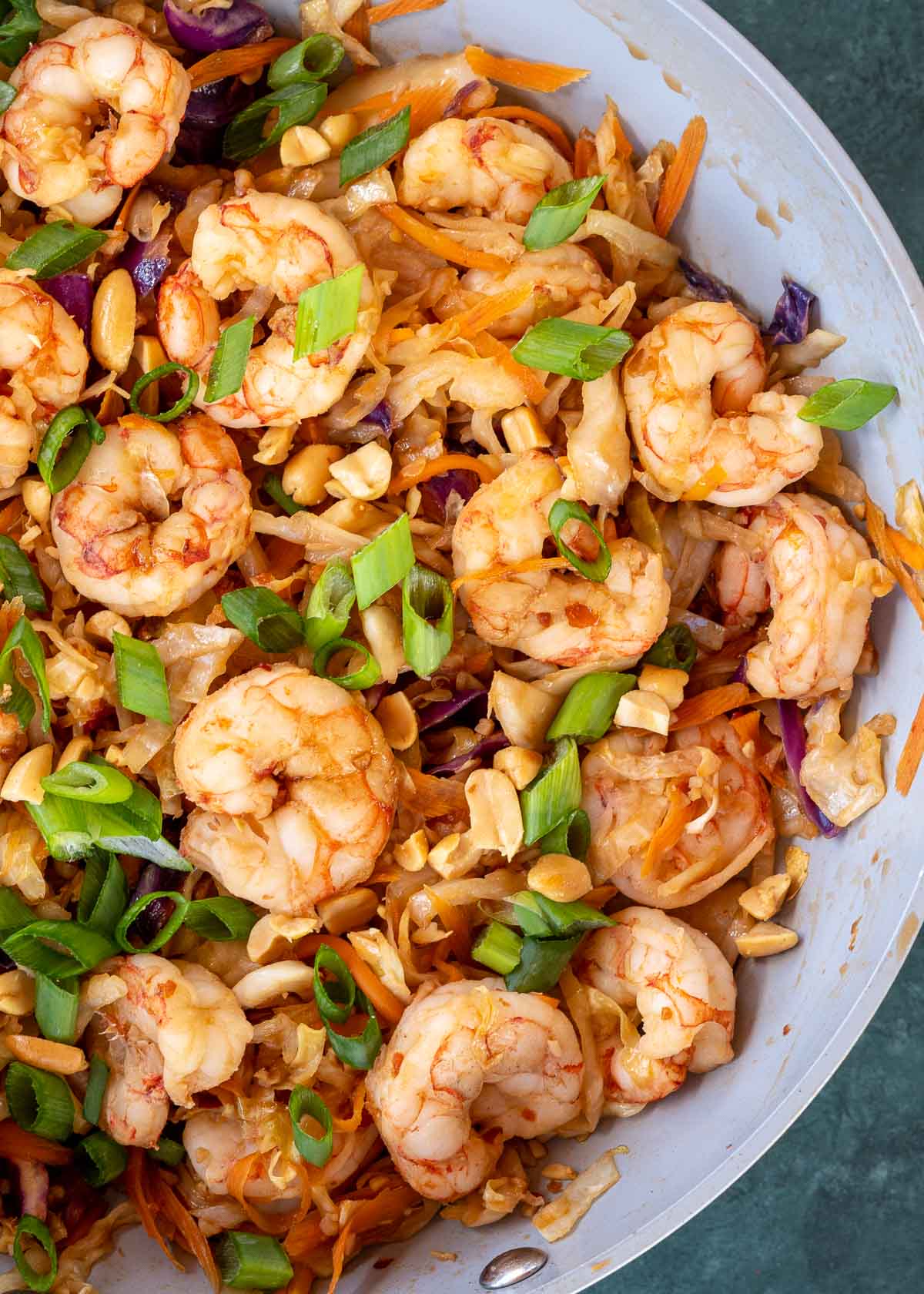 Can I Freeze This Recipe?
You can definitely freeze this recipe. That said, it's not my favorite recipe to freeze, because the texture of the cooked shrimp and vegetables will suffer a little bit when you freeze and then thaw them. But it will last for 3 months in the freezer, as long as you store it in an airtight container. 
More Easy Shrimp Dinners
If you like shrimp as much as I do, then you've got to try some of my other favorite shrimp recipes. They're easy, healthy, and most importantly, delicious!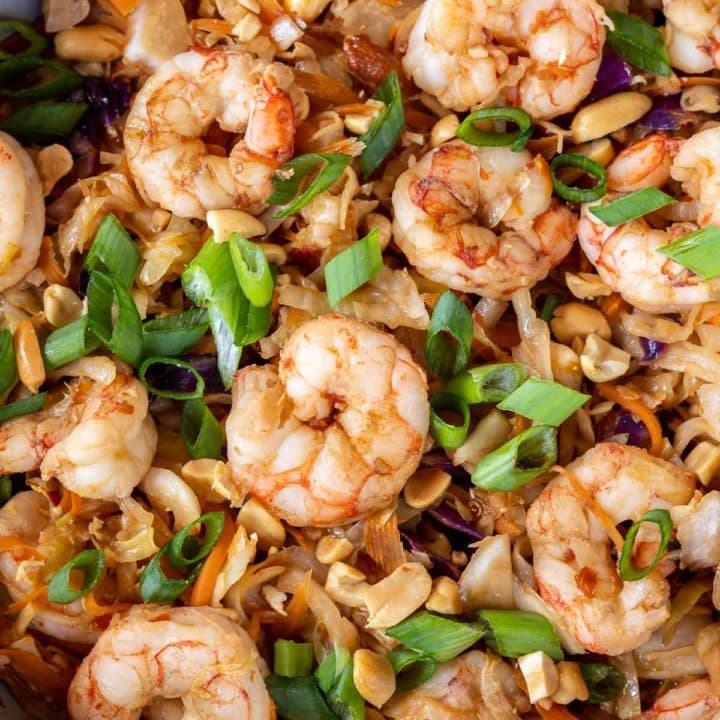 Shrimp Stir Fry
This shrimp stir fry is the perfect weeknight meal. It's healthy, delicious, and only takes 20 minutes to make.
Ingredients
For the Stir Fry:
1 tablespoon avocado oil
1 pound medium shrimp, shelled, deveined, and tails removed
6 cups shredded cabbage
3/4 cup shredded carrots
For the Sauce:
1 tablespoon minced garlic
3 tablespoons soy sauce
1 tablespoon sweetener (golden monkfruit if keto, sugar or honey if not)
1 tablespoon rice vinegar
2 teaspoons chili garlic sauce
1 teaspoon sesame oil
Optional Toppings:
Green onions
Sesame seeds
Peanuts
Crush red pepper
Instructions
Heat a large skillet or wok over medium heat. Add the avocado oil and the peeled shrimp in a single layer. Cook for approximately 2-3 minutes, flipping halfway through. Remove the shrimp when it's pink and cooked through, then set aside.
Add the shredded cabbage and carrot to the pan and cook over medium heat, stirring occasionally.
While the veggies cook, add the garlic, soy sauce, sweetener, rice vinegar, chili garlic sauce, and sesame oil to a jar. Put on the lid and shake vigorously to combine.
Pour the sauce over the veggies. Use tongs to stir fry until the vegetables are coated in the sauce.
Cook while stirring regularly until the cabbage is tender, about 5-6 minutes.
Add the shrimp, and toss to combine. Cook until the shrimp is warmed through.
Top with any desired garnishes, then serve.
Notes
You can store this recipe in an airtight container in the fridge for up to 3 days.
Reheat on the stove over medium heat for 5 minutes, or in the microwave in 20-second increments.
Recommended Products
As an Amazon Associate and member of other affiliate programs, I earn from qualifying purchases.
Nutrition Information:
Yield:

6
Serving Size:

1 heaping cup
Amount Per Serving:
Calories:

129
Total Fat:

3.6g
Cholesterol:

121.6mg
Sodium:

370.6mg
Carbohydrates:

8.2g
Net Carbohydrates:

5.5g
Fiber:

2.7g
Sugar:

4.4g
Protein:

17.2g