This Easy Feta Hummus dip is full of Greek-inspired flavor! Eat it with vegetables, sandwiches, salads and so much more. This healthy snack goes great with everything!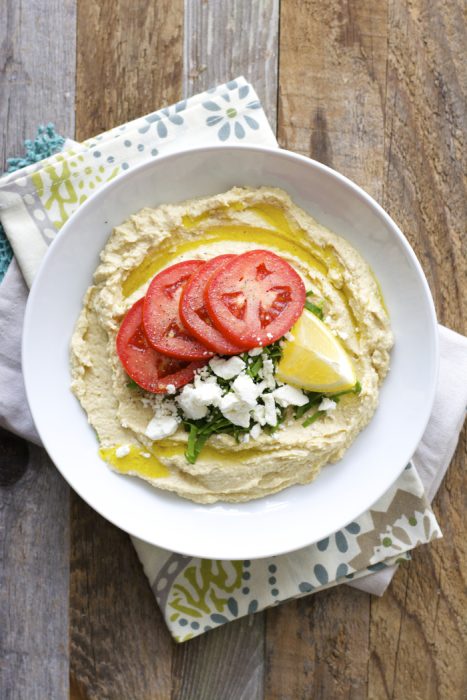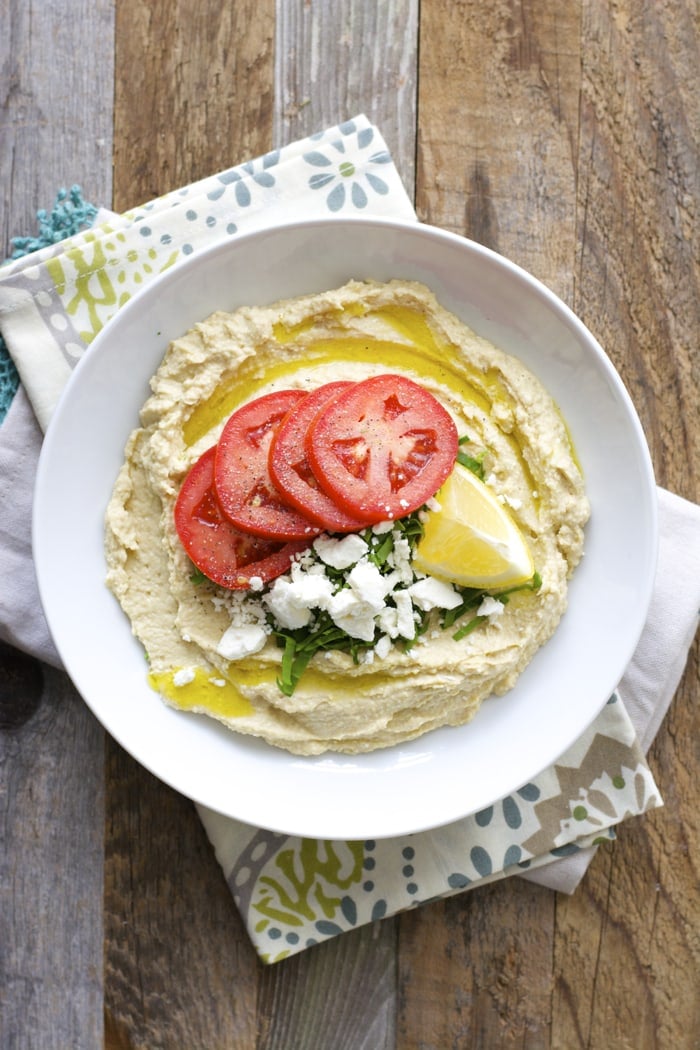 If you have been reading long, you know my husband, Mr. Maebell is a big duck hunter… which means most of the winter I don't see him. Luckily, duck season ended a few weeks ago (THANK HEAVENS!) so it meant I got my husband back.
I am so enjoying him being around, but there is one thing I didn't realize I had gotten used to – the food! I have enjoyed girly foods and meatless dishes for weeks, and now that my meat and potatoes husband is back, he is wondering what the heck happened! ha!
So while I guess I will have to get back in the swing of things, I am still trying to enjoy my girly foods every now and then. I whipped up this Easy Feta Hummus to snack on.
This hummus is so simple, just a few basic ingredients and about a minute of work give you a nice, fresh Greek-inspired spread! I spread this on toast and quesadillas in addition to eating it with crackers and veggies. It is the perfect quick and easy snack that is healthy, too!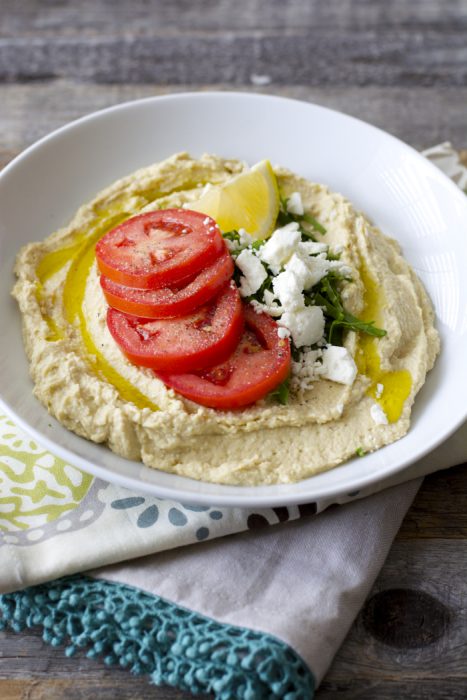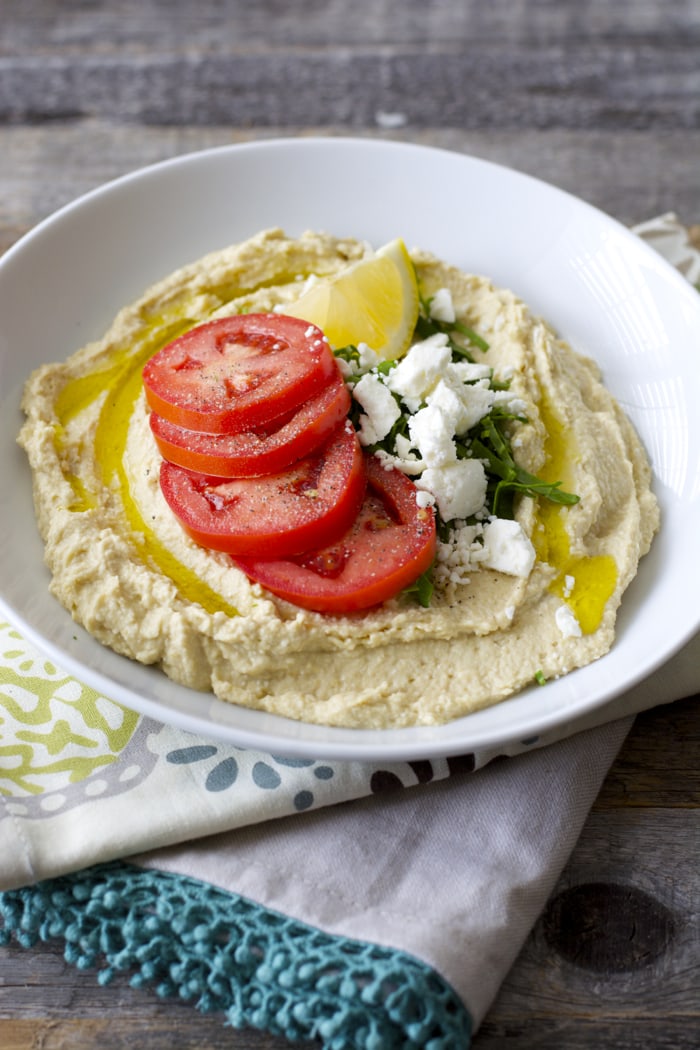 Ingredients for Easy Feta Hummus:
As always, this is just a simplified list of the ingredients you'll need. For exact measurements, keep scrolling to the printable recipe card!
Canned chick peas
tahini
Olive oil
Water
Feta cheese
Garlic (minced)
Lemon juice
Salt and pepper to taste
How do you make homemade hummus with feta?
Fresh, homemade hummus tastes so much better than the store-bought variety–You won't believe how easy it is, too! There's no cooking involved, but you will need a food processor or quality blender.
All you have to do is place all of the ingredients into the food processor and blend until smooth. Seriously, that's it!
Tips for the BEST feta hummus:
Start with two teaspoons of lemon juice, then taste the processed hummus. If it needs more acidity, add another teaspoon.
If you like your hummus to be ultra smooth, first blend the tahini, garlic, lemon juice, and water. This helps reduce the garlic into super tiny pieces that easily spread throughout the entire hummus. After this combination is smooth, add the remaining ingredients and blend away!
Add toppings! I love to add tomatoes (more acidity), olive oil, fresh basil, and more crumbled feta on top before serving. The presentation is beautiful, and it adds that extra punch of flavor to really wow your guests.
Feel free to change it up a bit. Roast the garlic before adding it to add a deeper, richer flavor. Blend roasted red peppers into the mixture to add a kick of heat!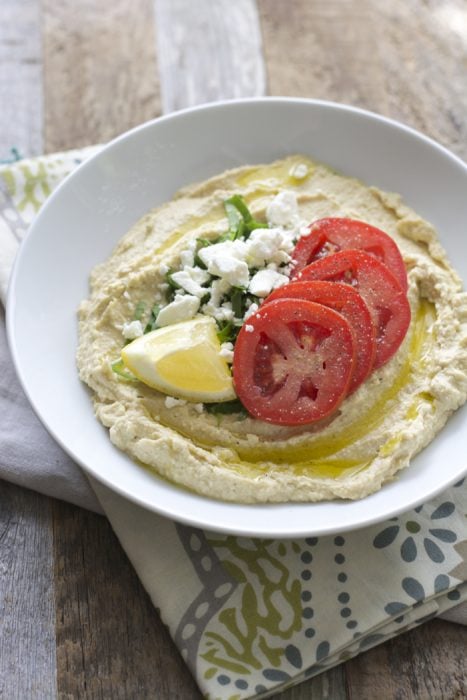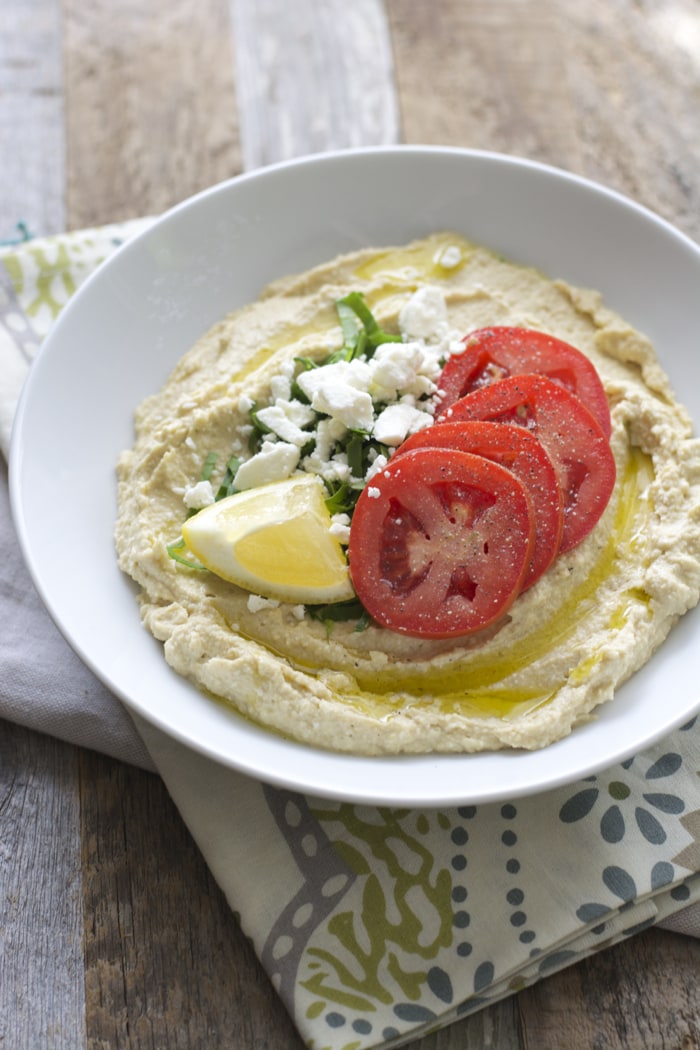 What are the best ways to use hummus?
I love this hummus so much, I could basically eat it by the spoonful, but your guests might look at you strangely if you start that habit. Instead, here are some great recipes to use up this delicious dip/spread:
More Gluten-Free Snacks: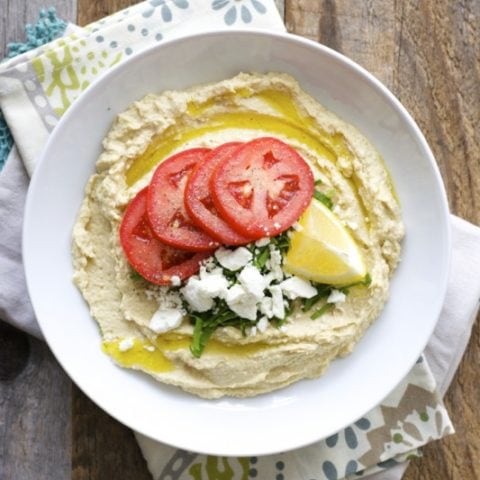 Easy Feta Hummus
Yield:
4 servings (about 1 1/4 cup)
This easy Feta Hummus dip is full of Greek-inspired flavor! Eat it with vegetables, sandwiches, salads and so much more. This healthy snack goes great with everything!
Ingredients
1 (15 ounce) can chick peas, drained and rinsed
1/4 cup tahini
4 tablespoons feta
1/4 cup olive oil
1/4 cup water
2 teaspoons minced garlic
2-3 teaspoons lemon juice (start with 2 and increase if you want more acidity)
pinch of salt and pepper to taste
Instructions
Add all ingredients in a blender or food processor. Blend until smooth.
Add additional lemon juice as needed to achieve the desired taste.
Top with a drizzle of additional olive oil, tomatoes, feta, and basil.
Serve with vegetables, crackers or as a spread.
Notes
For the smoothest possible texture, process the tahini, garlic, water, and lemon juice before adding the rest of the ingredients. This allows the garlic and tahini to spread throughout the hummus easier.
Nutrition Information:
Yield:

4
Serving Size:

about a 1/4 cup
Amount Per Serving:
Calories:

327
Total Fat:

22.3g
Cholesterol:

8mg
Sodium:

484mg
Carbohydrates:

25.9g
Net Carbohydrates:

20.7g
Fiber:

5.2g
Sugar:

0.4g
Protein:

8.2g