Italian Herb Kale Chips are a crunchy and healthy snack! This recipe features a low and slow oven temperature to ensure perfectly crispy chips without overcooking!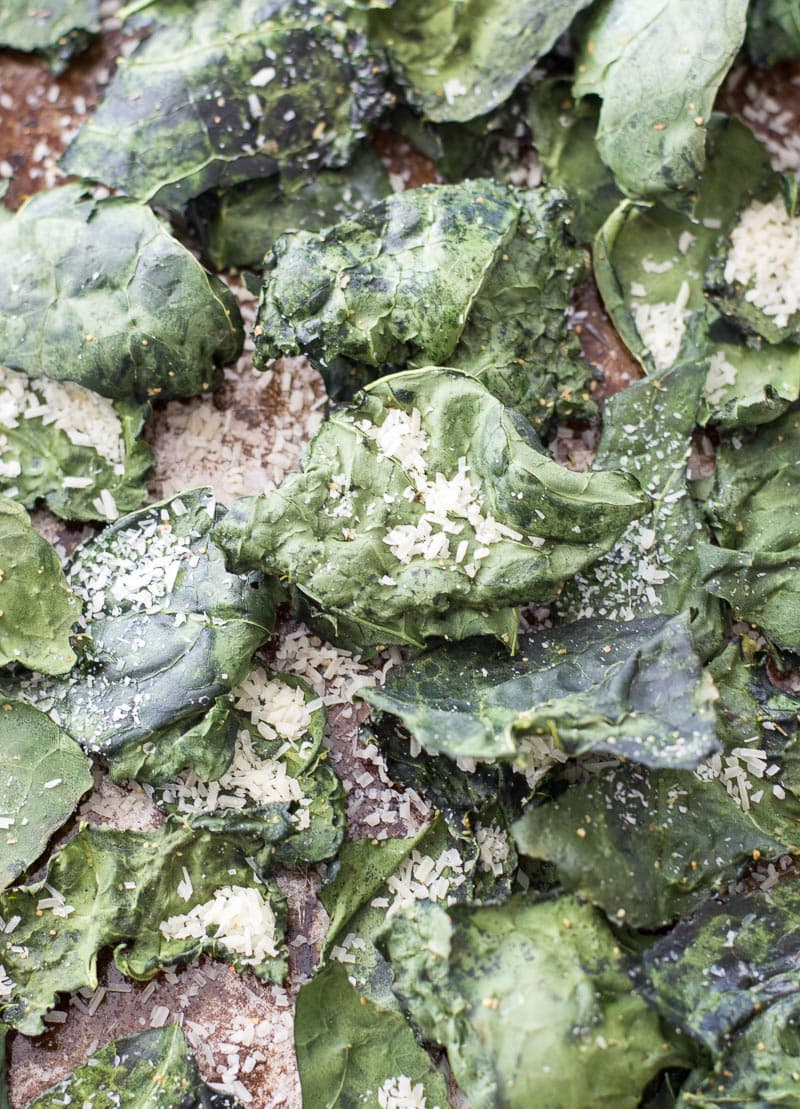 Enjoying this big, beautiful bowl of crunchy kale chips is how I kick off my Saturday afternoon. By mid-afternoon all of my errands have been run, the house is clean, laundry is well on its way. I have made a couple dishes for the blog, and as a result of my super-productive day, I am ready to kick back for a bit.
Above all Kale chips happen to be my favorite afternoon snack of choice. Now, if you haven't tried kale chips yet you should try them! That's because they are crunchy and full of flavor, and also, are incredibly healthy.
Kale chips are a completely guilt-free snack! Maybe the most guilt-free snack, ever?!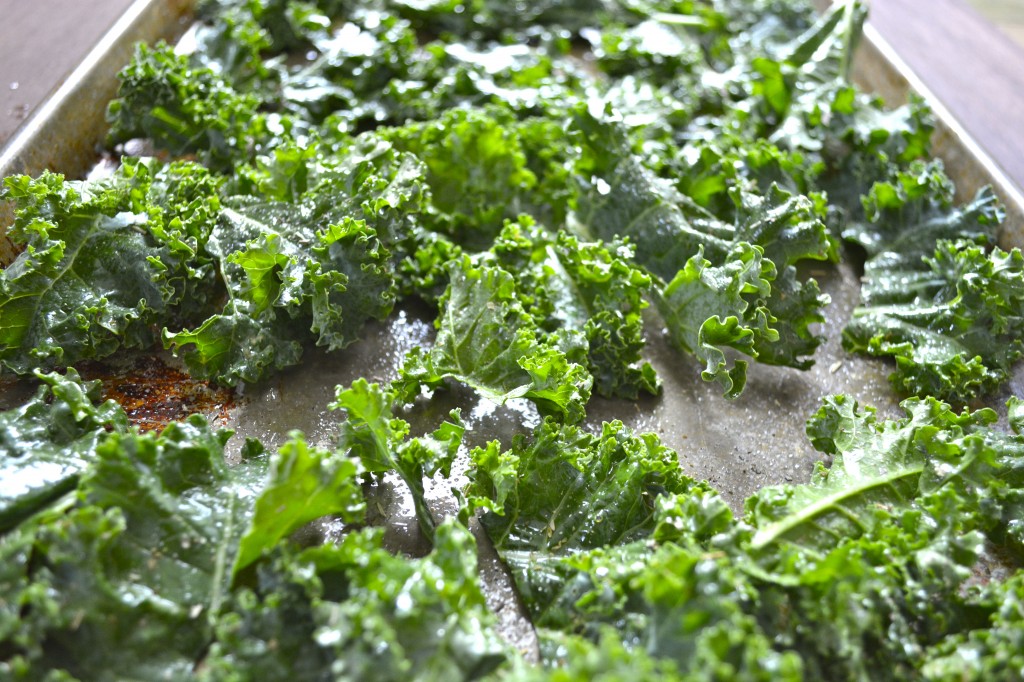 My Favorite Kale Chips
Because this recipe is so simple, there is really no wrong way to make kale chips! The cooking process is easy: Just tear kale leaves making sure you get rid of the tough stems, spray or toss the leaves in oil and spices, and bake until crispy.
Seems pretty simple, right? I have tried a lot of variations, however, this Italian Herb Kale Chips recipe is my favorite. All you need is a little Italian seasoning, garlic powder, salt and pepper, and of course, a sprinkle of Parmesan cheese.
What You Need to Make Italian Herb Kale Chips
I prefer to buy bunches of fresh kale, rather than bags of already chopped kale they sell at most groceries, because those bags of chopped kale have the tough stems mixed in and are usually cut very small. As a result, the kale chips end up being teeny tiny because they shrink so much when they cook. Most importantly you want the nice, robust kale leaves!
Kale, with stems removed and the leaves loosely torn
Olive oil – or preferred spray oil
Italian seasoning
Garlic powder
Salt and pepper
Parmesan cheese
But what's really noteworthy about this kale chips recipe? You can customize the seasonings to your favorite flavors! Here I offer find my recommendations for making Italian seasoned chips, but you certainly can substitute whatever spices you prefer.
How about cumin and a bit of chili powder to make Southwest-inspired kale chips? Or try lemon pepper and dill for a zesty and unique snack!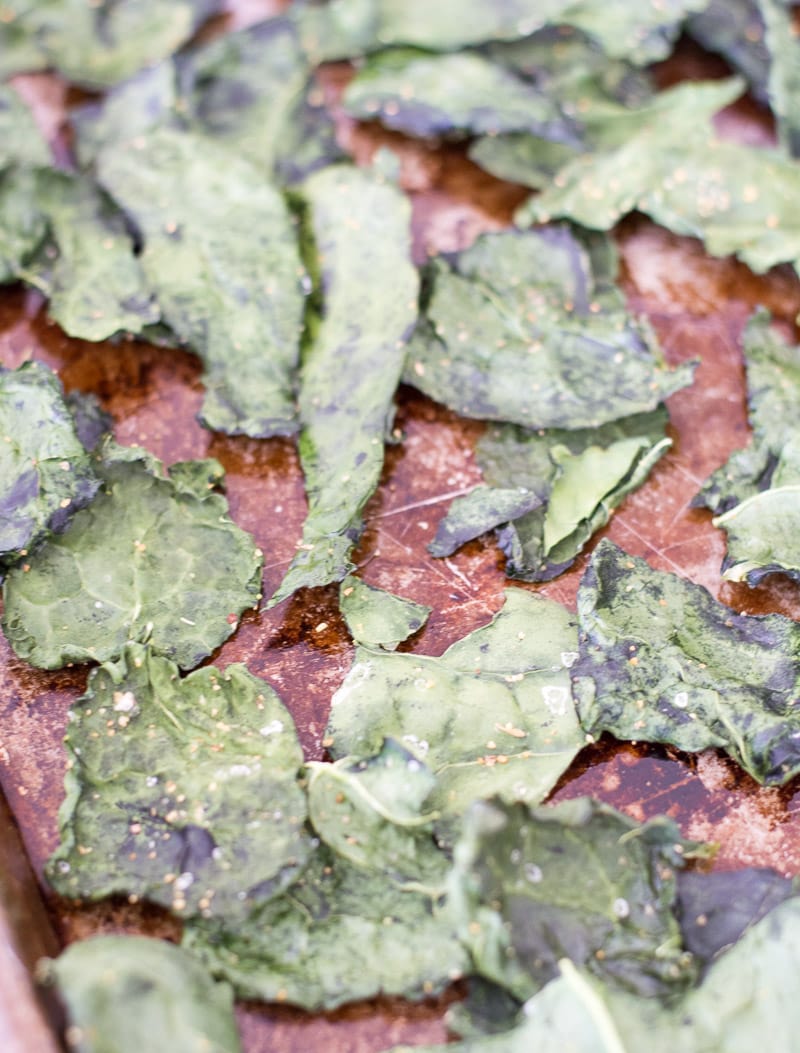 How to Make Italian Herb Kale Chips
First, preheat your oven to 225 degrees F. I absolutely recommend this low oven temperature because you want your kale chips to be nice and crispy but not get burned.
Next, prep your fresh kale by removing all of the stems and tearing the leaves into just slightly larger than bite-sized pieces.
Use olive oil or cooking spray to lightly grease a large baking sheet. Then, place pieces of kale in a single layer on baking sheet, and spray with more oil or lightly drizzle with olive oil. Don't use too much oil or your kale will be soggy and unable to get crispy!
In a small bowl, mix together the Italian seasoning, garlic powder, salt and pepper. Evenly sprinkle over the kale.
Finally, bake for 12 minutes, remove the baking sheet and gently shake to turn the kale, and return to the oven. Continue to bake for another 5 to 10 minutes until the kale is crispy. Roasting the kale low and slow for around 20 minutes in a 225 degree oven ensures that your chips achieve maximum crispness. Keep a close eye on your chips to make sure they don't burn!
Once done, remove from the oven and sprinkle with Parmesan cheese.
Enjoy!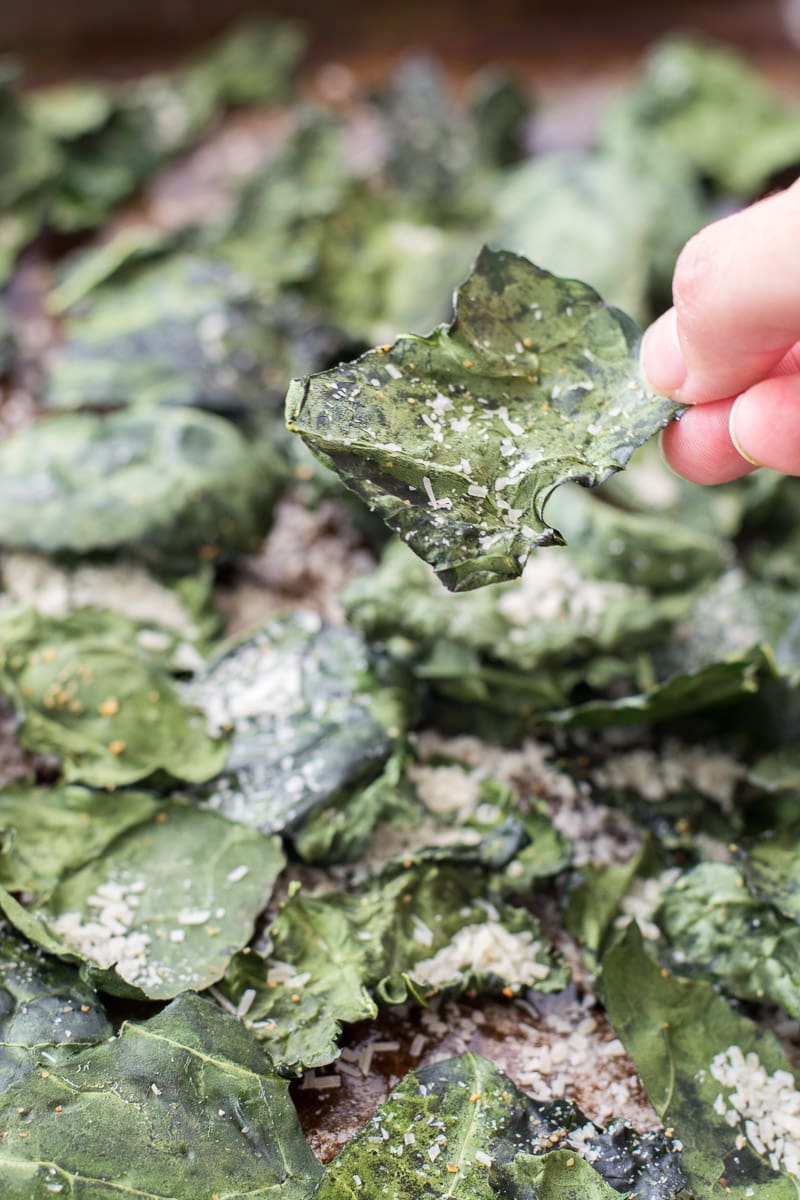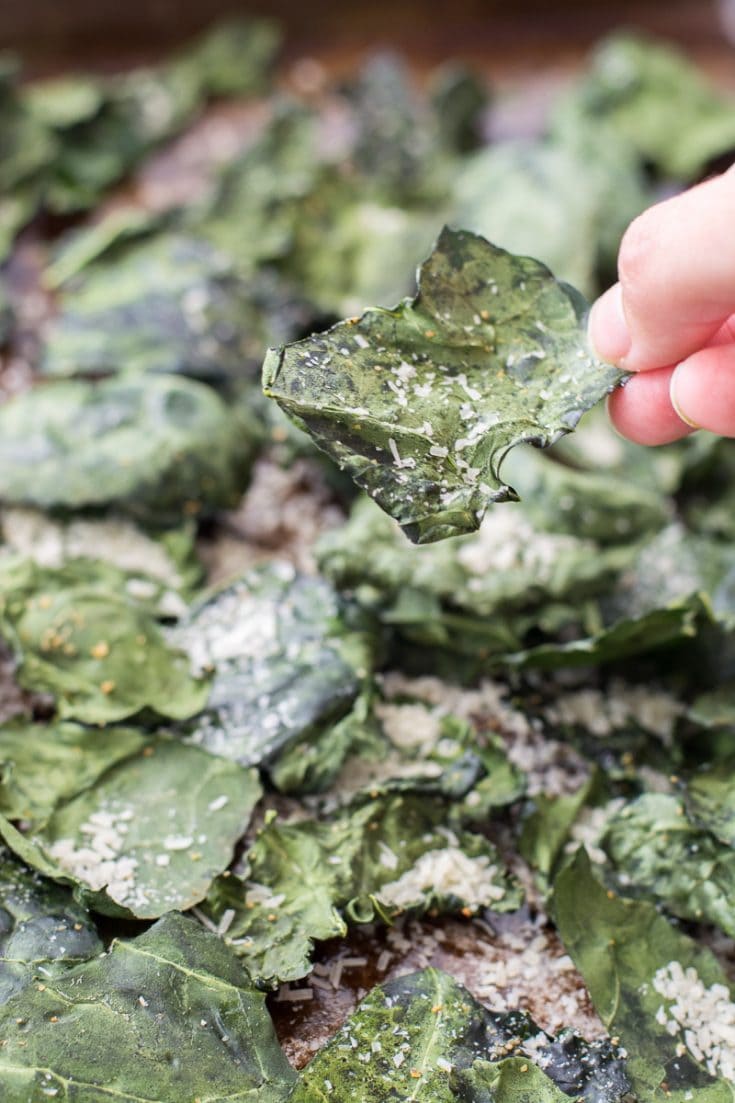 Looking for More Healthy & Easy Snack Ideas?

Other Easy Keto Recipes
If you are new to Keto try my favorite Sausage Egg and Cheese Bites, they contain less than one net carb per bite and they are perfect for meal prep! One of my favorite easy low carb dinners is this One Pan Cabbage Casserole. It is so easy, cheesy and delicious and it has less than 9 net carbs per serving. Some other favorites, Keto Chocolate Cookies, Pimento Cheese and Bacon Stuffed Peppers and Sausage and Cream Cheese Pinwheels!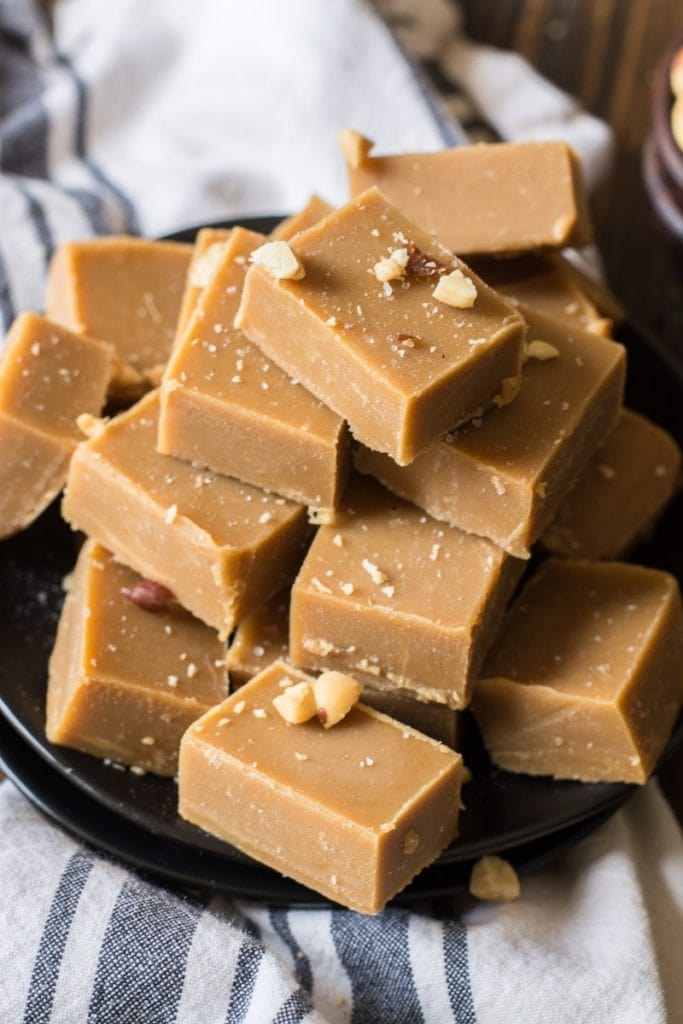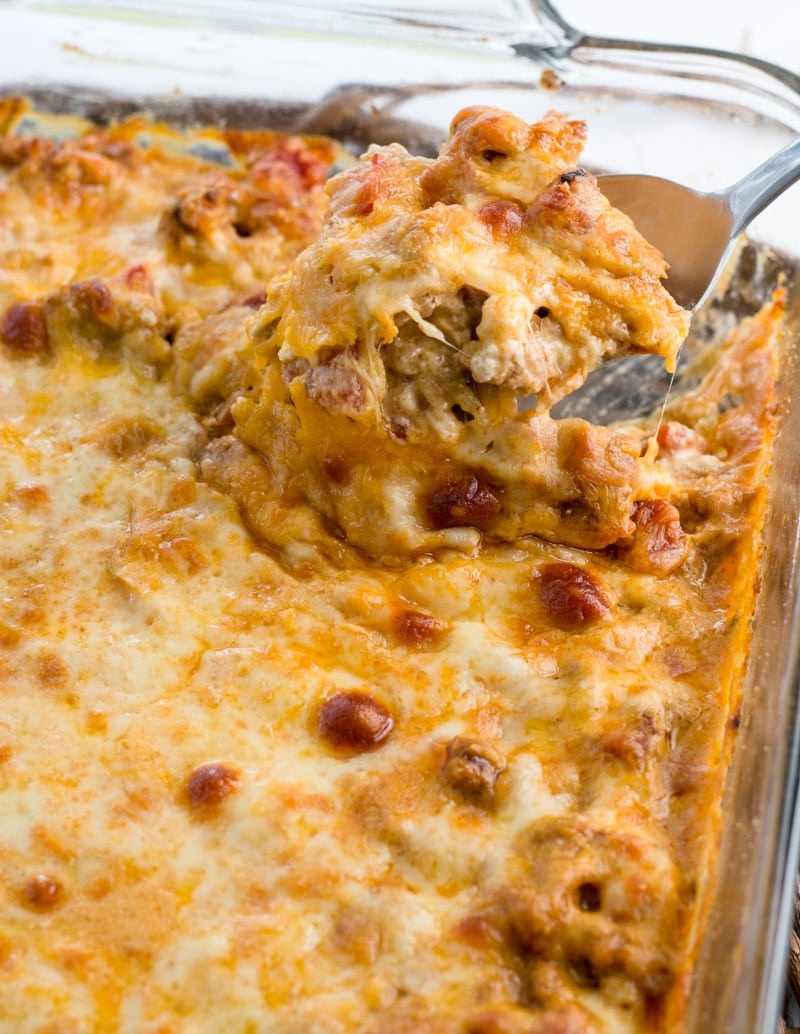 Be sure to Follow me on Facebook, Instagram, and on Pinterest for the latest Maebells – Simple Living updates!