This easy Roasted Zucchini with Parmesan is the perfect summer side dish! Healthy, low-carb, and simple – This is the only roasted zucchini recipe you'll ever need!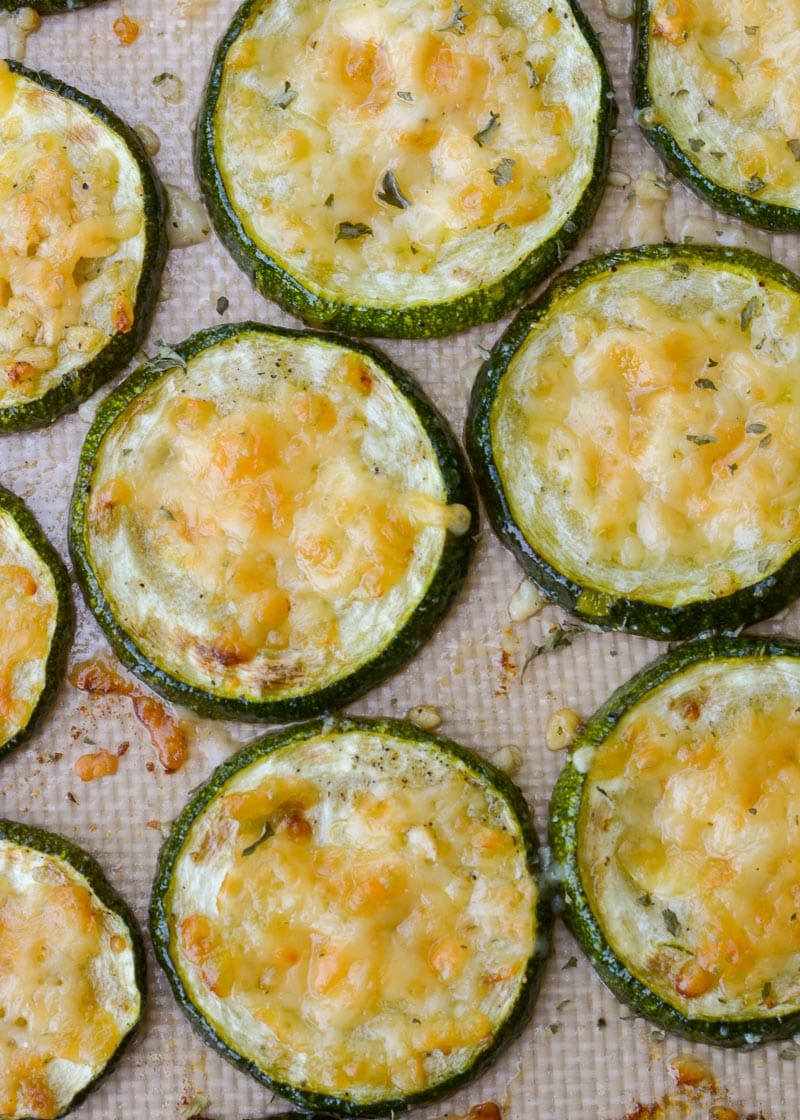 Roasted Zucchini with Parmesan
Zucchini is always SO plentiful in the summer, and I'm always thankful for it! While I love coming up with new, creative ways to use the healthy squash (like Zucchini Tortillas or Zucchini Fries), I also love sticking to this simple, tried-and-true, easy Roasted Zucchini with Parmesan. This side dish goes well with pretty much any main dish!
This recipe requires very little effort–The main thing is making sure your slices are uniformly cut for even cooking. If you have a mandoline slicer, this makes quick, even cuts extremely easy and quick! Unlike some other zucchini recipes, you don't have to salt or press the moisture out of the zucchini because we let the high roasting temperature take care of that.
This simple, flavorful recipe is easy enough for beginner cooks and quick enough for a busy weeknight. Leftovers can be stored in the fridge, patted dry, then added into this delicious Zucchini Hummus Wrap, too!
How to Roast Zucchini
The complete recipe is written out below, just keep scrolling. This recipe is so simple. For the best Roasted Zucchini just combine freshly sliced zucchini, olive oil, garlic, salt and pepper and toss to coat. Roast the zucchini until tender, then top with parmesan and broil!


How thick should I cut the zucchini?
I recommend cutting the zucchini into 1/4 inch rounds. If you slice them thicker, the cooking time will be longer.
What to serve with Oven Roasted Zucchini
This really does work well with SO many dishes! I love to serve this zucchini side dish with Grilled Chicken Legs and Keto Three Cheese Biscuits. For an amazingly filling but light vegetarian meal, serve this roasted zucchini with a Simple Arugula Salad, Italian Baked Mushrooms, and a Sugar Free Lemonade. Leftovers could be used in this Grilled Zucchini Hummus Wrap for an easy, healthy meal prep, too.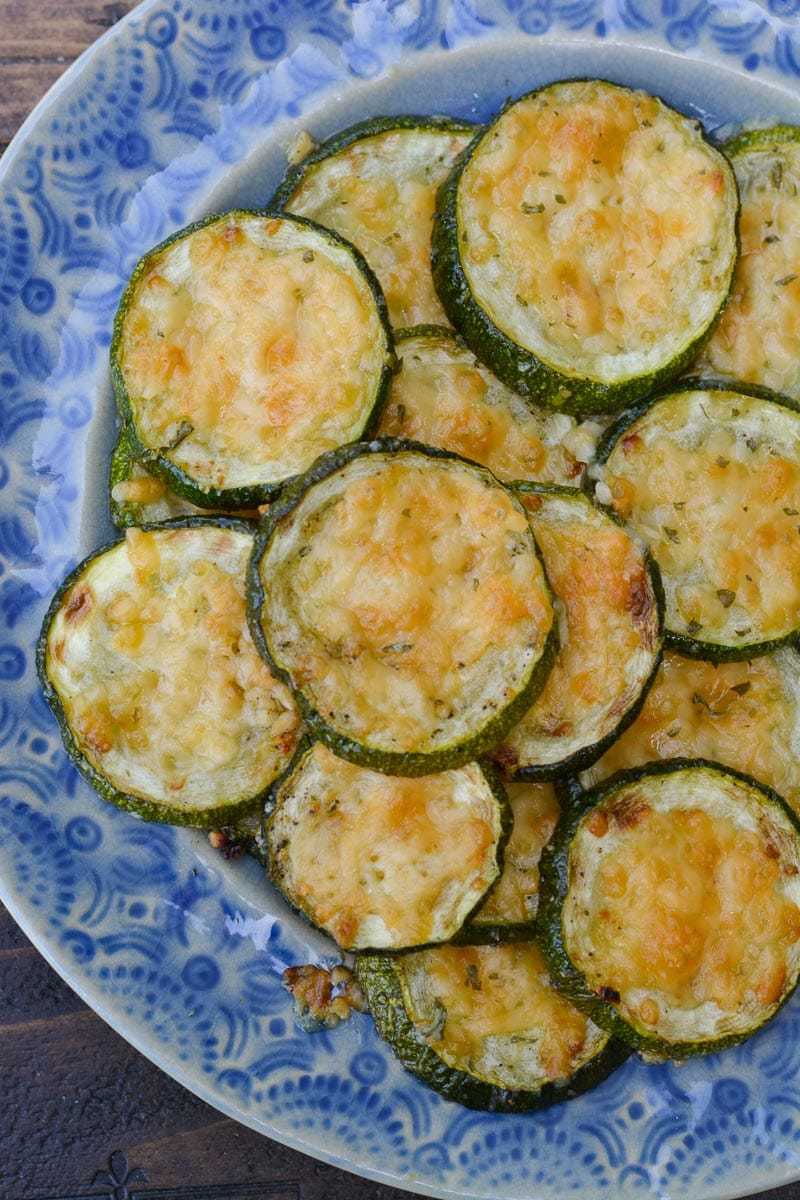 Tips for the BEST Roasted Zucchini
Slice the zucchini as uniformly as possible, this ensures everything is finished at the same time.
You do not need to salt or set the zucchini out ahead of time. Roasting at a high temperature will cook the water out.
Do not overcrowd the pan, spacing the zucchini out will help it cook evenly and allow the moisture to evaporate from the zucchini.
Do not add the cheese until the end, this gives you the best texture and ensures the cheese will not be overcooked.
Spices for Roasted Zucchini
This recipe is designed to let zucchini be the star of the show. The garlic and parmesan really compliment the flavors of the zucchini. However, if you want to mix things up these are some of my favorite options:
Italian seasoning and a hint of lemon: season the zucchini generously with Italian seasoning and squeeze fresh lemon juice over the zucchini just before serving.
Cajun seasoning: use your favorite all purpose Cajun seasoning for a nice change up.
Pesto: skip the olive oil and spices and instead toss the zucchini in 2 tablespoons pesto and top with Asiago instead of parmesan.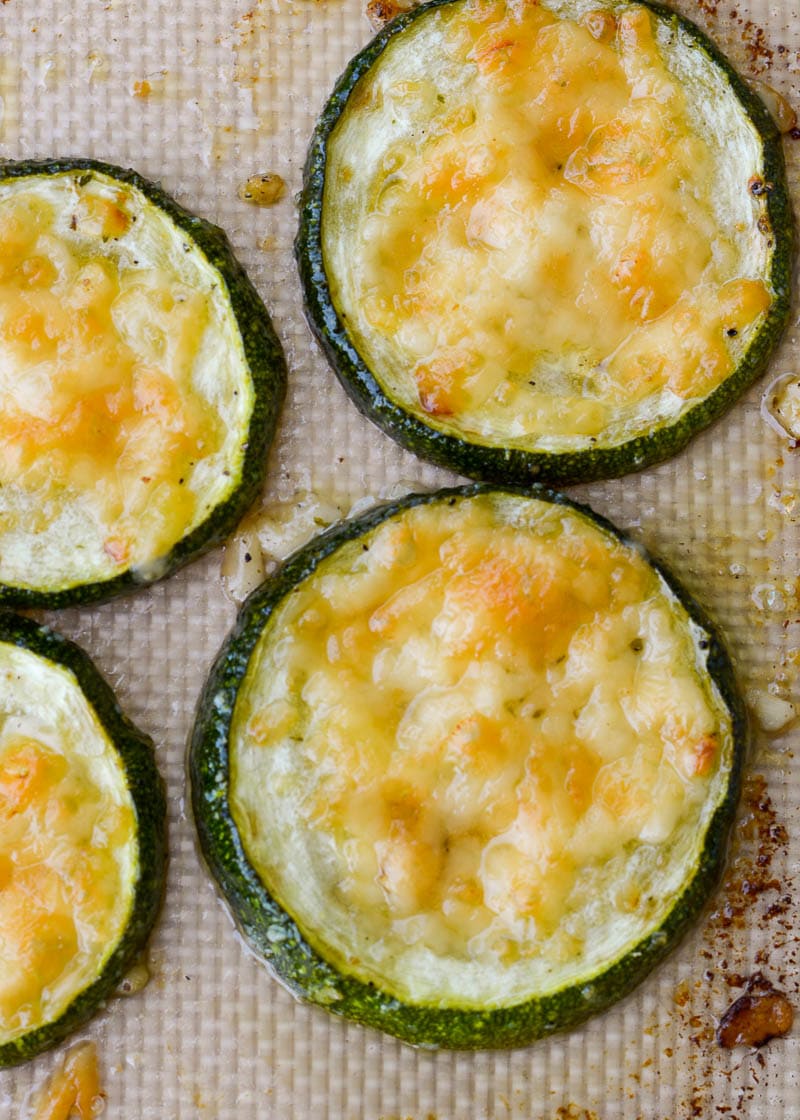 Can I freeze roasted zucchini?
No, due to the high water content in zucchini I do not recommend freezing it. The taste and texture will change dramatically after being cooked, frozen and then reheated. This dish is best prepared fresh.
More Summer Recipes
For keto-friendly recipes perfect for a summer meal, check out this list of 30+ Low Carb Cookout Recipes
More Zucchini Recipes
Looking for more? Check out this list of 20+ of the BEST Zucchini Recipes (or if you're low-carb, see this list of 20+ Keto Zucchini Recipes)!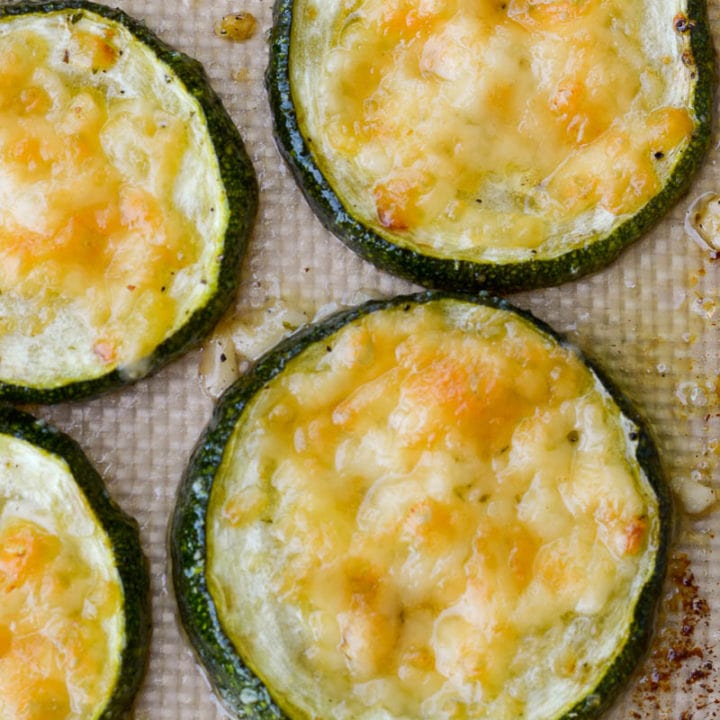 Perfect Roasted Zucchini
This easy Roasted Zucchini with Parmesan is the perfect summer side dish! Healthy, low-carb, and simple - This is the only roasted zucchini recipe you'll ever need!
Ingredients
3 medium zucchini, sliced into rounds (about 4 cups)
1 1/2 tablespoons extra virgin olive oil
2 teaspoons minced garlic
1/2 teaspoon kosher salt
1/2 teaspoon black pepper
1/2 cup grated parmesan cheese
Instructions
Preheat the oven to 425 degrees F.
Toss the zucchini with the olive oil, garlic, salt and pepper. Place in a single layer on a large baking sheet.
Bake the zucchini 8-10 minutes until tender.
Remove the zucchini from the oven and top with the parmesan. Turn the broiler on high and place the zucchini on the top rack of the oven. WATCH CLOSELY and remove from the oven as soon as the parmesan begins to brown.
Recommended Products
As an Amazon Associate and member of other affiliate programs, I earn from qualifying purchases.
Nutrition Information:
Yield:

4
Serving Size:

About 3/4 cup (1/4 of the recipe)
Amount Per Serving:
Calories:

114
Total Fat:

8.5g
Cholesterol:

7.2mg
Sodium:

336mg
Carbohydrates:

5.4g
Net Carbohydrates:

3.9g
Fiber:

1.5g
Sugar:

3.8g
Protein:

5.7g