This easy roasted zucchini with Parmesan is the perfect summer side dish! Healthy, low-carb, and simple, it's the only roasted zucchini recipe you need.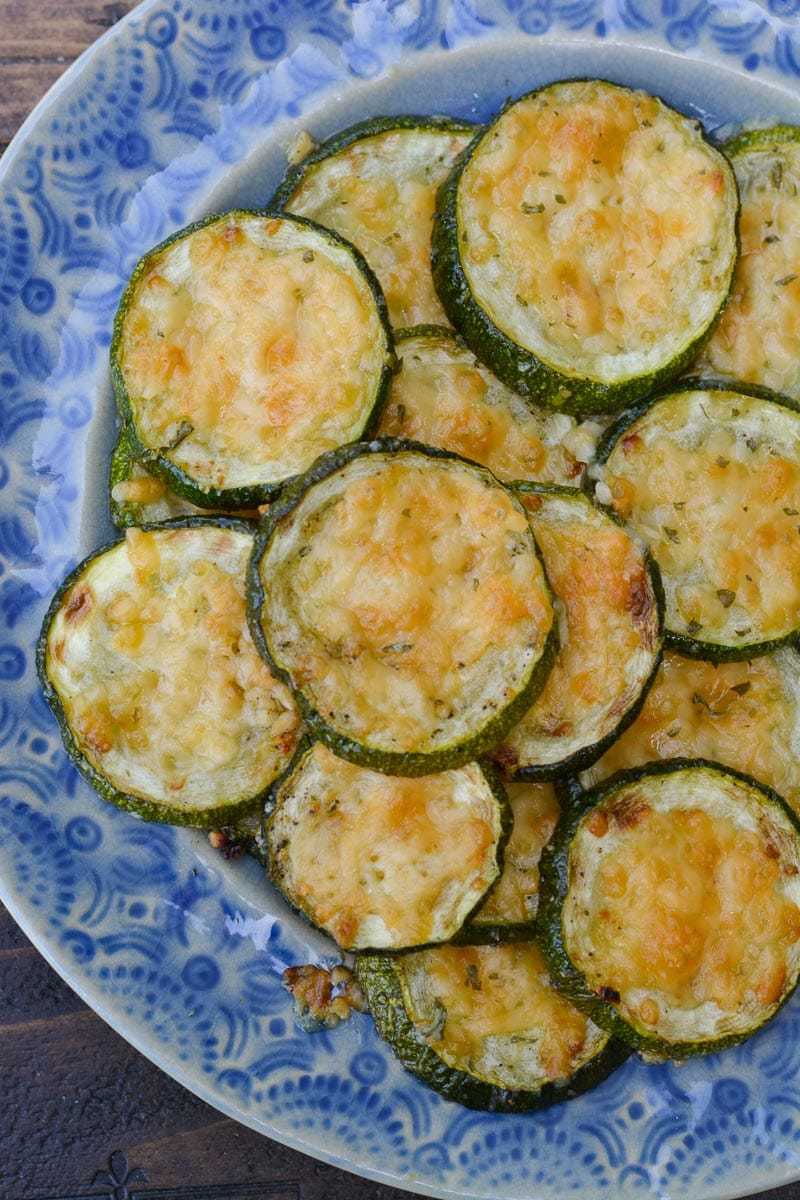 There's certainly no shortage of ways to use an over-abundance of summer zucchini—Zucchini Tortillas or Zucchini Fries, and of course, the ever-popular zucchini bread. But I also love sticking to this simple, tried-and-true roasted zucchini with Parmesan. Not only is it easy, but it's also a side that goes with a wide variety of different main dishes.
This roasted zucchini recipe requires very little effort—the main thing is to make sure your zucchini slices are uniformly cut for even cooking. If you have a mandoline slicer, this makes quick, even cuts easy and quick. Unlike some other zucchini recipes, you don't have to salt or press the moisture out because we let the high roasting temperature take care of that.
Why You'll Love Roasted Zucchini With Parmesan
This is the kind of side dish that you'll find yourself making again and again! Here's what makes it so good:
Healthy. This roasted zucchini recipe is low-carb, keto-friendly, and a great way to work some extra veggies into your day.
Versatile. Pile them onto your plate as a side dish with your favorite protein, or serve them as a snack or appetizer with a dipping sauce.
Customizable. Add herbs, swap the zucchini for yellow squash, try that gourmet smoked sea salt you got for Christmas—there's a lot of room for experimentation!
Delicious. By thinly slicing the zucchini and cooking it at high heat, the water bakes off and you're left with concentrated flavor. No soggy zucchini here!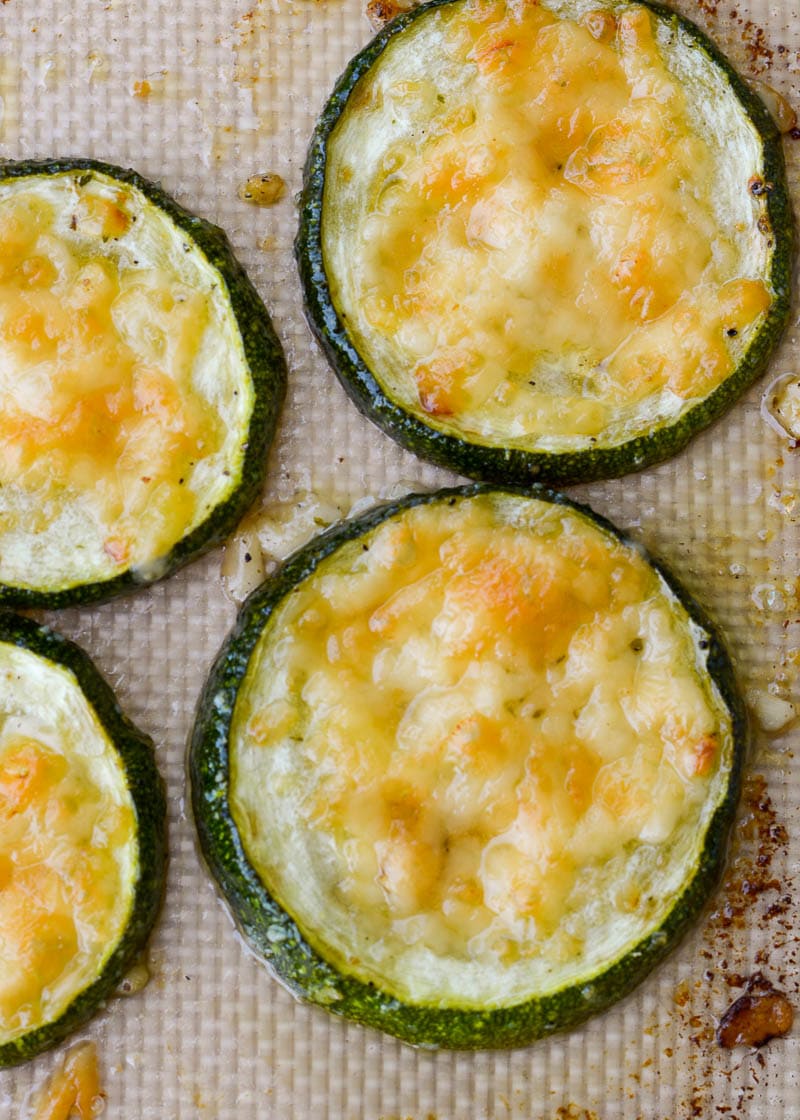 What You'll Need
Here are all the ingredients you need to make roasted zucchini with Parmesan. Scroll to the recipe card at the bottom of the page to see the exact amounts for each ingredient.
Zucchini – Medium zucchini are best; large zucchini have bigger seeds and less flavor, while small zucchini means you'll spend more time slicing.
Extra-virgin olive oil
Garlic
Kosher salt – Kosher salt crystals are larger than table salt, so if you substitute table salt, you'll want to use a little bit less.
Black pepper – Freshly cracked will give you the best flavor.
Grated Parmesan cheese – Fresh cheese (as opposed to the shelf-stable kind) will melt the best.
How to Make Roasted Zucchini with Parmesan
Although you don't need a mandoline slicer, it will be helpful here. Other than that, all you'll need is a rimmed baking sheet!
Slice and Season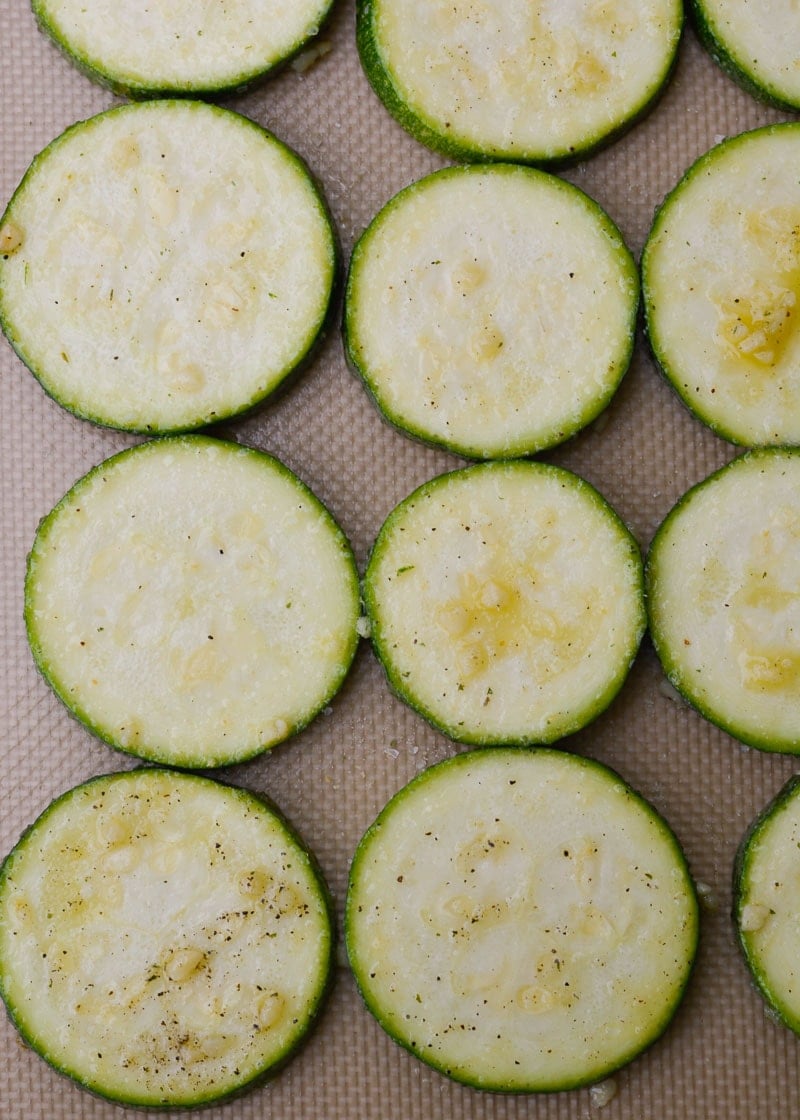 Slice the zucchini into nice rounds. Shoot for a width of 1/4 inch to 1/2 inch thick. Remember, the cooking time will vary based on how large the zucchini is and how thickly you cut the slices. Next, toss the zucchini with olive oil, garlic, salt, and pepper, making sure it's evenly coated. Place the zucchini in a single layer on a large baking sheet. This ensures it has a chance to cook properly without being overcrowded.
Bake
Bake the zucchini at 425 degrees F. for 8 to 10 minutes, or until it's tender. For this recipe, we use a nice high temperature because zucchini has such a high moisture content this ensures the zucchini has a great texture and is not soggy.
Add Parmesan and Broil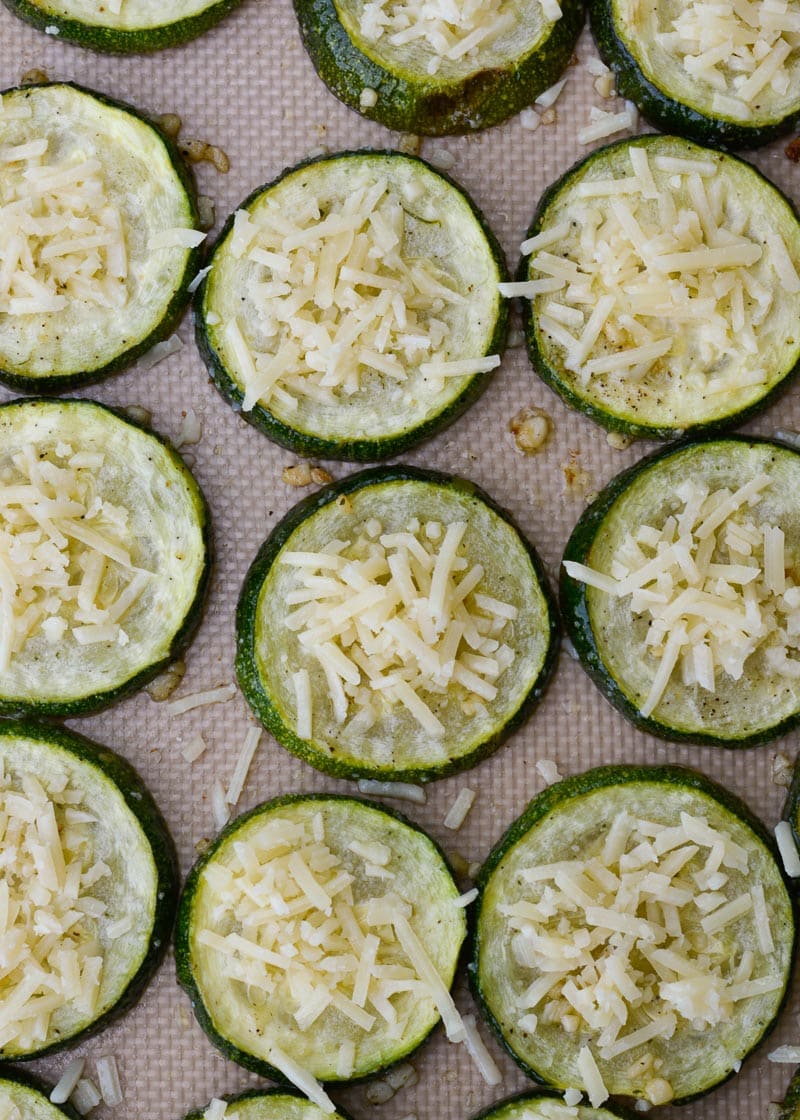 Remove the zucchini from the oven and sprinkle the Parmesan over the top. Turn the broiler on high and place the zucchini on the top rack of the oven. Watch closely and remove the pan from the oven as soon as the Parmesan begins to brown.
Tips and Variations
Follow these tips and you'll have perfect roasted zucchini with Parmesan!
Cut the zucchini thin. I recommend cutting the zucchini into 1/4-inch rounds. If you slice them thicker, the cooking time will be longer. It's also important that they're all the same thickness so they finish cooking at the same time.
Do not overcrowd the pan. Spacing the zucchini out will help it cook evenly and allow the moisture to evaporate. If you crowd the slices, they'll steam and get soft.
Wait before adding the cheese. This gives you the best texture and ensures the cheese will not be overcooked.
Make it Italian-style. Season the zucchini with Italian seasoning and squeeze fresh lemon juice over the slices just before serving.
Try it with Cajun seasoning. Use your favorite all-purpose Cajun seasoning for a kick.
Swap the olive oil for pesto. Skip the olive oil and spices and instead toss the zucchini in 2 tablespoons of pesto, then top the slices with Asiago instead of Parmesan.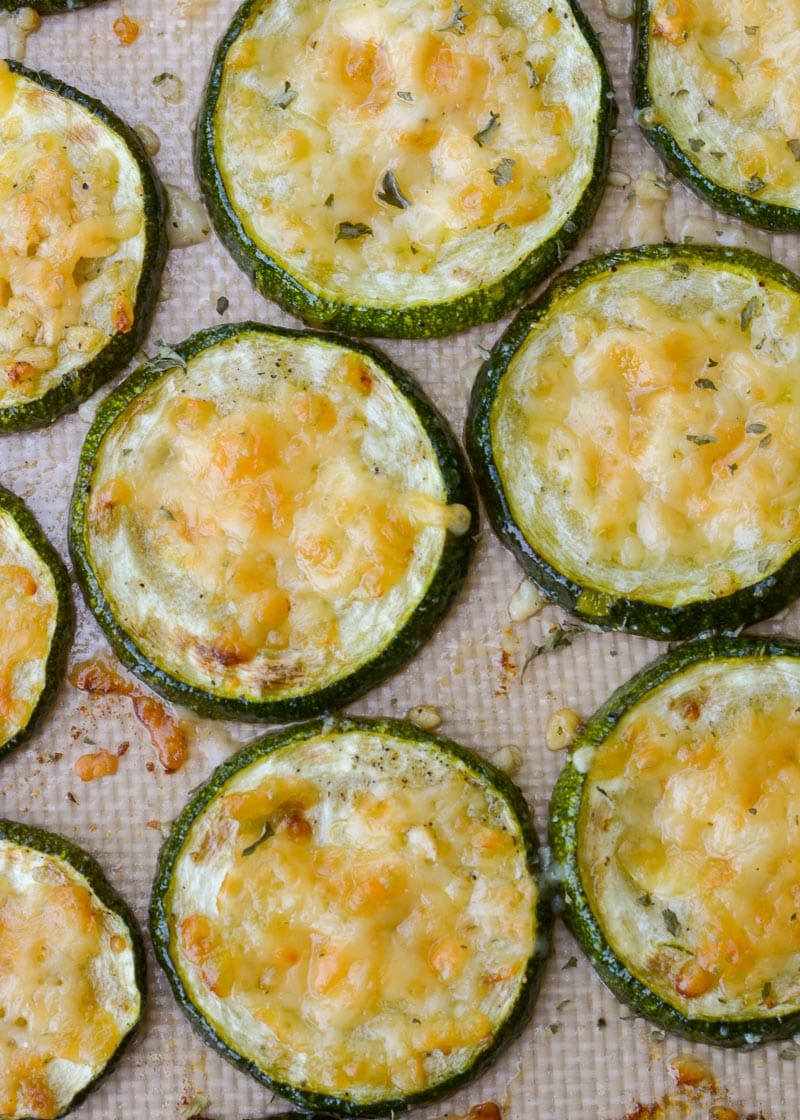 What to Eat Them With
I love to serve this roasted zucchini recipe with:
Leftovers can be used in this Grilled Zucchini Hummus Wrap for an easy, healthy meal prep lunch, too.
How to Store and Reheat Leftover Roasted Zucchini with Parmesan
Store leftovers in an airtight container in the refrigerator for up to 3 days. For best results, reheat them in a 350ºF oven or air fryer. Your microwave will work in a pinch, but the zucchini is likely to be soggy.
Can I Freeze This Recipe?
No, due to the high water content in zucchini, I do not recommend freezing it. The taste and texture will change after being cooked, frozen, and then reheated. This dish is best enjoyed fresh.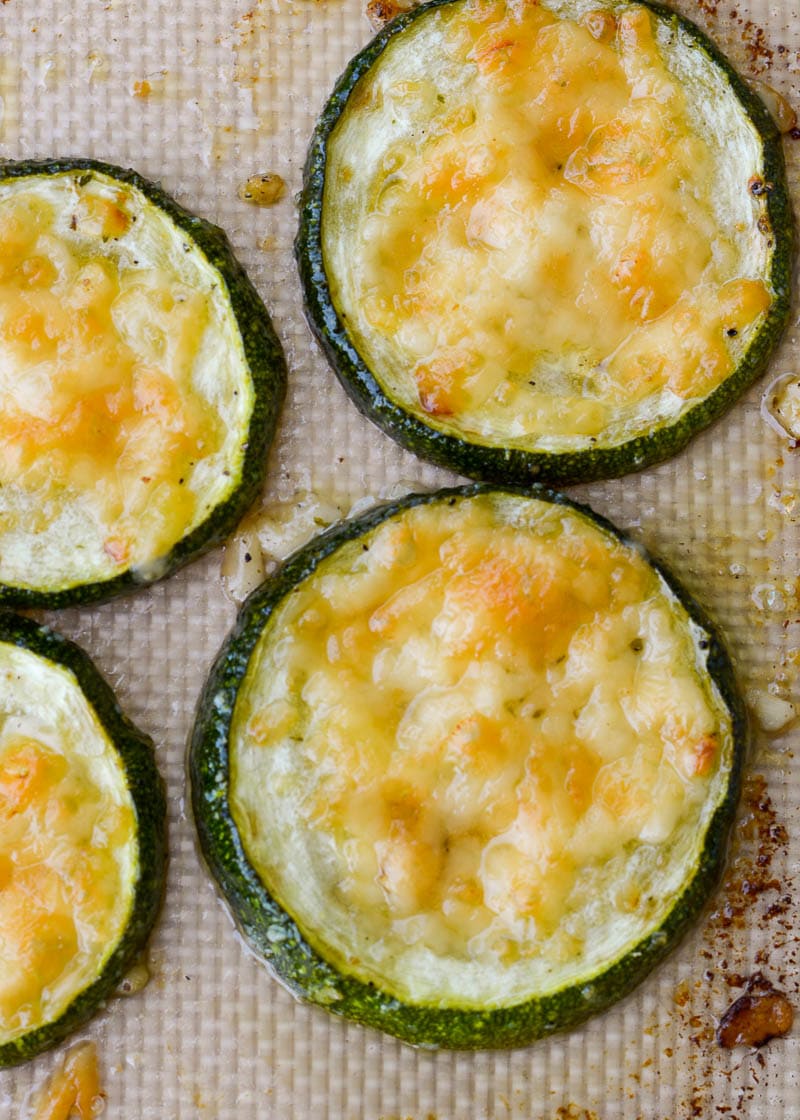 Roasted Zucchini FAQ
How do you keep zucchini from getting soggy when roasting?
I've found the best way is to slice the zucchini thinly and then roast it at a high temperature. This bakes off the moisture, keeping the zucchini from getting soggy.
Do you need to peel zucchini before baking?
There's no need to peel zucchini before baking. The skin is edible and it has a mild flavor.
Are overgrown zucchini good to eat?
Overgrown zucchini is not desirable for roasting, since it usually has large seeds and at best, they're flavorless, and at worse, they're bitter. The best zucchini for baking are those that are about 6 inches long and 2 inches in diameter. Save the overgrown zucchini for bread and muffins!
More Zucchini Recipes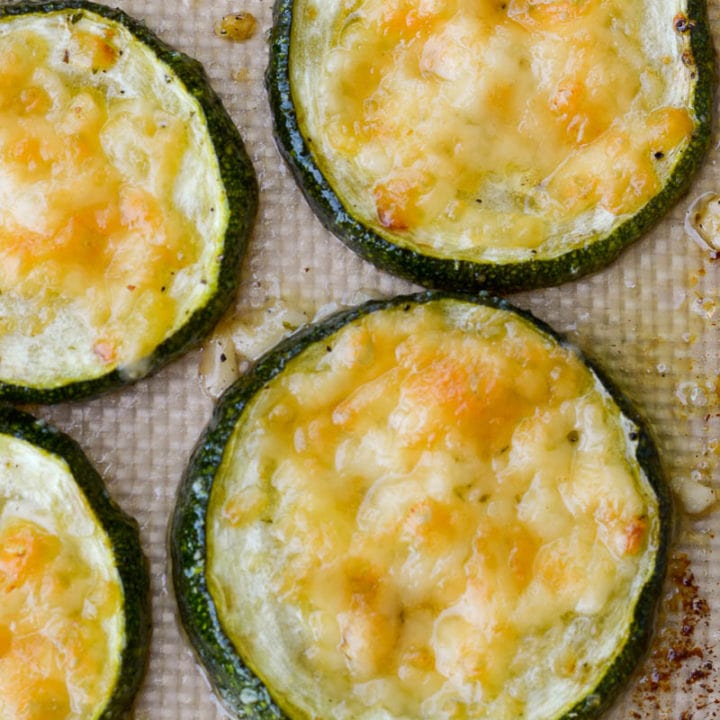 Roasted Zucchini with Parmesan
This easy Roasted Zucchini with Parmesan is the perfect summer side dish!
Ingredients
3 medium zucchini, sliced into rounds (about 4 cups)
1 1/2 tablespoons extra virgin olive oil
2 teaspoons minced garlic
1/2 teaspoon kosher salt
1/2 teaspoon black pepper
1/2 cup grated parmesan cheese
Instructions
Preheat the oven to 425 degrees F.
Toss the zucchini with the olive oil, garlic, salt and pepper. Place in a single layer on a large baking sheet.
Bake the zucchini 8-10 minutes until tender.
Remove the zucchini from the oven and top with the parmesan. Turn the broiler on high and place the zucchini on the top rack of the oven. WATCH CLOSELY and remove from the oven as soon as the parmesan begins to brown.
Recommended Products
As an Amazon Associate and member of other affiliate programs, I earn from qualifying purchases.
Nutrition Information:
Yield:

4
Serving Size:

About 3/4 cup (1/4 of the recipe)
Amount Per Serving:
Calories:

114
Total Fat:

8.5g
Cholesterol:

7.2mg
Sodium:

336mg
Carbohydrates:

5.4g
Net Carbohydrates:

3.9g
Fiber:

1.5g
Sugar:

3.8g
Protein:

5.7g