These Mexican Stuffed Zucchini Boats are full of seasoned ground beef, onions, peppers, and lots of melted cheddar cheese. They're a guaranteed hit with the whole family!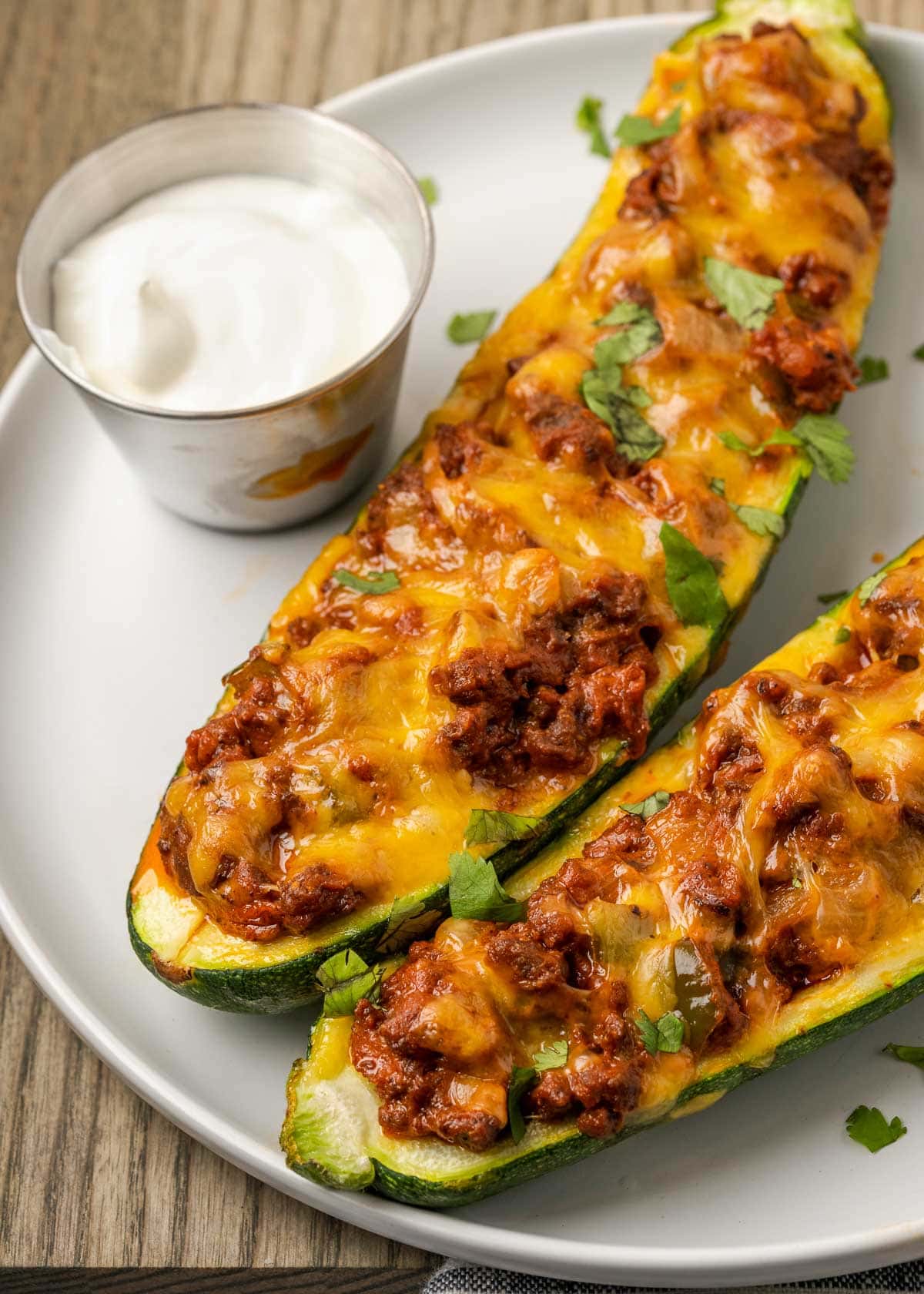 Stuffed zucchini is a family staple in our home, we love them stuffed with ground beef, chicken, or our favorite pizza toppings! Today I'm sharing a new stuffed zucchini recipe that is easy and perfect for a crowd! Imagine tacos, but instead of tortillas, the ground beef filling is tucked into zucchini. That's basically what you get with keto Mexican zucchini boats—everything you love about tacos, with fewer carbs and some extra veggies for good measure! This is the kind of recipe that will be a winner with even the pickiest eaters.
And did I mention they're easy? Because that's another bonus! You only need a handful of ingredients—you probably have a lot of them in your kitchen already—and a little bit of time to put these Mexican zucchini boats together. It only takes a few easy, quick steps until the zucchini is tender and the cheese is melted to perfection
Why You'll Love Zucchini Boats
When zucchini is in season, you're going to want to make this recipe again and again! Here's what makes it so good:
Healthy. Keto Mexican zucchini boats are packed with low-carb veggies and protein, making them a healthy dinner option.
Flavorful. The beef mixture is seasoned to perfection for an irresistible taco flavor in every bite.
Satisfying. These zucchini boats are hearty and filling, so you won't go to bed hungry!
Versatile. Zucchini boats offer nearly endless customizable flavor options you can change based on your personal preference. They're especially good during the summer when they're in season. Stock up at your local grocer or Farmers Market and you will have tons of great dinner or side dish options. Scroll to just above the recipe card to check out our other zucchini recipes.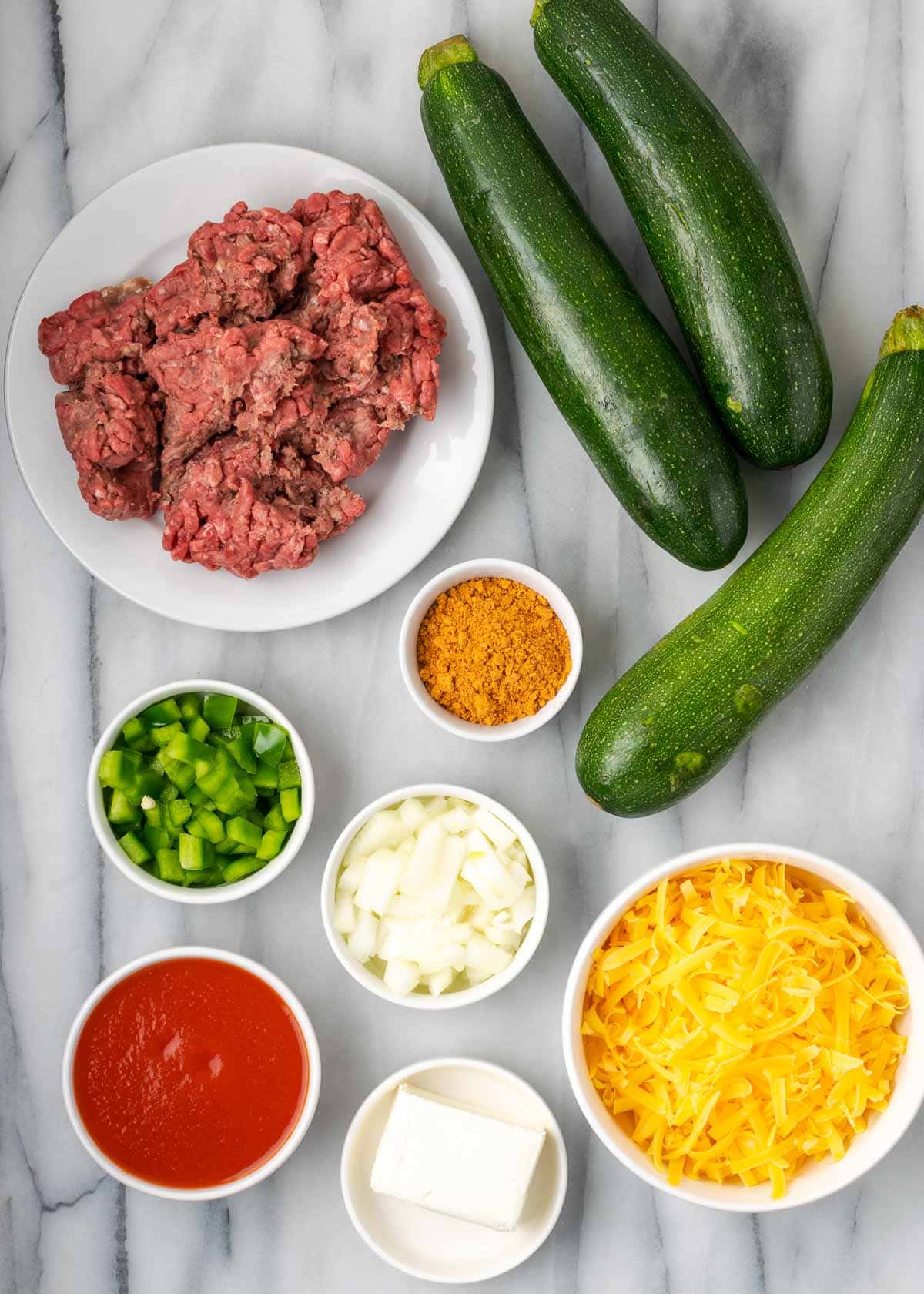 Ingredients for Stuffed Zucchini
Here are all the ingredients you need to make this keto Mexican zucchini boat recipe. Scroll to the recipe card at the bottom of the page to see the exact amounts for each ingredient.
Zucchini: You want them to be big enough to stuff, but not the extra-large overgrown zucchini you sometimes find at the end of the summer!
Ground beef: If you'd like, you can use lean, but I prefer regular ground beef. This will also work well with ground chicken, turkey, or pork.
Onion: Yellow or white both work.
Green bell pepper: If you're not a fan of the flavor of green bell pepper, you can swap in yellow, orange, or red.
Tomato sauce: Buy one that doesn't have any added sugar if you are watching your carbs.
Taco seasoning: Homemade is great, but store-bought also works.
Cream cheese: Let this soften to room temperature.
Cheddar cheese: A Mexican blend, pepper jack, or Monterey jack works too.
How to Make Mexican Stuffed Zucchini Boats
In addition to the ingredients listed above you will need a skillet, casserole dish, knife and cutting board. I've documented each step of the process so you can easily make this stuffed zucchini at home!
Prepare the Zucchini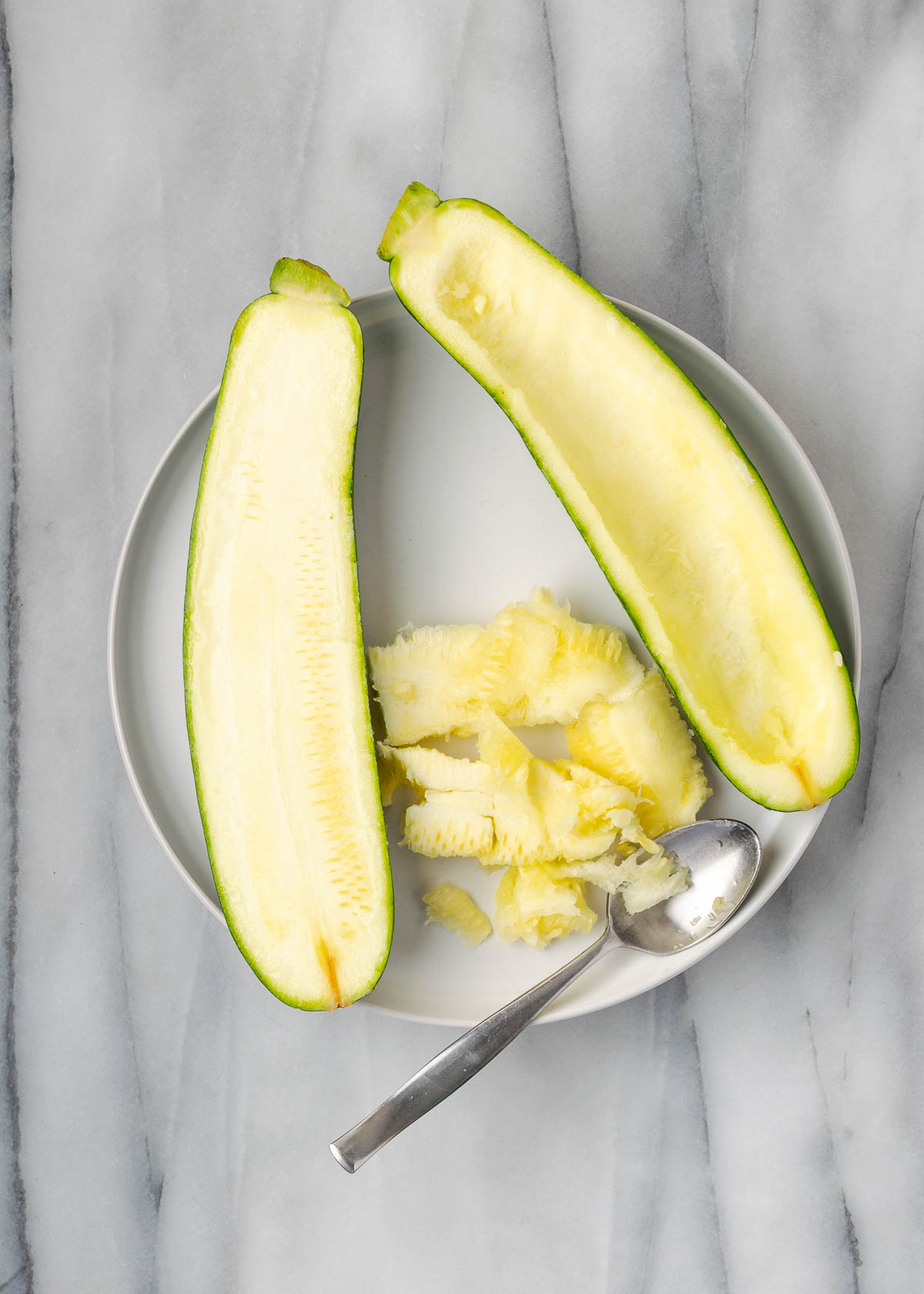 Wash and dry the zucchini. Carefully slice the zucchini lengthwise and use a spoon or metal teaspoon to remove the center of the zucchini. Be sure to leave about 1/4 inch of the zucchini. You can use the portion of zucchini that you remove for stir fry, freeze for green smoothies or homemade vegetable broth.
Cook the Ground Beef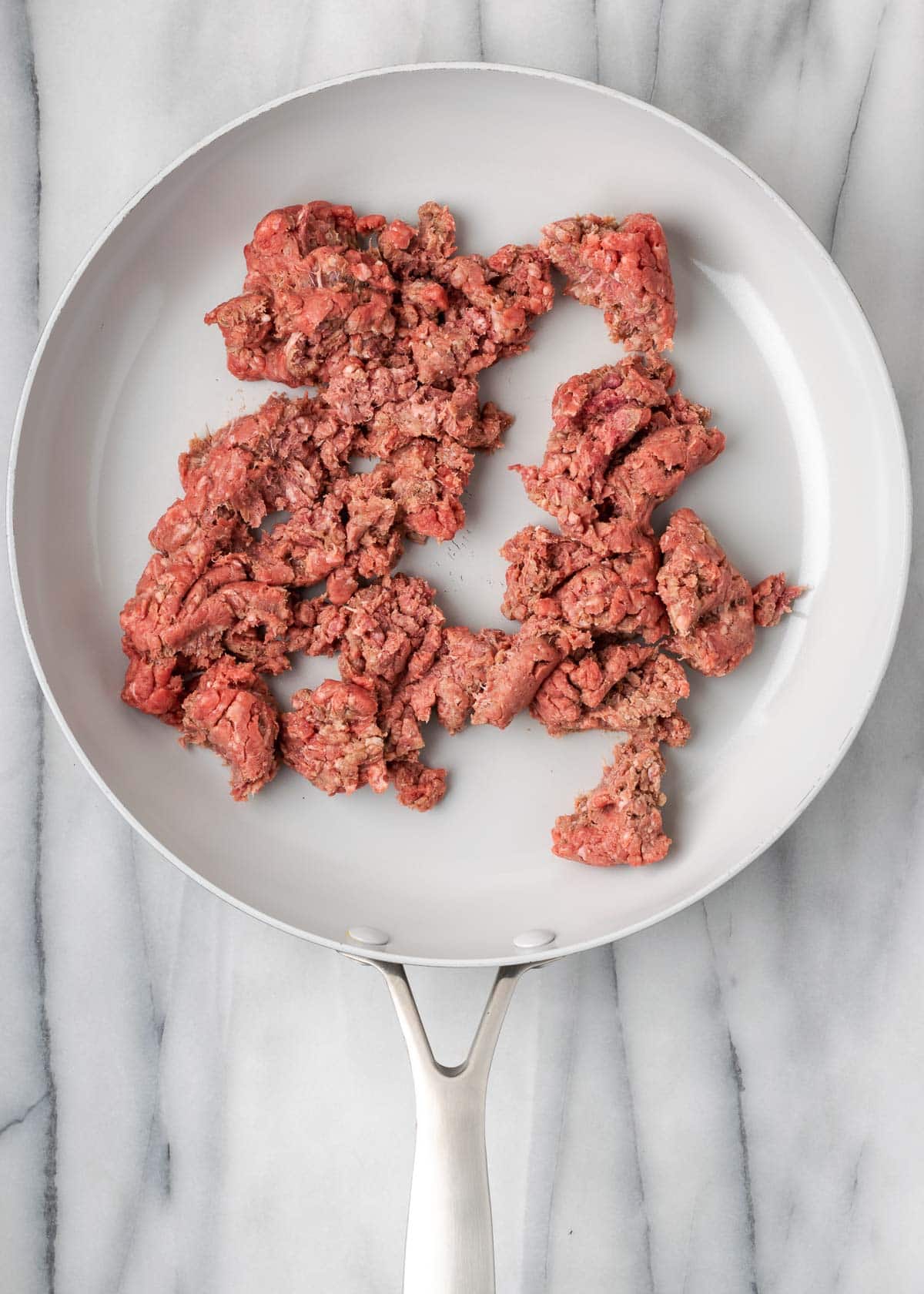 First, preheat the oven to 350 degrees F, as you will be baking the stuffed zucchini later. The next step is to brown the ground beef in a skillet set over medium heat, breaking up as you go. Drain off any grease.
Add Peppers and Onions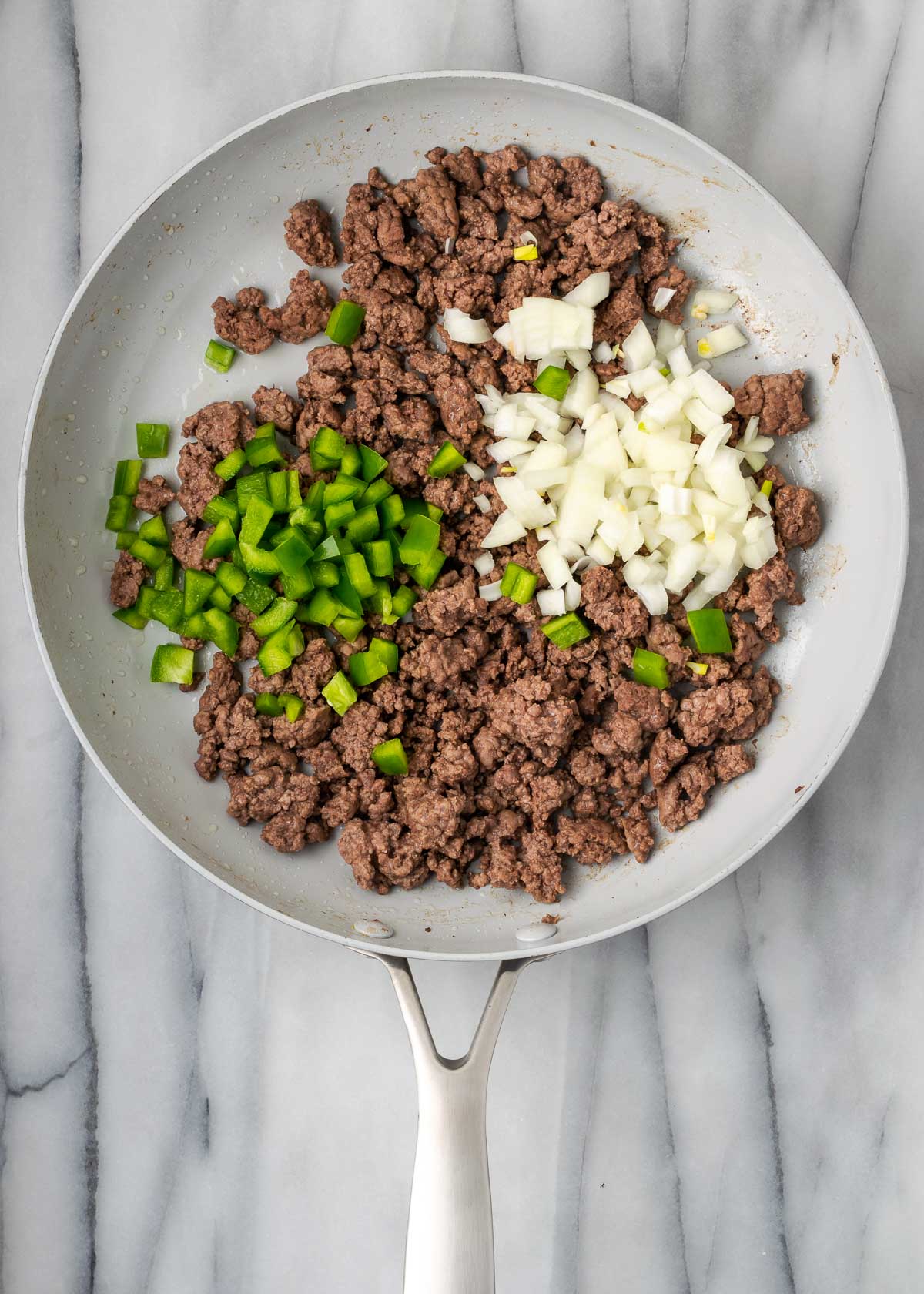 Next, add the onion and bell pepper and cook until they're softened. This step should only take 3-4 minutes. If you prefer you can add some of the discarded zucchini you scooped out in step one that is an option.
Add the Seasoning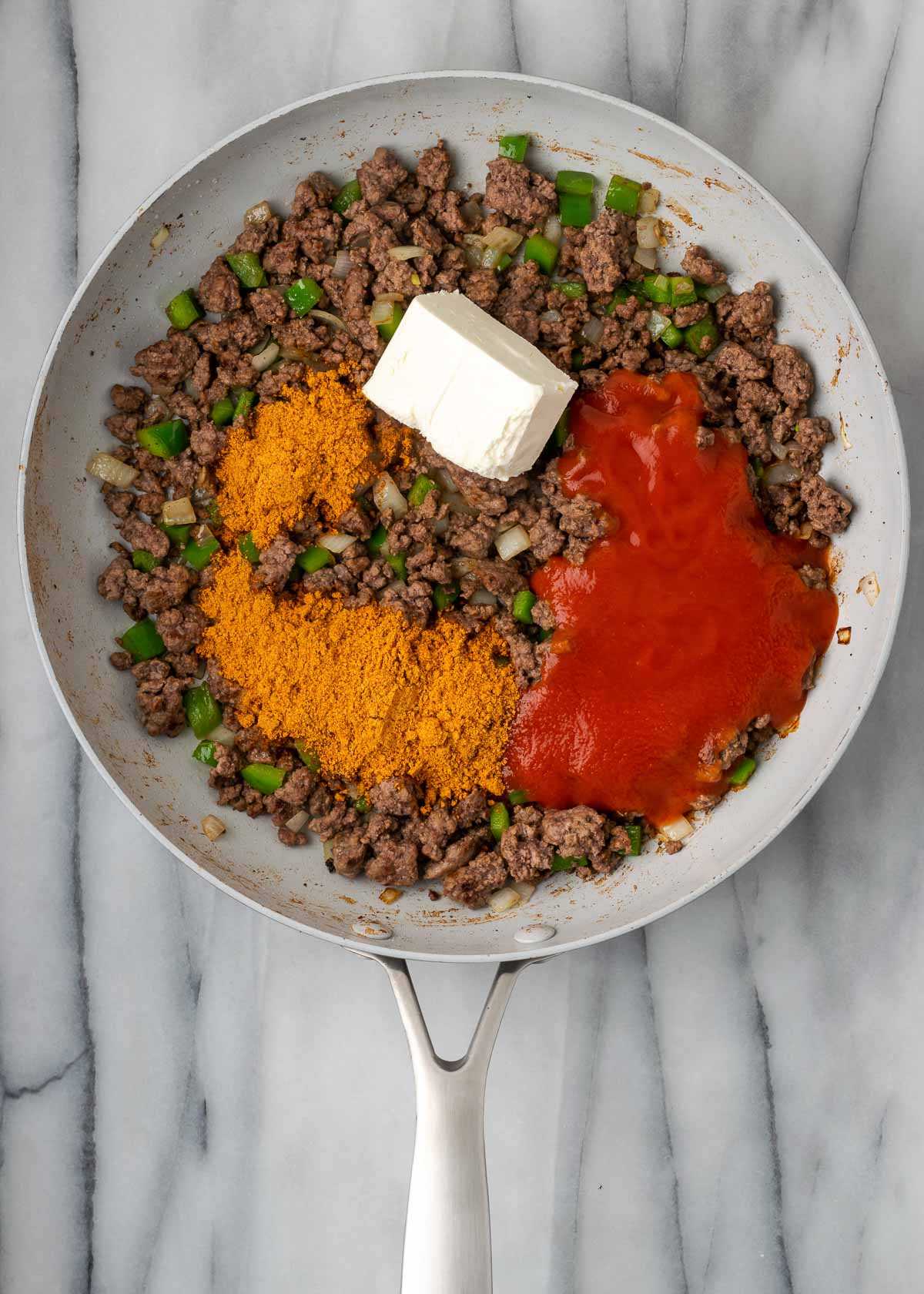 Add the tomato sauce, taco seasoning, and softened cream cheese to the skillet. Stir until the cream cheese has dissolved, then continue to cook over medium-low heat for 5-7 minutes, stirring occasionally, until the filling has thickened.
Add the Cheese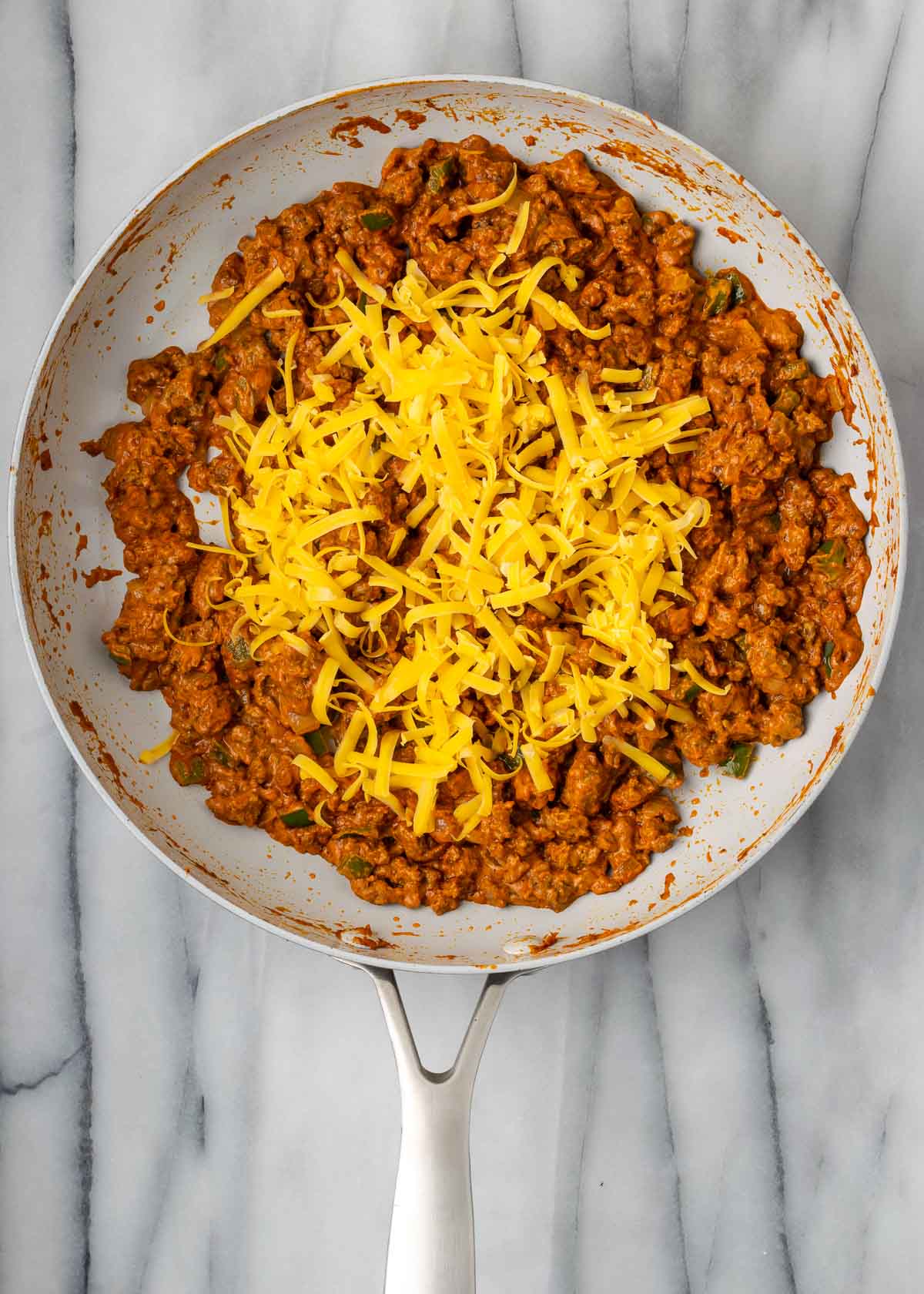 The finishing step is to add the cheese! Stir in 1/2 cup of the cheddar cheese. Stir the mixture well so the cheese is evenly distributed. This is a great time to do a little taste test and make sure the filling is to your liking. If you enjoy a spicy taco flavor you can add some hot sauce, or chopped jalapeños to the mix.
Stuff the Zucchini and Bake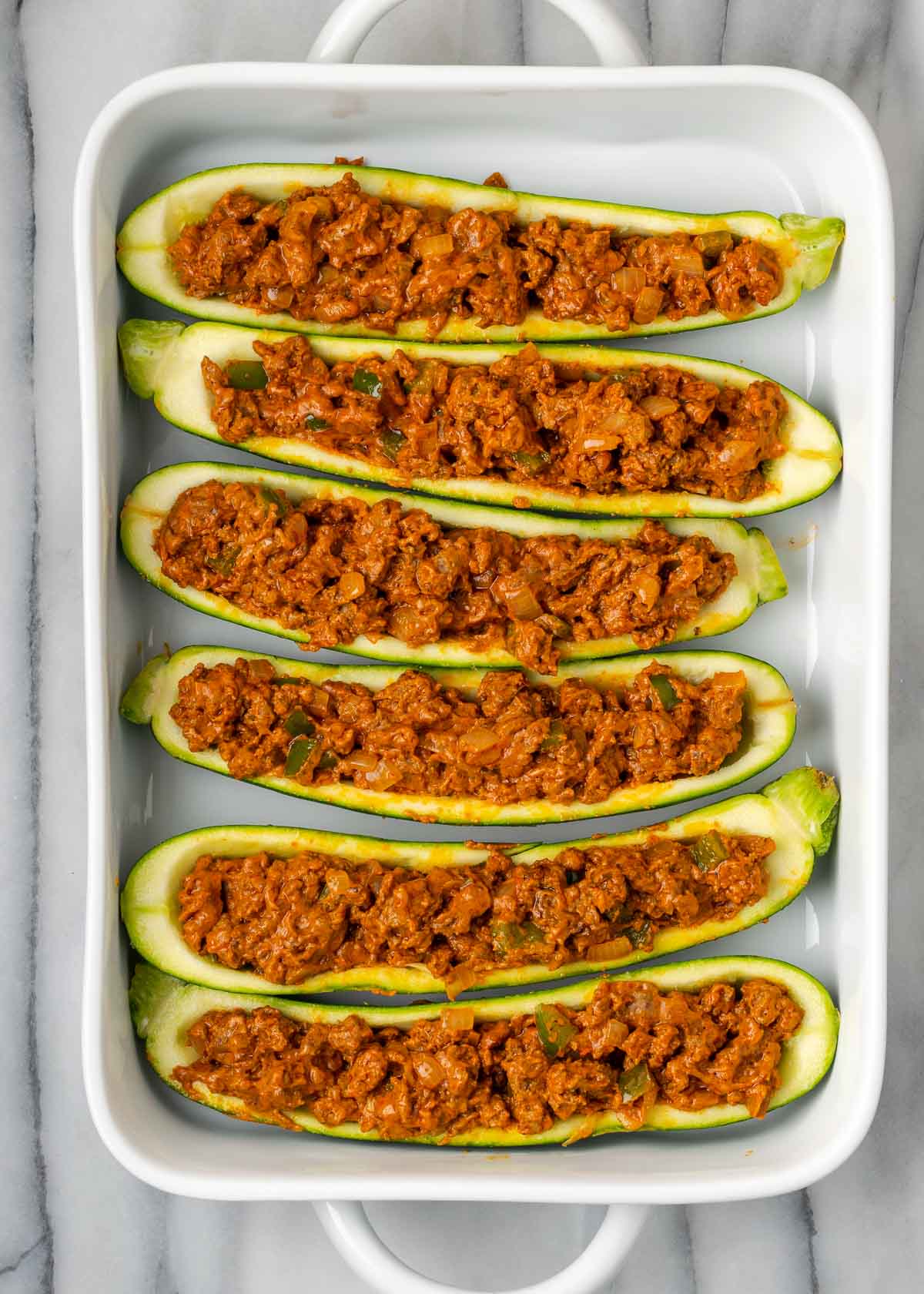 Place the zucchini boats in a casserole dish and spoon the taco meat into them. Sprinkle the shredded cheese over the tops. Place the pan in the oven and bake at 350ºF for 25 to 30 minutes, or until the zucchini is tender and the cheese is bubbly.
Serve
Serve the stuffed zucchini as soon as they are done, piping hot from the oven! These Mexican zucchini boats are delicious served some simple sides to make a complete meal. Here are a few ideas:
Tips and Variations
Here are some simple tips to help you make sure your keto Mexican zucchini boats turn out perfect—and some ways to make the recipe your own!
If you want to get a head start on this recipe, you can make the filling a day or two in advance.
Don't scoop out too much of the zucchini. Leave about a 1/4-inch shell to help the zucchini boats hold their shape.
Swap out the ground beef. Try using ground turkey or ground chicken instead.
Add some smoky heat. A roasted poblano pepper is a delicious swap for the green bell pepper!
Make them spicy. For some extra heat, add cayenne or your favorite hot sauce to the filling mixture, or stir in some diced jalapeños.
Don't skimp on the toppings. Top with sour cream, guacamole, chopped tomatoes, or shredded lettuce for the full taco experience.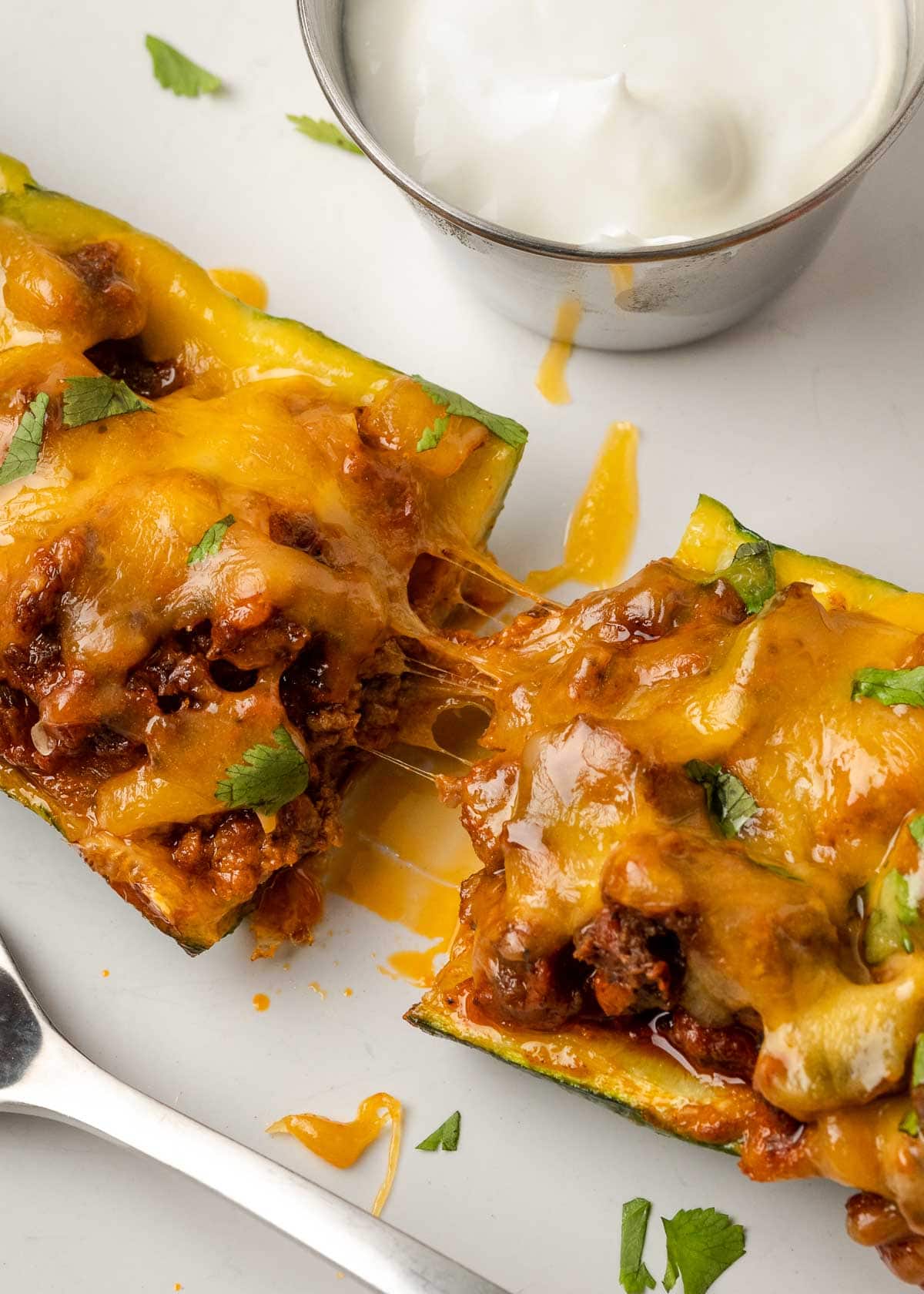 How to Store Zucchini Boats
Refrigerate keto Mexican zucchini boats in an airtight container (or wrap them in the pan) for up to 4 days. To reheat, place them in a 350ºF oven and bake for 10-15 minutes, until heated through. The microwave also works, but the zucchini boats will have a softer texture.
Can I Freeze This Recipe?
You can freeze these Mexican zucchini boats for up to 3 months. Thaw overnight in the refrigerator before reheating according to the instructions above.
Stuffed Zucchini FAQ
What can I do with the insides of the zucchini after scooping them out?
The insides of the zucchini can be saved and used in stir fries, soups, and more. They are a great way to sneak some extra veggies into your meals. You can also freeze them and add them to smoothies—they give smoothies a creamy texture without the added carbs or flavor of frozen bananas.
Why is my baked zucchini mushy?
If your zucchini is mushy, it may be overcooked. Try baking the zucchini boats for a shorter amount of time, until they are tender but not too soft. 
How do you hollow out zucchini?
To hollow out zucchini, cut it in half lengthwise, then use a metal spoon or teaspoon to scoop out the insides. Leave about 1/4-inch of flesh inside the zucchini so that it holds its shape during baking.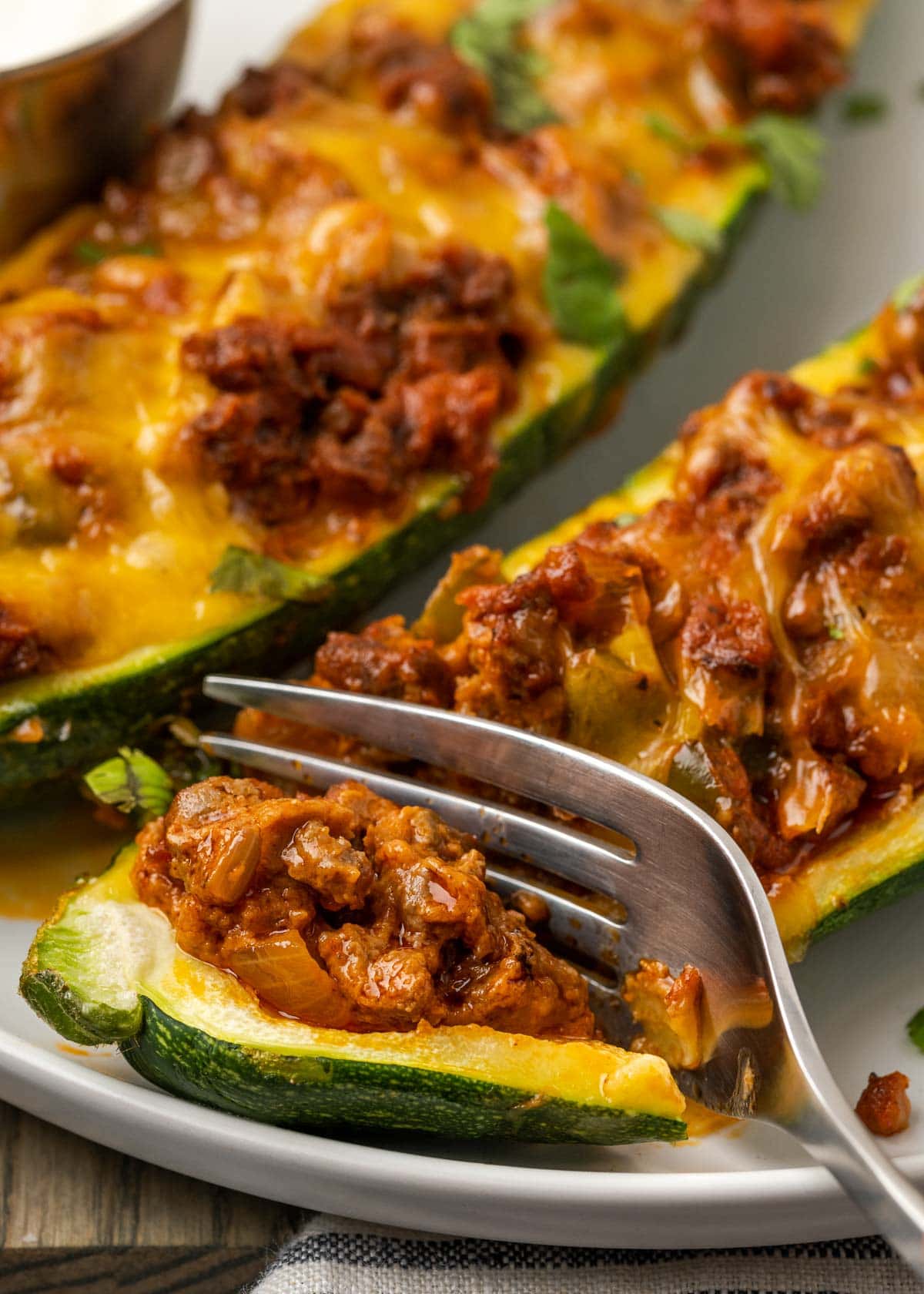 More Zucchini Recipes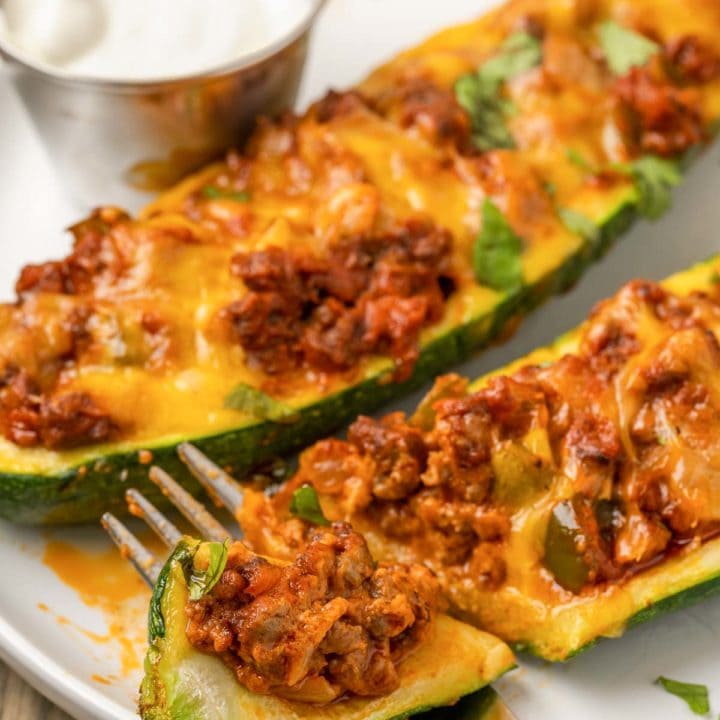 Mexican Zucchini Boats
These easy keto Mexican zucchini boats stuff tender zucchini with taco-seasoned ground beef, veggies, and lots of cheddar cheese. So good!
Ingredients
3 medium size zucchini

1 pound ground beef

1/2 cup onion, chopped

1/2 cup green bell pepper, chopped
1 (8 ounce) can tomato sauce
1 (1 ounce) package of taco seasoning
3 ounces cream cheese, softened

1 1/2 cups shredded cheddar cheese
Instructions
Preheat the oven to 350 degrees F.
Slice the zucchini lengthwise and use a metal spoon or teaspoon to hollow out the inside of the zucchini. Discard the inside or save it to use for a stir fry or similar dish.
Cook the ground beef in a skillet over medium heat, when browned drain off any grease. Add the onion and bell pepper and sauté until softened.
Add the tomato sauce, taco seasoning, and softened cream cheese. Stir well until the cream cheese has dissolved. Cook over medium-low heat stirring occasionally for 5-7 minutes until the mixture has thickened. Stir in 1/2 cup of the shredded cheddar cheese.
Place the zucchini boats in a casserole dish and spoon the taco meat into the zucchini boats. Top with shredded cheese.
Bake at 350 degrees for 25-30 minutes until the zucchini is tender and the cheese is bubbly.

Recommended Products
As an Amazon Associate and member of other affiliate programs, I earn from qualifying purchases.
Nutrition Information:
Yield:

6
Serving Size:

1 zucchini boat
Amount Per Serving:
Calories:

283
Total Fat:

16.9g
Cholesterol:

88.4mg
Sodium:

676.6mg
Carbohydrates:

6.6g
Net Carbohydrates:

4.6g
Fiber:

2g
Sugar:

3.3g
Protein:

24.8g