This easy Cilantro Lime Chicken Foil Pack is perfect for a busy weeknight or fun camping trip! This healthy recipe is packed with vegetables and full of fresh flavor.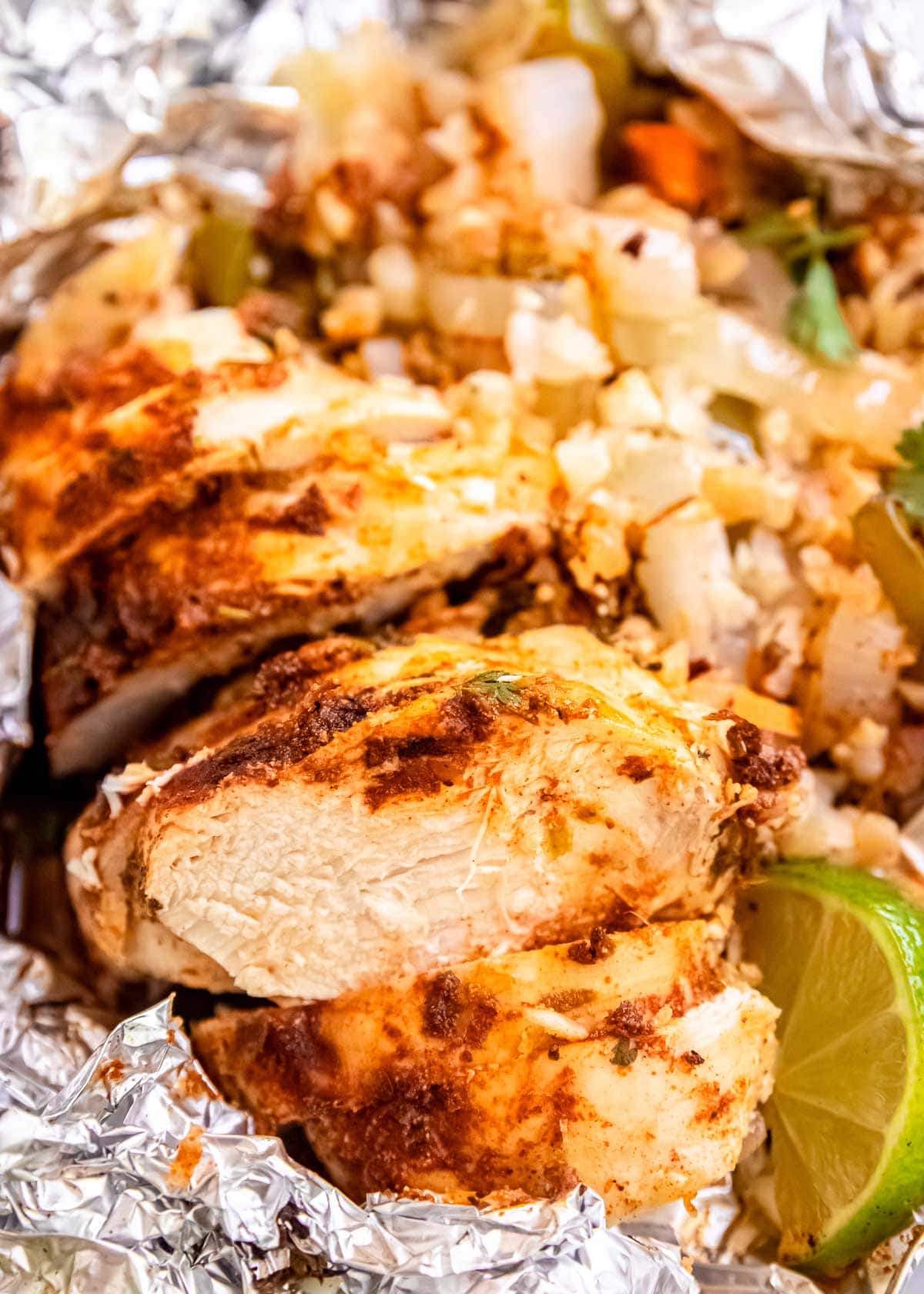 Cilantro Lime Chicken
This Cilantro Lime Chicken Foil Packets are the ideal meal for a camping trip, neighborhood cookout, or your average Tuesday. It's a quick 5 minute prep without a ton of chopping, and the 30-minute cooking time is very hands-off. While this is made for the grill, it can also be cooked over a campfire or with an oven or air fryer.
Why you will LOVE this recipe:
EASY – There's barely any work involved–Season the meat and veggies, fold them into a packet, and let the grill do the work. You don't have to constantly watch or stir anything, and the closed packet means you don't have to hassle with flipping or dropping anything in the grates.
HEALTHY – This recipe is packed with nutritious veggies like cauliflower, peppers, and onion. It's naturally dairy-free, gluten-free, and pretty allergen-free in general. Low in carbs, fat, and calories when you consider the large portion size, too!
NO CLEAN UP – We love foil packets because there are almost no dirty dishes to clean up! The grill stays clean, and we eat straight from the packet, so sometimes we don't even get a mess on the plates. It's a lifesaver after a long, busy week.
Foil Pack Recipe Ingredients
Here's a quick overview of what you'll need for this recipe. For exact measurements, keep scrolling down to the printable recipe card below.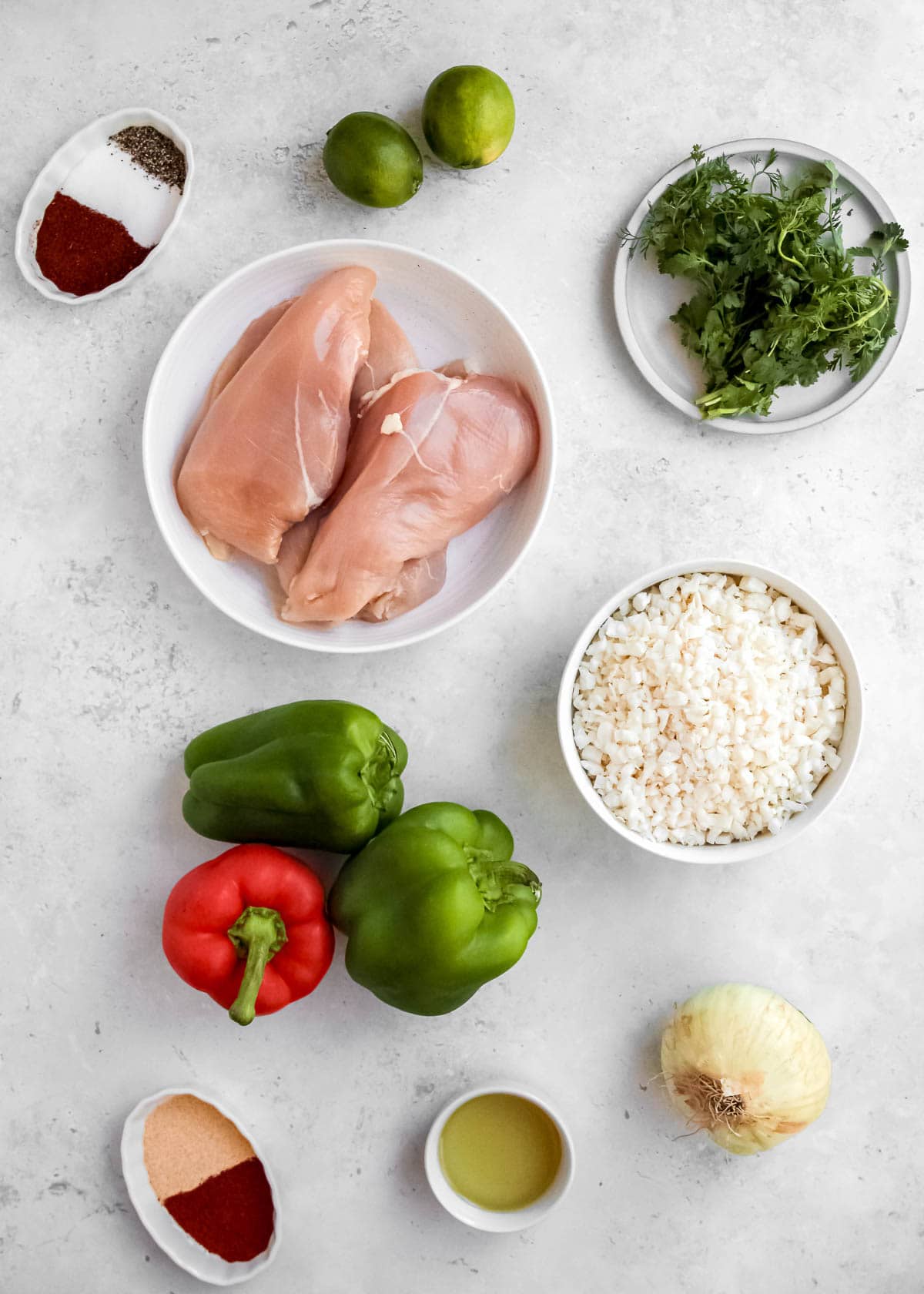 Chicken breasts – Boneless, skinless. Try to use breasts that are generally the same size so that you know they'll all be done at about the same time. Larger breasts will take longer, so keep that in mind as well. Feel free to replace with boneless, skinless thighs if you prefer.
Bell peppers, Yellow onion, and Cauliflower rice – These add loads of flavor and nutrition! You can use any color bell pepper you prefer. I used yellow onion because it's mild and a touch sweet, but you can use a white onion if you like a stronger, sharper flavor. I used fresh cauliflower rice, but I'm sure you could use frozen cauliflower rice if you thawed and dried it.
Oil, Fresh cilantro, and Limes – I used olive oil, but you can use avocado or your preferred cooking oil. I highly recommend using fresh limes because the zest we add in is seriously SO flavorful!
Smoked paprika, Chili powder, Salt, Garlic powder, Black pepper – This is a great seasoning blend that adds a little kick to complement the cilantro lime flavor. You can easily mix this well in advance.
You'll need some heavy duty aluminum foil for the packets. I highly recommend using the heavy duty type–The regular foil tears too easily which can lead to a big mess! Otherwise you just need a small bowl for the seasonings and a grill (or campfire, oven, toaster, or air fryer).
How to Make a Chicken and Cauliflower Rice Foil Pack
This recipe is simple and easy enough for beginner cooks! Here's a step-by-step guide to making this super juicy chicken with tender veggies.
Mix seasonings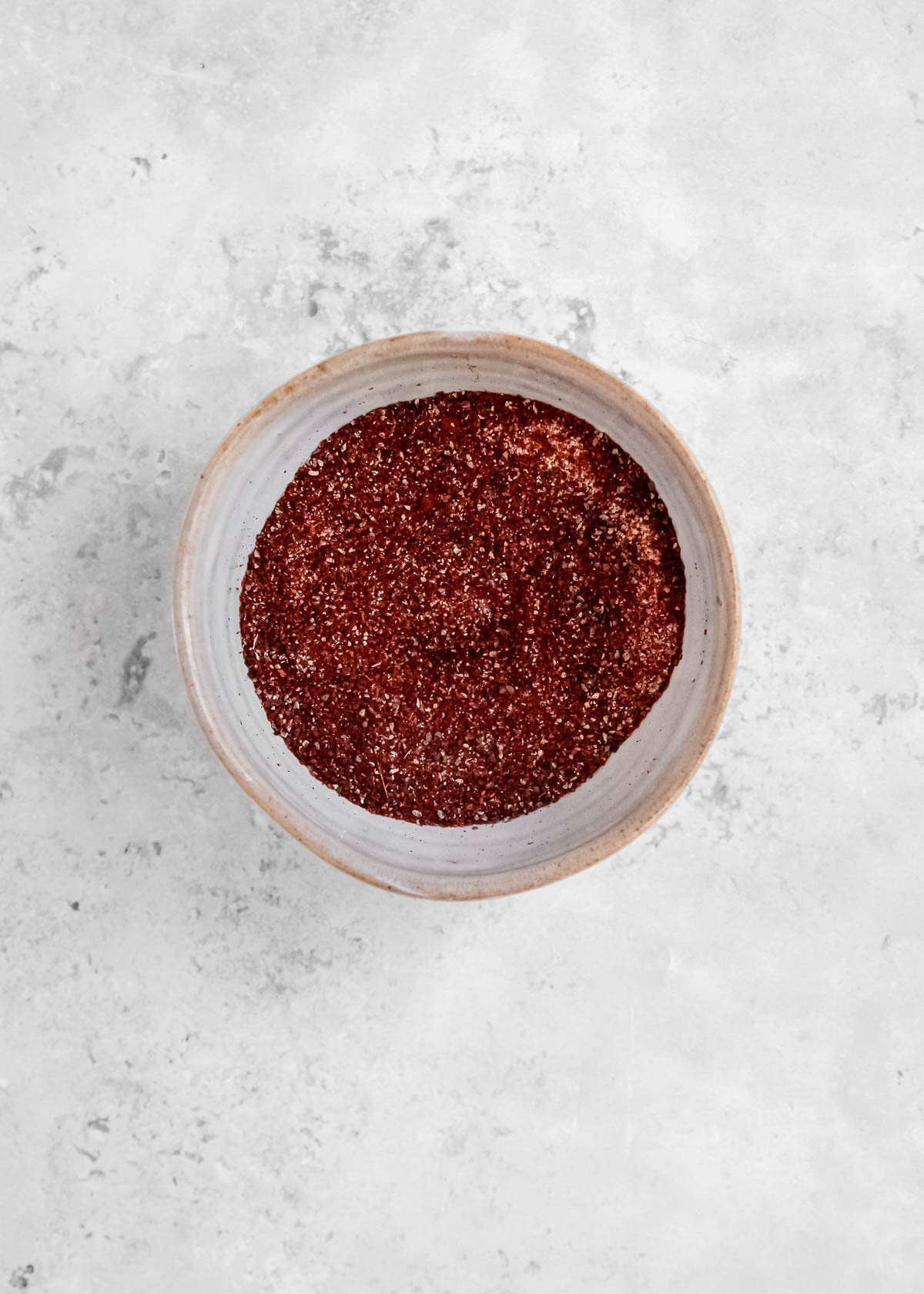 While the grill is heating up to medium-high heat (I went up to 450 degrees on my Traeger grill), mix up the seasonings in a small bowl and set it aside. Cut 4 large pieces of aluminum foil and lay them on your counter or work surface.
Fill packets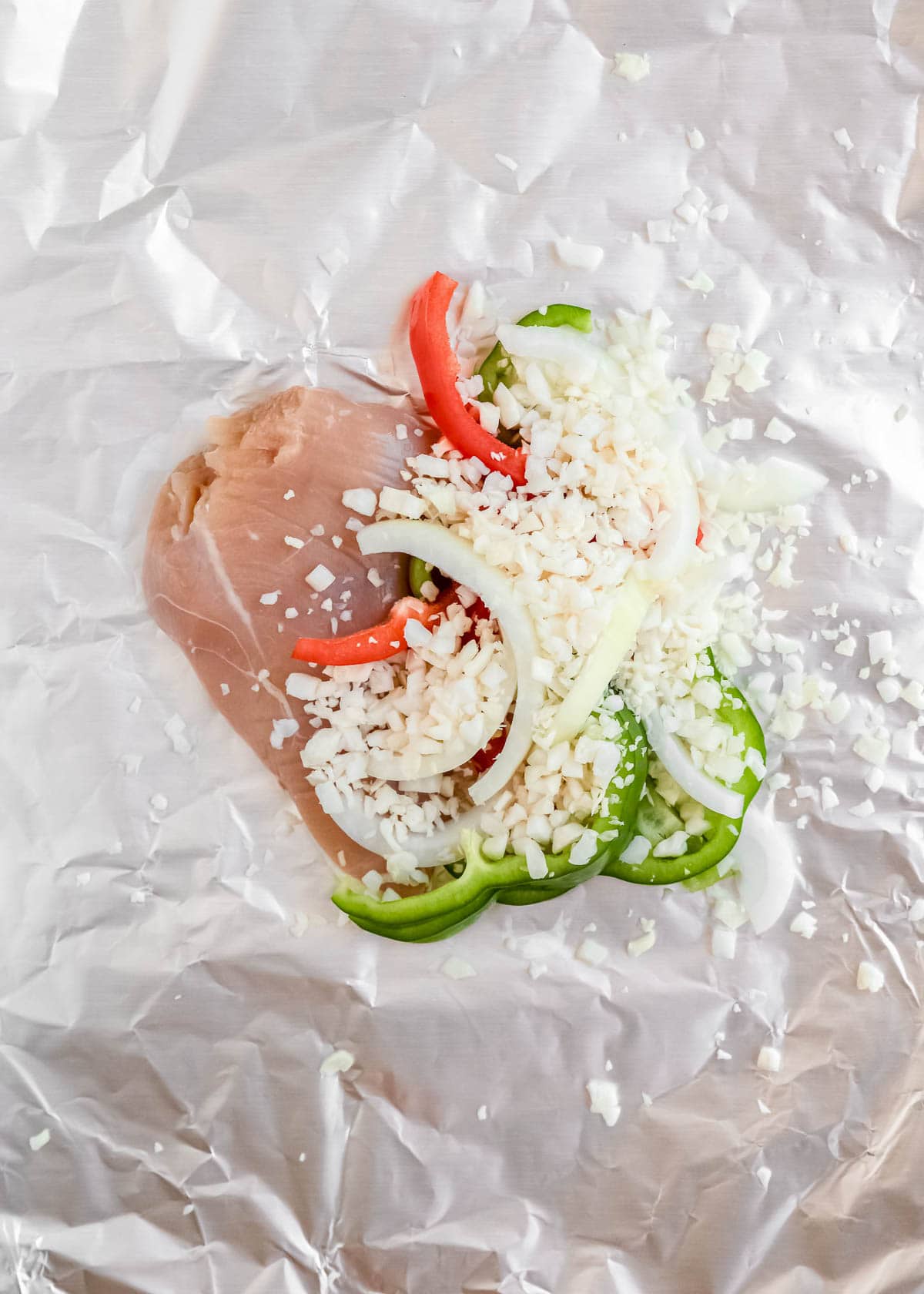 Place 1 chicken breast near the center of each piece of foil, then divide the veggies equally between each of them. Drizzle the oil over the chicken and vegetables, then top with the cilantro as well as the lime juice and zest. Sprinkle the seasoning (about 1 1/2 teaspoons per pack) evenly over the foil packets.
Once all of the ingredients are split between the four packets, you're ready to start closing them up securely. Gently lift the left and right edges of the foil and bring them to the center, folding the edges to secure the sides together. Close the top and bottom ends by folding the foil repeatedly.
Grill
Place packets on the grill and close it, allowing it to cook for 30 minutes or until the chicken reaches 165 degrees F as measured by a meat thermometer. Remove from the grill and allow to rest for 5 minutes before serving. Top with fresh cilantro and lime wedges for a beautiful presentation and more flavor.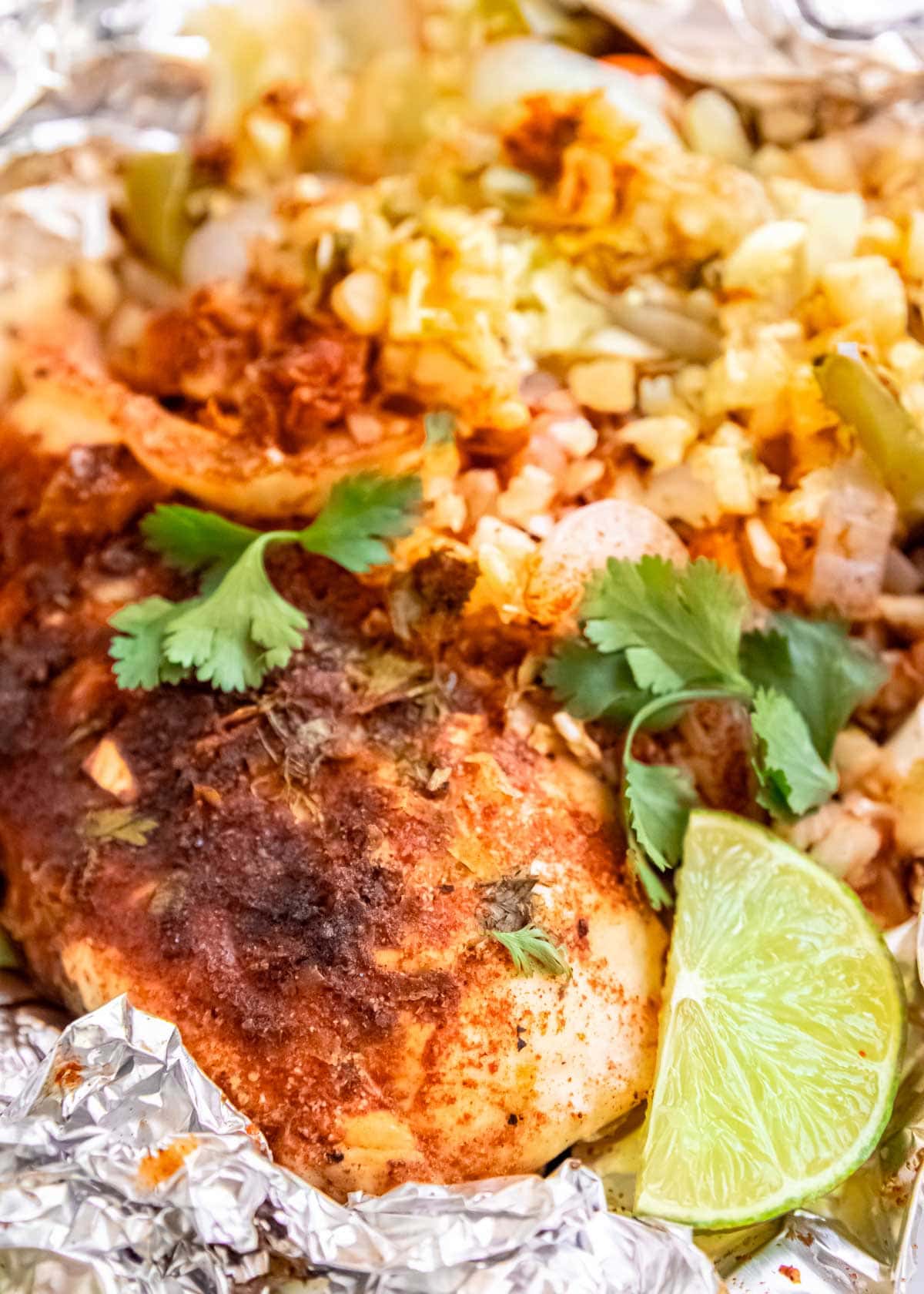 What to Serve with Cilantro Lime Chicken
This nutritious meal could easily be served on its own for an easy weeknight meal, but I highly recommend adding a glass of Sugar-Free Lemonade! If you want to stretch it further, I'm sure guests would also love some Bacon Wrapped Green Beans and a Keto Three-Cheese Biscuit. A little Rosemary Gin Fizz nightcap or the BEST Lemon Bars for dessert would finish off the night nicely.
More great recipes for a cookout: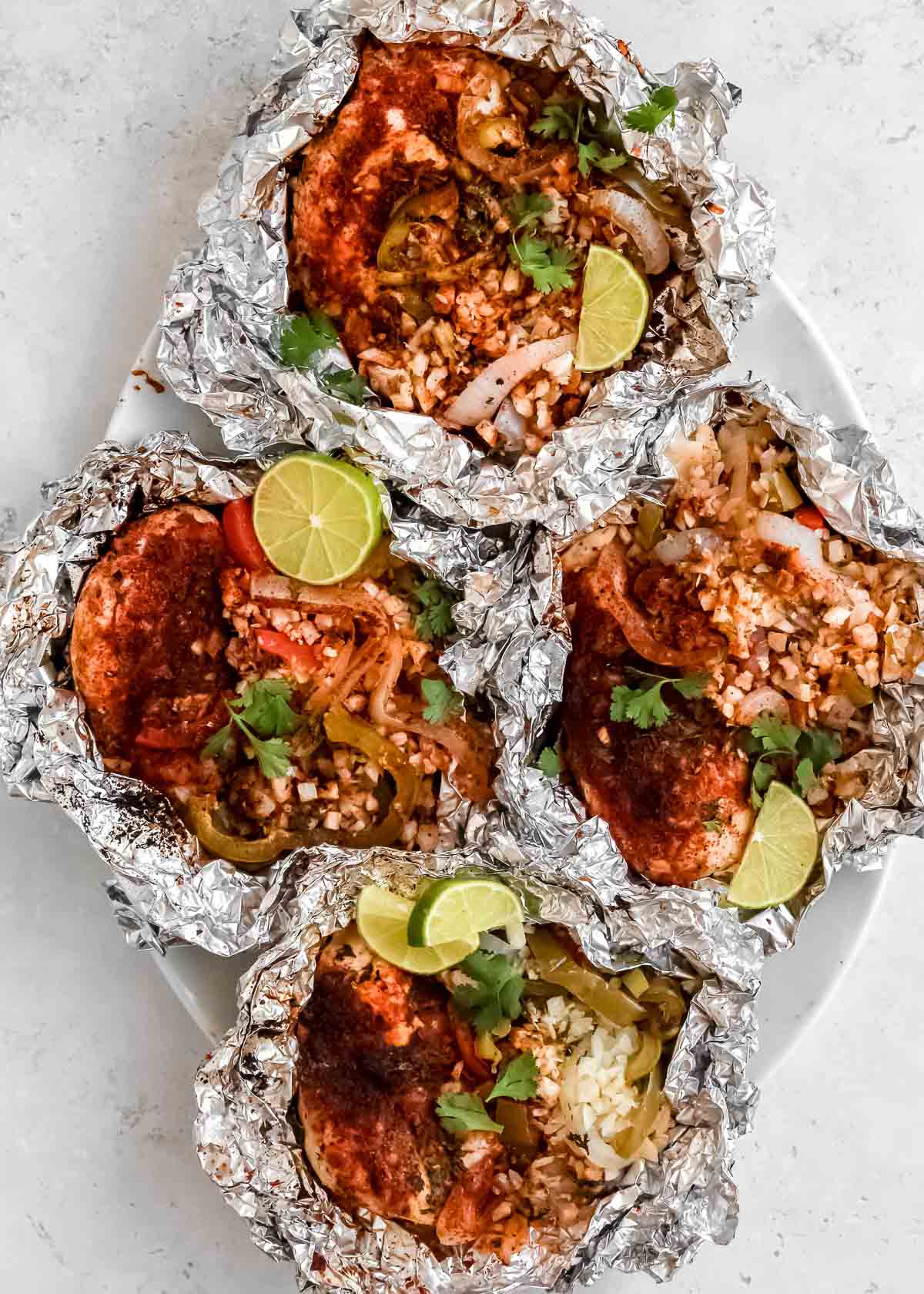 How to store foil pack chicken
If you're lucky enough to have leftovers (or are smart enough to meal prep), you'll want to allow this dish to completely cool, then store in the fridge. You can keep the packets sealed airtight, or you can transfer the cooked chicken and veggies to an airtight container. It'll keep in the fridge for 3-4 days.
Can you freeze this?
Yes, this recipe can be frozen, but the vegetable textures can change somewhat. I recommend vacuum sealing each portion separately and eating within 1-2 months. The chicken could be frozen for longer, but I wouldn't recommend it for the veggies. I would defrost overnight in the fridge then reheat in the oven on 350 degrees F until warmed through.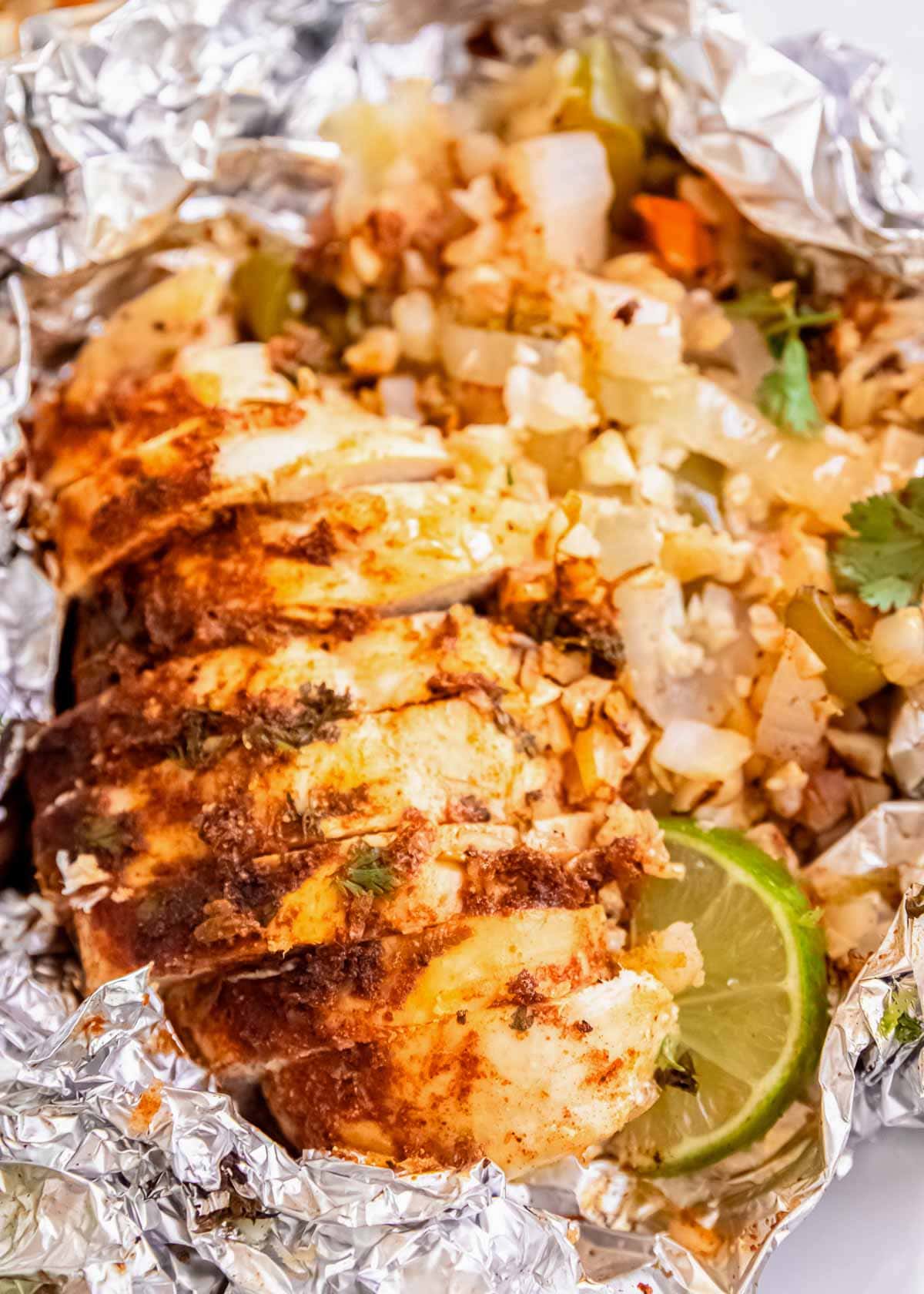 Best way to reheat grilled chicken
You don't want to dry out the chicken, so I recommend adding a teaspoon or so of water to the dish no matter which reheating method you choose.
Oven – This keeps the best texture, though it does take longer. Reheat in foil packet (or in a baking dish tightly covered with a lid or foil) on 350 degrees for about 5-8 minutes, then open/remove cover and allow to reheat another 2-5 minutes until warmed throughout.
Microwave – Quickest but can be risky. Cook at 50% power in 45-second increments, stirring veggies and flipping chicken after each.
Stovetop – Slice chicken in 1/2-inch thick slices to speed up the reheating process. Place chicken slices and remaining ingredients in a skillet and heat on medium-low, stirring occasionally until heated throughout.
If you like this easy grilling recipe, you'll love these foil pack recipes!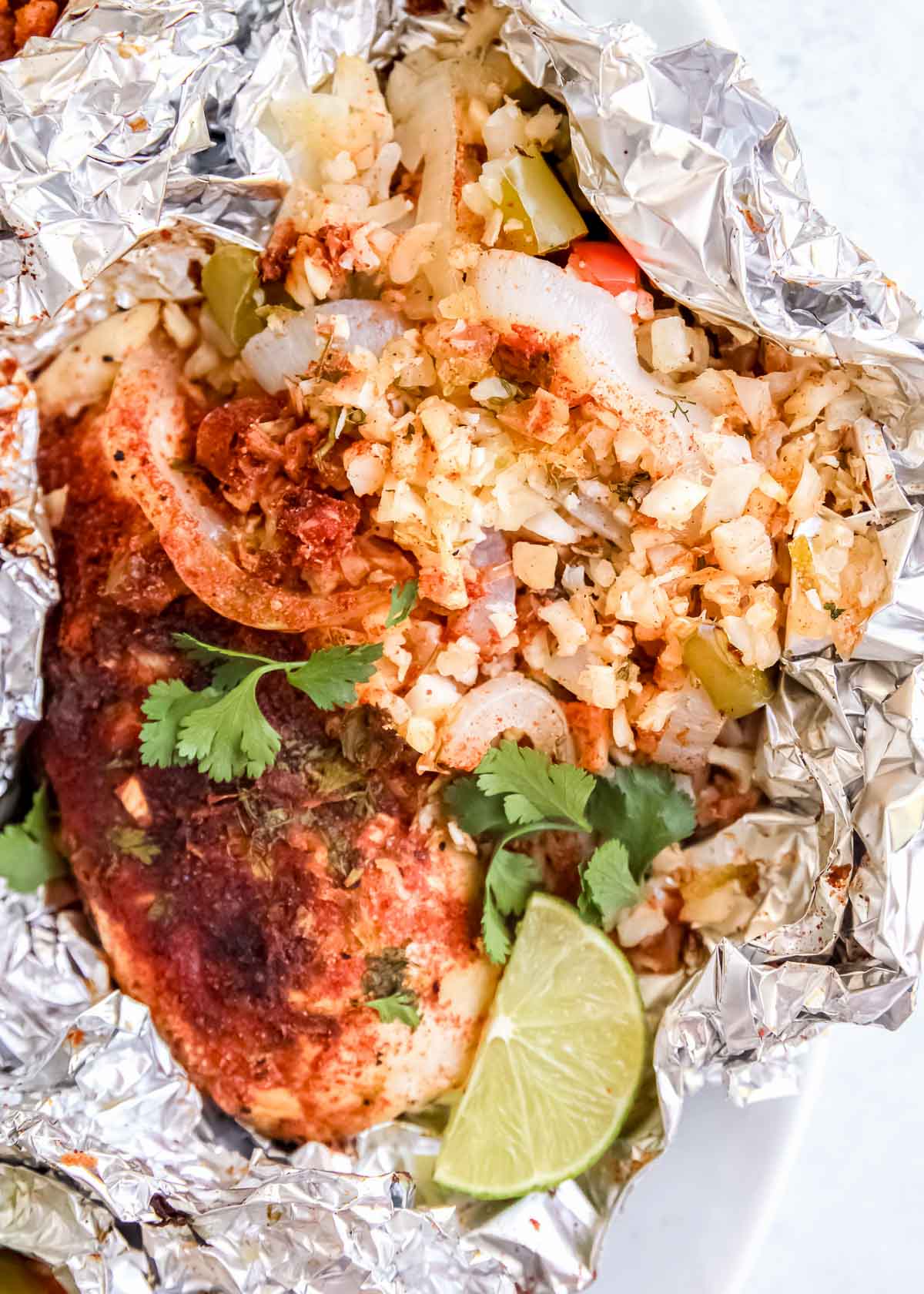 Chicken Foil Pack FAQs
Can I use frozen cauliflower rice?
I used fresh cauliflower rice, but I do think frozen would work fine! Simply thaw the cauliflower rice and pat away some of the moisture with some paper towels before using.
Can I use chicken thighs? Tenderloins?
Yes, this would work with any type of boneless, skinless chicken! However, the smaller the cut, the quicker it will cook. You want to make sure the veggies have enough time to cook, so I would avoid really skinny tenderloins or smaller pieces. Thighs would be great and stay super juicy, though.
Can I cook this in an oven? Over a campfire? In an air fryer?
Yes, don't worry if you don't have a grill! Cook in the oven at 400 degrees for 30-35 minutes. You can absolutely cook this over a campfire as well–Timing would naturally depend on placement and intensity of fire, but just cook it until the chicken is cooked through. I haven't tried this in an air fryer, but I would recommend cooking at 400 and beginning to check the chicken temperature around 20 minutes–It will likely take a little longer, but that depends on the size of your air fryer and chicken breasts.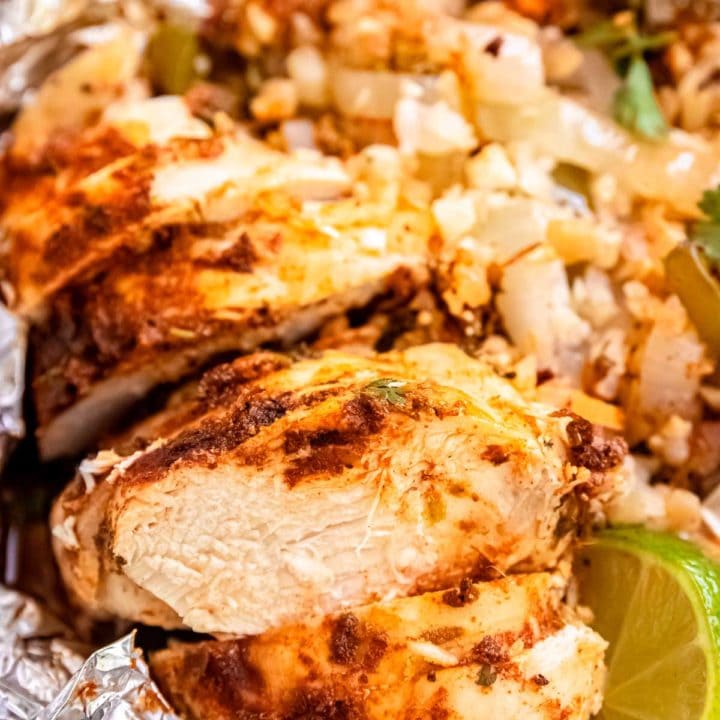 Cilantro Lime Chicken Foil Pack
This easy Cilantro Lime Chicken Foil Pack is perfect for a busy weeknight or fun camping trip! This healthy recipe is packed with vegetables and full of fresh flavor.
Ingredients
4 boneless skinless chicken breasts 
3 bell peppers, sliced
1 yellow onion, sliced
2 cups cauliflower rice
2 tbsp oil
½ cup cilantro, chopped
2 limes, juice, and zest
Seasoning:
2 tsp smoked paprika
1 ½ tsp chili powder
1 ½ tsp salt
1 tsp garlic powder
½ tsp black pepper
Instructions
Heat the grill to medium-high heat. Lay out 4 large pieces of aluminum foil on your counter or work surface.
In a small bowl, combine the seasoning ingredients and set aside.
Divide the 4 chicken breasts and vegetables equally between the 4 pieces of aluminum foil, placing them in the center. Drizzle the oil over the chicken breasts and vegetables, sprinkle with chopped cilantro, lime zest, and lime juice. Then sprinkle the seasoning (about 1 ½ tsp per packet) evenly over the 4 foil packets as well.
Fold the foil packets by bringing 2 sides together and folding over, then closing the ends. Grill the packets for 30-35 minutes, or until the chicken reaches an internal temperature of 165 degrees.
Serve with fresh cilantro and lime wedges!
Notes
Make sure to use heavy-duty aluminum foil, it doesn't tear or rip as easily making it easier to use for foil packets.
I used my Traeger grill, heated to 450 degrees to cook these. It took 30 minutes for smaller chicken breasts, 35 minutes for larger ones!
I used fresh cauliflower rice (not frozen) for this recipe. I'm sure you could use frozen, just thaw it out and dry it a little bit. 
Nutrition Information:
Yield:

4
Serving Size:

1 foil pack
Amount Per Serving:
Calories:

390
Total Fat:

13.5g
Cholesterol:

165.5mg
Sodium:

1009.5mg
Carbohydrates:

13.2g
Net Carbohydrates:

8.8g
Fiber:

4.4g
Sugar:

5.2g
Protein:

52.7g