Delightful Grilled Oranges are brushed with butter, cinnamon and ginger, then grilled until caramelized! Top these oranges with a scoop of ice cream for the perfect summer dessert!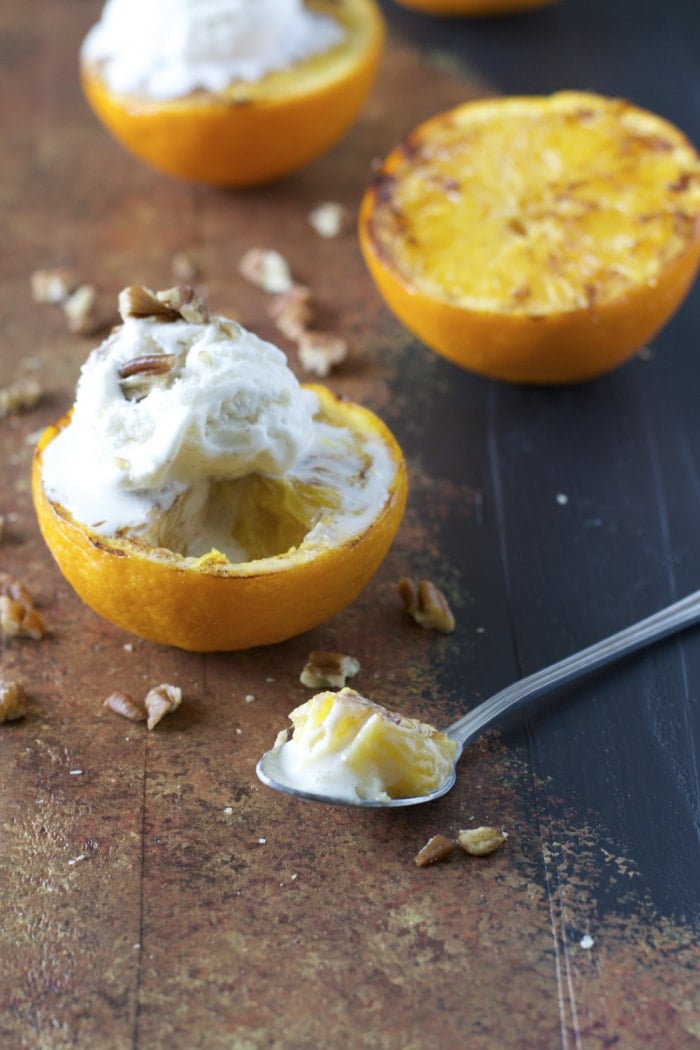 Please consider the following a public service announcement: Grill your oranges, friends! I really love crisps and cobblers–They are my favorite desserts. There is just something about warm fruit and spices topped with ice cream. It is delicious.
So I wondered how oranges would do, but I kind of worried about how they would bake. So, I decided to take a different approach: Grill them!
I actually stood in front of the grill holding two sliced oranges debating on if I should continue with my experiment. I really hate wasting food and I couldn't decide if I was about to char up a perfectly good orange for no reason. But of course, I caved.
I'm SO glad I did! This magical thing happens when you add cold ice cream laced with buttery pecans to piping hot citrus, just try it! You will see! This is absolutely the easiest dessert ever.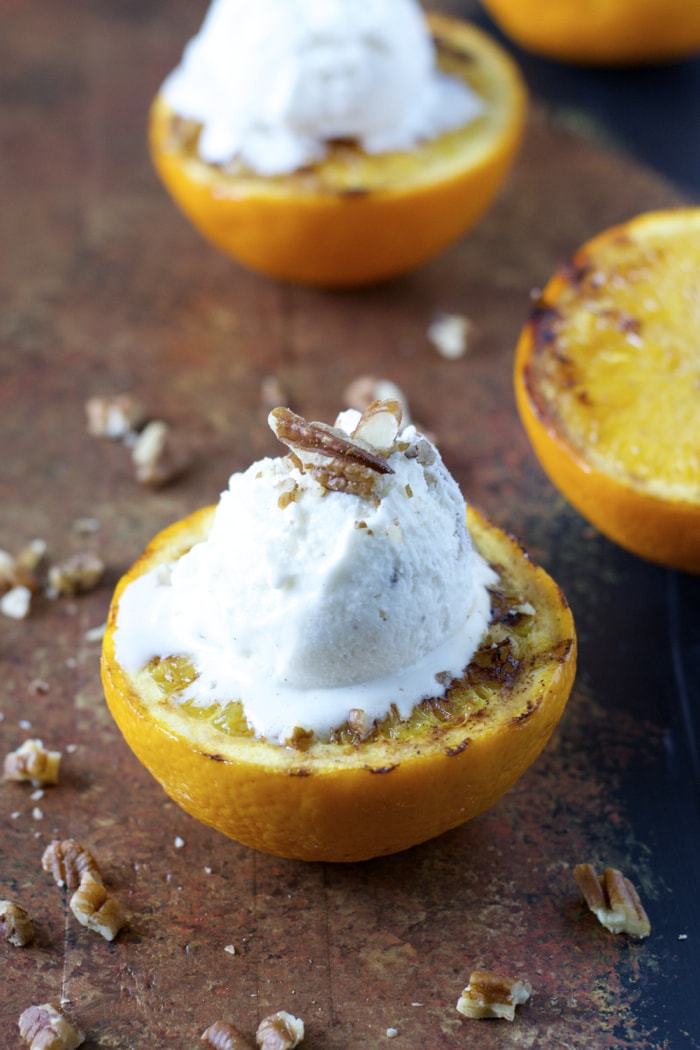 Ingredients for Grilled Fruit:
This recipe only requires five ingredients (six if you include the ice cream)! Here's a quick overview of the ingredients for these tasty grilled oranges. For precise measurements, keep scrolling!
Oranges (you could also try other citrus fruits!)
Butter
Vanilla Extract
Spices (I used cinnamon and ground ginger)
How do I make Ginger Grilled Oranges?
First, cut each orange in half. Then melt the butter and add the vanilla, ground ginger, and cinnamon. Stir the delicious spiced butter, then brush it onto the cut sides of each orange half. Finally, put them directly onto the grill, cut side down. For even cooking and nice grill marks, I let them cook for one minute, then I turned them 90 degrees clockwise and cooked another minute.
After I tasted this, I am totally clueless as to why this isn't already a thing. It is so good! To take it from really good to totally excellent, I added a scoop of butter pecan ice cream on top and sprinkled a few extra pecans for good measure.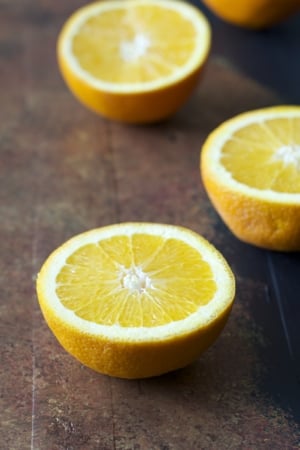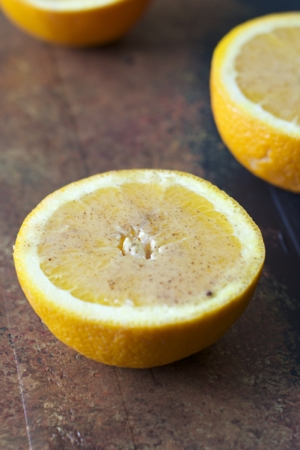 Tips & Tricks for the BEST Grilled Fruit
Most importantly, you need to make sure your grill grates are clean before trying this recipe. If your grates have residue from previous foods, this will definitely affect the taste of your oranges.
Brush the oranges with butter, not oil. This is really just a preference, but the butter really does mesh so much better with the taste of the orange. If you are looking to make this vegan or dairy-free, I would try a plant-based butter.
Don't overcook! The oranges don't need to be "cooked" at all; we really just want them on the grill long enough to crystalize the sugar inside the fruit.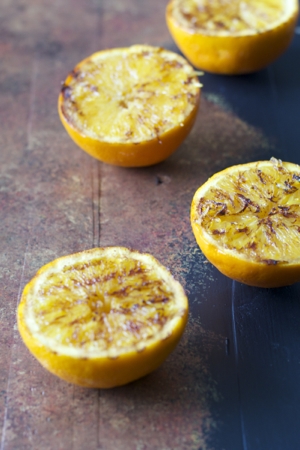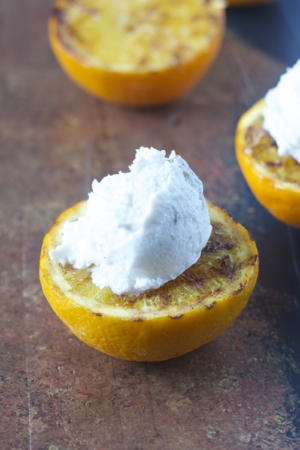 What should I serve with Grilled Oranges?
This is the easiest dessert ever with basically no prep work, no cleanup, and no dirty dishes! So what kind of meal would preface this tasty dessert best? More grilled dishes!
We love our kabobs and skewers here, so I would recommend these Salmon Kabobs with Greek Marinade or Chicken & Zucchini Skewers. These Mediterranean Shrimp Skewers would also be delicious!
If you really want to try something different, how about grilled pizza? This Grilled Pesto Chicken Pizza is packed full of flavor. For grilled sides, we always love these Keto Bacon Wrapped Green Beans or these Keto Jalapeno Poppers.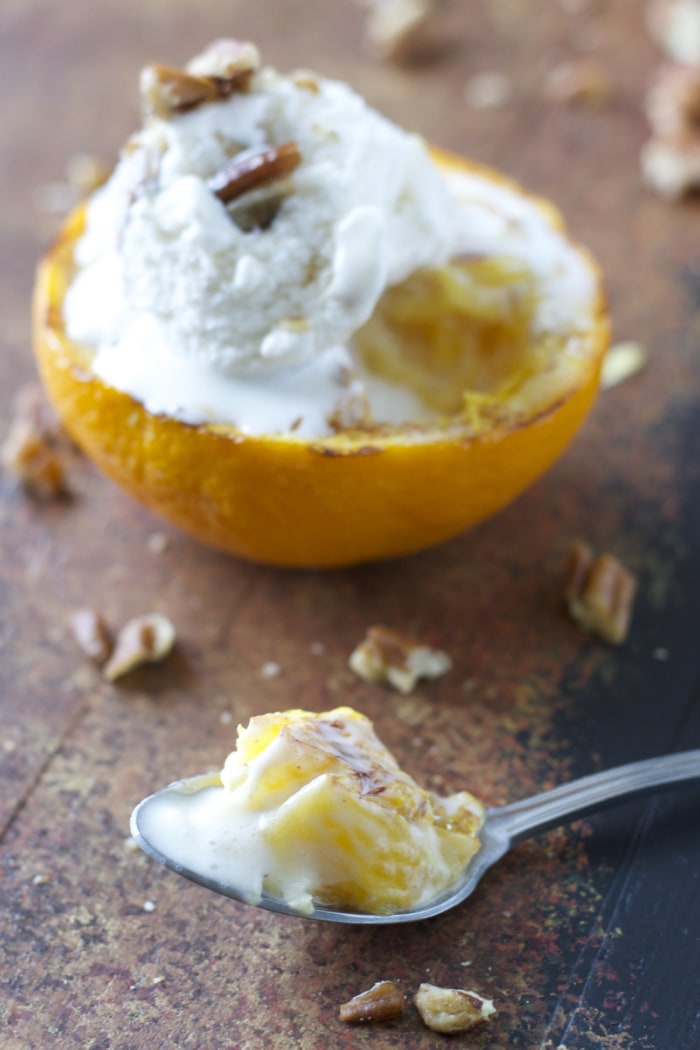 More Perfect Summer Fruit Desserts:
Reducing your sugar intake? Here are some great Keto Summer Desserts: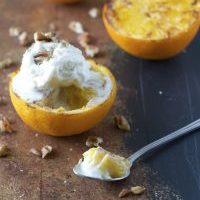 Ginger Grilled Oranges
Delightful Grilled Oranges are brushed with butter, cinnamon and ginger and grilled until caramelized! Top these oranges with a scoop if ice cream for the perfect summer dessert! 
Ingredients
3 Navel oranges, sliced in half
1 tablespoon butter
0.5 teaspoon vanilla extract
1/8 teaspoon cinnamon
1/8 teaspoon ground ginger
Butter Pecan Ice Cream for scooping
Instructions
Slice the oranges. Be sure to slice them flat so they will sit on the grill.
Melt the butter, then add the butter and cinnamon, ginger and vanilla together. Brush this mixture onto the cut side of the oranges.
Place oranges directly on grill, let cook for one minute. Turn 90 degrees and let it cook for one more minute.
Remove from grill and top with ice cream and additional pecans if desired.
Notes
*Make sure your grill grates are clean! If you have residue, it will end up on your oranges and alter the taste.
*Nutritional information does not include the Butter Pecan ice cream. Feel free to add whatever ice cream you prefer, then add its nutritional information for more accuracy.
Nutrition Information:
Yield:

3
Serving Size:

2 Orange Halves
Amount Per Serving:
Calories:

87
Total Fat:

4.3g
Cholesterol:

10.2mg
Sodium:

0.6mg
Carbohydrates:

15.2g
Net Carbohydrates:

12.1g
Fiber:

3.1g
Sugar:

12.1g
Protein:

1.1g