This easy Blended Coconut Mocha Frappuccino combines creamy almond milk with chocolate, coconut, and rich coffee for the perfect summer pick me up!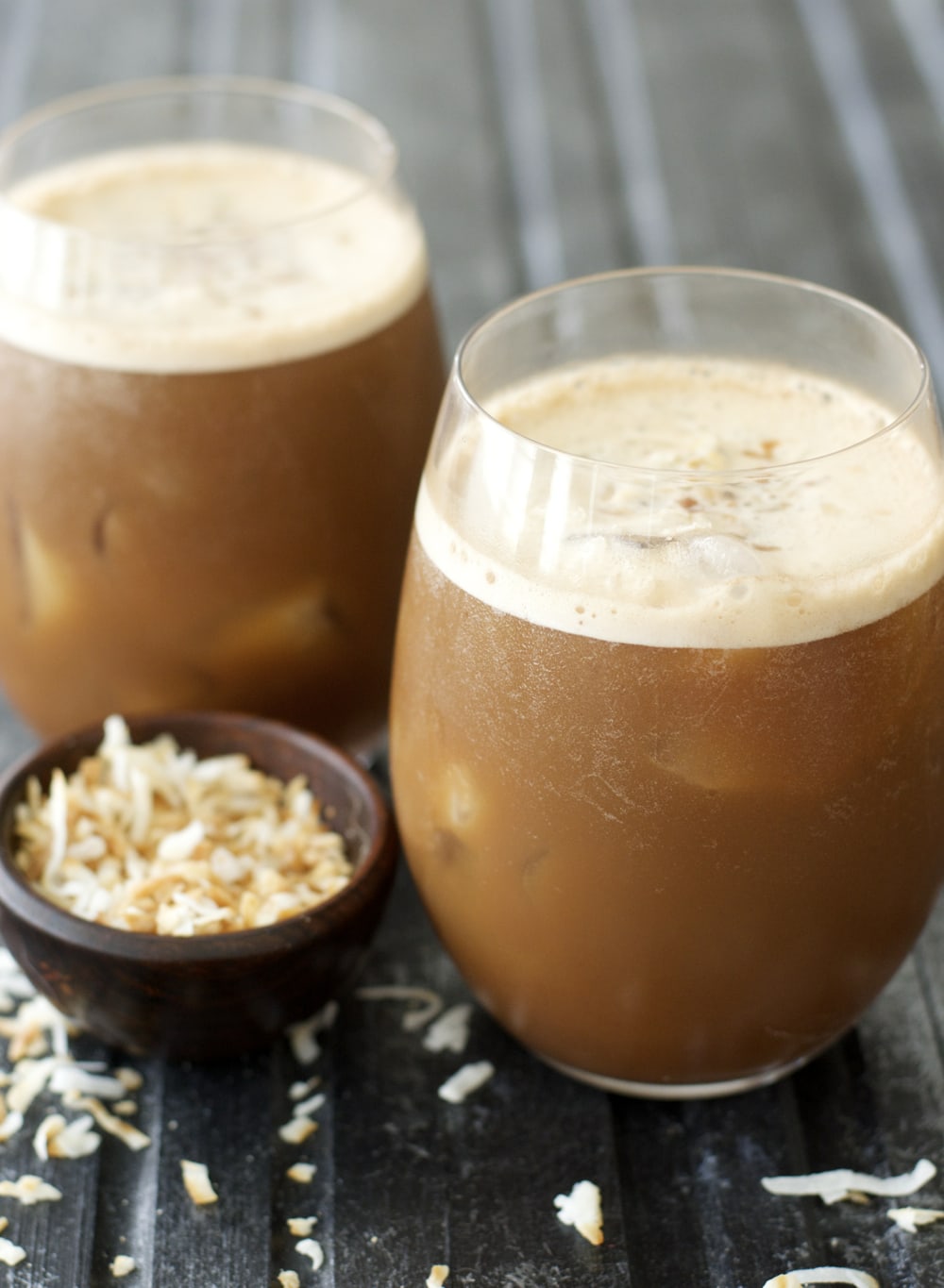 Growing up my family was split into two teams. Team Mom vs Team Dad, Team Brown eyes vs Team Blue eyes, Team gimme-all-the-coconut vs Team I-will-die-if-I-eat-one-shred-of-coconut. As I sit here writing this, sipping a Coconut Mocha can you guess which team I am on?
Yep, team leader for the brown eyed, coconut lovers right here. My blue eyed, I-prefer-a-coke-float counterparts are rolling their eyes.
Whatever. More for me 🙂
I have shared my love for the combination of coconut, coffee, and rich dark chocolate before when I shared the Coconut Mocha Snack Mix and Coconut Mocha Espresso Balls. That was earlier in the year when it was too darn cold to be walking around drinking icy drinks. Lucky for us, summer is in full swing which means it is all but required to make this ice cold chocolaty drink to bring in the new season.
Just in case you have never had it, this is a knock off of Starbucks Coconut Mocha Frappuccino. I tried this drink for the first time years and years ago in Hawaii, and fell head over heels in love. Since then they have occasionally brought it back during the summer.
The last couple years I have eagerly waited for summer to come around to see if they would bring back my beloved drink, but no such luck. That is why I had to come up with my own version, which has probably saved me a ton of money and calories, so I should probably be grateful.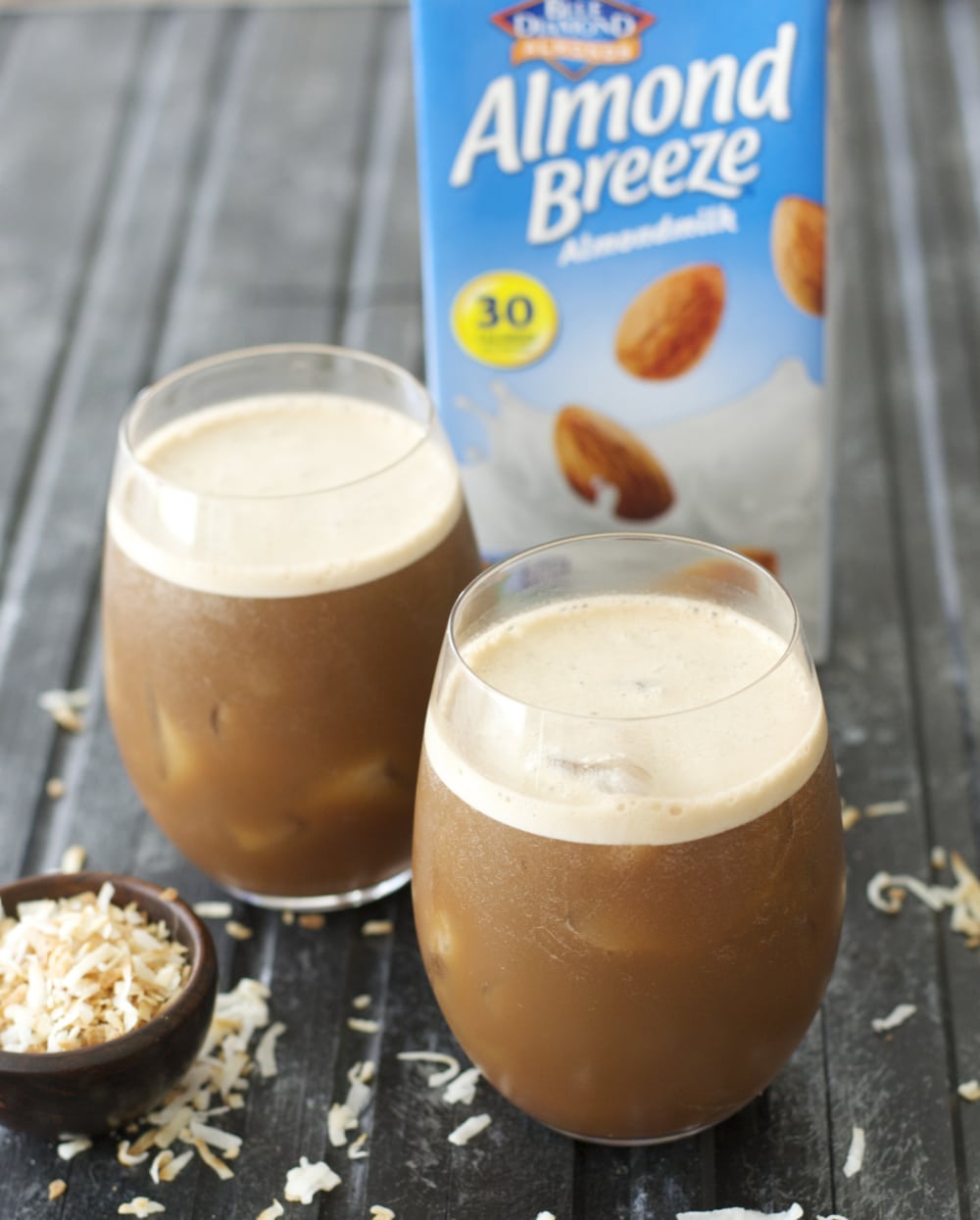 Ingredients for Coconut Mocha Frappuccino:
There aren't any complicated ingredients involved in this drink, hooray! Here's an overview of what you'll need, but keep scrolling down to the recipe card for exact measurements.
Cold coffee
Almond Breeze unsweetened almond milk
Vanilla syrup (if you don't have any, it's easy to make–Basically a simple syrup with a vanilla bean & extract)
Ice cubes
Cocoa powder or chocolate syrup
Coconut extract
Shredded coconut (optional; I toasted this and topped my coffee with it!)
While adding the toasted shredded coconut to the top isn't absolutely necessary, I can confirm… It is SO good.
How do I make homemade Coconut Mocha?
Don't be intimidated just because you're not wearing an official green apron! You can easily make this Starbucks copycat with just a blender and a broiler.
The first thing you need is a cup of cold coffee. While I went through the process of making cold brew coffee, you could easily use a leftover cup of coffee and let it sit in the fridge to chill.
A cold brew coffee is often considered to be milder, a touch sweeter, and a bit less acidic. Because we're adding it to a blended drink with other flavors, though, you may not not be able to tell the difference quite as much.
If you are topping your glass with the coconut, you'll want to toast the shreds under the broiler for 30 seconds or so. Be careful and don't let it burn! I do this before making the drink so it has time to cool off.
Finally, all you have to do to make this Frappuccino is add all of your ingredients (except the toasted shredded coconut) into the blender and blend until the ice is crushed. Can you believe how easy that is? Then just sprinkle that toasted coconut on top and enjoy!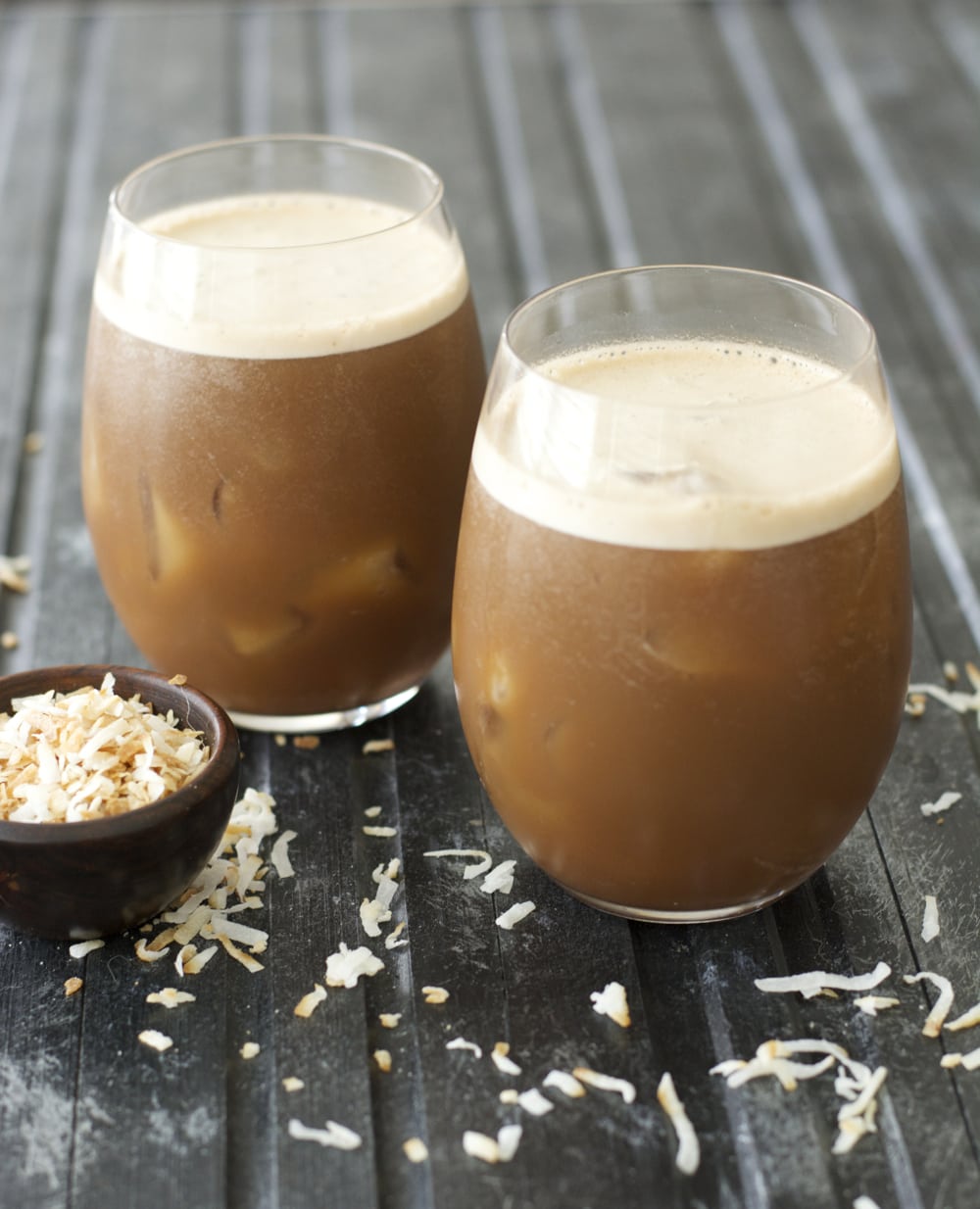 More Homemade Coffee Drinks:
If you've read the blog long, you know I love my coffee drinks! Here are some of my favorite recipes (including some keto-friendly options for those watching their carbs).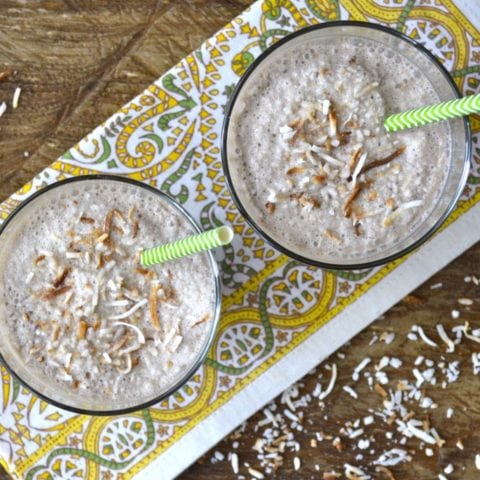 Blended Coconut Mocha Frappuccino
This easy Blended Coconut Mocha Frappuccino combines creamy almond milk with chocolate, coconut, and rich coffee for the perfect summer pick me up!
Ingredients
1 cup cold coffee
1/4 cup Almond Breeze Unsweetened Almondmilk
1 tablespoon vanilla syrup
5-7 ice cubes
1 teaspoon cocoa powder*
1/2 teaspoon coconut extract
1/8 cup shredded coconut for toasting
Instructions
Heat your broiler to low and place the coconut in a oven proof dish, let it sit under the broiler 30 seconds to one minute or until golden brown. Let the toasted coconut cool.
Combine cold coffee, milk, vanilla syrup, cocoa powder and coconut extract in a blender. Add ice cubes and blend approximately 40 seconds until ice cubes are totally crushed.
Notes
*For a sweeter more chocolaty version use a tablespoon of chocolate syrup in place of the cocoa powder.
**Nutrition information is for one large drink, but you could split this into two small drinks as pictured.
Nutrition Information:
Yield:

1
Serving Size:

1
Amount Per Serving:
Calories:

91
Total Fat:

6g
Cholesterol:

0mg
Sodium:

60mg
Carbohydrates:

10.4g
Net Carbohydrates:

8.9g
Fiber:

1.5g
Sugar:

7.5g
Protein:

1.5g