40+ Easy Weeknight Crockpot Meals, perfect for busy days!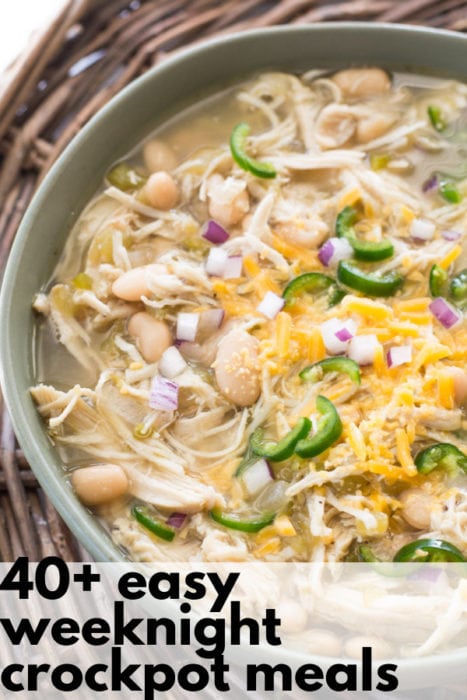 Easy Weeknight Crockpot Meals
I love my slow cooker, that is definitely no secret. And I am guessing you might just love yours too! In the spirit of "set it and forget it" meals I have compiled a list of some of the best easy slow cooker recipes! I love these crockpot meals because they make it possible for me to come home to a hot meal that I haven't had to cook!
Some of these recipes are made in an Instant Pot, but they include directions to be made in a slow cooker. These Easy Weeknight Crockpot Meals are the ideal busy night dinner, tasty snacks or even delicious desserts! For even easier clean up, I use these Crock Pot Liners so there is barely any work at all!
Are these Crockpot recipes good for meal prep?
Absolutely! I love to meal prep, and I regularly use my crockpot to do so. Being able to plan my meals out for the week is a huge help in our house, but using a slow cooker on nights I know I won't have time to cook is a life saver! Using meal prep containers is a big help for keeping us on track!
Weeknight Crockpot Meal Prep Ideas:
SO MANY of these recipes can be frozen as "dump meals." To meal prep with VERY little extra effort, simply buy twice the ingredients and then measure everything out twice — Once in the slow cooker for today's meal, and once in a freezer bag to store for later. Write the time required & any additional steps/ingredients on the bag with a sharpie so anyone can prepare dinner later!
If you plan to start a slow cooker meal before going to work, it might be best to go ahead and prep the recipe the night before! Simply throw the ingredients you need in the slow cooker (or a bag/bowl), then all you have to do is plug in the slow cooker (or dump the bag/bowl into it). This way even a missed alarm won't mean you're dinner plans are ruined!
When doing long-term meal prepping, use different proteins or seasonings to avoid getting in a rut! Instead of having Salsa Chicken 3 times a month, maybe one could be a Chicken Chimichanga and another a Carnitas night!
40+ Easy Weeknight Crockpot Meals
40+ Easy Weeknight Crockpot Meals, perfect for busy days!