Try these Greek Chicken Power Bowls that are perfect for a low-carb dinner or easy, healthy meal prep!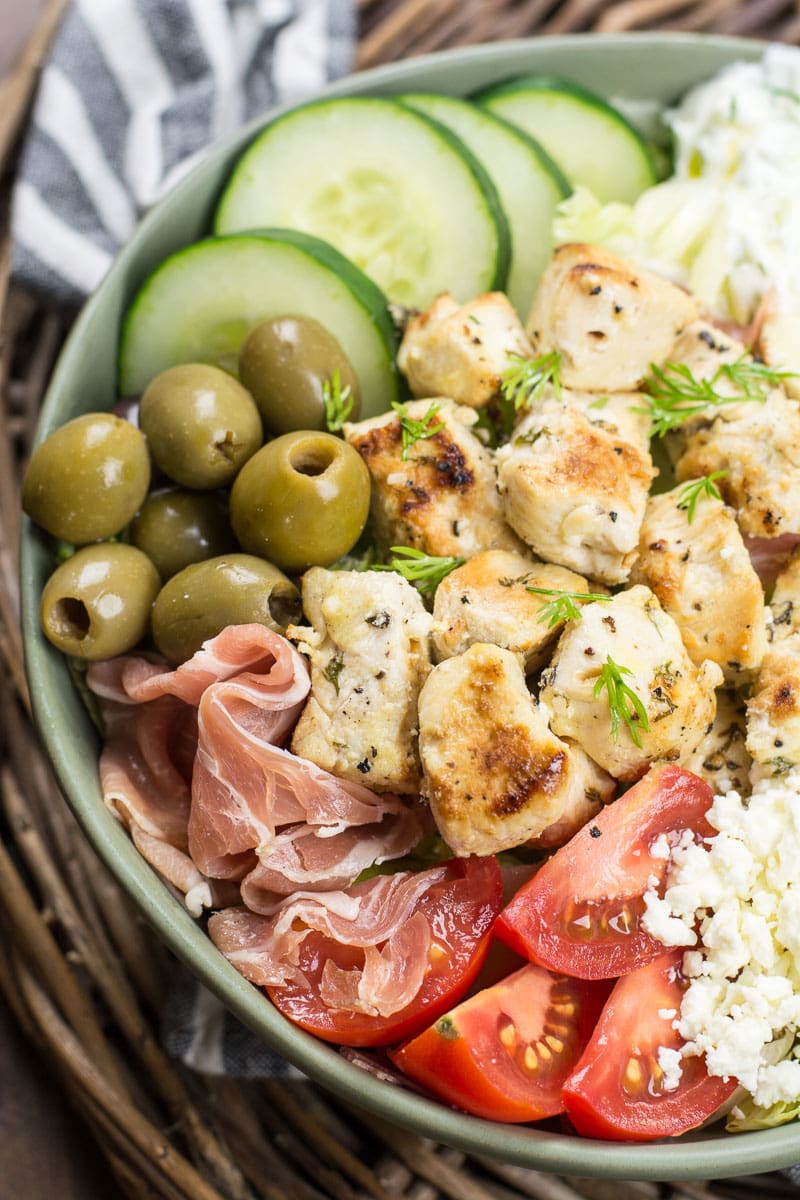 What Are Power Bowls?
We have had just a hint of warmer weather and it has me itching for fresh Spring flavors. This Low-Carb Greek Chicken Power Bowl is loaded with vegetables, tender grilled Greek chicken, salty prosciutto and feta cheese. It is an excellent keto meal prep option because almost everything can be prepped ahead of time.
As written, this is already a low carb meal, but it can easily be made keto by skipping the hummus and enjoying the tomatoes in moderation.
You may have heard of power bowls, they have become popular in the last few years because they are a bit more packed than your traditional salads. Generally, power bowls can be warm served on a bed of rice, quinoa or roasted vegetables or served cold like this one.
The great thing about these nutritious recipes is that they can be totally customized based on your personal preferences. Generally, they contain a higher ratio of protein than you may see on a regular salad and sometimes aren't served with salad dressings, but instead flavorful dips or sauces. In this case, there is no traditional dressing but heaping servings of tzatziki and hummus.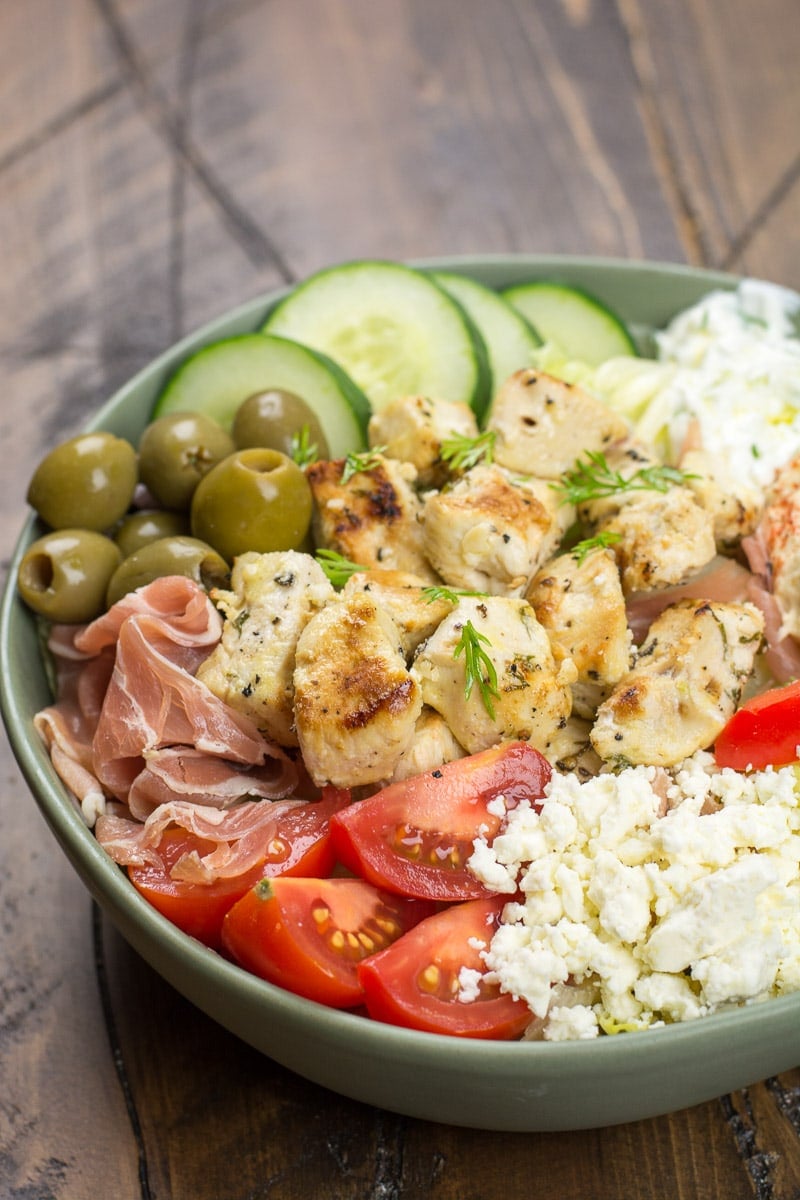 Ingredients for Greek Bowls
The ingredients list for this easy low-carb meal is pretty simple:
Lettuce
Greek Grilled Chicken
Tomatoes
Olives
Cucumbers
Red Bell Peppers
Prosciutto
Feta
Hummus
How to Make Greek Bowls
To make this easy low-carb recipe, simply prep all the individual ingredients and assemble your bowl! The only thing you actually have to cook is the Greek Chicken.
Can I Meal Prep Greek Bowls?
Absolutely! Power bowls are ideal for low-carb meal prep because all of the vegetables can be washed, chopped and stored ahead of time. The only real cooking is preparing the Greek Grilled Chicken, which is very easy.
Once you prep the ingredients the possibilities are endless. You can enjoy Greek Power Bowls, or use a low-carb wrap and make a delicious Greek Chicken Wrap. Another option would be to skip the lettuce and create a low carb Greek Charcuterie board. The possibilities are endless.
For the meal prep box you see pictured below, I added the hummus and tzatziki to silicone muffin liners, this is my favorite little meal prep hack for things like this. If you place two inside this glass meal prep box they fit perfectly!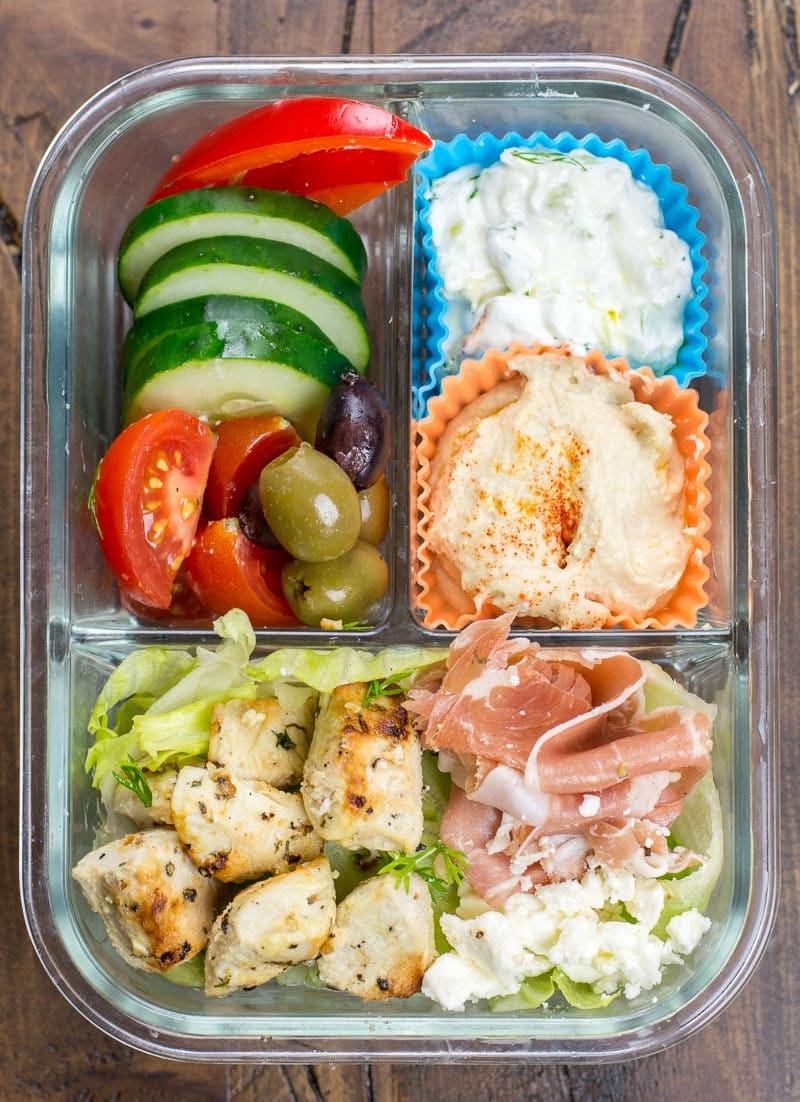 Tips for Making Greek Power Bowls
You're welcome to mix and match the veggies as you see fit. Consider this recipe your jumping off point for other creations!
I love using chicken as my protein of choice, but I bet this bowl would be great with pork too.
If meal prepping this Greek bowl, store the juicier veggies together so they don't make the other ingredients soggy.
More Low-Carb Meal Prep Recipes:
Other Low Carb Meals:
If you are new to Keto try my favorite Sausage Egg and Cheese Bites, they contain less than one net carb per bite and they are perfect for meal prep! One of my favorite easy low carb dinners is this One Pan Cabbage Casserole. It is so easy, cheesy and delicious and it has less than 9 net carbs per serving. Some other favorites, Keto Chocolate Cookies, Pimento Cheese and Bacon Stuffed Peppers and Sausage and Cream Cheese Pinwheels!